Tap or click to get the Program and Interview Transcripts.
Crises for Autistic Adults comes from things like not getting hired for a job. Getting rejected by someone you were dating. Maybe you got a notice that your support services were cancelled. Your pet needs to go to the Vet. Maybe you are facing the real threat of homelessness. Autistics face more crises for various reasons, and it adds more stress on top of our challenging lives. When people around you try to minimize the impact of those crises on you it worsens our situation. Becca and I will give more advice on what you can do to take care of yourself in those moments.
--- Support this podcast: https://anchor.fm/2daysautistic/support
To find the transcript, tap or click on the downward arrow as shown in the image below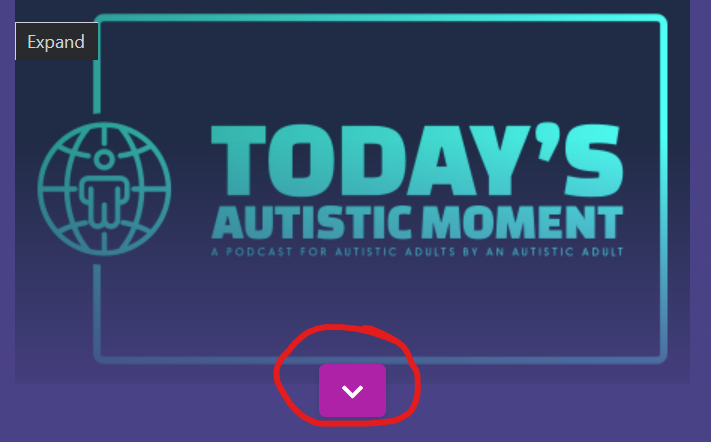 Self-Care During a Crisis
August 8th, 2022
Here you can read my opening remarks, announcements, future shows & Today's Autistic Community Bulletin Board
Welcome everyone to Today's Autistic Moment: A Podcast for Autistic Adults by An Autistic Adult. My name is Philip King-Lowe. I am the owner, producer, and host, and I am an Autistic Adult. Thank you so very much for listening.
Today's Autistic Moment is a member of the National Podcast Association.
Today's Autistic Moment is always a free to listen to podcast that gives Autistic Adults access to important information, helps us learn about our barriers to discover the strengths and tools we already have to use for the work of self-advocacy.
This first segment of Today's Autistic Moment is sponsored by The Autism Society of Minnesota: Minnesota's First Autism Resource. For over 50 years, The Autism Society of Minnesota has been honored to support Minnesota's Autism Community. Visit them online at ausm.org.
(The paragraph below has been edited from the original recording since the new website is now available.)
[Please go to todaysautisticmoment.com where you will find all the shows and download the Program Scripts with all of the hyperlinks I mention on each show and the Interview Transcripts including the transcripts for this episode. Interview Transcripts for 2022 are sponsored by Minnesota Independence College & Community.]
Also, be sure to follow Today's Autistic Moment on Facebook, Twitter, Instagram, LinkedIn, and Tik Tok. Please join Today's Autistic Moment Community Group page on Facebook, where you can talk with me and other listeners. You can also find the videos from the last two Autistic Voices Roundtable Discussions by subscribing to Today's Autistic Moment's YouTube channel, including the show on July 22nd, The Dangers of Medical Myths.
The next Autistic Voices Roundtable Discussion will be on October 19th at 2:00pm Central Standard Time entitled: Busting the Myth About Empathy. Another myth about Autistic people is that we lack empathy. Each Autistic person has our own unique way of experiencing and expressing empathy. In fact, a lot of Autistics have what we call double empathy. I am seeking Autistic individuals to join me and other panelists during this live virtual discussion as we bust the myth about Autistics having no empathy. Please send me an email if you want to participate.
It goes without saying that everyone is feeling like we are living through a time of crises after crises. The war in the Ukraine. Inflation. The overturning of Roe v. Wade by the United States Supreme Court. The COVID-19 pandemic has quieted down quite a bit, but it is far from over. Now, we have monkeypox making its way around the globe.
Many Autistics experience crises that most allistic people don't. Many Autistics are living through multiple crises because of how many of us live in poverty. We get turned down or dismissed from jobs for various reasons. We experience the crisis of ableism. We experience the crises that comes with struggling to get supportive services and then losing them because of politicians with their priorities for the able-bodied, neuro-majority. Finding friendships and relationships with others who understand and share our values is possible, but we deal with the crises of isolation especially if we live in areas where other Autistic individuals cannot find community together, or find friends who are real, caring and accepting. There are many reasons that Autistics have crises.
Becca Lory Hector is back on Today's Autistic Moment to help us with self-care during a crisis. Autistics can and must take care of ourselves during a crisis, and sometimes we just need someone to help us discover what we can do, or remind us of what we do so that we can take care of ourselves. Becca Lory Hector and I are going to talk about things like practicing the pause, taking a breath, and working on ways to be sure that we don't surrender to our inertia through which we allow ourselves to feel like we are helpless. We want you to take control of yourself and the circumstances of your life to build your own sense of self-confidence and work through the crises you are living through.
Please stay tuned after this first commercial break to listen in on our conversation about Self-Care During a Crisis.
Commercial Break 1
Philip King-Lowe
All right. Becca Lory Hector, I'm so glad to welcome you back to Today's Autistic Moment. We had a great talk about seasonal depression. That was a really great talk. And it was really well received by my audiences. And yeah, absolutely. And then the episode that's come out on July 18, we talked with Zephyr James about self-care during during sensory overload or meltdown where Zephyr gave a lot of things like creating yourself a little toolbox, if you will, of things that you've got prepared to do. And in any event that you have one, you know, there are so many great things. And today we're going to talk about self-care during a crisis. And what's a crisis for a lot of Autistic Adults may or may not be the same as they are for neurotypical individuals. Because we respond very differently to things that happen to us. And we have things that happened to us, that don't happen to people that are not autistic. I mean, I got a whole list of things here that we can kind of talk about these examples as we get into our conversation. So let's begin though, with some general information. What kinds of information do Autistic Adults and our caregivers need to know about when we talk of self care during a crisis?
Becca Lory Hector
Well, I mean, I think it's really important that we remember the things that keep us charged and recharged and that we also remember our triggers, right? Because crises can come from anywhere, right? And they can sometimes be of our own making, sometimes not of our making in any way, shape, or form, right? Sometimes they have to do with our life very personally. But sometimes we're, like, kind of thrown world crises, right, like the pandemic, or like what's going on in America with abortion right now. Or, right, that kind of thing. So, crises come in all shapes, form sizes, they, we don't call them crises. Because we know they're coming. We call them that, because we don't know they're coming. And so that's the unplanned nature of them already is something that triggers Autistics, right? The fact that we can't. Right?
Philip King-Lowe
Exactly. Yeah, I mean, I mean, some of what I've got here. You know, for many of Autistic Adults, crises can come from things like not getting hired for a job. They can come from getting rejected by someone you were dating. Maybe you got to notice that your support services were canceled. That can be a real crisis. Your pet needs to go to the vet. And maybe you're facing the real threat of homelessness, or all of these various things. I mean, I mean, we get so many of these things in our faces. You know, and as long as we're on the subject from last time, yes, a sensory overload of meltdown can be indeed a crisis.
Becca Lory Hector
Right. And so, you know, that's really, it's, it's hard to talk about specific self-care, right? When the crises are so different. They're all so different, different shapes, and sizes, and all of that stuff. So when I think about self-care, during that time, I think about sticking with the basics, right? And staying focused on the things that you can control. Right? A lot of what makes a crisis to me and I feel like what makes a crisis for other Autistic people may not be the same as what makes a crisis for neurotypical people. Right? So I always think like, when I say crisis, and I think neurotypical, I think about all of the crazy brides that like can't get the right flowers on their wedding day or whatever it is. And I'm always like, Okay, well that to me wouldn't freak me out. I would just be like, Oh, well, they didn't call you know, like, that's not what freaks me out is when it's something that something like what you talked about like when you have you know, disability and something is you know, gets in the way of that right? Or if you you know are really close with your pets, most of us are, right and something some crisis like that comes up. Something that that feels more life and death. I want to say is the best way to say it. Yeah, yeah, yeah. And I feel like a lot of people think we respond maybe in a more dramatic way than they do. But I feel like it's because we actually have crises about things that are crises. And so they are that big. And your everyone is just used to us not being like that. So, when we do have a crisis, it does look that much different than who we are. Right? So that's part of it. But I think also, you know, we lose control in a crisis, right? There's something that dropped in on us that was unexpected, that created the crisis. And that's the piece, they think that trips us up. And so instead of focusing on what we can't control, which is the thing that dropped itself in our lap, what in the scenario that you're looking at, do you still have control over? Right? Where are those places, so people always stay off, but when it's not my fault, and it all falls in my lap? How can you say that, right? Because even in when you feel like you have no control, there are still hidden pockets of control. My favorite one to point out is your response. Right? You always have control over how you choose to respond to the situation, the power lies there. And the control lies there. Yes, this thing happened. And nothing you did made it happen. But now it's here. Right? So how I choose to respond is is in my control.
Philip King-Lowe
Yeah. Yeah, um, I'm going to use an example for myself, because I'm actually I named one of these in my list here, because this happened to me in May. My cat became very sick. He was mowing a lot. He was not well, and so I had to call around to several vets and find out, you know, can you give me an idea of what this is and one of them finally said, your cat needs to be seen today. There's no question about it. Of course, they will say they can't do it. Because, you know, so we someone to take him in an emergency. And of course, for someone like us, where we rely on disability income money is one of the first things we have to think about. So where's the money gonna come from? So I had several crises lining themselves up in a matter of minutes. Yeah. So you know, so my point was, is that, I felt like I had so many things I had to pull into, put them together very, in a very short amount of time. I remember that I'm trying to do one thing. And my husband was trying to say this, I said, Give me a minute to get off of this, then I can pay attention to you. Because I can't you know, I also have ADHD, which we're going to talk about in October. But the point being is that I have so many things that I had to take care of, that could not wait, everything else had to be put aside. It's just the way it goes. And so, I mean, by the time we got to the vet, and when we finally we were getting him taken care of. I remember, I mentioned this to Zephyr. Last Last week, but I remember finally getting into the vet's office, and the vets had him behind behind there, they were looking after him. And I was sitting near the examination table, a metal table, and I found this little scratch in that metal table that went all the way here. And suddenly, I started stimming by simply following that scratch over and over again, with my finger to finally bring myself down like that. And so, we're talking about the, you know, this is an example of a crisis for me. But I've also had the crises and I know, many other Autistics have had this, you know, a service you're looking for, it's no longer offered, you get a case manager that turns you off. I know, I know, of one in particular that's in the midst of trying to, you know, find a different career, and he's looking at homelessness on the face. Okay. So, I mean, I mean, these are crises, these are things that they have to do. Let's talk about some ways that people can take care of themselves in these moments, you said choices. Let's talk about this. Give a few examples of those things.
Philip King-Lowe
Yeah. Yeah. Yeah,
Commercial Break 2
Support Today's Autistic Moment
The list of new shows for the Fall with topics, guests and descriptions are available at todaysautisticmoment.com. Some of the topics will be Autistics Collaborating with Autistics. Online Dating. October will be focused on Autistics and ADHD. Autistic Parents. Autistic Adults are Adults Not Children. Managing Holiday Stress and Communicating with Autistics. I am in the process of planning for season 3 in 2023 with a focus on the strengths and achievements of Autistic Adults to highly achieve.
Today's Autistic Moment is successful because of the sponsors and those who donate to my Patreon page. Your financial support for this podcast enables me reach out to other Autistic Adults and our caregivers on and off the show to network and collaborate. Please go to todaysautisticmoment.com and click on the blue button to support the work of Today's Autistic Moment.
Please share the podcast shows through your social media networks and help spread the word about what Today's Autistic Moment is doing for Autistic Adults and our caregivers.
Thank you for supporting the work of Today's Autistic Moment.
Philip King-Lowe
What are the barriers for us when we're facing a crisis? I mean, you just named one of them. One of them is that you're the person in a crisis. And you've got so many options about what you might or might do. They're all there in front of you. Right, It's almost like you could, you could put a pile of them right, right in front of you, or imagine them circling around your head. Right. And you're feeling stuck between all these choices, what do I choose? What do I do? And sometimes, sometimes, you know, sometimes you act, one idea is just kind of stop, close your eyes and do some breathing, literally breathe a little bit, because we know that all of that is literally sucking the, the oxygen out of your out of your body, out of your mind, out of your brain, everything. So, some of that, you know, goes a lot to what they tell us. Whenever we're flying someplace, put the oxygen mask on yourself first and then help somebody else. So, you know, because part of it is giving yourself the chance to breath what do you think of that?
Becca Lory Hector
Yes, I call that practice the pause, right? We there are a lot of times where we feel forced by the outside world to process faster, right? To come to an answer quicker to all of that stuff and the pressure of needing to do it faster for everybody else, right? Makes a us tense and it adds to the situation and adds to our suffering. Right? So what I always say is practice the pause. Take a moment for that breath. Walk away. Go to the bathroom, right? Grab a snack, whatever, you're go for a walk outside for a lot of people, right? Because you don't make good decisions in that state. Nobody makes decisions, right? And the way to get better at making decisions is to say, I don't make good decisions in the state. I want to wait till it passes, right? The way we process through that is to do this regulation, whether it's walking, whether it's eating a snack, whether you know, whatever it is for you, but take that you're allowed that pause, you're allowed your processing time you are, and they need a scripted excuse to take that pause, use one, right? That's a really good idea. Let me think about it, boom, you just got yourself time, right? Or, I am not sure, I need some time to digest whatever it is, or, you know, I don't know, I'm going to do some research. Anything that buys you the time that you need for your brain to sort of ride the emotional shock and emotional rollercoaster of that crisis a bit to find your logical voice again, right? You don't want our emotional selves making our decisions.
Philip King-Lowe
Right, exactly. Yeah. I mean, I mean, another thing is that, you know, you know, there's a fair number of us who don't like to think about our emotions, overwhelming us. But the thing is, if that's what's happening, your emotions are real, and you dealing with them in your own way is going to be so important to facing that crisis. If it's really gotten your gut, then pay attention to that. You know, the worst thing can be is that, you know, and this is, you know, ignoring the emotion itself is not going to make your problem better. Right. Okay. And we also we, yeah, and we also know that when you're emotional, you're not exactly rational. And you need to come back to that moment of rationale, to actually begin to take the logic of a problem and put it together. Go ahead.
Becca Lory Hector
Yeah, I think also, the other piece of that is that emotions are temporary. We do are we like, we try to hold them in, I don't know, we were all taught that it's very strange, but we're all taught to sort of hold our emotions in, right? But the thing is, they're temporary, and it takes more energy to try to hold them in, than to just let them flow and be in past, right? I always think about a thunderstorm, right? You can't try to contain a thunderstorm, you just can't. So what you do is you just let a thunderstorm rain itself out, you let it pass, right, you grab your coat and you let you sit there and you get a little wet and then it'll pass. Right? It's the same thing with your really raw emotions. You feel them. And in that moment, they're super uncomfortable because you're feeling them. But in about a half an hour or so those really raw emotions will pass and that rational brain comes back, right? Or maybe an hour, we're all different, right? But then that rational brain, so the situation hasn't changed at all. It's just that the way you're perceiving it has. And it's really suits us, as human beings to allow the emotion to happen, and then make our decisions. So to practice that pause, to take that deep breath.
Philip King-Lowe
Absolutely. Yeah, I couldn't agree more. It's this is part of self-care if part of that self-care is I know, this is kind of repeating itself, but self care and caring for yourself, they're all part of the same term. And when it is about you and I, when it's about you, it is about you. You know, one of those one of those crises that does happen, of course, is death. And I have known quite a bit of it in my own life, and I know others have too. We've many of us have known things like the death of a good therapist we've been working with or the therapist moves on. Or, you know, and then we have to find a new therapist and finding that new person, a new therapist is really hard. Part of taking your care of yourself as we're saying is that when you're really sad or angry about that happening, you really are right, it is okay that you are.
Becca Lory Hector
Whatever the response is, is okay, what's not okay is trying not to feel it. Right? When we do that. It's a losing game for everybody. The important part about feeling it is to know that you were triggered that something happened in your life and what that's really telling you is if it's about someone passing away, that person had a significant place in your life, right? That's what it's telling you. Right? There's stuff to learn about yourself in there. And since we touched on grief and death for just a second, I do want to say, be kind to yourself, if that's the situation you're in. Part of the self-care going through the grieving process is to understand that Autistics don't necessarily grieve like neurotypicals. And we also the way neurotypicals look when they grieve, right? We don't tend to be really overly emotional criers that say a funeral, right? And that kind of thing. And so be kind to yourself about that. It's okay, that it doesn't look that grief doesn't look like the movies, right? Yeah. Right?
Philip King-Lowe
Yeah, I've done my share of a little grief companionship, as in, I've experienced enough of my own grief that I can sometimes work with someone and say, let me walk with you through your grief a little bit. And help you. And, you know, I had I knew somebody an Autistic who was in a group on Facebook, and their, their service animal had just passed away. And that individual was was was apologizing for their emotions for how they were feeling. And to the point where they said, they didn't even cry until they got into the waiting room of their therapist and saw somebody else for their, their service animal. You know, and I responded to that person by saying, your service animal probably knows your soul better than you do. Right. Of course, this is very, very personal, very close to you. Right. So yes, you're all gonna feel that? And no, you don't need to apologize for that.
Becca Lory Hector
We all need we all need to get out of that habit of using the words I'm sorry, so freely, right? Because what we usually mean is, thank you for accepting me the way that I am. Or the way that I came to you and all of those things. And we shouldn't be so quick to apologize for that part. Right. Right. Right. How we show up is just fine.
Philip King-Lowe
Right. Yeah. And, you know, and, and in a crisis, even a crisis, that's, you know, like a death or, or, or, or job loss or a relationship ended or whatever it happens to be. It really is, rhetorically, speaking a slap in the face. You know, it really, it really, it's really like that. And especially since we have all this sensory processing that goes into everything, we feel touch all of this stuff, it's got to affect our whole self somewhere. You know, and I say, you know, my thinking, and this is where we get into, you know, what are the steps that Autistic Adults, and our supporters need to take to advocate for our needs. And one of those is we advocate by being ourselves, our Autistic Self, that's who we are, it's okay. We know the world does not really accept or understand us. But we do we do more than we realize. And this is where we, you and I were talking, when we were talking about seasonal depression, about networking with other Autistics is so important. Because when we when we say to an Autistic person, I'm feeling like this, the other Autistic person was gonna say, I know because I experienced that, too. That's why that is so important. So find your networks. Go ahead.
Becca Lory Hector
Yeah, no, I agree with you. There's nothing worse when you are feeling really bad about something than feeling isolated and alone, like you're the only one. And so again, it's that part of that interdependence piece, right? Though, if you're seeking companionship about that, go find your people, right? That is, you know, I happen to be someone who identifies so heavily with being Autistic, that that's the identity I lead with, right? And so I'm always seeking other Autistics to connect with. But if you're Autistic, and you have another identity that you lead with, that you'd prefer to seek those people, right? You just that you need to have not a lot, just a few people in your life that can help you to take perspective on things and can help you to find directions when we're all in a crisis. Anybody when human beings are in a crisis, we just were at an emotional level, or we don't see things clearly. And we all need someone else. We all need another person. Right. We find that person and how that how you allow that person in your life is where that control piece was. Right? Yeah. Yeah. Your control.
Philip King-Lowe
Yeah. Yeah. And here's where connecting with other Autistic can be of help. For example, I do know of someone who is facing the change of career and as I say, staring homelessness in the face. So I reached out to him and said have said to him like, have you? Have you reached out to your local vocational support your vocational rehabilitation folks? And they said, Well, yes, I did. And one of them refused to talk to me because I'm gay. And I said, Well, that doesn't sound right. And so I said, Well, let me see if I can reach out to someone who helped me. So for example, we have in our department of rehabilitation, vocational services, there's one person who actually works with Autistics to get to do the intakes with and that you do the intakes with this person, and they'll recommend they'll say, I'm gonna send you to that person, because that's the person who can help you. So, I asked, I asked that individual from the voc. rehab, I said, this is the state this individual is in, Do you know whom he might be able to reach out to? And she gave me a couple of names. Okay? So sometimes reaching out to somebody else, and another Autistic saying, I'm in this position, okay, I know what situation you're in. I can maybe help you find a resource. And I did. But the point is, is that there are resources out there and actually, thank God, they're actually growing, even though they're not necessarily resources growing as quickly as we'd like them to, but they are out there. And sometimes by reaching out to another, other Autistic people, and you say, what is this service? Sometimes? It's amazing what they'll say. It's amazing that you find what's out there. It's just a matter of, you know, asking, looking and sometimes hearing the word no, I don't know of anything, and then move on to somebody else who might know. I'm a believer, that part of part of solving a crisis, and this works for me, I know it will not work for others. For me, it's going after its continuing to overturn the stones of possibility, and not stopping until you turn that one stone over. That turns out to be something you can follow something you can use. You know, and so that's, that's, that's, that's my piece of advice. What do you think?
Becca Lory Hector
Yeah,I mean, I feel like I give my very best advice. But I think when we're dealing with a crisis, you want to use every resource available to you. And that means remembering your Autistic community. If I mean, I can't tell you how many groups I'm in and how many times people say, Hey, I'm in this state, I'm having this problem. Does anybody knows somebody there? And we all want to help each other. We're like, yep, in there. here's this, here's that here's this, right? So, you don't have to necessarily say yes to every person that helps you. But you will get lots of feedback. And that feedback may spark a new possibility, or a new idea in your head about how you can handle your crisis. Right? So, you know, that stuff? I mean, it may it seems like it's not really motions to go on the computer and make a post, but it is. It's more emotion than just sitting on your couch and getting stuck in inertia, it's it's still part of research of solving your crisis.
Philip King-Lowe
Yeah. Let's, I think we need to give room for one possibility that that is all too easy to forget. And that is, how Autistics may find themselves in a crisis where quite frankly, there is no solution, that's going to make it better. There just isn't, you know, give some ideas that you might have about how to cope with some of that.
Becca Lory Hector
Sure. So um, there's, first, I know that people are going to be so annoyed at me for saying a couple of these things. But first of all, there is a solution. Even if you feel like it's a crisis that you can't manage. Somebody else can help you to find some way through it. Now, can we fix everything that gets broken? No, right? If the crisis we're talking about as a death, obviously, we can't turn it around. Right? But again, this is a place where I talk to people about your response to it, right? That is going that crisis, however, whatever it is, it is not in your control, but your response to that crisis is in your control. So, if you decide to have this crisis, and let it fester and grow and become a bigger crisis and a bigger crisis and a bigger crisis, right, that is a choice. The other option is to say, I'm like Philip, and I'm going to overturn every damn rock until I have run out of rocks. And then I'm going to turn to the person next to me and say, you look under your rocks. Right? Right. I'm not giving up the autonomy and self-determination in my life. Because the the choice to do nothing is still a choice. Right? And, and then what that does is create a situation where you don't have control. Once you've you've said to do nothing someone else is, is making the decisions. Right, right. That's sort of what I how I think about it. And the piece I want to leave you with.
Philip King-Lowe
Yeah, yeah, no, yeah, no, I, you know, but there is that sort of thing where that goes with the great serenity prayer. Give me the serenity to accept the things I cannot change, right wisdom to change the things I can track, you know, the strength to change the things I can and the wisdom to know the difference. Yeah, she's very, you know, sometimes, you know, sometimes part of dealing with a crisis, wherever that crisis, whatever stuff that crisis might be in, it's just recognizing these are the things I can do right now. These are the things like can't write, and, or, and or, how do I tell the difference? Sometimes you just gotta kind of sit there and do your do some logical, what can I do here? You know, there is also there's also the crises that happens when your health changes. That one I know very well. Yeah, that's a difficult one. You know, I speaking for myself and, and others that there's a lot of us who have physical disabilities, I happen to have one. And, you know, I, actually Andrew Gurza, I interviewed him. And he was on my show in June, about the intersection of LGBTQIA+ Pride, Disability and Autistic Pride. And he has written that, you know, there is a grief that goes with wanting your body to do something that it's just not going to do anymore. You know, and again, that's a grief. But But yeah, that's one of those things. It's a very difficult crisis. And I know for myself, that part of my part of dealing with my crisis, has been accepting that there are things I would like to do like I did 10, 12 years ago, it's just not going to happen that way. Because I can't.
Becca Lory Hector
Right. And that's the evolution of humanity. And the thing is, there's different levels of health crisis, right? Sometimes you get those really like I mean, if you're in a car accident, and it has a sudden onset of right? That is really hard to digest, your lifestyle changes really quickly, right? For those of us who may be hired for something that's a slower onset, or, you know, happens over time and gets worse over time, right? That's a different kind of mourning. But when we talk about the grief in there about that, it's that there's an identity change that happens with that information. Right? How you see yourself out in the world changes. And that's where the pain comes. Right? That's where the difficulty comes from. And I think, again, that's, in those both of those situations, whether it's sudden, onset or slow going, it's about processing the facts of what is happening for you, and then trying to find the places in which you have control. So, if right, and that sudden onset, well, what can I do to focus on my healing, right? Because I can't change that the accident happened, or I can't, whatever. And then, you know, you know, making sure that you're taking care of yourself along the way, your mental health, all of that stuff, right? And really, just knowing that that's your job, your purpose, right, in that moment, is just to deal with that and thing.
Commercial Break 3
Advertisement
Are you Autistic and the owner and/or host for a podcast that is by and for Autistics? If so, I have a very exciting networking opportunity for you. I am cordially inviting you to attend a live virtual initial meeting to talk about the creation of the International Autistic Podcasters Association on Thursday, March 16th, 2023 at 11:00am-12:30pm Central Standard Time. During this meeting we can talk about what we might like an International Autistic Podcasters Association to look like and what we could do. The association members can share with each other what our podcasts are about, what is working well, what might need improvements and promote ourselves and each other to attract more listeners. The meeting will be recorded with a transcript and made available on Today's Autistic Moment's YouTube channel. To read more about the meeting go to todaysautisticmoment.com/apa/. Please share the news and link with any Autistic person you know who owns and/or hosts a podcast for other Autistic people. If you have any questions or concerns, send an email to [todaysautisticmoment@gmail.com].
Future Shows
The Summer of Self-Care Series will conclude on August 22nd when Becca Lory Hector and I will talk about Self-Care During an Election Year. It goes without saying that elections can be very stressf
ul. There are newspaper articles, social media ads, television ads, emails are coming at us one after another with negative messages that bombard our senses. We become so overwhelmed, frustrated and burned out. Each effort to turn things off, leads us to another source that adds more informational overload, like people around you expressing their opinions even when you have said no more. The worst time of this election year is less than two months away. Becca and I are going to talk with each other and we want you to listen in for how we can take care of ourselves as Autistics who need our own spaces.
The fall shows begin on September 5th with Zephyr James coming back to invite you into a fantastic conversation about Autistics Collaborating with Autistics. Over the past four years the Autism Society of Minnesota has been organizing the annual Autism Community Summit. This year's summit will be on September 17th. It is always a wonderful time as Autistics come together to collaborate and support other Autistics. Zephyr James and I will share with you what we have learned and what happens when Autistics Collaborate with Autistics.
On September 19th, don't miss my conversation with Candice Christiansen about Online Dating: What Autistics Need to Know. The convenience of the internet might seem like a great way to find that perfect person to date. However, many Autistics find it difficult not to fall into certain social traps that can include but not be limited to dating someone who is abusive, and/or finding someone who does not respect our boundaries, or just rejects us. Come hear Candice's important advice to help you stay safe when using apps for online dating.
Thank you for listening to Today's Autistic Moment.
Philip King-Lowe
Absolutely. Yeah, you know, to give my audience a little bit more of a understanding of myself, and I know many of us are in the are in a similar situation. But you know, when, when my back pain, I realized my back pain was going to be and I knew I needed a wheelchair a little bit more often. That was a crisis for me, because I realized that a lot of my independence of being able to do whatever I wanted, whenever I wanted that was ending for me. And I tell you, even now, today, that if let's say, I decided I'm going to go shopping or something like that, I have a lot more things to think about such as I gotta get my wheelchair out into the car. I gotta hope that that place has a ramp or something that makes it accessible. I got a plan for either a cart or I got a plan for someone to assist me. Those were things I no longer I didn't have to do when I could just get up and go as I please. Now I have to think about that. And during one of my physical therapy sessions, the physical therapist said, Well, who said that you have to figure everything out immediately? Right. You know, it's okay that if you have to take the time to fill figure out what your steps are going to be to do something you need to do. That's okay to do that. In fact, you kind of need to do that. And I realized that I was so used to just thinking up things up fast and just doing them. Now I had to give myself permission, if I need to take step one, and then step two, and then the next step up, that's okay for me to take the time to figure that out. And when we're in a crises, I feel like one of the things that can be really difficult is to give ourselves permission. And literally give ourselves permission to slow it down. And part of that self-care is giving yourself permission to think about your steps. And I know Zephyr James said a long time ago, one of the things that many non-Autistics don't appreciate is how much thought we put into making our decisions. Okay? But seriously, taking the time to think about what your steps are going to be to make so and so happen. That is not a negative, that's actually a positive, correct. That's one of those things.
Becca Lory Hector
Pause I just can't have, you are allowed your processing time. There is no timer going there. I don't know who invented that, right? And this whole thing about permission, it is so insane how many things that we if we just gave ourselves the permission to do, right, and we took our social constructs, how much energy we would save. How much time we would save all of those things. Right? Right. Really like in those moments when you're having to care for yourself, right? It's okay to take the time you need. It's okay to shift your focus. It's okay to stop doing some of the things you always do. Right? It's okay to adjust with that crisis, right? All of us is acceptable. This idea that there's some right way or wrong way to process the real crisis is absurd.
Philip King-Lowe
Right, right. When as and as we know, each Autistic person is very different your way of working through a crisis is your way. And that is okay.
Becca Lory Hector
Right. It's okay. And if you need permission, Philip and I are giving you permission right now. We are right, as we are giving it to you, you now have our permission to practice the pause and take the time you need to process.
Philip King-Lowe
Right, right. Right. And another thing, just just just in case, somebody is there trying to say, Well, why don't why can't you figure this out? In the next five minutes? We just say, you just say no, I cannot figure it out in the five minutes. It's gonna take me longer. You You have every reason to let somebody know. It's not going to work on your time schedule. It's going to work on mine. Yeah. Because that's how I am. And you have the right to do that. Correct. You know, I don't know where people got the get the idea that somehow Autistics because we think we may think a little slower or whatever, that somehow that means they've got to help us make it right. No, we don't always need. In fact, it would be best if they asked us. Do you need me to help you? And let us say yes or no.
Becca Lory Hector
And really, if we say no, please go away? Don't take our no and pretended its a yes. If we're saying no, we don't need your help right now. We really mean it. Right. Right. Right. Yeah. Usually, that's the answer when we don't know yet. How we need your help, right? Like, we need that time. And again, that's that reason to take that processing times. Like, I don't want to blow you off. Like go away. I don't need your help. But I don't know yet how to use you. I don't know yet in the process what I need help with, right? So, it's like, yes, I want your help, but not yet. Or I don't know how yet or whatever. Right? So, when we are communicating our needs, please take us seriously, if you're listening, and you haven't.
Philip King-Lowe
Yeah, absolutely. Well, Becca, um, this is why I love having these conversations with you. And before we end this conversation, I just want to say that Becca is going to be back with us on the 22nd of August and we're going to talk about a very important thing, especially this year. Self-care During an Election Year. And just, you know, I say this when I do my announcements of future shows, but we have a lot of stuff coming at us during an election year. We have advertisements, we have news, we have emails, we have all these things. And they can overwhelm us and we're going to talk about how you take care of yourselves when all The stuff is coming in and you have to figure out what do I do or how do I do with myself? Because sometimes you just have to. I'll just turn it all off and do nothing for a while. But we'll get to that next week. Absolutely. All right. Becca, thank you so much for being here again. We look forward to seeing you next time.
Becca Lory Hector
My pleasure. I'm excited to come back and talk with you again.
Philip King-Lowe
Yeah, thank you.
Today's Autistic Community Bulletin Board
All of these events announced with the links can be found at todaysautisticmoment.com/bulletinboard/.
Understanding Autism virtual classes will be offered by The Autism Society of Minnesota. These classes are perfect for Autistic individuals, caregivers, those who want to understand the basics of Autism and support Autistic people. Classes will be held on August 14th from 2pm to 4pm. September 19th from 2pm to 4pm. October 17th from 6pm to 8pm. Classes are free of charge, but you must register to attend.
Registration is now open to attend the Fall virtual classes for The Autism Direct Support Certification at The Autism Society of Minnesota. Classes will be held on September 9th, 13th, 23rd, 30th and October 7th. Scholarships to attend are available, but you must register to attend.
Registration for the 5th Annual Autistic Community Summit will be open in the upcoming weeks. Be sure to check their website often for updates so you can register.
Go to ausm.org for more information about these and other events at The Autism Society of Minnesota.
If you have events for Autistic Adults and our supporters and would like them announced in Today's Autistic Community Bulletin Board on August 22nd, please send them to [todaysautisticmoment@gmail.com] by 4:30pm on Friday, August 19th.
Today's Autistic Moment is sponsored in part by Looking Forward Life Coaching. Looking Forward turns stumbling blocks into stepping stones towards success. Go to lookingforwardlc.org for more information.
If you have a topic that you think will be a great contribution to talk about the strengths and achievements of Autistic Adults and/or want to be a guest in season 3 in 2023; want your business or organization mentioned or have questions about Today's Autistic Moment, please send an email to [ todaysautisticmoment@gmail.com ].
Thank you for listening to Today's Autistic Moment: A Podcast for Autistic Adults by An Autistic Adult.
May you have an Autistically Amazing day.