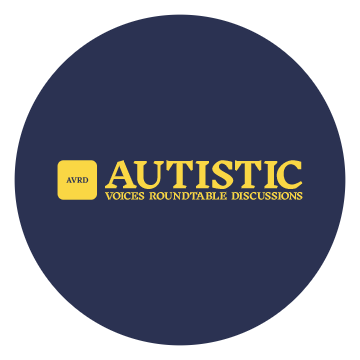 Live Virtual Roundtable Discussions by, with, and for Autistics.

When topics about Autistic people are discussed with decisions made, Autistics are almost never invited to be part of the conversations. Autistic Voices Roundtable Discussions are seeking to allow Autistic individuals the opportunity to say what we think and what we want.

The first Autisic Voices Roundtable Discussion was held on October 20th, 2021. Six Autistic individuals talked together about Person First and Identity First Lanaguage. The conversation allowed the Autistic individuals to find some community, share our thoughts and said that we prefer Identity First Language by saying that we are Autistic.

Each Autistic Voices Roundtable Discussion is live.
Every roundtable discussion is recorded and made available on
Today's Autistic Moment's YouTube Channel.
To get the transcript, click on three dots after the word SAVE ... and select
"Show Transcript."

Three Autistic Voices Roundtable Discussions in 2022

February 23, 2022
Topic: Stop the Shock

In March 2020 the Food and Drug Administration Sought a ban to end using shock treatments as a way of treaing people with Autism and other disabilities.

In July 2021 Federal judges in a 2-1 decison ruled that the ban interfers with the ability of doctors at the Judge Rotenberg Educational Center to practice medicine.
Read the article Court Overturns F.D.A. Ban on School's Electric Shock Devices in the New York Times.


July 20th, 2022
The Dangers of Medical Myths

In 1998 Andrew Wakefield started a rumor that the MMR (measles) vaccine causes Autism. This claim was later studied and found to be false by numberous researchers. In 2010 the Lancelot, a newspapter in England retracted the article supporting Wakefield's findgings calling it "The most dangerous medical hoax in 100 years." More recently there is a myth that women who become pregnant and take the painkiller Tylenol (or any other brand name) the contains acetaminophen give birth to children that are at a higher rate of "developing Autism and/or ADHD.) Go to the YouTube channel to hear this important discussion about medical myths and the harm they do to Neurodivergent people.

On October 19th, 2022
Watch the next Autistic Voices Roundtable Discussion

Busting the Myth About Empathy
2:00pm Central Standard Time.

Among the many stereotypes about Autistic people is that we "lack empathy."
Every Autistic experiences empathy differently. Many Autistics have what is called double empathy.
At this roundtable discussion, Autistic individuals will talk about how we experience empathy.