Go to todaysautisticmoment.com for the transcript. The most important, and challenging quote to remember is "If you have met one Autistic Person, you have met one Autistic Person." Autistic Adults are not immune from struggling with the diversity among other Autistic people. George Williams joins me to talk about how Autistic Adults can manage our relationships with other Autistic individuals. --- Support this podcast: https://anchor.fm/2daysautistic/support
Click or tap on the downward arrow in the pink box below the logo. See the image below.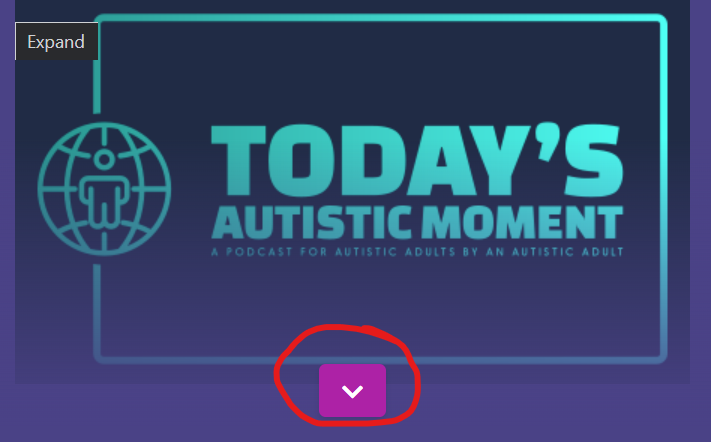 Autistic Adults: Managing Relationships with Other Autistics
October 18, 2021
[You will notice that some words have a strike through font. These are to reflect the new website created in September 2022]
Welcome everyone to Today's Autistic Moment: A Podcast for Autistic Adults by An Autistic Adult. My name is Philip King-Lowe, the owner, producer, and host; and I am an Autistic Adult. Thank you so very much for listening.
Today's Autistic Moment is a member of the National Podcast Association.
Today's Autistic Moment is always a free to listen to podcast that gives Autistic Adults access to important information, learns about our barriers, and helps us discover the tools and strengths we need for self-advocacy.
This first segment of Today's Autistic Moment is sponsored by The Autism Society of Minnesota: Minnesota's First Autism Resource. The Autism Society of Minnesota has been serving Minnesota's Autism Community for the past 50 Years. Visit them online at ausm.org.
Please go to todaysautisticmoment.com to get the New Podcast Episodes page and/or the Episode Index page to get updates, download shows, program scripts and interview transcripts. Interview Transcripts are sponsored by GT Independence.
Also, please follow Today's Autistic Moment on Facebook, Twitter, Instagram, and LinkedIn. Be sure to become a member of Today's Autistic Moment Community Group page on Facebook, where you can meet me, other listeners, exchange conversations and find program updates, news about subscriptions and bonuses, upcoming shows and take advantage of special offers.
The first live virtual Autistic Voices Round Table Discussion about Person First and Identity First Language will take place on Wednesday, October 20th at 2:00pm central standard time. Seven Autistic individuals will talk with each other about the two most commonly used labels for Autistic people. The event is free for those who want to attend. I would ask that you register for your free ticket to attend the event through the Zoom link provided. You can register by going to todaysautisticmoment.com/autisticvoices/. The live virtual event will be streamlined in the group for Today's Autistic Moment Community page on Facebook. Please become a member of the group so you can attend the event.
October is ADHD Awareness Month. Attention Deficit Hyperactivity Disorder. In the DSM-5 approved in 2013, ADHD was placed in the same family as Autism as a neurological developmental disorder. In March, Robyn DeCourcy an individual with ADHD was my guest to talk about neurodiversity. Today's Autistic Moment recognizes ADHD being prevalent in Autistic people and allistic people. The neurodiversity movement recognizes that there are differences and different brains in the world. Each neurodivergent person is worthy of acceptance, inclusion, respect, and celebration.
According to the Merriam-Webster's Dictionary online, the definition of diversity is "the condition of having been composed of differing elements." The word diversity is synonymous with words like assortment, diverseness, multiplicity, and variety.
Every marginalized group of people has a double-edged sword with diversity. There are the stigmas about people of different races, languages, sexual orientations, gender identities and disabilities face from those who are not part of those communities. They also face the issue of dealing with and accepting the diversity among their own group of people. Autistic Adults are no exception. The most common and challenging quote is "If you have met one Autistic person, you have met one Autistic person." The neurodiversity movement has just as many varieties among us as any other group of people. We talk about neurodiversity and our desire for everyone to be accepted and celebrated. Yet, forming and managing relationships for many Autistics with other Autistics is not always as simple as we would like. Deciphering what our relationships with other Autistics will be, for example, Pen Pals, coffee buddies, text chats, acquaintances, friendships, co-workers and dating relationships, can be very challenging for many Autistic Adults. Another matter is defining boundaries. Many Autistic Adults have very special interests that may or may not be shared by another Autistic person. These are just a few of the challenges for managing relationships with other Autistics.
George Williams is my guest today. George and I are going to talk together, to see if we can help Autistic Adults find good ideas for managing their relationships with other Autistics. George and his wife are the parents of a 24-year-old Autistic son. Their son is very creative and enjoys animations and pencil drawings. George is an author and freelance writer of two books and is currently working on a third. George and his wife are the co-owners of Optimal Healthcare Solutions. They are consultants for home health care agencies, providing guidance through startup, operational, and growth phases of agency development. George and his wife also provide CEU training for agencies to meet state compliance regulations.
After this first commercial break, George Williams will join me to talk about Autistic Adults: Managing Relationships with Other Autistics. Stay tuned.
Commercial Break I
Philip King-Lowe
George Williams, thank you so much for being on this episode of Today's Autistic Moment. I welcome you, and I'm grateful for you to give this time with you. Um, when I started this podcast a little less than a year ago, one of the one of my listeners said, "Could you please do a show about managing relationships with other Autistics?" And I said, Yes, absolutely. We will, and I'm so grateful that you have come to talk with me about that. So let's begin with my first question that I ask every show, what important information to Autistic Adults and our caregivers need to know about when we speak of managing relationships with other Autistics?
George Williams
Well, I think it's important Philip that whether we're connecting or contacting other Autistics or caregivers, it's important to establish boundaries. Depending on the nature of the relationship, every relationship needs, establish boundaries. I think they have to be clearly defined. They have to be mutually agreed upon, or you know, best case scenario mutually agreed upon. But there have to be boundaries. And there has to be an understanding as to what the relationship is. Whether it's a goal oriented relationship or support a more of a supportive nature or an action oriented. There has to be a purpose and a goal and there has to be boundaries so that everybody's on the same page.
Philip King-Lowe
And how would you recommend that Autistics establish that with each other? I mean, what's what are some ideas you have about that?
George Williams
Well, I think just opening up a dialogue, getting to know each other, if possible, spending time it could be whether online or in person, but spending time asking questions. Probing and presenting your opinion and then being open to the end receptive to the ideas of others. Initially is dialoguing as time goes on, that will lend itself to present opportunities to get to know the other person.
Philip King-Lowe
Yeah, well, you know, um, there are Autistics who have discovered in some cases that they've tried to connect with another Autistic person. And, you know, the thing is, is that our neurodiversity among Autistics, is both our greatest strength, our greatest connected connection to another person, but it can also be one of our greatest challenges. Because, you know, this the quote goes, "If you've met one Autistic person, you've met one Autistic person." And I think that because many of us, Autistics, we have our social challenges with meeting and working with people who are not Autistic, is challenging in and of itself. But I think that it can be fair to say, that getting acquainted with and working with one another's neurodiversity can be one of those challenges that we will we will encounter What do you think of that?
George Williams
I agree, I think that's, that's certainly a valid point, Philip. It's sometimes perhaps a group setting is best, an online setting, whether it's a support group or just an encouragement group, or life skills group. But I certainly agree that there are times when two Autistic people are challenged that that connection point, you just don't reach that point of connectivity it, it just doesn't spark. Right? And in my opinion, I can I think that's okay. If it doesn't happen, it doesn't happen. But I don't think that's a reason not to try.
Philip King-Lowe
No, it certainly isn't. You know, I can speak something for myself of one, one individual that I'm quite close to. He is his, for example, his interest is fantasy and fiction. But that's not something that I can, you know, put my brain into. And so one of the things that's, that's interesting is that, although our interests are just very different from each other, I mean, he can't really connect with a lot of mine, I can't really connect with a lot of his. Yet, when we're around each other, we may spend a fair amount of time trying to figure out what to talk about, but we we've actually managed to get along quite well. And, you know, and so when it comes to those special interests, whatever those interests may be, and, you know, they're, you know, I might not be able to connect to his special interest, he is not able to connect to mine. But that doesn't mean that we can't enjoy being in one another's company. And I think that I think that those count one of those challenges can be, where are generally, where are, where our interest is, and how much we can dialogue with each other about what our interests are. But then, of course, is those sensory, sensory processing issues that come up. Everything to do with colors, and temperatures and everything, and they can be just as opposite as anything else. And so, you know, I think for many, for many Autistics, that sometimes learning to, rather, working on living in that coexistence with another person who is Autistic, where our, as I say, our neurodiversity, we're so different from each other. I think that's part of the real challenge that that happens. Give me your thoughts on that.
George Williams
I certainly agree with you. And as you were speaking, I thought of couples where one person is on the spectrum and one is not. And I'm speaking of either married couples or just in a long term relationship. And it's a balancing act. Certainly each one is different. And I think each relationship, whether it's friendship, or romantic interest, or what have you a married couple, I think they have to just as each individual is different. As you mentioned, I think every relationship is different. There has to be specific, again, getting back to boundaries and the specifics of the nature of the relationship. Relationship a, probably won't look like relationship b, because of the individuals involved because of the circumstances because of the nature of the relationship. But I certainly agree there are challenges went two people who are both Autistic because of your neuro differences. interests may vary. Your experience and background may vary. But in the case of you and your friend, you mentioned that the two of you despite those differences, you found some kind of common ground. So I think complimentary entries, complimentary personalities, perhaps one person is more outgoing, the other one is laid back and perhaps a little bit passive. Sometimes they complement each other and they are able to coexist. Where one person is gifted the other person really struggles and vice versa and sometimes they can lift each other up in their respective areas.
Philip King-Lowe
Right, I would agree with that. Um Yeah, and the other thing too is that I think there's a tendency for some Autistics you know, we are so very socially alone and most case scenarios, and we we've had our try at other relationships with non Autistics that may not have gone terribly well. And so when we get together with other Autistics, we want those connections to go particularly well. We want them to, we want to feel like we want to feel like we're in the space where, where, as Autistics were meeting each other, you know, the Autism Society, Minnesota here has what they call every, every fall the Autistic Community Summit. And what's wonderful about that is that it's a community. It's a summit by Autistics, for Autistics. We're learning we're Autistics learning from each other. Yeah, that has that has proven to be such a such a wonderful experience. Because, you know, we don't have specialists and doctors and all the all the teachers and, you know, social analysts and everybody, we actually have other Autists are saying, you know, this is something that I've had happen to me. And this is what this has been like for me. And then they kind of get to dialogue about those experiences. But sometimes, when doing a one on one, sometimes making those connections is a lot more difficult. You know, you just mentioned creating boundaries, what are some ways that you suggest that we create boundaries with other Autistics?
George Williams
Well, the one area that I think can dominate any relationship, this certainly is not just limited to Autistics, is the issue of time. One person may really need another person's attention, they may need their time, they may need someone to listen. And sometimes their the tendency is perhaps they just forget about the other person's needs. So I think managing time is number one, I think that's critical. Not that you you're not interested in the person is just that they can't just call and chat for three hours on a whim. Time. But the other area of maybe time spent on on social media, or sharing something you read it. I'm not opposed to sharing information. But there are times as a writer, I know there are times people will call me and old and they'll say, oh, did you watch x y, z show last night night? And I say, no, I was writing. Oh, and then they'll just proceed. Oh, it was a really good show. And the characters engaged in these activities. And I by then I'm kind of zoned out. And I'm really not interested in hearing it. Right. So making the assumption that the things that interest, you would interest the other person sometimes can cause friction. Yeah, perhaps that person really isn't into that and right, and it just takes time to get to know what piques someone's curiosity, what things really gets them stimulated, are going, what things are, what things turn them off. So managing time making assumptions. And the third critical area that I would, that comes to mind is the area of introducing your friends to to someone else, or someone else brings someone else that they know into your world. As you mentioned, it's hard enough to make that one on one connection. And perhaps someone say, Oh, this is my friend Joe. He's a great guy. I think you should know him without consulting you first. That's an invasion of privacy. It's an invasion of yours, your space and it could sever the relationship or that connection that you've made up to that point.
Commercial Break II
Philip King-Lowe
Let's move into my second questions, some of which we've already been talking to, and it happens every show, that's fine. But what are the barriers for Autistic Adults of all ages when it comes to this particular topic? We've already named quite a few of them, establishing boundaries. Working with each other's neurodiversity can be a challenge, you know, learn, learn to manage ourselves and that sort of thing. You know, I also think that our neurodiversity also means that our social challenges are unique, our will be very similar, or they will be very different depending on of course, who the person is. And, you know, one might be particularly talkative. The other one might not be. You know, one might be receptive to certain conversations, and other probably won't be there'll be more receptive to other things. And just finding each other's interests and boundaries. And those sorts of things. As we've been talking about, it can be extremely challenging for us, Autistics to do that with others, because, you know, you know, I know this isn't I'm let's let's not say that. It's like this for others. Because when we say, for Autistics, it's always going to be different. Let's say that Autistics can have a sorry. Autistics can have our challenges with how we, without with our challenges meets with the challenges of others. And sometimes we have a connection with another Autistic person that just does not work out, like we would like it to. And I think we need to say very openly that if that's the case, that is okay. We're not expected to get along with everybody. You know, and sometimes it's one of those things, too, that two personalities just won't work together. Let's talk about some of those challenges if we can, because I think I'm not the only one who's been caught in those traps. And I doubt and I have a feeling that many, many others in the audience's that they've been met with challenges similar to that. So let's see what we can talk about with that. Go ahead, George
George Williams
Sure. I certainly agree with you. First of all, as you indicated, it's okay. It's it's not life shattering. If two people don't make a connection. If two people don't hit it off. And you know, in my experience, and this is just generally speaking, some of the best relationships have just come when I really wasn't expecting them. Right, perhaps in the course of doing my day to day activities, or what I normally do. But getting back to your point, some of the challenges involved, I think is important is not to grow bitter, when things don't work out. Don't retreat and become bitter or vindictive. Or God forbid, become a stalker. But try to maintain a healthy self attitude or self perception and not let. Don't don't view it as rejection. Because you didn't make that connection. Don't go down that dark hole of feeling inferior or feeling less than or feeling inadequate, because someone did not befriend you. In addition, I think it's also critical to know that people are different, perhaps, expectations come to mind. Sometimes we make a connection, and we expect something of a person and they are expecting something different. So it's important to recognize that someone may just want you as a as a chat buddy, for example. Someone else may be thinking, Oh, this is someone I can see spending my life the rest of my life with. And obviously they're on totally different pages there. And so it's important to know and recognize that the expectations have to be. one realistic and two, there has to be a meeting of the minds. I can't expect to say this is my, my partner for life when the other person is thinking, Oh, that's a nice guy, I'll put him in the friendzone and keep them there.
Philip King-Lowe
Oh, yeah, I'm gonna use one particular example that that has been, has occurred with me. My husband and I, there is an individual that that has been very good to us. And we, we've met this individual on numerous times. And we had to have a conversation with them a couple years ago. Because whenever we had a birthday or an anniversary, and we were out with a group of friends, they would bring this huge gift box of multiple things, just just, you know, several things just all at once. And while all of them were extremely appreciative, and I will mention, yes, he, this individual is also Autistic. But the point is, is that there would be so much stuff in there, it would actually be overwhelming. And so after my husband and I had a conversation about that, we decided that we needed to find a moment to sit and talk with him. You know, and we made it quite clear to him that as much as we appreciate very much his desire to give us things that might, you know, that we would appreciate and want that sort of thing. But that, that he didn't have to go, go overboard, he doesn't have to, you know, give us the world, when he gives us a gift. He can give us just a simple something. And we'll be happy. Sure, because for some reason, this individual felt that he needed to just, you know, kind of give the best of his best, which he did. And again, we were very appreciative of him. But we had to have that conversation with this individually to say, you know, we do appreciate what you do. And we want to be very clear with you that you are not doing anything wrong. You are actually doing something very, very sweet, very nice. But you're going overboard, this is becoming overwhelming. And so, you know, we had to establish a boundary with that individual that from now on, when there's a birthday or an anniversary, just give us a card, we'll be happy. That sort of thing. Just just, you know, and we said, you know, just, you know, that sort of thing. You know, I'm sure there are others who have who have examples like that. But I don't know, if you have any, you know, situations or situations that are similar to that. Can you give any feedback to that or some other advice that you might give to us to other Autistics in situations with other Autistics like that? You know, give some more thought, give some thoughts to those kinds of things?
George Williams
Sure. Sure. I think your example was a great one. First of all, the fact that you and your husband initiated communication with this person, the although they were well meaning. Their intent was there, but you just had to draw the line and say, Look, this is just too much. I can also think of situations, perhaps parents of art, say a young adult, parents can be overwhelming, or their friends. And I know personally, as a parent of an Autistic son, we get comparisons, but just too many, too many comparisons. Oh, the lady at my church, her grandson does this, he does that he's Autistic, why isn't your son, they may not come out and say, Oh, yeah, I think Why doesn't your son do this, but it's implied and it's there and it's understood and it's and it's constant. So sometimes you have to also draw the line and establish those boundaries with parents, with friends with certainly family members. Because it can be a bit too much, it can be a bit much. So those boundaries aren't necessarily limited to the just one Autistic person communicating or involved with another Autistic person. It speaks to the rest of society also because there as you know, there's just so many assumptions and yeah, and people will act upon those assumptions without giving thought to how it would make you feel or what kind of space that might put you in.
Philip King-Lowe
Absolutely. I couldn't agree more. Yeah. My last question what important steps to Autistic Adults and our supporters need to take to advocate for our needs? When we are talking about Autistics managing relationships with other Autistics. I think that we've been also adding some of these but, um, I feel like one of those ways that Autistics can advocate self advocate is to sort of self advocate with and for each other, as we try to create and manage relationships. One of the greatest greatest things for Autistic Adults to do, is to network with other Autistics to talk with each other, listen with each other, try to find ways to relate to each other. And you know, because I think that many would say that they feel so disconnected from others because of how many non-autistic says those assumptions that you were talking about. And just the general experiences they've had with sensory overloads with lights being too bright or sounds being too loud or, or all the various things that they get. And so therefore, this is why many kind of isolate themselves, but they want relationships with others who understand them. Yeah. And then comes comes a moment when they when they start dialoguing with other Autistics. I have to say that before I found the Autism Society, Minnesota back in the end of 2017, I really didn't have a whole lot of Autistic Autistic friends around. Now I have, I have quite a few. But it takes time to find those things. So, um, you know, when we talk about self advocacy, I think a big a big step here is is to kind of do some dialoguing with each other. And also just, you know, I'm kind of lost my thought for a second. But I think self advocacy comes in, you know, just willing to, to work on relationships to kind of, you know, seek other Autistics somehow. You know, like any relationship, it means taking time and putting in some work to, um, to getting to know each other. So I'll let you talk now.
George Williams
Okay, well, I, I do have a couple of thoughts along those lines. In terms of self advocacy, it's ongoing has to be ongoing. And the one word that comes to mind is the need to just continue to educate. Educating others. As we educate others, we learn about ourselves as well. But whether it's a friendship or wanting to connect with another Autistic person, just continue to do so. Continue to make the effort. Sometimes there's a reception and sometimes you just might from, from time to time you just hit a brick wall. Don't quit, just keep doing it. That education should also extend to the broader neurotypical community. Whether it's family, friends, to try to eliminate some of those assumptions. I think it's a two sided coin and this shouldn't all be on the Autism community to educate neurotypicals. This is how we are. This is what you need to understand. We, we meaning neurotypicals also have a responsibility to meet the Autism community, Autistic community, halfway or partial way or at least to to try to extend and reach out to get to know you. To understand. To to empathize. For families that have Autistic sons or daughters, I think there's a willingness on their part and an eagerness to learn more, but it shouldn't be limited to just families that have an Autistic members should be for the broader society.
Philip King-Lowe
Yeah, I hear that. I hear that. Um, you know, as an Autistic person talking to other Autistic people, my audience has heard me say this, these things many times. Part of the importance of building relationships with other Autistics is is to know as much as you know, and get to know as much as you can know about your own brand, making and model of Autism, what your neurodiversity is. And I always say, you need to become the expert about your Autism. And then you need to become the expert at talking about your Autism with others. And all of this takes kind of a lifetime of learning to do, or the important part is to learn and to continue to learn and to continue to try. When two Autistic people know as much as they know about each other as autism, while their Autism, they can communicate with each other about their Autism with each other in a way that can really make make a relationship successful. One of the challenges we do have is that some Autistics are okay with being open about being Autistic, some people just don't like to talk about it. That can be that can be a really difficult thing. I know it is for me, sometimes I'll be talking with another autistic and they just don't want to be talking about it. I'm like, okay, fine, I'll do the best I can. You know, that sort of thing. Um, but you know, um, but, you know, yeah, I mean, the relationships with neurotypical people. That is something that needs some work. But in this particular instance, we're talking about the managing of relationships with other Autistics. And part of that self advocacy, I think, continues with self knowledge and self communication, as best as one can. If it means writing things down and putting them away for later that's okay. To know. Um, but, you know, I think self advocacy here is, is again, that is, again, self knowledge, something that is often overlooked. So, what are the thoughts do you have?
George Williams
Well, justed, I think you've pretty much hit the nail on the head. But I would just add to that, I agree, self knowledge, continuing to, to know yourself. And you mentioned, whether it's writing things down. It may be just having a daily reminder, whether it's a calendar or a schedule, or having an accountability person, someone to just just touch base. To check in with you, whatever, whatever it is. And and you mentioned, and I think it's worth exploring a little bit, that area of secrecy, I understand that I can't speak from it, in terms of experiencing it, but I am aware of it. Not wanting to deal with and not wanting to talk about it, and in some cases, even shame, but we have to keep reaching out, making the effort and we impact those that we can and we just continue to move forward when when we do hit a roadblock, look for another direction.
Commercial Break III
Future Shows
Coming up on November 8th (and not November 1st), Autistic Adults: Preparing for the Sensory Unfriendly Holidays. The holiday season is full of sensory problems. Many Autistic Adults get overwhelmed by the changes in routines. Certain foods are difficult to smell, eat and digest. The large family gatherings and loud parties can be overwhelming with all the sensory input. Zephyr James returns to give some great tips about how you can prepare to take care of your Autistic needs for the upcoming Holiday season.
David Grey-Hammond will join me for two separate shows. On November 22nd, David will be my guest for Autistic Adults: Substance Abuse Addiction. Alcohol and drug addiction for Autistic Adults is a bigger problem than most people realize. Many Autistic Adults have reached for alcohol and/or drugs both prescription and recreational to cope with anxiety and became addicted to them. David is an Autistic Adult from the United Kingdom. David joins me to talk about how substance abuse addiction has affected his life.
On December 6th, David Grey-Hammond returns to talk about Autistic Adults: Substance Abuse Recovery. David will share with us what his road to recovery has been like.
The final show for 2021 will be on December 20th. The topic is Autistic Adults: Internet Safety. My guest is Tas Kronby. How can Autistic Adults be safe on the internet? The internet includes social media. Dating apps. Sales scams. Sexual predators. Autistic discussion groups. The internet has many amazing opportunities and problems for Autistic Adults. Tas Kronby are Autistic neurodivergent members of the disability community. They have a unique combination of diversity and are an advocate for inclusion. Tas will talk with me about how Autistics can use the internet safely.
Plans for the second season for Today's Autistic Moment in 2022 are underway. If you have a topic suggestion or would like to be a guest, send an email to PKLowe@todaysautisticmoment.com. todaysautisticmoment@gmail.com .
Philip King-Lowe
One of the things that I think is extremely important and this is you know, one of those things that that I am many who are part of the movement of neurodiversity, we're desperately we're desperately and patiently trying to work on is to help people in general to as as and Autistic people, that being Autistic is a good thing. Really, it's not, it's not a horrible thing. You know, we now know that it's a neurological developmental condition, it is not a mental illness, nor is it something that's caused by vaccines or any other such thing. We now know that. And the thing is, is that it is a wonderful way to be, it's just a different way to be, and that's okay. We're still in the year 2021. Still trying to help people understand that being different is not necessarily necessarily a bad thing. And even struggling with accepting people who are different, is not exactly a bad thing. But we do coexist with each other. And the point is, is I had an episode back in March about, you know, our own brand making model, and my good friend Robyn DeCourcy. And I was talking, the neurodiversity movement means that there are different kinds of brains in the world. And we just learned to, to accept those brains and learn to celebrate and live with each other, despite our different brains. Yes. You know, and the thing is, is that I agree with you with what you said that there may be some people, some Autistic people who are ashamed. Um, and the thing is, is that a lot of the things the social pressures, so social stigmas around Autistic people. They may not say, the word shame, but they can be precursors to the feeling of shame. And so, but when it comes to being Autistic, and communicating, and creating relationships with other Autistics, you know, once again, neurodiversity means that there is no such thing as one size fits all. And therefore, no, not every one person is going to necessarily be able to get along with another Autistic person. But, um, a lot of what we need to do as far as self advocacy is, in terms of managing other relationships. I think to get past that boundary of, you know, being Autistic means there's something wrong with me, versus being Autistic means there's just something different. And that difference is a good thing. And, you know, yeah, yes, no, I have also heard that there are, are Autistics who have said, you know, when I'm m, I'm communicating with other Autistics for once, I don't have to explain why I have my special interest. Or why I, you know, you know, I feel like, you know, I can I can communicate well. And I can finally relax. And once, you know, with a majority, you know, that sort of thing. So yeah, so I think I think very much so that that's also part of the part of the whole picture.
George Williams
Yes. I certainly agree with you. It's being different is not bad. It's not a bad thing. There are different types of brain. Can you imagine if we all thought alike if we all had the same interests, we all liked vanilla ice cream, with a cherry on top on a sundae? If we all had the same dreams and aspirations and the same hopes. The world would lack tremendously lack its richness, and an eye and all that it has to offer. If we all just did the same thing at the same time on the same day, and it would be pretty boring in my opinion.
Philip King-Lowe
Yeah, I agree with you. I agree with you. Well, George, I wanna thank you for this wonderful conversation we had today. I think we've given our listeners some great thoughts. You know, I often say on on my episodes, we don't solve all problems. We don't change the world, as in once and for all, but we do at least get conversations going. And to me, that's the most important thing is to actually begin having people make dialogues to make connections to things that you know, especially for Autistic Adults who are looking Yes. Oh, by the way, yeah, I know, I understand that experience. So yeah. So I want to thank you so much for coming on today.
George Williams
Well thank you so much, Philip. It's been a pleasure talking with you. And I think what you're doing is fantastic. Keep up the good work. Keep advocating and keep educating and enlightening. I hope to see you again soon.
Philip King-Lowe
Me too. Thank you sir.
George Williams
Thank you.
Transcribed by https://otter.ai
Today's Autistic Community Bulletin Board
On Tuesday, October 19th from 6:00pm to 7:30pm, there will be a free virtual cooking class with Cookable Kitchen. Join Sam Grover and Kat Olson as they lead a step-by-step online class where participants will make dinner together and socialize. The event is free, but you must register to attend. The event is limited to 20 participants. So, register now. Go to ausm.org to register.
On Tuesday, October 26th from 7-9pm, Zephyr James will be presenting a virtual skillshop. The title is Self-Management and Self-Regulation: The Underpinnings of Emotion Regulation and Executive Functioning.
On Tuesday, November 9th from 7-9pm, Becky Waege and Ali Brickner will present a virtual skillshop about Strategies for Successful Employment.
On December 14th from 7-9pm, Jason Schellack, the executive director of the Autism Advocacy & Law Center, LLC will present a virtual skillshop entitled Guardianship: Do We Need It?
Understanding Autism and Best Strategic Practices virtual classes will be offered on November 15th, 2-4pm and December 13th from 6-8pm.
Registration is open to attend the winter classes for the Autism Support Certification. Classes will be on Saturdays from 9am to 3pm January 15, 22 and 29th 2022.
Go to ausm.org to register for any or all of these educational opportunities.
Thank you for listening to Today's Autistic Moment: A Podcast for Autistic Adults by An Autistic Adult.