Go to todaysautisticmoment.com for the transcript..
Today's Autistic Moment begins Women's History Month with Rose Carreiro as we discuss Adult Autistic Women. There is a myth that Adult Autistic Women do not exist. Rose explains how the stereotypes about women being caregivers for children, with the expectations of how women "are supposed to be" plays a role in the myth.
Click or tap on the downward arrow in the pink box below the logo to follow the transcript. See the image below.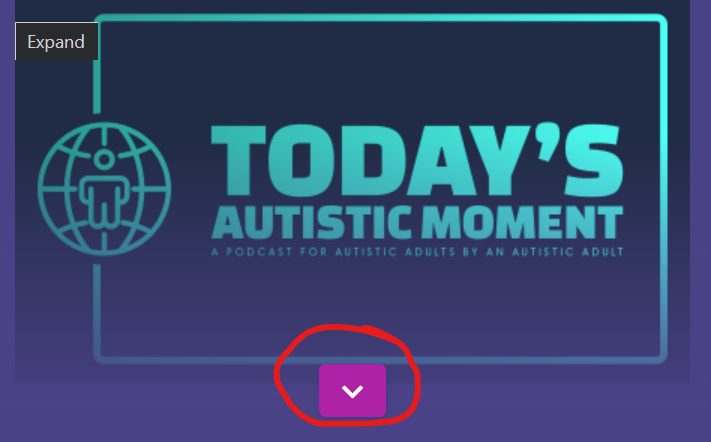 Adult Autistic Women
March 7, 2022
[You will notice that some words have a strike through font. These are to reflect the new website created in September 2022]
Welcome everyone to Today's Autistic Moment: A Podcast for Autistic Adults by An Autistic Adult. My name is Philip King-Lowe. I am the owner, producer, and host, and I am an Autistic Adult. Thank you so very much for listening.
Today's Autistic Moment is a member of the National Podcast Association.
Today's Autistic Moment is always a free to listen to podcast that gives Autistic Adults access to important information, helps us learn about our barriers to discover the strengths and tools we already have to use for the work of self-advocacy.
This first segment of Today's Autistic Moment is sponsored by The Autism Society of Minnesota: Minnesota's First Autism Resource. For over 50 years, The Autism Society of Minnesota has been honored to support Minnesota's Autism Community. Visit them online at ausm.org.
Please go to the New Podcast Episodes Page of todaysautisticmoment.com where you will find the lineup for the new shows, with the description of each show from now through the end of May. When I publish new shows, you can click on the title and guest of each show to listen to the episodes. You will also find the Program Script that includes all of the hyperlinks I mention on each show and the Interview Transcripts. Interview Transcripts for 2022 are sponsored by Minnesota Independence College & Community. If you wish to listen to all of the previous episodes including the 24 shows for 2021, go to the Episode Index Page.
Also, be sure to follow Today's Autistic Moment on Facebook, Twitter, Instagram, LinkedIn, and Tik Tok. Please join Today's Autistic Moment Community Group page on Facebook, where you can talk with me and other listeners.
The Autistic Voices Round Table Discussion #StopTheShock was a great success. You can go to todaysautisticmoment.com/autisticvoices/ and click on Topic: Stop the Shock to be taken to the YouTube recorded video to watch the Round Table Discussion. There is a Round Table Discussion Transcript available for you to download.
Welcome to Women's History Month, March 2022. There are many women who are well known who are or were Autistic. Daryl Hannah who played Annelle in the 1989 hit movie Steel Magnolias. Susan Boyle. Barbara McClintock. Temple Grandin. Anne Hegerty. Emily Dickenson. Yet, there are professionals in mental health psychology and psychiatry, and many others who believe that women cannot be Autistic. Well, I have one statistic that dispels that myth. 56% of my listening audience are women, while only 35% are male.
In just a few moments I am going to introduce my guest, Rosemarie Carreiro. Rose was diagnosed as Autistic, after being the parent of an Autistic son for many years. Like many other women, Rose found herself meeting the resistance of doctors and specialists that had the false notion that women could not be Autistic. Rose will share with us about how women who are Autistic get misdiagnosed with other conditions, because of the misconception about women being Autistic. Rose will talk about the social stereotypes of men and women and how that contribute to Autistic women not being taken very seriously. These include expected clothes, social activities, and employment expectations. Rose will also talk about how Autistic women are creating great groups on social media where they are interacting with each other and doing some amazing community building.
After this first commercial break, I will start my conversation with Rose Carreiro. Please stay tuned.
Commercial Break I
Philip King-Lowe
Rose, thank you so much for being on this episode. I want to welcome you today. Thank you for coming.
Rose Carreiro
It's my pleasure. It's really my pleasure to be here. It's something that I I wanted to talk about. And the last time that I was asked to be on it. It was real pleasure. I met some wonderful people. We had some great great exchanges. So I'm looking forward to today.
Philip King-Lowe
Yeah, definitely. That was our Autistic Voices Round Table Discussion about identity language. It's March, which is Women's History Month. And when I started this podcast last year, I really wanted to spend a month focusing on women. You know, which is interesting, because of a lot of the misconceptions about Adult Autistic Women, including those who still believe that there are no Autistic Women, which is so absurd. But yes, there are still people who cling to those myths. So a lot of what we'll be discussing today sounds like it ought to be obvious basic and everything. But as we know, in the world of Autistic Adults, it just isn't necessarily the case. So let's begin with the very first question. What important information do Autistic Adults and our caregivers need to know about when we talk about Adult Autistic Women? So go ahead.
Rose Carreiro
What I found the biggest shock was that automatically if you're a female parent, then you're told that you there's no way you could be Autistic. You take care of other people. And you had that cap capability of deciding to start a family. So therefore, an Autistic person A can't do that, which is so so wrong on so many levels, both for females and males Autistics. I'm like, yeah, that has no we're caring, loving, nurturing people like non autistic so that, you know, but that was my big first hurdle was. And when I did like, when I would say, No, I really I am Autistic, I would get, "oh, but you're not that kind of Autistic." Which was like the real Autistics and because of the fact that for a long time, it was believed that it was a boy's disorder. It was very rare that a girl had it was maybe one, one in four girls. And that was really just based on what was considered "classic Autism." So we weren't even talking like they weren't even thinking about Asperger there was, that was like a whole other level. And so this is still carried on today. Luckily, what has come out is that a lot of adults have, both male and female have started to express what their childhoods look like. And personally, what I started to see and what I had already seen, I have three boys and a girl. We were three girls at our house. So let's just say that the dynamic was a little different from where I was growing up with three girls and having these four children were the majority were boys. In my house, and this was clear across, if you look at commercials and everything, little girls are right away put into this role of growing up almost instantly. So we're gonna call it grooming. And I mean, grooming is an in an offensive way of controlling the behavior of a person. And so right away we're giving, we're given toys that are, make us responsible. So we're having dolls, that when you're supposed to take care of, then we get, you know, like the dustpan, the vacuum, the, you know, the cute little dishes. Which teaches us in a way as an advantage and a disadvantage. It advantages us in a way that we get to practice what later will become what society says that you need to have to be able to be a poor human being, which is, you know, to be productive and take care of yourself. And so we're given lots of time to practice that in many different ways. Whereas boys are kind of like, you know, just go tumble and rumble. And we'll call you when the food's ready for you when you know. So it's very, very different. So unfortunately, boys aren't supported in how to take care of themselves. So it's almost like girls get this these courses, that starts to tell us how we're supposed to act. So right, it's not long before we are like, Okay, this is what's expected. Whereas boys are allowed to roam and rumble and kind of pretend to be cowboys, then pretend to be astronauts and a little more than girls when it comes to and I'm thinking like, really my age, I'm not talking about the generation of today. Like I said, my, my children were, and I believe a lot of kids today are raised with toys, or just toys and clothes, or just clothes and, you know, everybody can be whatever they want to be. But in my time, it was much more controlled. By just in toys. If we look at just what the toys were for the little boys, we had Legos for boys, we had baby alive for girls, we have, you know, it was very, very different. And even the clothes I like I was really doing my research to come talk to you today. And I went, Oh, my Lord, even the clothes. I mean, why would you put a little dress on a five year old girl, knowing that she now has to pay attention to how she sits? When she does? You know, so it started to it's an advantage in a way as a little girl that's Autistic, because you're given so much information on how you're supposed to behave. That we grew up, we grow up knowing what we're supposed to do. So we mask. Most of us because it's not who we were, who we are. It's who we know that the world wants. And little boys kind of are like, okay, and then poor little boys like why aren't you doing that? That's weird. Why do you do that? And you're like, Well, I did that with my friends. So I it. Society expects very different things from a boy and a girl. Yeah, when it comes to being neurodiverse. It even I think amplifies the difference between the two the way that we're seen and treated right off the bat.
Philip King-Lowe
Um, tell us a little bit about your experience of actually getting a diagnosis. What was that experience like for you? And maybe talk a bit about what that was like for you as, as a woman. If you can.
Rose Carreiro
I was, I actually have a unique situation where they we're looking for women who thought that they were Autistic, that they might be Autistic. So I was very lucky to be able to go into a situation where they I was who they were looking for. So I didn't have that struggle of saying no, no one exists, we exist and everything. So that to me, was not something I had to deal with. But I have heard that a lot of females just going to their family petitioner and saying, Listen, I think I might be Autistic. And it was, well no, you know, you're you're you're a woman and you're a female and it was automatically already dismissed. I didn't get that. So I came in there. And I didn't feel because I saw my son go through his diagnosis. And my son was like cut and dry. He does not, Is he verbal? No. Doesn't make eye contact. No. Can you tie shoes? No. Well, there you go. And I was the opposite. I was like, I can't do this. Oh, yeah. But, but and I don't do this either. Oh, yeah, but, but and then it was like, Okay, fine, you're Autistic. Whereas him, everything was the Autism. I mean, when I, when I said he had a language disorder they're like, but he's Autistic. Of course he does. And I was like, no, no, it's like, so it's almost like completely the opposite of what boys encounter. And what girls encounter is really, it continues into adulthood. I think it's much. I knew much more males that had been diagnosed as let's say, early adults, compared to women, I find that a lot of the women that I know that became diagnosed, we're always talking about 40s 50s 60s. So we're seeing, even in adults of huge difference in age. So it's almost like, women are 20 years behind the men in where their place in the Autistic community has been accepted. So we're jumping up and down going up. But but but it's, it's our needs, are they different? No, they're exactly the same. It's just the teaching tools that we were given us, children, by society by our parents, lead that we're not. Like I said, we're not at the same place on what we need. Males need a lot more, my son, I keep telling him, he needs to practice doing everyday things. And to me is like, what's going to go pay a bill or being responsible for someone else? And they see it as Oh, no, he just needs to learn how to sit quietly. Whereas the female, were saying, you know, we just want to be able to be with ourselves, you know, learn ourselves, and they're like, No, we have to teach you how to pay bills and do the groceries.
Commercial Break II
Support Today's Autistic Moment
Go to the home page for todaysautisticmoment.com and scroll down to buy yourself a Today's Autistic Spinner Fidget. These really fun spinner fidgets are a great visual distraction that helps regulate your eyes and will give you hours of stimming pleasure. They are purple in color with the logo for Today's Autistic Moment on them. They are on sale for only $4.99 each plus sales tax, shipping, and handling. They are a perfect gift for any Autistic child or adult.
Also, please click on the blue button to become a patron to support the work of Today's Autistic Moment through my Patreon page.
Please share episodes through your social media networks to help spread the word that Today's Autistic Moment is here for Autistic Adults and their caregivers.
Thank you for listening to and supporting Today's Autistic Moment.
Philip King-Lowe
Yeah. And boy, just that launches me already into question number two, which we're already naming a lot of barriers for Adult Autistic Women, a lot of barriers here. And you know, you've talked about the roles of men and women, boys and girls. We've talked about, you know, all these various things. But, you know, we do know that, um, as you, you mentioned, that there are women who have trouble getting an accurate diagnosis. Who get believed that they have a diagnosis. We also know that there are women who, as you say, they get a diagnosis, but it's later in life after their lives have already, you know, gone by them. In a couple of weeks, we're going to hear from Michele Newman, who is going to talk about Autistic postmenopausal women. And Michele was diagnosed at the age of 54, after about 35 years of psychiatric misdiagnoses and medications that really affected her life. But this is also part of this conversation now. About, you know, you know, diagnosis, there's issues of being believed there's being taken seriously, of course, let's talk a little bit about some of those barriers, and maybe a few more that I probably haven't even mentioned. So go ahead.
Rose Carreiro
I think to me, the scariest of all those is exactly that misdiagnosed, where you're told that you have OCD or that you're bipolar, and of course, they're gonna you know, you're gonna believe them. Because you know, that there's something there's something that you're missing in the sense that you know, that you're, you're struggling. And so you're like, Okay, fine, it's fine. Okay, I thought it was Autism, you're telling me that it's bipolar? And what do I do? And of course, you know, we're proactive, that's how Autistic mind so it's like, Okay, what's the next step? And it's meds? But it's meds that really. No, wait, you know, do you no good. I my son. And I was very, because of my son and I saw doctors with males, it's the opposite. The second you know, you're Autistic. It's like, do you need this kind of med? You want this kind of thing? Do you want this kind of? We're on the other side. They're going oh, no, you're not Autistic. But here take this med. And so I saw him take medication where they believed that a certain such thing was going on, and I did not see it. And when you start taking that medication, my God, his mental health completely changed. Luckily, I knew so I took them off. And you know, we got it settled. But I'm thinking of me at 20 I wouldn't have had the guts. Nobody would have talked for me and I wouldn't have had the guts to say no, I really think I'm Autistic and not bipolar. But so many women were told by doctors, like I said, especially going back, where are the specialists? Yes, you're the woman. Why were the specialists and we're telling you it's bipolar Here, take these meds. And like she said, the effects of being misdiagnosed are so traumatic, because every time you're given a diagnosis, especially when it doesn't fit, your world is turned upside down. You have to accept something that is not right with you again. Again, and then you're going, Okay, how do I make this right? Because they're saying this is what it's supposed to be. And so mentally, not just physically damaging that these medications, but mentally, it's, it's another trauma that you're getting. So that to me is like, by far, I've heard so many women being diagnosed with multiple, multiple issues that at the end like I said, Autism is everything when it comes to a male and females, it's anything but that. So you, so again, you know, you know, in your heart, that odd being Autistic feels right, it, you know, it's really hard to explain to someone who's doesn't know that when they give you that information. And it's like that perfect. It's that missing piece that we had, you know that I don't like the power of the piece puzzle, because first thing, it's ugly. It's so generic. And to me, it's like, it looked more like a squishy thing that in the middle of my soul that was missing. And when I heard Autism, it just fit in there. And it just made everything connect. Yeah, when you're when you're giving other diagnosis, and you're trying to make that connection, because you desperately need support. Right. And it's not the right one, and then you're giving support. And when you're saying but this isn't helping, you're not trying enough, you didn't give it a chance. So it plays with your, your self recognition, your worth ,your voice. So it's been it's been rough, I say for. It's been rough. Just getting to where we are today, as globally as an Autistic but as a female Autistic, I think. Yeah, it took a lot. It took a lot to be recognized.
Philip King-Lowe
Yeah, yeah. Yeah, I would have to say that one of the challenges that I can make to the whole issue of, of women being diagnosed with Autism is that the number of my connections on LinkedIn, um, where, you know, and I will have to say, a fair number of the people, Autistic people, adults that I interact with on LinkedIn are women. You know, so, um, you know, this barrier that suggests that they can't be and all of the other things that goes with it, you're correct. Misdiagnosis is something that happens. Bipolar Disorder, OCD. You know, and then there's severe depression. All of which are actually can actually be, yes, um, results of a lot of our social stigmas. Those can, in fact, the key contributors to those. But it's actually the lack of Autism acceptance. That is the biggest barrier for women and feel free to say yes or no to that.
Rose Carreiro
Oh, I definitely agree. We we, we are like I said, our expectations of who we're supposed to be. And we we accept these because, you know, to that point, that was all that we were told. We had an option to be like so we masked and we do it so well. But like I said, because we have so much practice that by the time you're an adult, even when you want to you want to be seen for who you are you struggled to find out who you are.
Philip King-Lowe
Right.
Rose Carreiro
You know, you've got these layers upon layers upon layers that aren't yours that never were yours that you've tried every which way to become a part of you and it just it's there but it's you know, you don't even know what where you start and where it ends. So it's an awakening. Like I said, when you're able to do it, it is one of the most relieful moments. For me. I literally, all the lights went on and they weren't painful lights. They were beautiful glow. We live in so the lights went on it was this beautiful music and it was like, oh, every it like somebody just gave me these glasses that were just in the focus that I needed it to be to be able to see what was going on. But yeah, those glasses aren't offered readily. I, I got a lot of, Are you sure you're Autistic? When I, when I told everybody. I got a lot of, well, that doesn't really change who you are. I was like, That is so weird to say that. Because it's like, it actually is clearing who I am. But so I got these really weird reactions. And I know people were trying to be nice, like, literally, there was no meanness in there. But that just shows it's almost like we're trying to prove that we are where what, who a lot of society doesn't want to be so people don't understand.
Philip King-Lowe
Like, yeah. Yeah, yeah, I hear that. Yes. Um, once again, um, it's an issue that society has this has been given this picture of what, supposedly Autistic people, women and men or non binary were supposed to be like, and because whether, you know, when we don't fit that, that picture, it can be really difficult to find that acceptance. Um, and so this is, again, is a great place to begin my third question. What important steps do Autistic Adults need to take to advocate for our needs? And, you know, um, let's talk a little bit more about that. Because this is this is such an important place. I believe that Autistic individuals, women, men, non binary, we have those strengths and tools for our self advocacy. We just need to discover and put them to use. And so would you like to, to talk a little bit about some of those strengths, and tools that you may have found, and how you found ways to put them to use that could be very helpful to other Adult Autistic Women?
Rose Carreiro
My I think my strength is is really, I'm a people observer. I think a lot of Autistics are. But I also am observant of, and I think most of us are of what is logical and what is true. And once we know truth, we cannot unsee it that, you know people say that we're blind, it's because it's just not possible to to look, once you've seen it, you've seen it. So once I started seeing adults, females, really talking about their experiences, like really going into details of what they now recognize as their Autistic self growing up. A lot of those things became I can I can make the connection to myself, I could see it. So when I went to see specialists, and they would try to tell me that, "Are you sure you're Autistic?" Or could it be this?" then I had everything I needed. I had we're really good at research, we're really good at facts and putting things into, you know, order and saying, Listen, there's this this this and I think that's one of our greatest strengths is that as a community, we are all specialists in something. So as soon as you have an issue with let's say your psychiatrist for sleep, or let's say your doctor for EDs, or for fibromyalgia, which a lot of us do have co occurring issues, then we can literally will have someone say, Oh yes, there's this article, and there's this person and there's this so we can go there get educated like you said, it's finding those things. And I think we are a community that loves information, loves to go down those rabbit holes not all at the same time and not every day because we do have spoons to think of but we are one of these that we want to we want things to be right. Alright. It were very much like you said about balance. So learning from each other that it's okay to state your struggles that there's no shame in stating your struggles. That there have been doctors that were off not because they weren't good doctors but because they didn't have the information and it is out there. So we encourage we encourage I have an I had an IP done and a personal program and usually, I have a hard time speaking for me. As a woman, I think a lot of us have a hard time. Unless we're pushed up against the wall to just say what we need. And so because we're the ones that usually are the carers, so to ask for care is also not something that is, that's not something we practice enough of as, as females, okay. And so it was seeing other women being brave, and coming forward and saying things that for me, led me to speak my, my truth, my life. And that helped. All of a sudden, that had a group in behind me that saw me. So that being part of that community and being seen and being heard, really has led to me not having the doubts not letting someone else push me to question who I am. So, that was what I lacked a lot of when I was young, because I was, like I said, I was mislabeled I was that I was the everything, I was the loud child, the quiet child, the the crazy child, the scared child, name it. So as I grew up, I had to understand that a no shame. So that was a big one. And two, I can be me, and I'm okay. It's okay to be who I am. But that took a community behind me saying, Listen, you're, you're normal, where, where we are, you're normal. And I think that's what I was looking for a sense of normal not to be normal, but a sense of normal.
Philip King-Lowe
So I what I hear you saying in that last part is that you have found a way to do some networking with some other Adult Autistic women. Tell us about what that's been like for you.
Rose Carreiro
It's been growing up, I didn't, I didn't, how can I say this? I didn't click with girls. I was, I was a very tomboy. So I didn't have a relationship aside from my sisters, I didn't. And a best friend, let's say our best friend. I didn't know how to work with other women. I, we were like I said, our I became a mom. So I was at home, I learned to count on myself, I learned to take care of my kids on my own. I had a partner. But you know, we don't do co parenting with multiple women. So I didn't know how to be an ally to someone just like that. And so when I started meeting these women, and I would get private messages saying, Oh, thank you for sharing this. Because I too had this. I had a connection on a level that was new, because it was where my traumas were. Its where my fears where it's where my struggles were. I had never connected on that level with people willingly knowingly, you know, not. And it just, it made me shed, like I said, that shame, the negativity that was attached to all of the pieces of who I was. And I've seen us shine I've seen so many of us go on to write books, to become podcasters to become, let's say, they'll go and they'll teach to parents so much. The women have come so forward as mothers most of us started as mothers being for an Autistic child, and now we have actually turned it around and shown that we're taking care of each other. So it's, it's a very cathartic, very healing process to be amongst so many women that, you know, we're almost like we were all ghosts in our, in our previous lives. Our first parts of our lives, we were there, but not seen for who really who we were. And now it's almost like we're all appearing before each other in our full Autism. Like, I mean, we're on topic from head to toe, and we get it we all get it, we laugh, we cry, and it's it's commodity, you know it's a sense of belonging. So, it's new for women. I can say, you know, a sign from sports women aren't taught to be to take care of each other. It's kind of weird, but it is.
Commerical Break III
Future Shows
On March 21st, Michele Newman will be my guest to talk about Autistic Post-Menopausal Women. Michele was diagnosed as Autistic at the age of 54. She was finally diagnosed after 35 years of psychiatric misdiagnosis and medications and a lifetime of difficulties. I want to prepare my listening audience that Michele's story is quite heart wrenching as you will hear, when she shares about all of the treatments she has endured before she got a medical diagnosis. Some of the treatments she received such as electroshock therapy are not supported or recommended by Today's Autistic Moment, as they are outdated and harmful. What Michele shares must urge us all to work towards a more robust advocacy on behalf of Aging Autistic Adults.
Autism Acceptance Month in April of 2022 will begin with the long-awaited show with Eric Garcia. The episode We're Not Broken: Changing the Autism Conversation will air on Autism Acceptance Day on Saturday, April 2nd, 2022. Eric's book We're Not Broken begins with a great chapter about the history of understanding Autism, the set backs and progress of public policy and theories about Autism and continues with his own story of accepting his own Autism.
On April 18th, I will be sharing a very special episode with my guest Ben Levin entitled Autism is Not A Curse. Ben Levin is the author of the book In The Hole. His novel is a story depicting a child's experience with homelessness. Ben has been in love with stories ever since he was a little boy. Ben is also proud to be Autistic and wants to use his status as an author to be an example of how Autism is not a setback, but a gift. "Autism is Not A Curse" is one of Ben's favorite sayings. Ben will share with us his personal story of accepting his Autism and how his writing is an important piece of self-acceptance.
Thank you for listening to Today's Autistic Moment.
Philip King-Lowe
Yeah, well, um, one of my observations on I must say, is that I have I have seen online in some groups that I've interacted with that. I actually have seen many Autistic women do a bit better with creating community than Autistic men. Now I'm not going to pretend to I understand why that is. But I'm just saying for me, it's, it's, it's an observation that I have made. You know, and this is a good time to mention a few, at least one. One resource um, you know how many of my listeners have heard of the Autistic Women & Nonbinary Network also called AWN. And I believe there is an Autistic Women's Alliance, I believe I've seen that around. And these are some really great organizations with some great resources, speakers, tools, and a lot of important things for Autistic Women. You know, so it's worth mentioning those resources. As we prepare to wrap up our talk, um let's think on that there are some women out there who are having trouble getting a diagnosis, who are having some troubles finding resources, and finding, I'm going to use the word finding a good self center with being Autistic. Um, do you have any things that you anything you might say that you might say to them, that could be helpful right now?
Rose Carreiro
My first thing is, I see you and I stand with you. Self diagnosis to me is when people say can't be valid, and I'm thinking literally, every adult who has been diagnosed started with a self spoke diagnosis, that's, that's the first step. You literally can't go to the other one without that. So I self diagnosis is your first step in being diagnosed an Autistic. So we can't take that away from them. The journey might be long to get to that place of what I'm going to say is that legal paper, and I am really talking about that legal paper. Before you get that, I would say it's important to find your community reach out, there are so many different groups, Autistic groups that are either just for women, as you have said there are for women and non binary. And there are that it's, you know, just come as you are. But we women do have some health issues that men do not deal with. And being Autistic often can amplify the struggles with those certain issues. Let's just say, the first one, when you get your period. That is a big, big, big, big thing for women, just generally for girls. But then there's a whole issue of sensory and, you know, the understanding and all that. So we have learned how to ask or how to seek out if you want information. Now it's the time for those who those who who have gone through it. I'm very strong in having a tag team. So find someone who's been there who's either gone through the diagnosis or has been diagnosed since a young and ask, you know, like, you have to have a teammate in this, this, this, this is the this is not just let's go to the doctor and do a couple of tests and get a result. It's they're testing who you are, how you react, how you talk. It's such a criticizing, that's criticizing, but they're really magnifying every little part of you, and they're looking for the negative and that can be so impacting on a person that I think you have to have a team behind you. You have to have someone that you can reach out to so while doing that, find people that understand you. That get what your struggles or are following the same struggles. because there'll be days that you you'll wonder you'll wonder if it's worth it and you need to have someone to remind you what your what's your goal and that's another thing. Do we have to have self diagnose a real medical diagnosis to get help and that's the other part that we're you know that we have to stop saying that people jump through 10 hoops if you want a lollipop. It's so ridiculous because even if you did get the diagnosis that help out there isn't actually ordinary for a speaking woman. So even like, I've been waiting literally a year and a half, and I was considered high needs, because I was going through a very, very hard time. I have my kids, not I've seen my therapist in the last six months twice. And I'm still in high needs. So even when you get a diagnosis, even when you get, like you're saying, I need the help, even this or yes, you're gonna get the help. There's so little invested when it comes to women, because the women are on the "lighter side of Autism." So there's less Yeah, exactly. There's less need, so therefore less money. And so having allies is top notch and read, read, read, read, read, read, read, read, read, read, read.
Philip King-Lowe
Yes. And yes. And see, your point is going exactly where I have been, I and many of my guests have been. And this is where I'm going to talk to my audience and others, please, please, please drop the functioning labels, they do not help. They are really detrimental really, to Autistic people. I had a friend of mine, he got a diagnosis a few months ago. And he came to me and said, "I was just diagnosed high functioning." And I said to him, I am very sorry that your doctor told you that they should not have told you that. They should just have said you are Autistic. Because of what that that functioning label can mean. If my listeners go to my do's and don'ts page, you will read why I don't use those labels. When somebody says that somebody is high functioning, it gives people an excuse to ignore, literally ignore their Autism as if it's not there. And likewise, if someone is you say that someone is, is low functioning, it it has this damaging effect of someone being treated as though they're incompetent. And we know darn well, that Autistic people, whether higher support knees or lower support needs, we are definitely not incompetent. So this goes back to my point, don't use the functioning labels. And please, let's stop this nonsense about somebody is more Autistic, someone is less Autistic. One more time, Autism is not linear. The Autism Spectrum is a more of a sphere, and, and how we fit into that sphere together. Even though there's that still that saying, "If you've met one Autistic person, you've met one Autistic person." That is true. Each of us fits into that sphere, with all of our different needs support needs. I beg your pardon. You know, however, those things however, your Autism affects your life, you are part of the sphere. And so that's why I plead with people, please get rid of the functioning labels. Let's stop this, you're less you're more, you're worse, you're better. Let's just please stop that right now. Whether we're talking about men, women, non binary, whatever, "category" you fit into, let's stop that. Now. Um, you know, part of the purpose of Today's Autistic Moment, is working towards that neurodiversity, whereby, as Autistic people, Adult Autistic people, we do exist and that we have a good purpose. And part of that good purpose is being the best Autistic people we can possibly be. In spite of the fact that we have other social stigmas that suggests that we are less than human beings because we are Autistic. And you know, and I am so privileged to know, so many great Autistic advocates, whether that be on Facebook, Twitter, Instagram, LinkedIn. I am seeing some incredibly talented and very well spoken Autistic people. That definitely proves that, you know, shows that Autistic people are so much more than we are often assumed to be. So, um Rose, iss there a way that that some people can talk with you about some of these issues? How can they get in touch with you? If they so desire?
Rose Carreiro
I'm on I'm on LinkedIn, I'm on Facebook and I'm on Twitter. So I can send you the links if you want and people can reach out, I'm always, always happy to answer questions or to, to just talk exchange with bad parents or Autistics, or Autistics and parents. Because I, I, I was privileged to a lot of information, an exchange to, like you said wonderful, wonderful people that are sharing their experiences. And I'm happy to pass that on or to share my experience, both as an adult, late diagnosed, and as the mother of an early diagnosed, I also have a niece and we are sure my mother is Autistic. And we know that her dad was Autistic. So it it's a family thing that now we can see as it's just who we are. So it's easy to to, to want to connect to other people and share and hear what they have to say. So I am definitely open to to, to meeting more wonderful people.
Philip King-Lowe
Yeah, yeah. Well, if you send me the links, and other things, I will put them into my Adult Autism Resources Links Page on todaysautisticmoment.com, and I'm sure that you will find it very beneficial to you. Um, Rose, thank you so much for this conversation today. I think this has been such an important conversation. And I am really hoping that many of the Autistic Women in my audience will benefit from this conversation. I do believe they will. And you know, I just think it's a wonderful that you are advocating like you do. And I do. Once again, thank you for being on today.
Rose Carreiro
With my pleasure, really.
Philip King-Lowe
Thank you.
Rose Carreiro
Thank you.
Transcribed by https://otter.ai
Today's Autistic Community Bulletin Board
You can now find the links for all events announced in
Today's Autistic Community Bulletin Board by going to todaysautisticmoment.com/bulletinboard/
The Ordinary Marathon Foundation invites Autistics from the ages 15 to 24 to participate in Actually Autistic Athletes. The program will include one set of shoes, shorts, socks, shirt, one pair of running shoes, a running ban, and one-on-one coaching from a Certified Athletic Coach for up to six months. Go to todaysautisticmoment.com/bulletinboard/ and click on Actually Autistic Athletes for more information and to apply anytime, but especially now through Mid-April.
Understanding Autism virtual classes will be offered by The Autism Society of Minnesota. These classes are perfect for Autistic individuals, caregivers, those who want to understand the basics of Autism and support Autistic people. Classes will be held on March 21st from 10am to 12pm. April 18th from 6pm to 8pm. May 16th from 2pm to 4pm. Classes are free of charge, but you must register to attend.
On Tuesday, April 12th from 7-9pm, Kendall Mager will present a virtual skillshop at the Autism Society of Minnesota, entitled: Online Dating: From Profile to Potential Relationship. Many unspoken rules come with dating and even more with online dating. Learn about some social rules as well as how to set up an online dating profile, discuss some popular online dating apps, how to prepare for a date, and how to clarify and communicate what you want from online dating.
On May 10th from 7-9pm Alyssa Perau will present a virtual skillshop at the Autism Society of Minnesota entitled Communicating Consent and Boundaries. Knowing how to communicate boundaries and consent can be a struggle at times. Learn what healthy consent and boundaries look like and how to tell if consent is happening to ensure boundaries are respected. Answer and ask questions, read through scenarios, and gain new skills to help you communicate in a healthy way.
To get information about these and other events at the Autism Society of Minnesota, please go to ausm.org. You can also go to todaysautisticmoment.com/bulletinboard/ and click on The Autism Society of Minnesota to register for their events.
Registration is now open to attend The 2022 Minnesota Autism Conference April 27th-29th, 2022, at the Hyatt Regency in Bloomington, Minnesota. There will be both in person and virtual events offered. Go to ausm.org for more information and to register.
Today's Autistic Moment is sponsored in part by Looking Forward Life Coaching. Looking Forward turns stumbling blocks into stepping stones towards success. Go to lookingforwardlc.org for more information.
Lastly, while all of the spots for ads during the podcast itself are full, you can join Looking Forward Life Coaching and have your business or organization mentioned at the end of each podcast show.
If you would like to have your business or organization mentioned, have questions or comments about Today's Autistic Moment, please send an email to PKLowe@todaysautisticmoment.com.
Thank you for listening to Today's Autistic Moment: A Podcast for Autistic Adults by An Autistic Adult.
May you have an Autistically Amazing day.