Go to todaysautisticmoment.com for the transcript. In the medical model, Autism is a neurological developmental disorder. In order to receive disability benefits, support services and social supports, Autistics are known by a medical pathology. A pathology that makes us second class citizens. In the social model we have the movement for Neurodiversity. Autistics and other individuals with conditions like ADHD are capturing our diversity as Neurodivergents to work towards a society of equality and equity. Dr. Scott Frasard will talk with me about why the medical and social models are important, and how the Neurodiversity movement is helping Autistics reach for our full potential in life. --- Support this podcast: https://anchor.fm/2daysautistic/support
Click or tap on the downward arrow in the pink box below the logo to follow the transcript. See the image below.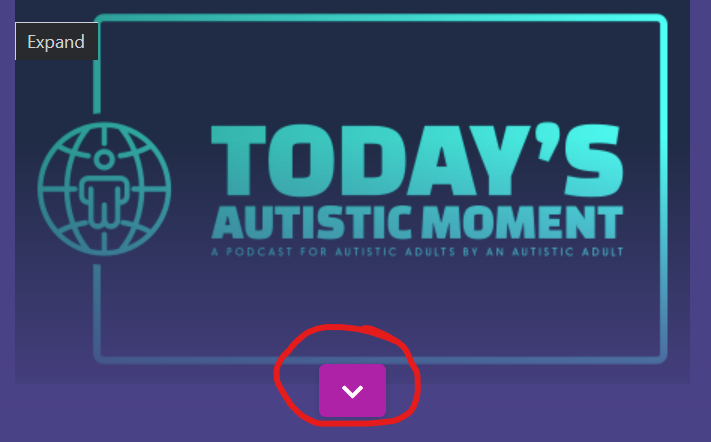 The Medical and Social Models of Autism
January 10, 2022
[You will notice that some words have a strike through font. These are to reflect the new website created in September 2022]
Welcome everyone to the premiere of Season 2 of Today's Autistic Moment: A Podcast for Autistic Adults by An Autistic Adult. My name is Philip King-Lowe. I am the owner, producer, and host, and I am an Autistic Adult. Thank you so very much for listening.
Today's Autistic Moment is a member of the National Podcast Association.
Today's Autistic Moment is always a free to listen to podcast that gives Autistic Adults access to important information, helps us learn about our barriers to discover the strengths and tools we already have to use for the work of self-advocacy.
This first segment of Today's Autistic Moment is sponsored by The Autism Society of Minnesota: Minnesota's First Autism Resource. For over 50 years, The Autism Society of Minnesota has been honored to support Minnesota's Autism Community. Visit them online at ausm.org.
I am so very excited to begin Season 2. Go to the New Podcast Episodes Page of todaysautisticmoment.com where you will find the lineup for the new shows, with the descriptions of each show from now through the end of May. When I publish new shows, you can click on the title and guest of each show to listen to the episodes. When I publish each new show, There is a the Program Script that includes all of the hyperlinks I mention on each show and the Interview Transcript links will be available to download. Interview Transcripts for 2022 are sponsored by the Minnesota Independence College & Community. All 24 episodes of Season 1 in 2021 with their transcripts are available on the Episode Index Page. todaysautisticmoment.com.
Also, be sure to follow Today's Autistic Moment on Facebook, Twitter, Instagram, LinkedIn, and Tik Tok. Please join Today's Autistic Moment Community Group page on Facebook, where you can talk with me and other listeners.
I have so many great shows planned for this year. This upcoming summer I will have what I call a Summer of Self-Care Series. I also call it my SOSS series. There will be four episodes covering topics such as Self-Care During Seasonal Depression. Self-Care During Sensory Overload/Meltdown. Self-Care During a Crisis. And finally, Self-Care During An Election Year.
I want to announce that the first live virtual event of Autistic Voices Round Table Discussions for 2022 will be on February 23rd. The topic will be Stop the Shock. In March 2020 the Food and Drug Administration sought to ban the use of shock treatments as a way of treating Autistic people and other disabled people. In July of 2021 Federal judges in a 2-1 decision ruled that the ban interferes with the ability of doctors at the Judge Rotenberg Educational Center to practice medicine. Since that decision, a movement called by the hashtag stop the shock has been organizing to talk about this dangerous practice, and work to end its use. I am seeking 6 Autistic individuals to have a round table discussion about the Stop the Shock movement. If you wish to be a panelist, please go to todaysautisticmoment.com/autisticvoices/ anytime between now and January 31st and click on the link to apply to be a panelist. You can also find there a link to the article in the New York Times, Court Overturns F.D.A. Ban on School's Electric Shock Devices to read up on this topic.
Over this past year, I have heard from many listeners about how this podcast is touching their lives. I have heard from some that are in places where they cannot get insurance to evaluate and diagnose adults. I have heard from some listeners that Today's Autistic Moment is their only source of advice for Autistic Adults, because they do not have access to updated resources in their local area. Others have found their connection to the Autistic Community. All of this happens because of my listeners and supporters. Go to todaysautisticmoment.com and become a patron to join others in helping to support the work of Today's Autistic Moment.
Autistic people need a medical diagnosis to get medical insurance to cover their therapy expenses and get the important social services we need to live. A medical diagnosis of Autism in adulthood has the power to rewrite your life's history in that you understand your life in ways that you did not before the examination. A medical diagnosis also comes with certain social consequences. Autistic people get stereotyped by our social "awkwardness." Autistic Adults are presumed to be unemployable, unintelligent, and incapable of reaching a "normalized" potential. Many of us Autistics are disabled because of the challenges we live with. The medical diagnosis that is necessary for many of us, is also why Autistics are "othered." David Gray-Hammond from Emergent Divergence in one of his videos on Tik Tok said "The Neurodiversity movement is in itself liminal in nature. A liminal point is a point between two states of being. If you were to walk between the living room to the hall way, the doorway would be the liminal point. The Neurodiversity movement can be seen as the liminal point between the provincial world and the cosmopolitan world." Borrowing from David's words, we can think of the medical model as the provincial world and the Neurodiversity movement as the liminal point to becoming part of the wider cosmopolitan world. The medical model keeps many of us Neurodivergent people limited to our deficits. The movement for Neurodiversity opens us up to a larger world with more opportunities for equality and equity, because our uniqueness makes the world a better place to live.
Dr. Scott Frasard is an Autistic Adult who was diagnosed at the age of 48. Dr. Frasard is a neurdivergent professional who focuses on psychometric and other education measurement aspects of organizations. He has been an adult educator for almost three decades, and has worked in local, national, and international settings. Scott Frasard designs cognitive and psychomotor high-stakes exams and conducts the validity and reliability studies of those exams.
Be sure to stay around after this first commercial break for my conversation with Dr. Scott Frasard about the Medical and Social Models of Autism.
Commercial Break I
Philip King-Lowe
Dr. Scott Frasard. Thank you for joining me for this first episode of 2022. I welcome you, thank you so much for being here today.
Dr. Scott Frasard
Thank you very much for inviting me. I really appreciate it.
Philip King-Lowe
You're welcome. You're welcome. So I wanted to kick off my second season with a great conversation about the medical and the social models of Autism. Autistic people are often described by a medical pathology, we're often addressed as a medical pathology. And then there is the movement for Neurodiversity that seeks to say that we are just because there is a medical pathology that describes our condition. That does not mean that we are not people who deserve who are deserving to be be treated as equals and to have equal opportunities to live, to work, and to exist with the rest of the world. So um, I want to begin this conversation as we begin 2022, because the Neurodiversity Movement has become so important to me, and so so many of us, because of what it means. So let's talk a little bit about the medical and the social models of Autism. And let's begin, what important information do Autistic Adults and our caregivers need to know when we talk about the medical and the social models of Autism?
Dr. Scott Frasard
Great question. And I agree with you about the Neurodiversity movement and how important it is for us as a community. I think one of the first things that comes to my mind with regarding that question is that we're not broken or in need of being fixed. You know, if we think about the medical model pathologizing, how we experience the world and how we interact with others, I think at its foundation is a flawed thinking for us. Specifically, if we think about the medical model treats, those things that we do differently as abnormalities, or deficits, and it's within us, versus us, just how we interact with others. And that we can be fixed or those things that are distasteful or annoying to others can be cured or prevented. The medical model also shows or assumes that these impairments require some form of professional or or caregiver to help us versus others that don't have or that are not Autistic. Apologize for the person first language there. People who are not Autistic. They often don't think of us as equal as results. And kind of finally the when we think about the medical model looking at us as we are the ones that need to adjust because we're in the minority versus everyone else. Yeah, I think that's probably one of the things that bothers me most about the medical model. Because for, for the majority, the neuro majority, to make an adjustment that works for us also worked for other people, I'll give you a prime example. Going out to eat at a restaurant. Invariably, the music is really loud in the restaurants. And then every now and again, you have people, staff come out and sing Happy Birthday to somebody at the next table. And it's very loud. Just bringing the noise level down a little bit, helps not only us and our anxieties, but it'll help everybody else. So, you know, and that's maybe a more simplistic adjustment, but that's one of those things that, you know, what's good for us is actually good for everybody.
Philip King-Lowe
Correct. Um, we need to explain something, I think here too, um, the fact is, um, the medical model tends to include diagnoses. And also, yes, it involves the therapy, to help us manage some of our challenges. And the medical model, one of the things that's really difficult about it is, is that in order for us to receive many of the services we need, whether that be social security benefits, or some of us who have more support needs than someone else, we need that medical model to qualify for services that affect us. And that in and of itself, is it's an important piece of it, but it is also one of those parts, where, again, people who are not Autistic and society in general, gets to quote "other" us. So, you know, it's one of those things where it's needed, but it has a consequence. So let's talk about that.
Dr. Scott Frasard
Yes, absolutely. And, ironically, more times than not, we don't have a say in what that medical model looks like. How those diagnoses come about. So the model itself is something that is imposed upon us. Versus, and I fully agree with you that support needs obviously vary person to person. But having access not only to the services, but to the diagnosis itself. You know, as well as I do that within the community, that Autistic community, self diagnosis is a perfectly valid diagnosis. But to your point, when it comes to services, that support us in whatever need that we have, it has to come from somewhere else. Our word isn't good enough.
Philip King-Lowe
Exactly, yeah. Yeah, I would agree with that. It does seem that we have to have a medical diagnosis that, you know, is according to a certain set of criteria. And you know, you're absolutely correct, you know, the the the downplay of that is that, in order to qualify for services we need, services that are often designed not by Autistics by people who are not Autistics for Autistics. They are often created from an ableist viewpoint.
Dr. Scott Frasard
I completely agree. And I've only realized I've been part of this community for almost two years now, when I was formally discovered as being Autistic, but the more I learned from the community, the more what you just said, actually hurts. You know, I feel the pain because I reflect back on my life and how different could have been things have been if, if there were supports I had access to, I can't come up with a good example because you might have spent 48 years of my life not realizing, so I'm still on this journey of discovery, but it's, that's what you just described is one of those things that really helps, or drives me to be a voice for the community, in some ways. By advocating for myself, and those that it resonates with, I guess by, you know, by some measure, I'm advocating for them as well. But, you know, I am really bothered by that sort of stuff. And that moves me to want to help.
Philip King-Lowe
Yeah, and I, I would agree with that, um, you know, this, this medical versus the social model is an interesting paradox. Like I say, we kind of need it, but it has a consequence, socially speaking. And the Neurodiversity Movement itself is an answer to that, that says, "I may need a medical model to access services no matter how, how it is developed, with, by non Autistics and that sort of thing, but the Neurodiversity social movement, is to say, we are different. And so what?" You know, we are different people, we do think differently, we act differently, but that is still not a good reason for us to not have access to, you know, to being, you know, among friends, and family and and other other other people. It's, it is not an excuse to exclude us from society, is what the Neurodiversity movement says, yeah, yeah. And go ahead.
Dr. Scott Frasard
I was just gonna say, you know, imagine how, how things could be different in a positive way, if social services or whatever kind of services were available based on either a medical or social model of Autism identification.
Commercial Break II
Philip King-Lowe
Let's move into my second question. And it always is interesting, because we're already been bridging into it for a while. But what are the barriers for Autistic Adults when we speak of the social and the medical models? We've really touched on how that medical model really does create some barriers for us socially. Again, the medical model, it's, it's not unimportant. But again, unfortunately, the social consequences of that medical model, and how that affects us as Neurodivergents. So let's talk a little bit about that. Um, let's talk a little bit more about that if we can.
Dr. Scott Frasard
Absolutely. When I think about the barriers through this medical model lens, I was reflecting in, there are a number of different things. And I think the most important things that bubbled to the top for me, first and foremost, for me, I think is a barrier is compassion to be quite honest. And that's kind of a an abstract barrier of sorts. But if you look at the medical model, and think of it as we are diagnosed, because of perceived deficiencies, or abnormalities as compared to the neurotypical population, that's a lack of compassion right there. There's no ambiguity there in terms of the medical model doesn't have that room for variants, either you're like everyone else, or you're not, at least in my interpretation of it. So I think compassion is a huge thing. Another barrier is the communication barrier. That I think implicit in the medical model is there are a certain accepted modes of communication primarily verbal. And if, as a child, we don't start speaking at a certain age, there's a problem. Or if if we take things extremely literally as others, other people say them, there's a problem, or those sorts of things. Or maybe a, you know, our preferred way of communicating, especially in times of stress is by not speaking, rather, we have body movements that communicates an internal situation, versus a verbal. And I think, if we look at things to that medical model, again, others will see those as abnormalities and something to fix. And in both of those things, it can come to the third thought that I have, which is the stereotyping. I think the medical model sets up the situation for stereotyping with a lot more prevalence than the social model. Perhaps the social model could, because we, as humans, we'd like to group things in like, kind of categories. But I think with a medical model, it makes it more clinical in terms of how people stereotype. And then the last thought I had for it, and I may be going above and beyond what the question is that you're asking, Philip. I felt but the the other thought that I had kind of the overarching and we we kind of talked about it earlier, is the struggle that we have as an Autistic community, or even as individual Autistics. The struggle we have in having a voice in the, in the Autistic narrative. Its us. It's our lives, but yet we don't have a voice in it. So that medical model almost completely negates or ignores our voice.
Philip King-Lowe
Yeah, I would agree with that. That medical model, once again, puts us at the mercy of researchers and psychological professionals and psychiatric testing and that sort of thing. And again, let's not let's not let's not let's give credit, where credit is due, those things have a necessity somewhere, but they do in fact, create a barrier for us in terms of how we are perceived, or how we how we are stereotyped, I agree with that. And also it you know, it becomes an excuse for bias, and it becomes an excuse for the stereotyping. I agree. Again, I agree with that. Um, I also tend to think that it's, it's a way for it's a way for people to kind of, well, he's Autistic, so yeah, he's gonna to do that. Yeah, he's he's gonna to do that. Because he'll Autistic which, yeah, yeah, yeah, thanks a lot. But you know, it's, it's, it is a bit of an excuse used as an excuse to marginalize and suggest that we are less capable of things than we really are.
Dr. Scott Frasard
Absolutely, I've, over the last few years and learning more from you and others and the community, that being marginalized, obviously, is a huge, huge problem. And just the set of assumptions that people make about us. I don't know that I have noticed it yet myself. And maybe because I'm still learning what it's what it means to be Autistic, again still on a journey, but I am starting to realize or starting to feel like what you described is also a defense mechanism of neurotypicals to insulate themselves and their comfort and to keep us at arm's distance, so we don't disrupt their worldview. And I know that's a generalization and a stereotype of my own. But it goes back to that. There doesn't seem to be room for acceptance of variation in the human experience like there is acceptance of variation in biology, for example.
Philip King-Lowe
Yeah. Again, those are all great points. Finally, I want to move into my third question. And my audience has heard me say this on numerous occasions, but I really love helping Autistic individuals discover their strengths and tools for self advocacy, because and I think the reason that is so important is because, as you say, in the medical model, we're often described by our quote, "deficits." But self advocacy is really about discovering our strengths, and putting them to work, to work on making us more real to the rest of the world. And so what are some steps that Autistic Adults and our supporters, what they what do they need to take those steps to do to advocate for our needs? And please feel free to to add what you want here. Because it's all helpful.
Dr. Scott Frasard
Sure. So I think, first and foremost, a, the piece of advice that I've got to myself. And something that I reiterate on a regular basis is listen to the Autistic community. I, I think we have one commonality that goes across all different variations in all perspectives on our own experience. And that is that we want to have a place at the table, we want to have a voice in the narrative. But beyond that, we all have different preferences, we all have different challenges we all have different support needs. It goes back to the old adage that we hear people say, "If you've met one Autistic person, you've met one Autistic person." That that's one thing that makes it so incredibly important to actually listen to us. And that's been something that I've been struggling with as of late as well. And, you know, I have a pretty hard line when it comes to like identity first language, being my preference, and not using the phrase on the spectrum. But not everybody in the community believes that. And for a while, I was like, Why don't you believe it? I listened to them. And while I don't share the same opinion, I'm going to respect somebody's pinion to use person first language or use the phrase on the spectrum to refer to themselves. Yeah, but I think, first and foremost, you gotta listen to us. Without that we can't have that narrative. And then the other thing that I thought, I'm sorry, go ahead. No, go ahead. I was gonna say the other thing is just goes back to what we talked about earlier, which is, don't try to fix us. You know, if if you listen to us and talk with us have a true dialogue and not just a discussion, learn to see things through our point of view. Don't try to fix us. Try to support us. What do we need? So that we feel included. That we are included. More importantly,
Philip King-Lowe
Yeah, those are some really great, great, great points that you made. Last April, when I attended the virtual conference organized by the Autism Society of Minnesota, and the Autism Society of Greater Wisconsin. Zephyr James, who has been a guest of mine on on several shows now, did an amazing experiment that I really got a lot out of. The experiment basically was to say that she thinks that and this is this is a before my listeners get the wrong impression, but she's basically doing an exercise that something to think about, not something that actually it actually is, although there's a there's a sense of that too. Um, their experiment was to suggest that we need to add a new category to the DSM and that category is neurotypical syndrome. And that, you know, we start asking, you start making comments about things such as neurotypical people, what is neurotypical syndrome? You have all this wide social abilities, you know, you're interested in so many different things you can't hardly, you know, focus on one and make that your real, you know, art or your real, you know, your particular joy. Um, you know, you don't fidget or stim, you just kind of go on as if nothing's happening. And, you know, there's various things. And afterwards, Zephyr said, when you hear us describe you in this way, what do you sense? And some of the many of the neurotypicals, in that class said, Well, I feel like I'm being described as limited by what you're saying. And Zephyr simply replied with Well, and that's how we feel all the time. You know, you set up this, you set up this, this, this system that says, This is how we describe you. And the point is, is that this is where my constant point about telling our stories about what being Autistic means for us, is so incredibly important. The Neurodiversity movement, the social Neurodiversity movement, is about asking people to please listen to us, as we discuss or tell you what being Autistic means for us, and what it is we would like, we would like to see happen. You know, um, and give us the opportunity to talk and give us the opportunity to come into the world with the rest of you. I felt like I had to really think about that one. But the thing is, is that, um, let us, we're asking to be let in to all the things you enjoy, but enjoy them on our own terms. Last, lastly, before I let you talk, um, I just want to say that this is one of those pieces that really gets to me sometimes. You know, we've watched many sitcoms over the years, sitcoms and shows and that sort of thing. And in that crowd, there's all kinds of people gathered in that crowd. There's the individual who is really focused only on themselves. There is the individual who makes everybody laugh. There's the person there that is just like a person who's who's always, you know, poking away and making us aggravated. And there's, there's all sorts of personalities. But the Autistic in the space, is this person who's sort of out on the other side somewhere, you know, and all we're trying to say the Neurodiversity movement, the social model is saying, "Yes, we are, but we want to be be viewed as part of the rest of you. We're just different people, different people, among the rest of you." So feel free to talk about some of that, too.
Dr. Scott Frasard
Absolutely. And, you know, that's one of the things that I'm experiencing more as I take this journey myself over the last couple years, is, you know, all my life, I knew I was different. But I was never, I never understood why until two years ago. So now I'm, I'm really looking at things through that lens. And yes, I do feel there are things that "other" me for lack of better terms. And a, it's disheartening, you know, I think back to a lot of my experiences, and how I personally, reacted as what I thought then would have been a neurotypical person, but now understanding, okay, I wasn't, and then I just wasn't identified as such. But when I think about when I think about the marginalizing, that goes on. It's painful to see how powerful a certain organization, certain people. Certain models of thinking. Just continue to hold tight to ways that we should believe about being Autistic. And and know, I know I have a point in here somewhere. So do bear with me. But it's one of those things I kind of feel in advocating for myself. I'm able to to help people see a different point of view. And I'm not going to get to get across to everyone. But if I can get across to one person, I think that helps the community as a whole. But more, more to the point. It does help me. I don't know if that answers your question. But that's your answer. So grappling with that.
Philip King-Lowe
Yeah. No, that's your answer. And it's a brilliant answer. Um, you know, part of our self advocacy here is being the best Autistic self we can possibly be. Part of advocating for ourselves is to have a good self knowledge of our own Autism. And you are on your journey, as I was about 10 years ago, after I was diagnosed, and I was like, I had to kind of figure out, okay, what is all these things that are happening to me? And why are they happening? And then I had to, you know, I had to see for myself just how much I was struggling with a lot of my social, social communications, my social relationships. And then I also had to, you know, find myself at that point where I'm like, you know, I just feel so alone, I feel so isolated. And that's when I found the Autistic community beginning with The Autism Society, Minnesota. And when you connect with other Autistics, and we see, we're all going through this together from different points of view. And then when you go into a place like LinkedIn, like you and I have, and there's this whole array of people who are just doing advocacy on the part of Autistic people from the from whatever point that they are. You've got, you know, you've got people working from financing, you've got people working from psychological therapy and counseling, you got some people, Lyric Holmans, who is just this brilliant Neurodivergent Rebel who's just stating, This is what we're going through, how come? How can we just can't be like the rest of you. And of course, Yenn Perkis, who was absolutely fantastic with what she writes, What sorry, what they write, forgive me, Yenn. Um, you know, that sort of thing. But yeah, I mean, I think that it begins with self knowledge. And it begins with taking hold of the things that you're passionate about, and putting them at the service of the rest of the Autistic community. Because that's, that's what motivated me to start Today's Autistic Moment. I had the I have this passion for advising people about Autism and that sort of thing. And creating this podcast is exactly how I put that passion to some kind of use.
Dr. Scott Frasard
So you got to use your platform, in the best way possible.
Commercial Break III
Future Shows
On January 24th I will be joined by Erin Brandel Dykhuizen, a licensed social worker who specializes in helping Autistics with Chronic Pain Management. Autistic people have very different responses to pain in large part due to our sensory processing disorders. Some Autistic Adults may be hypo-sensitive to pain in that they do not know how much pain they are actually in. Other Autistics who are hypersensitive have pain that is so intense that managing day to day activities is almost impossible. There are many Autistic Adults who live with chronic pain due to conditions like fibromyalgia, arthritis, physical injuries, and of course trauma. Erin will join me to talk about how Autistic Adults can manage their pain in ways that work for them.
Tas Kronby will be returning to Today's Autistic Moment on February 7th to talk about Eating Disorders and Autistic Adults. According to different researchers, Autistic Adults are at 4.9-22% higher risk of developing an eating disorder. Sensitivity to food textures, digestive issues, and interoception play a significant role that impacts Autistic Adults experiencing eating disorders. Tas will talk about the challenges of eating disorders with some very helpful advice.
On February 21st, Tas returns to talk about Trauma: An Unavoidable Consequence. Social stigmas. Sensory processing disorder(s). Abusive relationships. Rejection. Unemployment. Ableism. All of these and many more that can be mentioned means that trauma is an unavoidable consequence. Post-Traumatic Stress Disorder (PTSD) is among the most common forms of trauma for Autistic people. Tas will talk about trauma and give some great advice for self-care.
Visit todaysautisticmoment.com for program updates, future shows and check out the Adult Autism Resources Links page.
Thank you for listening to Today's Autistic Moment.
Philip King-Lowe
Dr. Scott Frasard, you have given us some great things to think about. And when I do the shows, and I meet the guests that I work with, I'm always amazed at how our conversation works together. And I think that we have definitely done that. As we prepare to close this conversation, would you like to maybe share with us a little bit, like I said, about a little bit of your journey? And what are some of the things that you do that that have helped you to through this medical model and the social model of Autism? Tell us about some things that you may have done, that you find to be helpful.
Dr. Scott Frasard
Sure. So great question. You know, over the last two years of my journey, the first year of it, I kind of didn't know what direction to turn. And so I started off by just like everyone else, probably Google, which I found things that I didn't know, at the time maybe weren't the best sources. I also bought a number of books, same sort of thing. Maybe at the time, I didn't realize that those were the best books. Both of which really aligned with the medical model of Autism, or a medical model of disability to include Autism. And so I spent, I then shifted my time, really paying attention to the most vocal people out there, on both sides, and really reflecting upon what they're saying, and how it, how does it make me feel like the example you gave with the experiment in that presentation. And I started to then align with the social model, based on what I'm hearing and how it made me feel. So I then really focused on what one of those players in the field or in the community around the social model, and started paying attention to what they're saying, going to the websites that they recommend, and buying the books that they recommend. I'm currently reading one of those right now. We're Not Broken by Garcia. And that's the kind of stuff that resonated with me. So once once I started seeing that part, a part of my journey also, again, includes self advocacy. And because I do have a really large presence, especially on LinkedIn, I started talking about those things as my own reflections. And really now starting to focus though, on the intersection between my experience as an Autistic but also my part of my vocation, as an organization, developer and really starting to, to hone my reflections in the social sphere. Um, what organizations can do to be more inclusive of the Autistic community.
Philip King-Lowe
Yeah, that said that, that's just excellent. And just a word on you mentioned the book, We're Not Broken by Eric Garcia. Eric is going to be joining me in April to help kick off Autism Acceptance Month, and I'm very, very excited about that. Just I read I read his book and his his writing and his explanations are are spot on as far as I'm concerned. So yeah, yeah. So my, my audience can look forward to that. Um, so yeah, that that sounds really, really good. I appreciate that answer. Well, Dr. Scott Frasard. Once again, I want to thank you for being with me on this important episode for Today's Autistic Moment. You've done a fantastic job. And I do hope to invite you back some time to talk about other particular subjects to do with Autistic Adults.
Unknown Speaker
Thank you again, Philip. I really enjoyed this. I always enjoy chatting with you. And I look forward to hearing your other podcasts as well as speaking with you again.
Philip King-Lowe
Absolutely.
Transcribed by https://otter.ai
Today's Autistic Community Bulletin Board
Understanding Autism virtual classes will be offered by The Autism Society of Minnesota. These classes are perfect for Autistic individuals, caregivers, those who want to understand the basics of Autism and support Autistic people. Classes will be held on January 17th, 10am to 12pm. February 21st from 2pm to 4pm. March 21st from 10am to 12pm. April 18th from 6pm to 8pm. May 16th from 2pm to 4pm. Classes are free of charge, but you must register to attend.
On January 11th, from 7pm to 9pm Maya Park will be the presenter for the virtual skillshop Supported Decision Making: What it is, Why You Might Need it, and How It Works at The Autism Society of Minnesota. Supported decision-making is a means to increase self-determination for people with disabilities and older adults that can enhance quality of life and serve as an alternative to guardianship. Learn about supported decision-making as well as recent changes in Minnesota Law requiring consideration of alternatives to guardianship.
On January 25th, from 7pm to 9pm, Jillian Nelson will present a virtual skillshop at The Autism Society of Minnesota entitled Creating Autistic-Friendly Social Spaces. Society frames Autistic people as not wanting to have friends. This is far from the truth. Autistic socialization looks different and sometimes that creates challenges in building friendships and social groups. In this session we will talk about how to create different types of social spaces and engagement to have greater success connecting with Autistic and neurotypical people alike.
On February 8th, from 7pm to 9pm, Eric Ringgenberg will present a virtual skillshop at The Autism Society of Minnesota entitled Video Modeling: Why It Is Useful and How to Create One. Video modeling is an effective strategy for learning and developing many types of skills. This session will review what video modeling is, describe types of video models that can be used, and demonstrate how to create a video model using technology you may have or can get at a minimal expense.
To get information about these and other events at the Autism Society of Minnesota, please go to ausm.org.
Make plans now to attend The 2022 Minnesota Autism Conference April 27-29, 2022, at the Hyatt Regency in Bloomington, Minnesota. There will be both in person and virtual events offered. Registration will open soon. Go to ausm.org for more information.
Funding for Today's Autistic Moment is sponsored in part by Looking Forward LC. Go to lookingforwardlc.org for more information.
If you have questions for me, please send an email to PKLowe@todaysautisticmoment.com. todaysautisticmoment@gmail.com. Don't forget to check out todaysautisticmoment.com and follow the podcast on Facebook, Twitter, Instagram, LinkedIn and Tik Tok.
Thank you for listening to Today's Autistic Moment: A Podcast for Autistic Adults by An Autistic Adult.
May you have an Autistically Amazing day.