Please go to the Episode Index Page on todaysautisticmoment.com for the program script and the interview transcripts. Why should we talk about seasonal depression at the beginning of the summer and the 4th of July? Because the 4th of July can be one of the worst days for Autistics. A lot of Autistics are the opposite of the general population in that our seasonal depression is worse during the summer and better during the winter. Regardless of the season you experience the worst depression, Autistic Adults can benefit from planning some good self-care strategies. My guest Becca Lory Hector and I will share our insights about seasonal depression for Autistic Adults and what we can do for ourselves to get through our worst times of the year.
--- Support this podcast: https://anchor.fm/2daysautistic/support
Click or tap on the downward arrow in the pink box below the logo. See the image below.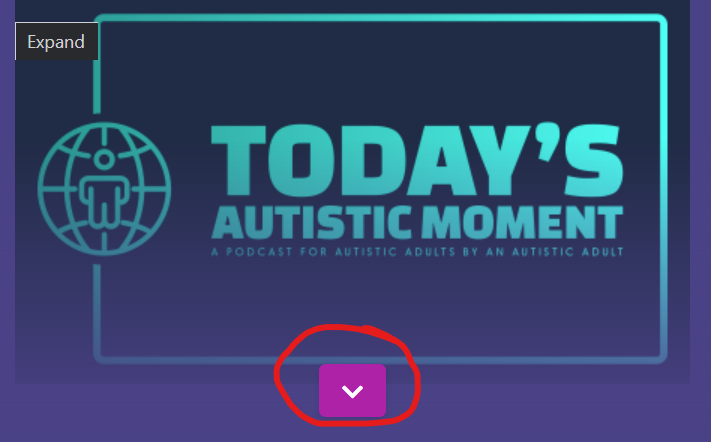 Self-Care During Seasonal Depression
July 4th, 2022
Here you can read my opening remarks, announcements, future shows & Today's Autistic Community Bulletin Board
Welcome everyone to Today's Autistic Moment: A Podcast for Autistic Adults by An Autistic Adult. My name is Philip King-Lowe. I am the owner, producer, and host, and I am an Autistic Adult. Thank you so very much for listening.
Today's Autistic Moment is a member of the National Podcast Association.
Today's Autistic Moment is always a free to listen to podcast that gives Autistic Adults access to important information, helps us learn about our barriers to discover the strengths and tools we already have to use for the work of self-advocacy.
This first segment of Today's Autistic Moment is sponsored by The Autism Society of Minnesota: Minnesota's First Autism Resource. For over 50 years, The Autism Society of Minnesota has been honored to support Minnesota's Autism Community. Visit them online at ausm.org.
Please go to the New Podcast Episodes Page of todaysautisticmoment.com where you will find all the shows and download the Program Scripts with all of the hyperlinks I mention on each show and the Interview Transcripts including the transcripts for this episode. Interview Transcripts for 2022 are sponsored by Minnesota Independence College & Community. If you want to listen to any previously published shows, and see the program scripts and interview transcripts go to the Episode Index Page.
Also, be sure to follow Today's Autistic Moment on Facebook, Twitter, Instagram, LinkedIn, and Tik Tok. Please join Today's Autistic Moment Community Group page on Facebook, where you can talk with me and other listeners.
The next Autistic Voices Roundtable Discussion will be on Wednesday, July 20th at 2:00pm Central Standard Time. The topic that will be discussed is The Dangers of Medical Myths. I will be joined by several Autistic individuals to talk about why myths such as vaccines cause Autism and pregnant women who take Tylenol risk giving birth to Autistic children or ADHD children are so detrimental to Autistic people. The roundtable discussion will be live streamed on Facebook. You can also access the meeting through the link that will be provided on July 20th at todaysautisticmoment.com/autistic-voices/. This live virtual roundtable discussion is sponsored by Looking Forward Life Coaching, Minnesota Independence College and Community and Tas Thoughts LLC. The Autistic Voices Roundtable Discussions are crucial because as the title implies, the voices of Autistic individuals are central to the conversations. One of the reasons we have as many challenges in society as we do, is because the voices that matter most are not heard or acknowledged. Autistic Voices Roundtable Discussions is one way we can work on changing that. All of the Autistic Voices Roundtable Discussions are recorded and made available on YouTube and todaysautisticmoment.com/autistic-voices/.
July 4th is one of my least favorite days of the year. To be perfectly honest, the summer is my worst time of the year for my seasonal depression. I know that I am not the only Autistic Adult who feels this way. The heat and humidity drain my energy. If I step outside the extreme heat and humidity feels like 300lbs of pressure squeezing me. I hate the sound of fireworks exploding. I have been hearing them from my neighbors all weekend. I so do not go out for the displays at 10pm in my local area. The sound of fireworks exploding is too painful. I have heard from other Autistic Adults that summer is a difficult time because the sun is brighter during the day. There are more people outside. Children screaming as they play. There are many of us who wear our noise-cancelling headphones whenever we hear the sound of lawn mower engines, or trees being cut, road construction near by and motorcycle engines racing down the road. There are way too many things out of our control happening during the seasons when our depression is most intense. If you are one of those people who tries to tell others around you what these experiences are like for you, but they just don't get it; my guest Becca Lory Hector and I not only get it, we experience it too.
Becca was diagnosed on the Autism Spectrum as an adult. Becca has become a dedicated Autism, Neurodiversity advocate, researcher, consultant, speaker and author. Becca's focus is on helping Autistic people find a positive life. Becca teaches a course entitled Self-Defined Life: A Path to a Quality Autistic Life. Becca Lory Hector and Doug Blecher host their own podcast The Info Dump Files.
After this first commercial break, Becca and I will give you some suggestions for taking care of ourselves during seasonal depression, because if we don't no one else is going to do it for us. Please stay tuned.
Commercial Break I
Philip King-Lowe
Becca, thank you for being on Today's Autistic Moment, especially on this July 4th, which for many of us Autistics, is one of the worst days of the year because of fireworks and parties and noise and groups. And so I think it's a great idea to be having a show today, maybe, you know, so Autistics can find something they can maybe hold on to during the day, maybe listen to that, that, you know, speaks to where they are. And I have a particular reason, I'm sure that some are asking the question, why am I having a conversation about self-care during seasonal depression in the middle at the beginning of the summer? And I do have a reason for that. A few years ago, my therapist explained to me that I and many Autistic individuals are the exact opposite of the general population. There's many of us who experience more seasonal depression in the summer, and less in the winter for various reasons. It can be because of the fact that there are more people out and about, because it's hotter, heat, heat, and humidity tends to be one of my problems during the summer months. There's a lot more socializing going on, and we just kind of want to be away from it. There's just a lot more stuff that's happening, a lot of routines are just broken, a lot of things are going on. So for some of us, summer is our worst time of the year. So as we start this Summer Self-care Series, I want to start wanted to start with let's talk about self-care during seasonal depression. So Becca, let's begin our conversation as I always do. What important information do Autistic Adults and our caregivers need to know about when we talk about self-care during seasonal depression?
Becca Lory Hector
What we need to understand I think, just like with everything else that affects actually human beings, right, is that we all have our own version of it. So what seasonal depression looks like for each of us is different, right? How it impacts our lives, for how long when it begins when it ends, right with the cycle? Like, is it medication responsive? Is it not medication responsive? Any of the other non traditional paths work for you? All of that stuff. So it's very individualized. So I think people somehow assume that when you get a diagnosis of any kind, or you talk about a diagnosis like that, that somehow everyone who has that label is exactly the same. No, what you have is a set of symptoms in common with someone's over a certain time of the year. You know, your depression has like an extra layer to it. It's like an extra, plus upgrade your depression. It's interesting that you brought up the seasonal depression thing for you being in the summertime because I used to have seasonal depression worse in the summer time. So I and I now have it in only the winter time. And I think for me, the reason that happened is because I once I learned about my Autism, I was able to eliminate some of the things in the summer for myself that were causing the depression. And so what I got left with is instead of having like a double bonus of depression, having it in the winter and the summer, it was able to alleviate some of my summertime stuff. So that now I only get it once a year. Right? But I also am someone who is heat sensitive. I don't want I mean, I'm light sensitive. So when the sun's out for more hours, and it's more sunshine and hotter sunshine, right? That's, you know, that's the thing. And it's also changed for me as I've aged. Right? In my life, I was more sensitive, other times, not so much. And so that's what I like people to remember is like, yes, it's an idea of a thing that's happening to you. And it gives you a name and a way to address your symptoms. But we're all going to be, you know, different in our own ways with how we express our seasonal depression.
Philip King-Lowe
Right. Yeah, and there's gonna be very different things that will impact it. I know that a few years back, when, before we moved into the home we're living in now, that my environment played a really big role in my depression during the summer, because we were living in a smaller apartment complex, there were a lot of kids outside making it making noise. And, you know, we just, I felt just felt so trapped in that. And, you know, we're going to talk next next show about about managing sensory processing, overload and meltdown. But I felt like I was on sensory processing overload just about every day because of the noise, the heat, the just just all sorts of things.
Becca Lory Hector
In the same way that in the wintertime, you know, we lose sunlight and some people get affected by that. Right? You're affected by other components of the change in the season. And that's what you know, that's what's playing in here, right. Now, first, you changed your environment. And you said already that it was a little bit different, right? Because now you like where you're stuck inside. Right?
Philip King-Lowe
Right. Exactly. Yeah. Yeah. Yes. And the thing is, is among the reasons I wanted to do this Summer of Self-care Series is to kind of help make a case that for many Autistics, not all because we know that we're not all the same. Once something is knocked off balance, it can set everything else off balance. And it can take quite a bit of time, sometimes days, for us to get that balance back. Because our sense of returning to "our normal" doesn't happen quite the same way as it might for someone who is not Autistic. Would you agree with that?
Becca Lory Hector
I would absolutely agree with that. And I think when something like the sunlight or something like how hot it is outside, or how many people are outside doing their loud things, right? That's all out of your control. And that can add to the depression, right? Yes it can. Okay, levels up, because it's, you know, I wish I could go out there and be like, shut up, children stop enjoying the sunshine, right? Out there, but you can't. And so you have to figure out your own way of like navigating through that. But for us, when sensory changes for us, it's so impactful. I mean, it's like, it really just changes our whole way of functioning and how we're feeling in our skin and a lot of other things. And so when it's the sensory for you in the summer, and it's not in your control, super frustrating. And if you don't have a safe space to go from it. Right, right. Yeah. That's the piece of it, I would love for us to talk about is what it's like to have seasonal depression. But what can you do about making it easier to get through it. Right?
Philip King-Lowe
Right. Yeah. And, you know, let's, I always do this at my shows, but we're talking about what are these boundaries? What are these? Sorry, what are these barriers that we experience? And it can be any number of things. I mean, there are some Autistics their seasonal depression is during the holidays at the end of the year. It has everything to do for them with the fact that their social environment is so out of their control. There's more family on Thanksgiving. Every family's most family is gathered on Christmas. They're just kind of or, you know, Jewish holiday, whatever those holidays are. They're confronted with this explosion of socializing that they're just not used.
Becca Lory Hector
The older we get, the more layers of that. Yeah, like the more times you've been through it, to like, prepare and you cringe and you're like, No, it's coming. Right? Exactly. Yeah. It's like, okay, there. There has to be a way around it. And there are a multitude of triggers for seasonal depression. And I think that's a misnomer that we aren't shared with right. Seasonal Depression, and people think immediately, oh, lack of sunshine. So you need your vitamins or sit in front of a light and all of these things. Yeah, for Autistics, it can be a sensory depression. It can be a trauma induced depression like they're the emotional roller coaster of the holidays. Right? Yeah.
Philip King-Lowe
And it can also be it can also have to do you know, I've been making a case ahead of the Fourth of July about, you know, please don't force Autistics to attend fireworks and other things, if that's not something that we can really take, because that's not going to help us at all. But yet, there's there are those who feel that they must, you must go, you have to go and talk.....
Becca Lory Hector
Right Was this supposed tos right? Right, you're supposed to go do this thing you're supposed to, and you're gonna somehow disappoint the people in your life. That if you're surrounded with the right people in your life, they get that you don't want to be there. And they get that it's hard for you, and they get all of those things. And, you know, it's about people understanding that what's fun for one person is not necessarily fun for another person. Right?
Commercial Break II
4Th of July PSA
July 4th is not the best day for many Autistics and other Neurodivergent people and individuals with Post-Traumatic Stress Disorder. The loud sound of the fireworks exploding can be a terrible trigger for the sensory processing needs of many such individuals. If you are someone who is affected by the sound of fireworks exploding; wear your noise cancelling head phones with or without music playing to decrease the sound of the fireworks. I also recommend finding a sensory safe space where you can fidget or do something you enjoy to distract you. If you are a caregiver of an Autistic person of any age who is affected by such sounds, please do not force them to attend the fireworks, as the brightness of the lights and the loud noise from them can be painful and can set their sensory processing input on overload. Let them wear their noise cancelling headphones without saying negative things to those who react to these sounds. They are not pretending, nor do they need to be made to feel that they are doing anything wrong.
Another concern is for many Neurodivergents who are hyposensitive (as in they need more sensory stimulation before they feel anything). Many of them might not be able to detect when a grill is too hot to put their hands near it. It is best that they not be near or use things that could be harmful to them without some kind of supervised assistance.
Support Today's Autistic Moment
Today's Autistic Moment is at the midway point of the second season. The guests have been outstanding and the topics well received. Plans are already being made for season 3 in 2023. I need you to do your part in helping me to ensure Today's Autistic Moment as an informational resource to encourage Autistic Adults and their caregivers to become part of the movement for Neurodiversity. Go to todaysautisticmoment.com and click on the blue button on any of the pages to donate to my Patreon page. You can also purchase a spinner fidget for $4.99 plus sales tax, shipping and handling. The spinner fidgets will give you hours of stimming pleasure and you can support the work of Today's Autistic Moment at the same time.
Another way you can help support the work of Today's Autistic Moment is to share the show through your social media networks.
Thank you for your support of Today's Autistic Moment.
Philip King-Lowe
Yeah. And for some of us, Autistics, it's not, it's not just a matter of what we like, or don't like, it can also just be, this is just something I just can't tolerate. I can't be in this environment, it, it scares me, it makes me uncomfortable. I get, you know, nervous, and, or whatever. And quite frankly, a lot of us, myself included, we get into a place like that we just shut down. Just forget it, you know?
Becca Lory Hector
And it's it's no easy task to climb out of a shutdown. Right. It's no easy task to try to recharge from things that because we're not when we talk about sensory, it's, it's a very physical experience for us to know. And so, you know, it's sort of like taking your senses and sticking them on a roller coaster. Right? And then they get off and they need a moment to sit still to like recoup. Right? That's a lot to process for our brains. And I think, you know, we're learning as a world that, you know, we should think about all of these things, and silent fireworks are now happening. And people are trying to make accommodations, in weird ways we're hearing about it. But the truth is, the only way to really show people that you know, how to take care of yourself is to learn to say no, thank you.
Philip King-Lowe
Right, right. Yeah. And, and, and, yeah, and I mean, I know a lot of it is just a lot of the depression comes because we have to prepare for we have to, and this is going to come when we talk about self-advocacy. And this is where self-care is so important. I think it is very important that we talk about ways of preparing yourself for the inevitable. It's really, it's really important as part of self-care, to have a plan of what you're going to do beforehand about what things you're going to say some things you might do, you might come up with things like, you know, I mean, if I'm having a sensory day, when when I am feeling more depressed, or I'm feeling more anxious, I will put up a sign on my door that says Do not disturb. You know, just sometimes you have to do those things for yourself. You have to. And I think there's this feeling for for many of us, Autistics that we get, you know, like you said, we need to we want to please people. Right. But sometimes in trying to please other people. The most damage we do is to ourselves. Yep. You know, we take what we take.
Becca Lory Hector
It's what I say it's like, we cross our own boundaries when we do.
Philip King-Lowe
Yes.Right. Or we or we surrender to them much too easily.
Becca Lory Hector
Correct. Right. And it's that desire to be liked to be loved, right to be forgiven for your little bit of extra that you are right, right, right. So what I say to people is, I would rather somebody like me, because the time I spend with them is quality time. And to me, that means like, I'm here, all my spoons are here, I'm not exhausted, I'm giving you my like all of myself. And I can't do that if I'm in an environment that causes me sensory overload. I can't do that if I don't have proper recharge time to take care of myself. I can't I just ended up being a crappy person in terms of how I take care of myself and then a crappy friend in terms of the time that I spend with people. So instead they say no, I'd rather spend this time alone taking care of me so that when I spend time with you, it's good time and it's we're all having fun, right?
Philip King-Lowe
Exactly. Yeah, absolutely. So let's get get ourselves into I always say, I love this. I say you know, what steps can we take to what steps should Autistic Adults in our supporters take to advocate for our needs? This is where we want to talk about some strategies for self-care. Yes, and you know, recognizing, cuz I noticed, I was gonna say it next week, but you know, she's a Zephyr is going to come in and they're going to say, what works for me may not work for you, and if that's the case, that's the way that's okay. So we want to stress it, just because we come up with these ideas that just suggestions. But if there's something that doesn't work for you, you're, of course, you have to do what's best for you. But let's give them some tips and ideas.
Becca Lory Hector
Yeah. Exactly. And also with that, I want to say, as we go out into the world, as disabled people remember that we're not the only disabled people, right? And sometimes, things that accommodate us can then unaccommodate somebody else with a disability, we just have a battle of the disability, right and battle of the accommodations. So we also just want to be coherent about our fellow disabled people, right, and make sure that you're accommodating them. But beyond that, what I say is, I want to repeat what you said earlier, which is to say balance, it's the balance, right? We're all seeking somehow this balance. A lot of Autistics live a life, that's very rollercoastery. Like we run our stuff together, we put ourselves into it into it into it. And then we're like, Okay, I am exhausted, right? And what it is whether it's the thing we do for joy, whether it's the job, whatever it is, and then we cycle back down into this, like downward spiral, then we got to work our way back up. And we'll all I want for Autistics, is that feeling of balance. Where we don't feel depleted or exhausted in a way that not non Autistics don't get.
Philip King-Lowe
Well, that's a good one, that's a good way to start. And when I say self-care, I mean, you know, if you must retreat for a while, you've, you have to do it. And you have to explain to people that you need to do it.
Becca Lory Hector
And the way to create the balance that I'm talking about is exactly that is saying no, sometimes and retreating sometimes, and you've hit your limit, and knowing all of those things. So a lot of what I think self-care is, is really self-knowledge. Right? Oh, finding out what it is about us specifically, or this environment. Or that person. Or what is the trigger that's happening in that situation? And how can I can I eliminate it? Where is it coming from? Does this person or situation just not work for me period, no more? Right? Being able to make those decisions, but that comes from a willingness to do some of the hard work, which is exploring what those triggers are for you. Exploring what too much sensory is what makes up too much sensory for you. Right?
Philip King-Lowe
Yeah, and how that relates to how much how much that influences our seasonal depression, right? You know, we know, we know that during seasonal depression, there are many things impacting us. The social expectations. The sensory part. The, you know, everything from, you know, the things that we must do during the summer to prepare us for the Fall. Some of us are working our way through debt during the summer to get ready for the Fall to get ready to go to go to school. Ready to, to maybe take on a new job. Maybe we're starting a new job in the summertime. And, you know, when you're not when you're not seasonally, when you're seasonally unhappy. That's, that's, that's even harder than in some cases, but, you know, we still have to do some things that we really do to take care of ourselves. And, you know, I say, you know, if you really have, you know, you're taking time to be alone in the space, and fidget or stim do it, then don't apologize, just do it. And, you know, even if you're out and around, and you know, and you and you, there's a way that you can find either something to look at, that, you know, helps you change what you're, you're looking at your visuals, those things are part of self-care.
Becca Lory Hector
They are, you know, yeah, that's, you know, how we decide to care for ourselves, like how we decide to, I always say spend our spoons, right, so how you're choosing to be out in the world, and what you're choosing to use your energy for needs to change in response to your seasonal depression. So like, myself, when I know my this point, I now have paid attention to it enough that I know sort of when it usually starts, and I know sort of when it kind of ends for me, and I know what my early symptoms are of that coming on. And when that happens for me, I say okay, this is gonna kick in and that means I'm going to be a little bit more susceptible to exhaustion. A little bit more susceptible to meltdowns. A little bit more susceptible to shut down because that's what the seasonal depression depression does for me. I feel like it literally creates another like depression has one layer around me and then seasonal depression comes in, and it's like, okay, there's a whole other layer of jello now that I have to fight through to get out into the world. And so I have to remember kindness to myself in that time and I have to say do less in that right. Don't say yes to so many things. Um, save, you know, if you have things you want to write about wait till, you know, it's sort of lifting, things like that. But remembering that in your in that the kindness, it's really easy to get angry at yourself for feeling that way, because it's so cyclical. But instead if we shift our energy to oh, this is medically what's happening to me. And I need to adjust my lifestyle accordingly for this period of time, you know?
Philip King-Lowe
Yeah, well, let's also speak to some Autistics, that because I know this can happen to me, I know others that can happen to. You don't realize it's happening until somebody tells you. You know, because we're just not aware that our moods are changing, our habits are changing our and all that. How am I? How might they do some more self-care for themselves?
Becca Lory Hector
I really honestly. So first of all other people can be a great clue in. Somebody who truly loves you will tell you, right? If you know that you have seasonal depression on someone who truly loves you knows you also have it. And when it usually comes on, they're really good key in that your moods are shifting. They're the first ones that are going to notice and know what goes on for you. So I think they're great clues. The other stuff that I think are secret clues are actually the biggest one is negative self talk. So I think as soon as our seasonal depression begins to kick in, we begin this frustration. Like we can't, again, control this, that this is just part of our lives, right? It's part of our cycle or mental health. And it gets very frustrating. And we start to get angry really fast. We start to like, yeah, angry at ourselves to not like we get angry at the world. Sometimes I get irrationally angry, like, mad at the sun that I can't have the nighttime and things like that. Yeah, most of the time, we turn it on ourselves. And we get frustrated with self and angry with self. And so I noticed for myself, if I see, I see at the beginning of my seasonal depression, an uptick in my negative self talk. Where I'm meaner to myself more often, where I beat myself up just that little bit more. Right? And that, for me is a big clue. I have a lot of struggles with interoception, right? I can't Yes, the connection between body brain, right? From years of not wanting to use it. So now I have to reengage with that system. And for me, I too won't notice my mood shifts and blah, blah, blah. But I do notice when my negative self talk changes, right? Okay. That's why it's so personal. It's like even the things that might be happening for you that other people don't notice they notice the moods or whatever. But the other stuff, you notice the lack? Right? The lack of do want to do things like hygiene, like, right, big old clues in that we're in another level of depression, right?
Philip King-Lowe
Yeah, yeah, absolutely. And sometimes when we're in seasonal depression, I know, we tend to want to reach out for those things that are more predictable, that we can we, some of us, we just play the same music over and over again, sometimes we watch the same show over and over again.
Becca Lory Hector
And that is self-care. all over the place. I watch the same movies. Why? Because I know what's and I like it. And I find comfort in the repetition. Right? Yeah. And so why not do those things? It's like, I don't know, where in the world at some point, people decided they could tell other people how to do their own self-care. Right, right. Yeah. That was how the medical profession decided it was going to go down. Well, here's a surprise for you. Nobody can know yourself better than you. You say exactly. You spend so much time with yourself that you don't want to spend it with yourself anymore. So like, that's how much time all of that conversation is having. And you'll Yeah, it's happening. Right?
Philip King-Lowe
Yeah, yeah. The other thing that I can't I feel we need to talk about as we continue and get towards the end of this talk about self-care for this is that it is very important that we work on building some kind of social support supportive network. Thanks to social media, we know that, you know, sometimes, you know, being with somebody in person isn't our favorite thing to do when we're, you know, feeling like this. But you know, what I can't help notice, especially like on LinkedIn, and even a place so few places on Facebook, there are groups of Autistics who are who are making community there and saying, I'm feeling this, I don't know what to do. And there are Autistics who will reach out to you and say, This is what I do. Maybe this will work for you. Or no, that doesn't work for them. Yeah.
Becca Lory Hector
Right. I know better than any non-autistic, what can help you why? Because they have a little bit more life experience with what other Autistic is struggling with. Right right. Exactly. And No matter what advice I'm giving it'll never be better than what you know. Right? Right. So there's like that that whole idea and I think we are specially those of us that get diagnosed leat, that self exploration, that self identity, you know, creating your own identity and knowing your values and knowing your priorities. You don't have the luxury of ever exploring that because nobody teaches that directly.
Commerical Break III
Future Shows
On July 18th, Zephyr James will be here to talk about Self-Care During Sensory Overload/Meltdown. Zephyr's understanding of their own sensory limitation needs, makes Zephyr a fantastic guest to talk about this topic. Many non-autistic people just cannot grasp that sensory overload/meltdown is a very painful and traumatic episode that wipes out our energy to a point where we must rest and become better regulated. Zephyr will share with us some suggestions so we take care of ourselves.
The Summer of Self-Care Series will continue in August when Becca Lory Hector will return to talk about two different topics. On August 8th, Becca and I will talk about Self-Care During a Crisis. Crises for Autistic Adults comes from things like not getting hired for a job. Getting rejected by someone you were dating. Maybe you got a notice that your support services were cancelled. Your pet needs to go to the Vet. Maybe you are facing the real threat of homelessness. Autistics face more crises of various kinds and it adds more stress on top of our challenging lives. When people around you try to minimize the impact of those crises on you it worsens our situation. Lory and I will give more advice on what you can do to take care of yourself in those moments.
On August 22nd, Becca and I will talk about Self-Care During an Election Year. Election years bring with them a lot of stress to add on to our stressful lives. Newspaper and/or blog articles, social media ads, television ads, emails are coming at us one after another with negative messages that bombard our senses. We become so overwhelmed, frustrated and burned out. Each effort to turn things off, leads us to another source that adds more informational overload, like people expressing their opinions when you are already tired. The Summer of Self-Care Series will conclude with some helpful ideas of how you can look after yourself during an election year.
Thank you for listening to Today's Autistic Moment.
Philip King-Lowe
Right. Yeah. And you know, yeah, and you know, a few years back, I gave, I gave a presentation at a Autistic Community Summit, about the importance of self-care to do effective self-advocacy. And I begin that with what I've said on my show many, many times, I said, first, and number one is become the expert about your own Autism. I like to call it, the expert about your own brand, make and model of Autism. Okay. And then also to become the expert about communicating about it. You know, don't wait for somebody else to be the expert about you, you become the expert about your Autism and communicating your needs. You know, yeah, yeah. And you know, and what we're doing here is exactly what I also love to reiterate, is to say, we need to tell our stories about what being Autistic means for us to people around us by using that communication.
Becca Lory Hector
You know, because we live in over it, because the neuro-majority has a brain language that's different than ours, right, we have for most of our lives, learned to translate our language into theirs. They're not so good at it. So the obligation right now lies on us to clear that communication. And I only, I think the only time that it is important that we take on that role is in terms of our self-care. And in terms of self-advocacy, right?
Philip King-Lowe
I agree.
Becca Lory Hector
It's like that's a big boundary. Right? Right. Right. No, go stirring the pot in my kitchen is, right.
Philip King-Lowe
Yeah exactly. And, you know, the thing is, is you can have you can, there are people, you can read all the books about Autism from any number of groups or so. They can, you know, read the I don't know, the images people put online or, or all the other things that people put up, but hearing those things directly from an Autistic person, this is what happens to me when that happens. They need to hear that from us. Right. You're right. Yeah. We and and you know, and never never, this is one of those things I have to teach myself to never apologize for taking care of your Autistic self.
Becca Lory Hector
Right. I always I really long time ago, somebody said replace the word sorry, with another word or replace apologize with another word. So thank you is a great one. It slots right in. And so if you're going out, you feel like the polite thing to do is say I'm sorry, I always say thank you. Thank you for your patience. Thank you for your time. Thank you for your whatever it is, right? Thank you for your understanding what whatever it is, instead of apologizing for what it is that you're asking for. Because we deserve to get what it is that we need. Absolutely born and we breathe oxygen. That's it.
Philip King-Lowe
And for them. Totally agree. Yeah, totally agree. Before I before I we end this, I'd like you to just talk a little bit about what you do through your website. And I know that you do some other programs for Autistic people, I believe. So why don't you talk a little bit about that before we before we finish out today?
Becca Lory Hector
Sure. So this topic, and what we're going to be talking about during the summer is all things that I really work on. It's my passion. So I'm really passionate about Autistic quality of life. And everything that I teach is what's called the realm of personal development, but used to be self-care. And we, what I do is I teach Autistic people or created a course to teach Autistic people how to create a life they don't need a vacation from. So in other words, a life that feels true to your Autistic self. And when I teach I say to your Autistic self and your brand of Autism, right, you need to create a life that works for you as an individual. And I teach a bunch of skill sets that I consider to be the very basics of how to functionally be an adult that nobody teaches you anything real about. And that's what I do a kind of teach people why our brains you know, create that people pleasing mentality and where we put ourselves second, third, fourth, fifth, last, right? Yes. And how to break that down and rebuild a life where you take your you are first where you have value where what you care about matters, those things. So that's the course that I teach. And then I teach some seminars that are like hyper focused on a particular topic like masking or spoon and time management. Yeah, he's like that, because when I got diagnosed 10 years ago, my life was a mess. I didn't know how to take care of myself. Nobody taught me what I needed my brain to learn right? And so I went on this adventure, you know, after my diagnosis to figure out what I was missing, like I did everybody else like life so much what was I missing? And so I really just taken my lessons through neurotypical, you know, personal development land and made them we can use
Philip King-Lowe
Yeah, well, and you have a website, which I will include on my on the Adult Autism Resources Links Page with your tell them what that link is, please.
Becca Lory Hector
It is beccalory.com. I'm also on of course, all the social media platforms and all of that. But you can get in touch with me through my website and attached to all of those things there. My writing and all of that stuff.
Philip King-Lowe
Yeah, very good. Well, thank you, Becca, and my audience knows, but Becca is going to be back in August to talk about Self-Care During A Crisis. And then also to talk about one subject that I think is extremely important to talk about Self-Care During An Election Year when the pressure is really on everybody. So I think that I really feel that it's important to have these conversations. But next week, next episode, I'm going to have it with Zephyr James because Zephyr is a friend of mine. And Zephyr is just one of those people who has just so well and taking doing her own self-care for her sensory and you know, has done some exceptional presentations about about sensory, sensory, you know, so I know you're all going to enjoy her because she's been on before, but Zephyr is going to talk about Self-Care During A Sensory Overload/Meltdown. And I know that I need to be reminded to do that fairly often. So, but Becca, thank you for being on and we'll see you in August.
Becca Lory Hector
Fantastic. Thank you so much for having me.
Philip King-Lowe
You're welcome.
Transcribed by https://otter.ai
Today's Autistic Community Bulletin Board
All of these events announced with the links can be found at todaysautisticmoment.com/bulletinboard/.
Understanding Autism virtual classes will be offered by The Autism Society of Minnesota. These classes are perfect for Autistic individuals, caregivers, those who want to understand the basics of Autism and support Autistic people. Classes will be held on July 18th from 10am to 12pm. August 14th from 2pm to 4pm. September 19th from 2pm to 4pm. Classes are free of charge, but you must register to attend.
Registration is now open to attend the Fall virtual classes for The Autism Direct Support Certification at The Autism Society of Minnesota. Classes will be held on September 9th, 13th, 23rd, 30th and October 7th. Scholarships to attend are available, but you must register to attend.
The Autism Society of Minnesota invites you to participate in the 27th Annual AuSM Golf Classic on Monday, August 1st at the Highland National Golf Course in St. Paul, Minnesota. Players and sponsors are needed and invited.
Go to ausm.org for more information about these and other events at The Autism Society of Minnesota.
If you have events for Autistic Adults and our supporters and would like them announced in Today's Autistic Community Bulletin Board on July 18th, please send them to PKLowe@todaysautisticmoment.com todaysautisticmoment@gmail.com by 4:30pm on Friday, July 15th.
Today's Autistic Moment is sponsored in part by Looking Forward Life Coaching. Looking Forward turns stumbling blocks into stepping stones towards success. Go to lookingforwardlc.org for more information.
I am in the process of planning shows for the Fall and for Season Three in 2023. If you have a topic, you would like to discuss and/or would like to be a guest for a show, want your business or organization mentioned or have questions about Today's Autistic Moment please send an email to PKLowe@todaysautisticmoment.com. todaysautisticmoment@gmail.com
Thank you for listening to Today's Autistic Moment: A Podcast for Autistic Adults by An Autistic Adult.
May you have an Autistically Amazing day.