Go to todaysautisticmoment.com for the transcript. There are many unavoidable consequences to being Autistic in an ableist society. One of those consequences is internalized ableism. Autistic Adults tend to doubt ourselves to the point that ableism takes over our own attitudes towards ourselves. Eric Garcia the author of the book We're Not Broken: Changing the Autism Conversation returns to Today's Autistic Moment to talk about how Autistic Adults can overcome our internalized ableism. --- Support this podcast: https://anchor.fm/2daysautistic/support
Click or tap on the downward arrow in the pink box below the logo. See the image below.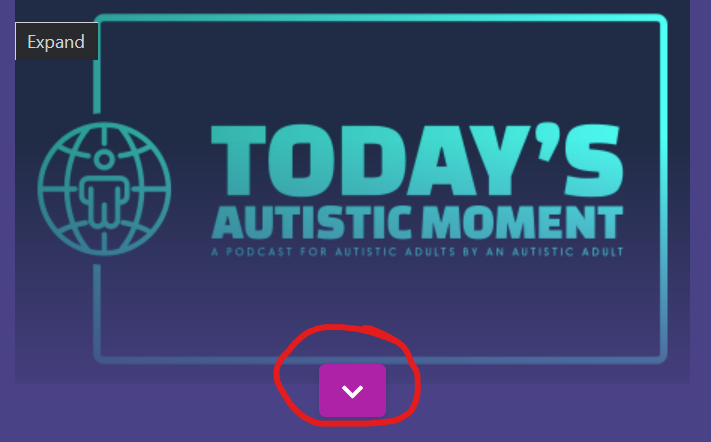 Overcoming Internalized Ableism
May 23, 2022
[You will notice that some words have a strike through font. These are to reflect the new website created in September 2022]
Welcome everyone to Today's Autistic Moment: A Podcast for Autistic Adults by An Autistic Adult. My name is Philip King-Lowe. I am the owner, producer, and host, and I am an Autistic Adult. Thank you so very much for listening.
Today's Autistic Moment is a member of the National Podcast Association.
Today's Autistic Moment is always a free to listen to podcast that gives Autistic Adults access to important information, helps us learn about our barriers to discover the strengths and tools we already have to use for the work of self-advocacy.
This first segment of Today's Autistic Moment is sponsored by The Autism Society of Minnesota: Minnesota's First Autism Resource. For over 50 years, The Autism Society of Minnesota has been honored to support Minnesota's Autism Community. Visit them online at ausm.org.
Please go to the New Podcast Episodes Page of todaysautisticmoment.com where you will find the shows and download the Program Scripts with all of the hyperlinks I mention on each show and the Interview Transcripts. Interview Transcripts for 2022 are sponsored by Minnesota Independence College & Community. If you want to listen to any previously published shows, go to the Episode Index Page.
Also, be sure to follow Today's Autistic Moment on Facebook, Twitter, Instagram, LinkedIn, and Tik Tok. Please join Today's Autistic Moment Community Group page on Facebook, where you can talk with me and other listeners.
During the show Autistic Adults and Ableism with my guest Sue Swensen in February of 2021 we spoke about the ableism that Autistics experience through words that are spoken and attitudes conveyed through actions that are so toxic to our sense of well-being. Ableism is systemic because it is embedded into society. Disabled people whether we are visibly disabled or invisibly disabled are abused, neglected, presumed incompetent or even assumed to be faking. If a disabled person like myself who can own a podcast as the sole-proprietor business owner, write, speak, advocate for myself, many would say that I am "too high functioning" to be Autistic. I am a part-time wheelchair user because of my chronic back pain. When I am out shopping or roaming around in my chair and suddenly stand up, I have had people stare at me with an expression of "he isn't disabled, he must be faking" on their faces. I have heard endless conversations by able bodied people suggesting that many disabled people are receiving disability benefits that we don't really need if we own a home, drive a nice-looking car or have anything that appears to be expensive. In other words, if we are "really" disabled, we shouldn't expect to have a nice life, with good relationships or be able to live a life that others envy, and if we do, we are not really disabled. Ableism includes micro-aggressive phrases such as "If only she would lose some weight, they wouldn't be so sick or handicapped. They are just lazy gluttons."
Autistics experience ableism by how many are unemployed and economically poor. Ableism is the reason we struggle with relationships, health care, getting support services and having many people roll their eyes at us when we stim or fidget. Ableism occurs with the many people who shake their heads and walk away, thinking that Autistic Adults just haven't grown up like we should have.
Many of us Autistics internalize these messages from our earliest childhood years and carry the wounds into adulthood. When we become adults, Autistics internalize ableism whenever we are dismissed from a job, or denied a bank loan to help pay for housing, or denied services to help with executive functioning. We internalize ableism and it can lead to self-abusive thoughts and behaviors, because we often feel so powerless.
I have invited Eric Garcia back to Today's Autistic Moment to talk with us about overcoming internalized ableism. Eric is the author of We're Not Broken: Changing the Autism Conversation and was my guest on Autism Acceptance Day on April 2nd. Eric and I will talk about the ableist messages that Autistics get and how we internalize them, and what we can do to overcome those messages to find better self-acceptance and a healthier self-image.
Be sure to stay tuned after this first commercial break to listen to Eric Garcia as we discuss Overcoming Internalized Ableism.
Commercial Break I
Philip King-Lowe
Eric, welcome back to Today's Autistic Moment. I am so happy to have you back. Welcome.
Eric Garcia
Thank you very much for having me.
Philip King-Lowe
You're welcome. You're welcome. Yeah, our talk on Autistic Autism Acceptance Day was so wonderful. And during that interview, you said the words" overcoming internalized ableism." And boy, what what a set of words that is. Yeah, it's, that's a very powerful packed of words. In February, I did a show about trauma, and characterize trauma as an unavoidable consequence for many Autistics. And now I think we're talking about another one that an unavoidable consequence, right, internalized, internalized. ableism. So let's talk, what important information do we need to tell Autistic Adults and their caregivers about internalized ableism?
Eric Garcia
I think the thing that I think about as I think about I just had a big talk with Devin Price, who his new book, Unmasking Autism is a must read. I urge everyone to read it. And he said that being odd. Masking is nobody's born, choosing a mask, you're forced into masking, like you're born into masking is basically what he says. And I feel like internalized ableism is a lot like that. Nobody chooses to have internalized ableism. We are it is forced upon us, if that makes sense. When you live in a world that doesn't understand you, and more importantly, refuses to understand that and also spreads harmful ideas about Autism, and disability as a whole. Yeah, that is going to program Autistic people to say, there is something wrong with you.
Philip King-Lowe
Yeah. And again, I like to talk about ableism as micro aggressive. Yes, these micro-aggressive messages. And I think it goes without saying, but let's say it anyway, we internalize those messages. So that's what we're talking about here.
Eric Garcia
Yes, correct. Yes, I would agree. Those messages, the way that we are conditioned. The way that people discuss disability. When you talk about things like overcoming Autism, or when you have all these conversations about what causes Autism or vaccines and things like that, it sets a tone to say that you are the problem. And you know, I'll give I'll give you this perfect example. When I was I had to be I couldn't have been 16 or 17. I remember on CNN, I was watching CNN, and Dr. Sanjay Gupta, he interviewed the Late Mel Baggs. And it was a fantastic portrayal was the first time I'd seen an Autistic person on television like interviewed. That was it was it was incredible. Then, right afterwards, there was an interview with Larry King where Larry King interviewed Jenny McCarthy. And that was the first time I'd heard about the whole vaccine Autism myth. Afterward, I wanted to ask him, I was like, did I get diagnosed, you know, after I got vaccinated, because I didn't mind I was like, What are you talking about? That should have been a key there. But the point being is that you know, you have you know, You're conditioned immediately even if you're given fully human portrayals of Autism, to just immediately be snapped into reality that okay, we see this we see you as a problem to be solved. And that sets a tone for how you view yourself. And it isn't until oftentimes, there's someone within that community to help you, you know, steer you towards saying, oh, there's nothing wrong with you. It's revelatory. It is necessary and is incredibly helpful. And it changes lives. So it's interesting how, how these things happen.
Philip King-Lowe
Can you describe at all exactly how we internalize those things? I mean, or or am I coy?
Eric Garcia
No, no, it's, it's important. I think it's, I think the way that you it's weird because I don't think that it's one specific thing that happens, it just, these messages constantly permeate. So then what happens is, I think that plays a big role in masking. Because if you have internalized ableism, then you are, you feel this impulse to want to suppress your Autistic traits. To not to want to give yourself away. That makes sense. Yeah, like you don't want any tell. So as a result, you don't flap your hands or you don't stim or you don't verbal dump or you learn to you learn any way you learn to suppress any little way that you might give people a hint that you're Autistic. And as a result, I think that is partially why you see a lot of Autistic people with substance use disorders, myself included, It is why I think you see a lot of Autistic people, particularly women, and transgender people and non binary Autistic people dealing with eating disorders. Basically, what you're doing is you're grasping for some kind of control, and you're grasping for some kind of, if I follow these rules, then this is going back to a Devin Price told me if I follow these kinds of rules, then I'll be good and moral person, and then people will like me. Yeah, so I think what it does is it manifests itself in different ways.
Philip King-Lowe
Yeah. I love how you're talking about masking because we are following my show that I did with Lyric Holmans known as the Neurodivergent Rebel about masking and burnout. And they said so eloquently, that it's part of a world that simply does not see or they don't want to see our Autistic personalities as valid or are a part of the rest of the whole of society. We are this group of people that, you know, that masks and I love how we spoke of how that masking and closeting are very similar, because it is hiding your true self from the rest of the world.
Eric Garcia
Yes, absolutely. It is. I think it is very similar. And Devine Price, who's trans talks about this a lot, nobody is born, Nobody chooses to be in the closet, you're forced into the closet in the same way, you're forced into internalized ableism. And so I think what happens then is you, everybody, because some people don't ever get out of internalized ableism. Right. And I want to be clear about that. But I think that what happens oftentimes, is it requires you being exposed to, to other Autistic people, and realizing that your traits are not a reflection on whether you're a good or moral person, you are a manifestation of a different permutation of being human being.
Philip King-Lowe
Right.
Eric Garcia
And, you know, don't go into the point that, that we're saying, I think one of the things that's interesting is that like, so, so I was diagnosed when I was like, seven or eight, a little fuzzy, but like, you don't know what Autism or Asperger's or whatever the hell or whatever in the world affects you. When you're seven or eight you don't know what Autism or Asperger's or whatever in God's name, you know, it is. All you know, is that you don't belong here. You don't want to recognize that you're, you have a disability. You just don't want to be seen that way.
Philip King-Lowe
Well, let me tell you, I was diagnosed when I was 42. And I can also tell definitely tell you that wasn't necessarily something I really wanted to know. But once I knew it, and I understood it, I mean, I love how my one of my therapists put it, it rewrites your entire life history.
Eric Garcia
Yeah, it does. It does. Yeah. So whether you got diagnosed at 7 or 47, or 37, or 107, it completely changes. And so what was interesting is after I saw that CNN special ed, again, I had been 17, 16, it made me rethink everything that I thought about. And then And then, but then again, you know, I didn't think about it that much until I was in my 20s. And I started writing about the stuff. That was interesting. What will like what what that what that did when I saw when I saw Mel Baggs, is that made me really think, Oh, this is something that Autistic people do. And then again, you know, right after I saw Jenny McCarthy, even I didn't think about it for a long time until I realized that Jenny McCarthy was full of lies. But you know, as a charlatan, but then like, it wasn't until I started right, working as a journalist and writing about Autism and meeting lots of Autistic people interviewing Autistic people, that I was like, Oh, this is a thing? This is not just me, this is not me being a failure, or a failed version of human. And I think what happens, and I think what happens if I if I can say something, and they think that being around other Autistic people. Interviewing Autistic people. Learning with them, and speaking with them, it helped me deal with my own internalized ableism. It wasn't like I overcame my internalized ableism before I wrote this book, no?
Philip King-Lowe
No, no, no. And I have to say that, you know, I myself have my days when it just happens to to be more so than others.
Commerical Break II
Support Today's Autistic Moment
Many of the listeners of Today's Autistic Moment are in places where they cannot find up to date information about Autism. Other podcasts focus on the medical model including treatments and cures for Autism, without listening to the voices and concerns of actually Autistic people who want to live happier and more fulfilling lives as they are. Today's Autistic Moment is helping Autistic Adults find each other and join the movement for Neurodiversity to make the world a better place for Neurodivergents. The podcast is always free of charge because Autistic Adults and people who care about Autistics listen to and support my work. When you go to todaysautisticmoment.com to purchase a spinner fidget or click on the blue button to subscribe to my Patreon Page, you are helping me to make this podcast better and better with each show, guest and transcript. You can purchase a spinner fidget for $4.99 plus sales tax, shipping and handling and/or subscribe to my Patreon Page starting at $1.00 a month or more by going to todaysautisticmoment.com right now.
Thank you for supporting Today's Autistic Moment.
Philip King-Lowe
You know, we can easily say that internalized ableism is its own barriers. But let's talk about what are those barriers for Autistic Adults, when we talk about internalized ableism? What are the barriers to overcoming it? Maybe we can talk about that.
Eric Garcia
I think this is a good this is a really good question. I think the barriers I owe, they can be big, or they can be small. They can be if you don't have a supportive system around you, then that can lead to you. That can prevent you from expressing your full self. Yes. And that can teach you that your full self is is bad and needs to be suppressed. I think other barriers might be, you know, like we all we all kind of mask in one way or the other. We all put on our braves face, whether we're typical, but autistic people do more so than others. But I think that another barrier might be a lack of exposure to other Autistic people. If you are, you know, there's benefits and drawbacks to growing up integrated or not being diagnosed, or being diagnosed as benefits drawbacks to both. I think one thing that could be a drawback for growing up mostly without other Autists people around you is you don't see that that is that what you're doing is normal.
Philip King-Lowe
Right? Yeah. Yeah, I would I I so agree with that. I mean, I think one of those barriers really is is that, you know, many of us have been through the loss of jobs because of an Autistic behavior. Yes. We've been through the loss of a relationship because of, because whomever we've been dating or maybe, you know, in us more serious relationship with, they just don't understand how Autism is affecting that particular relationship. We get these messages, of course, that our sensory, our sensory processing, it's not important. You're just pretending it's really not that serious. And no matter how much we try to tell people those things, it's like they're not listening. Yeah, I think that's what that's one of those big barriers.
Eric Garcia
That is a massive barrier, is that it because even if you come to real even if you come to get a diagnosis, even if you come to you know, understand yourself more, you're still getting these messages at home, or your workspace or your workplace or in your social life that Oh no, this is a bad thing. Incidentally, one of my favorite things that I hear is when as long is when I'm like, is when I hear like a parents say, Oh, well, my kids not Autistic. And then I'm like, you know, or then like, some Autistic people will say like, oh, well, they do you know, this or this or this? And then they're like, You know what? Yeah. Well, I do that. Yeah. You're so close to getting it, you know? Oh, close, like, you might be to, or you might have a broad, you know, there might be broad Autism phenotype in your family like, this close, you know,
Philip King-Lowe
Right. Yeah. You know, I, I, you and I talked about this last time, but I'm, and I keep talking about it. But I think it's very important to talk about how those functioning labels are a barrier, an obstacle to overcoming ableism. That, yes, they class of how they classify us.
Eric Garcia
Yeah, absolutely. is absolutely it is it is a barrier because I think that internalized ableism it's bad, like internalized ableism is bad for everybody.
Philip King-Lowe
Let's let's right, right, absolutely.
Eric Garcia
Let's put that on the table. But I think it's, it's bad for different people for different reasons. It's bad if you are a non speaking Autistic person with an intellectual disability, because it was taught that you just don't, you're not going to amount to anything. Right! Really, you're just you just so you just set expectations low for yourself. And I think that, for a lot of Autistic people who maybe can speak or have lower support needs, internalized ableism is bad, because it prevents you from self actualization. Because get is somebody suggests you might be Autistic, because you've had so many bad it's equate it's associated with negativity. Yeah. Oh, well, I'm not like, I'm not like those Autistic people. I'm not I'm not honest. Because the A that is bad, because you're thinking about one group of people in a negative way. But B it's preventing you from really actualizing yourself. So those functioning labels, they're bad, because they don't help us. You see people, you know, get what they need. But they're also bad because they pet different Autistic people against each other.
Philip King-Lowe
I would agree with that completely. You know, and I have to say that I, since I've been hosting Today's Autistic Moment, I mean, I've gotten my share of emails from from listeners who they're in areas where, quite frankly, my podcast is one of the most one of the most reliable sources of information they can find, because the resources and programs, they're just not there to assist them. I mean, that, you know, and then also finding a local Autistic community that can share their values, they can share their experiences, but finding that is very difficult. And one of the reasons I host this host this show, is because I want other Autistics to find each other, you know. So that's one of my hopes for this podcast. That's what we're doing. Let's move into What steps should autistic adults and our supporters take to advocate for our needs? And I think it's very important here. Let's begin by talking. What are what would you think? What do you think are the strengths that Autistic people have to help us overcome internalized ableism? I think we need to identify those.
Eric Garcia
Good question. And we should predicate we should preface this by saying that no one that no Autistic or not all Autistic, no Autistic person is reflective of nobody else. Like we're a very broad and vast neuro type. And like that, that's that's very important. So getting that out of the way. And recognizing that I think the most I think the most important thing, I think they would, what does help is that because we don't, because pala tests is, you know, a second language to all of us. I think it can help us be very forthcoming about and saying what we need, once we know what we need. Yeah. So that's, that's that's a very good thing. I think the other thing is that contrary to what a lot of other people, what a lot of people think we are incredibly empathetic and I think that helps us when asking for our own support systems because what we do is that we is that allows us to meet someone on a level playing field. It's, you know, if you're advocating for your needs at school, for example, or college, especially if you know staffing is short, you know, he sees a lot of the coronavirus pandemic or you know or universities or whatever, you know, you could say, Look, I understand that you may not have all the resources or all the money that you want. But these are the things that can help me. I think have the fact that we do have that empathy, even if we don't necessarily immediately understand what somebody's thinking or feeling. Is incredibly helpful, because then what it does is it shows that we are partnering with someone, we're not fighting with them. So I think that's, I think that that's, I think those those are two off the top of my head, I think those are two incredibly positive strengths that Autistic people have that can help that, that allow them to better articulate their needs.
Philip King-Lowe
Yeah, and this is where I want to repeat something I actually haven't said this at all in a little while, but and that is that, um, our knowledge of our Autism, yeah, our own brand making model of Autism is how I put it is in itself a strength. But one of the things I so appreciate about you and your book, is you do exactly what I've often told my listeners to do. We need to tell our stories about what being Autistic means for us. Each of us. That helps people understand just how, how deep some of that internalized ableism has gone.
Eric Garcia
Absolutely. And I think one of the things that was interesting to me, and one of the things that continues to fascinate me, is when I meet other Autistic people, it is fascinating how we are simultaneously so similar. And we are so different, right? And what I mean by that is, of course, we are all different people, we're all individuals. Autism as much we affect autism as much as Autism affects us. Yeah, you know, that's just part of being human being and one of the joys of being a human being is how different we all are. But there is like a through line and a thread that all of us have experience. Or it may manifest in different ways. But we still are just in the same way that we are all human, we have all these commonalities. The same way we are all all of us Autistic people have the similar strands and similar strains and similar experiences. And I think that what that that and of itself can be an incredible tool against ableism. Because then what it does is it shows how common our experiences are, and shows them what it does, then, a it helps us overcome our own problems. And then what it does is it builds a community and it shows us that we're not alone. You have other people who love us, we have other people who experienced these things, and it builds a kind of solidarity. And it gives us kind of a safety net if we fall off the tightrope of living in a neurotypical world.
Philip King-Lowe
Yeah, yes, I hear that. And I agree. Um, like I said, part of this question is, our tools and strengths. Yeah, that we already have to end use them for that work of self advocacy, when we're speaking of internalized ableism? You know. It goes without saying that those micro aggressive messages that we have internalized, yeah, they hurt, they hurt, and they hurt us deeply. And sometimes it's by sometimes it is by letting people see how deep that her has gone. That can help people understand that we must overcome this internalized ableism. And we must also give ourselves the one of I say it, the room the latitude to overcome it in our own time in our own way.
Eric Garcia
Yeah, absolutely. I think that one of the things one of the best tools against internalized ableism is recognizing that we're Autistic, recognizing how similar all of us are, and that enables us and Hannah Gadsby has talked about this, she said that like being Autistic has allowed her to be kinder to herself, realized herself. I think that when you find out that you're Autistic, and you find the community that gives you the grace, as you said it rewrote your entire past. In the same way you realize, oh, all of these things that I was trying to do. They were me compensating for putting on a cover for other people. And that's what's realized that you then you can realize, okay, you were doing the best you could, you could say to yourself, you were doing the best you could you did everything you could with what little you had. So you're very, like, in some ways I want to say to like 13 14 year old you're a very brave kid. Right. Cuz you're going out everyday. And you don't know all things about yourself, but you're like, you're still going out there and you're still doing it. You know that right? That's incredibly courageous.
Philip King-Lowe
Right? Yes, it is. And, you know, I'm, I have to say that to those who did learn when they were younger, if I envy anything, I would have to say it's the fact that they've had, their lifetime. They've had their lifetime to continue to get to know theirs to know their struggles and to struggle with those struggles, and to develop a positive sense of themselves, or some kind of sense of themselves so that they can, they can live into it. I believe that when it comes to being our true selves, we, I don't think we live it out as much as we live into it. When we choose to live into who we really, really are, we can indeed bring out some of the best of who we are.
Eric Garcia
Absolutely. No, no, I truly, we live into it and answer it. I hope that that is such a good way of describing it. And it's something I think anything that I would say, as you've already said, it is that this is a continuous process, and it's gonna take, it took some time to learn and unlearn.
Philip King-Lowe
Yeah, we need to stress in this, that a lot of the challenge comes from the fact that the word disability carries with it its own stigmatization, still connotations that are still used to this very day. And no, there is nothing evil, wrong, or just or whatever, with being disabled. And we are so join with others, other disabilities, that, that we need to continue to say that loud and clear. But, you know, the fact that we are disabled or, and we struggle with things, that doesn't mean that we're not vitally, vitally active, important people. And yeah, internalized ableism tends to make us to, to pull ourselves out of society, rather than see us as part of a society that we're just different and unique. And so what?
Eric Garcia
Yeah, absolutely, I totally agree. And I think that like what I think that's one of the best things about internalized ableism, about overcoming internalized ableism is that we're able to, is that it, it gives us the capacity to present ourselves fully to the rest of the world. And that and that, in and of itself is a great is a great privilege and a great blessing.
Commercial Break III
Future Shows
June is LGBTQIA + Pride month. On June 19th we will celebrate Autistic Pride. Yenn Purkis the Autistic Advocate and Author from Australia will join me for an insightful episode The Intersection of LGBTQIA+ Pride and Autistic Pride on June 6th.
On June 20th, the episode The Intersection of LGBTQIA+ Pride & Disability & Autistic Pride will take a slightly different turn. I will be joined by Andrew Gurza who is a gay person with cerebral palsy, and an exceptional advocate for all disabled people through his own podcast Disability After Dark and social media presence on several platforms. Andrew and I will talk together about what is happening all too often with disabled people who are LGBTQIA+, as well as Autistic people. Andrew is going to talk about what is happening with disabled people in general, while I will be talking about what is happening with Autistic people. If you want a more comprehensive understanding of what is happening in all of these communities, this is the podcast episode to listen to.
Be sure to listen to the Summer of Self-Care Series during July and August. My guests and I will talk about things such as Self-Care During Seasonal Depression. Self-Care During Sensory Overload/Meltdown. Self-Care During a Crisis and Self-Care During an Election Year.
Thank you for listening to Today's Autistic Moment.
Philip King-Lowe
I'd like to ask you, before we we close this out, do you have a personal story of your own, that you can relate to our audience of working on overcoming your own internalized ableism?
Eric Garcia
Oh, do you know, I'll give you a perfect one that happened just this week. You know, I was really worried. I was texting someone I was texting a really good friend. I worried that I had said the wrong thing. Because Because I think a lot of Autistic people would say things without filter. I mean it was I said something completely harmless, but like they had responded in like five minutes, like, and I was just like, I was like, I did it the wrong way. I think what I did is, because I've been reading Devine Price's book in, he says so eloquently, you know, spend a day not thinking about what other people think of you. And so, you know, I was I was stressing, and I was just like, wait, I just had this conversation with Devin, like, let me and I'm just been reading his book. Let me, let me try that. And what it did is that things worked out. My friend eventually got back to me, he texted me. And I was able to give myself that kind of social grace. So that doesn't sound like a big thing. But it is such a small thing to give yourself that permission. Yeah. And not to live in fear. Exactly. Yeah. I think that sounds so small, but it's the beginning of something and that and the reason I pointed out is that I want to say to people who listen to me, I don't want people to think that I've done that I've dealt with overcoming internalized ableism completely I work on it every day. And there's things right every day day in and day out. And I'm constantly working on it. I'm constantly learning. It's so so so so that's that's an anecdote that just happened literally like on Monday, you know.
Philip King-Lowe
Yeah. Well, I Yeah. Well, I appreciate you sharing that because like I say it's I think it's important that we hear and we share our stories and things like that. You know, and yeah. Well, Eric, I just count it such a great privilege. should have had you on two shows this year, I continue to be amazed at how you share your own stories and how you write and you know, I can tell you that from my, my own my own interactions on social media. And as I watch and see I see the work that you're doing. And thank you so much for doing it because we need it. We need that. That advocacy, that representation so much. So thank you so much.
Eric Garcia
Thank you. And thank you for creating a platform where Autistic people can exchange this information and disseminate this information that's really cannot be overstated how important that is.
Philip King-Lowe
Yeah, thank you so much. And that's exactly one of the things I wanted Todays Autistic Moment to become a place where Autistics can be heard, and our stories, our topics and those things that are so relevant to our daily lives. So thank you so much for that.
Eric Garcia
You're doing that and more. Thank you.
Transcribed by https://otter.ai
Today's Autistic Community Bulletin Board
All of these events announced with the links can be found at todaysautisticmoment.com/bulletinboard/.
Understanding Autism virtual classes will be offered by The Autism Society of Minnesota. These classes are perfect for Autistic individuals, caregivers, those who want to understand the basics of Autism and support Autistic people. Classes will be held on June 20th from 10am to 12pm. July 18th from 10am to 12pm. August 14th from 2pm to 4pm. September 19th from 2pm to 4pm. Classes are free of charge, but you must register to attend.
On May 24th from 7-9pm Noah Simpson will present a virtual skillshop at the Autism Society of Minnesota entitled Medical Cannabis and Autism Spectrum Disorder. Gain information and strategies involving medical cannabis. Minnesota's medical cannabis program, and how cannabis can be effective treatment for a variety of conditions, including Autism.
The Autism Society of Minnesota invites Autistics to submit your application online now to speak on a variety of topics at the 5th Annual Autistic Community Summit on Saturday, September 17th. All Applications are due by July 2nd. Send an email to zjames@ausm.org if you have any questions.
Go to ausm.org for more information about these and other events at The Autism Society of Minnesota.
Today's Autistic Moment is sponsored in part by Looking Forward Life Coaching. Looking Forward turns stumbling blocks into stepping stones towards success. Go to lookingforwardlc.org for more information.
If you would like to have your business or organization mentioned, have questions or comments about Today's Autistic Moment, please send an email to PKLowe@todaysautisticmoment.com.
Thank you for listening to Today's Autistic Moment: A Podcast for Autistic Adults by An Autistic Adult.
May you have an Autistically Amazing day.