Go to https://todaysautisticmoment.com for the transcript.
Carole Jean Whittington joins me to talk about how Autistic women define success. Carole is a burnout strategist who helps Autistics work through their burnout. Carole Jean Whittington is the director and host for Mind Your Autistic Brain. Her company helps with education and supports for late diagnosed Autistics and other Neurodivergents. Carole is recognized as one of the top 50 Neurodiversity Evangelists by Theo Smith and Neurodiversity World.
--- Support this podcast: https://anchor.fm/2daysautistic/support
To read and/or print the transcript from a document please tap or click on Our Successes as Autistic Women.
To read the transcript from this website scroll down below the logo on this page to begin reading it. Look for the downward arrow in the pink box. See the example below.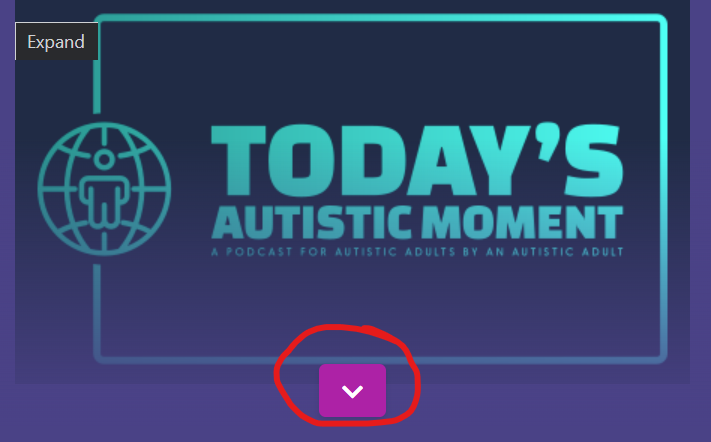 Segment 1
Transcript
Our Successes as Autistic Women
March 19th, 2023
Welcome everyone to Today's Autistic Moment: A Podcast for Autistic Adults by an Autistic Adult. My name is Philip King-Lowe. I am the owner, producer, and host; and I am an Autistic Adult. Thank you so much for listening.
Today's Autistic Moment is a member of The National Podcast Association and The Autistic Podcasters Network.
Today's Autistic Moment is a free podcast that gives Autistic Adults access to important information, helps us learn about our barriers to discover the strengths and tools we already have to use for the work of self-advocacy.
This first segment of Today's Autistic Moment is sponsored by The Autism Society of Minnesota: Minnesota's First Autism Resource. For over 50 years The Autism Society of Minnesota has been honored to support Minnesota's Autism Community. Visit them online at ausm.org.
Welcome to this episode: Our Strengths as Autistic Women. My guest is Carole Jean Whittington
Please visit todaysautisticmoment.com where you can listen to the podcast, get transcripts, program updates, and read the guest bios pages. Please visit the Future Shows Page with the titles, guests, and descriptions of all the shows coming up through the end of June. The transcripts are sponsored by Minnesota Independence College & Community. The transcript can be read and followed from the website, or you can click on the link provided to be taken to a written document to print and read it there.
Please follow Today's Autistic Moment on Facebook, Twitter, Instagram, and LinkedIn. Want to chat with me and other listeners? Join Today's Autistic Moment's Community Group on Facebook. Please subscribe to the YouTube channel @todaysautisticmoment to watch the most recent episode of Autistic Voices Roundtable Discussions: Autistic Business Owners, Professionals and Employees.
I am also very excited to tell you that there is a small group on LinkedIn called the Autistic Podcasters Network. Join Today's Autistic Moment and several other Autistic podcasters to meet other podcasters, keep up with the news and the podcasts and help create connections. If you are an Autistic who owns, hosts, or cohosts a podcast, or you cohost alongside an Autistic podcaster, please join our group on LinkedIn.
You are invited to apply to be a panelist on Autistic Voices Roundtable Discussions: How Autistics Define Success on Wednesday, May 24th at 2:00pm Central Standard Time. I am seeking four to six panelists who are Autistic. Success is defined by a culture of ableism, sexism, racism, and the neurotypical majority. Success is measured and determined by capitalism in how much money one earns and/or by the property we own. As Autistics, each one of us decides what success means through our Autistic identity and skills. Success for Autistics can include how we handled a moment when our sensory processing was disturbed, and what we did to better regulate ourselves. Success for Autistics can be completing a project that is part of our special interests. The panelists will come together and talk about how they define success for themselves. If you are Autistic and you want to be considered to be a panelist, you need to apply for each roundtable discussion, even if they have already been a panelist in the past. If you want to be a panelist on May 24th, go to todaysautisticmoment.com/autistic-voices and scroll to the bottom and click to fill out the application. Applications must be completed and submitted by April 28th.
My guest Carole Jean Whittington for this installment is here to talk about the successes of Autistic women. Carole will talk about the different ways that Autistic women discover what being successful means for them. Carole will also mention how Autistic women are self-identifying so they can find their places among the intersection of being neuro distinct.
Please stay tuned after this first commercial break to join Carole and I for our conversation.
Commercial Break I
Segment 2
Welcome back. Please join me in welcoming Carole Jean Whittington.
Philip King-Lowe
Carole Jean Whittington, thank you so much for accepting my invitation to be on this episode of Today's Autistic Moment. It's so great to have you here. Welcome to you.
Carole Jean Whittington
Well, thank you, Philip, I have to say that I have been looking forward to this, and I'm a huge fan of you and your show. So, it is such a pleasure to be here and be your guest today.
Philip King-Lowe
Well, thank you, thank you, I always love the encouragement, I'll take it from wherever I can get it. Okay, um, you know, we are walking through Women's History Month. And this is my second year that I have focused on autistic women. And I've said it before there still there's the stigma that somehow Autistic women don't exist. And the stigmas are because women are expected to be caregivers and all the rest and therefore, they cannot possibly be, yet we know that is not true. Because of research out there and other information we now have. And so, I've invited you because you own Mind Your Autistic Brain. Um, and you also work with Jaime A. Heidel, who writes a fantastic blog. So, I'm grateful to have you here. And I'm so excited to have you talk about your successes as Autistic Women, and it's really helped give some other Autistic women the encouragement to keep working and not give up. So, let's start with my first question. What important information do you feel that Autistic Adults in our caregivers need to know about when we talk about the successes of Autistic women, such as yourself? Go ahead.
Carole Jean Whittington
Well, I think first we have to just start with the conversation across the board, and how do we define success? Because success looks different for each person, how we interpret and define success is very individual thing. We can have a like a collective bar, or a goal that says, Oh, this is what success looks like, based on societal or social norms. But truthfully, when I went inside myself and said, What does success mean to me, because, you know, comparison is the thief of joy. It truly is. And it's so easy to get caught in the comparison trap of, oh, this is what society says success should look like and be. And if I haven't achieved that, then I failed. I'm not really, I'm not good enough. And that's so often the conversation that I hear when women come to me in late identified life, and it's, I'm failing, I'm not meeting my goals, I'm not successful. You know, I haven't accomplished the things that my peers have accomplished. And a lot of that is just, you know, hey, for a second number one. Did you know your neuro type was different? Are you comparing yourself to everyone else? And have you ever stopped to ask yourself? What does it mean for me to be successful?
Philip King-Lowe
Absolutely, absolutely. I think that's a great way to begin. Tell me what, what, what success has meant to you, as an autistic woman? Talk a little bit about that.
Carole Jean Whittington
Oh, geez, there was so much breaking down of the truth and lies of that comparison trap that I was so stuck in feeling like I was such a failure that I had, you know, not been successful in my life. Learning that I am not just ADHD but also Autistic at 39 and 10 months in my life, allowed this new knowledge to go Whoa, hang on a minute. I'm not broken. I'm not defective, I'm not failing. That there are things about the way my brain processes information that is different, not broken. And I had to really start looking at what does success mean for me as an individual? And I started with just the bare bones of like, okay, I was in a, like a level five, ghost pepper, spicy burnout, you know, and I had been on the burnout cycle for about 30 40 years. And I had to ask myself right now today, with the energy that I have, with the things that are going on with my body, what would be successful for me today? Some days, that was when I got up and got dressed. Some days was I managed to drive the kids to school and come home and do a load of laundry, you know, and really extending some compassion, and some grace to myself, that those days, that were super hard, or in the early, early years of my identification, that I was still worthy. That I was still okay.
Philip King-Lowe
Yes, yes. And it's quite the journey to that self-acceptance, isn't it?
Carole Jean Whittington
It sure is. But you know, get into this getting to this place Philip, is so empowering to be able to stand here today at 48 years old and say, I love myself. I love who I am. And the success that I have in my life. To me today. Like that was how I was defining success when I started today. Success for me is have I had an amazing conversation with somebody who has sparked my heart and my joy. And most every day, I say, yes, that's a successful day. Have I introduced two amazing human beings who I see these beautiful sparks. And have I introduced those two sparks to each other so that they could ignite and combust in the world? Have I done that? That's success to me.
Philip King-Lowe
Yeah. And being an Autistic woman, well, you know, because like I say, there's these foolish myths out there that unfortunately, still live. You know, talk a little bit about that, too.
Carole Jean Whittington
I always feel like Dr. Seuss's book Horton Hears a Who, and you have a little dust back and everyone's going We're here! We're here! Yeah, I feel sometimes, like the female population, you know, those of us who especially like when we're talking about intersectional population, you know, if you're assigned female at birth, if you're queer, if you're transgender, if you're bisexual, if you're lesbian, you know, if you're of color, if you're of a different culture than where you live, you know, nationalities, all different types of things. All of that makes identifying that we're here. I mean, we're saying we're here, somebody pay attention. But we're not being heard. Because the framework is, you don't fit the model of what we as a society and a medical practice has defined as what Autism looks like, behaves like sounds like. That's so perfect. Many of us are missed, we are missed. Altogether. We are misidentified, we are misdiagnosed. So many women I know. And myself included, were originally mis identified as being bipolar at one point, having Generalized Anxiety Disorder. Having overall pervasive depression. And so often, if someone had just taken a moment, to put some different context around, who they thought we were, and just said, Hey, I see you, you're not broken. Just to be human in a moment with another human. Because we all get here, eventually. And I work very hard every day to make sure that that we are all being heard. And we're not having to be on that dust back screaming we're here. We're here. We are here.
Philip King-Lowe
Yeah. Yeah. Yeah. I love I love your picturesque language on that. That is just brilliant. Yeah. Let's talk about Jamie a little bit because actually, Jamie was supposed to join us today, but I had a prior commitment had something come up. So, let's talk a little bit about Jamie because Jamie's writing is superb. I, you know, when I see the thing anymore, you know, so let's talk a little bit about Jaime.
Carole Jean Whittington
Yes, let's talk about Jaime, she is amazing. Jamie has the most tremendous gift. Because she can look at a situation. She can look at miscommunication in so many different environments and situations and translate it for neuro type to neuro type. Jamie does this like no one I've ever met, she truly has such a gift for this. And not only does she have this tremendous gift, she is a prolific writer. Oh, my goodness. I mean, that I aspire to write as often and as well as Jamie does. She is as a human being one of the most compassionate, deeply caring people you could ever meet. She is fun. She is compassionate, she is generous. She is kind of heart and spirit. She is just one of those people in the world that if you are fortunate enough to get to spend any little bit of time with her. She changes your life. Yeah. And she truly has touched and changed mine. And she's just an incredible person. I just adore her.
Philip King-Lowe
For those who don't know, no, we're talking about Jamie A. Heidel, who actually is the writer of The Articulate Autistic,
Carole Jean Whittington
She is The Articulate Autistic.
Philip King-Lowe
Yeah, yeah. And there is a link to her blog, on the Adult Autism Resources Links page. And I encourage my listeners, if you haven't read The Articulate Autistic, you're missing something really phenomenal. Because Jamie has the ability to help make the connections of why Autistics do or don't do a lot of the things we do. And I feel like she translates it into a language that is very understandable. You know, it's just, you know, I think I think one of her greatest gifts, the things that I've seen in her blogs are about how she talks about Autistic communication. And, you know, I, she, she could not be more accurate with a lot of the things she writes.
Carole Jean Whittington
And she brings such a beautiful and much needed lens to the conversation, because so much of our experience, especially in late identified life, is the awareness of the trauma that many of us have experienced. Yeah, be that, you know, micro trauma, big T, little T complex trauma, and everything in between, just from, existing in a world where your sensory profile is different from your environment. And Jamie brings out limbs to this conversation in the writing that she does in a way that I don't think anyone else does.
Philip King-Lowe
I agree. I do agree with that.
After this next commercial break, Carole Jean Whittington is going to talk about her barriers before she was diagnosed, burnout, her work as a burnout strategist and with Mind Your Autistic Brain. Please stay tuned.
Commercial Break II
Advertisement
Are you fed up with companies that only include Autistics on a surface level? Would you like to own something from a business that is owned by an Autistic person and working for the Autistic Community? Please visit the Logo Shop on todaysautisticmoment.com. There are spinner fidgets, 16oz drinking cups and lapel pins with the logo of Today's Autistic Moment on them. You can order any one of them for the purchase price listed, or one of each together and receive a 15% discount. When you buy from the logo shop you are helping me continue to get the best guests for the best conversations that are relevant to Neurodiversity.
Thank you for supporting Today's Autistic Moment.
Segment 3
Philip King-Lowe
Let's move into my question about barriers. What are the barriers for Autistic women to be successful? And, you know, the answer is usually of course, the sexism, and of course, ableism that we, as Autistics experience, but you know, I will say I am a privileged male. And I'd rather say that there's a lot I don't know, rather than assume that I know everything. So, you know, I mean, see, give us your answers to that as best you can.
Carole Jean Whittington
I'm probably gonna go down a bit of a different trail with this, and then perhaps, maybe where you were headed with it. When it comes to barriers, I can only speak for myself. It wasn't that. I mean, we have general social barriers as women period. And, you know, I am I, I grew up in a very fluent, upper middle class white family in the deep south. So, I did have a lot of access to things that maybe a lot of other women don't, so I can't speak to that, but I can speak to the barriers that I faced as an unidentified Autistic woman. And the biggest barrier was being identified for decades. That was truly the biggest barrier because I was operating under the assumption that I was failing because my peers who were able to work, you know, 40 plus hours a week, be able to be moms and manage two kids and a household and a husband, and all the social aspects and volunteer organizations and be the room mother and all this stuff. Good Lord, that was exhausting for me. It was keeping me in a deep chronic cycle burnout, and the shame, the guilt, the belief that I was not good enough and that I needed to work harder and pushing myself because I didn't know. To me that was the biggest barrier I faced. That knowledge then created and allowed me to see things in a new way. And then I saw some other barriers and became aware of new barriers. And that biggest barrier other than being on identified was recognizing that I was in neuro distinct burnout.
Philip King-Lowe
Ah, there we go. Talk a little bit about that.
Carole Jean Whittington
So, I am a burnout restoration strategist. I specifically speak and teach and coach around neuro distinct burnout. Neuro distinct is my term versus neurodivergent. From a linguistic standpoint, my friend Tim Goldstein at the neuro cloud, this is his coined term, and he so graciously shared it with me, and I love it. Because when we say divergent, it means we want to move away from to be separate from and I don't know about you, Philip, but my whole life, I want it to be included, not left out, not separate. And I love to be distinct. And I think most humans love to be distinct. So, I do use that term. So just so as we go along, if you're like, What in the world is this woman talking about? There you go. Now you got some context for neuro distinct. But with burnout, and especially for women, who are neuro distinct, late identified, there are a lot of hidden elements. And there are key differences between a neuro majority burnout and how that presents in the world, and a neuro distinct burnout, and how that presents in our life. So, I usually say I meet you, where you start to identify your burnout warning signs. And those burnout warning signs are the way we internally experience burnout for us. For me, one of the biggest things that it never seemed to align with a neuro majority definition of burnout, so I didn't think that was me. And until I got into the Autistic community and started hearing other people's descriptions, and correlations to Autistic burnout, did I go, Holy cow. That's what I experienced. That's what's been going on. And the thing was, there was a time in my life where my burnout was so bad. I thought I was losing my mind. Philip, I thought I was crazy. And I was terrified. Yeah. I was absolutely terrified. Because I wasn't, I couldn't remember things. Just so much was going on that I just didn't. I felt disassociated and disconnected from my body and from the world around me. And that wasn't how I had always felt sure I had had, you know, those things happen. And I didn't tend to have meltdowns so much as I had shutdowns. I had lots of shutdowns. And I had a lot of burnout. And burnout. I define it in five different levels from the poblano level one pepper, you got just a little freckle a spice in your world, all the way up to the level five ghost pepper where yours you feel like you're stuck. You're in bed, and maybe you've needed to go to the bathroom for three or four hours, but you just can't make yourself no matter how bad you have to go. You just would rather sit there and hold it till you just right. Yeah, and those types of things were the barrier to my success. Because I didn't know that was what was happening.
Philip King-Lowe
Yeah. Yeah.
Carole Jean Whittington
And when I learned I was Autistic. When I learned that I was experiencing burnout, that that was when I was able to make some big changes in my life.
Philip King-Lowe
Yeah. I've never really associated my mind to motor with burnout, I guess. Because I do experience some of that too. I literally have to sit here and think about getting up and walking to the bathroom for a little while before I actually get up and do that. I have days when I will be in bed. I need to get myself up and I actually have to put quite a bit of thought to just my legs moving to get myself up. I've not in the past associated that with burnout at the same time. You know, we do absorb a lot more stress sometimes then we will admit or what let us admit that our body is feeling stress that I think is I think it's indescribable. Myself. How do you really describe that? You know, go ahead.
Carole Jean Whittington
That is excellent. And I love that you brought that up. See, I love this. This is I love having a conversation with you. This just sparks me so much. Oh, my goodness. So, one of the things that I do, I created a methodology, and a framework called the unveiling method. And it's burnout to restoration. And in that, through my last nine years in research and application of this methodology, what I discovered and as I was going out, getting resources together for myself, because I was bootstrapping this, I was white knuckling, figuring it all out on my own, because I had no one. When I was identified nine years ago, to help me at all, it was, you know, here's your identification. You've made it this far. Good for you. Here's a couple pamphlets. Way to go. Right? And I knew there was more. And I had this glimmer, it wasn't a whole lot. But it was just a tiny little glimmer, that there was more hope. Yeah, and that's really what got me through. But when I was doing research, and I looked into our sensory profile, and I said, Hey, just by definition, I am a heightened sensory profile person. My sensory profile is a significant part of how I experience the world. But when I go out, and I look for sensory profile information, it was gut wrenching, because everything I read every study, every resource, every assessment, was telling me my sensory system was defective, was deficient, was broken. Right. Now, I'm gonna just tell you, not only did that hurt my heart, not only did that feel very discouraging, it made me angry. Yeah, because it wasn't true or accurate. Right. It wasn't true. Right. So, I created my own sensory profile, reflection for neuro distinct humans. And I simply broke it down into five different areas. And I said, Hey, you're a sensory site, you're a sensory person. And in burnout, your sensory profile is different from your thrive time. Now you can have hypersensitivity. And you can have hypo sensitivity, meaning you can feel things really, really acutely and very strongly, or you can feel really numb and not notice them at all. And here's the beautiful and here's the variation when we're talking about neuro type differences. And excuse me, in a neuro distinct brain and body, because it is not just our brain that is neuro distinct, it is also our body. When we're talking about our sensory system in burnout, we can have hypo and hyper sensitivity simultaneously. So, I can hear the fish tank bubbling in the other room, and it is like nails on a chalkboard, but I can have my headset on and I can be blast and my favorite song at the same time. It doesn't bother me.
Philip King-Lowe
Yes, yep, yep, yep. Yeah, I like to sometimes talk about sensory balancing. I don't know if that's a term everybody else uses, but oftentimes, if one of them is off balance, it doesn't take much to set the rest of them off. And there are days when keeping them balanced, it just ain't gonna happen the way you want it to send you got, you have to give yourself that time. To, you know, I call it your sensory safe spaces where you can just come bring yourself back into your balance, your focus, and then move on. So those are all great, those are all great things. Um, I like to move into the advocacy piece and the advocacy happens to be one of my favorites, my favorite parts of the show always but, you know, what steps should Autistic Adults and our supporters take to advocate for Autistic women being successful? Use and as part of answering this question, I think it's fair to say that what you do in Mind Your Autistic Brain is definitely part of that advocacy. So please feel free to talk about that if you wish.
Carole Jean Whittington
What I do specifically is I advocate to help adults who may be experiencing overwhelm, exhaustion, and they've tried all of the suggested self-care, they're unplugging and they're, they're, you know, taking everything off their calendar. And they keep doing this, you know, Thursday, Friday, maybe they hibernate all weekend long, and Monday and Tuesday feel great, but by Wednesday, Thursday, and Friday, they're back where they were again. And maybe this as the experience for the last three months. I help those folks identify, hey, maybe you might be experiencing burnout, and you might be experiencing neuro distinct burnout. And let's really dive in and look and see what does this mean for you? And how do we start to start those first steps of burnout restoration, I advocate for being able to, especially as women, and anyone who is in that intersectional population as a female, what are the things that you've believed and told yourself you should be doing? Or you should be able to do that really aren't true? You've been comparing that to something that no one really is ever going to achieve. You know, neuro majority brains say, oh, yeah, sure. That's great. We're all going to do that. But they know, they somehow know that, okay, I'm probably gonna get 70% there. And that's good. That's success, right? But for us, we're very literal. And if you tell me, this is a rule, or this is the goal, I'm going to kill myself doing that. Right. I'm going to people, you know, I people pleased forever. And I was people pleasing and killing myself to hit that goal. And so, I try and help people redefine success. For them look like for you. What does it look like right now? Because it is always evolving. Right? It's always evolving. So how do we start to advocate for ourselves? We start by recognizing, hey, if I'm in burnout, my sensory profile is going to be different. And knowing that the things that show up on my sensory profile when I'm in burnout, they can also show up in my thrive time, when I'm in restoration, but the level or degree to which I'm impacted by that is going to be different. Right? Right. And when we can start having these kinds of conversations, you know, I have a weekly talk show, and I have a different person on every week, so that we can talk about different aspects of relationship, communication, burnout, restoration, how we self-advocate our health. You know, as women, we also have a lot of very common co-occurring physiological conditions, you know, three of those are called the trifecta. Those things impact our burnout, they impact how we're able to show up in the world. And if we don't know that we have these things, then we're also in this constant belief that we're not succeeding, because we can't do X, Y, or Z like everybody else, but we don't recognize that our body has something going on, that we're just constantly fighting against. And that's not really our thrive. We have got to start taking care of us.
Philip King-Lowe
Yeah, I, your advice is music to my ears. That you know, I know, Autistics of the intersection of gender and sexual orientation. And such, we often push ourselves when quite frankly, we can't. You can call that running out of spoons, you can call that, you know, you're, you know, you're burned out, whatever you want to call it. But the fact remains there come those points of times when, you know, you just can't. You have to do exactly what you can do. And sometimes it is you, as you alluded to earlier, sometimes it's just getting up and being able to sit up and, you know, play your phone games, or whatever it is, if that's the best you can do some days, that's the best you can do. That doesn't mean you're not successful. I don't know why. But for some reason, we have gotten into this, this thinking about that somehow self-care equals not doing so well. You know, which is why I have my Summer of Self-Care Series to emphasize No, it is right for you to self-care.
Carole Jean Whittington
The thing is we also have to look at the types of self-care we're talking about. Right. Because for us, we're going to have a different whole category inset of self-care than a neuro majority brain and body. And part of getting to our unique self-care regime is first, recognizing that for most of us, we have operated on an energy deficit. And all we've done is operate from Spoon Theory, which in my opinion is broken. It's great, because it allows you to, to visually think about, Okay, I've got 10 spoons when I start my day. And if I do this activity, it's going to cost me three spoons. And we're looking at how are we allocating and doling out those spoons and we're also worried about how am protecting and keeping my spoons. And for me that's broken. And that keeps us in burnout that keeps you on that chronic cycle burnout loop. Because from a scientific standpoint, let's just talk about energy for a second, energy is not created or destroyed, energy is transferred. That means we move energy out, we move energy in, and there is infinite energy available. But for most of us and late identified life, we've operated on an energy allocation deficit, we are busy sending it out or protecting what we have. And we haven't been taught, we haven't had conversations on what energizes me, what fuels me? What brings and draws energy to me to recharge? And when we start looking at our sensory profile, we also start looking at our values, we look at who we are as people, and we start pulling off those masks. And we look at not what we're doing in life, because we are to do listing ourselves to death. But who am I being in this moment? Who am I being in my day? Am I being someone who's joyful? Am I being someone who is connecting with other people that I find interesting? Yes, they energize me, right? Like we like to socialize, but we want to socialize with the folks that we connect with and then energize us. And those same folks that energizes can also drain us. So, we got to be able to also look at that and go, How am I harmonizing this? Because balance has a lot of mental energy associated with it, because we're constantly calculating. But if I look at how was this harmonizing? How was it working together? That's a lot less mental energy. And for most of us who are neuro distinct, our thought energy is the thing that is the biggest drain for us.
After this final commercial break, Carole and I will share some thoughts with you so that you can believe that you are successful in whatever you are doing, followed by Today's Autistic Community Bulletin Board. Please stay tuned.
Commercial Break III
Future Shows
April 1st begins Autism Acceptance Month.
Becca Lory Hector and Doug Blecher will be my guests on Autism Acceptance Day on April 2nd. Becca and Doug will join me for the very important conversation about Self-Care During Autism Acceptance Month. Autism Acceptance Month is supposed to be about Autistics. However, Autism Acceptance Month has become commodified for merchandise and arguments about Autism. Many Autistics dread the month of April because we find ourselves explaining and defending ourselves with neurotypicals who claim to be "Autism experts" but do not give Autistics the chance to use our voices or they ignore us completely. Becca and Doug will give some great advice for how Autistics can take care of themselves during what can be the worst month of the year for many.
David Gray-Hammond, who was my guest in 2021 for the two shows about Autistic Adults: Substance Abuse, Addiction and Recovery, will return to Today's Autistic Moment on April 16th for The New Normal. David has reworked and added to his essays from his popular Emergent Divergent blog and put them into an anthology he entitled, The New Normal: Autistic Musings on The Threat of a Broken Society. David joins me to talk about his book and what he wants to achieve for Autistics around the world. David is a very eloquent speaker who is always very well thought out with the information he shares.
Join my guest Rose Carriero on May 7th for Autistic Mothers Celebrate Mother's Day Too. Rose is an Autistic Mother in Canada who was diagnosed after her son. Rose will talk about her life as an Autistic Mother.
Go to todaysautisticmoment.com/fs to read about other upcoming shows.
Thank you for listening to Today's Autistic Moment.
Segment 4
Philip King-Lowe
I see that your, your podcast, your show, has gotten some great recognition. One of the top 50 neurodiversity evangelists, by Theo Smith and Neurodiversity World. And, you know, I love stories like that, because, again, it demonstrates that Autistics we're achieving, we're using our strengths and achieving on our own terms, which goes back to, again, how we define success. So, so talk a little bit about that if you will.
Carole Jean Whittington
Sure. I'm a data girl. I love numbers. But for me, when I started defining success, you know, we usually in the corporate world, which I do come from a corporate background, we have goals, we have KPIs, there's key performance indicators, we have these numbers that we hit every quarter, right? And when I started Mind Your Autistic Brain, I decided, You know what? Those numbers, that type of thinking wasn't benefiting me. It was actually making things hard for me to feel successful. So, I checked numbers about every quarter, and I will say, my intention or what I would like to succeed or how I'm defining success is I started the very beginning. And I said in five years, I want to impact 250,000, late identify lives, so that people know they're not alone. I just wanted people to know that they weren't alone, that somebody saw them, understood them, and got them. And in two years, I surpassed that I hit 308,000. lives just in one channel avenue were impacted. The Mind Your Autistic Brain talk show this past year is now in the top 5% globally in self-help podcast category. We are now in 89 countries. We have listeners in over 89 countries. We have over 54,000 downloads for every episode for every listen. And we're impacting our lives. I get messages from people all over the globe. I think I got one from Austria last week. And this woman said to me, your episode around burnout helped me. I took the top 20 warning signs, and I went to my doctor and I finally at 54 was identified as Autistic. Thanks to this. I mean, to me, that's success. That's the win. The numbers are great, you know, making Theo Smith top 50 global Neurodiversity Evangelist, that was such an honor and I appreciate that so much. But for me, it's about how am I honoring? How am I sharing? Because I'm not everybody's jam Philip, I'm not. Sometimes I am just too much for folks. I am energetic. I am happy I am bubbly. I am you know, sometimes I'm just not somebody's jam. And that's okay. And I tell people on the talk show all the time. It's okay if I'm not your person but give me a little bit because I want to introduce you to your person, because I have a different a different advocate on every week. And I want you to be able to find your person because I believe that we each have the right to have one person that we know sees us that we can relate to, that we're not alone.
Philip King-Lowe
Yeah. I appreciate that so much because I've gotten the same kind of joy out of doing Today's Autistic Moment. Um, one of mine just happens to be that I have a listener out there who, who has a husband who wasn't diagnosed until, until they were able to get him diagnosed. And, you know, up to that point that he was diagnosed, my podcast was her go to for information about how to help him. And then since then, my podcast has become a go to the if not the go to, for them to continue to learn to understand how his Autistic brain is impacting his life and, and everything. And so, they're out there, and I appreciate them so much. And I've had, I've had one that came to me and said, you know, can you tell us where to take our adult son, because the mother and father are in there are getting up there in age and they want to be able to provide their Autistic son with a place to go to get resources when he needs help, you know, that kind of thing. And those things are real. And, you know, the fact that, that my, my podcast actually helps people find things like that. That to me makes it all the worthwhile of doing this. That's how I feel.
Carole Jean Whittington
Absolutely. And I think that, that is such a big part of why most of us, especially in late identified life, are so passionate about sharing the information that we found with other people, because we know what it's like to have not known for so long to have struggled to really just beat ourselves up and felt so awful for so long. Yeah, and went to this place where we can serve that is just the absolute last thing in the world.
Philip King-Lowe
Yeah, and one of the episodes I'm going to do on self-care, this upcoming summer is going to be Self-Care After Having Received a Diagnosis. Because I don't know about you, but when I was first diagnosed, I, I felt so alone, so isolated, I just felt like where am I going to find people who know what I'm going through? Did you feel like that too?
Carole Jean Whittington
Oh, absolutely. And that's part of what I call the processing phase after identification. And that processing phase comes with a lot of different emotions and feelings. And because you know, we do have processing differences and I'm also alexithymic so you know, knowing those other layers to yourself and how you process that late identification is so important because we can be really sad, we can be relieved and elated. Oh my gosh, I have an answer. And at the same time, we can be so upset because how did we get missed for so long? How did no one know? How what would have been possible for my life if somebody had caught this sooner? Where would I be today? Yep. And yeah, and then all of the things.
Philip King-Lowe
I said I said that in my most recent episode, too, there is a grief process and I hate to put it this way but I'm going to you know where you agree with the person you thought you were?
Carole Jean Whittington
Oh, it's an identity crisis for sure. Absolutely.
Philip King-Lowe
It really is, and you know, you mourn the loss of relationships and careers and things that should that you were told all your life should have been that they're just not going to happen that way. So, you know, I think it goes down to what a success but also just a realization that you know, I belong in this world it's just said I have a different part of it I guess if you want to say that.
Carole Jean Whittington
And just embracing who we are in that moment. Being able to say no matter what, I'm whole I'm not sorry, I'm not deficient. I'm not missing anything. I am whole right in this moment, just as I am.
Philip King-Lowe
Exactly. Yes, I really appreciate that you know, and I'm gonna say this before we close this let's we need to say this out loud. being Autistic and or being disabled does not mean in any way shape or form. That we are you know, deformed or anything like that. Those are not definitions that should you know that that should define how successful we are, how human we are or what how we are or not belonging in the world it we just are and it's time to stop suggesting that we're anything less. Well, Carole, I still thank you for being on this episode and wow. Your communication style and the enthusiasm that goes with everything you say. I just think it's tremendous. And I just appreciate this so much. And, you know, you can find Carole, online Mind Your Autistic Brain, I have included that website, in the Adult Autism Resources Links page along with The Articulate Autistic, with Jaime who writes the blog and I, again, I want to say, go there and you will indeed love everything you read, you know, you will find some, if you're Autistic and struggling with our communication or relationship, you most likely will find something there that will help you explain to somebody else about what's happening. And believe me, we know how difficult that can be, just to say it just to explain, so hey, this is why this is happening. Well, Carol, thank you so much for being on today and bless you and the work that you're doing. And thank you so much for all that you do on behalf of all of us who are neuro distinct.
Carole Jean Whittington
So, thank you so much, Philip. And I just want to leave everybody with one thing. In this moment, I want you to know, and I want you to just think for just a second, hear what I'm going to say to your heart in this moment, if you are late identified if you are an adult, and this is something that has just come to you today, or within the last few years, you already are successful. You have made it to this point. And you are successful.
Philip King-Lowe
Yeah, thank you so much for that. Yes. I want you all to know the same thing. I mean, I said on my 50th, I said you know, don't let anybody just tell you that you're broken that you're useless. No way. You know, you can accomplish things. And you know, I just say Keep up the good work because how I see it. Okay, Carole, well thank you again and I assure you I will be in contact to have you on today on Today's Autistic Moment again in the future. So, thank you so much and I wish you well and all that you're looking to achieve.
Carole Jean Whittington
Thank you, Philip. You too
Transcribed by https://otter.ai
Today's Autistic Community Bulletins Board
All of these events with their links can be found on todaysautisticmoment.com/bulletinboard
Join The Autism Society of Minnesota for their Adult Coffee Club. The Adult Coffee Club is a place where Autistic and Neurodiverse adults can connect with each other, foster friendships, and build community while enjoying a favorite beverage and/or snack. You are welcome to bring items that make you feel comfortable, can stay as long as they like, stim and parallel play. Participants are asked to purchase something from our venues. The next Coffee Clubs will be on Tuesday nights from 5pm to 7pm at Dogwood Coffee in St. Paul on March 21st, April 4th, April 18th, May 2nd, and May 16th. Coffee Clubs will also be available at the Milkweed Café in Minneapolis on Monday April 10th, and May 8th from 5 to 7 pm. Please RSVP at ausm.org.
Understanding Autism virtual classes will be offered by The Autism Society of Minnesota. These classes are perfect for Autistic individuals, caregivers, those who want to understand the basics of Autism and support Autistic people. Classes will be held on April 17th from 6-8pm. May 15th from 10am to 12 noon. Classes are free of charge, but you must register to attend.
On March 28th, Sarah Lahti will be presenting a virtual skillshop at The Autism Society of Minnesota entitled: Setting and Keeping Boundaries. Boundaries. We have heard of them, but what does it mean to have boundaries? This workshop will cover tips and tricks for creating and keeping solid boundaries, how to respond to a boundary violation, and the role emotions play in boundary-settings.
Online registration is now available to attend the 28th Annual Minnesota Autism Conference that will be held at the Marriott Minneapolis Airport Hotel, April 26-28th. You can register for the full conference that includes the Foundational Workshops and the virtual content together, or the Foundational Workshops only or the Virtual Content Only. Go to ausm.org and click on the menu option Events to register.
Go to ausm.org for more information about these and other events at The Autism Society of Minnesota.
Matthew the #ActuallyAutistic Coach has room in his Finding Your Autistic Self Group Coaching Groups. In the groups, participants learn about unmasking strategies, coping tools, burnout & post-burnout support and much more. Go to autisticcoach.com and click on Autism Groups for more information.
Today's Autistic Moment is sponsored in part by Looking Forward Life Coaching. Looking Forward turns stumbling blocks into stepping stones towards success. Go to lookingforwardlc.org for more information.
Today's Autistic Moment is here because of the generosity of the sponsors and supporters. Please join the supporters by clicking on Support Today's Autistic Moment on todaysautisticmoment.com. If you work for a company and/or organization that supports Autistic Adults and the movement for Neurodiversity, I would love to have you sponsor ads on the show.
If you would like to sponsor an ad or have questions about Today's Autistic Moment, please send an email to todaysautisticmoment@gmail.com.
Thank you for listening to Today's Autistic Moment: A Podcast for Autistic Adults by An Autistic Adult.
May you have an Autistically Amazing day.