Today's Autistic Moment continues the celebration of Pride Month on this episode The Intersection of LGBTQIA+ Pride & Disability & Autistic Pride that will take a slightly different turn. I will be joined by Andrew Gurza who is a gay queer person with cerebral palsy, and an exceptional advocate for all disabled people through his own podcast Disability After Dark and social media presence on several platforms. Andrew and I will talk together about what is happening with disabled people who are LGBTQIA+, as well as Autistic people. Andrew is going to talk about what is happening with disabled people in general, while I will be talking about what is happening with Autistic people. Andrew will share a heart wrenching story with you all about an incident of abuse that he experienced from a professional caregiver. I am making a one-time exception for him with regards to his use of language as he tells this particular story. It is important that people hear what is truthfully happening to disabled people. The content may not be suitable for all audiences. Listener discretion is advised. --- Support this podcast: https://anchor.fm/2daysautistic/support
Click or tap on the downward arrow in the pink box below the logo. See the image below.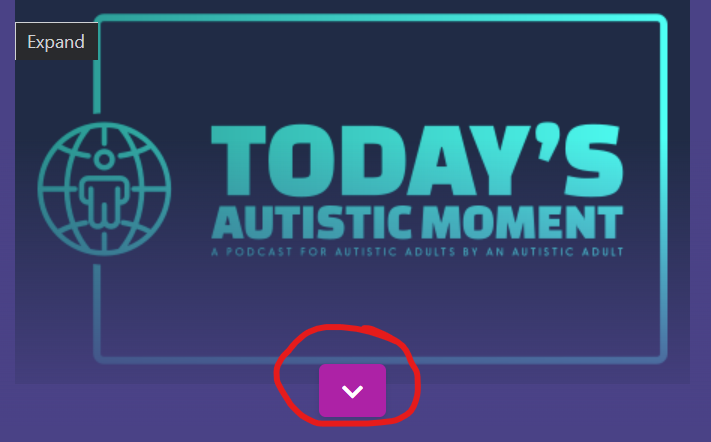 The Intersection of LGBTQIA+, Disability and Autistic Pride
June 20th, 2022
[You will notice that some words have a strike through font. These are to reflect the new website created in September 2022]
Welcome everyone to Today's Autistic Moment: A Podcast for Autistic Adults by An Autistic Adult. My name is Philip King-Lowe. I am the owner, producer, and host, and I am an Autistic Adult. Thank you so very much for listening.
Today's Autistic Moment is a member of the National Podcast Association.
Today's Autistic Moment is always a free to listen to podcast that gives Autistic Adults access to important information, helps us learn about our barriers to discover the strengths and tools we already have to use for the work of self-advocacy.
This first segment of Today's Autistic Moment is sponsored by The Autism Society of Minnesota: Minnesota's First Autism Resource. For over 50 years, The Autism Society of Minnesota has been honored to support Minnesota's Autism Community. Visit them online at ausm.org.
Please go to the New Podcast Episodes Page of todaysautisticmoment.com where you will find all the shows and download the Program Scripts with all of the hyperlinks I mention on each show and the Interview Transcripts. Interview Transcripts for 2022 are sponsored by Minnesota Independence College & Community. If you want to listen to any previously published shows, go to the Episode Index Page.
Also, be sure to follow Today's Autistic Moment on Facebook, Twitter, Instagram, LinkedIn, and Tik Tok. Please join Today's Autistic Moment Community Group page on Facebook, where you can talk with me and other listeners.
At this time, I am announcing that the next Autistic Voices Round Table Discussion will be on Wednesday, July 20th at 2:00pm Central Standard Time. This is a live virtual discussion. The topic that will be discussed is The Dangers of Medical Myths. In 1998 Andrew Wakefield started the myth that the MMR measles vaccine causes Autism. That claim was later studied and found to be false by numerous medical researchers. More recently there is a myth that there is medical research to support the theory that women who become pregnant and take Tylenol that contains the painkiller acetaminophen give birth to children that are at a higher risk of developing Autism and/or ADHD. There is a law firm that is currently soliciting potential clients to get compensation if they took the drug and bore children who are Autistic or ADHD. I believe as do many Autistics that medical myths such as these do a lot of harm to the quality of life for Autistic people as well as ADHD people. They promote the false notion that Autism is an illness or disease that is and/or should be avoidable. I also believe that a myth like this one can be a source of unnecessary guilt upon mothers who give birth to Autistic Children and ADHD children. I am seeking Autistic individuals who would like to be panelists for the round table discussion about this topic. If you are interested in being a panelist, please send an email with your questions to PKLowe@todaysautisticmoment.com by June 30th.
I got my driver's license in 1985 in Massachusetts when I was 16 ½ years old. The very next place I went to that very same day, was the Lakeville Hospital Rehabilitation Center for the Physically Disabled to apply to be a volunteer. I spent the following six years meeting the patients and helping the staff. I met so many disabled people who had conditions like muscular dystrophy, cerebral palsy, multiple sclerosis, hydrocephalus and accident survivors. They were the finest people I ever met. I have had an interest and passion for disabled people for many years. Fast forward that to 2011 when I was diagnosed with Autism, ADHD and placed on disability in 2012 to living with chronic back pain in 2019; being disabled, gay and Autistic makes me a part of three amazing communities. All of these communities intersect with each other. That is why I planned to have not one, but two shows during Pride month to talk about the intersection of LGBTQIA+ Pride, Disability and Autistic Pride.
My guest today, Andrew Gurza is one of the greatest public advocates for LGBTQIA+ people who are disabled that I have the privilege to know. Andew's advocacy goes past just speaking up against ableism, to making a strong case that disabled people are sexy and capable of loving and being loved by others in his own podcast Disability After Dark. Andrew's work has been featured in The Advocate magazine, BBC, CBC, Gay Times UK, Huffington Post, Everyday Feminism, Out.com and Dan Savage's Savage Love. As I have indicated in my descriptions of this show, my conversation with Andrew will be slightly different than other shows I have done on Today's Autistic Moment. Andrew is going to share with you about his many experiences and views of how disabled queer people are often excluded by what I will call the mainstream LGBTQIA+ communities. Many of his experiences are not unlike what Autistic people experience within those same communities. Andrew will share one example of horrific abuse he experienced by a professional caregiver who refused to schedule him to get a shower the following day. Andrew's choice of language in their frustration is the one exception I am making to the clean talk requirement for this show. I am including it because I don't care what Andrew's choice of language was, it does not justify what happened to him. No one should be subjected to that kind of treatment. It is past time that all people do more advocacy for the equal rights and treatments for all disabled people. These kinds of experiences must stop. There are programs at work to end domestic abuse, however, they are all too often not well funded, staffed or trained to help end the abuses that happen to disabled and Autistic people.
Please stay tuned to join Andrew Gurza and I for our conversation after this first commercial break.
Commercial Break I
Philip King-Lowe
So Andrew Gurza, thank you for coming to this show on Today's Autistic Moment.
Andrew Gurza
Thank you for having me.
Philip King-Lowe
You're welcome. And it's my privilege to welcome and have you here today. We are in Pride Month, one of the most important months of the year for LGBTQIA+ people. And we love this month, because it celebrates our diversity in regards to our sexual orientations and our gender identities and that sort of thing. But it's also a month that can be very affirming, or very nonaffirming for people with disabilities, and Autistic people in general. So I wanted to have the show where we take a slightly different turn, and talk not only about Autistic Adults, but also people with disabilities, who are LGBTQIA+. There's lots of things going on with these three communities and how we intersect, and how things are things that need that should be happening for us are not happening. We can talk at endlessly about this. But I want to say that this is a conversation I want to have because of how important it is to have this conversation. So let's kind of start with, you know, let's talk about some information. What kinds of information do people need to know and understand when we talk about this intersectionality of LGBTQIA, Disability and Autistic Pride? What are your thoughts as I, as I say those words,
Andrew Gurza
Like a free flow of consciousness thoughts, or like just, I mean, I think kind of like what you said a minute ago about how it's a month how it not can be very non affirming, because there's not a lot of representation of disability in the queer space. There's certainly not enough. And I think, you know, for me, that's why I do the work I do. And that's really why I started doing what I do as a disability awareness consultant, because I wanted to talk about queerness. And its connection to disability.
Philip King-Lowe
Yeah. Yeah, I agree with you. I, you know, I'm, you know, I hear lots of stories from various people with disabilities, of the things that they've experienced. And I mean, I've got a friend of mine, Jerry, we've known him for many years now. And he has spinal muscular atrophy, or muscular atrophy. So yeah, that sort of thing. And he has shared with us about the times that he has attempted to date somebody, the moment that he meets them for the first time. They've walked through the door, they've taken one look at him, seen him in his electric wheelchair with his head propped up, and they've got this red look on their faces. And they say, oops, I remembered I got something to do. And they'll walk off. Yeah, I know that he is not the only person who's experienced that.
Andrew Gurza
No, I mean, I have I've experienced similar things to that. I was trying to hook up with somebody in college, and we got in the elevator, and we did we made small talk. And then when I got off the elevator, he was gone. Yeah, sounds again. So that kind of stuff happens all the time. It's not it's not uncommon. And it's really sad that people would feel like, it's okay to treat people like that.
Philip King-Lowe
Exactly. Yeah. Especially when especially where the LGBTQIA+ communities tend to take their strength regarding our diversity,
Andrew Gurza
Well, I don't even know if they do that. But it's been put on them that they're such a welcoming community, blah, blah, blah. But if you are a part of that community and you're marginalized, and you're not white and muscular and gay, then then it's not very accepting. No.
Philip King-Lowe
No. And, you know, we have atmospheres of where people in wheelchairs there's no accessibility to sometimes pride activities, there have been disabled people who have been refused opportunities to be in pride parades, there have been opportunities where people would just say, with disabilities, you know, have been presumed asexual. You know, there's all sorts of things like that, that go on. And, you know, as Autistic people speaking about Autistic people, we have our own issues with dating and being included, because, you know, we're neurodivergent. And, you know, we get this, these issues such as you know, our communication style is very different. Our way of communicating is very different. We have our sensory processing disorders we have, you know, lots of things that go on with us. And so, you know, we get our, our share of eyeballs looking at us or staring at us or wandering off of that off from us. But you know, and I say, you know, this is why I think it's important to talk about how we all intersect. Because there's a lot of disabled people in all of these communities, who we're talking about today. But the ableism in the LGBTQIA+ communities is
Andrew Gurza
Rampant?
Philip King-Lowe
Yes, Rampant. You know, talk about some ways that, that you have experienced a lot of that ableism I mean, I mean, talk a little bit more about what that ableism has, has meant to you?
Andrew Gurza
Well, I mean, it's meant a lack of socialization with queer people that I want to meet. And it's meant a lack of like, relationships, a lack of sexual and social relationships, so many different things. Because the queer queer men, in my case, people that I seek to seek out for intimate relationships are really they they've never experienced disability before. So when we talked a second ago about people walking out, once they see the year that you're in a wheelchair, like, that's happening multiple times. People saying things like, I don't think I could go on a date with you, because I'd have to take care of you. People saying things like, I don't think I could sleep with you, because I might not enjoy myself because you're disabled. People being really just really ableist and part of that as part of that ableism I think the ignorance and lack of knowledge, and I think that's, I think lack of knowledge is okay, we all can learn more and grow more. But I think at some point, you have to realize that the way you're talking about this to this person is harmful. Yes. I think a lot of queer men. In my case, the people that I choose for relationships are have a huge problem with body dysmorphia, the way they look. You know, all of these things contribute to their ableism. They want, you know, the perfect partner that also goes to the gym five times a week, and also is super able bodied, and also has all these things. And that's not realistic for so many of us, regardless of disability. But then when you add disability on top of that, it's like we don't exist in their eyes. And that's a shame.
Philip King-Lowe
Yeah. In an article I recently wrote regarding a regarding people with disabilities, I like to say that, you know, some of us have gone to events that are supposed to be for all LGBTQ people. And we meet a lot of obstacles, barriers, such as elevators are not working. There's things like, we they either ignore us while we're there, or they are even worse, they may pity us. The other end is that they they tokenize us, Oh, we're so glad you're here, and you're such an inspiration to us, and that sort of thing. They categorize us in these three ways. But, you know, when it comes to things like getting those accommodations, you know, like, a lot of events that are for, for a lot of gay men. I find they're outrageously priced for those of us who live on disability incomes. And then like I say, there's not even a way for us to be in those groups of people because of how inaccessible they are to us. Yeah. Yeah. You know, here's something that I just last month I published a show about overcoming internalized ableism with my guest Eric Garcia. And in my um my introduction of the topic I wrote, This is what I wrote and I said ableism is systematic because it is embedded into society. Disabled people, whether we are visibly disabled or invisibly disabled, or abused, neglected, presumed incompetent, or even assumed to be faking. If a disabled person like myself can own a podcast as the sole proprietor, business owner, write, speak, advocate for myself, many would say that "too high functioning" to be Autistic. I'm a part-time wheelchair user, because of my chronic back pain, when I am out shopping or roaming around in my chair, and suddenly I stand up, I have had people stare at me with an expression of he isn't disabled, he must be faking on their faces. I have heard endless conversation by able bodied people suggesting that if that many disabled people are receiving disability benefits that we don't really need, if we own a home, drive a nice car, or have anything that appears to be expensive. In other words, if we are "really disabled" we shouldn't expect to have a nice life with good relationships or be able to live, live, live a life that others might envy. And if we do, we are not really disabled. What do you think of a lot of that?
Andrew Gurza
Sounds about right. I mean, I think that I think that you're right about a lot of that. And I think those are just really old, antiquated viewpoints on what it means to be disabled. And I think with COVID, you know, still happening. Three years later, we're going to see 1.2 million more people in the states become disabled as a result of COVID. So like, hopefully, those viewpoints will change and shift as more people deal with disability. I also think that the average person on the street who doesn't understand disability, even though some of the some of the people who have done it to me, it's annoying. I try to remember like, How can I teach them? I don't want to teach them all the time. But how can I show them the way past this? This idea of me being less than?
Philip King-Lowe
Yeah, yeah. And, um, you know, like I say, I have seen your advocacy on Twitter, and Facebook and other places, where you talk very openly and I will say bluntly, about the things that are that people with disabilities are experiencing.
Andrew Gurza
Yeah, I'm pretty blunt. That sounds about right.
Philip King-Lowe
Yeah. Blunt is a good word. And I think that's, that's actually a good thing to do. Because the blunt honesty must be said. I've seen you, I've seen things from you about grieving, the grieving that you want your body to do certain things, and it's just not going to do it. I've been, I've also seen things like, you know, how much COVID-19 has affected a lot of us who are disabled, and there's still decisions that are being made, that are that are, you know, regarding COVID that are affecting us. You have I've heard many, many I've read many of your remarks that choosing not to wear masks right now is something that can significantly affect disabled people.
Andrew Gurza
And I when I write that down, I'm not necessarily talking just about me, I'm thinking about other individuals who are right have different levels of disability than I do who deserve to feel safe, and who deserve to feel respected. And and when when nondisabled people say like, Oh, it's just disabled people that are gonna get sick. It's all right. Or it's just old people that are gonna get sick. It's like, well, we know that's not true. That was never a how this was gonna go. Why would you think that? And so when they become disabled, they kind of go, well see, we told you.
Philip King-Lowe
Yeah. Yeah, I know.
Commercial Break II
4Th of July PSA
The 4th of July is coming up in a few weeks. July 4th is not the best day for many Autistics and other Neurodivergent people and individuals with Post-Traumatic Stress Disorder. The loud sound of the fireworks exploding can be a terrible trigger for the sensory processing needs of many such individuals. If you are someone who is affected by the sound of fireworks exploding; wear your noise cancelling head phones with or without music playing to decrease the sound of the fireworks. I also recommend finding a sensory safe space where you can fidget or do something you enjoy to distract you. If you are a caregiver of an Autistic person of any age who is affected by such sounds, please do not force them to attend the fireworks, as the brightness of the lights and the loud noise from them can be painful and can set their sensory processing input on overload. Let them wear their noise cancelling headphones without saying negative things to those who react to these sounds. They are not pretending, nor do they need to be made to feel that they are doing anything wrong.
Another concern is for many Neurodivergents who are hyposensitive (as in they need more sensory stimulation before they feel anything). Many of them might not be able to detect when a grill is too hot to put their hands near it. It is best that they not be near or use things that could be harmful to them without some kind of supervised assistance.
Support Today's Autistic Moment
Today's Autistic Moment is at the midway point of the second season. The guests have been outstanding and the topics well received. Plans are already being made for season 3 in 2023. I need you to do your part in helping me to ensure Today's Autistic Moment as an informational resource to encourage Autistic Adults and their caregivers to become part of the movement for Neurodiversity. Go to todaysautisticmoment.com and click on the blue button on any of the pages to donate to my Patreon page. You can also purchase a spinner fidget for $4.99 plus sales tax, shipping and handling. The spinner fidgets will give you hours of stimming pleasure and you can support the work of Today's Autistic Moment at the same time.
Another way you can help support the work of Today's Autistic Moment is to share the show through your social media networks.
Thank you for your support of Today's Autistic Moment.
Philip Kinig-Lowe
And a lot of us Autistic people we've been speaking up about things like that, for many of us the masks have are uncomfortable because of the material they're made of. You know, we have we have talked about how when COVID-19 happened, and it was in its earliest stages, and the quarantines came up that our social support next, sorry, our social supportive networks, we're just gone. You know, the things that we have built over these years. For many of us who are LGBTQ that was extremely painful. You know, so yeah, and, you know, my, again, I'm talking about one of my friends here. But, you know, he's in a terrible situation because he's openly gay. And he has his sister taking care of him. And it's a good thing that he does. But the thing is, if anything happened to her, he might be handled, he might have to do with his parents helping to take care of him. And they want to put him in some kind of exgay therapy, you know? Yeah. I mean, this is this is the example of some things that disabled gay people are experiencing. I mean, if we're not getting it, because we are disabled, we're getting it because we're gay. It's like, we get it from all angles here, you know? Yeah.
Andrew Gurza
And I, you know, that's a shame. And it's important to think about disabled people who need care. Like I do, how often do we have to suppress our sexuality, to receive care. Not talk about our queerness because we need care or not, you know, not say that we're sexual beings, to our caregivers, because we need care. Like, and I think it's a shame that you know, if it isn't, if it isn't, x, if anything conversion therapy, it's like, you know, we're gonna put you in a home where you can't express yourself. We're gonna put you in a disability place where you can't be yourself. Yeah, I think that's a shame. But it happens to a lot of disabled people who may be exploring queerness can't access it.
Philip King-Lowe
Yeah, yeah. So for many of us, not only are we denied our disability care that we care for our disabilities, not only are we denied relationships, were denied the opportunity to develop a community. Or we had to surrender that just to get the care that we need.
Andrew Gurza
Yeah. And that can be really damaging, I think, emotionally for us.
Philip King-Lowe
Yeah. And you've also written in some of your spaces about some of the abuses you've, you've experienced, from getting care.
Andrew Gurza
Yeah, I mean, I, I guess I could speak to that. Back in 2019 I was receiving care one morning from a caregiver. And I had asked him if I could shower the next day, he was the the leader, the like, manager of the care. And he was just getting me up and he had me in the shower. I was naked. And I said, Can I have can I need to have a shower tomorrow? Because I have to go to meet somebody to do a work thing. I need to I need to be, you know, clean for them. Can I shower tomorrow? He goes, Oh, no, you can't. And I said, why? And he said, Oh, no, you just can't. And I said, but I have to, I'm working. Like I'm a freelancer, I have to have a shower. I'll miss like, the next day, but I need to have shower. And he said, Oh, no, we can't. I said, can we work together? Can we figure it out? And he said no. And I said, I said, you know, come on, man, you're fucking this up for me, I really got a I got a, I got to do this. And so he, as a result of that, swearing, he took me out of the shower against my will, put me in bed and left me there for two hours and said, I won't get you up until you apologize. And I said, you know, I'm a 37 year old man. 35. At that point, I'm 35. How you know why? You can't trap me my bed. I'm a grown person telling you what kind of guarantee this is abuse. So I mean, that kind of stuff happened has happened to me. And you know, it took took almost two or three months for him to get fired after that. And they didn't they didn't believe me. And you know, it was it was really upsetting because I'm a grown adult who expressed frustration in my house, to somebody whose job it is to help me and because I expressed frustration through cursing once I was reprimanded like a child and that feels, you know, for 35 year old disabled person to be to be trapped in their bed naked without care, because they got upset is horribly abusive.
Philip King-Lowe
Yeah, I agree. Yeah, and you know, a lot of us just a lot of us Autistic people, we have had our issues with getting care. You know, some of us have executive functioning issues, and we need things like our homemaker. And some of us have had people refusing to clean our homes because they don't understand why we can't do certain things like you know, clean certain things ourselves. And so they'll just take one look and they'll just say something like, you know, the this is a safety issue for them. And so they just won't won't help us. You know, and then, you know, we get all of this sort of thing. And then we, we try to, you know, again, try to interact with this LGBTQ communities that are supposed to be so warm, receiving, accepting, only to find that we're not exactly accepted there either.
Andrew Gurza
Well, you're forgetting a big caveat. There's their warm, accepting and inclusive if you are white, ablebodied, exactly, neurotypical, if you're all things that don't make you different than if you're muscular. If you have like, I find with queer men, if you have an ounce of fat on you, you are no you're not you must be either a bear or a cub a child. But it's like, well, what if I'm just a human being? Why do I Why do you have to categorize me as the thing and so I feel like, we have a lot of work to do to actually, to actually bring about the inclusion that we talk about so much in our community. And I think it's a bit of a bit of a pride washing began because we are because we know being marginalized. And that's not the case.
Philip King-Lowe
Right. Yeah. I always love love to my last, my final question for my show that I like to use is, I do believe that all of us disabled people, LGBTQ+, or otherwise, we do have those tools and strengths, to advocate for ourselves. It's just a matter of discovering them, and putting them to the use. What, what might there be some ideas that you might have? Or you might say to some other disabled people, that we're having these things? What are some ways that you might suggest that others advocate for themselves?
Andrew Gurza
I mean, I would say just talk about the stuff that is important to you. Put it on Twitter, put it on Instagram, put it on Facebook, even if you don't have a huge following. Talk about the things that are important to you as a disabled person, especially the stuff that we don't talk about, how does it feel to be disabled? Talking about that. How does what what are the emotions that go around your disability? Explore that. Talk about, like, and be loud about it and be, I think, also, though, I think my activism over the last couple years, has changed and morphed a little bit, because I used to be this disabled person with a lot of anger towards nondisabled people. And I still have some of that, because ableism is real. But I find that it's a lot easier to teach somebody about disability and teach them about their ableism if you treat them with kindness. So I'm trying to, for myself, and this is one for everybody. But for myself, I'm trying to, to be a to be to build a bridge between non disabled and disabled people, and give them the tools to understand their own ableism. So one of the ways that I do activism now is I give tips and tricks about how to be less ableist today. How to how to not, you know, how to how to not be ableist in the LGBTQ community, and give them things that they should and shouldn't do that might help somebody.
Philip King-Lowe
Yeah, yeah. Yeah. And through what you're doing, you're doing exactly what I encourage my Autistic Adults to listen to my show every all the time, I say, we need to tell our stories about what being Autistic, or being disabled is for us. We need to talk about that. So people hear the things that we're experiencing. So that somehow we can begin to make people are aware that these things are in fact happening. And, you know, we want the world we want, we want the places where we live, the communities that we socialize and interact in, we want the ability to be, you know, to be visible, to be vocal to be received and affirmed. You know, and, you know, we also want the opportunity to have relationships, you know, contrary to go ahead.
Andrew Gurza
We deserve that. Yeah.
Commercial Break III
Future Shows
Today's Autistic Moment presents a Summer of Self-Care Series (SOSS) during July and August. Autistics need to do a lot of self-care to live happier and healthier lives to meet our challenges with the best self-knowledge we can muster. Our work for self-advocacy must be pursued by doing the best self-care we can to sharpen our tools and strengths so that they work efficiently and effectively.
Join Becca Lory Hector and I on July 4th as we discuss Self-Care During Seasonal Depression. Why should we talk about seasonal depression at the beginning of the summer and the 4th of July? Because, the 4th of July can be one of the worst days for Autistics and a lot of Autistics are the opposite of the general population in that our seasonal depression is worse during the summer and better during the winter. Regardless of the season you experience the worst depression, Autistic Adults can benefit from planning some good self-care strategies. Becca and I will share our insights about seasonal depression for Autistic Adults and what we can do for ourselves to get through our worst times of the year.
On July 18th, Zephyr James will be here to talk about Self-Care During Sensory Overload/Meltdown. Zephyr's understanding of their own sensory limitation needs, makes Zephyr a fantastic guest to talk about this topic. Many non-autistic people just cannot grasp that sensory overload/meltdown is a very painful and traumatic episode that wipes out our energy to a point where we must rest and become better regulated. Zephyr will share with us some suggestions so we take care of ourselves.
The Summer of Self-Care Series will continue in August when Becca Lory Hector will return to talk about two different topics. On August 8th, Becca and I will talk about Self-Care During a Crisis. On August 22nd, Becca and I will talk about Self-Care During an Election Year.
Thank you for listening to Today's Autistic Moment.
Philip King-Lowe
I mean, contrary to what some people think about many of us with disabilities, not all of us are asexual, number one, and number two, yes, we are interested in safe, healthy, good relationships with people able bodied or not. We want those relationships. We are not. We don't want to hide ourselves behind our disabilities. If that means we can't achieve certain we can't achieve what we want to do. Exactly. Yeah. You know, um, tell us a little bit about your podcast that you do Disability After Dark. Tell us about that.
Andrew Gurza
Sure. It's a, it's a weekly podcast. Oh, and I do it once a week and I talk, I initially started the show, as a sexuality and disability podcast for the first I want to say 150 episodes, it was all about detecting disability. And now it's kind of in everything podcast where I shine a bright light on disability stories and everything. And I talk with guests about their experiences around not only sexuality, but disability, disability and chronic pain, disability and grief, I really go into the dark, not the dark places, but the stuff around disability that we should be talking about, that we're not really talking about. So I'm really I'll push into things around, like, tell me how disability feels today. Tell me about disability grief. Tell me about this kind of stuff really having just a frank conversation with sometimes with myself in the audience or sometimes with you know, another guest, but really just bringing stuff to to light on disability that we're not talking about.
Philip King-Lowe
Now. I've recently seen on your, on your social media networks, something very exciting that you have been doing with regarding to the remake of Queer as Folk. Talk about that.
Andrew Gurza
I don't know when this is coming out. This is coming out in the middle of June, rightish. Yeah. Okay, so if this is gonna be out, so it's coming up after June 9. Okay, good. So, okay, so I was I am part of the new Queer as Folk reboot. Nice. I got asked to consult on the show a couple years ago, they asked me to read a couple scripts for them, and then then the pandemic happened. So everything stopped. And then after the after things started to slowly, slowly work their way out. They said, Would you read the whole first series, and give us ideas? And give us your suggestions on how to make it stronger? And I said, Sure, no problem. And so one of the episodes is a disabled sex party. And so they said, you know, do you want, would you want to come down and be a part of that? And of course I would. So I got to be a part of one of the new episodes. So I'm really, really excited about because finally, we're gonna see all the stuff we just talked about how the clubs are not accessible, how there's so much ableism in the LGBTQ community. We're gonna see representation where that ableism isn't there for once. And I think it's really powerful that I got to be a part of something that I and I watched the original show 20 years ago that we all did. And I was clamoring for representation. And so now I finally I get to be a part of something so iconic, and my, my hope is that some 15 16 year old kid will see what I did, who is disabled and be like, oh, there's a version of me here. I'm here, I'm included. So I think that it's so fun, and so cool to do. And I'm so so honored that I got the chance to do it.
Philip King-Lowe
Oh, yeah, absolutely. And I'm so I'm so excited for you. And from what I've read in your bios, you have really done a lot of advocacy through a lot of a lot of written articles, The Advocate and other places like that or speaking,
Andrew Gurza
Oh, yeah. I've written for a number of different places, and I don't do I don't do so much writing anymore. I do like the occasional like piece, but I like to, I like to write when I can do articles and blogs for different outlets. Bringing up disability, but I started writing for Huffington Post years ago. And then Advocate. f.com. Queerity. And a bunch of different places, just because I wanted to ensure that in everything they wrote around queerness disability was always included.
Philip King-Lowe
Yeah, absolutely. Andrew, I have to say, I am so grateful that we have had this time together to talk about these things. I do feel that the relationships of disability disabled people in the LGBTQIA+ communities, and also, obviously Autistic people. There is this huge gap of what's happening with us in these communities. And one of the goals was to kind of give a bit of a look at what's happening in all all of these communities how we're interacting or intersecting and I feel like we've really been giving a great representation of that today. Um, and you know, I really want to encourage my listeners to follow Andrew on Facebook, Twitter. I know you're on LinkedIn, are you on Instagram too?
Andrew Gurza
I am on Instagram so I can give you for all my handles for everybody you want to go my all my handles are Andrew Gurza and the number 1 after them so integrated the one and all places that you can find me.
Philip King-Lowe
Yeah, great. Great, good. Andrew, thank you so much for this. And I do wish us a happy Pride Month. And I of course we wish each other happier times in the future. And a time when we will not see the abuse. We will not see the ableism. We will not see all the things that are happening to so many of us. And once again, thank you so much for being here.
Andrew Gurza
Yeah, thank you for letting me be part of the conversation. I appreciate it. Thank you
Transcribed by https://otter.ai
Today's Autistic Community Bulletin Board
All of these events announced with the links can be found at todaysautisticmoment.com/bulletinboard/.
If you are attending this years Twin Cities Pride Festival June 25-26th in Loring Park in Minneapolis, The Autism Society of Minnesota will have a sensory-friendly Escape Tent while also offering information and resources to the Community along with fidgets for sale and to meet some of the staff for the Autism Society of Minnesota. AuSM will be joined by other disability organizations who will occupy one section of the park.
Understanding Autism virtual classes will be offered by The Autism Society of Minnesota. These classes are perfect for Autistic individuals, caregivers, those who want to understand the basics of Autism and support Autistic people. Classes will be held on July 18th from 10am to 12pm. August 14th from 2pm to 4pm. September 19th from 2pm to 4pm. Classes are free of charge, but you must register to attend.
Registration is now open to attend the Fall virtual classes for The Autism Direct Support Certification at The Autism Society of Minnesota. Classes will be held on September 9th, 13th, 23rd, 30th and October 7th. Scholarships to attend are available, but you must register soon.
The Autism Society of Minnesota invites you to participate in the 27th Annual AuSM Golf Classic on Monday, August 1st at the Highland National Golf Course in St. Paul, Minnesota. Players and sponsors are needed and invited.
The Autism Society of Minnesota invites Autistics to submit your application online now to speak on a variety of topics at the 5th Annual Autistic Community Summit on Saturday, September 17th. All Applications are due by July 2nd. Send an email to zjames@ausm.org if you have any questions.
Go to ausm.org for more information about these and other events at The Autism Society of Minnesota.
If you have events for Autistic Adults and our supporters and would like them announced in Today's Autistic Community Bulletin Board on July 4th, please send them to PKLowe@todaysautisticmoment.com by 4:30pm on Friday, July 1st.
Today's Autistic Moment is sponsored in part by Looking Forward Life Coaching. Looking Forward turns stumbling blocks into stepping stones towards success. Go to lookingforwardlc.org for more information.
As I announced earlier, I am in the process of planning shows for the Fall and for Season Three in 2023. If you have a topic, you would like to discuss and/or would like to be a guest for a show, want your business or organization mentioned or have questions about Today's Autistic Moment please send an email to PKLowe@todaysautisticmoment.com.
Thank you for listening to Today's Autistic Moment: A Podcast for Autistic Adults by An Autistic Adult.
May you have an Autistically Amazing day.