Go to todaysautisticmoment.com for the transcript. David Gray-Hammond returns to talk about his journey of Substance Abuse Recovery. --- Support this podcast: https://anchor.fm/2daysautistic/support
Click or tap on the downward arrow in the pink box below the logo. See the image below.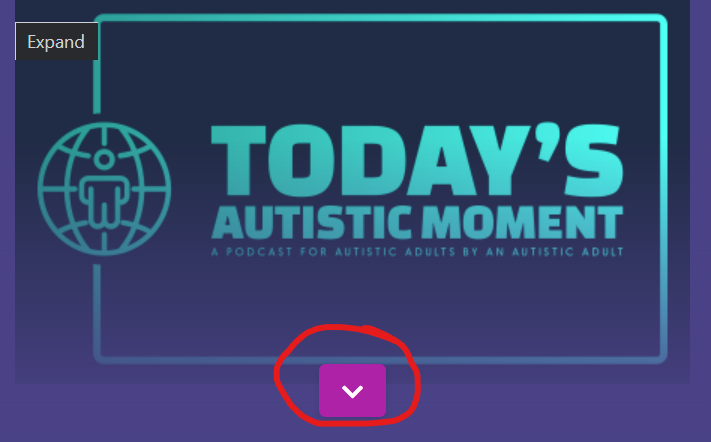 Autistic Adults: Substance Abuse Recovery
December 6, 2021
[You will notice that some words have a strike through font. These are to reflect the new website created in September 2022]
Welcome everyone to Today's Autistic Moment: A Podcast for Autistic Adults by An Autistic Adult. My name is Philip King-Lowe, the owner, producer, and host; and I am an Autistic Adult. Thank you so very much for listening.
Today's Autistic Moment is a member of the National Podcast Association.
Today's Autistic Moment is always a free to listen to podcast that gives Autistic Adults access to important information, learns about our barriers, and helps us discover the tools and strengths we need for self-advocacy.
This first segment of Today's Autistic Moment is sponsored by The Autism Society of Minnesota: Minnesota's First Autism Resource. The Autism Society of Minnesota has been serving Minnesota's Autism Community for the past 50 Years. Visit them online at ausm.org.
Please go to todaysautisticmoment.com to the New Podcast Episodes page and/or the Episode Index page to get updates, download shows, program scripts and interview transcripts. Interview Transcripts are sponsored by GT Independence.
Also, please follow Today's Autistic Moment on Facebook, Twitter, Instagram, and LinkedIn. Be sure to become a member of Today's Autistic Moment Community Group page on Facebook, where you can meet me, other listeners, exchange conversations and find program updates, news about subscriptions and bonuses, upcoming shows and take advantage of special offers.
Please help spread the word about Today's Autistic Moment with other Autistic Adults, Caregivers, Professionals, families with Autistic youth, and others who support Autistic people. Do you know of other Autistic Adults or caregivers, who are worried about preparing for the sensory unfriendly holidays? Then tell them to listen to my episode with Zephyr James. Perhaps you know Autistic Adults who need information about dating, romantic relationships, sexuality, or the issue of consent. Tell them to listen to the two episodes with Leah Bauman-Smith about Autistic Adults: Dating, Romantic Relationships, Sexuality and Let's Talk About Consent. Today's Autistic Moment is available on nine different apps. So please share my show with others to help me grow my listener audience.
I would also like my listeners to send me an email with some comments about ways in which Today's Autistic Moment has been helpful to you. I would like to add some of those comments to my website. Send an email to PKLowe@todaysautisticmoment.com todaysautisticmoment@gmail.com with a comment, and then let me know if you give me your permission to use it on my website. Thank you.
After my last show about Substance Abuse Addiction, I am happy to welcome David Gray-Hammond back to talk about Autistic Adults: Substance Abuse Recovery. The holiday season is among us. Our sensory processing disorders are being challenged by things such as holiday parties and dinners. The news about variants of COVID-19 are making us tense and worried about what to do. Many Autistic Adults are alone during the holidays, and with a pandemic that has interrupted our social support networks; the isolation is more intense than ever. If your life has been affected by substance abuse addiction as a way of coping with your many needs that are not being met, recovery is an uphill battle.
David will tell us of what his journey to sobriety has been like for him. David will mention the types of recovery programs that weren't prepared to work with Autistic people. Even if your Autistic needs are not the same, you may find some of his thoughts very helpful for your recovery journey.
After this first commercial break, I will begin my conversation with David Gray-Hammond. Stay tune.
Commercial Break I
Philip King-Lowe
So David, thank you for returning to this episode, this episode of Today's Autistic Moment. We spent the last episode talking about substance abuse addiction for Autistic Adults. And there was so much information. And so I feel very strongly that we need to back that up with a separate episode about addiction recovery. And so that's why I've had I've had you come back. And so we're going to talk about that today. So let us begin with my first question, what important information to Autistic Adults and our caregivers need to know about in terms of substance addiction recovery?
David Gray-Hammond
And so, for me, the things that were important to know was that we face extra challenges as Autistic people when it comes to entering addiction recovery. In particular, we we have to we have to cope with our monotropic minds. Now, there is a theory called monotropism that was posited by Dr. Dinah Mari. And basically, we have minds that want to hyper focus on on one thing at a time. And for me when I was in addiction, when I was still in active addiction, my monotropic mind wanted to hyper fixate on substance use. Everything in my life was about substance use, you know, what drugs am I taking? What doses am I taking? How do they affect me? You know, what do these different combinations of drugs do to me? What's the most I can take before I end up needing the hospital? And I treated myself like a science experiment. And it became kind of like a twisted, abusive love affair with substances. And entering recovery, it was really difficult to shift my mind out of the substance use train of thought. I had to have this moment of clarity where I realized what I was doing to myself. And then I could focus my my mind, I could hyper fixate on recovery, rather than active addiction. And actually, that that ability to hyper fixate, I think has helped me greatly in recovery. But it was a challenge getting into that mindset. The other thing that I think it's important for Autistic people to know is that, sadly, very few, if any, treatment services are designed with Autistic and or neurodivergent people in mind. You know, when you go to substance misuse services, and I do believe there's a place for them, and I do believe they're important in recovery. But often, they will not be aware of how best to support an Autistic addict. They will not be aware of the particular struggles that we face. And they they won't necessarily be equipped to support us in the way that they're equipped to support the neurotypical population.
Philip King-Lowe
Give us kind of a snapshot, if you will, as to what changing that hyper focus was like for you. Do you have a kind of an idea of how, how long that probably took you? What was that? What was that process like for you?
David Gray-Hammond
So it was around about the end of September when I had my moment of clarity. I woke up in hospital in the resuscitation room. I'd nearly died of an overdose, and I just suddenly went I can't do this anymore. I want to live. I got myself into a detox ward in a psychiatric hospital through the local substance misuse service. I started the process of detoxing as an inpatient, and I detoxed off of most of the substances I was on as an inpatient, but then after that I had to finish detoxing off of my Subutex prescription in the community. For anyone who doesn't know, Subutex is an alternative to methadone for opioid addicts. It was during that period of the community detox that I had to sort of shift my thinking. And this was really difficult, because as I said, prior, I was in a sort of twisted love affair with substances. So I had to go it was, it was like breaking up with the love of your life and going through a grieving process. And I had to deal with the pain of leaving the substances behind, which I really didn't want to do, but having to teach myself that actually, the substances never did anything good for me. They, they were destroying me. But I'd been so hyper fixated on the substances that I'd failed to see the damage I was doing to myself, until that moment, when I woke up in hospital, I went, Hey, wait a minute, this isn't right. And it was really, really difficult. You know, I had to completely change my lifestyle, I had to cut out certain social connections, who were encouraging me to stay with the substance use, which as we all know, as Autistic people, can be a really tough decision to make, because some of us really struggle to make those social connections. So to then to have to burn those bridges for your own good, can be really painful, because it feels like you're alone in the world. And as I said, you know, leaving the substances behind it was it was like, leaving the love of my life behind because of the time. They were all I had. And you know, that that was all there was keeping me time tethered to my sanity, except I'd already long left that behind. But I just couldn't see it because of the substances. And you know, then obviously, I had to cope with my worsening mental health because there was something that they warn you about. You know, addiction recovery is that your mental health gets worse before it gets better. And my mental health got really bad. And when when I did finally achieve sobriety, within a month, I was back in the psychiatric ward. Because I had a full blown psychotic episode. I already had a history of psychotic symptoms. But I was hearing voices, I was experiencing delusions. I was deeply paranoid. And, you know, no one warned me that this might happen when I entered recovery. And, you know, it made me think to myself, when I realized what I'd been through, you know, was it really worth it? And the truth is, yes, it was. Because I'm here, I'm alive today, and I get to speak to people like you and share my story.
Philip King-Lowe
Yeah. Yeah. Um you shared of how, how challenging it was for you to find groups where they could understand you as an Autistic. And and let's use this as an opportunity to cross into my second question. What are the barriers for Autistic Adults when it comes to substance abuse recovery? And, you know, one of those barriers you're naming is finding support groups or, or supportive groups that will understand or understand how to work with Autistic people. So why don't we talk about that as the first part of talking about barriers because that sounds like a good barrier that me
David Gray-Hammond
So I tried three different things. In my recovery journey, first of all, I tried the 12 step program. Now this is a contentious subject because people who are in the 12 step program are very protective of it. But for me, it was completely inappropriate. It did not work for me as an Autistic person. The social demands were too high. The sensory experience in the rooms was uncomfortable, to put it very politely. The expectation to, to share your journey, I just wasn't ready for that the stage of recovery I was in. And there were little things in the 12 steps, you know, like, before the meeting, you know, everyone would be greeting you, and they'd be hugging you and making coffee and stuff in it, it was all very overwhelming as an Autistic person new into recovery, my mental health in not a great place. And I would often have to run off to the toilets to center myself to stop myself having a meltdown in public. But what this actually meant was that I, I, no one ever voiced it, but I could tell that people thought I was running to the toilets to use substances. And that wasn't what I was doing. You know, I was in there, because I could not cope with the environment of the 12 step program. Also I had problems with some of the things that the big book said, I found some of the things that the big book of Alcoholics Anonymous, which is what all the 12 step programs tend to work by, I found some of the content in there, legitimately ableist, and not particularly neurodiversity affirming,
Philip King-Lowe
Right
David Gray-Hammond
I also tried group therapy, group psychotherapy. But once again, the the group environment was too much of a demand for me. I found it very difficult to, to really engage with it. And there were people in those groups that clearly saw a vulnerability in me and were willing to try and take advantage of that. And luckily, I caught that before it got too far. But it was not a safe environment for me. And then I also had some one to one therapy from which focused more on my mental health concerns. Because, you know, it was very much the belief; Well, if we, if we treat the the mental health concerns that led to the addiction, then we can, we can treat the addiction. And I will say that was moderately helpful. I had, I had some psychotherapy, one to one, actually, I had extensive psychotherapy, one to one over a period of several years. And it's been very helpful to me, in some senses, and in others not so much. Because once again, it was not designed with Autistic people in mind.
Commercial Break II
Philip King-Lowe
Did you eventually find something that worked?
David Gray-Hammond
So I sort of took bits and pieces from all the things I did, including the 12 step program. And I found the best thing for supporting my sobriety was to intentionally live an altruistic life and do everything I could to help others because when I was in addiction, I was a fundamentally selfish person. And the only way I could change the way I thought about the world, and interacted with the world, was to teach myself to go the other way and, and be more altruistic. So if I was finding it particularly hard on on a on a day to, to stay away from substances, I would go out of my way to find someone else to help. And doing this distracted my mind from the craving to use. And also gave me the reward of knowing that I did something good. And it helped fulfill, you know, this empty space I had inside of me. And it, it made sobriety a lot easier.
Philip King-Lowe
What kinds of challenges did you have with your sensory processing during recovery? Um, because of course, our sensory processing requires a lot of what's repetitious. You know, and so, I'm interested to know how that may have played a barrier in your recovery.
David Gray-Hammond
So in early recovery, it was very difficult because I was in recovery from opioids and benzodiazepines in particular, which are central nervous system depressant, so they dull your sensory experience. So when I stopped using them, my sensory experience became a million times more intense, especially during the withdrawal period. And at the time, I was not part of the Autistic community, I did not understand my Autistic Self. And I felt broken because I could not cope with anything, I could not leave the house, I could barely leave my bedroom. I had to closely control my sensory environment. It made it very difficult attending appointments at the substance misuse service, because there were smells and lights and sounds. And you know, it was a very intense sensory experience, the 12 step program, you know, the chairs were uncomfortable, the lights were fluorescent. And truthfully, it was when I I'd already been sober a little while when this happened. But I discovered the Autistic community and I, I, shortly after I was diagnosed, which was about seven months after achieving sobriety. And it changed my life because I learned about my Autistic Self, and I learned how to accommodate my needs, I learned how to advocate for myself. And it just, it turned things around for me. I learned to stim freely and not be ashamed of it, I learned to start taking the mask off, which took a great deal of pressure off of me. And I that's that's why one of the big things I will always tell people to do if they're in reduction, addiction recovery or entering recovery is, is to go you know, if you're Autistic and an addict, go into the Autistic community, learn about your Autistic Self. Learn about your needs. Your struggles. Your strengths, because that knowledge really is power when it comes to recovering from addiction.
Philip King-Lowe
Right! Yes, I would agree with that. Um, one subject that you and I did not talk about in the in the last episode is about the issue of the the holiday seasons of which we are in. You know, the last episode was just before Thanksgiving, this one is between Thanksgiving and Christmas. Let's talk a bit about about what the holidays can be like, for Autistic Adults who are struggling with both addiction abuse and recovery. Let's talk a little bit about that, for their sake, please.
David Gray-Hammond
So the holidays can be an incredibly lonely time. It's a time when we see everyone surrounded by friends and family and loved ones. And I think many Autistic people especially have contentious relationships with those who are supposed to be closest to them. You know, many of us don't have good relationships with family may not have loads of friends or loved ones around us. And when we're you know, everywhere we go, we are reminded of this, you know, TV program showing people getting together for Thanksgiving and Christmas and or whatever holiday it is that you're celebrating. You know it, it can be soul crushing. And that that makes for a dangerous environment for addicts, whether they're still in active addiction or in recovery, because in active addiction, it can increase your substance use and put you at risk of things like overdoses, which if you're on your own, and there's no one around you and overdose could potentially be deadly. And if you're in recovery, the temptation to go running back to your old coping mechanisms can be very intense. And that's also a risk because if you're in recovery, the chances are that your tolerance to the substances that you used, has lowered which increases once again the chance of overdose. So the holidays can you know can really be a risk to the lives of people who are experiencing addiction or new to recovery. Even people like me I'm I'm nearly six years into recovery and I know if I was on my own during the holidays, it would be a really difficult time for me to stay sober. Not to mention the holidays. Just a time of the year when people take it as an excuse to drink and drink and drink. You know it, it, it, it's all around you everywhere you go. And you know that it's really important that if you know someone who is an addict in recovery or not, you need to reach out to them and make sure they're all right during the holidays, because they won't necessarily reach out to you.
Philip King-Lowe
Yeah, I did a, I did a show just before these two with Zephyr, James, someone I know. And we did talk about preparing for the sensory unfriendly holidays. The holidays are full of everything from from foods, some of which we don't care to smell. It's, it's, you know, crowds and, and parties and, you know, all sorts of things that are kind of coming on. And, and, you know, I tend to think that the holiday seasons with all of that sensory input can be can be additionally challenging if one is recovering from substances?
David Gray-Hammond
Absolutely, I mean, you're absolutely right. The sensory experience, the holidays, the social experience of the holidays, everything about the holidays is can can be really quite offensive to the Autistic psyche, and not in a I'm offended kind of way in a physically offensive kind of way. It can be like an attack on our minds. Yeah, on our senses, and, you know, all of these things together, you know, loneliness, sensory, trauma, social struggles, you know, all of this adds together and creates an environment where it's very difficult for an addict not to go run into their, their old habits.
Philip King-Lowe
Yeah, you know, you know, Judy Endow, who is a great presenter about sensory processing, describes sensory processing is it's kind of like a glass, and that each, each input that creates a complication for the sensory, it's like a drop of water. And the water, and the thing is, is that especially during the holidays, there's just drops of water going in, and in and in, and then what, what causes the overload is when that last drop hits the top of the glass, and everything just spills over. You know, and, and so, the holidays are, are just such a time of, like I say, all of this input coming in at one time. And it's so easy for that, that glass to overfill and just spill on out. And like I say, um, you know, I don't mean to sound tempting here, but substances are the kinds of things where you where one goes sometimes to, to get relief from some of that. And so, again, I would imagine that the barrier here is just no, it just, I had to find something else to relieve. I can't just run to whatever it was. And so I, you know, again, part of that is the whole routine, changing the whole, all the things that happen to Autistics to refocus themselves on something that is healthier, that is better for than those substances when reached for.
David Gray-Hammond
Absolutely. And that's going to look different for every person. You know, for me, it looks very much like I volunteer every year, managing a community Christmas lunch. That I you know, I organize this community Christmas lunch, because my mother's a Priest, she has a church, in a little village. We organize, we use the church hall to have a community Christmas lunch, where people can come if they've got nowhere else to go. If they're likely to go without on Christmas Day, they come to us and we feed them. And that's my active altruism during the holidays. That helps me get through the holidays because I have to plan it for months. And you know, and then I have to execute it on the day. And it helps to keep me driven and focused on doing things that are good and not going running back to my old habits.
Philip King-Lowe
Yeah. And now finally, we turn to what are some steps that Autistic Adults and our supporters need to take to advocate for our needs? And you started earlier on the whole, the whole part of, of gaining a greater self knowledge of yourself as an Autistic person. When that mask comes off when you let go of trying to hide it, you then begin to find some peace within yourself or find the strengths within yourself. As you begin to answer this question, David, I would like you to talk perhaps about as you were working through your recovery, how what did you discover might be your Autistic strengths for helping you through the addiction recovery or helping you through that addiction recovery? Give us some give us some talking about that sort of things are.
David Gray-Hammond
Well, I've talked about how, you know, one of the greatest struggles with entering recovery was my monotropic mind, but it was also one of my greatest strengths, that ability to hyper fixate on my goal, and focus on nothing but achieving it really, really helped me out. You know, what some might call rigid and repetitive thinking gave me the discipline, to stay away from substances and find other ways of supporting my wellbeing. Ways the one actually doing me harm in the long run. I learned to be at peace with my sensory experiences. I created sensory environments that were pleasing to me where I could escape for a short while. I unlearned, my internalized ableism. So that I could safely remove the mask and be proud to be Autistic. Because not many people really know this about me. But there was a time when I would have quite happily taken a cure for my Autism if it had existed, because I was so filled with internalized ableism. But I overcame that. And I overcame that by finding the Autistic community. And I think that right there is the greatest strength that any Autistic person can have, is the Autistic community that surrounds us if we just go on a computer,
Philip King-Lowe
Right. Yeah. Yeah, it is so very important for Autistic people to network with each other. And that's one of those things that I often hope that I help achieve through through my podcast here. You know, I do encounter so many individuals and caregivers who are in places where they really do not have many resources available to them to assist them in whatever ways so hopefully, my podcast sort of gives a little little hand with some of that. But, um, yeah, and so hyper focusing on on recovery was very, was very powerful for you. But you know, you know, that that piece about good self knowledge, as in knowing, I always say this, being coming the expert about your particular Autism, and the expert about communicating, and telling your stories. Um, and so maybe talk a little bit about how recovery, for you, has been an opportunity to tell your stories.
David Gray-Hammond
Well, you see, when I entered recovery, I saw I went to the internet, and I was looking for stuff written by Autistic addicts. And there was nothing. So I took it upon myself to put something there. And that's why I do what I do. I want to be the person that I needed back then. Because I remember how alone I felt as an Autistic addict. And I don't want any other Autistic addict to feel that way. So I've taken recovery as an opportunity to tell my story to anyone who will listen. Anyone who needs to listen anyone who wants to listen. And it's been such a powerful experience for me because so many people come to me and say, you know, I love your blog. I love your Facebook page. You know, you talk about this stuff. You're it's so important what you talk about. And,you know, it's something that I talk about often with other advocates is the none of us set out to become advocates or academics or activists. It, we just sort of fell into it because we were the only ones telling our stories. And here we are today, you know, I'm, I'm doing podcasts, I'm doing live streams, I'm writing, you know, I'm even starting work on a on a book, a nonfiction interview. And it's, it's such a powerful experience to be able to tell your story, especially when you've been through the things that I've been through. And, you know, I, you know, I've, I've expanded and grown in what I talk about as well, like at the moment, myself, and another advocate, Tanya Adkin, are co-writing a series on my blog called Creating Autistics, Creating Autistic Suffering. And that series is really about where these poor outcomes for Autistic people come from. And ultimately, we're going to look at what can we do to change society and the environment that Autistic people are in to stop these horror outcomes.
Commercial Break III
Future Shows
The 24th and final episode of Today's Autistic Moment in 2021 will be on December 20th; Autistic Adults: Internet Safety. There is no doubt about it, the internet is a lot of fun. Social media, chat rooms, texting, dating, and gaming can make social connections easier. However, the internet is full of predators who know more about us than we know about them. Tas Kronby will join me to give us some helpful advice about watching out for risky emails, chat or text contacts, sales schemes, and social media posting.
I want to thank all of my sponsors, guests, and listeners for my first season of Today's Autistic Moment. This has been a great first year. The show will get better and better as we begin 2022.
The first show in 2022 will be on January 10th. The episode will be The Medical and Social Models of Autism. In the medical model, Autism is a neurological developmental disorder. In order to receive disability benefits, support services and social support, Autistics are known by a medical pathology. A pathology that makes us second class citizens. In the social model we have the movement for Neurodiversity. Autistics and other individuals with conditions like ADHD are capturing our diversity as Neurodivergents to work towards a society of equality and equity. Dr. Scott Frasard will join me to talk about why the medical and social models are important, and how the Neurodiversity movement is helping Autistics reach for our full potential in life.
Other shows in 2022 will be focused on eating disorders and trauma. In honor of March being women's history month there will be one podcast about Adult Autistic Woman. The other will be on the subject of Autistic Post-Menopausal Women. Author Eric Garcia of the book We're Not Broken: Changing the Autism Conversation will be my guest to begin Autism Acceptance Month in April. Lyric Holmans the Neurodivergent Rebel will join me to talk about Masking and Burnout, and lastly, David Gray-Hammond will return to talk about overcoming internalized ableism.
Thank you for listening to Today's Autistic Moment and sharing the show with others.
Philip King-Lowe
Welcome Back. Before the commercial break, I was talking with David about how he is telling his story about substance abuse recovery as an Autistic person. During this last segment, I will be asking him for information about his blog.
Philip King-Lowe
Can you give us the address for our blog again, please?
David Gray-Hammond
It's emergentdivergence.com. I'm also on Facebook as Emergent Divergence, Addiction and Mental Health and the Autistic experience. And I can also be found on twitter. Just under the name David Gray-Hammond. I'm also on Instagram as emergent divergence. I'm on Tik Tok as emergent divergence. Honestly, I'm everywhere. At the moment. I'm even on LinkedIn, which is how you found me. So yeah, but if you want to find my blog, which houses all my writing, go to emergent divergence.com.
Philip King-Lowe
And emergent divergence is all one word.
David Gray-Hammond
Emergent divergence, all one word?
Philip King-Lowe
Yeah, okay. Well, David, I am so very grateful to you for doing this. For both the last show and this one. As I've been working through my podcast, and looking for ways to help Autistic Adults, um, I felt that I needed to do a couple of shows on addiction and recovery. Um, we know that the issue of opioids is especially it's drawing attention. In the area where I live, where there's there's been a lot of work to provide resources for people regarding opioids. But I don't think there's been as much attention of course, to people on the Autistic Spectrum. Before we conclude, have you seen any statistical information about, um, Autistics and abuse to certain substances or any number of substances versus the rest of the general public? Have you seen anything like that?
David Gray-Hammond
So there is very limited research on Autistic people and substance use, but there was one particular paper I saw written by I believe the name was Elizabeth Weir. And basically, what the study found was that Autistic people are far more likely to self medicated self medicate with substances, then the non autistic population.
Philip King-Lowe
Yeah. Yeah, I think that's important. So what I'm going to do to my listeners, these resources that David is mentioning, they're going to appear on the Adult Autism Resources Links page of todaysautisticmoment.com. Because I really want my listeners to have access to these things. So you might not need to go quite searching as much for them. David, thank you so much for doing this. And I do hope this has been a good experience for you. Um, wow, your journey is really impressive. And I can't thank you enough for this. Thank you so much.
David Gray-Hammond
Thank you so much for having me. It's been great.
Philip King-Lowe
You're welcome.
Transcribed by https://otter.ai
Today's Autistic Community Bulletin Board
There will be one class Understanding Autism and Best Strategic Practices offered from the Autism Society of Minnesota. The virtual class will be held on Monday, December 13th from 6-8pm. The class is free of charge to attend
On December 14th, The Autism Society of Minnesota will host Jason Schellack, the Executive Director of the Autism Advocacy & Law Center, LLC the virtual skillshop Guardianship: Do We Need It? Eighteen years of age is considered adulthood. Many Autistic Adults over the age of 18 will continue to need assistance with transition services, making medical decisions and applying for government benefits. Learn about the guardianship process in Minnesota.
On Tuesday, January 11th, 2022, beginning 7 to 9pm, The Autism Society of Minnesota presents the virtual skillshop entitled Supported Decision Making: What is it, Why You Might Need It, and How It Works. The presenter is Maya Park.
Register now for the winter Autism Direct Support Certification classes. Classes will be on Saturday mornings from 9am to 3pm January 15, 22 and 29, 2022. Space is now limited so contact AuSM soon if you want to attend.
Finally, the Autism Society of Minnesota and the Multicultural Autism Action Network (MAAN) and Spero Academy are partnering with Hennepin Health Care to offer a sensory-friendly COVID-19 vaccine Clinic on Saturday, December 18th from 10 am to 4 pm at Spero Academy in Minneapolis. Vaccines will be available for children 5 years old and up, and booster shots available for those who were vaccinated at least six months ago.
For more information about these and any other events by the Autism Society of Minnesota go to ausm.org.
If you have any questions for me, please send an email to PKLowe@todaysautisticmoment.com. todaysautisticmoment@gmail.com
Thank you for listening to Today's Autistic Moment: A Podcast for Autistic Adults by An Autistic Adult.