Each autistic adult is unique. Our individual neurology is why every autistic adult has abilities and challenges that differ from other autistic adults. The word for those differences is neurodiversity. My dear friend Robyn DeCourcy talks about the history of neurodiversity and how it brings a greater acceptance of the diversity among people with neurological differences. --- Support this podcast: https://anchor.fm/2daysautistic/support
Click or tap on the downward arrow in the pink box below the logo. See the image below.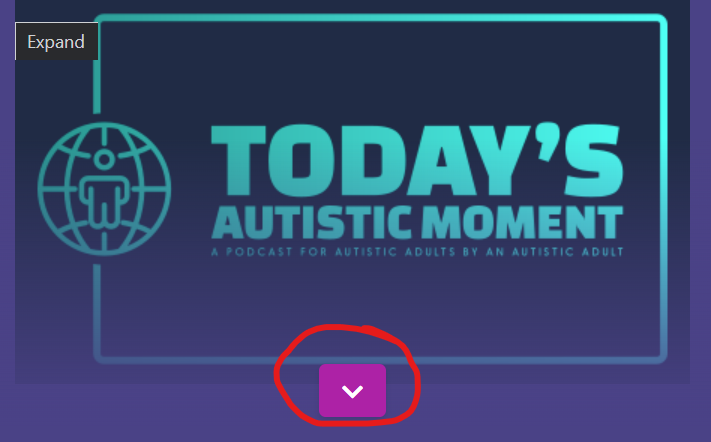 Autistic Adults: Our Own Brand, Make and Model.
March 3, 2021
[You will notice that some words have a strike through font. These are to reflect the new website created in September 2022]
Welcome to Today's Autistic Moment: A Podcast for Autistic Adults by an Autistic Adult. My name is Philip. I am the owner, producer and host, and I am an autistic adult.
Please visit todaysautisticmoment.com. Today's autistic moment in my web address is all one word with no apostrophe between y and s. Check out the store to shop for good books, fidgets and weighted blankets. You can also purchase a silicone bracket to keep the material of facemasks off the skin on your face. You can also download a program script and the transcript of this episode on New Podcast Episodes on my website. You can also follow Today's Autistic Moment on Facebook, Twitter, Instagram and Linked In. You can also send an email to PKLowe@todaysautisticmoment.com. todaysautisticmoment@gmail.com
This first segment of Today's Autistic Moment is sponsored by The Autism Society of Minnesota: Minnesota's First Autism Resource. The Autism Society of Minnesota is celebrating 50 years of serving Minnesota's autism community. Visit them online at ausm.org.
One of the most misunderstood aspects about autistic people is that each of us is unique. Every person who is not autistic is different from another person. Whether it is hair color, skin color, sexual orientation, gender; or they like chocolate or vanilla. Some like rock and roll music. Others like country music. Autistic adults are as diverse as anyone else.
Each autistic adult has our own brand, make and model of autism. Some of us fidget more, others fidget less. Some autistic adults eat vegetables, others simply cannot tolerate the textures of some vegetables. There are autistic adults who fixate on trains, airplanes, cars, fantasy/fiction, marine life or cooking. Other autistic adults hyper focus on knitting, game playing or bowling. Some autistics can communicate by talking out loud and tell you everything that is going communicate with anyone around them. Other autistic individuals use AAC devices to help them communicate with others. The point is, we are all different.
On this episode of Today's Autistic Moment, my good friend Robyn DeCourcy and I will talk about neurodiversity. We will talk about the origins of the word neurodiversity, and why it is so important for autistic people to be accepted, as opposed to being "fixed." Robyn worked as an educational specialist at the Autism Society of Minnesota. Her knowledge of autism and ability to communicate the information is outstanding.
And now I present to you Autistic Adults: Our Own Brand, Make and Model with my guest Robyn DeCourcy.
Robyn, thank you for coming on my show today. Once again, you've been a great friends to me, you've been a mentor to me, and I've learned so much about autistic and autism from you. I know it's really enriched my own life. And that's one of the reasons that has brought me to doing this podcast because that information was so important to me. Um, and you and I have had conversations about neuro diversity. And you will hear me say in my introductory episode, that you know, here's a newsflash, but, you know, we are not a one size fits all group of people. And you know, the term for that is neuro diversity. And so, the words are brand making model, because it's like having our own brand making model of autism. So having said that, let's now enter into my first question that I asked for the topic of every show. One important information do autistic adults and our caregivers need to know about when it comes to neuro diversity?
Robyn DeCourcy
Yes, thank you, Philip, so much for having me on. My name is Robyn DeCourcey. I'm very briefly I am not an Autistic Adult, myself, but I am a neurodivergent. Adult meaning we'll break this down a little bit. But that means that I also have a, an ADHD brain. So brain that is different, different in many ways, from what we consider a neuro typical brain, or the most commonly occurring brain, in our society and culture, that brain that's considered quote unquote, normal. Very briefly. You know, Philip, you and I, yes, we've been friends for a while. And for those who may not know me, wondering, why is this non autistic person being invited on again, I'm a neurodivergent. Professional in the in the area of autism accessibility and community inclusion, and a lot of the work that I have done professionally, whether it's educating, speaking, training, consulting, and writing has been very much dedicated to this idea of neuro diversity, acceptance and neuro diversity as a as an active practice. So, let's talk about things that we need to know right? First of all, what does that word mean neuro diversity, right, that, that prefix neuro and EU are Oh, that indicates brain diversity is diversity differences. And so fundamentally, when we talk about neuro diversity, it is quite simply, at its basic level, a biological fact, right, that there are infinite different types of brains out there. There have been since the beginning of time. So even among people who are generally considered quote unquote, "neuro typical," people's brains are different, even among people who have autistic brains. You know, those everybody's autistic brain is unique and different. Sit, you know, so that trend applies from that, that very basic level that there are differences in our brains in different neuro types, right? neural again, meaning brain type, whatever, that's a nice term that I liked it that I that you will hear me throw around neuro type that just basically means type of brain. And so again, fundamentally, neurodiversity at a edits biological or genetic level is just a fact. And so some of the earliest conversations that are that I've seen that talk about neurodiversity, this is a lot of stuff that has been very much worked through in autistic bright spaces, but it doesn't only include autistic voices, but I do want to give credit to those autistic folks and those folks working in autistics, right spaces because those have been the the big proponents of it. So, Judy singer, and then in the late 1990s, an Australian autistic sociologist is credited with credited wildly with first kind of coining the term. What's his head Harvey bloom was a journalist who was considered to be the first person to use that term neurodiversity imprint. And then these related terms neuro divergent neuro divergence. Credit goes to, and I apologize if I mispronounce her name, but Kassine Asasumasu, another autistic self advocate. So again, wanted to put my credit out to where credit is due. So again, lots of autistic voices have been leading in this idea of neurodiversity. And so moving beyond this, you know, basic biological genetic fact, there are different types of human brains out there, and that is just a result of natural variation in the human genome. neurodiversity taking it a step further into a, a more social and cultural lens. So these are where you might hear terms like neurodiversity paradigm, neurodiversity movement, neurodiversity? Well, those are those are two of the main phrases that I've heard neurodiversity paradigm, or neurodiversity movement, that's taking it a step further, and, and saying that, okay, at the worst, at its worst, it's inevitable, that there are going to be different types of rains in society in all over the world. And, you know, that's, it's better to acknowledge that and embrace that right in saying that there, there is a lot of value that can be found in having this diversity of thinking, diversity of communicating diversity of learning.
Philip King-Lowe
Now for our first commercial break, after which I will continue with my conversation with Robyn about Autistic Adults; Our Own Brand, Make and Model.
Commercial Break I
Philip King-Lowe
Welcome back to Today's Autistic Moment. Let us now return to my conversation with Robyn DeCourcy as we talk about Autistic Adults: Our Own Brand, Make and Model.
Robyn DeCourcy
Some of these dis-conversations around neurodiversity traced it back to, I think it was Temple Grandin. Grandin, who I first heard you say that, you know, if you think about cave people, you know, Neolithic people, and all likelihood those folks who were going to be the first toolmakers, the folks who are going to be noticing patterns of weather of animal migration, those are likely to be the autistic, Neolithic people, right, that who have that types of brains to be, you know, analytical patterns, binding types of brains instead of wasting their time socializing around a fire. That's something that I've heard said similarly, for folks like me, I'm an ADHD ear. I'm not autistic, although many, many people are both have both an ADHD and autistic brain. I've also heard a lot about how ADHD brains make a lot of sense, because our brains tend to thrive in crisis. And you know, you think about those life or death moments of hunting and, and whatever, you know, that ADHD brain does really well, when it's soaked in adrenaline. That's where anecdotally myself and also I don't think you'll meet a single ADHDer out there who wouldn't say that, Oh, my God, I can't find my keys. But there's an emergency at three in the morning, I'm there, I'm on it, I own it. That's a big pattern of my life. So, so again, so so even from the earliest stages on where there's this idea of these different main types, working together in concert, to be successful in human evolution, right, we've got our tool makers are pattern finders, we've got our, our crisis managers, and then we've got all the folks that wherever in between that are reminding us to eat and to take shelter, and you know, and helping,
create social bonds and whatever. So this is all very kind of loose. I'm not a sociologist, anthropologist, but I really like that way of, of talking about neurodiversity as, as a factor in human evolution and development, right, we would not have survived as a species without these different brains working together. Again, taking it into this modern, in modern level and this more social cultural framework of neurodiversity, it says, Okay, again at the word It is inevitable that we're gonna have different types of brains. We're gonna throw your typical brains, we're gonna have autistic brains, we're gonna have ADHD brains, we're gonna have traumatized brains, we're gonna have brains that have
all sorts of mixtures in between. And that, again, is not only inevitable, but that can be a good thing. And fundamentally, I think the fundamental lesson of neurodiversity is this is that a neurodivergent brain again, neurodivergent is the adjective form that kassian coined, you'll hear me using that word neurodivergent. A lot, that a neurodivergent brain is equally as valid. And, and, and here, it is equally as valid as any other brain neuro typical or not. And that divergent brain isn't a failed, quote, unquote, neurotypical brain. Exactly. And that is, the core of neurodiversity is that it's accepting, you know, the people, the different brains that we have. And instead of trying to fix or cure or modify behaviors to make a neurodivergent, person look, neurotypical, it's saying, we're not going to do that, we're going to challenge assumptions about what brains are good, what cranes are productive, every brain is equally valid. And it's a matter of identifying how, you know, what's going to be the best system for each person, each neurodivergent person, each autistic person, each ADHD person, whatever, what is, what are their that person's needs? What are their strengths? What are their challenges? What are their support needs in order to have the highest possible quality of life? Right, with maximum self determination, period. And I think that is a foundation of a conception of neurodiversity that I think anybody, even people, as we'll talk about in a little bit, who might push back against term, I don't think many people are going to argue against this concept that every brain is that.
Philip King-Lowe
Yeah, because I think one of the things that we need to say here is that for autistic adults, autistic individuals, that that neurodiversity explains why, for example, there is one autistic individual who can found a corporation and run it throughout the world. And then there's another one on another on another end, who may not be able to achieve those things, but still can probably tell somebody about every part of an airplane there ever was and how those pieces work. neuro diversity is found in those kinds of things.
Robyn DeCourcy
Yeah, and I love, you know, again, it doesn't surprise me in the slightest that autistic people have been leading this conversation about neurodiversity, for, you know, in in from the outset, and have been major players in how this conversation is shaped because the nature of autism itself is that wildly diverse spectrum. And, and, you know, this is where we talk a lot about, you know, some of the tenets of a neurodiversity framework. That, that, again, a lot of artistic thinkers. And when I say artistic thinkers, I'm talking about advocates of all traditional levels of ability and not right, we've got lots of who fall under that, you know, that more visible artistic model of maybe having found in several companies, whatever, as opposed to folks who are not speaking at all and rely fundamentally on alternative or augmentative forms of communication, also known as aaac. I think it makes a lot of sense to me, again, that, that conversations about neurodiversity are really being shaped by artists because the natnature of autism itself is so diverse, and that, you know, we know that, you know, I don't I can talk about things like spiky profile, developmental profiles and scattered skills, and all of these other kinds of cases about autism all day long. But that's that's the fact that you know, neurodiversity in many ways is about challenging these assumptions that we have about traditional value and traditional, you know, intelligence and things like that. Because so many artists again, that is the hallmark of autism, right is to have, have strengths and and challenges and support needs. All over The place from person to person, it's a different constellation of strengths, challenges support.
Philip King-Lowe
Yeah, and neurodiversity also explains where our passions go. Yeah, um, you know, I'm, like I say there are there are autistic individuals who can do math all day long and never get tired of it because they're hyper focused on it. While there are others who, like I say they found find their hyper focus, hyper focused interests in things like arts or music or, or science or other things. This neuro diversity is how, as we've been saying, is how, how autistic individuals and other people on the that are neuro diverse, contribute to the good of society. And I think there's been this terrible, terrible, divisive thinking that says that, you know, someone who is who needs higher support needs somehow cannot contribute to the earth. And we know that's absolutely not true. And then, you know, they'll put the, but the ones who can create large corporations are and what neuro diversity does, and I hear you saying a lot of this, which is a fantastic thing is were saying that each of these neuro diverse individuals on tthe autistic spectrum, they have value, and neurodiversity wants to invest us into that, into those that diversity.
Robyn DeCourcy
Yes, exactly, that people have value. Because first and foremost, there are people right, and a lot of neurodiversity to me. Also, when I talk about neurodiversity, a lot of the the audiences that I'm encountering are public facing organizations. And so one way that I talk about neurodiversity and to impress upon this fact of every brain has value is this idea of presuming competence, right? That you even even if, you know, you're, you're that you always treat an adult, like an adult that you treat a team, like a team that you always approach every interaction with a person regardless of how visibly or disabled they might be or not, with the assumption and the belief that everyone can communicate, given the right tools that everyone can learn, given the right tools and support that you have, and that people have the right to be included, and communicated with even if it's hard for other people, and or those, you know, those folks don't necessarily want to communicate or socialize, that's fine. We don't have to force people to write to do things the way they think they should. That's another bright part of neurodiversity is that is presuming competence, or at least at the very least, presuming potential, right that?
presuming competence sometimes gets in this gray area of that, you know, this person maybe has some complex communication needs, so we're just going to throw an iPad at them, and boom, solve. That's not a neurodiversity model type of approach. Right? neurodiversity of a neurodiversity lens is going to say, yes, this person can communicate and learn. But we need to find the ways that work for that person. And this is I think, you know, this segues kind of nicely in showing what I know, your second question is going to be, is talking about some of the the miscommunications and misunderstandings that happen around this, these conversations about neurodiversity? And who is included who is prioritized and who isn't?
Philip King-Lowe
Absolutely, yeah. And you've already you've already launched in as a preface to So, but I have to do it, because it's part of my part of my program here. Yep. What are the barriers for autistic adults of all ages? And we just, you just spoke about some of them, which is what I call misperceptions of, and then, you know, there is also that terrible presumption that that goes along with those horrible horrible labels of high and low functioning. Yeah. Because those labels are, are meant even if they're not intended to by those who have learned about them, that those words are actually against neurodiversity. They do not support diversity.
Robyn DeCourcy
Yeah, they're actively harmful and, and I'm glad that you brought up this idea of regardless of intent, because a lot of discourse and conversation around neuro diverse For folks who are coming in from, from a somewhat outsider perspective, so this includes, you know, most commonly parents, neurotypical parents, neurotypical professionals, whether it's healthcare educators or whatever. Again, before I knew before I, before I got my ADHD diagnosis as an adult,
you know, I always knew I had a different type of brain. I knew and most neurodivergent people, I think we know, even before we get that diagnosis, whatever, um,
but I, you know, I went through both professional workplace training, college post secondary graduate work. And the things I learned there are sometimes at odds with what neurodiversity movement, a neurodiversity framework that is led by neurodivergent people, neurodiverse people autistic, like ADHD people, sometimes what you learn in those so called professional spaces, especially, are at odds with some of the things that the neurodiversity framework really pushes. And so that is a roundabout way for me to say that I know a lot of well intended people, I have been that person before in the past who have used terms like, you know, high functioning, low functioning, who have bought into the whole person first language only ever, blah, blah, blah, things that I have learned, by listening to especially autistic adults, say know that the intent may be good, but the harm is more, the impact is more important. And, you know, Philip, you've done it, you and I talk a lot about functioning labels and the harm that they they can do. And yes, neurodiversity does push back against this idea of high functioning and low functioning. And so this, this idea of the quote unquote, high functioning autistic person, the high functioning ADHD person, that stereotypical maybe CEO who can't tie their shoes, versus a low, quote, unquote, low functioning person,
generally, know, in maybe an nonspeaking, or minimum lease, artists with other significant you know, physical or medical issues, physical disabilities, right,
right, by RCW approach says that, no, that's assigning higher low talking about functioning is, is, is dehumanizing, because we're not here about what, you know, we're not here to place judgment on on what somebody else can or cannot do. A better way to look at it is, what are each individual strengths? What are their individual challenges? And what are their specific support needs, in order for them again, to live a have the highest possible quality of life, the most self determined life that they can have? And that's where a lot, I think, again, talking about barriers where a lot of this pushback that there are, and I see this a lot, especially in online spaces, cuz honestly, that's where a lot of neurodiverse people where we do our our learning and organizing and socializing a lot of online spaces, is that there seems there is a false a false impression of neurodiversity. I think that attackers of it are people who push back and think that this is something that only the stereotypical quote unquote high functioning autistics, this is something only for them. This is only out unquote, high functioning people speaking, you're not like my son, you're not like my child. You're not like my student, you don't speak for them. And that is where I see a lot of conflict and a lot of nastiness and active harm happens quite often at the expense of autistic people who are saying, We are like your child, we are like your student, because we are autistic, and why we are not the exact same makeup brand and model of autistic. We know what it is to live artistically. And we know what met No, no, the approaches that help us be successful. The ones that look us at us like a holistic person that has value regardless of their productivity, regardless of their so called intelligence. Right that that doesn't matter as much as what are the supports, the accommodations and what are the attitudes that need to shift to make sure every single artist every single neurodivergent person has the highest possible quality of life. That is where I see so much conflict happening. Because there's this misconception that neurodiversity is only for the quote unquote, high functioning people.
Philip King-Lowe
And that's just, that's just a no, that that's, that is so not true. And, as SUE SWENSON and I spoke together, about ableism, those functionings, those functioning labels are full of ableism. That, you know, and that's how some get to define as to what they think we can do. Um, and, you know, I also like to say this to a lot of these labels that do get used, and I'm gonna, you know, I'm gonna say this too, even autism and autistic, and some of these other terms that we use, they are for the purpose of people who have issues with autistic people. Really, I mean, I mean, you know, so that they can recognize a difference. But But, unfortunately, what happens is that as they see this difference, they also see this as a tool to separate us from how we ought to function input in public. Yeah,
Robyn DeCourcy
Yep. That is really well said, Philip. And I think that has a lot to do with, you know, historically, the way that that, you know, at least in the United States set, that the way that disability has been conceived over time has not been a good one. And right, that disability until fairly recently has been a bad word. And there's been, you know, there's been a lot of online kind of online and in person, a lot of kind of, what's the word I'm looking for grassroots. Active trend reclamation work reclamation of the word disabled, because disabled, again, it's different. And and so when you we've grown up in a society that in the past, and then not the distant past at all, under this medical model of disability that looks at the person with a disability as being fundamentally flawed, that always, always a cure is necessary. And basically, that difference is scary, and different needs to be addressed and made to appear as close to the norm to as possible, right, there's been a lot of movement away from that medical model of disability, to this, this social model of disability, which isn't a isn't a perfect be all end all, but is much more, I think, realistic and applicable to where we are at as a society now saying that, okay, people still have impairments, right, my ADHD is a disability impairs me in very real ways. But what what is most harmful for me, is are things that exist, such as lack of resources on, you know, miscommunication, you know, lack of access to diagnosis, to medication, to interpersonal misunderstandings to act of discrimination, those things, that those are more social issues that are the most harmful and, quote, unquote, disabling right, that is that social model of disability. And so I think another part of where people who might, who might not be in that kind of care mindset have that medical model, but still kind of struggle with neurodiversity, as a concept, or as a as a cultural movement or a cultural lens is saying that, okay, well, autism isn't just a quirky identity. It's still a disability. And neurodiversity is leaving those people behind who have really significant support me, who, who can't who, right, who are too busy, really dealing with day to day, lots of pain and, you know, real significant issues related to their autism. And again, I think that's another misunderstanding of neurodiversity, is that neurodiversity doesn't say that like, these are just cute kind of diagnosis and cultural identities only. Although it is I think, important to note that autistic culture is a thing neurodivergent culture, ADHD culture, those are all things and identities and of value in and of themselves. But a neurodiversity model does not reject the idea of these impairments or are neuro types being disabilities, like you can be a very pro neurodiversity person and have a really frickin hard time being autistic. At the same time, like it is not an either or it is an ant. Right? You can have this and you can embrace the fact that you have a different neuro type and it can suck so hard sometimes. And I think that's another piece of that miscommunication that neurodiversity critics have is that it's overly rosy and overly optimistic view of of autism or ADHD or other neuro diverse.
Philip King-Lowe
Let's move into my third question. What are some steps that autistic adults and their supporters need to take to advocate for our needs, in terms of neuro diversity? because as we've been talking about neuro diversity, we know that the term diversity is always met with some kind of pushback. Yep. You know, and so, you know, because of the misconceptions about being autistic, we know that, that veers along with that presumption of incompetence, that they must not know how to help themselves. And that's not always true. Again, so. So let's talk about some of those ways that we can advocate for ourselves. How can we? How can we help other people understand that we are neuro diverse, in in our own individual situations, and then more importantly, on in terms of our society as a whole? Yeah,
Robyn DeCourcy
This is a complex question. And true to my ADHD brain. It's not going to be a neat, Pat answer. But I've got a couple of ways that I want to answer this question. First of all, you know, I think it, it is really incumbent on each one of us who are neurodivergent in some way, it's going to serve us well. If we have take the time to continually invest in understanding our own brand making model of autism of ADHD of whatever your particular disability disabilities, no divergences
are.
Philip King_Lowe
Agreed.
Robyn DeCourcy
And I think that's fundamentally the most important thing because unfortunately, being autistic or being otherwise disabled in this society, even though we've come a long way, right now we're in a position where as adults we are going to we always have been in some way and our whole lives and always will be educating other people about so I'm a big fans because I am. This is, you know, my, my job, my livelihood, the thing I'm most passionate about. I'm personally very invested in having ways to describe autism to describe ADHD to describe other types of neurodivergent in ways that you know, a 32nd kind of elevator pitch, right that I can say, Oh,
my favorite thing is when I mentioned that I've worked with autistic folks for over 10 years or whatever, somebody says, oh, someone, so in my life is autistic or has autism. I love that, because I get to provide this reaction of right on, I love that some of my favorite people in the world are autistic. And just having that having being able to have that reaction, which for me is a genuine one born of deep and fierce love for my neuro cousins. Right, my my autistic brain cousins, but also for neurodivergent, and disabled people in general. And that's something that, you know, has taken a lot of, of professional energy, but also to, for me to have this kind of ease and talking about my own disabilities, and to talk about disability in general comes with a lot of works, that I've spent to unpack my own internalized ableism. those messages that growing up as a child of the 80s and 90s, still very much in that. Oh, my God, your brain is different. That's awful, right? That's shameful that way to hide away, thats
something that you,every person has to reconcile that with themselves.
Philip King-Lowe
Exactly, yeah, one of the one of the most important ways to advocate for ourselves is to know, our autism to know how, how our autism affects us to know, and to be able to talk about what being autistic means for us. Um, among those, the ways that we advocate for ourselves in terms of neurodiversity, is we tell our stories about what being autistic means for us. You know, and that's where, you know, back a couple years ago, when I did my presentation about self care, and my listeners hear me say this every show, and I will say it again, the best self advocacy that you can do for yourself, is to know know about your autism to become the expert about your autism and become the expert at telling others what being autistic means for you. Because the more people hear what we have to say about ourselves. I know people often say that autistic people are not narcissists, but that is not at all, not at all true. A lot of us are trying to tell others, this is what being autistic means for me. And even though there are people who might not be listening, we do have people who are listening, and at least beginning to turn those little wheels in their head, to try to begin to understand.
Robyn DeCourcy
Yeah, and I think that honestly cuts at the core of effective advocacy in any realm is to to make it personal, right? Is that right? People are going to be able to access the ideas that you're talking about, and to be able to find commonalities and kinship and empathy when it's about your individual life and the ways that you talk about your own experience. Because, you know, people can people can and will argue about abstract concepts or things like what is autism all day long, but they can't people have no, people can't fundamentally argue with you about your own life experience. I mean, they can, and they will. But that is to say that it is much easier to shut that sort of ill faith, conversation down when you say no, this is my truth. This is my life. This is what I'm good at. This is where I struggle, and these are specifically and this is what I do for myself in order to succeed, to be happy to have, you know, meaningful relationships, to participate in my community. This is what you can do as a medical professional, as a friend or other ally as a community representative. These are things you can do for me as an individual. Right and having that conversation, starting it from a place that you can ground it in your own expert lived experience that is going to stay with people a lot longer. I will say that another reason for being being your ex you know your own expert on your on your autism. On your disabilities on your neuro divergences is that even is the most crow neurodiversity, you know, the most neurodiversity accepting spaces, you're getting a bunch of different brains together. And everybody, as we say, is different. And it's very real, that we there are going to be competing access needs. Right, exactly. And what do I mean by that, that means that, okay, when you've got a bunch of different people, whether it's, you know, say you're in a autistic support group, and you've got a small group of autistics trying to, you know, do hash some stuff out together, to where I do a lot of work, which is in working with lots of arts organizations, sports organizations, lots of public facing interacting organizations, where you don't know necessarily the type of crowd you you're going to get, but you can, having a neurodiversity practice is going to benefit everyone, you're still going to come up against competing access needs, right? Some people are going to do best with text based communication, some people cannot communicate effectively, unless it's it, you know, spoken over the phone or in person, I know, autistics of both types, right? A lot of a big one with autistic folks is having competing sensory needs, right, I see this, I hear this a lot, especially from my autistic friends who are parenting autistic children of any age, a phrase that I hear a lot is something akin to like, their Autism is poking my autism in the eye, right? Because, you know, their, their child or their partner or whoever in their household, you know, they've got a stim that they really need to employ, that helps them stay calm, you know, especially in just pandemic times, where we're all cooped up together anyways, while there exteme are coping mechanism or whatever is actively something that is driving this other autistic brain crazy. Or just, you know, just is causing issues for that other autistic person. So, it's, you know, this is where, again, having a keen sense of your own, make brand and model also includes Where are your boundaries, right. So, especially as a parent, right, there's this, you have, it's a little bit different from a parent child relationship, because as a parent, you know, you have to ultimately be the one to you're still parenting, right, that's still your child. And so that's a power differential that isn't, you know, necessarily one to one, you might be more willing to, you might have to kind of sacrifice a bit of your own self piece or whatever, if your child or whatever somebody in who is more vulnerable, really needs you to kind of suck it up and, and, and deal with something that might be unpleasant, but
there's a difference between trying to support somebody else's access needs. You know, even if it isn't ideal for you, and versus being, you know, completely plowed over by somebody else, right, you have to know where your boundaries are.
And this is especially true I think, for for autistic folks, and, to some extent, to for ADHD brains like mine, that, you know, I have big emotions, and I'm not great at tracking some of these, you know, things that are bothering me until something big happens. And then I realized, Oh, I didn't set my boundary clear enough or whatever. So it's, it's this idea that with, with being in contact with other people that have different strengths, challenges, support needs, what what do you need to be optimally successful? right for you? What do you need to be able to kind of just cope and live and, you know, and what is like a big, I cannot do this, right? So just having this idea of, you know, you can be pro neurodiversity, but that doesn't mean sacrificing your own well being in your own boundaries, right? Firstly, that doesn't mean that you get to that your, that your access needs, your communication style, whatever, is automatically everybody else has to conform to what you say. Right? So it's just it's a really pretty intricate dance that I think that many of us autistic, or not, but neurodiverse, neurodivergent people we do all the time, all day, every day, all the time, informally, because that's just the way our brains are we in order to survive that
Philip King-Lowe
I agree.
Robyn DeCourcy
I found that in, you know, in the spaces where I spend the most time, you know, at work or at home, that's where I need to be the most mindful in, in right, communicating my needs and setting boundaries and to be honoring that of other people. That's just, I think that is just another place that neurodiversity kind of gets to modeled and people say, well, everybody's needs are valid. How do you do that? Well, yeah, they are. And it's really hard to always, there is never any right answer, right? For, there's no sensory environment that suits everyone. There's no communication style that suits everyone. And, and so it's this really often an intricate dance. But as long as it's fundamentally grounded in these ideas of my ideas, and my, my,
my,the things I need to communicate the things I feel are just as valid as yours. And vice versa. As long as you're coming from that baseline of we are both valid, we we might need different things to get, you know, to communicate effectively to coexist, you know, optimally. But we're both valid, and we're, we're willing and committed to figuring this together.
Philip King-Lowe
Right, you know, I, as we're talking about this issue, I think it would be a good idea to see if we can answer a question that I can hear somebody coming up with? And that question would be, you know, my autism really does create, for me a lot of barriers in terms of how do I communicate my autism? How do I communicate that sort of thing, I may not be somebody who can write, I may have difficulty speaking, to put my facts in order. What might be some suggestions you might have about how how those kinds of individuals can begin to? You know, find ways to communicate about their autism? Yeah,
Robyn DeCourcy
That's a really good question. Um, I would say, first of all, is that you don't have to answer this all by yourself. So I would say, if you if you can, you know, and you want to explore that, that's fine. But you know, presuming competence, again, as I said before, doesn't mean that you have to do it by yourself. So I would say, if if you have access to people or to resources, like if you have a therapist, if you have a job coach, if you have a parent, or a sibling, or a partner, who, who you really communicate well with, and you can be someone that will help you articulate what you want other people to know about you is to say, use that use other people as a resource, right? We talk so much about in autism land in like special education land, especially my background about independence, and, you know, maximal and independence, while that's all well and good. I feel like neuro diverse communities are very interdependent. And that's part of the reason why it works is that, you know, is that we recognize that e don't, we know, we can't necessarily do it all by herself, nor should we have to. Yeah, and there's many ways that having somebody else or some other entity or whatever, to help you, whether it's, you know, I know some folks who, you know, if you were to sit them down for a traditional Question and Answer type interview, probably wouldn't go very well. But if you're say, to say, Hey, why don't you make a YouTube video of a day in your life and just, you know, make me a mini movie about your life and what you would want other people to know about you. You would learn so much from that, right? And that's something that maybe somebody else might have to help that person with. Maybe they can do it independently. But again, so. So I guess my convoluted answer starts with a don't think you have to be independent and doing it if you if you're not there yet. And if you have the support to help you suss that out, you don't have to do it alone, you. And honestly, there are so many, you know, autistic adults, especially who are leading the way and having these conversations and building such a strong community out of what I see is nothing but sheer love for the artists that are in the the autistics who are younger, right? So I would, so there's that there's that kind of convoluted answers that you know, get help if you need it, and don't so no, you know, don't find ways to to communicate that are authentic to you, and that are so again, I've got some of my autistic friends who are a bit younger, who I used to work with, you know, professionally and who are now just buddies of mine, a lot of the ways that we socialize and communicate is very idiosyncratic, where it's like, we'll just swap, you know, links to memes on the internet to each other. Or they'll, you know, there's ways that people will communicate authentically that if you give them the And if you take the opportunity to learn somebody else's language, so again, this is me as an outsider, not an autistic person. So I guess it's the advice then for the autistic
person is to, you know, what, how are you most comfortable and communicating? I know a number, a couple of non speaking artists who are really incredible poets, and who are have the most profound things to say about being autistic and about ableism and about their own experiences, through poetry. And that's something that isn't going to be, you know, you know, sits meeting someone face to face, say, at a job fair, you're not going to get that same wealth of response from that autistic person, because that's not their strongest way of communicating. So I guess my convoluted answer is, again, to, to communicate, to find your authentic ways that you feel most that you are most yourself and communicating the most important things about you. And to seek community right to seek
Philip King-Lowe
yes to network.
Robyn DeCourcy
Yes. To not network with other autistics And, you know, I will put in there too, because, you know, my professional and my experience, and then with my friends is, you know, also be safe. Right? A lot of autistics socializing and community building happens online, and there's dangers there. So just, again, also, just, you know, it's it can be easy to have your boundaries violated, if you're not, you know, if you're not aware of kind of the pitfalls out there. So again, not not a simple answer, you don't come to me for simple answers or, or concise answers about this sort of thing. But I think those would be my my starting points. So again, it's all about authenticity, and and finding your allies, whether it's other autistics, people in your in your family and you know, family doesn't necessarily mean blood, your chosen family or friends, you know, other people in your life that who are there, and that you trust, or who are there for your well being?
Philip King-Lowe
Yeah. Well, Robin, boy, you've given us so much to think about here, which is, which is great. And you know, I can't thank you enough for coming on to talk about this.
Robyn DeCourcy
Thank you for having me.
Philip King-Lowe
You're welcome. You're welcome. Thank you again. And do you have any last before we finish off here? Do you have any resources that you suggest people look up?
Robyn DeCourcy
Yes, I do. So one of the useful website that I found that has a nice kind of breakdown of these terms that we've been using neurodiversity, neurotypical, neurodiversity, paradigm, neurodivergent, etc, etc. There's a page that is by a doctor Nick Walker, and his blog, their blog is called neuro cosmopolitanism. That's where I've seen these definitions really nicely laid out. And that's a resource that's been, I've seen distributed widely in various neuro diverse spaces. So Philip is if you want, I can send you a link directly to that page. If that's something you can upload directly to your to to, to link with this episode.
Philip King-Lowe
Yep, absolutely. I can put that I can put that into my, into today's autistic moment, I can put it up with along with the episode and I can also my listeners can find it as well. In the my sponsor and community resources.
Robyn DeCourcy
Yeah. Yeah, there's, I mean, there's one of the nice things about in my lifetime, in my relatively short, you know, tenure of being a professional in this field, know about 1213 years is that there's also I've actively seen, the the scientific literature out there that's talking about autism and other neurodevelopmental disabilities, there is a growing body of literature, specifically about neurodiversity in these peer reviewed journals. So I've got a couple that I've linked to that I will send your way as well fill up. And then there's also a really nice, I can't I didn't write down the author's name, but I'll send you this link as well. There's a blog that was published in 2019. And in Scientific American by a, by a professional who, who really nicely lays out in a very plain language way, some of these observations and that we're talking about neurodiversity, especially the misconceptions that we were talking about neuro diversity. So again, that's a blog that I found that I will send you that link to That you can post upwards as well. Otherwise, folks are welcome to, you know, try to find me. You know, reach out to Philip if they he knows how to get ahold of me. I'm I'm happy to talk about neurodiversity, and virtually anything else autism, or ADHD related all day. Yep,
Philip King-Lowe
Yes. I didn't know that about you. Yeah, yeah. All right. Uh, Robin, once again, thank you very much for being on today.
Robyn DeCourcy
Yes, my pleasure.
Transcribed by https://otter.ai
Commercial Break II
Final Announcements and Upcoming Shows
Visit the virtual booth for Today's Autistic Moment at the Inform, Influence, Innovate Together, the virtual collaborative conference organized by the Autism Societies of Minnesota and Greater Wisconsin, April 21st – 24th. I will be offering appointments for those who are interested in being future guests on my podcast or have suggestions about topics. Be sure to purchase a custom-made tee-shirt by April 24th to go towards the fundraiser for AuSM.
The next episode of Today's Autistic Moment will be Autistic Adults and Social Narratives. Eric Ringgenburg, the Director of Education Programs at the Autism Society of Minnesota will be my guest to talk about how Autistic Adults can use social narratives to help executive functioning to help with daily self-care. Eric's advice will be informative with lots of great ways to use social narratives. This episode will be published on March 22nd.
On April 5th, I will publish the episode entitled Autistic Adults: Autism Acceptance. Ellie Wilson the Executive Director at the Autism Society of Minnesota will be my guest to talk about why it is so important to move from Autism Awareness to Autism Acceptance.
On April 19th, I will publish an episode about Autistic Adults: Community Based Services. Sara Swan the founder of Looking Forward Life Coaching will be my guest. I have created a survey for autistic adults to take about your experiences with community based services to help us prepare to talk about what is so important to you about this topic. Go to todaysautisticmoment.com to the New Podcast Episodes to take the survey.
Thank you for listening to Today's Autistic Moment.
Today's Autistic Community Bulletin Board
The 2021 AuSM Summer Recreation Cataloge/AuSM's Guide to Sensory-Friendly Minnesota is now available on AuSM's website. The Catalogue contains information about activities with time sensitive registration information, skillshops, training workshops and summer camps. Don't miss these amazing opportunities for Minnesota's autism community.
On March 23rd, from 7pm-9pm, Jillian Nelson will be presenting a virtual skillshop about Self-Advocacy. Jillian is the public policy advocate at the Autism Society of Minnesota. Jillian will be talking about what she has learned about self-advocacy. She will talk about the history of self-advocacy with some great advice for autistic individuals to advocate for themselves.
On April 13th, from 7-9pm I will be presenting a virtual Skillshop about Aging Autistic Adults at the Autism Society of Minnesota. Many of you may have listened to my episode Aging Autistic Adults: What We Needed Yesterday with Dr. Theresa Regan. During the virtual skillshop I will mention some of what Dr. Regan spoke of, with some additional information about the barriers for aging autistic adults and some self-advocacy.
On April 27th, from 7-9pm, Beth Pitchford will present a skillshop called Friendship: How to Find and Keep Friends as An Autistic Adult. Many people on the autistic spectrum have lots of social challenges to find and maintain friendships. Beth will give some tips for building strong friendships and maintaining them during the COVID-19 pandemic while we need to keep social distancing.
Inform, Influence, Innovate Together. The second collaborative virtual conference organized by the Autism Societies of Minnesota and Greater Wisconsin will take place on April 21st to the 24th. Go to ausm.org for more information and to register.
Thank you for listening to Today's Autistic Moment: A Podcast for Autistic Adults by An Autistic Adult.