Go to todaysautisticmoment.com for the transcript.
Autistic Adults are often stereotyped as children that never matured properly. Autistic Adults are infantilized by neurotypicals who feel that they know better as to who we should be and how we should behave and therefore should teach us to be more like neurotypicals. Robert Allan Claus III is an Autistic Adult who is here to talk about how being infantilized has affected him, and why he feels it is important that Autistic Adults be respected as Adults.
--- Support this podcast: https://anchor.fm/2daysautistic/support
Click or tap on the downward arrow in the pink box below the logo to read the transcript. See the image below as an example.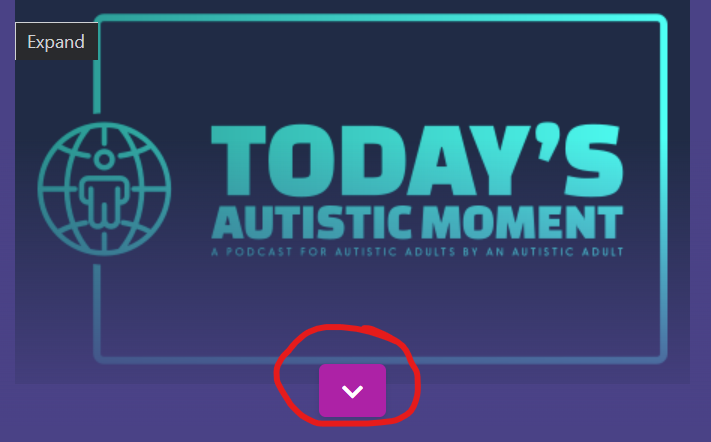 Transcript
Autistic Adults Are Not Children
November 20, 2022
Segment 1
Welcome everyone to Today's Autistic Moment: A Podcast for Autistic Adults by An Autistic Adult. My name is Philip King-Lowe. I am the owner, producer, and host, and I am an Autistic Adult. Thank you so very much for listening.
Today's Autistic Moment is a member of The National Podcast Association.
Today's Autistic Moment is always a free to listen to podcast that gives Autistic Adults access to important information, helps us learn about our barriers to discover the strengths and tools we already have to use for the work of self-advocacy.
This first segment of Today's Autistic Moment is sponsored by The Autism Society of Minnesota; Minnesota's First Autism Resource. For over fifty years The Autism Society of Minnesota has been honored to support Minnesota's Autism Community. Visit them online at ausm.org.
Please visit the new todaysautisticmoment.com to listen to this episode and all previously published shows. The transcripts for all shows going back to February 2021 are available. Transcripts for 2022 are sponsored by Minnesota Independence College & Community. While visiting the website be sure to check out the Guest Bios and Adult Autism Resources Links pages.
In addition, please note that my email address has changed to todaysautisticmoment@gmail.com. Please send all emails concerning the podcast and/or any part thereof to the new email address todaysautisticmoment@gmail.com.
Please follow Today's Autistic Moment on Facebook, Twitter, LinkedIn, Instagram, and Tik Tok. Please join Today's Autistic Moment Community Group page on Facebook where you can talk with other listeners and myself, get program updates and find new friends. Please subscribe to Today's Autistic Moment's YouTube Channel to view the last three Autistic Voices Roundtable Discussions.
On the first episode for 2022 my guest Dr. Scott Frasard and I talked about The Medical and Social Models of Autism. The medical model is getting a diagnosis using the criteria of the DSM-V to get the mental health and social support services we may need. The diagnosis is that we have Autism Spectrum Disorder. The social consequences of the medical diagnosis of having a disorder are the stigmas that have been codified into society. David Gray-Hammond wrote: "'Disorder' is a social construct. When our minds don't let us meet the demands of societal normativity, we get given the "disordered' label. Autistic people are not disordered, it's society that isn't working."
There are three other words in the medical diagnosis that I think brings some societal residual effects. Those three words are "neurological developmental disorder." The word developmental means that Autism is pervasive and life-long. However, what many will interpret the word to mean is that Autistic Adults are children that were not able to mature so that our behavior matches our age. I think this is why many do not see and respect that Autistic Adults are not children.
I recently talked with the mother of an Autistic son who is 25 years old. She told me that her son gets spoken to as if he is a young child. Sometimes people say he is so cute, or use simplified coddle language when talking to him. Her son's experience is only one of many examples. There are Autistic Adults who are in their 30's, 40's and 50's that are told by family and co-workers that they are immature, or to "act your age."
Other examples of how Autistic Adults get infantilized include the words "You poor thing" and/or "you are such an inspiration." Being infantilized is an example of ableism because it is micro-aggressive and suggests that people who do not think or act in a way that neurotypical people do at their age level are undervalued and should be treated like children.
My guest today Robert Allan Claus III was diagnosed as Autistic within the last few years. Robert lives in Collinsville, Illinois and works in foster care in Springfield, Illinois. Robert is a regular listener of Today's Autistic Moment, who shared with the Facebook group that this podcast has helped him connect with the wider Autistic Adult community. Robert has been a fantastic contributor to the last three Autistic Voices Round Table Discussions. It was during one of those discussions that Robert suggested that there needs to be a podcast about being infantilized as an Autistic Adult.
Please stay tuned after this first commercial break to listen to Robert give some examples of how he has experienced infantilization and what that has meant for him.
Commercial Break I
Segment 2
Welcome back. Please join me as I welcome Robert Allan Claus III.
Philip King-Lowe
Well, Robert, thank you for being here on Today's Autistic Moment. I am so grateful that you've been following Today's Autistic Moment on Facebook. And you have participated in a I think three different Autistic Voices Roundtable Discussions this year. And your contributions are really great. So, thank you for being here to talk about this important topic today.
Robert Allan Claus III
Thank you for having me.
Philip King-Lowe
You're welcome. Okay, Robert, you in introduced me to this idea. Last February actually, about the matter of infantilization of Autistics. And so, to be sure that we aim in the right direction. I entitled this episode as Autistic Adults Are Not Children. And I really like how we think about that, because we are spoken to often as, as I've said in my descriptions, "children, that just never grew up quite properly." So, this is a great topic to talk about, especially as we begin to move into the holidays, which, you know, we sort of get to double in infantile talking here. But anyway, so let's begin with my first question. What important information do you feel that Autistic Adults in our caregivers need to know about when we talk about Autistic Adults Are Not Children?
Robert Allan Claus III
Okay, let's begin with the ideas. Every Autistic person has the capabilities to live a fulfilling life on their own or without constantly being overseen or coddled or helicoptered by a relative. What, what every Autistic person needs to know is there are tools, resources and support out there that you can use to live your own life that you don't let, sometimes parents and loved ones who are over protective aren't, aren't doing you any favors. So just identify what happens, you know, when they finally pass on and you're left alone? This is a this is an overall issue of this area that sometimes I think people are a bit short sighted in not understanding that. So, every most Autistic, I would say about every Autistic person has the potential to live a life on their own, or at least live as a fully actualized adult. Its society might have a few more hurdles in our way for that, or misconceptions that might hinder that. But the potential is there for everybody. Just need to know who you are and how your Autism plays out and if you and how the best you know, record match. Let's see and especially important is your caregiver. You know, your loved ones need to understand that. Despite from misconceptions, you aren't eight, they might perceive you to be a burden, or we might have a savior complex and seeking to always be there for you and look out for you, but in the long term, they might actually be hurting you and hurting themselves.
Philip King-Lowe
Yeah. Well, when I think of being infantilized, however, we say that word, I tend to think of someone who feels the need to put us in a space that looks like we're below them. They talk down to us as if we don't know better. And you know, there are there is that stigma out there that Autistics just don't know how to do things. So therefore, they cannot help us learn how. I also think of it as you know, for the sake of vocal tones and things like that of, you know, them just, you know, making the assumptions that we only understand the simplest instructions, or that they have to basically adjust their language in a way thinking that we must not understand if they're talking, you know, talking to us on an adult level. You know, I think that's a good way to a good way to look at it. What do you think?
Robert Allan Claus III
Oh, I absolutely agree with that there is, it can be frustrating when someone you love or even respect decides to talk down to you. Right. And we think that doing you a favor by doing so. Right. And if you grew up in such environments, there's the risk of internalized?
Philip King-Lowe
Yes. Yep. I totally agree with that. And then I think infantilization is also a matter when they also assume that they must do certain things for you, without first asking you, if that is something you would like them to do? You know, once again, they just assume that you, we just don't know. So, they've got to pitch in and help us do it. You know what I mean? Yeah, yeah. You know, um, you know, I've had moments when I've had to remind people around me that, you know, no, I don't really need you to make that decision for me, I just need more time to make it. Know, um, but once again, they're, you know, a lot of times the ableism comes in, when somebody just assumes you must need help with something. Because we don't do things quite like they do. So, like, if we're having a moment when there's say an issue with executive dysfunctioning, maybe we're not, you know, getting right at a task right away, they will assume that they just got to pitch in and then help because we just don't know what we're, you know, we're just not doing it the way they think we should. So therefore, they just jump in and pitch in that sort of thing. And oh, yes. I'm sure you can, you can think of moments when that's happened.
Robert Allan Claus III
Oh, absolutely. Mind if I share a few?
Philip King-Lowe
Go ahead, please.
Robert Allan Claus III
Let's see, when I was younger, I was often, you know, spending time with a cousin of mine. Now, as a bit, it's been topical, my cousin himself was ADHD. And so, we sometimes we did clash with each other. And one thing that always annoyed me with him, was, he seemed to be of the idea that they always knew what was best for me. Let's say I'm visiting the house, you know, relatives on the weekends, I want to watch television. Like, I feel like, you know, sitting in and watching TV. His opinion was that no, you don't know what's good for you come up with me and play outside. And we would often clash with that. Or that it feels that he always knew what was best for me. Right. Because I was quiet, quieter, and more withdrawn and seemingly detached.
Philip King-Lowe
Right. Yeah. You know, and the, the other one that is just as destructive, is the one where someone will. There'll become verbally abusive, and just start to you know, say, you know, you just must, you must not be interested in in, in socializing with other people. You just don't want to you know, you're lazy. You don't want to do things like you should or, you know, or, or even the other one that's just as bad I think, is you know, you knew, you know, better you just don't want to try harder. Things like that. You know, I think things like that are just are what they are. Sadly,
Robert Allan Claus II
Yes. And growing up, I was often amazed and frustrated at just how personally, my cousin and my sister took my lack of desire to be a so, to be as socialized as they were. Like they were like, listen, I like I'm fine in my room read or I just don't being around people.
Philip King-Lowe
Right, right. Right. You shared, you shared on my Facebook page that you were recently diagnosed. Right? Yes. Yeah. Was there a point before your diagnosis that you knew that you were you had been infantilize sized? And or was there a moment after you were diagnosed that you realized that what was happening?
Robert Allan Claus III
I believe for me a realization of the infantilization that I had suffered only really hit after the diagnosis.
Philip King-Lowe
Right. And what was that like for you?
Robert Allan Claus III
Well, a bit shocking. Yeah. And, like, slight betrayal. Like, what it was I treated like this. I mean, I mean, yes, I am growing up, I certainly was not what 90s and early 2000s would be "normal." But I never something that deliberately went I've already caused anyone any grief or harm, right? Yet so many, felt personally offended by my behavior. And sought to treat me in a way that was a bit demeaning. Yeah. Like, once again, I am sitting quietly in my room reading my book, what does it matter to you, that I'm not going outside? To play with the neighborhood kids?
Philip King-Lowe
Yep, I know exactly what you mean by that one. Yeah, you know, one of my therapists said that, you know, when you're when you're diagnosed as an adult, it rewrites your life history. And then you start to realize, that's why I did what I did or didn't do what I didn't do.
After this next commercial break, Robert will talk about how the misconceptions of Autistic Adults contributes to infantilization, along with the expectations of what a person as an adult should be able to do. We will talk about communication differences, including Autistics speaking truth to power and some suggestions with communicating with supervisors. Please stay tuned.
Commercial Break II
Today's Autistic Moment Announcement
The third season of Today's Autistic Moment will begin on January 8th, 2023. The first episode will begin the theme that you will hear throughout the third year. The Strengths and Achievements of Autistic Adults. During that show, and throughout the year, we will be highlighting the incredible tenacity of Autistic Adults as we work through our challenges and stigmas to achieve great things in our lives and in the world around us. The very next episode on January 22nd will be the 50th episode of Today's Autistic Moment. The 50th show will feature past guests, listeners, and sponsors as we celebrate this important milestone for Today's Autistic Moment. I invite you my listeners to become part of that episode by sending me a message to tell me what listening to Today's Autistic Moment has meant for you. What are some ways that the podcast has helped you in your Autistic life? Take a brief look at what your life has been like since listening to this podcast and send me a message to tell me about it. If you are a caregiver, tell me about how the podcast has helped you to better understand your Autistic loved one. Please go to the Contact Us page at todaysautisticmoment.com and send a message ahead of the 50th show. Many of these responses may be read and shared on the 50th show. If you would prefer not to have your name mentioned, please indicate that in your message.
Thank you for listening to Today's Autistic Moment.
Segment 3
Philip King-Lowe
So, Robert, on the matter of Autistic Adults Are Not Children. What do you see are the barriers there that really do apply, that we should talk about?
Robert Allan Claus III
I say just a wider societal stigma. And misconception about Autistic Adults and Autistic people in general. The barrier that we are incapable of handling the same stuff as a neurotypical person. That's a very strong general barrier.
Philip King-Lowe
Yeah. Yeah. Well, that and the understanding that just because we handle things differently than say, a neurotypical person would, that doesn't mean we don't handle things as an adult.
Robert Allan Claus III
Correct. And we have a different way to deal with it that we might not understand. But it's perfectly valid.
Philip King-Lowe
Yeah, yeah. Yeah. Yeah, absolutely. You know, I just wrote a blog earlier this past week about how I think sometimes it's called, Who Has the Communication Problems? Because sometimes I feel like, I'm being as direct as I can wanting a direct answer. But the person I may be communicating with this one beating around the bush, and so therefore, I have to try to disseminate what they're saying. And if they're talking in vague language, then I can't, I can't really understand what the what they mean. And just asking for a clarification. Just brings down the weakness even more on top of on top of me, you will. And I mean, I feel like that's one of those places where we are, we're probably more adult than they are, you know?
Robert Allan Claus III
I agree. Sometimes the use of double entendre, double meanings spelled meanings can be tiring to deal with as an adult. Yeah. Like, I got, I got stuff to do people just give me a direct answer.
Philip King-Lowe
Right, exactly. I want to know the information. And I want, and I'm looking for information to make sense to me, because the more mixed your messages are, the more difficult it is to feel like I'm getting an answer to my question. But, you know, part of being treated as adults, I sometimes feel like just asking for clarification, we get this response as if you know, what's wrong with you? You know, what do you think of that?
Robert Allan Claus III
Oh, absolutely. But I've noticed, as well, as many times as a kid and as an adult, many, many people have taken my directness for rudeness. Yeah, it's not socially acceptable to be direct and blunt. But I just think beating around the bush and doing a little sidestep is a waste of time.
Philip King-Lowe
Right. Yeah. And if and if perhaps you're like me that when you get the indirect response to a question that needs the direct answer, then it becomes difficult to be able to trust whomever it is, that's doing the communicating with us. You know, um, you know, I think it's a good thing to talk about when we talk about barriers for Autistic Adults being respected as adults. You know, we're not looking for, you know, we're not looking for a thesis as an answer. We're just looking for the simple, most direct answer, that we can actually put pieces of information together so that they make sense to us. And, you know, I hear things like, Why are you hanging on every word that I say? Well, you're the one that said them. You know, you know, yeah, yeah. What do you think are some other barriers that you might like to talk about in this?
Robert Allan Claus III
Let's I say piggybacking off the way to communicate just probably general office culture with small talk around the around the water cooler and we sometimes artificiality of it or but non serious steps like how like, I would like to share my interests with my coworkers. But if my coworkers are viewing this just as a clock in clock out, what's the point? We're trying to build bonds with my coworkers. Now, I must have at my current job, this isn't an issue. But in previous jobs, this has been a serious issue. Especially in jet standard corporate America, where it's very much every minute is now cataloged, which, on one hand, that might appeal to an Autistic individual. But on the other hand, having it dictated to us could be the problem. Right. Yeah. We love structure. But we love it when we build the structure.
Philip King-Lowe
Yeah. Yeah, and our structure is, is accepted as being a valid structure. It's not, it's not seen as being something derogatory, or, you know, we're just looking for what's solid, what's, you know, what's meaningful? I have one barrier that I do think occurs more times than not, is when I'm the Autistic adult in the room, and I'm having a conversation with more than one neurotypical individual. And then they start talking to each other as if I'm not even in the room. That's like, that's like treating me as a child. Like, you're not growing up enough to be part of this conversation. What do you think?
Robert Allan Claus III
I hate when that happens to you, it's probably the worst case I have ever dealt with it, was back during my ill-advised a political campaign, you know, era. Where it was quite common for someone I was talking to, to just cut off his sentence midway with me and run off to talk to someone more important.
Philip King-Lowe
Yeah, yeah. Yeah, I know, I know exactly what you're thinking of, you know, um, yeah. I know exactly what you're thinking you're talking about. I mean, there's this sense that I sometimes get to that, when we're trying when I'm trying to communicate something that I think it's important that, you know, if the, if a person or persons on the other side, is having difficulty understanding me, then they will start talking to each other about what the problem is with me. And again, I do think that that's a great a great example of how we get infantilized, sorry, in such a way that, you know, it's like, we must not be grown up enough to talk more clear when we're actually trying to communicate more clear. But like I say, the responses we're getting seem to be vague, with no, no end in sight.
Robert Allan Claus III
Another barrier I would like to bring up is sometimes I discovered, at least for me as an Autistic individual. This especially happened during my time in politics. I had the bad habit of speaking the truth when no one wanted to hear it.
Philip King-Lowe
Yes, absolutely.
Robert Allan Claus III
In the realm of politics, you do not save a hard truth. No. As an Autist as a young Autistic man interested in politics, I couldn't help but bloviate the hard truth. And as a result, I quickly found myself ostracized and cut off from the news of advancement in the field.
Philip King-Lowe
Yeah, yeah. Yeah, I know what you mean. Yeah, there is the sense of, of, you know, I've gotten my share of responses. Like, you can't speak too much truth to power at one time and even though I might be trying to take care of something that I see. Sometimes I get the feeling that the more they can keep the blinder on their eyes as well as try to keep it on mine. It's just, they just don't want to hear. Hear it. And that's one of those things that that a lot of a lot of adults do with children, they just assume that what they're saying is seemed like, you know, like some nice little boy, but they want to talk about it in another way. Yeah, I hear you. I hear you. Yeah. Well, these are some great barriers. Let's now return to the matter of self-advocacy. Um, what steps should Autistic Adults, and our support is to advocate for our needs. So that Autistic Adults are respected as adults and that we're not children? I think, you know, it starts with I think making it clear that as much as Autistic Adults are Adults. And that's, you know, just sharing our thoughts as best as we can, but also making it clear that we have something important to say, but I'll let you talk a little bit more about some ideas that you might have, or if you want to take off on what I said to start, that's fine with me. Go ahead.
Robert Allan Claus III
Let's see. I think. So, alluding to my experience, in a bit of politics, sometimes the best way to advocacy is, at the policy level, trying to find support or push forward an agenda and understanding of Autistic individuals, or put bring up laws in place to protect autistic Neurodivergent individuals from this treatment and misunderstanding. And essentially trying to find working with and supporting advocacy groups. One group that I like actually give money to is the Autistic Self-Advocacy Network might not be directly indication that work but I know support them with a monthly donation. And even in like just in the workplace, be honest with your supervisors and coworkers about who you are, how you view the world, essentially, work with them, meet them halfway, you help them understand you so you can put procedures in place. So that they understand like, if you're having a meltdown, just let it go through. And you'd be better don't have a few minutes. Maybe, depending.
Philip King-Lowe
Yeah, yeah. So, what is that? What is it like in the place where you're working? Now? Do you find advocating for yourself to be a little easier?
Robert Allan Claus III
Yes, I do.
Philip King-Lowe
Okay, tell us why you find it a little easier. Tell us what's happening there. That might, and there are people in the audience who might say, Hey, maybe I should try that. So, give us some examples of what's happening there.
Robert Allan Claus III
I work for a, I work for a foster care agency, heavily involved in the social service field. So already has a strong social conscience to the workplace. Let's see. I've always been very honest and straightforward with my supervisor. And we've worked out some we've worked out procedures for three months. So, my supervisor if he sees when I'm being overwhelmed or about to have a meltdown. It's like, okay, Robert, step outside. Get some, you know, take a break. Take some deep breaths. You know, recollect myself.
Philip King-Lowe
Yeah, good. Yeah.
Robert Allan Claus III
Like he doesn't get upset when I get upset. He understands I'm just having a flood of sensory overload or emotion overload. I need time to self-regulate.
Philip King-Lowe
Exactly. Yep. Yep. Yeah. And, and, you know, yeah, I think that's good. So, you've been able to establish a pretty good understanding with the people you work with about what your Autistic needs are. Yes, yeah. Yeah, that's, that's so important. And you are so fortunate to have that in place? What steps did you take in the beginning that helps you establish that? Was there some things you did?
Robert Allan Claus III
Oh, when I was no first one with my supervisor. I sat down with him, you know, at first, like, Okay, I'll be honest with you. I'm on the Autistic spectrum. There are no let's be straightforward about it, I explained, you know, like, sometimes they get overwhelmed. So, ask, you know, for your patience and understanding here, and we came to an accord, or my key understands. So, he's, my supervisor has been working for a long time and different management position. So yes, experienced in a wide variety of markets. And there's also a very patience of advisors, which I appreciate greatly. But I was just honest with him from the get-go, I'm optimistic, I might have a meltdown or freeze up. I just need you to bear with us and what also helps is working in the social service filled with kids. We were always known for have been Autistic kids we have helped out in the past. So, he has, he does have hands on experience, and then a bit of a more of an understanding.
Philip King-Lowe
And so that's an environment where you don't feel so infantilized? Correct. Um, let me ask you, if you can kind of give us some ideas about how you feel they have treated you more like an adult. What are some things that have given you a sense that you're, you're being addressed as an adult?
Robert Allan Claus III
Let's see. I have the same workload as everybody else. I'm expected to do the same job all of the paperwork and visits first, no, limitations put on me. Yeah. Like, they treat me as like any other worker. As long as I get my work done. They're happy. Yeah. Yeah. Let's see, they take what I say seriously. I alluded before, if I'm getting frustrated, or being overwhelmed, I can you know, just step outside for a bit, and regulate myself.
Philip King-Lowe
Yeah, and they do it without question without questioning you. Without, you know, feeling the need to try to try to invalidate what you say. Rather, they just take you as you are, and not. It sounds like they don't try to mark your behavior as somehow immature, which is what this has been all about. I mean, I've been in the introductions of this topic. I've been saying that, you know, you know, there are just neurotypicals who feel that they know better about who we should be and how we should be. And therefore, it's their duty to teach us how to be more like neurotypicals. And, you know, that's one of those ways in which we do get infantilized, you know. assumptions made that we just don't know how to do things. And so, they've got to give us their lessons. You know?
Robert Allan Claus III
I would like to bring up an example, I'd say, the one I'm at now has treated me very well. I love my job. I love my coworkers. I love my supervisor, as you know, as platonically as possible. Now, I have had jobs in the past where I was infantilized. Such as when I was working as a drug and alcohol counselor at a prison. Where, where, let's just say, as soon as I had my first meltdown, which working in a prison environment is a very stressful job. Yes. I was immediately cut off from a wide variety of advancements. As I was hearing, "Robert can't handle this job. He can't handle that job." It was hurtful. Not only was it management, who said that some of my coworkers went behind my back and said, "Hey, Robert can't do this job."
Philip King-Lowe
Yeah. Yeah, I know what you mean. I've had people that I've worked with who have done that in the past. I've had volunteer positions where I've dealt with where that's happened. And in my history, I've been volunteering for something, and they will just say, well, he just can't handle this. And I mean, you know, it's a volunteer opportunity. It's not like I've, you know, signed up to do this as an athlete, right. Oh, yeah. I know. I know what you mean. You know, and, and I mean, on the job, it's so difficult it is difficult to advocate because of the environment that's run by a supervisor and coworkers who make judgments one way or the other. But, you know, I'm happy that you are in a place where you know that you are being treated well. You know, how about communications with others outside of your work experience? Have you found some ways to help in those that you can relate to us?
Robert Allan Claus III
Let's see one common area that I find this a wonderful way but draws many neural diversions to it is the role of tabletop role playing games. Like many people, neurodivergent and non-neurodivergent, can come together and in no, for a few hours out of a week, pretend to be someone else and take part in an adventure. It's a way of sharing, finding common ground with hobbies and subjects that we love. Yeah, like even after my game sessions, and we'll sit for hours discussing comp superheroes, comic books, and a whole bunch of nerdy subjects. I could go for hours about the addition was for D&D, which I won't do right now.
Philip King-Lowe
That's fine. No, that's great. I think there's some great, great material there.
Stay tuned after this final commercial break as we thank Robert for his excellent conversation followed by Today's Autistic Community Bulletin Board.
Commercial Break III
Advertisement
Are you Autistic and the owner and/or host for a podcast that is by and for Autistics? If so, I have a very exciting networking opportunity for you. I am cordially inviting you to attend a live virtual initial meeting to talk about the creation of the International Autistic Podcasters Association on Thursday, March 16th, 2023, at 11:00am-12:30pm Central Standard Time. During this meeting we can talk about what we might like an International Autistic Podcasters Association to look like and what we could do. The association members can share with each other what our podcasts are about, what is working well, what might need improvements and promote ourselves and each other to attract more listeners. The meeting will be recorded with a transcript and made available on Today's Autistic Moment's YouTube channel. To read more about the meeting go to todaysautisticmoment.com/apa/. Please share the news and link with any Autistic person you know who owns and/or hosts a podcast for other Autistic people. If you have any questions or concerns, send an email to todaysautisticmoment@gmail.com .
Future Shows
On December 5th, Becca Lory Hector returns to Today's Autistic Moment to talk about Managing Holiday Stress. For many Autistic Adults the holidays are a time of sensory distress, seasonal depression, with social demands and all the music and holiday advertising that can stress us out. Becca Lory Hector who was my guest for the Summer of Self-Care Series will give us some of her ideas about managing holiday stress to help us all enjoy them as much as we can.
If you are an Autistic who finds that the holidays are a sensory nightmare, please listen to my show from last November, Preparing for the Sensory Unfriendly Holidays with Zephyr James. You can find it on todaysautisticmoment.com.
On December 19th, the final show for 2022 will be Communicating with Autistics. My guest will be Grace Ogden-Parker. Many Autistic Adults get unwelcomed lessons about how to "communicate appropriately" from Neurotypical people. Contrary to what many Neurotypical people believe, Autistic Adults have our own languages as to how we communicate ourselves to other people. My guest and I are going to talk about the different ways Autistic Adults communicate with others around us. Neurotypicals are welcomed and strongly encouraged to listen and pay attention so that you might learn how we speak our own Autistic languages.
As previously announced, Season 3 begins on January 8th with The Strengths and Achievements of Autistic Adults. On January 22nd, I will publish my 50th episode. In February we will celebrate Black History Month by talking to two guests who are Autistic people of color. I will again recognize Women's History Month in March, and of course April as Autism Acceptance Month.
Thank you for listening to Today's Autistic Moment.
Segment 3
Philip King-Lowe
Well, Robert, this has been an excellent conversation. And I think you've given some great ideas. And I thank you for this interview. And I look forward to talking with you again, you've done this interview now and you've been in a few of my Autistic Voices, Roundtable discussions and added a lot of valuable information in there. So um, you know, thank you so much for doing this.
Robert Allan Claus III
Thank you for having me.
Philip King-Lowe
You're welcome
Transcribed by https://otter.ai
Today's Autistic Community Bulletin Board
All of these events with their links can be found on todaysautisticmoment.com/bulletinboard.
Understanding Autism virtual classes will be offered by The Autism Society of Minnesota. These classes are perfect for Autistic individuals, caregivers, those who want to understand the basics of Autism and support Autistic people. Classes will be held on December 19th from 2pm to 4pm. Classes are free of charge, but you must register to attend.
On Thursday, December 1st, beginning at 9:00am – 12pm The Autism Society of Minnesota and The Autism Society of Greater Wisconsin will feature a collaborative virtual workshop entitled A Kinder Approach to Challenging Behavior with presenters Kelly Mahler and Chloe Rothschild. Current behavior trends have an over-focus on compliance and external behavioral supports and fail to address the underlying needs that often lead to so-called "challenging behavior." This workshop presents 5 key areas that should be a support consideration for every single person: Finding the WHY, Communications, Sensory Needs, Predictability, and a Structured Approach to Emotional Understanding. This workshop is filled with practical evidence-based strategies as well as first-person accounts from Autistics and other Neurodivergents.
On Tuesday, December 13th from 7pm-9pm Zephyr James will present a virtual workshop at The Autism Society of Minnesota entitled, Autistic Friendly Holidays and Traditions. Many families rely on holidays and traditions to create connections, feel a tie to history, and share values. Gut often family traditions and expectations exclude Autistics, whether because of sensory needs, disrupted routines, or confusing expectations. This session will help you explore how your Autistic family member (or you yourself) can be a powerful force towards creating ritual and tradition that meets the needs of your family. It will include strategies for managing the overwhelm that often comes around the holidays, interactive practice for brainstorming traditions that work for your family, and tips for meeting everyone's needs.
The Winter 2023 virtual sessions for the Autism Direct Support Certification classes will be on Saturdays beginning on January 14th, 21st and 28th. These classes are perfect for job coaches, support staff, personal care assistants, EIDBI Tier 3 providers, educational aides, direct support staff, day training and habilitation professionals, anyone who works directly with Autistic individuals and Autistic people. These classes fill up quickly, so register as soon as possible.
Go to ausm.org for more information about these and other events at The Autism Society of Minnesota.
If you have events for Autistic Adults and our supporters and would like them announced in Today's Autistic Community Bulletin Board on the next episode on December 4th, please send them to todaysautisticmoment@gmail.com by 4:30pm on Wednesday, November 30th.
Today's Autistic Moment is sponsored in part by Looking Forward Life Coaching. Looking Forward turns stumbling blocks into stepping stones towards success. Go to lookingforwardlc.org for more information.
Today's Autistic Moment is sponsored in part by Therapy Dynamics. Go to therapydynamicsmn.com for more information.
If you want your business or organization mentioned or have questions about Today's Autistic Moment, please send an email to todaysautisticmoment@gmail.com.
Thank you for listening to Today's Autistic Moment: A Podcast for Autistic Adults by An Autistic Adult.
May you have an Autistically Amazing day.