Autistic adults age differently because of our unique neurology. Our bodies and brains have challenges such as communicating our needs to others more challenging. As we age, our needs for medical help as well as our daily self care increases. However the information as to what to understand as we age, and how to communicate our needs to medical professionals is more difficult. Dr. Theresa Regan joins me to talk about Aging Autistic Adults: What We Needed Yesterday. Thank you for listening to Today's Autistic Moment: A Podcast for Autistic Adults by An Autistic Adult.
--- Support this podcast: https://anchor.fm/2daysautistic/support
To read the transcript, click on the downward arrow at the bottom of the logo just below this sentence. The image is provided so you can see what the image and arrow look like.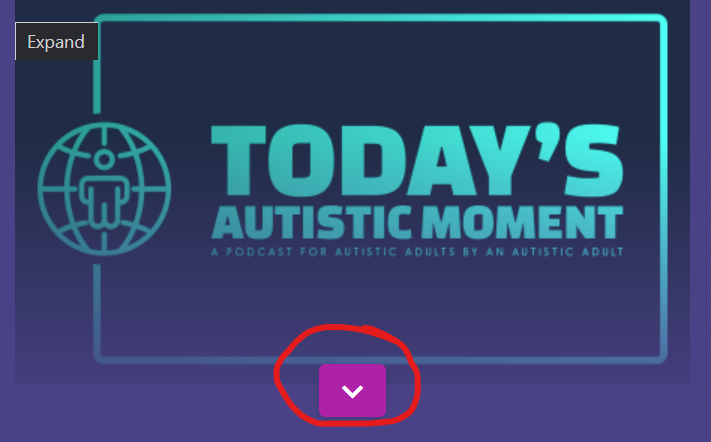 Aging Autistic Adults: What We Needed Yesterday
Episode Script
Welcome everyone to Today's Autistic Moment: A Podcast for Autistic Adults by An Autistic Adult. My name is Philip King-Lowe, your host and I am an autistic adult.
Please visit my website todaysautisticmoment.com. A reminder that Today's Autistic Moment in my web address is all one word with no apostrophe between y and s. When you visit my website go all the way to the upper right corner to the hamburger menu. Tap or click on the three short lines. Click or tap on the + sign next to Podcast Information to find newly published episodes and the box in the center where you can put your email address and subscribe. When you subscribe to Today's Autistic Moment you will receive emails with the links to new episodes and other news about this podcast. Also be sure to click on Today's Autistic Moment Store for a new tee-shirt with the logo for Today's Autistic Moment on them. The material has been carefully selected to be as comfortable as possible for autistic individuals with clothing texture sensitivity. You can also follow Today's Autistic Moment on Facebook, Twitter and Instagram.
I have one more announcement. Some new listeners of mine have requested to have a transcript in addition to the spoken podcast. Beginning with this episode, you can now download a transcript in a PDF document. Thank you to my listeners for requesting a transcript.
This first segment of Today's Autistic Moment is sponsored by the Autism Society of Minnesota: Minnesota's First Autism Resource. The Autism Society of Minnesota is celebrating 50 years of serving Minnesota's autism community. Visit them online at ausm.org.
Being Autistic at any age is challenging. Our neurodiversity makes each autistic adult unique with regards to sensory processing disorders, executive functioning, mental illnesses and managing day to day activities. Many autistic adults have challenges with communicating our needs with physicians; and it is the common experience of many that many medical professionals are not educated about what being autistic means. Our bodies and minds go through many changes as we age. We need the help of information and resources to assist us with what we will need as we grow older. Yet, much of that information and too many of those resources are not as available as they should be for autistic adults. Autistic seniors needed the appropriate information, resources and services yesterday. We need them that much more today. During this episode of Today's Autistic Moment, we will talk about Aging Autistic Adults and What We Needed Yesterday.
My guest today is Dr. Theresa Regan, a neuropsychologist and autism specialist. Dr. Regan is the author of the book Understanding Autism in Adults and Aging Adults: Improving Diagnosis and Quality of Life. Dr. Regan has worked with adolescent through geriatric patients in medical settings for 25 years. She currently works at OSF Saint Francis Medical Center in Peoria, Illinois.
Now I present to you Aging Autistic Adults: What We Needed Yesterday with my guest Dr. Theresa Regan.
Philip King-Lowe 1:29
The matter of Aging Autistic Adults has become a matter of great concern to me. I am 52 years old and heading towards my own senior years. And as I've done my own research, I've noticed that there really isn't a lot of information out there about aging autistic adults. And there's not a lot of websites, a lot of resources and so on. After seeing that you wrote a book about autism and adults in aging adults with Autism, I felt it was a good idea to have you as my guest to talk about these matters. So I'm Dr. Reagan. Let's begin with my first question that I asked every show. What information should Autistic Adults and our caregivers need to know about when it comes to the issue of the Aging Autistic Adults?
Dr. Theresa Regan 2:49
Thanks, Philip, I I do think you're right, that topic is so far behind some of what we know about Autism in children. And I kind of came to the specialization through the back doors, so to speak. So I was a brain specialist for adults and aging adults first. And I'm a neuro psychologist. So I specialize in knowing how the brain impacts thinking emotions, behavior and personality. And I saw patients with brain injury and stroke and Alzheimer's and lots of things that impact the aging population as a whole. And it wasn't until I had a child who then was diagnosed on the spectrum that I was able to use that, that knowledge to identify Autistic Adults and those in the aging population. So I do have a unique perspective. And I work in a medical center. So that's somewhat of how I intersect with people. And there are several things that I notice about Autism and aging that I wanted to share today. You know, there are different things that happen with aging, some of them are physical. So there can be chemical changes in the body, like during menopause or hormonal changes, and there can be just the aging process of the brain itself. So Autism is neurologic and our brain like every other part of our body is going to age and those things the aging, and the chemical changes can change some of how Autism is experienced or expressed. So I noticed that and then another big area of change is sometimes the environment or the context of life so the demands of our life may get less. So if we retire or we have children leave the home. You may feel like we have less demands. We also may lose a lot of our daily structure. So I know a lot of Autistics really rely on that routine and structure and some of that may feel like it falls apart after retirement or after the kids leave home. And we also end up having a lot more chronic medical issues to manage. So for the autistic who finds it difficult to take care of themselves, or to really eat a wide variety of healthy food or to stay physically active, those things can be just a little bit more challenging with that aging process. Yeah. Do you want me to talk about specific things within those areas? Philip?
Philip King-Lowe 5:41
I think when we want to talk about here, what do you find are some of the more common illnesses that many seniors face, everything from dementia, stroke and heart disease and those sorts of things? What is your take about those conditions being present in Autistic individuals?
Dr. Theresa Regan 6:27
So we know that Autistic individuals often have more health conditions, visit the emergency room more often than neurotypicals visit doctor's offices more often. Some of that may be because it's more difficult to do those self care routines, perhaps when it comes to the brain itself, we want to be really knowledgeable because one thing we don't want to happen with Autism and aging is for the Autistic Adult to be misdiagnosed with a dementia, then you get medications that are expensive, and have side effects and aren't going to be helpful. And you also have all that emotional journey of feeling like you have this condition that's a disease, when actually, all you're showing is these Autistic characteristics in the context of aging. So you, you may find that you're that organization was more difficult before and with aging, it's even more difficult, you may find that, you know, you've got ideas on the tip of your tongue, and you just can't get them out. And with age, that's even more difficult. So making sure that your providers know that at baseline, your brain was connected in a certain way, you have a certain neurology that other people don't have. And unfortunately, many providers that help people with these chronic medical conditions, including dementia, you know, they're going to have no idea what Autism looks like. And so really telling them that your neurology to begin with was a little a little bit different in the context of that developmental autism, at least they will know that they should be paying attention to both things.
Commercial Break
Please note that the book store mentioned on this show is no longer open and operating. You can go to Amazon to look for Dr. Theresa Regan's second edition of Understaning Autism in Adults and Aging Adults.
Philip King-Lowe 8:24
Yeah. I once heard it said that there may be something that being Autistic can cause the aging process to happen a little bit more intensely, mostly because of the trauma related to being Autistic, social traumas. And so that the process is almost accelerated. Do you think there's any truth to that? That notion?
Dr. Theresa Regan 9:09
I don't know that I agree with that statement. But what I have seen with anybody who has a different neurology in their youth, so let's say somebody had a stroke at an early age, or they had attention deficit in early age, or anyone who's had a change in the brain or and, or a difficulty in some system of the brain, that with aging, that system is going to have even more trouble. So I do think that when there's less buffer, we see the aging process more acutely. So let's say I had an old knee injury, that I injured my knee when I was in my 20s. Well, you know that phenomenon where you get older and Gosh, your knee is starting to show more and more pain, more difficulty with flexibility. And so because I had a different knee health in early years, I feel that aging process more. So it can be similar to that.
Philip King-Lowe 10:17
Yeah. And I would imagine that part of the issue there could also be on an autistic individuals. Sensory Processing, the way we respond to pain, being either hypo or hyper sensitive, probably plays a role in some of that.
Dr. Theresa Regan 10:37
It certainly plays a role in the Autistics ability to know what's going on in their body, because you do have to communicate more with doctors when you're aging. And so they're going to ask you, when did the symptoms start? And is it sharp? Or is it dull, and, you know, all that discussion of I feel this pain is going to be a little more difficult probably for the autistic to describe. And a lot of people on the autism spectrum, for example, they don't like that one to 10 pain scale, they don't like to put a number on that scale. So doctors may use scales or lingo that really doesn't mesh with how you would describe your system. So that can be present as well.
Philip King-Lowe 11:22
Yeah, I mean, I had a bit of a challenging incident with that myself, I have chronic back pain from a disc protrusion in my back. And I use a wheelchair to help me get from going through longer distances, like down a long hallway or something like that. And for the longest time, up until November of 2018, I really wasn't feeling it all that much. And then all of a sudden, in November of 2019, I'm sorry, 2018. I was like, Oh, my gosh, was I in terrible, terrible pain, you know, so I had to go through the process of that sort of thing. And my own cycle therapist kind of explained to me that that happens, in large part because of the experience an Autistic person can have with pain. As I as indicated at one point in time, I was hypo sensitive, which means I probably already was in pain for for quite a long time. And I went from hypo to hyper. And so he explained that when it went up, when when we feel pain and a hyper sensitivity, then that pain is just more intense.
Dr. Theresa Regan 12:39
Yeah. And people who have that hyper awareness of physical sensation need to understand that. If they go to the doctor, and the doctor says, gosh, you know, everything looks really pretty solid. I'm not seeing a disease process. It may be because they're hyper aware of physical sensations that don't involve an actual disease process. So it can go either way. Can it fill up?
Philip King-Lowe 13:06
Yes, absolutely. I mean, I, I have my own issues explaining my pain, to a pain, a pain doctor, just explaining how come? It's it's that and he's like, he's like, well, it shouldn't be. And I'm like, well, it is not like you can really, you know, the pain is in my body, not yours. You know, but yeah, I mean, and I do find myself on many occasions, of having to be the person who tells my doctor more about my autism, they probably know about,
Dr. Theresa Regan 13:41
oh, I'm sure that I'm sure that that's gonna be the norm for a while.
Philip King-Lowe 13:45
Yeah, yeah. Yeah, yeah. And, you know, as long as we're on this particular subject, and we can begin to cross into my second question about what are the barriers for Autistic Adults of all ages when it comes to aging, aging adults here? And I think one of the things we just just kind of bridged on was the communication challenges with physicians and others who might need to help us.
Dr. Theresa Regan 14:20
Right. And it's really amazing. We've come so far, and yet we have so far to go to really not only raise awareness about Autism as a concept, but we're people in our community say, Oh, I know what Autism looks like in my church or my neighborhood or my school or my medical clinic that it doesn't really translate to a lot of usable knowledge sometimes, and that's why we have to do that, that communicating. So there are really two levels of advocacy isn't there, there would be the personal level, like I'm my own advocate, and there's Also perhaps the community or organizational level that I see these needs for Autistic Adults in general, and I want to advocate for that in my community. So as far as you know, your own advocacy, you will, I think, expect to have to explain what autism looks like in you and what you need. There are estimates that as much as 90%, or more of Autistic Adults are missing a diagnosis, and are adult providers, whether that's in medical care, or assisted living or financial assistance, you know, you're going to be interacting with people who have no idea sometimes that Autism even occurs in adults, they think of it as I know, they so you're starting at the beginning, a lot of times, what is Autism? What does it look like? What does it impact in this situation? A lot of personal advocacy.
Philip King-Lowe 16:01
Yeah, that's one of the things I I explained in my introductory show, that among the reasons I'm doing this podcast is because of this miss, conception that after we're 18, or 21 years old, somehow we're not Autistic anymore, even if we were diagnosed as Autistic, which, and I basically say, here's your newsflash. Yeah, that's simply not true. Yeah.
Dr. Theresa Regan 16:27
I know. Yeah. And, and because it can look different in different people that they have, like, we were just talking about hyper or hypo sensitivity. So there's this range, too. So as an individual, it does help if you can communicate whether you make up a letter for somebody, or you have a friend, or an advocate who helps you communicate, you may want to have a few points. You know, in a doctor's office, I have Autism, and it helps me if I don't have to communicate on the phone, or it helps me if I don't have to wait in the waiting room, or I can't eat a wide variety of food. And so I want you to know that. So cific things and the burden of communication ends up being on you, you to advocate for those personal things.
Philip King-Lowe 17:19
Yeah. And that's, I can think of one barrier on that. I mean, a lot of us on the spectrum, there are Autistic Adults, who really have issues with communicating.
Dr. Theresa Regan 17:31
I know, it's kind of ironic, isn't it, that you have this difficulty, and yet, you're in a position of having to do it, it does help. When you've lived long enough, as an adult, that you may have certain things you just know that you need. And you could even put that in a letter and hand it to someone or type it out. But also, if you have a friend, or an or a family member and advocate who maybe could do that with you. Like if I wanted my doctor to know five things about me, what would it be? Yeah, it does put a burden on you for social communication. Yeah, hard.
Philip King-Lowe 18:12
Yeah. And this is where I would interject with, this is why I believe it is so important to have a diagnosis. Yeah. Because my listeners hear me say this every show, probably. But I do believe that the answer is to become the expert about our particular Autistic traits, and to also be the expert about how to communicate about it.
Dr. Theresa Regan 18:40
I really agree with that, Philip, in my experience, too, with aging adults, it's even more important because you can't trust your provider to do that for you. And don't want to be diagnosed with a dementia are treated for something you don't have
Philip King-Lowe 18:59
Can we stop for a second here? Um, I think the zoom interview kind of went a little bit like we couldn't hear the sound of what you were answering. So if we do come through that, again,
Dr. Theresa Regan 19:13
I think that's really important to have a diagnosis, especially in adulthood. Because you don't want you can't count on your providers to know what Autism looks like or to see it in you. And once you have that established diagnosis, I think it helps avoid missed diagnoses. Like you don't want to be treated for dementia you don't have for example, right. So we want to be clear about what you have, but what you don't have.
Philip King-Lowe 19:42
Yeah, and a real barrier there is suppose somebody is beginning to experience some kind of dementia patter and they can't remember, right? How do you communicate that? You know,
Dr. Theresa Regan 19:54
I know it gets very complex to do as much as we can ahead of time but you're right, someone can have both autism and dementia as well. And we like to have things in place before you might have trouble communicating those kinds of dementia. Yeah,
Philip King-Lowe 20:12
I would think that one of the barriers too is having family members around them are people who understand about their Autism so that they can help that person communicate. I would that that would be a barrier. Wouldn't it be?
Dr. Theresa Regan 20:32
I think that, you know, having a diagnosis sometimes helps us stay in touch with certain family members, I think if they don't understand, maybe why someone is not connecting with the family very well. Sometimes that individual ends up being really pretty isolated. If they have a diagnosis, sometimes they can stay connected in a more functional way. And then, you know, a family member is there to help them say this, oh, this is how you do best.
Philip King-Lowe 21:06
Yeah, um, yeah, like I say, if a family member doesn't understand a lot about their loved ones' Autism, then they can't really help them communicate about it, especially if there's a denial issue. You know, those sorts of things. And we know that those things, those things do happen. We also know that, you know, for many Autistic Adults, as they grow older, they may have an ex spouse that they may or may not be able to rely on. They may have other contacts that have moved on, or something like that, that can really help them. We also know and I know this from my personal self here, that a lot of autistic adults, you know, require the use of a PCA of some kind, which would be ideal to help them by getting the PCA is so very difficult, especially during COVID-19.
Dr. Theresa Regan 22:04
Yeah, I think we could list barriers all day long. Can we fill up?
Philip King-Lowe 22:08
Yeah, we really could,
Commercial Break
Beginning March 1st through April 24th, I will be having a fundraiser for the Autism Society of Minnesota for April which is Autism Acceptance Month. Go to my website: todaysautisticmoment.com to the store, and purchase a custom-made tee-shirt. Buy a teeshirt any time between March 1st through April 24th, and I will be donating 15% of the total sale of all the tee-shirts sold to the Autism Society of Minnesota through the Give at Home fundraiser by GiveMN in May which will double the total of the donation. If you would prefer to make a donation without buying a tee-shirt, you can do that too. Look for the button in Today's Autistic Moment Store to donate to AuSM Fundraiser. I will be hosting a booth for Today's Autistic Moment at the virtual State Autism Conference organized by the Autism Societies of Minnesota and Greater Wisconsin April 21st through April 24th where you can purchase a tee-shirt to go towards our donation. You can also enter your name for a drawing to receive a free custom-made tee-shirt.
Some announcements about upcoming shows.
The next episode will be Autistic Adults: Our Own Brand, Make and Model. My good friend Robyn DeCourcy and I talk about neurodiversity.
Other upcoming shows will be on subjects such as Adult Autistic Women, Autism Acceptance and Social Narratives.
Remember you can always follow Today's Autistic Moment on Facebook, Twitter, Instagram and LinkedIn.
Thank you for listening to Today's Autistic Moment.
Commercial Break
Dr. Theresa Regan 22:10
At some point, you probably as a personal advocate have to say, Well, I can't, I can't change this right now. But I could do this little piece, you know, whatever you can do. Yeah, it would be helpful.
Philip King-Lowe 22:24
Well, I mean, we've already been talking, you know, what, you know? What steps should Autistic Adults and our caregivers take to advocate for ourselves? And we've already been talking a lot about about that. But, you know, there's a lot of different ways we can advocate for ourselves. And we've already mentioned a few, what might be some, some others that you might be able to think of?
Dr. Theresa Regan 22:49
Well, I think that we mentioned, but really didn't go into advocating on a larger level for Autistic Adults. So yes, one thing that, you know, not everybody can run a podcast, but maybe somebody sees something in their community that's lacking for Autistic Adults, and maybe that's support in assisted living, maybe that's financial support and, and advisors for individuals who understand Autism. And again, you can't do everything, but if every person, you know, kind of identified a small niche that they could advocate for in their community, that would be a great help so somebody might volunteer to tell their story to an assisted living Management Group, so that they can have more disabilities. Those kinds of local advocacy things can really be ways of planting seeds for the future as well.
Philip King-Lowe 23:53
Yes, I agree with that. Yeah, well, I think a lot of the self-advocacy we we really do need, I mean, we really need some robust advocacy here. I mean, I mean, Autistic Adults are not represented in groups like the AARP. You know, we don't have a lot of those organizational structures around our particular needs, so to speak. Yeah. We have Autism advocacy groups like the Autism Society, Minnesota. But, you know, even the Autism Society, Minnesota has been struggling a little bit with how they create advocacy for the Aging Autistic Community. I was the one who I did a presentation at the Autistic Community Summit last September, and I had to begin that That particular presentation by saying, I'd like to be able to give you a lot more positive information that I can give you right now. But I can't give that to you. Because I found very few articles on the internet, maybe one or two at best. Other than that I didn't see anything about legislation going through cruise, you know, state or federal governments. I did not see, you know, advocacy groups, you know, specifically, you know, working for the Aging Autistic Community. And but I did find one article that was on spectrum news that told a few stories about some experiences that some Autistic Adults in, in their senior years have experienced, such as one individual who was experiencing a stroke. But he had the steps he had to go through to communicate that, that what was happening to him, were pretty substantial and quite traumatic, actually. And so by the time they actually got to the problem, I mean, he had suffered quite a bit of damage himself.
Dr. Theresa Regan 26:13
Yeah, I think there's complexity to all of these issues, because we're talking about advocating for yourself and changing culture. And, and we all know that culture change and, you know, advocating for changes in legislation and Community Services, boy, those take decades to achieve. And I think that one great approach we could take is to say, you know, well, in this area of advocate advocating for myself, I could do these things. And I can't change the culture today. But I could just take that step forward and go to my local agency, and, and volunteer my story. And we can feel a little bit more empowered. I think one of the things I struggle with Philip, and maybe this is unique to me, but I can feel like, gosh, there's so much I want to improve. And I have such a heart and a passion for this, that I can almost feel frozen, that there's so much to improve. I don't know if I can do it. So sometimes, if I take that one, next step, I get a little bit further. But you're right, there's a lot to do.
Philip King-Lowe 27:24
Yeah, I mean, one of the people in that presentation, just expressed the concern that what if they happen to be in an assisted living facility due to some issue they had, and they weren't working with either? You know, other, you know, other patients around them and care staff who don't understand Autism? I mean, how are they going to? How are they going to do that? I mean, you know, they know they're going to have to communicate about that. But, of course, communicating and finding a listening responsive ear on the other end, is more than half of that challenge.
Dr. Theresa Regan 28:12
Yeah, and sometimes getting established with, let's say, from my perspective, as someone who works in a hospital, the more established the Autistic Adult is with providers who know them, the more likelihood things are to go well, and the more isolated the person is, and then they come in for an emergency, it is a lot harder for carers to catch up, like, Oh, I don't know this person at all. Now I'm trying to catch up. But boy, there's a lot to know about this person. So another thing that some of our patients do is they have a document about what they need in the hospital, you know, I have trouble with this kind of food, I have trouble with this kind of noise. I like to know my schedule ahead of time, and they have it in a document and then it's scanned into their medical record. And when they do present, it pops up as an information sheet. So sometimes those things can help. And you're right, it's probably not as consistent as we always would like, but the more people know you, and the more you're able even just to have a document as some things that would specifically help you probably the more likely you are to have success in some of those situations.
Philip King-Lowe 29:35
Yeah, I would like to share an advocacy that I personally have had to have had to do with my own medical doctor. You know, and he's told me very openly and admittedly, that the medical the medical health organization or that he works for really doesn't provide Autism training. They've never had some kind of continuing educational opportunity that teaches them how to interact with autistic individuals. And so I have often spent more of my time just helping my physician understand my autism. And at one particular point at the advice of my own psycho therapist, I told him, I said, you know, really, it really isn't my duty to teach you about my Autism. You know, as a doctor, you're the one who is supposed to be learning about that information yourself to better learn how to help me. You know, it's really not my duty to educate them about my particular situation. But because they're not receiving that information, because I'm not being trained that I do have to do some of my own. And, you know,
Dr. Theresa Regan 30:58
Yeah, and I think that, I think there is a responsibility for professionals to always be learning. I agree with that. I do think that learning is no substitute to hearing it from you. I think both are necessary. So yes, before I had a son on the spectrum, I went to conferences, I read about it, but boy, there's no substitute for seeing someone's story and hearing from them what real life looks like. And so we're advocacy and ongoing learning, those are both two parts of the path to better care.
Philip King-Lowe 31:42
Yeah, my listeners have also heard me say, on previous shows, and I really do feel that it's worth repeating. When we tell our stories about what being Autistic means for us, we do help people learn about autistic individuals somehow, um, you know, we may not, we may or may not get someone on the other side who is really listening. But we haven't, maybe we have the effort to try to help somebody understand. And, you know, this is where a lot of the self advocacy happens. About a few years, about well, six, eight years ago, Minnesota learned a lesson from one of our campaigns. That when we tell our stories, people do listen, and people do learn. And so I feel like when it comes to being Autistic, it's the same kind of thing. People need to hear about what it means for us to be autistic and how, how it affects us. You know, look, learning is one thing, but getting to know people and hearing their story that's really impactful. Yeah, yeah. And so yeah, I mean, I think that I think that's a very important part of advocating especially with a medical community that is, sadly, so far behind when it comes to information about autism. Um, I think self advocacy also involves developing a positive, a positive sense of oneself, as being Autistic. Um, this is me, this is part of the reason I use the word Autistic. Is because I am, you know, I am an Autistic individual, I am not a deficit, I don't have something I pick up and put down, as in my autism isn't something I can, you know, release myself from. It really is part of everything that I have. And I really think, you know, my most recent episode before this one was with Sue Swenson, as we spoke about ableism together. And, you know, ableism, within ableism, there's, there is that tendency, because we are, quote, disabled by, you know, by me, you know, that, you know, we we tend to view ourselves negatively, and that being Autistic means, quote, there's something wrong. But I really do think that one of those important pieces of self-advocacy is to learn to see us as Autistic individuals to see it as a positive, not the negative that we're told that it is.
Dr. Theresa Regan 34:46
Yeah, I think that's a great way of expressing it. And every human is going to have things that they're really strong in and they have these strengths and other things that they struggle with and to know our own strengths. And struggles, whether we're on the spectrum or not is really huge, isn't it to balance all that mixture together?
Philip King-Lowe 35:07
Yes, absolutely. I agree with that. I agree with that. Well, Dr. Regan, I want to thank you for being on Today's Autistic Moment. I think this has been most helpful. Um, do you have any any information you can share about? What might be some resources that some people might other resources that people can look at, look up or look into that can be of help for us that you can think of?
Dr. Theresa Regan 35:38
Well, like you said, I, I think there's a sparsity of that right now, as far as published resources. I think, you know, we're trying to add to that collection. I have some things on my website. But I would like to expand that even more. So that's adult in geriatricautism.com. I have some things in my, in my book that I'm actually doing a revision of the book, and I'm going to put a chapter in it that talks more about the aging process in there, so I that is in process. But yeah, I think we're at the beginning stages of of developing things like that, as you said before, so hopefully, we'll have more to talk about soon.
Philip King-Lowe 36:28
Yeah, absolutely. Okay, Dr. Regan, once again, I thank you for being on my show today. I again, you've given us a lot of great information to consider. And would you please give your web address one more time?
Dr. Theresa Regan 36:45
That's adultandgeriatricautism.com.
Philip King-Lowe 36:49
Okay, thank you very much. I also want to encourage my listeners to look for I'm Dr. Regan's book, Understanding Autism and Adults and Aging Adults. And it's really a great read and it has some great insight into things like executive functioning and sensory processing, and, and those sorts of things is really worth reading. And so I encourage my listeners to look for that book. Dr. Regan thank you for being with us today.
Transcribed by https://otter.ai
Autistic Community Bulletin Board
Celebrate 50 years with a Toast to AuSM during an at home brunch. Gather with your friends, family and a brunch of your choice on February 28th for a virtual celebration of AuSM's many accomplishments for the past 50 years. AuSM will entertain you with an interactive online program including local celebrity chefs and prize drawings.
Understanding Autism and Best Strategic Practices
Learn common characteristics of individuals with autism and sensory processing disorders. Obtain valuable insight on evidence-based best practices to support autistic people and sensory processing sensitivities. These classes are ideal for caregivers, parents, grandparents, group home and day program staff, PCA's, and health care staff.
Classes are free of charge and will be held virtually in March and April.
Inform, Influence, Innovative Together
The second collaborative virtual conference organized by the Autism Societies of Minnesota and Greater Wisconsin will take place April 21-24, 2021. Go to ausm.org for more information and to register.
Thank you for listening to Today's Autistic Moment: A Podcast for Autistic Adults by an Autistic Adult.