Michelle Markman is a Neurodivergent relationship coach and a late diagnosed Autistic woman. Michelle was aware of social differences and experienced the social challenges in her childhood, but was unclear on their explanation until college. MIchelle has been through spinal fractures, chronic pain, an autoimmune disease and through it all has refused mediocrity. Michelle's greatest personal accomplishment was climbing Kilimanjaro the world's tallest free standing mountain in Africa. Michelle is a mother, world traveler, foodie, bibliophile and bon vivant. Don't miss this great show as Michelle will talk about her greatest pleasure in helping others form and nurture social relationships.
--- Support this podcast: https://anchor.fm/2daysautistic/support
To read or print the transcript from a document please tap or click on My Strengths as An Autistic Woman.
To read the transcript from this website scroll down below the logo on this page to begin reading it. Look for the downward arrow in the pink box. See the example below.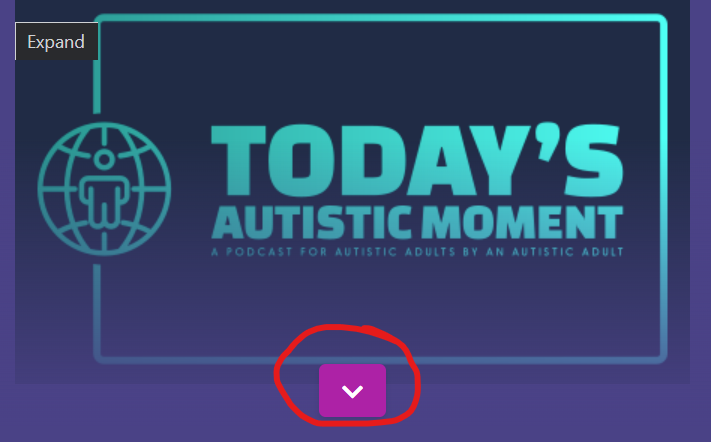 Segment 1
Transcript
My Strengths as An Autistic Woman
March 5, 2023
Welcome everyone to Today's Autistic Moment: A Podcast for Autistic Adults by an Autistic Adult. My name is Philip King-Lowe. I am the owner, producer, and host; and I am an Autistic Adult. Thank you so much for listening.
Today's Autistic Moment is a member of The National Podcast Association.
Today's Autistic Moment is a free podcast that gives Autistic Adults access to important information, helps us learn about our barriers to discover the strengths and tools we already have to use for the work of self-advocacy.
This first segment of Today's Autistic Moment is sponsored by The Autism Society of Minnesota: Minnesota's First Autism Resource. For over 50 years The Autism Society of Minnesota has been honored to support Minnesota's Autism Community. Visit them online at ausm.org.
Welcome to this episode: My Strengths as An Autistic Woman. My guest is Michelle Markman
Please visit todaysautisticmoment.com where you can listen to the podcast, get transcripts, program updates, and read the guest bios pages. Please visit the Future Shows Page with the titles, guests, and descriptions of all the shows coming up through the end of June. The transcripts are sponsored by Minnesota Independence College & Community. The transcript can be read and followed from the website, or you can click on the link provided to be taken to a written document to print and read it there.
Please follow Today's Autistic Moment on Facebook, Twitter, Instagram, and LinkedIn. Want to chat with me and other listeners? Join Today's Autistic Moment's Community Group on Facebook. Please subscribe to the YouTube channel @todaysautisticmoment to watch the most recent episode of Autistic Voices Roundtable Discussions: Autistic Business Owners, Professionals and Employees.
According to an article that appeared on happiful.com on March 19, 2018, they wrote about a New Documentary Reveals Over Half Undiagnosed Autistic Adults Could Be Women. The documentary aired on the 28th of March 2018. They did an online survey of over 750,000 adults across the United Kingdom to see how Autistic traits are spread out in the British population. Of the three quarters of a million who completed the survey, 87,000 secured above the cutoff pointing towards a diagnosis of Autism (11.6%). Of the 87,000 who scored above the diagnostic threshold, 54% were women.
There are two organizations in the United States that are advocating for Autistic Women. The Autistic Women & Nonbinary Network and The Autistic Women's Alliance. Both of these organizations with their links are available on the Adult Autism Resources Links page on todaysautisticmoment.com.
My guest for this episode today is Michelle Markman, who is a professional who gets the greatest pleasure in helping others to form and nurture social relationships. Michelle is here to share with you, her story of what life was like before her diagnosis, after the diagnosis and how she has discovered her strengths as an Autistic woman.
Please stay tuned after this first commercial break to hear Michelle Markman's story.
Commercial Break I
Segment 2
Welcome back to help me welcome Michelle Markman.
Philip King-Lowe
Michelle Markman, thank you so much for being on this episode of Today's Autistic Moment. It is my truly my pleasure to welcome you here today.
Michelle Markman
It's my pleasure to be here. Thank you so much for having me.
Philip King-Lowe
You're welcome. You're welcome. Well, we are now in Women's History Month. And this is the second year that I've done a focus on women in March. And to emphasize my theme this year about the strengths and achievements of Autistic Adults. It is my, indeed my privilege to invite you to talk about what the title of this podcast is, My Strengths as An Autistic Woman. And we know that there are those who continue to suggest that there are no Autistic women. And I can honestly say, yes, there are actually, the majority of my guests are women. I do have many men, but I will say the majority of them are women or nonbinary. But nonetheless, I, you know, I'm interested to hear what you have to say you have a remarkable story of the things that I've read from your materials. And so, I want to give you this opportunity to, to really introduce yourself to our audience and talk about, you know, your successes, your strengths. So, what important information do you feel Autistic Adults and our caregivers need to know about when we talk about the strengths of autistic women, you may start to talk about your own story here. So go ahead.
Michelle Markman
I think that it's most important to know that there are tools and resources to live more comfortably to have a more enjoyable and creative life as an Autistic person. And I think that for a lot of us, especially late diagnosed women who find out as adults that we have Autism, that we don't know what accommodations are, what's available, what tools are out there, or where to find them. And so, it's important to know that they're, they're out there. And that's part of what I do with my coaching is I help my clients to find those tools. And I found a lot myself. And I just find it really helpful to share those tools.
Philip King-Lowe
Yeah. Yeah, you, according to you, you find your greatest pleasure in helping others to form and nurture social relationships. And that's, that is such a such a challenge for Autistic Adults. Because there's the belief out there that we cannot have them, foster them more or all that. So, tell us a little bit about what you do to help. You know, to help Autistic women, form, and nurture social relationships.
Michelle Markman
Yeah, absolutely. So, I help any late diagnosed neurodivergent individual. And some of the tools that I use are, for example, helping them find or identify what their personal special interests are. For a lot of us, we can lose our passions, our interests, our hobbies. We can just completely lose track of what those things are. Because we're so busy trying to get along with other people pleasing is something that we tend to do especially in the female population of Autistics, and so I like to help my clients really find what they're passionate about. And there's no such thing as an interest or hobby that doesn't have a purpose. And there's no such thing as an interest or hobby that's too immature or not for adult. I mean, you just you have to find what lights you up. And that that is where you can find that joy again. And then I also recommend that my clients use those hobbies to form social relationships. So, if you love hiking or anime, you know, go to a hiking club meet other people who like hiking. If you want anime, go to an anime convention, meet other people who love anime. Because then you can talk to them about your special interest, you can monologue and they're not going to bat an eyelash because you're there to talk about your special interest. So that's just a little tip.
Philip King-Lowe
So, I've looked through the information that you have given me, you have experienced a lot of things as you've gotten diagnosed, and then you're, you know, I see some things here that sound a lot like my own experience. One of my therapists was great at saying when you when you receive a diagnosis of Autism, it rewrites your life history. Because then you understand why you did you did what you did and why you're doing what you do now. Can you tell us a little bit about what that was like for you? From the perspective of an Autistic woman?
Michelle Markman
Yeah, absolutely. So, my childhood was pretty unique. I went to preschool, kindergarten and first grade, after that had the opportunity to be unschooled. And then I thought, oh, High School will be fun, let's go to high school. So, I went to high school and had the experience of being shunned by my entire high school. So that was not at all what I thought it would be. And that was when I sort of started realizing that there was something a little different about me. And so, then I started studying psychology in college, to understand everything to learn more about myself, but Autism never came up. I think a big part of that is because there's so much pre conceived sort of stigma and expectations around Autism, that it's only white males that have Autism. And so, I just never even considered that that could be my challenge. But then once I was diagnosed at 27, it started clicking, you know, I started just reading about it. And I was like, this fits, you know, I felt like an alien my whole life. I felt like, I don't fit in, I felt like there's something fundamentally flawed about me. Why did half of people reject me, you know, and so it just, it really resonated. And so that's why I'm so passionate about what I do because I want to help people, other people who are going through that, who are still figuring out their identity as an Autistic individual, to accept and love themselves, and to reframe their histories through a new light.
Philip King-Lowe
Yeah. Once you found that diagnosis, what happened for you?
Michelle Markman
You know, I actually didn't really believe it for a few years. And once I did come to believe that that was a possibility. I really just started researching it. And then I went through, you know, I think what is pretty typical, I went through a mourning period, I grieved at the loss of my sort of an allistic or neurotypical avatar that I believed I was, you know, I had to let go of that person and accept the Autistic person that I am.
Philip King-Lowe
At that period of grieving the person you thought you were. Yes, that's how I word it. Go ahead.
Michelle Markman
It's very real. And it's very true. You're absolutely right. You know, I had to get past that. And then I had to move from the grief into self-acceptance and from self-acceptance to self-love, and then into cultivating and creating a life of meaning.
Philip King-Lowe
Yeah, yeah. No, I totally understand that. I mean, when I was first diagnosed 12 years ago, I had that point for me, where I realized that the career, I once knew it was done. And I realized why it has to be done. That I could no longer function in that career, because of just how, how things were. So, I had to go through a period of letting that go. And that can really be a can. It can be really challenging and there is a grief process that goes with that. But you're right then there's that part of like, learning to accept and love yourself as Autistic and then to begin to fill in some of the gaps where, where our other Autistics become our friends, our connections, and then we realize that we're not alone and that we can gain resources from other people. Yeah.
Michelle Markman
Absolutely. Can I ask what you used to do?
Philip King-Lowe
I was a church musician. I have a bachelor's degree in church music was an applied concentration in organ. I was very good as an organist. But I, I couldn't really work with the volunteer people that I was assigned to work with, I always found myself in some kind of conflict with them, and not being able to understand why that conflict was occurring. And then I had had my issues with people in management, or mid I call them middle management, that was always a challenge for me. And when I was diagnosed, it was made clear to me that's, you know, that's why it was happening. Because there was, you know, my brain is different from their brain. you know, and that's why we, I think we came up with the name, neurodiversity different brain. You know, yeah.
After this next commercial break, Michelle will talk about the barriers for Autistic women because of the stigmas of the female role in society, the calming techniques she uses to deal with her chronic pain, and the importance of being aware of our own internalized biases that can interfere with self-advocacy. Please stay tuned.
Commercial Break II
Logo Lapel Pin
Buy yourself or an Autistic person you know a beautiful lapel pin with the logo of Today's Autistic Moment on them. The lapel pin is stunning with the dark blue background, the podcast globe, and clear lettering. It is the perfect way to start a conversation about the work Today's Autistic Moment is doing for Autistic Adults. The lapel pin is $10.50 and includes sales tax, shipping, and handling. There are only 48 of them, and they are going fast. To buy your lapel pin go to todaysautisticmoment.com/lapelpin.
Thank you for supporting Today's Autistic Moment.
Segment 3
Philip King-Lowe
Let's move into my second question. As always, we're kind of talking about them already. What are the barriers for Autistic Adults, especially for women who are trying to discover success in their life? You know, talk about a little bit about what you think the barriers are often, but the barriers for Autistic women to finding their strengths to, to finding them and really building upon those strengths. Talk a little bit about what you think those are?
Michelle Markman
Well, I think that some of the barriers are that we as women in American society, and you know, in other societies, I would say also other cultures is we're conditioned and raised from the time we're very small to be wives and mothers. It's in the media, it's, it's, it's in everything, we're, we're a cult, we're sort of trained to be caregivers of others, we're expected to take care of our elderly parents, we're expected to take care of children. So, there's a lot of, I would say, even more kind of compliance training for women than there is for men. So, in that, we can have a tendency to be more codependent, or be more compliant, or lose our sense of self and our sense of who we are and what we love and what has meaning to us. So, you have to take the time to sort of unpack, you know, who are you? And what do you actually like to do? And it's in there, it just sometimes it has to be rediscovered?
Philip King-Lowe
Yeah. Yeah, one year ago, I had Rose Carreiro here to talk about Adult Autistic Women. And she said, pretty much what you said about the expectations upon women about how they'll dress how they'll do various things. And she felt, in fact, when she went to one of her doctors and told that doctor that she's Autistic. I mean, the reply was, you can't possibly be because you're it was as blatant as you're a woman can't possibly be. You know, I'm sure you've gotten a little bit of that, too.
Michelle Markman
Yeah, absolutely. And it's stigma. And that's another one of the big ones. Stigma is a huge barrier. The barrier to employment. To romantic and social relationships, and to functioning in the world in collusion is crucial for Autistic Adults to find meaningful lives and to find purpose within their lives. And so, I think it's really important that we continue to advocate for ourselves and for inclusion for all adults and all Autistic Adults and neurodivergent adults,
Philip King-Lowe
Yeah. Yeah. Yeah. What do you what did you think were some of the barriers for you to discover your strengths?
Michelle Markman
Barriers for me, that's a great question barriers for me to discover my strength. I think a lot of it was just expectations of what I should be and how I should behave. It took me a long time to realize that you know, my special interests are the outdoors, hiking, camping. You know, I went to Africa and climbed Kilimanjaro, the world's tallest freestanding mountain, because that's one of my special interests, like going on adventures. But it doesn't line up with that female gender role that says women aren't adventurers. So, it took some time to rediscover that. That was one of my passions. And then as far as my strength. I've really cultivated an ability to communicate with others, and to form relationships with allistic and Autistics alike. And I think that's probably the top strength that I use in my coaching practice.
Philip King-Lowe
Yeah, yeah. I also see that you are one whose you've been through spinal fractures and chronic pain. I know I fully understand the chronic pain part because that's me, too. You want to talk a little bit about some of that?
Michelle Markman
Sure, yeah. So, when I was in high school that decided to go to high school because I thought it'd be fun. I went to an art High School as a dance major. And during that time, I fractured my spine in three places. So, it's vertebrae L three, four, and five. So, it's the low back. And actually, spinal stress fractures are not that uncommon in young athletes. But for me, it was just life changing. And that doctors told me that I had to stop dancing. And for me dancing is dance. Dancing is an expression of who I am, I have to move if I don't move. I get depressed and anxious. And it took me years to get back in touch with that. And as far as the chronic pain, yeah, I, I, I have that. And it's a very real challenge. And I think for a good percentage, if not, you know, the majority of the Autistic population, we deal with chronic pain, but we're not expected to we're expected to not bring it up or talk about it just forced to, you know, pretend like everything's fine.
Philip King-Lowe
Yeah, yeah, yeah, no, I think you've touched on a good point. You know, my chronic back pain is due to a lumbar disc protrusion. And, you know, I've said this before, but I do use your wheelchair part-time to help me, like, if I've got to go down a hallway, or if I've got to go a longer distance to because I simply can't walk past a certain amount of distance, or I really, I'm really in pain, and I can hardly bend over, let alone move. So that wheelchair helps me to, you know, to not deal with that so much. Yeah, you know, and you know, you know, I do think that there is something to chronic pain for Autistic people, because, you know, we do take on a lot of stress, one thing, and stress is not only just mental, its physical, it affects the physical body. Very much so. Yeah. And so, I think that, um, I think that it's, it's part of who we are. And, and, you know, yeah.
Michelle Markman
Yeah, and it's something that doesn't get talked about as much. I think probably it's very common in our community, especially with the prevalence of things like Ehlers-Danlos and, you know, connective tissue issues that we sort of face and that kind of thing.
Philip King-Lowe
Yeah. And just a reference to you and my, my audience, if you will go back to the second show in 2022. I have. I did one show about chronic pain for Autistic Adults and my guest, there was Erin Brandel Dykhuizen. Um, she is a licensed social worker here in St. Paul, who will work with Autistics who feel pain. She's got a great, a great, you know, information about some ways you can we can work on that pain. But she has been one to, you know, she has heard stories from people who have come to her that they were working with their medical doctor, they tried to explain how much pain they were in. And they didn't believe them, or they just assumed it was because of things they must be able to do that they're just not doing. And yeah, I mean, Erin discovered that you know, she has a great gift for assisting Autistics who experienced pain, but there is a, there is a method to it that is that is different from non-Autistics to Autistics. So, there is something to that. And also, I mentioned this point, too, is that our sensory processing has a lot to do with how we experience pain. I learned this from, from a therapist I worked with once that Autistics can experience hypo sensitive sensitivity to pain by which they're not actually feeling it. And then that pain can become hypersensitive, where it's exceptionally intense. You know, and, and a lot of our sensory stress, you know, makes that intensive, hyper sensitive piece, almost like its working overtime. And that's why it feels so, so great for many of us.
Michelle Markman
Absolutely, it's so important to learn those calming techniques for your parasympathetic nervous system, and to learn how to pull yourself out of fight or flight and, you know, grounding techniques and breathing exercises, you know, there's a lot of tools that I use that can really help you to go from sort of white knuckling it through life, to learning how to breathe and kind of surf and ride the waves of life.
Philip King-Lowe
And sometimes, sometimes, and this was really a challenge for me, too, when I was learning to accept my pain, you know, it's just, you just gotta accept, you will need help to do certain things. Since then, there's just no way around it. There are just simply things you, one cannot do because of that pain. And you have to go through a process of just accepting that. And I And believe me, I know how difficult that is. Let's turn now to advocacy. What steps should Autistic Adults and our supporters take to advocate for the strengths of Autistic women? And feel free to talk about some ways that you advocate for yourself that have been proven to be helpful?
Michelle Markman
Yeah, so I mean, absolutely, the number one would be listen to us. Be open minded. Be aware that we all have implicit biases. So, you know, if you happen to be inclined to have a certain specific bias towards a certain specific group, you may not even be aware of that. But sort of digging in and really understanding yourself and learning to see where you have those biases is important. Because sometimes we'll have biases that we don't even realize we have, will have stigmas that we don't realize we have, but everybody has them. So, it's just really important to be aware of those. And if you're an Autistic Adult, it's important to advocate for your needs to set boundaries, enforce your boundaries, and accept that people are going to be mad sometimes. And that's because you're not, you know, meeting their needs in a way that they want. But you have to be able to set those boundaries for yourself and you have to be able to enforce them. Because you deserve to have the same quality of life as your allistic peers.
Philip King-Lowe
I often find it very interesting that how many times a lot of us will get the unwelcomed lessons about respecting people's boundaries, but yet, a lot of allistic people have no problem, you know, walking past hours and thinking they have the absolute right to do that. Absolutely. That is just so ironic, don't you think?
Michelle Markman
It is. Yeah. It feeds into the classes that we as Autistic people have trouble recognizing, you know, even in American society. There's a class system, right, you know, white people with money are at the top. White men with money are at the top, you know, and it just goes down from there. And so, it's yeah, I mean, it's hard for us to see people I think, at different levels, we're all people. Right?
Philip King-Lowe
Right. Yeah. Yeah. And to this very day there is, there's ableism, and there's sexism, racism, and heterosexism. All that's trying to say that we have to fit into, you know, we want to succeed in life, then we must be like, you know; and that's where I say that um learning to embrace the fact that we are Autistic, celebrate it. And quite frankly, enjoy the fact that we are unique. Live it up as way I feel, you know, yeah. I and don't. Don't, don't allow yourself to be drowned by the expectations allistic people will have. And sometimes part of advocacy, you've got to be, you've got to be your own best advocate. Because if you don't, then nobody else will do it for you.
Michelle Markman
So true. Absolutely.
After this final commercial break, Michelle will talk about her experience climbing Kilimanjaro followed by Today's Autistic Community Bulletin Board. Please stay tuned.
Commercial Break III
Advertisement
Are you Autistic and the owner and/or host for a podcast that is by and for Autistics? If so, I have a very exciting networking opportunity for you. I am cordially inviting you to attend a live virtual initial meeting to talk about the creation of the International Autistic Podcasters Association on Thursday, March 16th, 2023, at 11:00am-12:30pm Central Standard Time. During this meeting we can talk about what we might like an International Autistic Podcasters Association to look like and what we could do. The association members can share with each other what our podcasts are about, what is working well, what might need improvements and promote ourselves and each other to attract more listeners. The meeting will be recorded with a transcript and made available on Today's Autistic Moment's YouTube channel. To read more about the meeting go to todaysautisticmoment.com/apa/. Please share the news and link with any Autistic person you know who owns and/or hosts a podcast for other Autistic people. If you have any questions or concerns, send an email to todaysautisticmoment@gmail.com .
Future Shows
On March 19th, I will be joined by Carole Jean Whittington for the episode Our Successes as Autistic Women. Carole Jean Whittington is the director of Mind Your Autistic Brain. Her company helps with education and supports for late diagnosed Autistics and other Neurodivergents. Carole will share her journey to understanding what success means for her. Carole is an exciting, enthusiastic speaker and will amaze you with her story.
Becca Lory Hector and Doug Blecher will be my guests on Autism Acceptance Day on April 2nd. Becca and Doug will join me for the very important conversation about Self-Care During Autism Acceptance Month. Autism Acceptance Month is supposed to be about Autistics. However, Autism Acceptance Month has become commodified for merchandise and arguments about Autism. Many Autistics dread the month of April because we find ourselves explaining and defending ourselves with neurotypicals who claim to be "Autism experts" but do not give Autistics the chance to use our voices or they ignore us completely. Becca and Doug will give some great advice for Autistics to take care of themselves during what can be the worst month of the year for many.
David Gray-Hammond who was my guest in 2021 for the two shows about Autistic Adults: Substance Abuse, Addiction and Recovery, will return to Today's Autistic Moment on April 16th for The New Normal. David has reworked and added to his essays from his popular Emergent Divergent blog and put them into an anthology he entitled, The New Normal: Autistic Musings on The Threat of a Broken Society. David joins me to talk about his book and what he wants to achieve for Autistics around the world. David is a very eloquent speaker who is always very well thought out with the information he shares.
Go to the Future Shows page on todaysautisticmoment.com to read about other shows coming up.
Thank you for listening to Today's Autistic Moment.
Segment 4
Philip King-Lowe
What are some things that you've done to advocate for yourself that you have found, that's worked, or that you've gotten, you think you've gotten, you've made progress?
Michelle Markman
Some things that I've done, that's a great question to advocate for myself, are to practice advocating for myself. So, whenever I feel like I have a need, I try to voice that need. And I think it comes down to really just continuing to practice advocating. And that starts, you know, with your close relationships. It starts with your family, and it starts with your friends. And there's a ripple effect that goes out. Because as you get better advocating for yourself, you can start to advocate more comfortably with people outside your inner circle. And that's what needs to happen for us as Autistic individuals. We need to be able to advocate for ourselves in public, anywhere that we need it. But that comes down to practicing and to being okay with the anger that comes from setting boundaries.
Philip King-Lowe
Yeah, yeah. And it is very difficult to set your boundaries and keep them and sometimes you do have to be assertive is a term I like to use be assertive with them. And, you know, sometimes being that assertive means if you're not going to listen, then get away from me, you know? Just don't. Yeah, absolutely. Just don't do that. Yeah, part of part of setting our boundaries, is allowing ourselves to use, insist that our relationships be as genuine as possible, genuinely concerned. And if they aren't, we don't have to stress ourselves up, out trying to make them work. You know, we can say no, if we must. And I know that's hard, because a lot of us do feel the isolation and loneliness and everything. But, you know, I've been someone who has said, if the person that you're seeking a relationship with or some kind of understanding, just won't learn about your Autism with you, then that person is probably not the best contact for you.
Michelle Markman
It's so true. And sometimes, you know, when we lose relationships, I talk about the revolving door of friendship, that Autistics face. And, you know, I think it's really important to reframe that as even though a lot of people come in and go out of our lives. You know, the people that leave our lives aren't serving us anyway and won't be serving us in the future. So, you know, be as authentically you as you can, so that they leave sooner.
Philip King-Lowe
Yeah, I love that word, authentically yourself. And which leads me you know, how have you found it to be more authentically yourself? And maybe, can you talk about how you use it to advocate?
Michelle Markman
Um, how have I found to be more authentically myself? I've used a lot of different tools to discover really rediscover who I am inside and get back in touch with my inner child. And that's something that I help my clients do as well. And a big part of that, for me has been movement. I'm a kinesthetic person. So, I do a lot of yoga and walking and hiking and spending time outdoors. So, I think it's really diving into those special interests that you have. Because when you can get into your special interests and get into that flow state, where you feel like, you lose track of time and space, and you're just in the moment, and an hour has gone by, and it feels like it's been 15 minutes. And I think by practicing flow state, and by practicing being present with what makes you really happy, and what makes you feel fulfilled, that's how you can really get back in touch with who you are.
Philip King-Lowe
Oh, yeah, that's a great answer.
Philip King-Lowe
I like to throw this question in every now and then, um, you know, what would you say? Right? What might you say to an Autistic woman who is feeling defeated right about now? We know that there are those moments when we feel so defeated, you know, because of how someone who has addressed us and you know, I try, I want to, I want to focus on women, again, because of the stereotypes and the stigmas that often come out. You know, let's say that there is one of my listeners, who's an Autistic woman who's feeling defeated. What might be some of your advice to her?
Michelle Markman
I would just say that you're not alone. You are enough. And you are here. And you exist because you're meant to be. Yeah. And it's so important for us as Autistic women to breathe through these emotional avalanches that can happen to us and that do happen to us. And that's something that's not really talked about very much is the mood swings that come with just Autism itself, and the, you know, emotional roller coaster that it is to be a marginalized person. And doubly marginalized if you're a woman because that's a minority also. But there is light at the end of the tunnel, there is a way to get back in touch with your meaning who you are, what your purpose is, why you're here on the planet. And it doesn't even have to be something big. It can be something really small. But we're all here for a reason. And you belong here. Right.
Philip King-Lowe
Excellent. I'm so glad you said all that. Yeah, it can, you know, that's given me a good idea. Maybe I should do one about mood swinging. Um, yeah, I think it's important for Autistic women to find that. And I just want to kind of reiterate what Rose Correiro said last year, there are on social media networks, there are Autistic women who are finding community with each other so that they can gain some of that strength and support from each other.
Michelle Markman
Yeah absolutely. I have a Facebook group.
Philip King-Lowe
Oh, you do. Tell us about that.
Michelle Markman
Yeah. So, my Facebook group is Neurodivergent Relationship and Support Forum. And anyone who is neurodivergent can join. And we welcome everyone to join our community.
Philip King-Lowe
Yeah, yeah. Yeah, that's great. So um, yeah. Well, Michelle, I want to thank you so much for coming on today. I think you've given us some great, great advice and understanding. And you know, I think to wrap up this, I'm going to ask you to talk a little bit about what you've experienced about climbing Kilimanjaro. I mean, especially since all the physical things you've been through. Yeah, what that must have been like for you. Go ahead, give us some absolutely. Yeah.
Michelle Markman
So, I was going through a period in my life when I was thinking that it had been a while since I've done anything you know, really challenging and scary. I was about to get married. And I thought, well, I need one last hurrah. So, what can it be? So, I found this Kilimanjaro trip and all it was an all-women's trip with world travel, which is Women High on Adventure, little plug for them. And I flew to Africa and met my comrades in the airport in the Middle East. And then we flew together all the way to Africa. And spent five days hiking up Kilimanjaro and I did deal with a lot of pain, I worked in knee braces, I took a lot of Advil and Tylenol. But it's very much a mind game. And that is a very long hike. So, I think it's really accessible to most people who are able to hike, and I would recommend it to anyone that wants to do it. But that was, it was really a life changing experience, you know, I had to get up there and face my demons and just realize that, you know, there's a possibility that I could die on this mountain. And I'm gonna say okay to that, because there's a certain percentage of people that die every year on climbing Kilimanjaro. But I told myself, I wanted to climb this mountain, and I was going to do it. And getting to the summit was just a sort of a spiritual moment. I mean, I just felt so light and so free up there. And then the real summit, though, of any mountain like that, the real accomplishment is getting down the mountain, because that's the most dangerous part. Yeah. And that's something that we forget in life and in mountaineering and hiking. It's not just going up the mountain that's coming back down the other side.
Philip King-Lowe
Yeah, yeah. Yeah, I think that's a great thing to think about. Well, Michelle, thank you so much for sharing that story. I think it's extremely powerful. And I know that my audience will listen to that with great interest and find some inspiration if I can use that word. I know what it means to a lot of us, but I think there is something inspiring about that. Well, once again, Michelle, thank you for being on today. And if people want to learn more about you, can you share your website with us?
Michelle Markman
Yeah, absolutely. Thank you so much for having me on. It's been such a pleasure. My website is michellemarkman.com. That's michellemarkman.com. And you can join, you can come to the website, sign up for a free 30-minute transformation call. And we will give you more clarity than you had before you came onto the call. And again, thank you so much for having me on as a guest.
Philip King-Lowe
Welcome. Yeah. And I will make sure that gets added to my Adult Autism Resources Links page so that people can find it and come your way. All right, Michelle, thank you again, and I will be in touch with you to have you on again sometime.
Michelle Markman
Awesome. Thanks so much, Philip. It's been a pleasure.
Transcribed by https://otter.ai
Today's Autistic Community Bulletins Board
All of these events with their links can be found on todaysautisticmoment.com/bulletinboard
Join The Autism Society of Minnesota for their Adult Coffee Club. The Adult Coffee Club is a place where Autistic and Neurodiverse adults can connect with each other, foster friendships, and build community while enjoying a favorite beverage and/or snack. You are welcome to bring items that make you feel comfortable, can stay as long as they like, stim and parallel play. Participants are asked to purchase something from our venues. The next Coffee Clubs will be on Tuesday nights from 5pm to 7pm at Dogwood Coffee in St. Paul on March 7th, March 21st, April 4th, April 18th, May 2nd, and May 16th. Coffee Clubs will also be available at the Milkweed Café in Minneapolis on Monday March 13th, April 10th, and May 8th from 5 to 7 pm. Please RSVP at ausm.org.
Understanding Autism virtual classes will be offered by The Autism Society of Minnesota. These classes are perfect for Autistic individuals, caregivers, those who want to understand the basics of Autism and support Autistic people. Classes will be held on March 20th from 2pm to 4pm. April 17th from 6-8pm. May 15th from 10am to 12 noon. Classes are free of charge, but you must register to attend.
On March 28th, Sarah Lahti will be presenting a virtual skillshop at The Autism Society of Minnesota entitled: Setting and Keeping Boundaries. Boundaries. We have heard of them, but what does it mean to have boundaries? This workshop will cover tips and tricks for creating and keeping solid boundaries, how to respond to a boundary violation, and the role emotions play in boundary-settings.
Online registration is now available to attend the 28th Annual Minnesota Autism Conference that will be held at the Marriott Minneapolis Airport Hotel, April 26-28th. You can register for the full conference that includes the Foundational Workshops and the virtual content together, or the Foundational Workshops only or the Virtual Content Only. Go to ausm.org and click on the menu option Events to register.
Go to ausm.org for more information about these and other events at The Autism Society of Minnesota.
Matthew the #ActuallyAutistic Coach has room in his Finding Your Autistic Self Group Coaching Groups. In the groups, participants learn about unmasking strategies, coping tools, burnout & post-burnout support and much more. Go to autisticcoach.com and click on Autism Groups for more information.
Today's Autistic Moment is sponsored in part by Looking Forward Life Coaching. Looking Forward turns stumbling blocks into stepping stones towards success. Go to lookingforwardlc.org for more information.
There is room available on the episodes of Today's Autistic Moment for your company or organization that works with Autistic Adults to sponsor ads on the podcast.
If you would like to sponsor an ad or have questions about Today's Autistic Moment, please send an email to todaysautisticmoment@gmail.com.
Thank you for listening to Today's Autistic Moment: A Podcast for Autistic Adults by An Autistic Adult.
May you have an Autistically Amazing day.