Go to todaysautisticmoment.com for the transcript. According to researchers, Autistics are at a 4-9 to 22.9% higher risk of developing an eating disorder. Sensitivity to food textures, digestive issues, and interoception play a significant role that impacts Autistic Adults experiencing eating disorders. Tas Kronby joins me to talk about what eating disorders can affect Autistics, the challenges with finding doctors who understand the dual diagnosis of Autism and an eating disorder, and what we can do to help others understand how eating impacts the lives of Autistics. --- Support this podcast: https://anchor.fm/2daysautistic/support
Click or tap on the downward arrow in the pink box below the logo to follow the transcript. See the image below.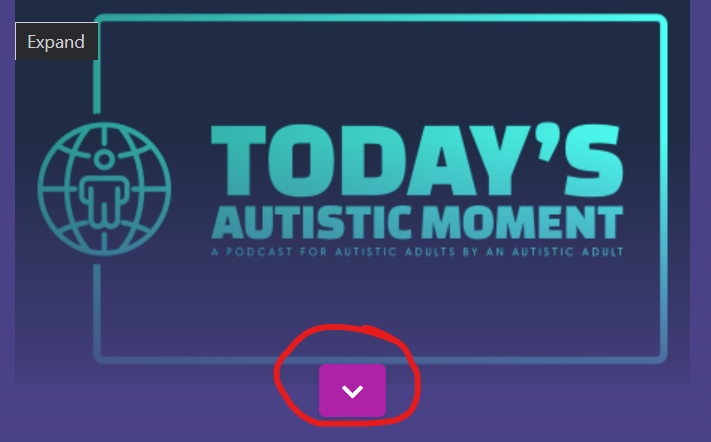 Eating Disorders for Autistic Adults
February 7th, 2022
[You will notice that some words have a strike through font. These are to reflect the new website created in September 2022]
Welcome everyone to Today's Autistic Moment: A Podcast for Autistic Adults by An Autistic Adult. My name is Philip King-Lowe. I am the owner, producer, and host, and I am an Autistic Adult. Thank you so very much for listening.
Today's Autistic Moment is a member of the National Podcast Association.
Today's Autistic Moment is always a free to listen to podcast that gives Autistic Adults access to important information, helps us learn about our barriers to discover the strengths and tools we already have to use for the work of self-advocacy.
This first segment of Today's Autistic Moment is sponsored by The Autism Society of Minnesota: Minnesota's First Autism Resource. For over 50 years, The Autism Society of Minnesota has been honored to support Minnesota's Autism Community. Visit them online at ausm.org.
Please go to the New Podcast Episodes Page of todaysautisticmoment.com where you will find the lineup for the new shows, with the description of each show from now through the end of May. When I publish new shows, you can click on the title and guest of each show to listen to the episodes. You will also find the Program Script that includes all of the hyperlinks I mention on each show and the Interview the Transcripts links will be available to download. Interview Transcripts for 2022 are sponsored by Minnesota Independence College & Community. If you wish to listen to all of the previous episodes including the 24 shows for 2021, go to the Episode Index Page.go to todaysautisticmoment.com and scroll to find the show you want to listen to
Also, be sure to follow Today's Autistic Moment on Facebook, Twitter, Instagram, LinkedIn, and Tik Tok. Please join Today's Autistic Moment Community Group page on Facebook, where you can talk with me and other listeners.
Free tickets are now available for Autistic Voices Round Table Discussions on February 23rd at 2:00pm central standard time. Four Autistic individuals will be joining me to talk about the #StopTheShock movement. The Stop the Shock movement began as a response to Federal judges in a 2-1 decision over turned the F.D.A.'s ban to end the use of shock devices in July of 2021. What that ruling means is that using shock devices to treat Autistics and others with various mental disorders is legal in the U.S. Our virtual live special event will bring Autistics together to talk about why this practice is lethal to the dignity of the patients that are shocked into behaving more like neurotypical people. Free RSVP tickets are available by going to todaysautisticmoment.com/autisticvoices/. This Autistic Voices Round Table Discussion is sponsored by Looking Forward Life Coaching. This event will be live streamed on the page for Today's Autistic Moment on Facebook.
Food and eating is one of those things that nourishes our bodies as well as our relationships with our families, friends, cultures, religions, and a sense of personal enjoyment. Each individual has their unique tastes for various kinds of food. The issue of food is also connected to issues such as food allergies, digestive issues, and can affect our overall health. Autistic individuals also have a unique relationship with food. Sensory processing disorders make certain foods and food textures very uncomfortable. In addition, there are Autistic Adults who cannot digest certain kinds of food. Some Autistics will eat the same foods every day as part of their regular routine. Some Autistics might have a physical reaction to the smell of certain foods as soon as they are aware of them. One of the worst problems many Autistics encounter, is when someone tries to force us to eat certain foods with textures that make us physically ill.
According to researchers Autistics are 4.9-22.9% higher risk of developing an eating disorder. Tas Kronby from tasthoughts.com is joining me today to talk about Eating Disorders for Autistic Adults.
After this first commercial break join Tas and I as we talk about what an eating disorder is, and what eating disorders can affect Autistic Adults. Please stay tuned.
Commercial Break I
Philip King-Lowe
Tas Kronby, welcome back to Today's Autistic Moment. It's so great to have you back.
Tas Kronby
Great to be here. Thank you for having us again.
Philip King-Lowe
You're welcome. You're welcome. I'm so we're so happy to have you. Well, we're going to talk today about an issue that doesn't exactly get talked about as much as it should. Eating disorders are an issue for Autistic Adults, probably more so than people understand. And so we're going to talk about that at length today. So let's begin with my first question. What important information do Autistic Adults and our caregivers need to know about in terms of eating disorders for Autistics?
Tas Kronby
Now that's a great question. I think the biggest thing, it's important to remember that there are different types of eating disorders. A lot of people only know of anorexia or maybe bulimia. However, that is not the only two types of eating disorders that exist. And especially for people that are Autistic, eating, disordered eating can look different for everyone, because there's a lot more factors when it comes to sensory things when it comes to food that can really contribute to disordered eating.
Philip King-Lowe
Yeah. Yeah. The sensory processing has a lot to do with eating disorders due to both to food textures, interoception, as well as just the ability to digest foods. But let's talk a little bit more about what makes an eating disorder an eating disorder?
Tas Kronby
So disordered eating can look many different ways. So let's take for example, let's say on a typical day, you wake up and you eat breakfast, then maybe around noon, you eat lunch, then you eat dinner, you're drinking water throughout the day, that would be what people would consider like a normal routine for eating. When you start to stray from that type of normal eating, it can look like so personally, I'll use ourselves as example, we do have eating disorders. So when you are not eating or not eating enough, particularly, maybe you are thinking "I need to go on a diet." Maybe you have an obsession with food and calorie counting, maybe you have a list of foods that you just cannot eat. And if they're not available, you just don't eat, those would be considered disordered eating. And there's different types of extremes, of course, to both sides. So one of the things binge eating. So if you go all day, and you haven't eaten, and then at 6pm, you're downing two steaks, mashed potatoes, and a pie that is disordered eating. If you are as an Autistic person growing up, leaning onto the sensory side of things. Let's say that you can't eat certain textures. So maybe like applesauce, smooth textures, maybe marshmallows, meat, maybe meat bothers you and you cannot eat it, and you just refuse to eat that can start a habit. That becomes your normal. And as soon as that habit is there, that's when it goes into the territory that can be dangerous of having an eating disorder.
Philip King-Lowe
Yeah, um, I would also add that I have I, myself am a diabetic. And though diabetes is not really considered an eating disorder, um, I have read enough statistics that say that, um, due to the fact that our diets can be a little bit more limited. That developing diabetes is a high probability among Autistics, actually. But you know, we can we can include that. But let's, let's talk a little bit more about eating disorders. Um, we've already talked about sensory processing, let's talk a little bit about how that can really contribute to an eating disorder.
Tas Kronby
So a lot of times people chalk that up to you have a kid that's a picky eater. And there can be a lot of misunderstanding around that. Because really, if your kid is not eating a certain type of food, there's a reason. So you have to explore why your child refusing to eat certain things. And a lot of times they can go back to sensory, it was sensory processing disorder. For us personally, it can be painful, certain types of things if I can't eat it, because if I put it in my mouth, it hurts. It just is painful. In certain textures, if I touch them, it's painful. And it goes the same with food. And so a lot of times, there will be that refusal to eat dinner or lunch, or whatever you're serving. And there, if you don't explore the reason, then as a child grows, it becomes more and more an issue with the disordered eating side of it. And also, one of the biggest issues that we've personally seen is when parents want to force the child to eat it anyway.
Philip King-Lowe
Yes, yes.
Tas Kronby
So when you have a child that's refusing to eat something, instead of looking at it as maybe there's something going on with the food, and there's a reason, it becomes this idea that the child's being defiant, or disobedient and isn't listening. And then you force it on that child, you're gonna sit there until you eat it, or you don't get to move from this spot until you eat five bites of this food. And that adds on a layer of food trauma, which then just precipitates as the child grows more issues surrounding food.
Philip King-Lowe
Yeah. So um what other kinds of eating disorders might Autistic Adults experience? You know, um, you know, anorexia, leads to a lot of weight loss that can be literally life threatening. Um, and, and then bulimia can be really difficult. But let's talk about a few more eating disorders here before we move on to barriers.
Tas Kronby
Yeah, so actually, thank you for bringing that up. Because looking at some data from the NHS, and what they had uncovered about Autistic people, and eating disorders, and actually, anorexia is one of the least common for non autistic people. But it's very common for Autistic people to have anorexia. And some of that goes along the lines that they had mentioned in this article is not being able to feel that you're hungry. So that's another piece of it is with again, that falls in line with the sensory side, it's not just like what you're touching, you're eating, you might not feel hungry, it might
Philip King-Lowe
And that's, that's interception, right there. That's, that's interoception sensory processing that you can't feel like you're hungry. Go ahead.
Tas Kronby
Yeah, exactly, exactly. Um also having strict routines around food, maybe having like a hyper fixation on specific types of food, that can also be a piece of it, that can lead to the disordered eating. And one of the things with overeating that can happen is dealing with your anxiety levels. when food becomes your coping mechanism to manage your panic and your anxiety. It's very hard when you're Autistic to break that habit. And that is when it can be very dangerous, because you're going to be binge eating constantly. And that can lead to a lot of different health problems.
Philip King-Lowe
Right, right. And then there's also the eating disorder that comes from interoception when it's not being communicated to the brain that we're actually full.
Tas Kronby
Exactly. Yeah. Yeah. And that's that can be very harmful to your digestive system and your stomach and perforations and it can be very, very life threatening. honestly with that as well, yeah.
Commercial Break II
Support Today's Autistic Moment
Eleven years ago, I was diagnosed with Autism. I was 43 years old. The only resources I knew were my therapist and my husband. I felt lost and lonely with no community to reach out to. I couldn't find other websites for information. I had no idea where to turn. I don't want other Autistic Adults to feel like they cannot connect to the wider Autistic Community as I did. I started Today's Autistic Moment because I want Autistic Adults to have access to important information to learn about our barriers and discover the strengths and tools, we already have to do the work for self-advocacy. Go to todaysautisticmoment.com for more information and click on the blue button to be taken to my Patreon page to help support and keep this podcast going.
Also, remember to encourage other Autistics and those who support us to become listeners.
Thank you for listening to and supporting Today's Autistic Moment.
Philip King-Lowe
What are the barriers for Autistic Adults of all ages when we speak of eating disorders? And one particular question I have related to that is how difficult it can be to get treatment. When there are dual diagnoses here, it can we know how difficult it can be just to find physicians, psychologist, psychiatrist who understand Autism, but also understanding the role of eating disorders and being Autistic.
Tas Kronby
Exactly. So that is really so you know, the barriers to health care is a big huge issue. It's huge. And for example, where we live, once you turn 18, you don't get help. And that includes with things like this. If you have been diagnosed Autistic, you're automatically put into the mental health system, despite that not being a mental health diagnosis. And they want to treat each piece of what you're having issues with, but they don't look at how those comorbidities are going to impact it. So if you have an eating disorder, they treat it how they would a neurotypical person. They don't look at the Autistic traits that can be factors. And be making that worse. Also to inpatient treatment for things like eating disorders are not always accessible for people that are Autistic. Because they're not prepared to handle those other symptoms that come with it. And you're taken from your home and you're thrown into an inpatient facility. That's enough shock as it is, and then they expect you to be able to work on your eating disorder and your therapy. But you are just trying to manage being removed from your routine environment. In that they're not they don't adapt. And a lot of it is a lack of knowledge about Autism. Honestly, I can't even count how many times I've spoken to a physician, that when we say we're Autistic, they're like, but, you're so high functioning.
Philip King-Lowe
Exactly, yeah.
Tas Kronby
It surprises them. They're like, Oh my gosh, that happened recently, we needed to see a physician and it was someone we hadn't seen before for some of our issues. And the first thing that this doctor said, we're like, we're Autistic, so that has like a contributing factor to our physical health, talking about like our eating and things. And the first thing she said was, "Oh, my gosh, you're so high functioning, you're talking to me right now." And, and so that lack of understanding of what it means to actually be Autistic, puts a barrier, because then for the rest of the appointment, that's all it kept switching back to is "tell me more about how you're Autistic?" "Tell me more. Oh, we can talk about that later. Tell me more." And then we don't have to help you need.
Philip King-Lowe
Exactly, yeah. And that ties back into what Dr. Scott Frasard and I spoke of, in the premier about the medical model is something we have this attachment to, to it. Once we say we're Autistic, there's this medical data that we're supposed to fit into this criteria was supposed to be able to fit in. And as you're saying, that medical model can really interfere with what kinds of medical attention we receive, because of certain social perceptions of Autistic people. And this is a perfect example of what we were talking about in that premiere episode. You know, and as Dr. Scott Frasard said, you know, we don't get a say in what that medical model looks like. It's almost predetermined by what everybody thinks it means. You know.
Tas Kronby
Yeah, exactly. And, you know, specifically when it comes to having an eating disorder, and also having different physical health problems that sometimes come along with being Autistic. And it's very difficult to communicate to a physician. "This is why I'm struggling with eating." Because they don't understand that it isn't just about social media and you see skinny people online or it's not just about the stereotypical ideas of what starts an eating disorder that can contribute to it, of course, but that's not the core reason, especially when you're Autistic, that it happens.
Philip King-Lowe
Yeah, yeah. Um not related to eating disorders, but to my own my own issues like my chronic pain and everything. I have had conversations with doctors about my, my particular medical needs, and I am a very good advocate for myself, and my Autistic needs and that sort of thing. And I'm amazed that I can spend the majority of that medical appointment, educating my doctor about my own Autism. You know, when when really it is not my place to be doing that that's something the doctor is supposed to be able to have some knowledge of. But unfortunately, we can't exactly expect that, sadly,
Tas Kronby
Exactly. Well, you know, that's a really good point. Because another another barrier that comes with that, too, is, when they don't understand what it is to be Autistic, they also don't understand Autistic trauma. And so it all loops together. And then when, like you said, when you're having to sit there and educate your own physician, it limits the amount of care you get, and the help that you need. Yeah. And yeah, and that's definitely a huge contributor to health issues when you're Autistic.
Philip King-Lowe
Right, exactly. And, and it it, it contributes to things like things being misdiagnosed or are something, diagnosing something that really isn't there when it's really, you know, the bigger issue. And we know that an eating disorder may, there's a medical consequence to it. But there is also the fact that we have to treat the the medical need here to help the Autistic individual to live a higher quality of life, you know? Exactly. Yeah. Yeah. Well, this really makes quite the interesting stage for our third question about advocacy. What steps do Autistic Adults and our caregivers need to take to advocate for our needs? And, you know, when I talked about self advocacy, we could sit here all day, for several hours talking about self advocacy, because there's so much to do. But let's let's, let's give some, some ideas, to our listeners about this matter shall we.
Tas Kronby
Definitely, you know, the first thing that we really wanted to emphasize with this coming from a place of having experienced this ourselves, and knowing now, in the future, how that contributed to a lot of our disordered eating, is when you have children that are Autistic, and there are issues with them eating food, it's not defiance, it's not disobedience. And it's really important, instead of trying to, in and I, you can't see me right in quotes, correct the behavior. It's not about that it's about exploring with your child, the best you can to understand the reason and then adapt in for them. Because it's very traumatic as an Autistic child to not be able to communicate why you're not eating it. But you can't actually say the why you can't get to the part where you can explain it to your parent of this is why I can't and so it really falls upon the parent to be patient, and kind. And I think the one thing that we always advocate against is the trapping method of you're not moving from this spot until you eat. That is 100% not necessary. And it's just going to lead to more issues as the child grows.
Philip King-Lowe
Right. Um Yeah, well, in addition to the trap, this is where it is so very important for us, as Autistic individuals to learn as much as we can about our own Autism. There is no substitute really for self knowledge here. And then to become a really great the expert about how do you how do you communicate it. You know, and maybe give us some, some. Give us some some examples about how you have communicated about your Autism. Maybe that can help some others to learn how to communicate about theirs, especially when we're talking about an eating disorder.
Tas Kronby
Yeah, great question. So the biggest thing, that is how so we also are nonverbal. So we go, we have times where we can speak with the selective mutism and those things, and it can be very stressful and it's brought on by anxiety. So the biggest suggestion that we would have if you're talking to a therapist or a medical physician, and write it down. We have scripts that we have written that explain it. And we take the time when we're feeling okay, we write it out, because we know when that appointment day comes, it's not going to be communicated right because of the anxiety. So writing that script, to say, here is every single thing, I need to tell this doctor, and you can read it, or you can even send it to your doctor's office in advance, so that your physician already has it in the nurse has looked it over. And in that makes it a lot smoother to get the care you need, when they already are able to know what you need, if you can't verbally say it in that moment. Right. Yeah. Another thing as well, that is helpful is having a person you trust, that is aware of what's going on, in that can accompany you on these appointments, or whatever the situation may be where you need to explain it, so that they can even just be there as that moral support, and sometimes jump in and help explain, because it's very easy in those high stress situations, especially when you're not sure if you'll get the care that you need. It just adds so much anxiety, your words don't always come out right when you're trying your best. And so having that person that you trust that knows the situation is also very valuable to be able to have them there.
Philip King-Lowe
Yes, I totally agree. Um, one suggestion is to make a list of some kind of these are 10 things perhaps, that I would like my doctor to know about me, especially if you're going to a doctor, you have not been to before, sit and write out a list. And you can even take that list with you, and hand it to reception and say, Please scan this into my record, so that they'll always have that in front of them if if necessary. Some health care providers that now use online resources, for example, my own has, has, has a space where someone a patient can actually type in these are things I want my doctors to know about. And then not only is it available to my, my personal care physician, but it's actually available to anybody within that network that they can actually find that read it and get it get get it in front of them. So taking time to do some things like that. Could you know there's no absolutes, unfortunately, but it could actually be helpful when you go to your appointments.
Tas Kronby
Exactly. And that also with accommodations, a new doctor always ask in advance what account like how to ask for accommodations. Because if you need certain types of lighting in the room, you can actually request those and a lot of people don't know they can do this. But you can request different accommodations for the room you'll be in for how you're going to meet with the doctor. If it's over Zoom, you can request certain things from the nurse and advance and also to for us, we know ASL American Sign Language. And that is our alternate communication mode if we're nonverbal, and a lot of people don't know this, but you can request an ASL interpreter as an accommodation, if you know that you are going to need to communicate that way during your appointment. Because chances are that you will be nonverbal when you're going. You can in advance asked for an ASL interpreter and they will provide that for you.
Philip King-Lowe
Yeah, that's great advice. That's great advice. The other thing that you could include, especially if you're gonna write some things out, is if you are aware of the things that you need to you may need to do if you are feeling overloaded or stressed out, you can in that directive type in you know, "if I'm feeling overstressed, please move me to a space where where there's people who are not there. Give me a chance to calm down or fidget or anything like that, so that I can kind of regain, you know, become regulated better." You can say things like that. We can't guarantee that that means that everybody's going to understand what you wrote. But it's a good way to at least prepare people for possibilities. And if they have questions and they have some idea what you're what you're looking for. You know. You know, I think one of the things that we need to do here to help some people advocate I get I get emails from people who are in areas where the resources for them regarding being Autistic or not, are not as good as they should be. Can we possibly give them some tips that might be helpful to them? You know, we're talking about eating disorders here too. And we've already spoken of, you know, please don't force them to eat. But also the things is that when it comes to eating disorders, especially when we're talking about sensory processing, this is also about helping to reduce trauma. Because regardless of what some may think sensory overload is itself a traumatic experience. Even if it's a really, it's of pure as a small experience to you. It's actually a big traumatic experience for the Autistic. So I think we might want to talk a little bit about that, too.
Tas Kronby
Yeah, definitely, you know that. It is very traumatic, when you are having sensory overload and having that, that feeling, one of the ways that we've described that to people, is when you go into sensory overload, it is like getting punched in the face 12 million times, and there's nothing you can do to stop it. It is, in some cases, it's physically painful to go through that sensory overload, especially when it is due to traumatic experiences. And so having a lot of patience and respect for the person experiencing that is important. Well, no matter child to adult, because it is very harmful. One of the things when it comes to Autistic trauma, is you experience it, from the neurotypical world, because there's not that understanding of what it is to be Autistic. And to them, it looks like you're doing something weird, or it's wrong. So people are very quick to try to suppress, like you mentioned, being able to stim, go in and fidgety. And if you're overloaded, that is a way that Autistic people, calm your sensory down. Stimming is one of the most beneficial things to managing, especially personally to manage in our sensory throughout the day, we have to stim and it is a huge part of it. And so not suppressing those natural coping mechanisms that Autistic people have innately in order to, to get through difficult situations, including food. One of the things that we have personally experienced having a break with food. So what we mean is, if we sit down and it's time for dinner, and we're having sensory issues, and we're not going to be able to actually eat the food, at that moment, it's okay to wait. Wrap it up, put it in the fridge, come back to it like an hour later, come back to it in a couple hours. It's not so much about the time you eat, it's just making sure that you're nourishing your body. And sometimes you have to not always eat at that very moment. Sometimes you have to take a break and pause. And it can be very helpful to calm your sensory down before adding in more sensory stimuli of eating.
Philip King-Lowe
Right. Yeah. And with regards to, to sensory processing with eating, you know, the more common thing that we hear more than not is that an Autistic person will eat the same foods over and over and over again, especially if there for some of us, the food we eat is actually part of our sensory maintenance. It actually helps us because if if we've been having a day when our sensory processing has really been challenged that day, eating something that is comforting is one of the ways we actually help stim a little bit. You know, eating is a form of stimming for some of us, you know, but you know, and that's where sometimes eating disorders may get miss perceived in some cases. But, you know, let's talk about let's talk about advocating especially like, when we are eating the same things all the time. I mean, the most common one I get from parents. I've heard from parents with Autistic children is that my son or daughter only eats chicken nuggets with fries all the time. You know, I hear that more times than I can possibly mention. But yeah, there are some there are some Autistics that that's all they can handle. And you know, they're not doing anything particularly wrong. It's just that tell their diet is, you know, and so that can be so, so, so, so difficult. But you know, also as part of eating disorders, what can Autistic Adults, let's speak about adults, adults here. What can we do to advocate for ourselves when we are experiencing an eating disorder? You know what let's, let's talk a bit a little bit about that. And if I have to go back to a question, just ask.
Tas Kronby
You know, the biggest part is really, it starts with you. Having that self reflection and really thinking about, Do I have an issue with food that is impacting my life in a negative way? That's the biggest thing. It's, is it impacting you in a negative way? Because, like you said, there might eating the same thing every day. And you maybe you take supplements and vitamins, so you're still getting the nutrients you need. That doesn't necessarily mean that you're having an issue with food. It's, you have to really step back and think, is it impacting my life in a negative way? Am I getting physically sick? Because I'm not eating enough? Am I finding that I'm struggling to get food at the grocery store? Do I just never fill my fridge? Do I run out of food? Looking at your routine and your life? And seeing if there is an issue around that? And once you identify, Okay, yes, I definitely feel like I have an issue with food. If you have either a trusted person, or if you do receive counseling, it's always good to speak about it with your therapist, because they're actually, mental health professionals are the first gateway to actually getting treatment for eating disorders. And they are the starting point. And then we'll be able to provide you with the connections to different resources, dietitians, nutritionists, that's where that'll start to get the help started for you. Yeah. And another thing too, I wanted to mention when you'd mentioned resources, and this kind of ties in with that, as an adult, since there is a lack of services for you, once you're 18. Going to your local Independence Center, Independent Living Center, those places are, are nationwide. And the IRLU, actually has a map that identifies every single center for independent living in the state. They will actually have resources for you to connect you with things in the community, you might not know, sometimes, they will actually have food courses where they can actually help you with cooking, they can help you find alternatives to different things. Specifically, when you had mentioned diabetes, a lot of the Centers for Independent Living will actually have courses that are free to people to take to learn how to actually make food that's okay for their diabetes. So there's a lot of resources that those can point you to or have available. So we always do recommend people connect with them, because that is also a good start. Where if you feel like you don't necessarily have an eating disorder, but you are struggling with different types of daily life around food, that can also be a good place to get support.
Commercial Break III
Future Shows
I am very excited to announce that Joelle Marie Nourse will be my guest on February 21st to talk about Trauma: An Unavoidable Consequence. During the last two episodes you have heard me, and my guests talk a lot about trauma. Social stigmas. Sensory processing disorder(s). Abusive relationships. Rejection. Unemployment. Ableism. All of these and many more that can be mentioned means that trauma is an unavoidable consequence for Autistic Adults. Post-Traumatic Stress Disorder (PTSD) is the most common form of trauma. Joelle is an Autistic who was diagnosed in her late teens. Joelle has training in counseling psychology, developmental psychology, and has worked as a research interim on long term multigenerational trauma studies. I hope you will join Joelle and I for this insightful conversation.
On March 7th, Rosemarie Carreiro will be my guest to talk about Adult Autistic Women. There are those who still believe women cannot be Autistic. It is myths such as this that makes it difficult for women to get an accurate evaluation and diagnosis of Autism. Rose will join me to talk about how social expectations play a huge role in how female and male Autistics are seen and treated or mistreated. Female Autistics deal with dismissal or punishment for "over-reacting."
On March 21st, Michele Newman will join me to talk about Autistic Post-Menopausal women. Michele was diagnosed as Autistic at the age of 54. This was after 35 years of psychiatric misdiagnosis and medications and a lifetime of difficulties. Among the many challenges for Michele and other post-menopausal women is health care, communication about personal care needs and finding other services is even more scarce than for Autistic Adults between the ages of 20-45. Michele's story is a powerful story of faith, perseverance, and determination.
Thank you for listening to Today's Autistic Moment.
Philip King-Lowe
Do we have any online resources to mention here that could be helpful to some Autistic people?
Tas Kronby
Definitely. So the it's actually the American site. So I can't say the word Psychiatric Association. On their website, they have a specific section that is dedicated to understand eating disorders. And then they also have links to resources. And you can actually find more information through that website that can direct you towards the different types of eating disorder, recovery centers, that would be in your area. And each state usually does have this but the Eating Disorder Recovery Organization is nationwide and they also have online resources. Including one of the things that's really great on the website is they actually do have quizzes to where you can take them and it will let you know like maybe you do have it something and I can just help you with that self reflection to see if you actually need to persue things further for yourself.
Philip King-Lowe
Yeah, yeah. Yeah. Yeah. And I will once again make these available on the Adult Autism Resources Links Page on todaysautisticmoment.com so that you can find these. Tas when you're on my program, you do provide so much very helpful information. So thank you for coming on today, and I look forward to our conversation next time.
Tas Kronby
Definitely. Thank you for having us.
Philip King-Lowe
You're welcome.
Transcribed by https://otter.ai
Today's Autistic Community Bulletin Board
You can now find the links for all events announced in
Today's Autistic Community Bulletin Board by going to todaysautisticmoment.com/bulletinboard/
The Ordinary Marathon Foundation invites Autistics from the ages 15 to 24 to participate in Actually Autistic Athletes. The program will include one set of shoes, shorts, socks, shirt, one pair of running shoes, a running ban, and one-on-one coaching from a Certified Athletic Coach for up to six months. Go to todaysautisticmoment.com/bulletinboard/ and click on Actually Autistic Athletes for more information and to apply anytime, but especially February to Mid-April.
Disability Advocacy Day 2022 will be on Tuesday, February 22nd from 10 am to 1:30pm at the Minnesota State Capitol. This event will be virtual and in person. Go to todaysautisticmoment.com/bulletinboard/ and click on Disability Advocacy Day in Minnesota 2022 to be taken to the website to register.
Understanding Autism virtual classes will be offered by The Autism Society of Minnesota. These classes are perfect for Autistic individuals, caregivers, those who want to understand the basics of Autism and support Autistic people. Classes will be held on February 21st from 2pm to 4pm. March 21st from 10am to 12pm. April 18th from 6pm to 8pm. May 16th from 2pm to 4pm. Classes are free of charge, but you must register to attend.
On February 8th, from 7pm to 9pm, Eric Ringgenberg will present a virtual skillshop at The Autism Society of Minnesota entitled Video Modeling: Why It Is Useful and How to Create One. Video modeling is an effective strategy for learning and developing many types of skills. This session will review what video modeling is, describe types of video models that can be used, and demonstrate how to create a video model using technology you may have or can get at a minimal expense.
On February 22nd, from 7pm to 9pm, Jillian Nelson will present a virtual skillshop at The Autism Society of Minnesota entitled Food and Function: Mealtime Solutions When Executive Function Isn't On The Menu. Jillian share her lived experience in navigating mealtime with significant Autistic challenges including motor skill and executive functioning deficits and the consideration of dietary needs that make meal prep and planning a daunting task. Jillian will share shopping hacks, cooking tricks, and useful kitchen tools, and a variety of life lessons that make Autistic meal time less overwhelming and more enjoyable.
The Autism Certification Direct Support virtual classes spring session at The Autism Society of Minnesota will begin on March 7th, and continue on March 14th, 21st, 28th and April 4th. These classes are perfect for job coaches, support staff, personal care attendants, EIDBI Tier 3 providers, Educational Aides, Support Personnel, Group Home Staff, Day Training and Habilitation Professionals, anyone who works directly with Autistic individuals and Autistic Adults.
To get information about these and other events at the Autism Society of Minnesota, please go to ausm.org. You can also go to todaysautisticmoment.com/bulletinboard/ and click on The Autism Society of Minnesota to register for their events.
Make plans now to attend The 2022 Minnesota Autism Conference April 27th-29th, 2022, at the Hyatt Regency in Bloomington, Minnesota. There will be both in person and virtual events offered. Registration will open soon. Go to ausm.org for more information.
Today's Autistic Moment is sponsored in part by Looking Forward Life Coaching. Looking Forward turns stumbling blocks into stepping stones towards success. Go to lookingforwardlc.org for more information.
Lastly, while all of the spots for ads during the podcast itself are full, you can join Looking Forward Life Coaching and have your business or organization mentioned at the end of each podcast show.
If you would like to have your business or organization mentioned, have questions or comments about Today's Autistic Moment, please send an email to PKLowe@todaysautisticmoment.com. todaysautisticmoment@gmail.com
Thank you for listening to Today's Autistic Moment: A Podcast for Autistic Adults by An Autistic Adult.
May you have an Autistically Amazing day.