Go to todaysautisticmoment.com for the trancript. One of the reasons many Autistics find it difficult to celebrate Autism Acceptance is because of having to mask our Autism because of a society that has not accepted us. What is masking? How does burnout happen? Listen to this exceptional conversation between Lyric and myself and get the answers with some tips about what you can do to live a healthier life. --- Support this podcast: https://anchor.fm/2daysautistic/support
Click or tap on the downward arrow in the pink box below the logo. See the image below.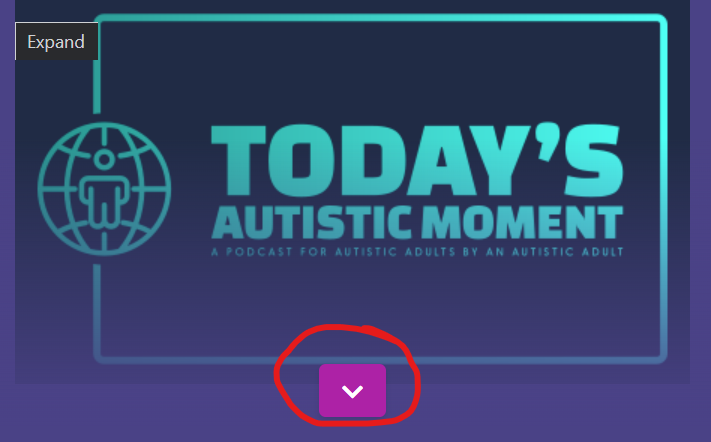 Autistic Masking & Burnout
May 9th, 2022
[You will notice that some words have a strike through font. These are to reflect the new website created in September 2022]
Welcome everyone to Today's Autistic Moment: A Podcast for Autistic Adults by An Autistic Adult. My name is Philip King-Lowe. I am the owner, producer, and host, and I am an Autistic Adult. Thank you so very much for listening.
Today's Autistic Moment is a member of the National Podcast Association.
Today's Autistic Moment is always a free to listen to podcast that gives Autistic Adults access to important information, helps us learn about our barriers to discover the strengths and tools we already have to use for the work of self-advocacy.
This first segment of Today's Autistic Moment is sponsored by The Autism Society of Minnesota: Minnesota's First Autism Resource. For over 50 years, The Autism Society of Minnesota has been honored to support Minnesota's Autism Community. Visit them online at ausm.org.
Please go to the New Podcast Episodes Page of todaysautisticmoment.com where you will find the shows and download the Program Scripts with all of the hyperlinks I mention on each show and the Interview Transcripts. Interview Transcripts for 2022 are sponsored by Minnesota Independence College & Community. If you want to listen to any previously published shows, go to the Episode Index Page.
Also, be sure to follow Today's Autistic Moment on Facebook, Twitter, Instagram, LinkedIn, and Tik Tok. Please join Today's Autistic Moment Community Group page on Facebook, where you can talk with me and other listeners.
I want to say a special thank you to The Autism Society of Minnesota for a wonderful 27th Annual Minnesota Autism Conference April 27th—29th. I was so honored to have my first exhibit table at the conference. It was so great to have Autistic individuals and caregivers stop by the table to learn about Today's Autistic Moment and plan to become new listeners. It was just wonderful. I also want to congratulate Tess, Michele, Heidi and Krista who were the winners of the free coffee mugs. In addition to the two coffee mugs with Today's Autistic Moment's logo on them, Flagship Recreation (a company that helps create safe interactive playgrounds with Autistic children in mind) gave me two of their mugs to give away.
The Autistic Voices Round Table Discussion that was planned for May 25th entitled The Truth about Applied Behavioral Analysis (ABA) Therapy has been postponed to a later date. There were not enough applicants for the round table conversation, and it would be inappropriate to have one without a better representation of the diversity of Autistic individuals to talk about this topic. When I am able to put together a better panel discussion with a more appropriate panel, I will move forward with plans and updated announcements at that time.
The Autistic community just finished with one the busiest times of the year during Autism Acceptance Month. I know I am not the only Autistic person who is feeling tired and even a bit burned out from the many conversations and controversies surrounding the subject of Autism. We have read the opposing opinions on social media, been inundated with conference and discussion opportunities and had what feels like an unending round of conversations to explain ourselves to many neurotypical people who just don't understand (nor do they want to understand) what Autistic people experience on a daily basis. Having said all that, there are many of us Autistics who mask our Autism to protect ourselves from the hurtful things people say or do in a world that is designed for and by neurotypical people. When we mask our Autism and try to fit in to a society that doesn't fit us, the ending result can be burnout.
Lyric Holmans, the Neurodivergent Rebel is my guest today. Lyric continues to be a remarkable advocate for Neurodiversity, LGBTQIA+ people and more through their social media posts and other podcasts. Lyric and I are going to talk about what masking and burnout is for Autistic people, with some great suggestions for self-advocacy and more importantly self-care.
Please stay tuned after this first commercial break when Lyric will bring their expertise on the topic of Autistic Masking and Burnout.
Philip King-Lowe
Lyric, thank you so much for coming back to Today's Autistic Moment, it is such a pleasure to have you back.
Lyric Holmans
Thanks for having me again. I'm glad I was. You know, I guess I didn't scare you off. And you wanted me to come back. LOL
Philip King-Lowe
Oh, no, no, no, no, quite the opposite actually. Um, yeah, well, the last few episodes, several episodes that I've aired, there has been a lot of conversation about masking. Um, my good friend, David Gray-Hammond spoke in November, December about how his substance abuse addiction was very much related to his masking. Um, right now, he is actually taking some time off because he is experiencing his own burnout. And I mean, I have heard about that masking is a great contributor to trauma. And we have heard about how masking has impact impacted a lot of Autistic women. So I think it's a good idea to have a base conversation about what masking and burnout is, and to talk about some ways that maybe we can work to address it. And, you know, I just think it's so important to put this information out there so that Autistic Adults can, all Autistic Adults can have access to it and really begin to do their own work of self advocacy about it. So as I always begin, what important information do Autistic Adults, and our caregivers need to know about when we speak of masking and burnout?
Lyric Holmans
I would say that, you know, the first and probably most important thing for people to understand is that masking and camouflaging our neurodivergent traits is something that we do in self defense, it's a survival skill, a coping mechanism that we develop, and a lot of us don't even realize we're doing it when we when this happens. And we develop it because the world can be really hostile, and violent, you know, physically mentally violent to those of us who are different. A lot of us, myself included, when I was younger, I experienced bullying and was picked on by other kids and teachers. But I grew up on the theater and the stage. So when I was in middle school, I was in a play. And I realized, oh, I can act and be this character in the play. And I had moved schools one summer it was I was going to go to a new school. And I was like, Well, I can like act and be someone that bullies won't pick on anymore. And so that was me, like consciously deciding I was going to start masking. And I gave I wish I could go back and like shake the idea out of my head, you know, back then. But it was like, I was like, Oh, I'm acting, I can do that in real life, too. No, no terrible. It was. It was something that started years ago, you know, I'd probably been doing it for that without realizing too. But I was masking so hard that I got to the point where I was diagnosed because of it because I couldn't do it anymore when I was 29. Because I had built this complex mask and I had developed a life I didn't even want that I couldn't maintain and sustain. And I was really just isolated and alone because I was presenting something out to the world that wasn't realistic, or wasn't me and wasn't authentic. And so I couldn't form authentic relationships with people. It had a lot of impacts on me and then my health and my self esteem, you know, feeling that who I was wasn't good enough. I could just be myself to not even really knowing who I was anymore. So, you know, for me, it had a lot of complications. And it wasn't something I did to be deceptive or manipulative. It was something I did because I didn't feel safe. And so even now I mask and when I when I realize I masking a lot I asked myself like what is it about this environment that means I don't feel safe enough to be myself. Because that's the thing is people realize it's something we do because we don't have emotional safety and security, we don't feel safe enough to be ourselves and let that part of ourselves show.
Philip King-Lowe
Yeah. Do you think there's a similarity of masking and being in the closet as far as being gay or lesbian and that sort of thing? I would say that there's a very, very, very great similarity between the two. What do you think of that?
Lyric Holmans
Oh, yeah, I frickin stinkin Lily, without a doubt. You know, I am queer and autistic. I'm nonbinary. And then I knew I was attracted to people of different genders. When I was very young, so I know I've always identified as a queer person, I didn't come out non binary, I was in my 30s. But it is like this feeling of like, when I came out, like queer it was because I was taking off my Autistic mask. It was because I was starting to ask myself the question, every time I did anything, or dressed up or, you know, left the house or did anything, I was like, Am I doing this for me? Or am I doing this for like, some kind of performance or expectations of other people like am I being like, who I want to be or who am I being who I think society needs me to be. And then, you know, the Autistic, neurodiversity, and stuff started to fall away. And then at the same time, gender was this big thing staring me in the face, I couldn't ignore it anymore. It was like, Oh my gosh, this is not me. This is so performative. This is just another part of that mask where it was like just as being Autistic, I had put on society's version of air quotes acceptable, to not get bullied or picked on or be misunderstood in the world because it made life easier to hide. And with my gender identity, I had done the exact same thing I had put on what society was expecting someone of the assignment I had been given at birth, you know, I was doing what was expected to not make waves to, to hide to blend in because it was safer. It was easier. I live in Texas, for goodness sake. It's a horrible freakin place for queer people to be in Texas. As if anyone's following the news, this isn't new. It's always been bad. But it does seem to be getting worse, not better. So you know, it's very much for survival and not to be ostracized, and, you know, misunderstood. It's so so parallel. And you know, with trans people we see in queer people being in closets leads to suicide. And you know, Autistic people, we know, masking and burnout leads to mental health problems, and we know suicide is top killer of Autistic people.
Philip King-Lowe
Yeah, yeah, you know, um, and as you're saying, masking has a lot to do with a lack of Autism Acceptance. We're just getting past Autism Acceptance Month, and a lot is due to the fact that the world is not designed is designed for and by non autistic people. You know, neurotypical people it's not, you know, and so, as Benjamin Christmass was saying in, in the episode about trauma, is that when the world is not made for you, nor does it seem to make itself available to you. There's just there's all these micro traumas that occur. And so the masking is an attempt to try to try to shield us from some of those micro traumas, when in fact, what we're really doing is adding to them not really deleting them. Yeah, so yeah, so let's talk a little bit about burnout, we know that masking can indeed lead to burnout. So let's talk about that. Let's talk about the burnout part.
Lyric Holmans
Oh, God, I, I wouldn't know if I was Autistic if it weren't for burnout. So on one hand, I'm really grateful for burnout because it is what led me to my diagnosis at 29. But up until that point in my life, I was in this repeated cycle of endless burnout, constantly burning myself out because I had I grew up and went almost 30 years of my life thinking I was a neurotypical person. So I had neurotypical expectations on myself, even when those expectations are really cruel and unfair. And for a lot of years in life, I didn't really well by mostly sticking to the things I was good at only and avoiding anything I was really bad at. But then when I went into corporate America, I had to like the demand upon me was increased. And I was so just exhausted by all of it. The masking really hard to be an appropriate corporate person. The the sensory environment of the office, leading to me having like physical health issues like seizures, migraines, I was getting really sick. And I was losing weight, and all of that on top of, you know, trying really hard to be who I knew my company wanted me to be, because I was in the recruiting team. So that made it worse because I could see exactly what we hired for and what we were like, I don't want people to do this, I don't want to do that. And it was like, they don't want me. So I was like, Okay, I have to be all these things that they want me to be because I thought it was like this dream corporate job, you know, we got scooters, and coffee bars and theater chaps. And you know, it's like one of those things they think is like, super trendy. But at what cost because we had no life, we work so many hours a week, and I was so drained did, I gave up all of my passions, I didn't have any energy left, at the end of the day. After work, too. I was in survival mode all the time. It's like I go home, I have no energy to get my partner, I have no energy to engage in the things I love. Eventually, I get to where I don't have the desire to do the things I love anymore, because I've just been so tired. And then after a while the burnout keeps going, you start to wonder how much of this you're going to be able to survive and how much longer you'll be able to keep it up. And then I got to a point where I didn't know if I'd be able to keep going anymore. And I was thinking maybe I should just, you know, cut my losses and end it. You know, it was like, that's why suicide is a thing, it's a real problem.
Commerical Break I
Support Today's Autistic Moment
Many of the listeners of Today's Autistic Moment are in places where they cannot find up to date information about Autism. Other podcasts focus on the medical model including treatments and cures for Autism, without listening to the voices and concerns of actually Autistic people who want to live happier and more fulfilling lives as they are. Today's Autistic Moment is helping Autistic Adults find each other and join the movement for Neurodiversity to make the world a better place for Neurodivergents. The podcast is always free of charge because Autistic Adults and people who care about Autistics listen to and support my work. When you go to todaysautisticmoment.com to purchase a spinner fidget or click on the blue button to subscribe to my Patreon Page, you are helping me to make this podcast better and better with each show, guest and transcript. You can purchase a spinner fidget for $4.99 plus sales tax, shipping and handling and/or subscribe to my Patreon Page starting at $1.00 a month or more by going to todaysautisticmoment.com right now.
Thank you for supporting Today's Autistic Moment.
Philip King-Lowe
Well, um, you know, what are the barriers for Autistic Adults regarding masking and burnout? And, like, as always usual, we're naming many of them. But, you know, the barriers continues to be a neurotypical culture that just does not receive or nor is it really inclusive of, of Autistic individuals. You know, a little over a little a year ago, I interviewed Samuel J. Levine, who is a phenomenal advocate for Autistic people regarding employment. And, you know, he said, during that, that, you can only do so much with the law because the law can easily be, you know, people can find their way around the law. But really, the secret to a lot of this is changing the mindset of people about what being Autistic means. And so part of the barrier for regarding masking and burnout continues to be that we still have this mindset about what autism is supposed to look like, what being Autistic is supposed to look like, we still have had, you know, Rose Carreiro, just happened to talk about how, how, you know, there are people who don't who still listen to the words, "classic Autism", you know, those sorts of things. You know, all of these things are some kind of barrier.
Lyric Holmans
Yeah, I mean, that I noticed that with understanding of Autism is so poor when I was diagnosed, and I started to try to tell people I was Autistic, because all of a sudden, I was like, I don't believe you, or are you sure or you're really diagnosed? You must be high functioning, all of these things are like very dismissive. When I'm trying to like, especially like, you know, in the workplace, I'm trying to, like, ask for help and accommodations, it's like, oh, but you're high functioning, you really don't need support. Like, oh, my God, you know, I went through the whole process to get this diagnosis. And it was like, I went through it because I knew I needed accommodations in the workplace. And I still couldn't get them, I still ended up just leaving that job. And now I don't even work in someone else's company anymore, because it's just easier for me to have the control I need right now. Because so many workplaces aren't even set up to accommodate. You know, and it's like, I don't need that much. Just let me manage my own schedule. Let me work from home. You know, it's not that hard for me things are writing.
Philip King-Lowe
Yeah. You know, Tas Kronby. I don't know if you know them Tas is just an incredible advocate. I interviewed her in February about eating disorders for Autistics, and they mentioned that they went to a doctor, they've gone to a doctor to receive some kind, some help or something. And and, you know, one of the doctors they went to simply said, Are you sure you're Autistic? You're so high functioning. And because they said things like that Tas for you know, can't get through a whole doctor's appointment to address the needs that they have, because they spent the rest of that appointment explaining to this doctor " I am actually Autistic, you know?
Lyric Holmans
Yeah, the medical people don't even know which is really sad. And it's like, that was the same thing. When I got diagnosed. I asked my GP because they were referring me for mental health assessment and I had seen like an Autistic book about something else. It was a cystic author, but they shared some experience about how their their life was And I was like, Wait, that's like literally my brain what's happening. And so I just missed it. And so but then I was getting a mental health assessment referral. So I said, Hey, can I see someone that knows something about Autism since we're gonna go do this thing? And the doctors like, why don't think you're Autistic, but yeah, and gave me a business card and then off on my way, and then after the diagnosis, you know, like, Oh, I got the Autism diagnosis. I am Autistic and doctors like, oh, no, I never would have guessed. It was like, Okay, I need to get a new doctor. I fired her. I didn't get a new doctor, though. I haven't been to a doctor in like, years now.
Philip King-Lowe
Yeah, yeah. Yeah. You know. In March, when I celebrated Women's History Month. Um one of the people I answered, I interviewed and was Michele Newman, who talked about Autistic Post-Menopausal Women. And, you know, she went through 35 years of misdiagnosis before she was finally diagnosed with with Autism. And, you know, things like that are just so crushing because, um, because before were diagnosed, we have probably, we have probably been masking quite a lot until we actually get diagnosed, and then it takes so much to get us to take off those masks. You know, um, and, you know, I have to believe that a lot of that is just due to the the terrible internalized ableism that we take on, you know,
Lyric Holmans
Or fear, you know, it's, it's a risky thing, it's risky to take that mask off. It's risky, because people may judge you for it, you may lose people who have been close to you, it's risky. Because if you're a parent, like you that could be used against you in certain situations. I've known people who have had that used against them in divorces, where the other parent was like, well, they're Autistic, they can't, you know, so they didn't get custody. So, you know, if there's risk, there's a real risk there, in addition to just the trauma and the internalized ableism that many of us have, because we live in this ableist society, you know?
Philip King-Lowe
Yeah. Well, um, what steps do you think Autistic Adults and our supporters need to take to advocate for our needs? And I repeat what I've been saying, at the beginning of this particular year, I really do believe that Autistics have those strengths and tools to use for self advocacy, it's just a matter of discovering them and putting them to use. And so maybe I might ask you to help answer this question. What are some strengths and tools that you have found within yourself to address the issues of masking and burnout? What what are some things that you've learned over over over time to help you cope with that?
Lyric Holmans
Yeah, I've been trying to just go back to basics to where I was before my burnout, making, like making rest and self care a priority. Because when I was in corporate America, you were basically shamed for downtime. And it was like something you had to earn, like this coveted thing, like, Oh, you've worked 70 hours a week, for the last six weeks, you get an hour of time to yourself to go to the spa, you get a spa days, like you're you're not living your life, and I wasn't living my life. So like making time for those things that recharge my soul and, you know, helped me center and stay in touch with myself and my own needs. Because, you know, I was spending so much time at work, I never had time to be in my own head and ask myself, I really feel because everyone was always in my head, you know, all the time, because I wasn't working 60 or 70 hours a week that I'd come home and just crash. And so it was like, you know, I got so lost and all of it. So like taking that time for yourself and not feeling guilty for it. And then learning to have boundaries because I didn't have any boundaries. When I was diagnosed autistic five and a half years ago, six years ago, I had no boundaries. I completely had no boundaries. And so it's really been like, the crisis thing for me was I was on my way to a holiday party. I didn't even want to go to have those most horrible panic attack, because I'm going this thing I didn't want to go to. It was like, What am I doing, forcing myself to think so I'm really, really don't want to go to so much? I'm going to have a panic attack, like what am I doing? So it's now it's like, every time I commit to something, I asked myself, like, do I really want to commit to this? And I'm like, no, okay, then I don't commit to it. But it's like I used to just, you know, I had gotten to a point where, even though it was very against my nature I felt like I had to say yes to all these things I didn't even want to say yes to.
Philip King-Lowe
Yeah. So if I'm understanding you correctly, one of the ways that you've had to advocate for yourself with this matter is to help yourself by by creating some boundaries for yourself. So that yeah, you will, you will be able to judge for yourself rather than let others judge for you, where your your Autistic needs are and how you address them, rather than letting the society sort of teach you how to address them.
Lyric Holmans
Because a lot of times, I think other Autistic people can probably relate to this having other people tell you what they think is good for you or what they think you need. And when you're when they're neurotypical, they think what's good for you is based on what would be good for them. And my brain I now understand is really different from a lot of brains that are out there in the world and a lot of things that other people find beneficial like going out to happy hour with your friends after work to recharge. That does not recharge me that's gonna drain me like three workdays, you know, but I know that now. And so I wouldn't feel guilty turning that down. You know, but once upon a time, like I would have let my work colleagues guilt me and my boss guilt me to saying, Well, you don't like hanging out with your co workers and your co workers think you're unapproachable. You know, it didn't matter. I was there to work, I wasn't there to form lifelong bonds I have, you know, I have my people outside of work for that.
Philip King-Lowe
Yeah, you know, one of the things that I've had to actually teach myself to do to try to not let myself get to a place of burnout is, um, a few weeks ago, I realized that I had been working three straight, stressful weeks, and I had actually given myself some time off. I actually had to teach myself, you know, it's okay, if I take away from everything I'm doing to just do everything different. And I think I do think that among the things that leads to burnout, I think a lot of us experience burnout, because of how much advocacy we actually have to do. At one point in time, I think there's a point where we get to, we have advocacy burnout. You know, and I think that, you know, I just think that, um, you know, masking is a could be I rather than say it could be just one of those things we do as as, as a matter of advocacy, that, and I think that's, again, among the things that leads us to burnout. You know, I'm, like I say, David Gray-Hammond, when he speaks of his substance abuse, addiction and recovery. I mean, he talks about how that masking lead to burnout for him has led to burnout and even was more recently, I mean, he's just said he's actually taking some sick leave from his work, because he's burned out. Um, you know, I, I'm, you know, we endure a lot of trauma. And I think a lot of our self advocacy just comes from, you know, self care, how we take care of ourselves, how we know ourselves, and, you know, how we, how we address the needs that we have. Um, you know, and, and one of those things has to be is finding our ways of communicating our boundaries to others to let them know, right now, I just cannot help you. And I'm sure you can relate to one of the hardest things sometimes for Autistics to do, or for me to do is just to learn to say no to something.
Lyric Holmans
Yeah. Yeah. Which is ironic, because it's like, I'm also very demandable person. So like, if anybody comes with me, and like, you must do this for me. I'm like, NOOOO. But people come in, they asked me nicely. And I feel very obligated and have a really hard time saying no. And so like, that has been like my 30s my, I going to be 35. So it's almost five years since being diagnosed or more than five years to be diagnosed almost five years since deciding I needed boundaries on my 30th birthday. And so I've been working on my boundaries for five years, and it's still not perfect. Like I still like in the workplace like that is where I struggle to have boundaries like the most like I've gotten good at boundaries outside of work in social settings, because my social anxiety gets really bad and so it's like, I need to respect the fact that I have social anxiety. It's okay. But there's some things that's gonna make me more stressed if I do so. Yeah, I got I got those boundaries first, but it's like real easy, especially now they work for myself like I could work around the clock. But then I start to not be productive, and my work product is crappy, and I'm stressed and miserable. So it's like, I'm going to go like rollerskating, once a week for two hours at the rink, 15 minutes from my house. Like, I put that in my schedule, it's in the calendar, it's happening. Sorry, I can't do appointments this that day, I don't wanna skating every day, every every day that we get like, it's like, Yay, this is my thing. It's like, you have to make yourself a priority. And I used to feel really guilty about doing things that weren't productive, or just for myself, for the sake of joy, which is terrible. We need joy.
Philip King-Lowe
We really do need to do what I call safe spacing. Where we're not overwhelmed by our sensory input, or output, whichever goes first, we really do have to balance those sensory needs. And sometimes if it means putting a sign on our door, do not disturb or, you know, finding our space to stim, whatever, and just just help ourselves become better regulated. Sometimes we just have to do that. We just have to. I'm very, I'm an advocate for actually putting in your weekly schedule. This is my Safe Space Day Do Not Disturb.
Lyric Holmans
Yeah, well, I have I blocked my schedule now. So it's like, I have two days a week, usually where I do all my calls. And then I have one day a week. It's like administrative tasks. Sometimes I'll take the call in the afternoon after those administrative things are done. And then I have two solid days in my five day work week that are, there's no people involved. It's me quietly working on projects by myself, because I really learned that I need that downtime and being engaged with people like every single day. Like it's gonna give me so much stress. I'll be dreading it all day in the morning. If I have calls in the afternoon, you know, I can't I can't be creative. Worried about the people.
Commercial Break III
Future Shows
On May 23rd, Eric Garcia will return to Today's Autistic Moment to talk about a very important topic. Overcoming Internalized Ableism. Just as trauma is an unavoidable consequence because of a society that is made for and by neurotypical people, so is internalized ableism. We continually get the messages that being disabled is wrong and we internalize those micro aggressive messages. Eric and I will talk about how Autistics can work towards overcoming internalized ableism.
June is LGBTQIA + Pride month. On June 19th we will celebrate Autistic Pride. Yenn Purkis the Autistic Advocate and Author from Australia will join me for an insightful episode The Intersection of LGBTQIA+ Pride and Autistic Pride on June 6th.
On June 20th, the episode The Intersection of LGBTQIA+ Pride & Disability & Autistic Pride will take a slightly different turn. I will be joined by Andrew Gurza who is a gay person with cerebral palsy, and an exceptional advocate for all disabled people through his own podcast Disability After Dark and social media presence on several platforms. Andrew and I will talk together about what is happening all too often with disabled people who are LGBTQIA, as well as Autistic people. Andrew is going to talk about what is happening with disabled people in general, while I will be talking about what is happening with Autistic people. If you want a more comprehensive understanding of what is happening in all of these communities, this is the podcast episode to listen to.
Be sure to listen in for our first Summer of Self-Care Series during July and August. My guests and I will talk about things such as Self-Care During Seasonal Depression. Self-Care During Sensory Overload/Meltdown. Self-Care During a Crisis and Self-Care During an Election Year.
Thank you for listening to Today's Autistic Moment.
Philip King-Lowe
Yeah, absolutely. And I mean, it's so important that we do these things because of how much stress masking and that burnout places upon us. And then there are there there are those Autistics who you can be stressed out and or burnt out. And quite frankly, you're, you're not even picking up on how much you are. Because, you know, you just can't you don't see it until someone either someone says "By the way, you know that you're a little more stressed out or, or irritable right now?" And sometimes we do need those people to just tell us, hey, you, I think you need to take a break. And listen to them, you know? Oh, yeah. Yeah.
Lyric Holmans
Well I don't get that way until I get like sick. You know, I start, I start throwing up and having seizures and migraines. My body's like, "If you don't stop, I will make you stop."
Philip King-Lowe
Yeah, exactly. Exactly. Yeah. Lyric, it is so great to have you back. And I think this has been one of those important conversations that needs to be had. And I trust for my audience that we've given you all some very important information and some ideas about how you can do some self care. Because, you know, if we, quite frankly, if we do not learn to accept our own Autism and appreciate our own Autism, and we do not go through the steps to learn how to self care, it's really difficult to expect anybody else to do to do it. With and or for us. So it must begin with our own self, our own self care. Um, you know, and just a little brief announcement, this upcoming summer, July and August, I am going to have what I call my Summer of Self-care Series, my SOSS series. And which we're going to have talk about Self-care During Seasonal Depression. Self-care During Sensory Overload/Meltdown. We're going to talk about sensory I'm sorry, Self-care During a Crisis. And last but not the very least Self-care During An Election Year. Because all the stresses that really Yeah, yeah, so that's nice. Yeah, that's coming up this summer. And I've got some great people who are gonna be talking about that particular matter. And so that's that so, um, and my audience can always go to the Adult Autism Resources Links page for todaysautisticmoment.com and look up for neurodivergent rebel on your your services there. So um, and if you haven't, don't follow Lyric on Facebook, Twitter, and Instagram and such you're missing a lot of advocacy on many fronts, so I encourage my listeners if you're not following them to do that, so there's There you go. Lyric thank you so much.
Lyric Holmans
You are welcome
Transcribed by https://otter.ai
Today's Autistic Community Bulletin Board
All of these events announced with the links can be found at todaysautisticmoment.com/bulletinboard/.
Understanding Autism virtual classes will be offered by The Autism Society of Minnesota. These classes are perfect for Autistic individuals, caregivers, those who want to understand the basics of Autism and support Autistic people. Classes will be held on May 16th from 2pm to 4pm. June 20th from 10am to 12pm. July 18th from 10am to 12pm. August 14th from 2pm to 4pm. September 19th from 2pm to 4pm. Classes are free of charge, but you must register to attend.
On May 24th from 7-9pm Noah Simpson will present a virtual skillshop at the Autism Society of Minnesota entitled Medical Cannabis and Autism Spectrum Disorder. Gain information and strategies involving medical cannabis. Minnesota's medical cannabis program, and how cannabis can be effective treatment for a variety of conditions, including Autism.
The Autism Society of Minnesota invites you to join them for Steps for Autism in Minnesota 2022, on Sunday, May 22nd beginning at 9am to 12pm at the Como Lakeside Pavilion located at 1360 Lexington Pkwy in St. Paul, Minnesota.
Go to ausm.org for more information about these and other events at The Autism Society of Minnesota.
Today's Autistic Moment is sponsored in part by Looking Forward Life Coaching. Looking Forward turns stumbling blocks into stepping stones towards success. Go to lookingforwardlc.org for more information.
If you would like to have your business or organization mentioned, have questions or comments about Today's Autistic Moment, please send an email to PKLowe@todaysautisticmoment.com.
Thank you for listening to Today's Autistic Moment: A Podcast for Autistic Adults by An Autistic Adult.
May you have an Autistically Amazing day.