Go to todaysautisticmoment.com for the transcript
My guest Leah Bauman-Smith and I have a very frank conversation about dating, romantic relationships and sexuality in this installment, with very sensitive content that may not be appropriate for all audiences. Listener discretion is advised. There is a myth that all Autistic people are asexual and not interested in dating or having romantic relationships. The truth is Autistic Adults really do want to have healthy relationships and sex life. Leah Bauman-Smith joins me to talk about how Autistic Adults can have health and safe relationships, and be sexually active in ways that meet their needs. --- Support this podcast: https://anchor.fm/2daysautistic/support
Click or tap on the downward arrow in the pink box below the logo. See the image below.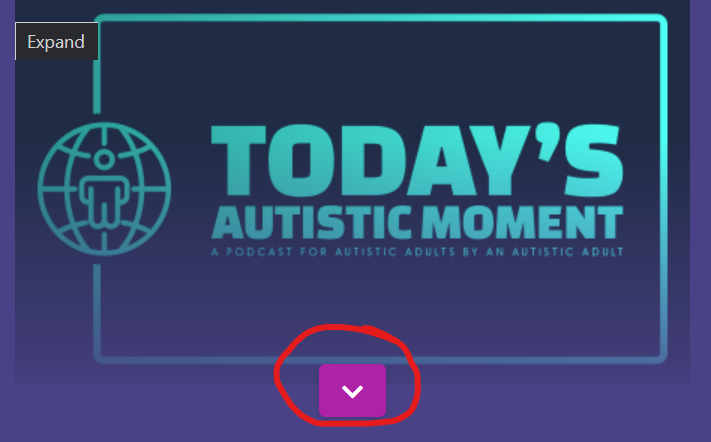 Autistic Adults: Dating, Romantic Relationships and Sexuality
September 6th, 2021
[You will notice that some words have a strike through font. These are to reflect the new website created in September 2022]
Welcome everyone to Today's Autistic Moment: A Podcast for Autistic Adults by An Autistic Adult. My name is Philip King-Lowe, the owner, producer, and host; and I am an Autistic Adult. Thank you so very much for listening.
Today's Autistic Moment is a member of the National Podcast Association.
Today's Autistic Moment is always a free to listen to podcast that gives Autistic Adults access to important information, learns about our barriers, and helps us discover the tools and strengths we need for self-advocacy.
This first segment of Today's Autistic Moment is sponsored by The Autism Society of Minnesota: Minnesota's First Autism Resource. The Autism Society of Minnesota has been serving Minnesota's Autism Community for the past 50 Years. Visit them online at ausm.org.
Please go to todaysautisticmoment.com to the New Podcast Episodes page and/or the Episode Index page to get updates, download shows, program scripts and interview transcripts. Interview Transcripts are sponsored by GT Independence.
Also, please follow Today's Autistic Moment on Facebook, Twitter, Instagram, and LinkedIn. Be sure to become a member of Today's Autistic Moment Community Group page on Facebook, where you can meet me, other listeners, exchange conversations and find program updates, news about subscriptions and bonuses, upcoming shows and take advantage of special offers.
I invite you to help support Today's Autistic Moment. by visiting my Subscriptions and Bonuses page. I offer subscriptions for as little as $1.00 a month to $25.00 a month with lots of bonuses such as new episodes and the Monthly Moments Newsletter sent directly to you by email, a free stylus and ballpoint pen, and items from the store at discount prices. Go to todaysautisticmoment.com .
Make plans now to attend the very first Autistic Voices Round Table Discussions on October 20th at 2:00pm Central Standard Time. Six Autistic individuals will talk with each other about Person First and Identity First Language. There is no cost to attend, and the event will be streamlined on Today's Autistic Moment's Community Group page on Facebook.
I am so excited to announce that Today's Autistic Moment is creating a partnership with the podcast Caregiver Chronicles by Sarah and Jeremy Brown. Sarah and Jeremy are the parents of two Autistic children. Just this past week, it was my privilege to be a guest on their show to talk about Autistic Adults including this podcast. You can find the link to listen to their podcast on my website. I strongly advise anyone doing any kind of caregiver work for not only Autistic individuals, but people affected by dementia and other health conditions that caregivers are needed.
As previously announced, during this episode of Today's Autistic Moment and the next, my guest Leah Bauman-Smith and I are going to have some frank conversations about dating, relationships, and sexuality. We will be talking about some very sensitive issues that may be triggering for some, and/or not appropriate for all audiences. Listener discretion is advised.
I also want to be equally clear that these conversations will be intersectional. These conversations will be inclusive of all sexual orientations, gender identities, as well as sexual expressions. We are not here to be judgmental or dismissive of anyone. I sincerely hope I can count on my audience to be receptive and respectful.
Among the many stigmas about Autistic Adults that are totally untrue, is that Autistic people are not interested in, nor are we capable of dating other people, successfully creating healthy relationships, and having an equally healthy sex life. There is a presumption that Autistic individuals with less support needs just can't find anyone who will be interested in us, because we have too much baggage. The other presumption is that Autistic people with higher support needs are completely incapable of having healthy relationships simply because they are non-verbal. None of these presumptions are true. Autistic individuals like myself can be very successful in having great marital relationships, and a healthy sex life.
My guest Leah Bauman-Smith is a special education teacher at Mad Hatter Wellness in St. Paul, Minnesota. The Mad Hatter Wellness has been working on helping disabled people get comprehensive sexual health education programming that educates, trains, and empowers people with disabilities and their support systems. Leah Bauman-Smith is not Autistic herself, but she works with others at Mad Hatter Wellness through the truth that all people, regardless of their abilities have a right to healthy and safe relationships. Leah celebrates sexual diversity and has excellent resources.
After this first commercial break, I will begin my conversation with Leah Bauman-Smith. Stay tuned.
Commercial Break I
Philip King-Lowe
Leah Bauman-Smith, thank you so much for being on this episode of Today's Autistic Moment. Um, I want us to have this conversation. I feel it is so important that people recognize that Autistic Adults are interested in safe, healthy, and and great dating, relationships, romance, romantic relationships and sexuality. We are not at all asexual and we do have the desire to love and be loved by others. And so I think we need to make that more clear. And also to help other Autistic Adults to understand where our own needs are, and what our what our specifics are. So, let me begin with my first question that I ask every episode. What important information do Autistic Adults and our caregivers need to know about in terms of dating, romantic relationships and sexuality?
Leah Bauman-Smith
Yeah, thank you so much for asking that. I think that there are a number of key things that I think everyone needs to know. But definitely Autistic people and people who have kind of been historically left out of sexuality education, or have been sort of treated like other than or like that, or by society or caregivers or school systems. As like you said, asexual which is still a sexuality and totally valid and there's a wide range of sexualities within asexuality, but that Autistic people have romantic relationships, have sexual feelings, deserve to have the information to make choices about who they want to date, who they are attracted to, who they want to have romantic relationships with, if they want to have relationships. So want to say like non-traditional relationships that people Autistic people can be polyamorous, can be queer, can be LGBTQ that there are a lot of intersections of sexual identity, that Autistic people experience and they deserve to have the same support education and access to, yes, information around safe sex, like access to information around birth control, around STI prevention, around safe ways to communicate your needs. And so I think that there are just a yeah, and I think that caregivers, there is still some values that people hold that can be problematic that might be so I think that the right word that as I'm, I'm a I'm a caregiver, I'm a parent, it can be hard when someone that you're caregiving for, wants to have sex or wants to have a relationship. And I think that Autistic people, like I said, have been kind of historically left out of the conversation around sexuality in dating and romantic relationships. And so we need to do a lot of supporting of caregivers to make sure that they understand how to support the people that they're caregiving for. That they need to encourage healthy relationships to teach about consent to talk about dating to teach how to date. Um, yeah, like I said a lot of things and maybe go in there.
Philip King-Lowe
I would like to begin for myself by saying that it is very possible for Autistics to date and find romantic relationships, and have a sex healthy sex life. I am, you know, proud to say that I am a happily married gay man. And my husband and I have been together for 12 years. We were married 8 years ago, legally, this year, this month. And so, I often hear the gaslighting stereotype of that Autistic people cannot manage relationships. And I am here to say that it's not entirely true , And it's really not true. It's not that we can't have relationships, what we do need is a partner in life, who will understand and be willing to learn about our Autism, and also to learn all the things necessary to communicate, to understand our sensory needs, and so on and so forth. So, yes, um, romantic dating and relationships, and good sexuality are, are achievable for Autistic Adults. And so we want to make it very clear that this is not, this is not impossible. They can, indeed. So let's, let's talk a little bit more about that if we can.
Leah Bauman-Smith
Yeah, I think that there are, like you mentioned a lot of kind of stereotypes out there. And that it's our job, as so I'm a sexuality educator, for people with disabilities, but also, um, I write curriculum, and work in schools and day programs, and kind of all over Minnesota, but also in a number of states around the country. And I think that one of the baseline things is that we just have to have sexuality education. For all all of our students, all of our young people starting at a really young age. I think that for in my work, we start like preschool all the way through, I teach a class on aging, and kind of as your body changes as you become older, and so just knowing that sexuality for everyone is a lifelong process, but that Autistic people deserve to have sexuality education taught to them the entire time, they're in school, so they understand how, and taught in a way that meets their needs. Right. So they're, they're taught that education includes talking about sensory needs, talking about communication, we know not everyone communicates the same way that everyone uses language to communicate. Not everyone uses body language and kind of nonverbal communication the same way. So really helping individuals understand how they communicate, and then teaching them how to communicate that to their romantic partners. And then supporting romantic partners and understanding kind of what they what their role is, and what they need to do, and understanding their partner's needs. Whether it's, we noticed that sex is a very sensory is a very sensory experience for most.
Philip King-Lowe
And so yes, I do think we need to emphasize that. Yeah, because there, there have been Autistic individuals who have shared with me that one of the more difficult things they have communicating with someone they're dating, entering into a relationship with and being sexually active with, that they have the hardest time getting their partners to understand that sexuality is a sensory activity, it involves all of our senses. It involves, you know, comfort, it involves hearing, talking, smelling. And I can also say that, for many it involves how their body is touched. where, when, and how. And that. You know, one of the, you know, we'll talk about barriers in a few minutes. But let's just say that one of those really challenging parts is when the Autistic individual tries to communicate to the other what their sensory needs and having that sense that the person on the other end is going to listen and actually respond accordingly. Um, you want to talk a little bit more about that?
Leah Bauman-Smith
Yeah. Yeah. And I think that is definitely (I'm trying to think of the right word) like, definitely something that I would want and do. What focus on for Autistic folks is being able to communicate what. Yeah, what how, like, what and how sensory can be both, like really scary, but also like a really beautiful part of sex, and then how you communicate what that. And to know that, like, I was just thinking, I feel like that can be true for a lot of people too. And that I think that communication before, during and after sex is really it is really important for all relationships, I think that especially if you're focusing on those like sensory consent, and communication needs, that being really clear about all of that kind of ahead of time, feeling comfortable talking about it within the moment, and then being able to reflect on Okay, so here is, what did work for me, here's when I felt uncomfortable, and making sure that the partner, whether they are also Autistic or not, that they can have the same sort of communication or understand sort of how that works. I've worked a lot with people who have talked about different , I think is the right word. So I worked with a woman who talked a lot about how she was like verbal, except for when she would have sex, she would suddenly kind of go into like a nonverbal kind of, she described it as a trance, but sort of like a nonverbal, she and she didn't notice it, she didn't notice. And she always kind of felt like sex was not as pleasurable or the experience wasn't as positive as she wanted it to be. And then as she got older, and started, we did some classes together and started talking a little bit more. She was like, Oh, I think my issue is I, I can't speak when I'm having sex. And she's like, that is so important for my partner to know. And so now that she's realized that in her partner knows that they can really communicate kind of ahead of time, like, what are some other ways that she feels comfortable communicating? Or how can her partner respond? And so really digging into some of those kind of nuances around communication, and consent, and sensory needs are? Yeah, just so so crucial for having that positive sex experience. And it looks so good. I was gonna say too, I think similar with and not just with sex, like I feel like dating in general can include sensory, absolutely, going out to dinner, going to a movie holding hands, snuggling all of that. I'm just like, the person's pheromones, the how they smell like, there's just their voice how, what they're, you know, how loud or quiet or how they speak like, all of those things like dating is such a sensory experience. That communication around like, what feels comfortable, what feels safe? What? How can I communicate? or How can you the, you know, two or more if they're polyamorous, I know, there's lots of people that have more than one partner, and that's totally valid and okay too. That people are able to sort of communicate, like along the way, that's not just like, not we're having sex, we better communicate really well or not, we're gonna have sex, it's certainly a sensory experience, but just remembering like, whole process really is.
Philip King-Lowe
Yeah. Yes, as part of pride month, we established that there are diverse sexual orientations and gender identities among the Autistic people. Um, for those of my listeners who maybe haven't heard them, please go back to my episode index in June. And listen to those two episodes. They are really really amazing and the people I interviewed are truly incredible people.
Commercial Break II
Philip King-Lowe
Um, let's move on to the second question, which we're already already into. But that happens every show. I'm not I'm not worried. What are the barriers for Autistic Adults of all ages when it comes to dating, romantic relationships and sexuality? And um. Pardon me. Um, let's talk a little bit about things such as the challenges with meeting new people. And let's talk about those challenges with one of the challenges that many Autistic people have is called theory of mind by which we may not be able to up predict, or guess what somebodies behavior or response is going to be to something we say or do. And that it because of that, it can be really difficult for us to be sure to set our own boundaries. And then you know, we just want to talk about that. Um you know, this is one of the barriers for, for people for Autistics, many Autistics when it comes to dating. And I have to say, and I'm just speaking for myself only here, that, you know, I've been very fortunate because, like I say, my husband and I had been together, you know, 12 years. And 10 years ago, sorry 12 years. And 10 years ago, this year, I was first diagnosed as Autistic. And one of the first things the, the, the person who diagnosed me did is he wanted to meet with me and my husband, to talk about how we learned how to communicate with each other. We were so fortunate to have somebody who, who would step up and do that. Um, but I have to say, even with all of that, if I had to start from scratch, at any time, I don't think I would know how, because of how much dating has changed and how much, you know. So so so let's talk more about some of those barriers that I mentioned. Especially when it comes to meeting, meeting people creating relationships and beginning to have those healthy sexual relationships.
Leah Bauman-Smith
Yeah, no, I think that there's, um, yeah, like we said, there's kind of historically a lot of barriers leading up to becoming an adult, so like, lack of education, um, society views on sexuality in general. And then definitely society views on sexuality, and Autistic folks. And so, there. Yeah, there's just the kind of event like before you even reach, you know, sexual maturity, there's all these barriers ahead of time. And that really sucks. But also, then, once you are, you know, an adult and able to consent to sexual sexual sex and sexual activity, that there are, yeah, a lot of barriers with. Yeah, just that well. To be fair, there's a lot of barriers right now to meet people in general, we know like, the pandemic has not created a safer space for people to meet, it has made people maybe a little more creative, and how they can connect with people, whether that's personally or outside or however, with masks. But I don't think that that has made it dating any easier, if not probably much harder. But I think that there are, like, you talked about having even one supportive person to help kind of outside of the relationship to kind of help talk through. It's really hard when you're in it when you're in a relationship. Whether you know, that having an outside perspective and having someone be able to say like, okay, so tell me, how do you communicate? What feels safe for you? Here is how generally people respond. But it's, that's really hard to because people really respond differently to all kinds of situations. I think that's something I've learned a lot teaching sexuality education is that theory of mind is really hard, because there are so many different responses that people can have. And there are kind of some good general rules of like, especially around like texting, like making sure that you ask before you send a text that might talk about sex, or if you want to send or like sexting and making sure that you ask before you do something like that. Right. So I do think that there are the people that I've worked with that have had the most successful relationships. I think similar to what you said, had someone had outside provider outside caregiver, a therapist, a family member, someone that could kind of help them navigate, like rockiness of a new relationship.
Philip King-Lowe
Yeah, well, you know, once again, I had that fortunate person, people. But I have heard many who after they've had a relationship break up, that the the person they were dating just would not learn about their Autism, and they would not go to therapy with them. They just would not. There was always the excuse I'm working, I'm too busy or later comes I just don't want a relationship with somebody that I have to go to a doctor with. People have gotten those replies unfortunately. And and then there's always the matter of disclosure, when do we you disclose? And, you know, and, um, you know, and I, I have said in one of my presentations, that if you are, if you start to date somebody, and they will not learn about your brand, make and model of Autism, and they will not go through the process of, of learning how to communicate well with you, that person is probably not a good person for you to be with. Um, you know, it's just, you know, no, you don't have to put up with that. And I know, it's hard, because loneliness is a terrible thing to live with, when you're Autistic. It's hard for anybody. But, um, but no, if someone is not willing to learn, you do have the right to say, no, this is not going to work for me. But, you know, those barriers are so real. Of just finding somebody who will hear the word Autistic without going "Oh my God!" You know, who will suddenly make this huge excuse, like, "I don't want to date somebody with all that baggage." They've heard that. There are Autistics who have heard that, or or just been, you know, again, badly gaslighted, or just had them make excuse. All sorts of things that happen. Let's talk about some of those barriers, and maybe even some things that many can many might be able to do to try to, to help with those barriers. Can you talk about some of that?
Leah Bauman-Smith
Yeah, well, I think you made, um, you mentioned this earlier, but I wanted to kind of circle back to it, as well as just really digging in deep to like what your boundaries are before you start a relationship. And I think that we don't do that. Like, I think in general, people don't really do that. They sort of like, wait until a situation comes up before they're like, Oh, yeah, that's my boundary. And it's really hard to know what your boundaries are, if you haven't thought them out ahead of time. And so really thinking about kind of, like what you talked about, like, what is your boundary for, like, if someone isn't respecting the fact that like, yeah, we might need to talk to a doctor. We might need to have do some therapy. We might need some outside supports in our relationship. And if someone's not willing to do that, like, yep, that's okay to walk away at that point, and say, like, this isn't gonna work for me. Um, but knowing that, like, you get to decide what your boundaries are, like your body belongs to you, you get to decide kind of how, who and when you get to have relationships with whether they're romantic or friendships. So really thinking through boundaries, and getting some support with that, like having a therapist or having a close family member, having someone that you can talk through, like what boundaries are. What feels safe to you. And then thinking about kind of, like strategies for so I, not my professional life, but in my personal life, I have dated, gone on dates with people or Autistic people and have communicated recently during the pandemic, just via online because not meeting people in person right now. Um, but that being really upfront about it has made it has helped me out a lot. Has helped me be like, oh, okay, this is what your needs are. Okay, let me think about how that would fit into my life. And that was really helpful for me with someone that I've become very good friends with during that process. But I also think that kind of that disclosure piece about Autism. Yeah, that is tricky, because that
kind of yeah, do you share about that. Can be tricky.

Philip King-Lowe
Yeah. Yeah. I normally, if if you have a fortunate to have a good therapist that understands your Autism like that. My advice is to talk with that therapist before you disclose. And just just kind of help you to understand this is this is a good time, or this may not be a good time. And sometimes. I know, I had a friendship that was interesting. But you know, which my therapist at the time said, you know, you have a lot of red flags. I don't think you see. And that's another thing that a lot of us often need them to say. That's actually a red flag for you. So, you know, just to tell us notice those red flags, because again, we may not recognize the red flags when they occur. We may not recognize that it's probably not appropriate for the person you start dating tonight to ask to move in next week. Yeah, that sort of thing. Yeah, um, you know, just because of our, our real desire to be around somebody, someone. So feel free to expound on some of that, if you will.
Leah Bauman-Smith
Yeah, no, totally. I think that that is a really good point about kind of, yeah, being being able to identify, like, what are problematic situations, or what, um, and I think to thinking about, like, what kind of relationship you want to have before you get into it, too. Because some people, you know, might just want to have like a casual relationship, maybe just have sex, maybe just be friends, like, there's such a wide or move in in a week, you know, like, there's such a wide range of kind of what to like, you talked about talking to someone ahead of time, like, what, what are you looking for, like, what kind of relationship? And what kind of supports do you need with the different types of relationships? Because they're depending on kind of how serious or how I want to write or how involved this person becomes in your life would kind of depend on what sort of boundaries you need to set and think about kind of what those red flags are? And yeah, I think that have like, I know, therapy is one of those things where like, it can be expensive, and it can be hard to access sometimes. But if you can find someone, an outside resource that can really help you talk through like, yes, what are red flags? What are unsafe situations? And then also, but also like, what are healthy relationships? What are green? Like, what are green flags? Like when you meet someone who's like, really excited to learn more about you, or who is really invested in supporting you, and like you talked about, like, with your husband, like being able to go with you to the doctor's appointments. And so I think a lot of times we focus a lot on, which makes sense, focus a lot on kind of negative parts, because there are a lot of them. And there can be a lot of red flags, there can be a lot of unsafe situations. But there can also be like, really beautiful, positive relationships, sexual experiences, friendships that can develop with the right supports, and the ability to kind of set those boundaries and know what you want.
Philip King-Lowe
Right. Right. Well, let's move along to my final question. And this is really my favorite question. I love giving Autistic Adults the power to advocate. So what steps should Autistic Adults and their supporters take to advocate for our needs? And I've already kind of touched on a few of them. Number one is, you know, I've always said, one of the best ways to be your best self advocate is to know your Autism, and to become the expert about explaining your Autism to others. And, and, you know, that includes, you know, anybody you might be romantically involved with. And, you know, but, you know, and before I let you answer my question a little bit more, um, Leah is going to be returning to me on the next episode, to talk about that very important subject. Let's Talk About Consent. Because consent is a big issue for Autistic Adults. But for now, we're just going to kind of focus on this area of dating, romantic relationships and sexuality. So let's talk about some ways that Autistic Adults can advocate for themselves and how our supporters can take some steps there too.
Leah Bauman-Smith
So yeah, thank you. That's such a good question. Um, yeah, I just want to say I always, when people talk about or ask me about my work, we'll talk a lot about how like, when you meet one Autistic person, you've met one Autistic person. Yes. There there's like, no, like, here's how this you know if there's strategies that can help all of us in romantic relationships, and dating and being able to express our sexuality. But and I think that's really important to remember too, is that like, all Autistic people are very different. And becoming like you talked about you, the expert on you is really important. And knowing that like gender identity, gender expression, sexual orientation, like those are all very unique to people as well. So how you identify can change, it can be very fluid, or it can be or not, and like, that's fine, too. And so I think that acknowledging that there are a lot of intersections of LGBTQ of gender nonconformity, or gender expression in the Autistic community is really important to know as well when you so helping if you are a caregiver I'm really helping or educator, I'm helping the people that you work with know, kind of navigate some of that being able to say like, okay, here are the different ways people identify. And you might identify differently. And that's okay. Really supporting, really, I guess. So there's a lot of, I don't know, if you do. So there's a number of groups at the Autism Society of Minnesota. And they do classes and groups around sexuality education. So we've, I've worked quite a bit with a few of the folks there. Jillian is one of the educators that I work a lot with big fan of her. She and I go to a lot of basketball games together anyway, she's very, and teaches amazing runs amazing groups around all these things. And she's Autistic. And I think that's really important is to have Autistic people teaching these classes, and running these groups. Because like, I don't know, if I said, this is the I'm not Autistic. I worked a lot with Autistic folks. But I also know that the information coming from an Autistic person is going to be way more valuable than coming from me. And so having, being able to have to train people, and to work with people, and logistic people to do this work, I think is really important. And so if you are an Autistic person, and you have a passion for this, please reach out, I was Jeremiah. And please reach out. And we can kind of talk about ways, and we've talked a lot about doing sort of like a peer education program. So there are those people that will so if you are dating, if you are kind of exploring your sexuality, if you do want to have sex, that there are trained people, Autistic people that you can talk to, that you can communicate with ask questions to, I think that's really important. I think, um, one thing I always encourage everyone to do is to think about as to do something like, really like, dig in and think about kind of what you want in a relationship, what feels healthy to you, what are your boundaries, and again, like those things change, but like kind of having some time to think about that, before you get into a relationship, I think is like can be really powerful. And make it easier for you to kind of notice if there are red flags.
Philip King-Lowe
Yeah. Yeah. And I actually didn't mention this when we were talking about barriers, because but this, this has been an issue that has been that others have spoken with me about. But um, there are a fair number of Autistic people that because there's the sensory processing needs, there are there is the challenges with social communication, verbal and nonverbal, and, and whatnot, that do not have a good relationship with their own bodies. Yeah. And that's one of those things that is this really missing in the conversation. And I think that, you know, one of those things that is important about advocating for yourself, in this one, is that Autistic Adults, you do have a right to have a good relationship with your body, regardless of how it works, or doesn't work. You don't have to sit there and say, my body doesn't do this. So therefore, I can't date a friend. No, that is just simply not true. You can, it's just, you know, learning to work within your your own limits, and or boundaries, as we say, and and not only you respecting them, but helping others to respect them as well. And that's why like I say, our next episode, we're going to talk about consent, because that is one of those things that is so very complex for many Autistic Adults. But you know, but the relationships with our own bodies is actually part of our self advocacy. I would ask the question, so please feel free to expound up add to that if you want.
Leah Bauman-Smith
Yes. Oh, no, I am so glad that you brought that up. I think that that is really important, too, for everyone to know that like, folks have the right to privacy, they have the right to yeah, to explore their bodies in ways that feel good to them. I think that really helping people know kind of what are private behaviors and private places like where are safe places that you can be like your bedroom, the bathroom. If you are a caregiver, like where are safe places that the person that you're caregiving for can go to explore their body to learn what feels good for them and to encourage that like they like everyone and you know. Autistic people deserve their privacy. They deserve the right to feel good about their bodies. To learn about their bodies. To know how they work. To know what their what their what all their parts do. And yeah, what feels good to them. And so that's another thing that I really encourage people that I do classes with you is to figure out like, Yeah, what feels good to you. We know we talked about this at the beginning, but that like sex is very sensory. And so different things might be art. Like, not might different things feel good to different people. And so taking the time to explore your own body, and feel, um, to, you know, masturbate, to use a mirror and kind of look at your body. So you are familiar with how it looks? To move it in different ways. Do you use different sort of sensory as far as like being in the shower, or being in your bed or on having different sensory experiences with yourself before you find a partner, I think can be really important. And a good way for you to know, like, going into it, here are things that I've done, and I've tried, I know feel good to me. And I think that can be a really powerful, as far as like self advocacy, like kind of brings some of your confidence up if you know what, yeah, what your body does, what it looks like, how it moves and how it feels different.
Philip King-Lowe
Yeah, yeah, and many, many, Autistics won't really know how their bodies respond to other people touching them until it happens. And that can be part of their sensory exploration with their bodies. That's how it responds to another individual, or they're interacting with. And, you know, yes, it can be challenging to find a partner who will who will be sensitive to that. Without placing inappropriate expectations on that person, or, you know, on, you know. Here's one of those places that I'm going to advocate advocate that you and I emailed back and forth about. There's one matter regarding sexuality and, and sensory processing that some may not be aware. Sexuality is a very diverse thing. Everybody has their things they like to do, the things they don't like to do, things they experiment with, and that sort of thing. And one of those conversations that has come up on more than one occasion with with others from with me and other Autistic Adults I encounter through my own communications, is that for some of us who are hypo sensitive to certain stimulation, may need more than just the typical things done during sex. Oral, intercourse, and that sort of thing. And so there are those who will reach for the more kinky forms of sex, that I know a lot of people don't like to talk about them, but they do need to be discussed. But the point being is that they'll reach out for those things, because they need that for their sensory inputs. I know of Autistic gay men who they use, you know, S&M, B&D and some of those other role playing things, because it helps them, number 1, feel like they are in control. Number 2, it can help them feel like, you know, they can say that works for me, that doesn't work for me. And also because, you know, they need that sensory input to feel like they're in. They're in a controlled situation where they can say what they want and don't want. And I've also heard many that, you know, part of the role playing is that the the matter of consent is so very specific word specific. And so and so the thing that I want to add to this conversation that is so important is that, yes, there are Autistic people that you reach for, I'm going to call them the more diverse aspects of sexuality, and that may not be comfortable for others, but you know, they need those things. Then, you know, it's okay that they need them and let's stop. Let's stop marginalizing them because they seek those things out, please, because I have I have heard of a number who have gone to therapists and they have tried to basically get all that stuff out of their system because it's how they're treated. And I can say that my own therapist is in addition to being really great with with Autism, is also a sex therapist who has had to undo what many therapists have done before him. Because because of how they've been told, you know, these things are dangerous, when, in fact, they're not really dangerous. It's just a matter of how they how they function. Feel free to, uh, to expand on that if you want.
Leah Bauman-Smith
Yeah, yes. Oh, I think that's Yeah, thank you for bringing that up. I think we don't talk about that enough that like, yes, that BDSM, kink, like all of those things are can be like a really beautiful positive part of people's relationships. And you're right, that Autistic folks often because of their sensory needs, that that can increase their pleasure if they are in a relationship that yeah, has those pieces in it.
Commercial Break III
Future Shows
Leah Bauman-Smith will return for the next episode, Autistic Adults: Let's Talk About Consent. The issue of consent is a sensitive topic for many who have been victims of sexual violence. Leah and I will talk about what consent is and is not. We will talk about what consent means and how Autistic Adults and those we love can support and respect our right to give or rescind our consent. Don't miss this episode.
October is Coming Out month for LGBTQIA+ people. It needs to be said that coming out as being Autistic and of a diverse sexual orientation, or gender identity is very similar. On October 4th I will publish the episode Autistic Adults: Coming Out as Autistic, Transgender and Nonbinary. Samuel Woodard a 22-year-old trans masculine non-binary person who is also Autistic will join me to talk about his experiences.
Other episodes coming this Fall will be about managing relationships with other Autistics. Preparing for the Sensory Un-Friendly Holidays. Substance Abuse Addiction. Substance Abuse Recovery and Internet Safety.
Be sure to visit the Podcast Episodes part of todaysautisticmoment.com so you can go to the Upcoming Episodes page to read the descriptions of upcoming shows. Also, join Today's Autistic Moment Community Group page on Facebook.
Thank you for listening to Today's Autistic Moment.
Philip King-Lowe
I want to thank you for for being part of this particular episode. I think you've given us a lot to think about and to process which is good. And so um, thank you for being on today.
Yeah. Thanks for having me. Welcome.
Transcribed by https://otter.ai
Today's Autistic Community Bulletin Board
On Sunday, September 19th, 2021, Minnesota Independence College and Community invites you to their 4th Annual IndePENNdance 5k Run/Walk at Donaldson Park in Richfield, Minnesota. Check In/Registration is at 9:15am, the race starts at 10:00am. Go to www.miccommunity.org/5k.
The Autism Society of Minnesota has just released their Education Catalog for 2021-2022. The catalog has information regarding classes for Understanding Autism and Autism Certification, Skillshops, Interdependence, Membership and Counseling services. Go to ausm.org to download the catalog.
Registration is now open to attend the virtual Autism Community Summit 2021 on Saturday, September 18th, from 9:00am to 4:30pm.
Go to ausm.org to register.
If you have any questions for me, you can always send an email to PKLowe@todaysautisticmoment.com
todaysautisticmoment@gmail.com
Thank you for listening to Today's Autistic Moment: A Podcast for Autistic Adults by An Autistic Adult.
One year ago, through the encouragement of vocational rehabilitation professionals, family, and friends; I began the idea of creating a podcast for Autistic Adults. What started as a simple suggestion has become a successful and rewarding opportunity that is helping people to listen to Autistic Adults talk about the issues that are important to us. During these first nine months, I have published seventeen different episodes covering topics like ableism, Autism Acceptance, Justice in Employment, Diverse Sexual Orientations and Gender Expressions, Gaslighting and so much more. I have received emails from Autistic people and caregivers a like looking for resources for getting evaluated. In July, Podcasters heard a 15 minute clip from the episode Diverse Gender Identities at the first Podcastathon for the National Podcast Association. Just recently, the parent of two Autistic children shared with me that she is a Certified Nurses Aid has started to look into getting a group of people together to advocate for a change in policy that nursing staff and other home healthcare aides be trained to work with Autistic people. These are all such wonderful achievements. Today's Autistic Moment can do so much more with your help. Go to todaysautisticmoment.comto support the podcast.
Thank you for listening to Today's Autistic Moment.