Social stigmas. Sensory processing disorder(s). Abusive relationships. Rejection. Unemployment. Ableism. All of these and many more than can be mentioned means that trauma is an unavoidable consequence for Autistic Adults. Post Traumatic Stress Disorder (PTSD) is among the most common forms of trauma. Benjamin Christmass is 29 years old and lives in Queensland, Australia. Benjamin is a queer, neurodiverse, cardiac scientist. Benjamin was diagnosed as Autistic just over a year ago. Benjamin has studied and written about trauma as part of his Master's Degree thesis. --- Support this podcast: https://anchor.fm/2daysautistic/support
Click or tap on the downward arrow in the pink box below the logo to follow the transcript. See the image below.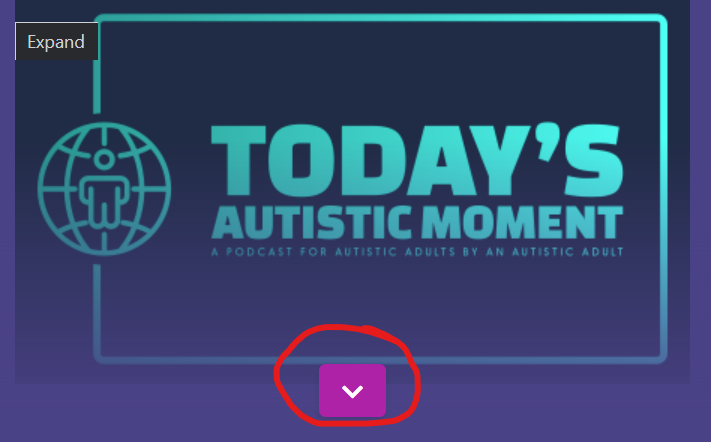 Trauma: An Unavoidable Consequence
February 21, 2022
[You will notice that some words have a strike through font. These are to reflect the new website created in September 2022]
Welcome everyone to Today's Autistic Moment: A Podcast for Autistic Adults by An Autistic Adult. My name is Philip King-Lowe. I am the owner, producer, and host, and I am an Autistic Adult. Thank you so very much for listening.
Today's Autistic Moment is a member of the National Podcast Association.
Today's Autistic Moment is always a free to listen to podcast that gives Autistic Adults access to important information, helps us learn about our barriers to discover the strengths and tools we already have to use for the work of self-advocacy.
This first segment of Today's Autistic Moment is sponsored by The Autism Society of Minnesota: Minnesota's First Autism Resource. For over 50 years, The Autism Society of Minnesota has been honored to support Minnesota's Autism Community. Visit them online at ausm.org.
Please go to the New Podcast Episodes Page of todaysautisticmoment.com where you will find the lineup for the new shows, with the description of each show from now through the end of May. When I publish new shows, you can click on the title and guest of each show to listen to the episodes. You will also find the Program Script that includes all of the hyperlinks I mention on each show and the Interview the Transcripts links will be available to download. Interview Transcripts for 2022 are sponsored by Minnesota Independence College & Community. If you wish to listen to all of the previous episodes including the 24 shows for 2021, go to the Episode Index Page. todaysautisticmoment.com and scroll to find the episodes you want to listen to
Also, be sure to follow Today's Autistic Moment on Facebook, Twitter, Instagram, LinkedIn, and Tik Tok. Please join Today's Autistic Moment Community Group page on Facebook, where you can talk with me and other listeners.
Free tickets are now available for Autistic Voices Round Table Discussion #StopTheShock on February 23rd at 2:00pm central standard time. The Stop the Shock movement began as a response to Federal judges in a 2-1 decision over turned the F.D.A.'s ban to end the use of shock devices in July of 2021. What that ruling means is that using shock devices to treat Autistic Adults and others with various mental disorders is legal in the U.S. Our virtual live event will bring Autistics together to talk about why this practice is lethal to the dignity of the patients that are shocked into behaving more like neurotypical people. Free RSVP tickets are available by going to todaysautisticmoment.com/autisticvoices/. This Autistic Voices Round Table Discussion is sponsored by Looking Forward Life Coaching. This event will be live streamed on the page for Today's Autistic Moment on Facebook.
The efforts I have put in to produce this episode about the topic of trauma as an unavoidable consequence for Autistic Adults, have been met with the complication of getting a guest. The previous two guests for this show were not able to be here. There is no way I can say for sure why getting a guest for this show has been so difficult. However, I am fairly sure that one reason could be because trauma affects the lives of so many Autistic Adults, that being able to talk about it is triggering. As Autistics, many of us know that we live in a world that is designed for and by neurotypical people. Autistic people's lives are shadowed by a medical pathology that is used to define who we are, what we should be, should do, should become, and be successful in being treated and/or cured. The functioning labels that many doctors and medical manuals continue to use are for the purpose of determining just how "othered" we ought to be, are in fact designed to obscure the Autistic Spectrum by suggesting that it is linear. The Autism Spectrum is a sphere by which every Autistic person regardless of our support needs is part of the whole. The rainbow of colors within the sphere of the Autistic Spectrum symbolize the beautiful and wonderful array of neurodiversity that each Autistic person adds to the whole. Yet, Autistics are considered unemployable. Unable to manage interpersonal relationships. Accessing our support needs are determined, approved, or denied from an ableist point of view and a broken health care system. These and other innumerable issues contribute to the amount of trauma that is an unavoidable consequence for so many Autistic Adults of any age.
The guest for this topic is from Queensland, Australia. Benjamin Christmass (that's right it is his last name), is a 29-year-old Autistic man who identifies as a queer, neurodiverse, cardiac scientist. He was diagnosed with Autism only one year ago. Benjamin did his Master's Degree thesis on the subject of trauma. Benjamin will talk with me very eloquently about trauma as an unavoidable consequence for Autistic Adults.
After this first commercial break, Benjamin and I will talk about trauma from a view point of the social atmosphere for Autistics and why it is so toxic to the personal welfare for neurodivergent individuals. Please stay tuned.
Commercial Break I
Philip King-Lowe
Benjamin, thank you so much for being on this episode of Today's Autistic Moment. I am especially honored that you live in Australia. I live in the United States. And we are having this conversation from one continent to another. Welcome, and thank you for being here.
Benjamin Christmass
Oh, so thank you very much, Philip. And I appreciate having the opportunity to help out. Having a having a transcontinental conversations always a bit interesting.
Philip King-Lowe
Yes, it is. Yes, it is. Yes, it is. Um, to explain to my listeners here, there has been some challenges with getting a guest to commit to this particular topic. And I don't pretend to know exactly 100% why that has been. But I suspect it has a lot to do actually, with a prevalence of trauma for Autistic Adults. It can be really difficult to even talk about trauma without experiencing how much how real that trauma impact can be so but I won't. But I won't say that's the only reason. But, Benjamin is here. And he shared with me. As we've gotten connected that he did some Master's Degree work on this topic. And so after I asked you my question, you're free to give us a little bit of that background if you so wish. So let's get down to it. What important information to Autistic Adults in our caregivers need to know about when we talk about trauma as an unavoidable consequence. So let's talk. Please go ahead.
Benjamin Christmass
Well, but the more I learn about trauma definitely is something that is very much a multi dimensional sort of understanding. And with trauma, I find in my own experience, it's a slow unwrapping of the onion, so to speak. Particularly, the more I'm able to look at my own life and through hindsight being 2020. You start to look at and start to realize the impact sort of traumatic experience has on your life and the expression of it, particularly when it comes to dealing with things that are difficult. And, you know, from my perspective, I guess, what's important for I think a lot of individuals that are either in the, in the periphery of Autistic or, or neurodiverse individuals. I think it's just a a grace, understanding more than anything. And that I think, is almost a guarantee for neurotypical individuals or majority status individuals. They are already coming from a place of comfort. And so and I mean comfort very much in the sense of not a leisurely comfort more than anything, it's just a it's just a societal comfort, I'm secure. I have the ability to navigate life in a typical way. But if you were to have that perspective, and then place that upon a person that's either Autistic, has neurodiverse traits, a particular disability, or minority status. They're not coming from a fundamental place of comfort, or, you know, a typical societal expectation lifestyle, you know, I'm going to go buy a house. Get a job. I'm going to go and, you know, have have kids and get married and, and all those sorts of things that generally most people like to go down, it's that in of itself is a huge task. And there's people that are undiagnosed, as well, that don't even realize the anomaly of what they're doing. And the toll it's taking. And the toll itself, is just very much a multi dimensional thing. And the more you understand that it's multi dimensional, and it's coming from a place of inherent discomfort for everybody in these communities, that's where you can start from and then build from there, and not pathologize things so much. And, you know, I think one of the biggest things is just grace and understanding. People, all people have different types of challenges. But I think as well as the, the, the amount of patience, or space that we give individuals like you and I, or other people that are, that are similar or more disadvantaged, the space given for them to try their very best to succeed in life. It's fairly small. Its, almost non-existent.
Philip King-Lowe
Yeah, I think that's a great way to start this conversation. Um, so let's take it from what I've been saying in my description leading up to this. Being Autistic, there's so much that can be said, as I said, there's a sensory processing disorder. There's the rejection. Abusive relationships. You just mentioned people who are not diagnosed, and which involves the matter of masking through a lot of our life. There are these matters of unemployment, which also for many Autistic people, economically impacts them tremendously. You know, on all of these things, and more that I can't mention, are too many to mention, they create trauma. And let's be be be sure that we make a differentiation here. There is the physical trauma that often requires a visit to the hospital, you know, or a medical professional that a body is experiencing a trauma, the type of trauma we are talking about when we're talking about Autistic Adults. Yes, there's mental emotional trauma that also can bring about some major physical trauma. Because trauma impacts the body and the mind in some way or form. Sensory overload can really cause a lot of trauma. A sensory overload, regardless of how large or small is a traumatic experience. And so, the point is, as I as I say, in the title, for Autistics, trauma is an unavoidable consequence. It's going to happen. Differently for each Autistic. But yes, it's a part of our life. For better or worse, or however you say it. So please add your comments to that, if you wish.
Benjamin Christmass
Yeah. So I think a good conceptualization for understanding the lived experience for an Autistic individual, or even just a neurodiverse sort of experience. I think a good way of phrasing it, and I'm not a big fan of the word microaggression in the sense of the connotation, it can bring people people bandied about it rather superfluously when there's some very some weight to that word. But I think the idea of micro traumas, and I don't mean micro trauma in the sense of the trauma itself is small, it's just persistent. Throughout the day environmentally, what we would call minority stress. A minority stress is a it's an apt sort of paradigm I think to understand if you go into into an environment that is designed, maintained, used, and, and built upon that is for a neurotypical, neurotypical, or majority status individual. Naturally, that environment is going to be hostile, or, you know, depending on the severity to anyone else, it's different. So if you have an Autistic individual, so like, for me, I work in health care. And I work in a very bright light environment, very loud, lots and lots of sounds. And, you know, for some years, I found myself, grinding my teeth at work. And I'm grinding it to the point where people are noticing, I'm not even noticing, in the sense that I know I'm doing it, I just know that I'm going to get my work done. But being in that environment, and not understanding how my brain works for some time, and how it interprets the world. I was I was, I was essentially going to work not being aware that I was traumatizing myself, through just the sounds and the lights and the the way that the way that I'm working, was me just thinking there was something wrong with me, and I have to change, I have to adapt, I have to do this or that in order to placate an environment or an individual. And that all those steps that we take to ensure the comfortability of others, essentially, is trauma. And then you have the severity of which that will just go up in terms of how intense that trauma is, is felt by the person. And I think if you were to look, if you were to look at Autistic individuals, and you know, the double empathy problem as well, and empathy and how we are very well, I know, in my own experience, I very much resonate with feeling too much for others. I struggle sometimes looking after myself, but I can definitely look after others and care for others and be there. And that's something that I find is great to me. And it's a blessing in many ways. But it's also you're very sensitive about certain things, and it can be very hard to deal.
Commercial Break II
Support Today's Autistic Moment
I hope that you are enjoying my conversation with Benjamin Christmass. This particular episode highlights just how far Today's Autistic Moment is reaching Autistic people on a global basis. In addition to being an important informational resource, Today's Autistic Moment is working to bring together the Adult Autistic Community so that we can interact and work with each other towards a more accepting and inclusive world.
When you support the work of this podcast, you help bring the voices and lived experiences of Autistic Adults into the public dialogue so that neurodivergent individuals can work towards a better future.
Please go to todaysautisticmoment.com and click on the blue button to be taken to my Patreon page where you can support the work of Today's Autistic Moment for $1.00 a month or more. Also, please share the shows you listen to on your own social media networks with friends, families, and communities.
Thank you for listening to and supporting Today's Autistic Moment.
Benjamin Christmass
So with with all the barriers, where does one start? And, and I guess the you know, if you were to think about the numerous sort of barriers in, in just daily living, and trying to then seek even a diagnosis for some, you know, which is very you know, I know, in my own experience, I was very keen, but I didn't realize the impact it would have on when I knew. And I had received that diagnosis and all the subsequent internal analysis that I had to do. I'm lucky, I'm in Australia. So, you know, we have a really great healthcare system. And there's still a lot of work to be done. In my personal opinion, but I don't think the barriers that I've experienced, I probably what the majority of Autistic individuals would experience was, I'm also coming from a place of somewhat privilege, you know, I work in a place where I have connections and, and an ability to navigate a healthcare system, which is very, very difficult. For a lot of people, it's so hard to be able to even understand where to go first. Who to speak to first, which person is going to take me seriously, which person, you know, you might spend all this time finding somebody to then get an assessment or diagnosis, only to find out that they don't necessarily believe that say, like, the likes of autism is real. Or they have a biomedical model sort of view that's rather toxic. And it's, it's, you know, based around behavior management and curing a person's affliction.
Philip King-Lowe
Right. Exactly. Yeah. Know, what you're saying is very, very true. Um, and many of us in the United States would envy your healthcare system there in Australia. Because, for example, I have have a person who listens to me and they have a spouse who they believe is Autistic, and would like to get them diagnosed. However, the healthcare system where they live, will not pay for an adult to be diagnosed. They will only pay for, for someone to be diagnosed up to the age of 19, after 19 their health care will not pay beyond that.
Benjamin Christmass
Talking, even talking about that, in of itself is a trauma. You know, how our understanding of Autism and ADHD neurodiversity. It's a permanent thing. Right, it is the way it is, you know, there is some science and some research to suggest that younger individuals that are particularly specifically ADHD, specifically, just that, you know, if if early intervention is done, a lot of those lower levels of development can come up to a point where it's an acceptable difference within neurotypical society, but, you know, most the point having to not even be able to have that access, like it's, it's nonsensical, you know, do we grow out of it at 19? No. So why why is it that says this arbitrary sort of compartmentalizations around who can access this, we only do this specific part. And it it honestly, that's trauma, all of it, just navigating that, and trying to pass that through these, like I mentioned before, it's just micro traumas all the time. And naturally, they accumulate, it's not through, and then they pass, they accumulate, and then there has to be a release valve.
Philip King-Lowe
Yeah, yeah. Yeah. And let and what you're saying is, is it is a very valid point, that trauma, upon trauma upon trauma. It all kind of comes in as this huge amount of trauma. And I know as somebody who does live with PTSD, that there's all these little packets of things that really come and visit. And just unraveling these individual trauma experiences, so that you can hopefully address the whole become so difficult. It's like it's almost like, you know, it's like, it's like, you know, digging up the ocean with a teaspoon, as we say, you know, it really can be can be quite, quite complicated. And a lot of the barriers are, you know, as I say, just getting employed because one as Autistic or or being considered part of certain social groups, um, you know, being accepted by your peers, by your family, being taken seriously by the people you are with, all of that can really bring out a great deal of trauma that, you know, take time to work through. Go ahead.
Benjamin Christmass
Yeah, so one thing that I, I particularly have always struggled with, and knowing what I know now about myself and advocating in this space is its language and language, the use of language, in many, in many contexts, in your employment in your daily living, institutionally, you know, through your, your advocacy organizations, language is everything. Right. And the way that things are conceptualized in terms of understanding. So, you know, we talk about what, you know, we're talking about these barriers, and then trying to navigate them. And then whether they in themselves give trauma, you know, this sort of problem that we have with you know, taxa even now, I've got the ADHD brain, and I'm trying to chase that thought back that I just had, but it's, you know, I forgotten my point. What was I? What was I just mentioning just before?
Philip King-Lowe
We were talking about barriers, and I think, and by the way, I have ADHD, too. So I understand. Um, but yeah, um, I think we were talking about all of these various experiences on the trauma that it can the amount language and break language language,
Benjamin Christmass
Yes. So language is, you know, so particularly the way it's conceptualized. When I first well, knowing what I know, now, looking back, when I was growing up, the, this the social sort of language in the culture online around Autism was so toxic. Yes. And it was, it was a tokenized sort of movement. And, and it was very much other to me. Itt wasn't relatable, I didn't understand it. But then going back and looking through things now, the language changing, the language is changing very rapidly, and it's becoming more inclusive. And it's becoming more present of, you know, language can form it can elucidate trauma, we can actually impact people by saying, "Autism can be cured." You know, Autism, we can we can treat it, and we can get it to a point where people are neurotypical. You know, I find that very offensive actually. It's something that speaks to what what, so you don't like the way I see things, therefore, I am wrong. And I have to change. And that is a trauma. Because you internalize that, that's not just, it's not just an externalized sort of scenario in which you deal with somebody being discriminatory or anything like that. There's people that is, like, I have some conscious awareness as to what the impact is internally, not a lot. But there's some individuals that don't have that ability. And so they feel it within their body. They feel it within that, thier internal systems. And so they might have physical expressions of this. You know, I know that I used to get incredible amounts of muscle pain, and my shoulders and my legs and my arms would lock up from stress. And I never understood why. And it turns out, you know, that's, that's my body reacting to the environment, and to the hostility that I've been trying to push down for some time, and trying to ignore or not necessarily see, and these little traumas that keep happening and the more awareness that you have about them, and you want to speak to them, even speaking to them can be traumatic, especially when no one wants to listen.
Philip King-Lowe
Exactly. Yeah, yeah, yeah. Yeah. All great points. And now we are going to move into the third question, which is, What steps do Autistic Adults and our supporters need to take to advocate for our needs? And again, we say, Autistic Adults, we have those strengths and tools we need to use for the work of self advocacy. And this is where we talk about our strengths. Finding our strengths, and using those strengths. You know, I'll give you an example. I happen to think that Autistics have a great sense sense of determination, once they, once we get a hold of something, we really work at it. When it comes to trauma, actually, that can be more of a great strength rather than weakness. But go ahead, you give your points to those things.
Benjamin Christmass
Yeah. So, um, well, I'll probably frame it in two ways. And the way I would frame it is the first way is, you know, proper, no, I want it I won't say proper, but probably effective self advocacy, I think starts with self. Right. So when, when you are in a position to feel as if you could do that, I think it starts as well. Before anything else, it's just in the advocacy in the self efficacy is just the way of your self positioning. So for a long time, I can say, I'll just speak from my own mind sort of life experiences, you know, it's more the you just got to understand that when we when we've lived through life, and then we get told this diagnosis, or this is, this is the way that you are, it's all that sort of environment, you've absorbed that sort of understanding. And so you'll want to, in order to self advocate properly, right, just pivot your perspective as to how you see it, like you said before, what are our strengths? You know, the strengths, that we see the world differently, we navigate it differently. And we're able to provide unique experiences that most or some can't conceptualize, even from the beginning. So it's just another way of thinking. That's, and that is that, that in of itself, is a pivot away from the biomedical model, the pathology, the you know, the path alized pathologized sort of nature of everything that we keep wanting to compartmentalize and make everything perfect. It doesn't work like that. And so the more that we pivot towards, I actually am am, I'm a human. I'm a person, I'm not broken. I as just as my eyes are different, my skin is different. My finger, my fingerprints are different, like everyone else, and unique. So is my brain, it's not much of a stretch to think that people have different brain development and subsequent expression. But it seems we get stuck on some very, sort of, I don't know, adolescent sort of ideas of things. But the second sort of a second sort of view, I would have is like you say the strength of going through trauma. Now, I'm a fairly spiritual person. And I do really appreciate some perspectives on the nature of suffering. And I would like to just preface that the word suffering, I don't mean gratuitously. I mean, you know, you look at somebody who hasn't had a very hard life as to whether they've learnt or that much, experientially, and it's generally not the case. You look at somebody that has had a hard life, and is still, you know, a person that is willing to be there for their community or what have you. They've learned a lot. They know how to navigate life a bit better in a more holistic and friendly and loving way. And I think that is the way to go about it, you know, is to see that your trauma is yes, this has happened to you. And you have all the prerogatives in the world to fail process and deal with these things in the time that you need for as long as you need. But I also believe that it's an armor and you can wear it and show others that it's okay to wear it. And it's okay to use it as your strength and it's a strength. Because it broadens. It broadens who you are. It gives you a sense of empathy that that you can relate to others and see and understand. And you wouldn't want to propagate any more suffering on others. So naturally just by by wanting to be a more inclusive person to yourself, and having that love for yourself and understanding yourself that will naturally gravitate towards others. And so in that self advocacy, that self advocacy will become just natural. It will be spoken word in the sense that I am this way. It's a lived example now. And people can see that and say, Oh, that somebody that is neurodiverse. That's right. There's no, there's no compartmentalization there. Those persons neuro diverse, and they are a person in this, say, organization that's really good at doing this particular this particular set of tasks, and they're the go to person for that. And they're really, you know, just as an example,
Philip King-Lowe
Yeah, right. Yeah. Yeah. I love how you've been talking a little about bit about empathy, here. And let me just give this little push here. As you know, if you don't know, I started having Autistic Voices Roundtable Discussions. I host four of them every year, they are live virtual events by which we get Autistic individuals to talk about issues that affect us. And it's a little bit more of a controversial type of thing. But, next October, I plan to do one called Busting the Myth About Empathy. And so, and what you're saying, is a perfect example, that, you know, people assume that we don't have empathy, when in fact, we some of us actually have too much empathy in some cases. But, but the other piece of it is that, you know, we actually have a have empathy based on what we've experienced for ourselves. And I fully agree with you that when we have endured that kind of suffering, um, and let's preface this by saying no, it is not fair that the suffering is there. And yes, it is extremely painful. But at the same time, when as we work through that suffering, as we confront, confront it, deal with it, work with it as best as we can. We do gain strengths within ourselves. And we do gain a perspective of others who may be experiencing similar things. Um, you know, there is a piece called theory of mind, which suggests that Autistic people cannot have difficulty with perspective taking about, you know, predicting the thoughts and feelings and reactions of others. And, and one of the things that some of my guests and myself have discussed, is that I think Autistic people, we tend to have a lot of empathy understanding of what other Autistics experience, because that is our common thought. But we don't really have a full understanding of how to have a sense of empathy. For those who are not Autistic in a way that they will understand that we are actually empathetic. And I don't mean to, I don't mean to generalize that because that's not fair. But nonetheless,
Benjamin Christmass
I know what you mean, I think, yeah, yeah. Yeah. So like it. Sorry, sorry. Yeah. So I think, um, I think it us, you hit the nail on the head there. It's not as if we, we, we want to show neurotypical majority status individuals like performatively, that we are empathetic. And in a way that they understand, but there's also that, and I actually was thinking about this before that I think speaks to what you're talking about. There's a gap in the in the in understanding, and I made this just as an observation from both sides of the aisle. In the way that say, I see my own internal self and how others see me externally. Right that that is a gap. And that gap between i guess i neurodiverse people is a lot smaller. So the person that they see is very much probably close to the person that I feel that I am on the inside, right. So there's not much of a, a desperateness in their understanding of each other. That's why naturally you gravitate towards people that can see you. Understand you, but then when you're dealing with somebody that is, say, neurotypical, the gap is far larger, and it's a far, large, larger distance to cover. And that's like, that's a consistent, a consistent amount of distance that you have to cover in every interaction every moment. There's a big breakdown, in terms of the extent external sort of presentation, which, in of itself, with Autistic people is rather different. But also the internalized self, ourselves, where we feel very deeply, we were intuitive, we understand maybe what another person is feeling before they even they even know what's happening. You know, or they, we feel maybe that they know, we know that they don't understand us. We feel they, you know, and we understand that this person is struggling. But we also have, on our internal side, don't know how to bridge that gap. And that makes it very difficult. It's like two loggerheads trying to get. And that's, I think, part of the parcel of communication, I think we need to, language develop a way that's not going to elucidate trauma on an active an active level. The language is being inclusive, and it's made to bridge those gaps between communities, particularly when it comes to neurodiversity, Indigenous men and women and families, First Nations and LGBT individuals. And because those gaps widen even further. The more that you understand, in the sense that say, you've got a neurodiverse person, he might be indigenous, he might be queer. And then you have that huge gap to both their internal identity and understanding of the world, to how they externally present the world around them. It becomes very difficult for some for neurotypical majority status individuals to even conceptualize the gap. And if there's, if there's a if there's the argument, if we're arguing about whether the gap is real or not. Well, you know, we're not getting anywhere, really. And it's, it's an exercise in futility, if we're going to argue as to whether there's any disadvantage, we've got a lot more work to do. So.
Philip King-Lowe
Yeah. Yeah, I agree with that. And I think that's a great point to make with the issue of trauma, which the last point, and I'm going to invite us to also really talk just a little bit about but one of the ways that we can advocate for ourselves is by finding and, and interacting with the Autistic community, wherever we happen to come from. You know, there are a lot of social networks on the various social media connections, Facebook, Twitter, Instagram, LinkedIn, especially on all of those, where we, we are seeing Autistic individuals coming together to advocate with for and about each other. Um, we're seeing those connections being made. And part of, you know, working with that trauma in our life is finding other Autistics for whom, have some understanding as to what we're experiencing, but also, who can help us find those, those strengths and tools, and really make them work for not just ourselves, but also for the Autistic community as a whole. I think that's all very important. I really do.
Benjamin Christmass
Yeah. It's definitely important. And I think it needs to be framed from the perspective that we need to constantly evolve our understanding, and how to transmit that. And we always have to use the very people that we're trying to represent, as the people that do the educating, do that the awareness building people like yourself, and there's no point in, in trying to understand a community. But learning it from an individual that is not from it. I have just been on the outside observing. And all you're going to get is a repetitious level of observation. And that doesn't actually speak to anyone's lived experience. It doesn't provide any understanding. You know, and you can't be on the outside telling how the inside should be living. Right, it doesn't in of itself, it's it's actually rather prejudice, you know? Yes. And I think like, we need to just constantly push and, and, and have compassion. I think one thing that I personally struggle with, and this is very much I think I aligned position is that we're becoming in all respects of society very hyper polarized. And the hyper polarization of, of, of discussion is, is something that I find very hard to deal with, particularly when it comes to contentious things, and I think in the Autistic community and, and the neuro diverse community, I think it would, I think it would definitely give us an opportunity to show others that we actually are way more than then than we are perceived to be. Particularly coming along the lines of self advocacy, and education. You know, if an employer or an organization wants to empower their neurodiverse individuals, you don't go and outsource that education or awareness building from a neurotypical organization. Right, you would go and support the very community, that is one providing it, but that also empowers that community more to continue that work.
Commercial Break III
Future Shows
March is Women's History Month
Today's Autistic Moment will honor Women's History Month with two very special shows.
On March 7th, join my guest Rosmarie Carreiro and I for an in depth show about Adult Autistic Women. Rose will share her insights about how the public stereotypes of women and men impacts the diagnosis and culture around Adult Autistic Women. Rose will inspire you with her personal journey of discovering her own Autism. Rose will also mention how the communities of Autistic Women are growing and the work for self-advocacy to challenge the status quo.
In February of 2021 I had a great conversation with Dr. Theresa Regan about Aging Autistic Adults: What We Needed Yesterday. The lack of reliable resources, including medical professionals who do not have a working knowledge of what Autism looks like, means that as Autistics age getting what we need becomes even more complicated. On March 21st, Michele Newman will be my guest to talk about Autistic Post-Menopausal Women. Michele was diagnosed with Autism at the age of 54, following a 35-year span of psychiatric misdiagnosis and medications that have affected her overall health. Michele will share with us about her lived experiences that will move us to working on some robust and effective advocacy to improve the conditions Autistic post-menopausal women are living through.
Please note that the episode We're Not Broken: Changing the Autism Conversation with my very special guest Eric Garcia, will be on Autism Acceptance Day, that is Saturday, April 2nd. Eric's book is one of the most comprehensive and accurate works that represents who the Autistic Community is, and what we are all about. Whether you have read Eric's book We're Not Broken or not, you will enjoy his talk with me on April 2nd.
Thank you for listening to Today's Autistic Moment.
Philip King-Lowe
Wow, this has been a great time just, I'm just amazed. Before we conclude this incredibly great talk, um, are you aware of resources, online resources that some Autistics might be able to tap into? That might be beneficial?
Benjamin Christmass
Yeah. Um, so if anyone is looking online for some free sort of resources about neurodiversity, ADHD, particularly autism spectrum. Now, I'll just preface that Australia is not as far ahead as America when it comes to or Canada or what have a Europe even when it comes to language around disability. We are still very much grounded in the language of the biomedical model. And it can be somewhat distressing for some, but I'll say also, there's a lot of free resources. And I would say all you need to do is just go on to Google type in autism spectrum and then Australia. And pretty much you will find a wealth of resources, particularly. There is one website that I found very good, which I think was Reframe Autism, Australia.
Philip King-Lowe
Yes, I know what you're talking about.
Benjamin Christmass
Yeah, so that was really great resource. But I'm also finding them all myself. So I I'm still navigating all that sort of side of things. But I really recommend that people just just have a Google and have a look around. Yeah, you'll find some great stuff.
Philip King-Lowe
Yeah. Yeah, I hear that. Those are great. Those are great pieces of advice. Um, as far as your remarks about what's happened in America, and so we are definitely struggling in the US between the medical and the social models. We do have our issues with once somebody is diagnosed, they're automatically admitted into the mental health system. And defined by that, you know, that sort of thing, even though it's a neurological developmental disorder, but we're definitely dealing with that. And we're also dealing with the drive to become more independent, and interdependent as neurodiverse people versus a group of people who need to be cured or fixed or treated. And we're where we're really dead, dead dead in the center of a lot of that, unfortunately. But, um, yes, well, um, well, Benjamin, I cannot thank you enough for this incredible conversation. And you've spoken so eloquently about the matter of trauma. And so I'm, I cannot thank you enough.
Benjamin Christmass
Thank you for the work you do. Thank you. Thank you very much. I Yeah. It's, it's really about the awareness building that you're bringing to the platform, and just to the community at large and the fact that you're providing an opportunity for Autistic Adults to speak and in a safe space, and that in of itself is is a huge amount of of contributions towards the community at large. You just think about that impact, but also what it brings to you Philip and absolutely meaning and the empowerment it can bring to you.
Philip King-Lowe
Yeah, well, good. I'm glad you feel that way. And And wow, just thank you once more.

Benjamin Christmass
No worries at all.
Transcribed by https://otter.ai
Today's Autistic Community Bulletin Board
You can now find the links for all events announced in
Today's Autistic Community Bulletin Board by going to todaysautisticmoment.com/bulletinboard/
The Ordinary Marathon Foundation invites Autistics from the ages 15 to 24 to participate in Actually Autistic Athletes. The program will include one set of shoes, shorts, socks, shirt, one pair of running shoes, a running ban, and one-on-one coaching from a Certified Athletic Coach for up to six months. Go to todaysautisticmoment.com/bulletinboard/ and click on Actually Autistic Athletes for more information and to apply anytime, but especially February to Mid-April.
Understanding Autism virtual classes will be offered by The Autism Society of Minnesota. These classes are perfect for Autistic individuals, caregivers, those who want to understand the basics of Autism and support Autistic people. Classes will be held on March 21st from 10am to 12pm. April 18th from 6pm to 8pm. May 16th from 2pm to 4pm. Classes are free of charge, but you must register to attend.
On February 22nd, from 7pm to 9pm, Jillian Nelson will present a virtual skillshop at The Autism Society of Minnesota entitled Food and Function: Mealtime Solutions When Executive Function Isn't On The Menu. Jillian share her lived experience in navigating mealtime with significant Autistic challenges including motor skill and executive functioning deficits and the consideration of dietary needs that make meal prep and planning a daunting task. Jillian will share shopping hacks, cooking tricks, and useful kitchen tools, and a variety of life lessons that make Autistic meal time less overwhelming and more enjoyable.
On Tuesday, March 8th from 6-8pm Sam Grover and Kat Olson will present the live virtual skillshop Cookable Kitchen at The Autism Society of Minnesota. Cookable Kitchen's mission is to empower people of all abilities to cook. Join them for a step-by-step online class where they will make dinner together and socialize. Participants can cook independently or with support as needed. This class will involve using the oven and microwave and handling raw meat. A week before the class, attendees will receive an email with the recipe, a list of ingredients, and the Zoom link.
The Autism Certification Direct Support virtual classes spring session at The Autism Society of Minnesota will begin on March 7th, and continue on March 14th, 21st, 28th and April 4th. These classes are perfect for job coaches, support staff, personal care attendants, EIDBI Tier 3 providers, Educational Aides, Support Personnel, Group Home Staff, Day Training and Habilitation Professionals, anyone who works directly with Autistic individuals and Autistic people.
To get information about these and other events at the Autism Society of Minnesota, please go to ausm.org. You can also go to todaysautisticmoment.com/bulletinboard/ and click on The Autism Society of Minnesota to register for their events.
Registration is now open to attend The 2022 Minnesota Autism Conference April 27th-29th, 2022, at the Hyatt Regency in Bloomington, Minnesota. There will be both in person and virtual events offered. Go to todaysautisticmoment.com/bulletinboard/ or ausm.org for more information and to register.
Today's Autistic Moment is sponsored in part by Looking Forward Life Coaching. Looking Forward turns stumbling blocks into stepping stones towards success. Go to lookingforwardlc.org for more information.
Lastly, while all of the spots for ads during the podcast itself are full, you can join Looking Forward Life Coaching and have your business or organization mentioned at the end of each podcast show.
If you would like to have your business or organization mentioned, have questions or comments about Today's Autistic Moment, please send an email to PKLowe@todaysautisticmoment.com. todaysautisticmoment@gmail.com.
Thank you for listening to Today's Autistic Moment: A Podcast for Autistic Adults by An Autistic Adult.
May you have an Autistically Amazing day.