The new website todaysautisticmoment.com is now available .
To find the transcript click on the downward arrow inside the light pink box. See the image below.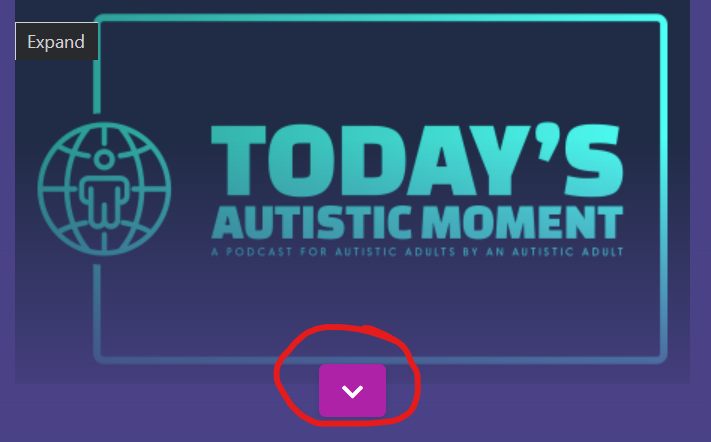 Hello everyone. This is Philip, the owner, producer and host for Today's Autistic Moment: A Podcast for Autistic Adults by An Autistic Adults. I have some wonderful news for you. The new website todaysautisticmoment.com is now operational available. Go to it right now and see the wonderful new changes. You can now listen to the podcast directly from the website. You no longer have to click on a link, to be taken to another link to listen to the show. You will also notice that the page is a darker/brighter color. There are now menu options at the very top of the page, all spaced out in larger print for you to be able to see and use. There is also now a how to use website for those who are used to the old website. You can find there how to use with a social narrative so that you can go through all the menu options, know what they're for, and know what they're about, and also learn how to play the podcast from the website. The transcripts that are available are for the most recent episodes, beginning with August 22. The transcripts for all previous episodes before that are forthcoming and will be added in due time. You can also now leave me a review. You can contact me directly through the website. You can also now send me a voice message. You are going to love the new features. And you are going to love the new sounds and the new features. I invite you to go to todaysautisticmoment.com. Check out all the menu options. And I know that you're going to love the changes. Also, in terms of reaching me, the new email address is todaysautisticmoment@gmail.com Thank you everyone and enjoy the new website.