Oluwatobi Odugunwa works with the Autistic People of Color Fund will be my guest for The Strengths and Achievements of Black Autistic Adults. The news and media tends to focus on the difficulties of having Autism, and black people are sadly classified as troubled and/or inferior to white people. In keeping with the theme for this year, my guest Oluwatobi Odugunwa and I are going to talk about the great work that Black Autistics are doing to foster a society of anti-bias towards Autistic Black individuals with disabilities.
--- Support this podcast: https://anchor.fm/2daysautistic/support
To read or print the transcript from a document please tap or click on The Strengths and Achievements of Black Autistic Adults
To read the transcript from this website scroll down below the logo on this page to begin reading it. Look for the downward arrow in the pink box. See the following example.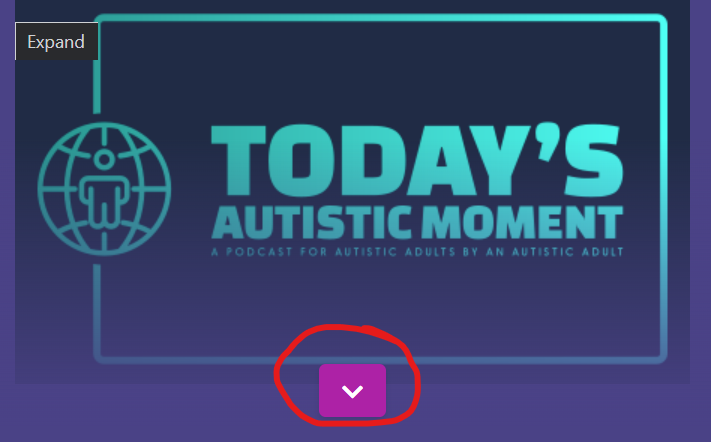 Segment 1
Transcript
The Strengths and Achievements of Black Autistic Adults
February 19th, 2023
Welcome everyone to Today's Autistic Moment: A Podcast for Autistic Adults by an Autistic Adult. My name is Philip King-Lowe. I am the owner, producer, and host; and I am an Autistic Adult. Thank you so much for listening.
Today's Autistic Moment is a member of The National Podcast Association.
Today's Autistic Moment is a free podcast that gives Autistic Adults access to important information, helps us learn about our barriers to discover the strengths and tools we already have to use for the work of self-advocacy.
This first segment of Today's Autistic Moment is sponsored by The Autism Society of Minnesota: Minnesota's First Autism Resource. For over 50 years The Autism Society of Minnesota has been honored to support Minnesota's Autism Community. Visit them online at ausm.org.
Please visit todaysautisticmoment.com where you can listen to the podcast, get the transcripts, program updates, and read the guest bios. Please visit the Future Shows Page with the guests, titles, and descriptions of all the shows coming up through the end of June. The transcripts are sponsored by Minnesota Independence College & Community. The transcript can be read and followed from the website, or you can click on the link provided to be taken to a written document to print or read it there.
Please follow Today's Autistic Moment on Facebook, Twitter, Instagram, and LinkedIn. Do you want to talk with me and other listeners? Join Today's Autistic Moment's Community Group Page on Facebook.
You are welcome to watch me, and the panelists live on Wednesday, February 22nd at 2:00pm Central Standard Time for Autistic Voices Roundtable Discussions: Autistic Business Owners, Professionals and Employees. The panelists will talk about how they use the best of their Autistic identity and skills to be successful. The mainstream media and the general public focuses on the deficits of having Autism. The negativity around Autism suggests that Autistics are not capable of being successfully employed. The panelists at this roundtable discussion are Autistics who own businesses, work in professional environments, and are employed in jobs where they are thriving. The panelists will include those who are employed and/or self-employed, working full-time or part-time jobs. The roundtable discussion will be livestreamed and recorded on Today's Autistic Moment's YouTube Channel.
I am publishing two different shows today. This episode is The Strengths and Achievements of Black Autistic Adults. Immediately following this installment will be the episode A Journey from Suicide to Autism Crisis Support. There are some changes in the routines for each show. All of the announcements about the podcast itself will be part of this episode, in the next, I will just announce the topic and guest. There are three sponsors for this show, and three for the next show. You will hear the Future Shows announcement before segment four for this episode, but Today's Autistic Community Bulletin Board will be on the next show.
I am so excited to be presenting this show The Strengths and Achievements of Black Autistic Adults with my guest Oluwatobi Odugunwa. Oluwatobi Odugunwa was born in Nigeria. They are an Autistic and chronically ill mobility aid user. They began their journey as a self-advocate and now advocate for their communities for disability frameworks. With an academic and professional background in racial justice and LGTBQ rights, Oluwatobi is newly involved in the disability justice movement and now works with the Autistic People of Color Fund. Their day job is an Anti-Bias Coordinator consulting on DEI Issues, including ableism and disability-related topics and a publishing company.
Oluwatobi Odugunwa is here as Today's Autistic Moment is recognizing Black History Month with a focus on Black Autistic Adults. You will hear Oluwatobi reiterate some of what Precious Lesley mentioned in the previous episode. Oluwatobi will add their point of view on how many Black Autistic Adults are reaching out for opportunities to discover the strengths that are often downplayed by the media and accomplishing great things to benefit the movement towards racial and neurodiversity.
Please stay tuned after this first commercial break to listen in on my conversation with Oluwatobi Odugunwa.
Commercial Break I
Segment 2
Philip King-Lowe
Welcome back. Please join me in welcoming Oluwatobi Odugunwa.
Oluwatobi Odugunwa, thank you so much for being on this episode of Today's Autistic Moment. Welcome. I am so grateful that you're taking this time out to be a guest today.
Oluwatobi Odugunwa
Thank you for having me.
Philip King-Lowe
You're welcome. You're welcome. So, as we are observing Black History Month, and my last episode was Black Autistic Adults: Stop the Whitewashing. And that was with Precious Lesley. She spoke about what's happening within the movement for neurodiversity, and how that she sees that affecting the Black Autistic Adults. And so, as we begin this topic, you know what we're talking about the Strengths and Achievements of Autistic Adults. I invite you to maybe give some of your thoughts to that same question. What important information do you feel Autistic Adults and our caregivers need to know about, with what we talked about, about Black Autistic Adults, and what's happening within the movement for neurodiversity? And then I'd like you to, you know, talk a little bit about what you do. And you know what you're doing, as we talk about the issue of racism, and being Autistic and disabled.
Oluwatobi Odugunwa
Yeah, I'd like to address I think Autistic people are Autistic Adults first and then address caregivers. But I would say to Autistic Adults, especially Autistic people of color, who may have like realize that they're Autistic later in life. This is, we should all know this, but I find it I also need to tell myself this often. But like being Autistic is great and being Autistic is healthy. The way we think and move and behave and process is natural. Like sometimes we need accommodations and further clarification when we're interacting in neurotypical society and with neurotypical people, but there's nothing inherently wrong with us. Sometimes, the difficulties we face may try to confuse us. But this world just wasn't built for us. It's not that we are not fit to live in it. Yeah. But I would say to caregivers, that Autistic Adults are adults, We're not children and adult bodies. There's a very dominant neurotypical mold of how adults should act like what we should like, how we talk, how we should think how we should communicate. But that doesn't mean that Autistic Adults aren't adults. I feel like the definition of what an adult of who an adult is needs to be broadened in to make space for disabled people. Because, well, we live more interdependently than our non-disabled counterparts. We're not lacking anything inherently.
Philip King-Lowe
Yeah. That's a great way to introduce, and I agree with you. There's a lot to be said for how Autistic Adults are often received. Yeah, so now let's talk about this matter of, you know, race, especially if we talk about the Strengths and Achievements of Black Autistic Adults.
Oluwatobi Odugunwa
Yeah. I would say with race, just, you know, this, but like a lot of the, like the DSM characterization, and also like most research on Autism has been like done with the focus on like white Autistic boys and men. So, as I kind of came into my Autistic identity and I as I've seen other people of color other black Autistics come into their identities. I've seen that like sometimes the way we present is different. There are like cultural differences that vary from like community to community. And that sometimes, if you're not like familiar with other Autistics of color, you might not understand that you are Autistic just because sometimes how we present and how we think Autistics should look like is different from how Autists of color sometimes present. Exactly. Yeah, I would say like, the one thing that like I think all Autistics have in common, is the ability to mask but when you bring in race and especially blackness into that equation, we also have the ability to code switch. And masking and code switching are inherently positive things. But they do mean that like, we tend to be more resilient and we our communities, like Autistics have discovered ways of interacting with both white neurotypical world in the white Autistic world and also like interacting with ourselves. So we are, resilient. And but that also means it kind of takes us some time to learn to unmask and be able to present as naturally as possible when we're around people that we feel safe with.
Philip King-Lowe
Yeah, those are really great points. And Oluwatobi you shared with me before we began this interview that you came to the U.S. from Nigeria. Were you diagnosed before you came?
Oluwatobi Odugunwa
So no, no, I became self-diagnosed when I was around 17. I spent like, years before, so I didn't know I was Autistic in Nigeria. I think like a lot of black Autistics, and a lot of immigrants. Like, I was just kind of like, always tagged as like, you know, the quirky, the odd. They like my family and family friends would call me like the little professor. Yeah, so I didn't. It wasn't until I became an adult, and I became I got more involved with, like, online communities and learn more about neurodiversity that I realized, oh, like, all these traits that I had never put together before like formed and identity that like was being Autistic.
Philip King-Lowe
Yeah. Yeah. Yeah. What do you see as the strengths of Autistic Adults who are black?
Oluwatobi Odugunwa
I would say the strengths of Autistic Adults who are black, I think there are a lot of hardships that we deal with. And in the process of those hardships, we are able to find community and find ways of interacting with the world and understanding ourselves that I think just make us that I think make us grow more than those who have similar experiences. I also think it like very much, primes us to be actors, for social justice. And people who are, who understand how important community is and how important it is to like to grow community and make sure that like, while we may not be and I think that it also makes us more accepting of people who dominant society, white neurotypical, etc., would kind of deemed as outcasts, and I think that we have a lens where we are able to be more accepting just because of how we have been outcasted and othered in the past.
Philip King-Lowe
Right, right. Yeah. Yeah. Is it fair to say that Black Autistic Adults have found their strengths as they've identified themselves and their culture?
Oluwatobi Odugunwa
Yes, absolutely. I speaking from like, a personal journey. I a lot of things that I had classified as weakness as weaknesses. In my past, once I realized that those things were because I was Autistic. It was I was able to view them they were more like, a more neutral and then kind of positive lens, and become more able to capitalize on those acts. Yeah, so like one thing I have noticed, in my community of predominantly black Autistics, but Autistics of color is that we tend to take communication more seriously. Like, we have often been misunderstood as angry or condescending or rude. And so, when we speak, it's like it means that like, we have a lot of intentionality, like with the words that we say. And we're also like, open to understanding other people and asking for clarification, instead of like, you know, immediately jumping to conclusions. So, I think that, like, I've noticed that like, our communication skills tend to be better than white people.
Philip King-Lowe
Yeah, yeah. Yeah, I thank you for those answers. And, you know, that gives us a good a good framework to begin looking at this issue. Because systemic racism, as I've said, in some of my introductions, is that, you know, the neurodiversity movement, like many others, we kind of have our own version of systemic racism in them. And, you know, a lot, you know, I know you and I are part of the LGBT rights movements. And the thing is there is systemic racism within that those communities. And so, you know, because we have a white, don't we have white dominant cultures, unfortunately, even in the quote unquote, minority groups, the systemic racism kind of bleeds into those, those communities.
Oluwatobi Odugunwa
Absolutely.
Stay tuned after this next commercial break. Oluwatobi will talk about the barriers of how Autistics and black people are portrayed in the media, the racism and ableism in other communities, and what The Autistic People of Color Fund does.
Commercial Break II
Logo Lapel Pin
Buy yourself or an Autistic person you know a beautiful lapel pin with the logo of Today's Autistic Moment on them. The lapel pin is stunning with the dark blue background, the podcast globe, and clear lettering. It is the perfect way to start a conversation about the work Today's Autistic Moment is doing for Autistic Adults. The lapel pin is $10.50 and includes sales tax, shipping, and handling. There are only 48 of them, and they are going fast. To buy your lapel pin go to todaysautisticmoment.com/lapelpin.
Thank you for supporting Today's Autistic Moment.
Segment 3
Philip King-Lowe
Well, now I'd like to move into What are the barriers for Autistic Adults? As we talk about the issue of our strengths and achievements for Black Autistic people? There was one matter that I mentioned in my announcements leading up to this show. And it is the fact that there is ableism and there is racism, shown in the media, that that always tends to stigmatize Autistics as inferior or, quite frankly, an emotional mess. And there is this horrible stereotype of the media that, that black people are people in unfortunate situations and inferior to the rest of us I think that's one of the biggest barriers we have. What do you think?
Oluwatobi Odugunwa
I definitely agree. There is. I think, as with any like other multi marginalized groups, there's like a double othering talked about racism, like infiltrating even like marginalized communities, like the LGBTQ community, and like the neurodivergent community. And I think as Autistics of color as black Autistics, we face that not just from, like, we like, once we realized that we're Autistic, we expect to find a home in the general, Autistic community. And then we realized that while yes, there are people that we can connect with, like, there's still a level like a barrier. Something like that divides us from other people. And that's our race. I think that like, the internet has been especially helpful with this, because it can feel very lonely when you feel like that. Like when, like I had been like the when you are the only black person at an Autistic support group, you start to feel different and you start to feel just very, yeah, very othered. But I think the internet and social media have made it easier to find community and to realize, okay, my experiences of othering in white Autistic spaces are not like, it's not just something that I'm experiencing, other people are experiencing this and not only that, the other things that come with being a black Autistic, how I interact, like the language I use, how I stim, specifically, that is also something that can see reflected in other people. While they might not be in my immediate space, I am able to like, you know, I'm able to form this kind of connections and like, feel better about myself as like a full a whole person.
Philip King-Lowe
Right. Yeah. And then of course, in both communities there as a matter of ableism it can't really be ignored. So, let's talk a little bit of got that too? You know? Yeah, the ableism that does exist in the LGBTQ communities, within people within communities of color, there is the racism matter. Let's talk about that.
Oluwatobi Odugunwa
Yeah, I think something that's like, interesting that I want to bring up is just the amount of Autistic people who are in the LGBTQ community, especially those of us who are trans. There. At the Autistic People of Color Fund, we did a survey kind of asking our community, you know, what are the things that like we need, and we also collected biographical information. And I think a good between 30 and 47% of people who responded were trans just and you know, it wasn't. So, I think that like, issues of ableism and the LGBTQ community are especially like, important to talk about just because so many of us who are Autistic are part of that community. But I think that like, I think that, just because of how our society is set up with hierarchies, and power structures, even when you go to the micro level, like you're still going to expect, like there's still going to be presentations of like, who was better than who in this marginalized group, basically. And I think that like Autistic people, we, I think that Autistic people like also have, like, definitely experienced those difficulties in wanting to be part of communities that we belong to, but also feeling alienated. Having those spaces not be, like physically accessible, having them like not be sensually accessible. This is something that like I think, a lot of LGBTQ people have, like talked about, but a lot of the spaces that we've been able to curate for ourselves, are in bars, and clubs. And sometimes I'm an Autistic who I do like loud music, I do like bright lights. But that is definitely not the case for a lot of Autistics. So, a lot of sometimes the spaces that we want to be able to be in with our communities are inherently inaccessible to us. And that's like another form of alienation. Like, yeah, that's another form of alienation.
Philip King-Lowe
Yeah. And you and I are also I'll say, we use mobility aids. Yes. I live with chronic pain. And I see from your bio, that you also live with a chronic illness, and you use mobility aids, and you know, that, that can those, those two can present their own their own social challenges. Especially as you as you mentioned, when accessibility is difficult, I mean, I have been to some events that are for Autistic people, and we're in a, in a building using spaces where the, either the automatic buttons for the restrooms don't work, or you can push some parts of buttons, but you have to actually push them open. And for some of us who may be using mobility aids, those are, you know, particularly problematic. And so, I think we have to talk about that, how those barriers also come into it into the picture for many of us.
Oluwatobi Odugunwa
Definitely. So, I have chronic pain, I have chronic physical pain. I am. Yeah, I'm hyper mobile. And I also have chronic migraines. And like the, the migrants specially interact with like my light and sound sensitivity. But for mobility aid, I use a cane and I also use an electric wheelchair. And I like to tell people that like I have never been angrier than when I was using a wheelchair most of the time because I so, but I am not able to use my wheelchair as frequently as I would like to and I'm definitely in more pain because of it just because of how inaccessible the city I live in is. But while I was using it predominantly the barriers that I ran into just like physically not being able to access certain places. Just knowing that when they planned X event, they were not thinking of people like me, that frustration and while like the physical barriers were harmful. I think also the chronic stress the chronic anger and frustration and sadness that I experienced and that I honestly continue to experience even just using a cane. I think it's something that like, I don't know, we just we need to talk about more. And I can't even imagine what the situation is like for people who use mobility aids in other countries. Because America has at least the ADA. And we're still struggling over here, you know? So absolutely, that's, that's definitely. Yeah, yeah,
Philip King-Lowe
Yeah. Yeah, no, I mean, when I've had to use, you know, I'm a part-time wheelchair user, I have chronic pain myself. And my issue is that if I'm in a space where I have to walk a longer distance, I can really start to feel some pain. So, my wheelchair helps me to, you know, lessen that experience. And so, you know, I have gone to use, you know, the automatic buttons that will move those doors open. And I mean, for me, I find if I have to, I can turn a doorknob or I can push on through there using the chair. But if somebody doesn't have the physical ability to grab hold to a handle, you know, that's a that's a particularly frustrating problem. Yeah, yeah. Go ahead.
Oluwatobi Odugunwa
Even as, like you, I'm also a part-time wheelchair user. And I am also someone who can push the door open, who can turn a knob. And I have like, like, got I've damaged parts of my wheelchair doing this. I have myself physically doing this. And it's just a very, very frustrating, painful experience from time. A lot of times, honestly.
Philip King-Lowe
Yeah. Yeah, definitely. Yeah. And then And then you're also put, sometimes you get into spaces where the spaces you're in are just not big enough for a wheelchair to get through. And you have to find ways of saying, Excuse me, I need a little bit more room. So, I can move on through or you sit there, and you just don't go through that through that space. You know? Yeah, you have to make those decisions, don't you?
Oluwatobi Odugunwa
And it's just another like, aspect of planning that we have to do that. nondisabled people just simply don't have to think about like, they can just walk into a space and know that, okay, if, if they're accepting humans here, like, I'll be able to access the space, but then we have to think about all these other factors.
Philip King-Lowe
Uh, what steps do Autistic Adults, and our supporters need to take to advocate for our needs? I would love for you to talk a bit about the Autistic People of Color Fund that you work with. Tell us about that and tell us what they do.
Oluwatobi Odugunwa
Yes, so I am the program coordinator at the Autistic People of Color Fund. We are an organization under The Autistic Women & Nonbinary Network. And what we do at the APOC fund is we give micro grants of $100 to $500, to Autistics to Autistic people of color. So, we have both a general and an emergency application that people can use to get the funds that they need. Because we've realized that a lot of a lot of like mutual aid and a lot of resources that are sent out to Autistic people, sometimes are earmarked for resource for things that we just don't need at the moment. So, we find it like very helpful to just give directly like to give money directly to people so that they can decide what do I need at this moment. Like, what can I what do I need most help with at this time? Yes.
Philip King-Lowe
Yeah. Yeah. And you say you do that you to provide that funding assistance to individuals to probably use for you know, various needs that they may have?
Oluwatobi Odugunwa
Yes. So, we receive applications for people. We were still application for people wanting to get assistance to get art supplies, to buy professional ware, to get mobility aids, we also receive applications for people needing help with rent, with utility bills, with getting access to food. And our founder, Lydia X E Brown, something that like, we discussed that the organization is just that we know that Autistic people, especially Autistic People of Color, have challenges finding housing, keeping jobs, getting health care, dental care, etc. And so, we, while we can't fix every issue that Autistic People of Color have, like, we are here as a resource to be able to provide like, you know, the help that we can give.
Philip King-Lowe
Yeah, so, one of the ways one of the forms of advocacy can be just, in addition to recognizing Black Autistic Adults, that their strengths and achievements, which we're going to talk about a little bit more about the achievements of, but to actually see the importance of coming to their aid with the basic things they need, which includes, you know, if we're, if we're advocating for housing, and funding, and supports, and that sort of thing, we need to say that these need to be available to all Autistic people, including black Autistics. As a community as individual communities who are advocating for Autistic Adults, we need to be clear that it is for all Autistic Adults, and not just the white majority.
Oluwatobi Odugunwa
Yeah, definitely. We. So currently, we are one of maybe a handful of organizations in the U.S. that are like, completely staffed by Autistic People of Color. And also like, dedicated to, like, helping and assisting Autistic People of Color. And we found that through like some surveys we've done and also like research that other organizations have done that Autistic People of Color, are more likely to experience homelessness, are more likely to experience hunger, are more likely to have lower incomes and be close to or under the poverty line. And that is, that is the main reason we do what we do. Before I began working for the fund, I was actually a recipient, and I was able to get the mobility aid that I needed, because of the Autistic People of Color fund. So, I really, I hold the organization very close to my heart.
Philip King-Lowe
Yeah, definitely. And you your daily job is about anti bat. Sorry, anti-bias, coordinated, are consulting, on DEI issues. Tell us a little bit about what you do with that.
Oluwatobi Odugunwa
Yes, so I work at a publishing company. And I am basically an assistant manager. And I help my company is a publishing company, and it has multiple websites and magazines. So, I basically work with the editorial teams to review and edit content for biases like ableism, racism, homophobia, sexism, and help them create content that makes them more people. And that is inclusive of more experiences in the dominant privilege experiences.
Philip King-Lowe
Yeah. You know, I can't help but also think that one of the things and I constantly mentioned this on my show that the importance is, forgive me, too, to that Autistic people of color, who are black and other colors, and ethnic groups, that they tell their stories and how important it is that we all listen very closely to the stories that are told. Because I am a believer that the only way that we work at the issue of ableism that we address the issue of neurodiversity is that we listen to the experiences of different Autistic individuals, and we provide them a safe space to do so. And I mean, part of the work of Today's Autistic Moment and other Autism supports is to provide those safe spaces where we can listen to the stories and take them seriously.
Oluwatobi Odugunwa
I completely agree with that. I, I think that like also translates can kind of extrapolate to that that we also need them more research to have more widespread surveys of experiences of marginalized Autistics, Autistic women, Autistic Nonbinary people, Autistic people who are LGBT, you know, Autistic people of color. I feel like a lot of the issues that we face there, like there, while we don't have sufficient funding on the federal level, for all the research that needs to be done in our community, not nearly enough of that funding is going to parsing out the experiences of Autistic people of color, Autistic, marginalized, people of marginalized genders, a lot of the we do have some data, but a lot of the data is by piecing together related studies and going off of what you know, those are telling us. But the truth is that we do experience house lessness, we do experience food insecurity, we do have a lot of lack of health, health care, we are under and unemployed. So there needs to be there needs to be more focused on getting a wider range of experiences for Autistic people and figuring out what we all need.
Philip King-Lowe
Yeah, yeah. Yeah. And that, that also includes that, that Black Autistic people are represented as part of Autistic communities. And not just the I use, I use the words that I used last episode with Precious Lesley, I use the word politely. What was word I used? It was indirectly polite, that you slipped someone in to be polite, but it's yeah, it's kind of a, you know, we'll fit you in just to be nice.
Oluwatobi Odugunwa
Yes, but that's it's not right. And it's not. Yeah, sorry. Go ahead.
Philip King-Lowe
No, go ahead, please.
Oluwatobi Odugunwa
I think that like that kind of surface level inclusion does nothing for communities of color coming Autistic communities of color. I think that surface level inclusion is not going to change our situation we need. I feel like the narratives that are predominant in like the Autistic community are those of caregivers and parents. And I think recently, more Adult Autistic narratives are getting out there. And we also need more of those narratives to include Autistics of color, you know, and I think that that's a very big part of it. It's hard to think about and help people that you're not even seeing.
Philip King-Lowe
Yeah. What are some ways that we can actually improve on that you have any ideas about how, what we can do to improve some of that?
Oluwatobi Odugunwa
Yes, um, so a couple of the things that, I think three big things. Well, I'll start with one housing. I think that a lot of the housing that provides resources and vouchers to people with disabilities, they need to be expanded. I think that we along with that, we need more home and community-based services, we need more funds, moved over to these areas. And because these are these are very, very important pieces of living a full and like a happy life. So, I think that housing is one is one really big core area that....
Philip King-Lowe
Absolutely, yeah, yes. Feel free to continue if you wish.
Oluwatobi Odugunwa
Yes. I think also healthcare. As an Autistic person, who interacts with the medical system, more than maybe other people might just because of my other disabilities. The lack of knowledge about what an Autistic Adult looks like, or that we even exist in the medical sphere, is like it's severely lacking. Doctors don't know how to interact with Autistic people, they don't know about us, they don't know what our needs are. And that is a huge barrier in getting us the care that we need. And Autistic people are also more likely to have psychiatric disabilities to be more chronically ill. So, a lot of us are existing at the intersections of multiple disabilities. And when our Autism which is very much core to who we are, is not understood, or even recognized by medical spaces in medical spaces, we're not able to get the care that we need.
Philip King-Lowe
Yeah, Yeah, I agree so much with that. I mean, when it comes to the medical communities, they have they have a lot of catching up to do. You know, one of the things that has just amazed me as I've gone looking for neurologists, to care for some of my needs, that neurologists, you know, the specialists that specialize in the brain, there is almost none of them who have any idea about what to do with an Autistic person. And I would think that, you know, I guess, like I said, I was wishing for too much, I guess, that neurologists would actually understand. Yeah, that the brain and the body, they do work together, and the Autistic brain and the function of the body would somehow be related. But I gotta tell you finding neurologists who can put those two together and make a clear diagnosis or even begin to treat the problem, finding that is next to impossible, and it should not be. Yeah, it is. It is truly amazing. And I just, I just, I keep being, I have to, I have to be amazed by it. Because otherwise, it's much too depressing. It's much too depressing. Yeah. Oh, Lord, you know, and I mean, I've had fun with, you know, I have some mind to motor matters by which, you know, I have to think about moving my body before the body actually moves, gets up and does something. And I went to one neurologist, and I explained that to him. And he simply said, Well, I don't think it has anything to do with being Autistic. I think it's related to depression. And, and I kind of was like, I'm like, no, no, no, no, the brain. Remember, being Autistic is how the brain speaks to the brain. And the brain speaks to the body and the body communicates with the brain. And like I say, there are just neurologists who just have not gotten into understanding that and being able to talk about the needs that Autistic people have, is an incredible it's an incredible disappointment that medical schools are not are not educating their, their neurologists about that sort of thing. It is truly a medical disaster. You know that sort of thing? Yeah, go ahead.
Oluwatobi Odugunwa
I think that like, also gets into, like the medical model doesn't really recognized patients or disabled people as, what is the word experts on our own bodies. So that doctor sitting there, that Doctor Who has no idea about what being Autistic is like telling you that this, of course, must be depression. But I think that like anyone who is in who enters the medical space, who as a patient experiences that, but I think that even more so for Autistic people, even when we're we are telling our truth as adults who know our own bodies, like we are not taken seriously or believed.
Philip King-Lowe
Exactly, exactly. Yeah. I concur.
Commercial Break III
Future Shows
Be sure to listen to the next episode coming up right after this installment. Lisa Morgan is my guest for A Journey from Suicide to Autism Crisis Support. You will be moved by Lisa's story. Lisa is part of a family of suicide because of Autistic needs that were not being met. Lisa is a great example of someone who met their tragedies and used them to found her own company to support Autistics in moments of crisis.
Today's Autistic Moment will recognize Women's History Month in March with two great shows.
Michelle Markman will be my guest on March 5th for My Strengths as An Autistic Woman. Michelle Markman is a Neurodivergent relationship coach and a late diagnosed Autistic Woman. Michelle has been through spinal fractures, chronic pain, and autoimmune disease and through it all has refused mediocrity. Michelle's greatest personal accomplishment has been climbing Kilimanjaro the world's tallest free-standing mountain. Don't miss this show as Michelle will talk about her greatest pleasure in helping others nurture and form social relationships.
On March 19th, I will be joined by Carole Jean Whittington for the episode Our Successes as Autistic Women. Carole Jean Whittington is the director of Mind Your Autistic Brain. Her company helps with education and supports for late diagnosed Autistics and other Neurodivergents. Carole is recognized as one of the top 50 Neurodiversity Evangelists by Theo Smith and Neurodiversity World. Carole will join me to talk about the tremendous success that Autistic women everywhere are achieving.
Becca Lory Hector and Doug Blecher will be my guests on Autism Acceptance Day on April 2nd. Becca and Doug will join me for a very important conversation about Self-Care During Autism Acceptance Month. Autism Acceptance Month is supposed to be about Autistics. However, Autism Acceptance Month has become commodified for merchandise and arguments about Autism. Many Autistics dread the month of April because we find ourselves explaining and defending ourselves with neurotypicals who claim to be "Autism experts" but do not give Autistics the chance to use our voices or they ignore us completely. Becca and Doug will give some great advice for Autistics to take care of themselves during what can be the worst month of the year for many.
Please visit the Future Shows page on todaysautisticmoment.com for more shows coming up.
Thank you for listening to Today's Autistic Moment.
Segment 4
Philip King-Lowe
Well, Oluwatobi, I want to thank you so much for this great time we spent together. I feel like we have really given our audience a good picture of this issue. And, you know, I can't thank you enough for this. I know, we've been in contact for a couple of months trying to get this interview arranged. And we've had our lapses in communication. And I'm on this one we caught up. So, I'm so glad that we were able to arrange this conversation, and I hope it's been a good experience for you.
Oluwatobi Odugunwa
It has, and I'm glad as well. I'm glad we finally were able to meet. If I could add one last plug about the Color Fund? Yep. So primarily, we send out grants via checks. But we have now been able to send out grants through direct deposits. And this is very huge, and I think it'll open up the kind of people that we are the amount of people that were able to help. So, I just wanted to plug if you're listening to this and you're an Autistic Person of Color, or you know what, not just the question of color, like, please apply, we'd love to give you a grant, we would love to be able to give back reparations to community members.
Philip King-Lowe
Yeah. And what I will do to be sure that we assist in doing that is I will ask you to send me an email with that link to that website. And I will make sure it gets on to my Adult Autism Resources Links page. So, if there are Autistic People of Color out there and you want to be able to find your way to this, this important resource that you will be able to access it right from the Adult Autism Resources Links page on todaysautisticmoment.com. Those links are there for you to use, however, however you need to use them. So, I will be including that there within the next week or so. So please do send that to me, and I'll make sure that gets there.
Oluwatobi Odugunwa
I definitely will. Thank you.
Philip King-Lowe
Thank you. You're welcome. Okay, once again, thank you for being here and we will certainly be in touch, and I am so happy to support your efforts in this sort of thing.
Oluwatobi Odugunwa
Yes, thank you for hosting this podcast, honestly.
Philip King-Lowe
You're welcome.
Transcribed by https://otter.ai
Please join me and Lisa Morgan on the next show that comes right after this one. Today's Autistic Community Bulletin Board will be at the end of A Journey from Suicide to Autism Crisis Support.