Go to todaysautisticmoment.com for the transcript. It's June which means we are celebrating Pride for LGBTQIA+ people. June 18th is Autistic Pride Day. It is no accident that both Pride celebrations fall during the same month. LGBTQIA+ Pride and Autistic Pride share an intersectional relationship as people who experience similar issues. Yenn Purkis, a Queer, Nonbinary and Autistic advocate and author from Australia will talk about the extraordinary intersection June is for LGBTQIA+ people and Autistic people. --- Support this podcast: https://anchor.fm/2daysautistic/support
Click or tap on the downward arrow in the pink box below the logo. See the image below.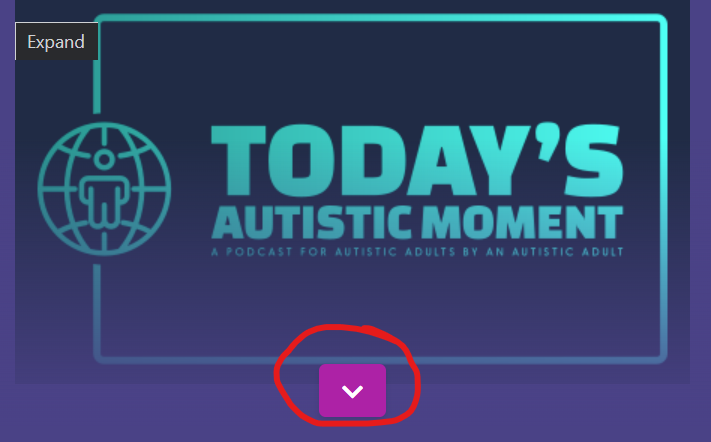 The Intersection of LGBTQIA+ and Autistic Pride
June 6th, 2022
[You will notice that some words have a strike through font. These are to reflect the new website created in September 2022]
Welcome everyone to Today's Autistic Moment: A Podcast for Autistic Adults by An Autistic Adult. My name is Philip King-Lowe. I am the owner, producer, and host, and I am an Autistic Adult. Thank you so very much for listening.
Today's Autistic Moment is a member of the National Podcast Association.
Today's Autistic Moment is always a free to listen to podcast that gives Autistic Adults access to important information, helps us learn about our barriers to discover the strengths and tools we already have to use for the work of self-advocacy.
This first segment of Today's Autistic Moment is sponsored by The Autism Society of Minnesota: Minnesota's First Autism Resource. For over 50 years, The Autism Society of Minnesota has been honored to support Minnesota's Autism Community. Visit them online at ausm.org.
Please go to the New Podcast Episodes Page of todaysautisticmoment.com where you will find the shows and download the Program Scripts with all of the hyperlinks I mention on each show and the Interview Transcripts. Transcripts for 2022 are sponsored by Minnesota Independence College & Community. If you want to listen to any previously published shows, go to the Episode Index Page.
Also, be sure to follow Today's Autistic Moment on Facebook, Twitter, Instagram, LinkedIn, and Tik Tok. Please join Today's Autistic Moment Community Group page on Facebook, where you can talk with me and other listeners.
At this time, I am announcing that the next Autistic Voices Round Table Discussion will be on Wednesday, July 20th at 2:00pm Central Standard Time. The topic that will be discussed is The Dangers of Medical Myths. In 1998 Andrew Wakefield started the myth that the MMR measles vaccine causes Autism. That claim was later studied and found to be false by numerous medial researchers. More recently there is a myth that there is medical research to support the theory that women who become pregnant and take Tylenol that contains the painkiller acetaminophen give birth to children that are at a higher risk of developing Autism and/or ADHD. There is a law firm that is currently soliciting potential clients to get compensation if they took the drug and bore children who are Autistic or ADHD. I believe as do many Autistics that medical myths like these do a lot of harm to the quality of life for Autistic people as well as ADHD people. They promote the false notion that Autism is an illness or disease that is and/or should be avoidable. I also believe that a myth like this one can be a source of unnecessary guilt upon mothers who give birth to Autistic Children and ADHD children. I am seeking Autistic individuals who would like to be panelists for the round table discussion about this topic. If you are interested in being a panelist, please send an email with your questions to PKLowe@todaysautisticmoment.com by June 30th.
Norva Media published an article this past week saying that Autistic people are more likely to be transgender. Sadly, JK Rowling the author of the Harry Potter series referred to this information as a "medical scandal." Another sad reality is that there have been numerous anti-transgender bills passed in many States across America. These bills threaten the lives of transgender people by denying them access to gender reassignment surgery, sporting activities and have their equal rights protections violated. In another State, the governor wanted parents who encourage their transgender children investigated for child abuse.
It is now Pride Month in June 2022. During June we celebrate the diversity among LGBTQIA+ people. June 18th is Autistic Pride Day. I apologize to everyone because I had mistaken the date for June 19th. I have just been corrected about that information. I think it is vitally important that we recognize and celebrate how the LGBTQIA+ communities and the Autistic community intersects. Each of these communities have as much diversity among them as the other. Each of these communities celebrates and struggles with the diversity within those who are similar and different from each other. LGBTQIA+ and Autistic people have to work twice as hard to find acceptance in society, build healthy relationships, strong friendships, and how to achieve interdependence. We face marginalizations in our families, the medical communities, religious institutions, employment, economic stability and in our struggle to live with dignity and integrity. Within each of these communities we find racism that has yet to be addressed, ableism, and challenges with finding connections we trust.
My guest today is Yenn Purkis, an Author, Autistic, Transgender, Queer person from Australia. Yenn's advocacy for other Autistics who are LGBTQIA+ through their posts on social media networks and many books is outstanding.
After this first commercial break, Yenn and I are going to talk together about the Intersection of LGBTQIA+ Pride and Autistic Pride. Please stay tuned to listen to this important conversation as we celebrate Pride month.
Commercial Break I
Philip King-Lowe
Yenn Purkis thank you so much for coming back to Today's Autistic Moment. What a great joy it is to have you back.
Yenn Purkis
Thank you for having me back. I'm really happy to be here this evening.
Philip King-Lowe
Thank you so much. Well, here we are in Pride Month 2022 with all sorts of things going on around lesbian, gay, bisexual, transgender, questioning, intersex, pansexual, you know, all kinds of people, queer sexuality. But we're also on June 19th, we're going to recognize Autistic Pride. And I didn't actually know until a couple years ago, that they do actually intersect in the same month. I learned that only very recently only a year or two ago. And I think it's I actually think it's it's quite the great intersection for various reasons. You know, we know how many something about the larger number of LGBTQ+ people who are Autistic. We know a lot about how many Autistic people identify as nonbinary such as you do. We know that, for example, to Tas Kronby does, we know that Lyric Holmans does, there's so many of us who crosses that. And I've met so many queer, gay, other individuals that are Autistic. So I think it's fair to say that they really do intersect, and I think is a great thing to celebrate that. But I also think it's a good thing to talk about that. And a little bit more in depth here. So let's talk. What information do Autistic Adults and our caregivers need to know when we say that LGBTQIA+ Pride and Autistic Pride intersect? How can we start that conversation together? And please go ahead.
Yenn Purkis
I think it's really important to have that conversation around, particularly gender and sexuality and Autism. There's a lot of stereotypes around this Autistic people are all supposed to be cisgender and asexual and reality doesn't doesn't reflect that reality. A huge number of Autistic people are gendere divergent. A huge number have different sexual sexualities and romantic attraction and things like that. But there's so much stereotyping and misinformation out there. And it's also in the wider disability community, you know, you're not supposed to have any kind of sexual interest if you have a disability. So I think we need to get get onto those stereotypes and address them and challenge those because I think that holds people back. And, yeah, I think pride is a really important concept. I think, Autistic pride, neurodivergent pride, queer pride. Pride is about owning who you are. It's about being yourself. It's about being proud to be your wonderful, unique, fantastic self. And about being your authentic self and being happy to be your authentic self in the wider world. And then coming out is such a concept and you know, the idea that you have to come out constantly. Coming out is not something you do once. It's not something new in one scenario, you're doing it all the time. I'll come out. And then I have a new manager come through a new colleague. And I've come out again, come out with my family, and then I'll come out with friends and my family. And coming out is an ongoing process. There's a wonderful book actually called Coming Out Again, which is a graphic novel about queer sexuality, gender, and neurodiversity. It's absolutely fantastic. And it's based on that premise that you know, you don't just come out once, you come out on an ongoing basis.
Philip King-Lowe
Yeah, I think that's a brilliant concept. That and one that is definitely worth talking about. I mean, you and I talked last October, there is a coming out process involved with being LGBTQ. There is also a coming out process involved with being Autistic. With both of these once we know once we are aware of these things, there's that process of coming out or talking about it and choosing carefully who our conversations are going to be had with. There is that instant set of stigmas that will be attached to us that will come from, you know, religious individuals, so come from political organization, they'll come from everywhere. That's why we need to talk about this intersection. Don't you agree?
Yenn Purkis
Absolutely. There's so much bigotry out there, especially in the gender space. I mean, in the sexuality space, certainly. They some bigotry for a very long time. In the gender space. This seems to be that on steroids. You know, it's like, I had somebody shortly after I came out, I posted a meme on my own social media, talking about pride and, and gender diversity and Autism. And this person said, Oh, this page is about Autism, not gender, you shouldn't post about gender. And I'm thinking it's my bloody page, but that kind of thing. And I posted a video shortly after I came out, I did a video diary about coming out and I posted four little short videos about coming out. And one of them just every troll in social media land just descended upon me and gave me a hard time. And it's really, I mean, for me, I get angry with them. And that's the right response. The problem is when people turn it in on themselves and think Oh, yes, your right. Its dreadful. And that's dangerous. And that's not okay. And that's what makes me really angry about trolls is they're endangering people's lives. And, you know, they just kept doing it. But it is definitely a space where there is especially in gender diversity. I don't understand why people care about what somebody else's gender is. I was getting nothing to do with him. But sadly they do. And yeah, and I feel, especially for young people who get this. I've written a book that's coming out next month called, what's it called The Awesome Autistic Guide for Trans Teens. And it's exactly what the title says it's a guide for Transgender Autistic Teenagers. And I know, without any doubt that this book is going to, it's going to have some really good feedback. And some people say it's great. But it's going to attract some bigotry, shall we say. And I've said to the co-authors, a wonderful person, Sam Rose. And I've said to them, we're going to get trolled for this, but leave it with me. I'm big enough and ugly enough to take on some nasty trolls. But I do worry. You know, I think that kind of thing is not okay. And when people experience it, you know, people getting random violence on public transport stuff like that. Not okay.
Philip King-Lowe
Yeah, yeah, absolutely. Yeah, there's so much that comes out. I mean, I've watched some of the some of the trolling as well, when someone says they're nonbinary, there's often well, there's only two genders. And of course, they're referring to the Christian Jewish Bible. And any number of things speak, you know, and as a good Episcopalian Anglican, I would have to say, remember that the Scriptures are not a scientific manual that explains everything away, it simply points out, you know, the way things were understood by by a culture in history, and you have to you have to interpret it from that culture and history. But aside from that, I mean, you know, one of the stereotypes that I worry about, quite frankly, and I don't know how much this is spoken of, but you know, when we talk of sexual orientations, diverse orientations and genders, and then there's still this horrible stigma that being Autistic means that you have in some people's mind, an illness or a sickness or whatever. I do worry about a stigma being promoted that well of course, they're going to be Autistic because after all, their their their sexual orientation or gender identity that isn't right with things, I do kind of worry about some of that stereotyping, to be honest with you.
Yenn Purkis
Definitely. Yeah, it's interesting. Offer, I go to a transgender meet up every month, it's awesome. And the person who runs it is not neurodivergent. But like 80% of the people that go, are neurodivergent. And it's truly nice to go to an event where most people in your diversity and all of the people are transgender divergent. So that's lovely. But there are a lot of stereotypes about gender, and Autism, and sexuality and Autism. I am asexual, so I live the stereotype. But I don't live the full stereotype of asexual because the full stereotype seems to be that asexual people are prudes that we don't we don't like sex, or are very sex positive. I think consenting adults want to do anything, good luck. Enjoy it. It's just I don't want to do it. But definitely stereotype that if you're Autistic, then you actually disabled more generally, that you cannot have any kind of sexuality. And I knew somebody years ago, I went to Uni was someone who worked at a disability residential service. And most of the people there had an intellectual disability. And one of the things she was told was to make sure they didn't do anything sexual. And you just think, well, if it's in their own house, you know, and they're not hurting anyone. Why shouldn't you be doing sexual things like that?
Philip King-Lowe
But yeah,
Yenn Purkis
Yeah, it's sort of pathologizing disability and sexuality.
Commercial Break II
Public Service Announcement
The 4th of July is coming up in a few weeks. July 4th is not the best day for many Neurodivergent people and those with PTSD because of the fireworks. The sound of fireworks can be a terrible trigger for the auditory sensory processing needs of many Autistics. If you are affected by the sound of fireworks wear your noise cancelling headphones to decrease the volume of the fireworks noise, and/or find a safe space where you can fidget or do something to distract you. If you are a caregiver of an Autistic person of any age who is affected by such sounds, please do not make them attend the fireworks as the brightness of the lights and the loud noise from them can have serious repercussions. Let them wear noise cancelling headphones without saying negative things to your Autistic individuals who react to these sounds. They are not pretending, nor do they need to be made to feel that they are doing anything wrong.
Thank you for listening to Today's Autistic Moment.
Support Today's Autistic Moment
Many of the listeners of Today's Autistic Moment are in places where they cannot find up to date information about Autism. Other podcasts focus on the medical model including treatments and cures for Autism, without listening to the voices and concerns of actually Autistic people who want to live happier and more fulfilling lives as they are. Today's Autistic Moment is helping Autistic Adults find each other and join the movement for Neurodiversity to make the world a better place for Neurodivergents. The podcast is always free of charge because Autistic Adults and people who care about Autistics listen to and support my work. When you go to todaysautisticmoment.com to purchase a spinner fidget or click on the blue button to subscribe to my Patreon Page, you are helping me to make this podcast better and better with each show, guest and transcript. You can purchase a spinner fidget for $4.99 plus sales tax, shipping and handling and/or subscribe to my Patreon Page starting at $1.00 a month or more by going to todaysautisticmoment.com right now.
Thank you for supporting Today's Autistic Moment.
Commercial Break
Philip King-Lowe
Before we launch into talking about some additional barriers, which we are already kind of talking about, but I've been thinking for quite a while now that I think that the neurodiversity community is almost going in the same direction as the LGBTQ communities with regards to the wideness of our diversity. As far as I don't know how it is in in Australia, but here in the United States. Recently, well, within 2013, for example, they added ADHD, Attention Deficit Hyperactivity Disorder, as a neurodiverse thing. And so just to give a brief history about this, and this is a lot of it's coming from my own history. When I first came out as gay 22 years ago, my gosh, anyway, 22 years ago, most of the people around me were still saying gay or lesbian. That was those were the terms they were all sticking to. I remember specifically talking to some men I might have been interested into on the phone. And they were saying things to me such as that there are no bisexual men, they are simply gay men who are hiding as bisexual. And then as time went on, we started accepting gay and bisexual, lesbian, gay, bisexual. And then there was then now this become that period where we're really entering into where transgender people are, are being, you know, being more accepted, as well as additional diverse sexual orientations that we weren't thinking of back then. And I feel like the the community of neurodivergence is headed in a similar in a similar direction. I think we're going to see the neurodivergent, "Spectrum" widen as time goes on. What do you think of that?
Yenn Purkis
I think that's true. And I think it's already happening. You talk about neurodivergence, as people will say, Autism, ADHD, ADHD, dyslexia, dyspraxia, synesthesia, some people and I don't agree with this, but some people put mental health conditions into there, but I don't think that's right. Because often chemical and psychological in the brain thinking and brain chemistry, neuro ivergence is neurological. That's why they're called neuro divergence is so that is something that kind of peeves me off a bit when people say, Oh, yes, I'm neurodivergent because I have depression. That's true. I'm not a clinician or qualify that by saying I'm not a clinician, but my understanding of neurodivergences is that they need to be chemically, neurological, so brain wiring rather than brain chemistry. Right. One that I was watching a TV show, it was one of those panel quiz things. And one of the people there said I am your divergent because I have synesthesia. I had to think about that, because I thought this, is that true? Yeah, that it's not I meant being Autistic. There's a lot of stigma, a lot of discrimination around Autism, ADHD less so . Dyslexia less so. Dyspraxia probably not much stigma about that at all, because no one who doesn't have it knows what it is. Autism is the one to my mind that attracts the most stigma and discrimination. And the other things are differences that have some challenges attached. But it's not quite the same. It's just my understanding. But no, I don't think mental illness conditions form part of neurodiversity. To my mind.
Philip King-Lowe
Yeah. Yeah. Well, as we enter into what are the barriers for Autistic Adults, as we talk about this intersectionality here? And part of what we're talking about, and again, this depends on what diagnostic manuals you're aware of, and that sort of thing, where we would say that depression and anxiety disorders and such, tend to be the result of stigmatization and isolations. And that sort of thing, where you know, where they can be clinically, "treated, medically treated". Autism is one of those things that, you know, we we make, help, Autistics manage certain things in a way in a certain way. But we, you know, contrary to those who still believe the nonsense that it can be treated or cured, it really can't be. And I say, that's a big part of the barriers to that intersectionality. Because people are still talking about these are conditions that must be treated, they must be cured taken care of. And so I think a lot of that has to do with the barriers, don't you?
Yenn Purkis
Absolutely, and I think, I don't know many Autistic people who want to be fixed. Most of us recognize that the barriers to participation and inclusion are not barriers based on our Autism as much as their barriers based on people's attitudes around our Autism. So it really, you know, I don't think it isn't something you can fix and you wouldn't really want to, you imagine, participate in the world. Well, who are we missing? We're missing Greta tunberg. We're missing Mozart. We're missing presumably Bill Gates, although he doesn't know. We're missing Tim Burton. Missing Hannah Gadsby, you know that these are all wonderful Autistic people doing amazing things. And I think I mean, I don't want to buy into that Autism as a superpower thing, because I think that's kind of patronizing and annoying. But I do think there are many positive attributes around being Autistic and I don't want to be wiped out of existence. I don't want to be fixed. And you can't separate Autism from a person like I have schizophrenia. I can separate schizophrenia from me. It is an add on it is something like that want, it's part of me, that I would happily do without. Where as my Autism, I don't know what you take away if you took away my Autism. I don't know. I don't understand that. And it is a core part of what makes me me, and I'm quite happy to be Autistic really. It can be challenging sometimes. A lot of the challenges are social. So social model of disability, a lot of the challenges relate to other people not understanding me, in a world that stigmatizes me. Some of the barriers do relate to Autism. There are some challenges, but hey, there's some challenges around being neurotypical you know, the whole idea of empathy. People say Autistic people don't lack empathy, but that's not true. Most Autistic people have quite a lot of empathy. Some Autistic people don't. And that's quite interesting. I had a conversation with someone the other day about Autism and empathy. And I said, Well, actually, there are Autistic people with low empathy. But guess what, there's neurotypical people with low empathy, too. It's not an Autistic trait. It's just an attribute that anyone can have. And I can't separate my Autistic traits from the rest of it. It's like I can't separate my nonbinary traits for the rest of me, because it's part of me.
Philip King-Lowe
Yeah, yeah. I recently seen a graphic that says that Autistic people actually do have empathy. It's just that we often experience the emotions of almost everybody around us to a point where we actually "internalize" that. And so we're actually weighed down with emotion not devoid of emotion.
Yenn Purkis
Absolutely, or we have alexithymia which is where you can't access feelings very well. Ah, so it looks lacking in empathy, but actually we are doing cognitive empathy. We're being thoughtful, we're being caring we're being kind. Most Autistic people that I know are highly thoughtful and very respectful of other people and want to make sure everyone's okay. But we might not do that emotional empathy so much. And then we do the, as you mentioned, the hyper empathy thing where you pick up on the feelings of everyone around you, which can be quite difficult actually.
Philip King-Lowe
Yeah, yeah, absolutely. You know, I think, I think, one of those barriers to intersectionality, that can happen, it's because, you know, all of those stigmas, and all these things are like, they weigh us down only so much and to take on another, it's like, Do we really have to, but we don't have to take them on. Okay, let me just say they are hurtful, they're painful, they're difficult. And we may have to take on some therapies to overcome them. But as I've been talking throughout 2022, on a lot of my podcasts, we have this medical model, that is a diagnosis that says we have something that needs attention, we have we have these, but we also have what we call the social model. Which was my premier to this year, there's a medical and the social models. We are talking about the social model that exists in the intersectionality of a diverse sexual orientation and/or gender identity and being Autistic. We're saying during this month, we are proud of that intersectionality. Because of the gifts that we have, because of both of those, I think that's what we're trying to say here. What do you think?
Yenn Purkis
I think so. Absolutely. Absolutely. And I think we should be proud of who we are. We overcome a lot of difficulties, we make a big difference in the world. We have the right to exist. I wrote a poem yesterday, actually, which was called. What was it called? I'm not Autistic enough. I'm not trans enough, biding my way to acceptance or something like that. It was all about that idea that other people put on to you that you're not, you're not enough. So the one that got Autism was a manager who said to me up, didn't say to me that to a colleague, you could pass it on to me. She said, Oh, Yenn shouldn't say they're Autistic, they're too mild. So that somebody else imposing their views of what Autism should look like on to me? Is I'm not trans enough. Now, that was one that I imposed on myself. But other people have definitely post that on me as well. I had somebody say, Oh, you're not nonbinary because you wear a skirt. LOL My skirt had a gender. But those things were people impose upon you what your identity should look like, really, but very, very common. And people seem to think that, you know, it's okay to do that. But it really isn't.
Philip King-Lowe
No, it really is not. Yeah, well, let's talk about what steps should Autistic Adults and our supporters need to take to discover those tools and strengths we already have and use for the work of self advocacy. This is one of my this is my favorite question of the show. Because, because LGBTQIA+ people are in an, you know, are advocating for themselves all the time. And as Autistic people, we need to be advocating for ourselves too. We are intersecting, the the self-advocacy is in itself an intersection of both of all those identities. I want to talk a little bit about that if we can.
Yenn Purkis
I think understanding is key. I think listening to people. Looking at content by neurodivergent. And gender divergent and queer people is really important and having those conversations. Looking at content by individuals who are Autistic and LGBTQI+. That is really key. And becoming an ally and learning what an ally actually means. Because some people think an ally means that you have project your views on on people and say, Oh, I'm doing this amazing, wonderful thing. Look at me. That's not being an ally. Like it all about themselves and allies about genuine support and standing by that person, if anyone is difficult. I think the Yeah, the social model is really important as well. And understanding that and understanding that we're not broken, we're just different.
Philip King-Lowe
Right. Exactly. Yeah, we're not broken. That's the title of Eric Garcia's magnificent book. And I've had him on a couple of episodes, including one. Yeah. Including one about Overcoming Internalized Ableism. He's incredible. Yeah, but, you know, this advocacy. I think the fact that we have to do advocacy, as Autistics for our pride within the LGBTQ community, can really be one of those things where, you know, LGBTQIA+ people, we work towards our own self-acceptance or acceptance among society, that really doesn't accept us. And then there's being Autistic and being among those that we have to do our own our own work of self-advocacy within those communities, that can be so difficult everything from dating, to finding our social circles to, you know, finding those places where we feel like we're included, or we belong there. I think, you know, working on finding the finding that those places where we we may we ourselves, do our advocacy of fitting in, I think that is so important, do you think?
Yenn Purkis
Yeah, absolutely. I've found in my experience of the LGBTQIA+ community is a really genuine generally a very inclusive place. And when I've attended events and conferences, I've felt very welcomed, more so than some other communities, I guess. But, ya know, I've found it really helpful and really positive to be part of that queer community. Lovely. I know, that's not the case for everybody, some people felt excluded and things like that. I think the fact that I come to the world with a massive profile probably makes my experience a bit different to other people's experiences, which is a bit weird version. Because I came out in 2018, as nonbinary. And so I already had quite a following in the neurodivergent community. So a lot of people knew who I was. So that made to just come in, and I find I'm a lot more socially confident, while I'm well known, because I'm used to being in crowds full of people that that know me. And it's very weird, really, I think it gives me a different experience to somebody who maybe didn't have that, those attributes. But I have found the queer community, in Australia and around the world to be really lovely and inclusive. And I found that I work in human resources in diversity and inclusion. And always the Pride Network is a really lovely network. So yeah, I think I don't want to make a blanket statement, but queer people yay.
Philip King-Lowe
Yeah. Yeah. Um, yeah. I think one of the things that I have found to be remarkably interesting, because but I have found myself in the presence or speaking with Autistic individuals, who, who tend to be more tend to be heterosexual, but actually find themselves as part of the queer communities. I find that extremely interesting. You know, and I mean, I don't I still come from I come from the, the time when the word queer was not a kind word. It was not meant to be kind to anybody. And now we're seeing that that word queer is a word that people are using in a positive sense. And so I, like I said, I'm just amazed at at the queer and the Autistic identities intersecting. I don't think that's an accident. And I think it is extremely interesting. And I think it's quite exciting. Because of all that those things can mean.
Yenn Purkis
Absolutely, I agree. There's that whole concept of auti-gender, which is like a separate neuro type that's Autistic and gender divergent, and I'm not sure how I feel about that. I've been thinking about that for a while. I think I quite like it. I think I'd be happy to apply that to myself. Because it is very common to meet other Autistic, transgender and nonbinary people. It's lovely. I think it's fantastic. When I came out, I spent about three months after I came at just wanting to dance down the street. So yay. Yeah, yeah, it was lovely. And I'm very proud, very out loud and proud. Yeah. I think and I think identity is so important for people from various intersectional groups. I think identity is absolutely key. And knowing who we are being proud of who we are, it's just lovely. It's such a liberation.
Philip King-Lowe
Yeah. I wholeheartedly agree with that. I think that is so important. Yeah. Here in Minnesota, in the Twin Cities, Twin Cities pride. The Autism Society Minnesota has for a few years now, we do have a safe tent as part of our Pride festival here. That is a wonderful, wonderful thing. Because personally, I go there and I can I just stay there. I don't, because our park is so crowded, and it's hot and humid. And we go in there and there's a little air conditioned space. And it's just us Autistics in there just using that time to cool down, do some stimming, do something to kind of take us out of the out of the big crowds. And I think it's just a wonderful that we have that there. And, you know, speaking for myself when it comes to being part of the, you know, LGBT communities, for me being part of the gay bear communities, I have discovered since I was diagnosed that, you know, the loud bars with the music, the crowds, drinking and stuff. It's not a place for me, it just is not. So I'm grateful that the Autism Society of Minnesota has found a way for us, Autistics to have our space for us.
Yenn Purkis
I love that. That's brilliant. When I go to my trans meetup, we spit smaller than your pride event, but the person who organizes it who's not neurodivergent, but she always says, if people want to stim then please do this. This is a systemic friendly space. I quite like.
Philip King-Lowe
Yeah, yeah. Yeah. Yeah, I think that's important.
Commercial Break III
Future Shows
Today's Autistic Moment continues the celebration of Pride Month on the next show. On June 20th, the episode The Intersection of LGBTQIA+ Pride & Disability & Autistic Pride will take a slightly different turn. I will be joined by Andrew Gurza who is a gay person with cerebral palsy, and an exceptional advocate for all disabled people through his own podcast Disability After Dark and social media presence on several platforms. Andrew and I will talk together about what is happening with disabled people who are LGBTQIA+, as well as Autistic people. Andrew is going to talk about what is happening with disabled people in general, while I will be talking about what is happening with Autistic people. Andrew will share a heart wrenching story with you all about an incident of abuse that he experienced from a professional caregiver. I am making a one-time exception for him with regards to his use of language as he tells this particular story. It is important that people hear what is truthfully happening to disabled people. The content may not be suitable for all audiences. Listener discretion is advised.
July and August I will be hosting the Summer of Self-Care Series (SOSS). On July 4th, Becca Lory Hector will talk about Self-Care During Seasonal Depression. On July 18th, Zephyr James will join me for a conversation about Self-Care During Sensory Overload/Meltdown. Becca Lory Hector will be my guest on August 5th to talk about Self-Care During a Crisis and will return on August 19th to talk about Self-Care During an Election Year.
I am in the process of planning shows for the Fall and Season 3 in 2023. If you have any topic suggestions or would like to be a guest, please send an email to PKLowe@todaysautisticmoment.com. todaysautisticmoment@gmail.com
Thank you for listening to Today's Autistic Moment
Yenn Purkis
I think things are changing around inclusion around neurodiversity, things are definitely changing for the better. Which is good. And that's a polite yourself and dozens of other hundreds of other advocates doing good work. And I absolutely, yeah, when I started doing this was 2005. There were in Australia, I think there were maybe five Autistic advocates doing things. And now there are literally hundreds, and it makes me extremely happy. And I'm hoping one day I might be able to retire.
Philip King-Lowe
Yeah, yeah, I know what you mean. You know, I think part of it is just finding a space where you feel like you can advocate for and with us, that's your particular thing to do for me. It's become podcasting and social media sharing and writing and that sort of thing. If those are the things that you use to, to find your spaces, use them make, make use of them, do what you can with them. You don't have to be someone who does everything. And I think, yeah, I think that's important, too. To do that.
Yenn Purkis
I'm sorry. It's lovely, because there's so many people are doing it as well. And everyone has a different angle for what they do. Like some people focus on one area, focus on another. And it's just brilliant. Sorry, I'll let you ask your question.
Philip King-Lowe
No, no, no, no, no. Yeah. So tell us about any of your newest books lately. I do follow you on LinkedIn. And I see that you've got books coming out. Tell us about some of your most recent writing projects.
Yenn Purkis
I, the one that just came out this year, is called I wrote it A Conversation with Bob Cook, who edited spectrum women and it's quite well known and it's very lovely. And this one's called the author, what's it called The Autism and Neurodiversity Self-Advocacy Handbook. Exactly. Yeah, it's done really well. Then I've got one coming out next month, which I mentioned before, which is The Awesome Autistic Guide for Trans Teens. So that's for teenagers that are trans and gender divergent, and Autistic. As I say, That's awesome is going to change the world and we're going to get trolled to the ends of the earth but I'm prepared for the trolling. So it's all good. wasn't all good people shouldn't troll authors that anyway, they do. I've got one that I'm writing also with Bob Cook called, I can't remember what it's called. But it's about using passionate interests to find work for neurodivergent young people. I've got one for a different publisher, which I also can't remember the title of. That's all about my own lived experience of Autism and mental illness. And it's actually an academic book for an academic publisher. And it's aimed at medical students. That one's a bit of a nightmare, because the, the publisher is very hands on. And so they keep coming back to me with all these edits. So yeah, and then I've got one that came out last year, which is probably relevant in this space, which I wrote with Dr. Wenn Lawson, who is most awesome people I know. And we wrote this book called The Autistic Trans Guide to Life. And Autistic Guide to Life. I can't remember but it's blue, and blue and pink gets to translate colors. But that's nice, most recent forays into literature land. I do have, including the ones that are in production, and I'm writing, I have 13 of them, which is way too many. Oh, that's just ridiculous. That's, that's kicking overachiever goals to a ridiculous degree.
Philip King-Lowe
Yeah. Well, yeah. Well, before I say thank you to Yenn, I just want to remind my listeners that there is a second show coming during pride month, that is going to be a little bit different. I'm going to be talking about the intersectionality of LGBTQIA+, Disability and Autistic Pride. And it's one of them one of an incredible activist named Andrew Gurza. He is an individual with cerebral palsy. So he is going to bring in the, the Disability Pride part, and I'm going to be bringing and the Autistic Pride part. So we're kind of going to merge all these together. And it should be quite exciting and very, very, very interesting show. If you don't follow Andrew Gurza on Twitter or other places, you're really missing one of the most you're missing an advocate who is not ashamed to say what he says. And he's he's quite spot on sometimes too bluntly for his own good. But yes, you know, but I do encourage you to come find that. Yenn, and I am always grateful to have you on Today's Autistic Moment. You have such brilliant things to share. As you know, I follow and use your what to call it, your your little quotes that your quotes that I find and I know many people do find them to be quite powerful, and they speak right to us with things that we're feeling or experiencing and that in that present moment. So again, thank you so much for being on again today. And, you know, so and of course Happy Pride.
Yenn Purkis
Thank you. Thanks again. Thank you for having me on.
Philip King-Lowe
You're welcome.
Transcribed by https://otter.ai
Today's Autistic Community Bulletin Board
All of these events announced with the links can be found at todaysautisticmoment.com/bulletinboard/.
Understanding Autism virtual classes will be offered by The Autism Society of Minnesota. These classes are perfect for Autistic individuals, caregivers, those who want to understand the basics of Autism and support Autistic people. Classes will be held on June 20th from 10am to 12pm. July 18th from 10am to 12pm. August 14th from 2pm to 4pm. September 19th from 2pm to 4pm. Classes are free of charge, but you must register to attend.
Registration is now open to attend the Fall virtual classes for The Autism Direct Support Certification at The Autism Society of Minnesota. Classes will be held on September 9th, 13th, 23rd, 30th and October 7th. Scholarships to attend are available, but you must register soon.
The Autism Society of Minnesota invites Autistics to submit your application online now to speak on a variety of topics at the 5th Annual Autistic Community Summit on Saturday, September 17th. All Applications are due by July 2nd. Send an email to zjames@ausm.org if you have any questions.
Go to ausm.org for more information about these and other events at The Autism Society of Minnesota.
Today's Autistic Moment is sponsored in part by Looking Forward Life Coaching. Looking Forward turns stumbling blocks into stepping stones towards success. Go to lookingforwardlc.org for more information.
If you would like to have your business or organization mentioned, have questions or comments about Today's Autistic Moment, please send an email to PKLowe@todaysautisticmoment.com.
Thank you for listening to Today's Autistic Moment: A Podcast for Autistic Adults by An Autistic Adult.
May you have an Autistically Amazing day.