Go to todaysautisticmoment.com to listen to the show and/or find the transcript.
The convenience of the internet might seem like a great way to that perfect person to date. However, many Autistics find it difficult not to fall into certain social traps that can include but not be limited to dating someone who is abusive, and/or finding someone who does not respect our boundaries, or just rejects us. Come hear Candice's important advice to help you stay safe when you use apps for online dating.
--- Support this podcast: https://anchor.fm/2daysautistic/support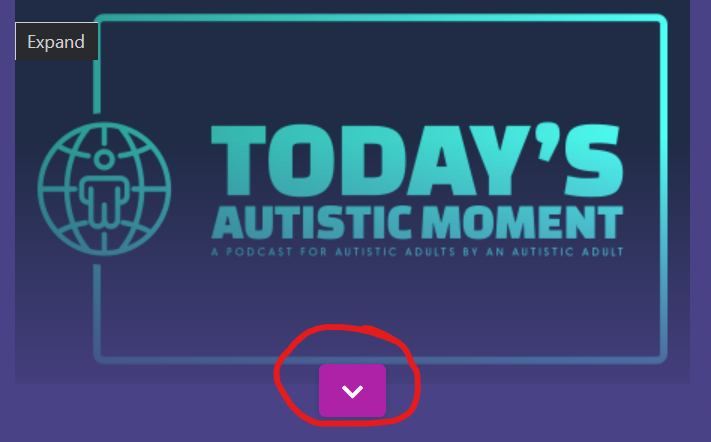 Online Dating: What Autistics Need to Know
September 18th, 2022
Episode Transcript
Welcome everyone to Today's Autistic Moment: A Podcast for Autistic Adults by An Autistic Adult. My name is Philip King-Lowe. I am the owner, producer and host, and I am an Autistic Adult. Thank you so very much for listening.
Today's Autistic Moment is a member of the National Podcast Association.
Today's Autistic Moment is always a free to listen to Podcast that gives Autistic Adults access to important information, helps us learn about our barriers to discover the strengths and tools we already have to use for the work of self-advocacy.
This first segment of Today's Autistic Moment is sponsored by the Autism Society of Minnesota: Minnesota's First Autism Resource. For over 50 years, the Autism Society of Minnesota has been honored to support Minnesota's Autism Community. Visit them online at ausm.org.
Please go to the new website at todaysautisticmoment.com. You can listen to this episode and all previously published shows directly from the website. The transcripts for Self-Care During an Election Year, Autistics Collaborating with Autistics and this episode are available. The transcripts for all shows before August 22nd are being organized and edited and will be added within the next month. Transcripts are sponsored by Minnesota Independence College and Community. While visiting todaysautisticmoment.com you will notice the menu options in larger print so that they are easy to find. There is a How to Use Website with a social narrative to help you learn what the different menu options are for and how to play a show from the website. There is a new page with Guest Biographies so you can learn more about the guests on Today's Autistic Moment. If you need any help with the new website or have any questions, send an email to todaysautisticmoment@gmail.com.
Please follow Today's Autistic Moment on Facebook to join Today's Autistic Moment's Community Group Page. I have just posted a new blog article from my new website entitled: To Shake or Not to Shake: Consent & Boundaries Are the Question. You can also follow Today's Autistic Moment on Twitter, Instagram, LinkedIn and TikTok. You can watch Autistic Voices Roundtable Discussions on Today's Autistic Moment's YouTube Channel.
Coming on October 19th at 2:00pm Central Standard Time, will be the next installment of the live virtual Autistic Voices Roundtable Discussions: Busting the Myth About Empathy. Among the many stereotypes is that Autistic people lack empathy. Every Autistic experience empathy differently. Many Autistics have double empathy that can be so intense they appear to not be feeling any empathy. Four Autistic individuals are going to talk with each other about how they feel empathy and why the myth is false.
The smart phone and pad are so much fun. We can play games. Keep in touch with our friends and family on social media. We can text them. We can watch movies or television shows, find a recipe, shop for groceries, even do our banking all from our devices. Dating apps are everywhere. Whether you use Android or iOS devices, you can download an app, create a profile and search for someone to be intimate with. Dating apps are fun, but they are also full of dangerous traps that are much too easy to fall into. Many Autistic Adults will share a lot of information about themselves that online predators can easily find and use to their own advantage. Many Autistics have fallen for the nicest people who show them a kindness they have never found from anyone else. It is difficult for many Autistics not to be aware of what a nice person's intentions are. Way too many Autistic Adults have been sexually assaulted, raped or severely injured by someone they chatted with on a dating app. Many Autistics have given up dating all together, because finding someone they can trust has ended in disaster.
On this episode of Today's Autistic Moment, my guest Candice Christiansen and I are going to talk about how Autistic Adults can use dating apps safely. Candice is a courageous trail blazer and Founder of Namasté Center for Healing. She is Autistic, ADHD and a neurodivergent thought leader in the Neurodiversity Movement. She provides therapy and intimacy coaching to neurodivergent adults and mixed neurotype couples. She also provides EMDR and IFS therapy to complex trauma survivors with a variety of sex, relationship and intimacy issues. Candice is very compassionate and an amazing advocate for herself and other Neurodivergents.
After this first commercial break Candice will talk about why Autistics fall into so many traps on apps for online dating, what to watch out for and why it is important to have someone that you trust help you look for those red flags that are so easy to miss. Please stay tuned.
Commercial Break I
Ad
Today's Autistic Moment can be downloaded and heard on most podcast apps including Apple. Google Play. Breaker. Castbox. PocketCasts. RadioPublic. Spotify. TuneIn. Stitcher. Amazon Music. Audible. Castro. Overcast. PlayerFM. Podcast Addict. Podcast Chaser. If you are looking for the transcript, go to todaysautisticmoment.com. Click on the episode you want to listen to, and follow the directions to find the transcript.
Philip King-Lowe
Candice, thank you for being on this episode of Today's Autistic Moment. It is my pleasure to welcome you. Thank you for being here.
Candice Christiansen
Thank you for having me, Philip.
Philip King-Lowe
You're welcome. Welcome. I'm so glad you're here. All right. Yeah. Okay, we're going to talk about a really sensitive topic, that really does deserve its own conversation. And that's the conversation about online dating. The Internet, the iPhone, the smartphone, the apps that made it so easy to just get on and see if you can find someone to date or someone to pursue for intimate relationships of any kind. And, but we also know that for many Autistics, we may struggle with understanding what someone's intentions are, and/or understanding what is what is most appropriate for us to put out there and how we talk to somebody when we're talking to somebody who may be interested. So, we definitely need to have this conversation. And, you know, I think it can't be understated that we need this conversation. So, let's begin with my initial question. What information do Autistic Adults and our caregivers need to know about when we talk about online dating for Autistics? Go ahead.
Candice Christiansen
That's a loaded question Philip. So, I want to kind of back up really quick and just really validate what you said about it being a challenge to navigate other people's intentions. And perhaps this will lead into answering the question for Autistic people and caregivers, because we can definitely be easily manipulated, and struggle to understand or when we're reading literal words, you know, a lot of times these there's chat rooms, or getting on the online dating sites, it's all about writing. I do know that there are some apps out there now that will have ways that you can do kind of like a shorter video to get to know each other. But it can be really, really challenging for folks who are Autistic to know, how much do I say? And how much do I not say? I know for me, in my own experience of dating and finding that I'm just an honest person, I don't know if you can relate to that, Philip, where you're just honest, right? Absolutely. Yep. And, and I think what happens a lot of times is we can be honest, which is good. But in an online when you don't know someone, being too honest, and too trusting can prove to be risky and dangerous. Absolutely. So that's the challenge, right? Because everyone now is online. I admit, I am a self-admitted, phone addict. I'm addicted to my phone, if you really mindful that. And I think a lot of people are. And so, it's really important for folks to be aware of okay, first, what sites am I getting on? And I think having a safe person to help you navigate, I don't care what your age is. I'm almost 50 to navigate what's going online. Here's the challenge though, for a lot of Autistic people. Who do we have that's really safe, right? Yep, absolutely. So yeah. And if I'm living with my parents, do I really want to be asking them about this online forum? Perhaps not but I will say this. We have to have people that we can trust to kind of check out or vet. Yes. What's safe online? Because Holy cow, there's so many dangers.
Philip King-Lowe
Yeah. Yeah. See, see, one of the things that's so convenient for a lot of Autistics with online dating, is a lot of us have, are really challenged with initial face to face meetings, when they first meet somebody in person face to face. The online internet dating apps and all that gives us a little extra protection on this. So, we think. So, we tend to rely on this kind of communication. But of course, when you're having this kind of communication with somebody, you don't, they can say, whoever they are, whatever they are, and you have no other way of knowing. Because they're hidden behind that, that screen and that glass, right?
Candice Christiansen
Yeah, they are. You're spot on. So, I used to do court evaluations for Autistic young men often and, and some older men who ended up trusting someone online that they didn't know, things were said, they were manipulated into sharing information, then boom, the Autistic person got charged with whatever holding a file that ended up having illegal material, for instance, okay. And so, you're right, it's like, we don't know. So, what do we say to that? It's like, be cautious. And I know, it's like, I might it might be like, but how, how do you be cautious? You just have to be really mindful of what you share and how you share. And if you're not sure, check, check it out with someone who you trust. So, you might have to, I say this. I'm almost 50. And I will still ask my partner, what do you think about this email that I got? He'll be like, delete it, its spam. It's okay to ask someone you know, and I'm 48 Philip. It's like, I, I still check it out. Because I'm like, do I trust it? But we really don't know. So, you have to be cautious. You have to because people do have, they do? What is it cat fishing, where it's like, you don't know who it is. And I don't want to scare people off from dating. But I do think I do think that we just have to be careful. And we also have to be careful on social media like Instagram and Twitter and Facebook, because I've heard all kinds of things where you think you're messaging someone on Facebook, and then someone gets involved and you get in trouble. And it's like, Wait, I thought I was talking to this person will know I'm you're talking to this person. It's just challenging. I wish I could just say it's roses, rainbows and kittens, when we get online to date. But it's not. No, it's complicated.
Philip King-Lowe
Maybe this will make you feel a little bit better. But I am 53. And I still have to ask my husband from time to time. What does that look like to you? Okay, so don't feel so bad. You know, the fact is, is that the internet that we love that is so very easy, is also the sort of thing where anybody can take a photograph of something or someone, they can even copy a logo, even though they're not supposed to. They can create their own logos if they wish. I mean, I mean, it is so easy to create a profile about yourself. Yeah. And they can say whatever they want about themselves. And, you know, you don't really have we don't really have tools immediately at our disposal. To, to guess whether they're being honest, are not. I think all of us have had the experience of one of our contacts, for example, on Facebook has their account has been hacked, we get a message from somebody sounding like them, but lo and behold, it's not even who they are. You know, and then when it comes to online dating and that sort of thing. I mean, I joke I joke about this because um back about, oh, maybe 20 years ago, maybe it's still around, I don't know. But there was this this one connection. Um, where there were these people who were answering profiles on dating apps. And after they got someone sort of, let's say it sucked in. Yeah. Hooked. They were Yep. They would send them this this this message that says, I am in Nigeria. We are building a road. We need to come home. Will you please send us X amount of dollars? To help us get home, and I will send you this envelope of cash. You know, and I'll tell you what, and I'll tell you what happened with a lot of us, is people sent the money. And then when they got this envelope, it's full of blank paper that does nothing. And you know, unfortunate, this is one of those things that's dangerous about online dating, on line communicating is that in lots of cases, there's no way to trace these things. Anyway, so you know, and then, to end this particular story, I'll say, I had an ILS worker a few years ago, who was from Nigeria. And I jokingly asked him, I said, did they ever finish that road in Nigeria? And he answered, not only did they not finish it, they never began it in the first place. Because it was all a scam. Yeah, Yeah, sort of thing. Yeah. So
Candice Christiansen
I want to say to that, because there are I have, when I, you know, I offer this online neurodiverse connections class, and I had an advanced class for Autistic ADHD, ADD gentlemen, at one point, and I we're talking about dating, and I got on and I Googled, and there are actually some apps, like I said, that will give you an opportunity to have very short video clips where you can just connect that way, I get the challenge of that for any human and especially those that are neuro different. And I do think if you can see that it's a real person, it it to me, it would be safer. So, I'm gonna just throw out a plug, I as you were saying that I was like, I'm just gonna throw out a plug for I met Jason Liebowitz on LinkedIn, and he is the founder of XXO Connection. Do you know who he is? No, not yet. Okay, he's awesome. So, he has a web-based platform where you can go into these live different, it's different live rooms, where there's a facilitator talking about different topics. But it's not a dating site, but it is definitely a way for people to connect, I actually think something like that is the way to go. Because that's how you just get to know people. And then if you want to take it offline, and talk to them outside, after you get to know them and you're vetted in that way, then to me that feels safer than just texting back and forth or swiping left and right.
Commercial Break II
Support Today's Autistic Moment
Today's Autistic Moment is here to help Autistic Adults find the resources and supports we need. Autistic Adults from all over the world listen to Today's Autistic Moment to listen to my outstanding guests whom many are Autistic and share their experiences to help others know that they are not alone. Today's Autistic Moment supports a community of people whom many are unemployed and/or underemployed. I need your help to keep Today's Autistic Moment available to Autistic Adults and their caregivers. Go to the new todaysautisticmoment.com to tap or click on Support Today's Autistic Moment to be taken to my Patreon page. You can support the podcast for as little $1.00 a month or more.
Thank you for listening to and supporting the work of Today's Autistic Moment.
Philip King-Lowe
Um, you know, the other thing that sometimes I think Autistics can actually do is that if there's somebody else who kept online, chats online, and, you know, might be a little more successful ask their advice, a lot of us are willing to share our advice. Yes. You know, I mean, sometimes, you know, I often find that hearing it from another Autistic makes me feel better about but I'm here listening to. But yeah, yeah, um, you know, we're already talking about barriers. I like to talk what are the barriers for Autistic Adults of all ages, when we talk about this online dating, and we've named so many. Last year, last September 2021, I had two great shows, with Leah Bauman-Smith, she's a wonderful educator at the Mad Hatter Wellness Center here in St. Paul, Minnesota. One was about Dating, Romantic Relationships and Sexuality. And the second one was Let's Talk About Consent. And we spoke about those issues relating to online dating. And, you know, part of these barriers go with our ability to communicate, our ability, sometimes, the challenges we may have with disseminating information, what's true, what's, what are the red flags that are showing up? And I and I know myself that I've had to have help learning to recognize the red flags. So, let's talk about some of that.
Candice Christiansen
Well, I think and I think part of that too, is if they ask if someone you're communicating with, we're talking about what are the red flags to look out for? Is that what you're asking? Yeah, let's talk about that. Yeah, so some of the things to look out for is if somebody wants you to send pictures right away. I mean, no matter what send a headshot send a nude selfie, nude picture. You know, send me send me what where are you at? Where's your location? They want personal information really quickly. That is a red flag. And I say that because a lot of young Autistic individuals, I've seen this with ADHD teens and young adults I've worked with as well, who will just be so excited that they have attention and then right away the person on the other line is saying send a picture of body parts right so a nude selfie. And once you have that online, you can't take it back. And like you said, it can end up anywhere. You know, we hear about revenge porn, which is really scary people can take your head and put it on a different body in terms of being online. And so, in terms of images online, so that's a red flag. If you have someone that wants your data, where's your give me your address? You know, what's your what's your home address? Where are you at keeping all this personal information or send nude pictures? That's a red flag.
Philip King-Lowe
Yep. And my advice is, if you if you're starting a conversation with anybody, and they asked you, you know, for a home address, phone number, email address off the bat, my advice, use the block button immediately.
Candice Christiansen
Yeah. I it's just a red flag. And I, I can't stress that enough that it is not worth your safety to be in communication. So, you're right, you'd have to block it. And if you're nervous or scared, or then it's ask someone. Because I heard of teens that this, I mean, they're being extorted for money, you know, and, and I remember this, you know, a friend of mine who said, their teenage, their teenage son came to them and said, you know, this is happening, they wanted pictures, and they're telling me I have to pay $500 online and boy, yeah, it's, it happens so often. So, if people are saying send me pictures, or you know, send me money or like, send me pictures, send me money. It block them. That is a red flag.
Philip King-Lowe
Yeah. I mean, yeah, you really do have to do that. I mean, there are safe venues to do certain things. And then there are unsafe venues to do certain things. And the thing is, is that you're right, a lot of times, they're looking for ways to use a picture on you or better yet, in some of for some of us, they know a lot of us Autistics are very vulnerable to being groomed, for sure. Yes. You know. And so, the thing is, is that, it when you're using online dating, I think what we what we're saying here, it's very important to create some boundaries for yourself. You know? Yeah, I think that's very important. Let's talk about that.
Candice Christiansen
Well private accounts, you know, I see that I just got on Instagram, my account isn't private, but so many peoples are private. And I thought, okay, so I'm aware of that, like, you know, because you get, I mean, I get messages from people. And it's not inappropriate dot dot dot yet. I mean, I have had stuff on LinkedIn where I've just blocked people, but, but you have to be mindful of that. And I think it's okay to have a boundary of having a private account, if you're going to be online. It's okay. You know, when you get the friend request vet them look into them, I wouldn't just accept anyone. And it is I do like the idea of private accounts, because you do have to look into the person, right? I also want to describe for people or define for people what's grooming, because some people might be on here and be like, I don't know what grooming is, is it shaving your beard? Is it combing your hair? It's, it's where you are told someone will tell you what you want to hear to lure you in to doing something for them, giving them something, again, where you're not actually consenting, you're being manipulated. You're being told what you want to hear to feel good. So, you give them something that you're going to regret later. It's a way to lure you in so, having those private accounts having boundaries around that blocking people getting, you know, vetting a person asking like you said, you and I are older, but we still will ask a trusted person. If we're unsure. There's nothing wrong with that. There's I really think caregivers would be so appreciative if their Autistic youth came to them and said, I'm talking to someone or I'm playing a video game and this person is asking me for money or they're wanting me to send a picture and I'm feeling really uncomfortable. Can you look into this and have your caregiver or a loved one give you that support to step in if need be. There's nothing wrong with that.
Philip King-Lowe
Right, right. Right. Right. Right. Yeah, absolutely.
Candice Christiansen
Okay, add something good. For caregivers. It's so important to create an open-door policy, which means please, please let your youth know your children your teens know that they can come to you with anything and you are not going to shame them or shut them down or judge them. Because it is if they feel judged or shamed, they're all I mean, teenage years are so hard anyway, mine sucked, I hated it. So, it's like, if they feel shamed or judged, they're not going to come to you. But if they feel like they can come to you with anything, they will come to you when the going gets tough in this arena, they will.
Philip King-Lowe
Yeah, yeah. Yeah. In you know, um, and now let's, let's wander into my third question that I love to ask. You know, what steps should Autistic Adults and our supporters take to advocate for our needs here? And for Autistic Adults in the situation mean, children and youth. We need to stress yes, they need to have parents, caregivers they can look up to. But as adults, we may not have those supports. So how do we build up some of those supports for ourselves? And I would, and I would say that one of them is to just have an Autistic friend, or even someone who isn't just say, what does this sound like to you and get their feedback.
Candice Christiansen
I agree. And I think Philip, you and I met online on LinkedIn. And I've met so many great Autistic, neuro distinct friends on LinkedIn that I now, I mean, I literally talk to them online only, but I actually trust them, they have proven to be safe. I've given some of them my cell phone number, we've done like, we're you and I are doing a podcast. I agree with you if you can have a community of Autistic people around you, that can support you, because we all are truly on a continuum. And we all have been through some experience, I actually think that can be really helpful to say, "Hey, can I check this out with you?" I have a chat on LinkedIn. And it's a group of us that are Autistic, and ADHD and neuro different. And we'll say, "Hey, I have a question. Have you guys had this experience? What do you think?" And it is so helpful to get everyone's feedback and thoughts? Oh, yes, that's huge. I can't even stress enough how to do that. And if you're saying, "Well, how do I do that?" Oh, my gosh, we're out there.
Philip King-Lowe
Yeah, yeah. Yeah, I continue to be just so amazed at the Autistic Self Advocates that are there on that LinkedIn page. I, you know, I never would have dreamed a year and a half ago that I would have ever find that they're saying here. It's been, it's been a great way for me to connect with people like yourself, Scott Frasard, Tas Kronby this this so many people were connecting with. Yep. And you know, and the thing of it is, is that we're, you know, we're gonna we know that one of us is going to ask you a question that may not sound quite right to people who aren't. But we know that when we sit when we ask these questions to other Autistics, they're going to understand us.
Candice Christiansen
100%. Yeah, that's the double empathy problem. Research has shown what you just said, which is when we are talking to other Autistic people, we get each other. If I'm talking to a non-autistic person, it's harder because they don't get me, I don't get them.
Philip King-Lowe
Yeah. When it comes to online dating, here's a few things that I like to suggest is, when you're filling out your own profile, don't be don't be afraid to initially state what some of your boundaries are. You know, I mean, one of them can be, please ask my consent before you send a picture or ask for a picture. Oh, my gosh, I love it. You know, and that, you know, if you if you you know, and then just be very, that this is what we're looking for, I'm looking for this is not what I'm looking for. And, you know, unfortunately, in a lot of online dating situations, they're looking at pictures, they're not even reading profiles, sadly, but I've seen that I've seen that too. But you know, um, you know, Tas Kronby and I were talking at the last episode in 2021, about internet safety. You know, that block button is there for a reason. You do not have to you are under no obligation to surrender your standards to somebody you do not trust. Yep. I think I think we need to be very firm about that. Yep. You know.
Candice Christiansen
Well, and I think a lot of people will say, well, they seem really nice. I can trust them, but it's like that you don't know that person. So, I do want to say that to your listeners that yes, a person initially can seem nice, but you don't know them. It takes time to get to know somebody. Everybody can seem nice at first glance. So, when you first engage. Another thing I want to say to how you said you can state something which I absolutely love is I would actually put a picture of you that is fully clothed and doing an activity. So, it's not because I think like you said, so many people are really looking at images, and a lot, we have a pornified culture, let's be honest, everything is sexualized, the pictures are sexualized. So, go hiking, take a picture of you with your dog, like so that it's a conversation piece, for instance, where you say I like to hike, or I like to bike or this is me playing chess, it's like something so that it's not just you with a selfie that I think could be sexualized. And could, I don't know, I just think that's really important. It's not, it's not our fault. If we take a picture and someone says or does something with it, I don't want to say that because it's like, we have freedom. But I do want to say that, if I want to, I know who I want in my space, and who I want to draw to me, and its like-minded people. So, I'm going to be talking about these are the interests I have and the likes I have. And these are the things I don't like, like you said, and maybe show picture of you doing those things, right?
Philip King-Lowe
Yep. Yeah, here's a couple of pieces of advice that you know, and ways you can also self-advocate. You might want to create a document for yourself with a checklist of things that you can follow whenever you're talking to somebody online. You know, one matter that I always look for, because I have a lot of online friends. I'm part of the gay community, gay bear community, we talk a lot with each other. But the point is, is that look for is your conversation from the first conversation to the second, is it consistent? And is it consistent each time you talk to them? Or is this person changing? Whatever they told you last time. Which if they're doing that, that's probably a fair indication, they're not worth messing with, to the point blank about it. You know, you know, put in your checklist. The person wait you know, wait a few conversations to start asking more personal information. Or do they start asking for it as soon as they talk to you? You know, red, red flag. Yep. You can kind of start making a little checklist for yourself about what your red flags are. And then you can sort of use that as Oh, that's what I see. I see. You know, I see that. So that way, you're, you're protecting yourself, with whomever you communicate with.
Candice Christiansen
Yeah, I love the first question. I think that's great. You know, like, You're the first thing you said, which is, Are they consistent? Meaning, do they? Because if they're not, then it's like, are they honest? Are they being honest about who they are? That's really what the issue is. If someone tells me something about themselves, and then the next time, it's different than the next time, it's different. It's like, how honest is this person and do and I also would make a list of what you value and what you want in a relationship with someone. What do I want in a relationship in terms of how they treat people, how they treat their pets? How, what's their mental wellness, like, you know, do they have any addictions? Do they have a history of violence? I would want to know that I have I've done that I've literally made a list of what I want in a person and what I don't want in a person based on my experience of what I don't want, and I don't think there's anything wrong with that. And I tell people hold your standards and wait because that person that you want on your list is out there.
Philip King-Lowe
Yeah, yeah. Yeah. I also encourage my listeners to go back to August of 2021 and listen to my episode about Autistic Adult and Gaslighting that I did with Lyric Holmans, because gaslighting on an online dating thing it's very common. So go back and listen to that show about what gaslighting is. Yes, boy they can they can they can come at you really, really easily.
Candice Christiansen
Yeah, yeah, gaslighting is crazy making. It's making you feel crazy. And when you call it out, if you're calling out someone for being dishonest, they deflect by making you feel like they're crazy. That never happened. I never did that. So good that you're directing people to that episode, because that's real.
Philip King-Lowe
Yeah, yeah, absolutely. You know, and I remember it's worth repeating. There are some people out there who have done their share of reading about Autistic people that they have a fairly good idea. I'm sorry to say this, but they have an idea about how to bring somebody in. Take advantage of them and then it causes them grave harm. You know, I'm you know, I'm sorry that I have to say do that, but it's true. And then if you go back to the matter of that I that when we've talked about consent with Leah Bauman-Smith, last September, we also want to prepare and say again, that there are Autistic Adults, who tragically have a sex offender allegation to their name because they misunderstood a word, a gesture, you know, to be an invitation for something more. And lo and behold, they discovered this person who is underage, this person, that's not what they had in mind. So, you really have to be careful about that, because boy, that can give you a problem that isn't so easy to get away from for the rest of your life. So, we have to, we need to, we need to bring that forward and say that.
Candice Christiansen
We have an online program where we do it's called our escalated prevention program and our escalated addictions, groups that are web based for men who have had that exact experience who are neuro different and it's unfortunate, we end up we end up myself included writing letters to the court and talking about their neuro difference and how it is different from someone who is not neuro different. In terms of like you said, being manipulated into doing things that they they wouldn't do, they wouldn't do. You do have to be really careful. And I don't want your listeners to be like, Oh, my gosh, I don't want to date you guys are such downers. There's hope out there. There are good people out there. It's just finding the right community. And following what we're saying.
Philip King-Lowe
Yeah, yeah, absolutely. And, you know, there are people, you know, the LGBT communities, we have our issues, I'd like to say, there is some problems with ableism. And there are some problems with people who don't always have the best intentions, either. But the point is, is that there are people that you can connect with out there, you can make good friendships with and me and from some of that you can, you know, maybe create a future romantic relationship somewhere. But you do have to play it safe for yourself. You know. And last, I remember saying, I've said this many, many times, if you do find yourself in an abusive situation. I think it's important to say, and I know that Candice will say it with what will say it in agreement, you are not under any obligation to remain in the path of somebody who abuses you. Yeah. You have a right and obligation to get yourself a way from that individual. Absolutely. Yeah. We need to we you know, because I've heard some said, "Well, I have …". No, you do not have you to. Not at all.
Candice Christiansen
No, I was 37. And my boyfriend at the time punched a hole in the wall and freaked out. And I was like, I called my dad, I was 37. I called my dad and I said, I need help. You know, and it took a while. It's not like that was there was a lot of build up to that relationship. But to your point, it is okay for us, no matter our age, to ask for help. And to get out of a situation. We don't have to stay in the line of fire of someone that's verbally, emotionally sexually, physically, spiritually, financially abusive.
Philip King-Lowe
Exactly, yep. Yep. Yep. In fact, I would say when someone is being abusive, your first obligation is your own safety. You have you have every right to put yourself first in that situation. Yep. You know, and, and, you know, like I say, there are plenty of people out there who know how to minute who have an idea of how to manipulate an Autistic person. And that's why it's important to have friends to go to hey, does this sound like manipulation to you? What does it you know, and then just take that advice into consideration.
Candice Christiansen
You know, and for friends and loved ones listening, if you are, if you do have an Autistic person that you care about, that's in an abusive relationship that's not ready to get out. Please don't judge them. Please be there for them no matter what, because they're going to need you at some point. Even if they keep going back. Or if they stay, it's like, I know family and loved ones get frustrated. But please keep an open door for your loved one that's in that relationship, because it might take some time for them before they get out of the situation. And we're hoping that people will get out but sometimes folks don't.
Commercial Break III
Future Shows
Today's Autistic Moment will be recognizing
ADHD Awareness Month in October.
On October 2nd, Tas Kronby will come back to Todays Autistic Moment to talk about Autistics with ADHD. In the DSM-5 in 2013 Attention Deficit Hyperactivity Disorder (ADHD) was added to the family of neurological developmental disorders. Many Autistics have ADHD. What are the similarities and differences between Autism and ADHD? Join me and Tas Kronby for this important conversation.
On October 16th, Pete Wharmby will join me for the episode
The Intersection of Autism & ADHD.
On November 6th, Nicky Collins will be my guest to talk about
Autistic Parents Raising Autistic Children.
On November 21st, Robert Allan Claus III will be my guest to talk about Autistic Adults Are Not Children.
Philip King-Lowe
Before we end this conversation, which is really, really great, can you tell us a little bit more about what you do?
Candice Christiansen
Yeah. I'm the founder and clinical director of Namasté Center for Healing. We're a holistic treatment center in Mill Creek, Utah. I've been a licensed clinician for 18 years and my specialty and our team specialty is working with both non neuro different and neuro different individuals, couples, and young adults and older teens who have a variety of intimacy issues. A lot of our specialty is working with people who have infidelity, sex, pornography, addiction, and even individuals who've crossed over into sexually offending, and really working with mixed neuro type couples to heal their relationships. We work with a lot of people that have trauma. So yeah, that's what we do.
Philip King-Lowe
Yeah. And what is the web address? For what for your work?
Candice Christiansen
There's two so there's candicechristiansen.com or my intimacy coaching website. And then for our counseling then it's namesteadadvice.com. Okay, if folks want to reach us.
Philip King-Lowe
And I will be taking that information and I will be putting it on our Adult Autism Resources Links page so that you can access those links and resources anytime you like. Thank you. Thank you so much for this.
Candice Christiansen
Your so welcome. It's so lovely to finally meet you in person. Thank you for all you do.
Philip King-Lowe
Thank you. I appreciate that.
Transcribed by https://otter.ai
Today's Autistic Community Bulletin Board
All of these events announced can be found with the links to get more information are available on todaysautisticmoment.com
You are invited to MICC's 5th Annual Independence 5K Run/Walk on Saturday, October 1st at Donaldson Park in Richfield, Minnesota. Checkin/Registration is at 9:00am. The Race/Walk begins at 10:00am. Go to miccommunity.org for more information.
Understanding Autism virtual classes will be offered by the Autism Society of Minnesota. These classes are perfect for Autistic individuals, caregivers, those who want to learn the basics of Autism and support Autistic people. Classes will be held on October 17th from 6pm-8pm. November 21st from 10am to 12pm. December 19th from 2pm-4pm. Classes are free of charge, but you must register to attend.
On Tuesday, October 25th, beginning at 7pm to 9pm, Kathy Woods will present a virtual skillshop at the Autism Society of Minnesota entitled Learning to Drive While Autistic. This skillshop will share information and invite discussion on the critical skills needed for driving and how being Autistic can impact learning how to drive. Kathy Woods is the supervisor of the Courage Kenney Rehabilitation Institute's Driver Assessment and Training. Kathy is an Occupational Therapist, Certified Driver Rehabilitation Specialist and MN State licensed driver instructor.
The Autism Society of Minnesota in partnership with Puzzle Twist and Games by James, invites you to participate in the 5th Annual AuSM Connections Puzzle Competition. This event will be held in both in-person and virtual format on November 5th from 9am to 3:30pm. Teams of puzzlers will gather at the Mall of America Huntington Bank Rotunda and on Zoom. The cost is $60.00 per team. Virtual teams can have their puzzles shipped for an additional $10.00. Register by September 21st to have your puzzles shipped.
To register for these or any other events visit the website for the Autism Society of Minnesota at ausm.org.
If you have events for Autistic Adults and our supporters and would like them announced in Today's Autistic Community Bulletin Board on the next episode on October 2nd, please send an email to todaysautisticmoment@gmail.com by 4:30pm on Friday, September 30th.
Today's Autistic Moment is sponsored in part by Looking Forward Life Coaching. Looking Forward turns stumbling blocks into stepping stones towards success. Go to lookingforwardlc.org for more information.
If you have a topic that you think will be a great contribution to talk about the strengths and achievements of Autistic Adults and/or want to be a guest in season 3 in 2023; want your business or organization mentioned or have questions about Today's Autistic Moment please go to the Contact Us page on todaysautisticmoment.com or send an email to todaysautisticmoment@gmail.com.
Thank you for listening to Today's Autistic Moment: A Podcast for Autistic Adults by An Autistic Adult.
May you have an Autistically Amazing day.