Go to todaysautisticmoment.com for the transcript
For many Autistic Adults the holidays are a time of sensory distress, seasonal depression, with social demands and all the music and holiday advertising that can stress us out. Becca Lory Hector who was my guest for the Summer of Self-Care Series will give us some of her ideas about managing holiday stress to help us all enjoy them as much as we can.
--- Support this podcast: https://anchor.fm/2daysautistic/support
Click or tap on the downward arrow in the pink box below the logo to read the transcript. See the image below as an example.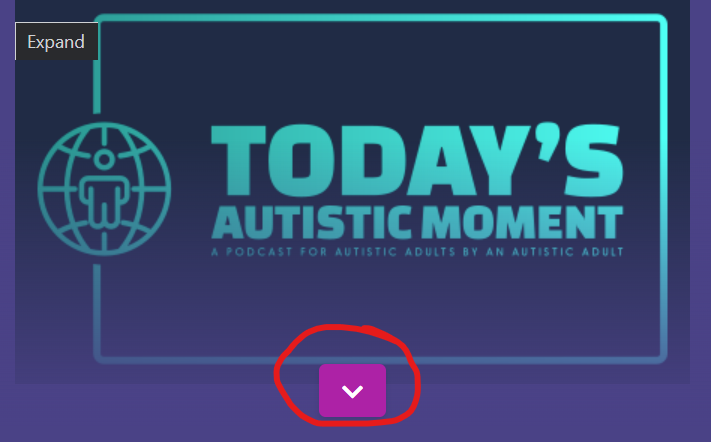 Transcript
Managing Holiday Stress
December 4, 2022
Segment 1
Welcome everyone to Today's Autistic Moment: A Podcast for Autistic Adults by An Autistic Adult. My name is Philip King-Lowe. I am the owner, producer, and host, and I am an Autistic Adult. Thank you so very much for listening.
Today's Autistic Moment is a member of The National Podcast Association.
Today's Autistic Moment is always a free to listen to podcast that gives Autistic Adults access to important information, helps us learn about our barriers to discover the strengths and tools we already have to use for the work of self-advocacy.
This first segment of Today's Autistic Moment is sponsored by The Autism Society of Minnesota; Minnesota's First Autism Resource. For over fifty years The Autism Society of Minnesota has been honored to support Minnesota's Autism Community. Visit them online at ausm.org.
Please visit the new todaysautisticmoment.com to listen to this episode and all previously published shows. The transcripts for all shows going back to February 2021 are available. Transcripts for 2022 are sponsored by Minnesota Independence College & Community. While visiting the website be sure to check out the Guest Bios and Adult Autism Resources Links pages.
In addition, please send all emails concerning the podcast and/or any part thereof to the new email address todaysautisticmoment@gmail.com.
Please follow Today's Autistic Moment on Facebook, Twitter, LinkedIn, Instagram, and Tik Tok. Please join Today's Autistic Moment Community Group page on Facebook where you can talk with other listeners and myself, get program updates and find new friends. Please subscribe to Today's Autistic Moment's YouTube Channel to view the last three Autistic Voices Roundtable Discussions.
I received exciting news this past week. Today's Autistic Moment has had a great year in 2022. Thanks to our listeners, guests and sponsors, the podcast had 1,252 minutes of new content. The podcast has been heard in 36 countries worldwide. We had 112% more listeners this year. Today's Autistic Moment is among the top 15% of podcasts that are shared globally, and in the top 15% most followed. We had an increase of 177% streams, an increase of 159% followers, an increase of 156% hours and 126% listeners. What makes these statistics so exciting is that the many Autistic guests who are sharing their experiences through the podcast, are being heard and taken seriously. This means that the information sharing that happens on Today's Autistic Moment is gaining ground for the movement for Neurodiversity. Congratulations and thank you for helping Today's Autistic Moment reach this amazing achievement.
How are you doing during this holiday season? Are you finding that you want more time away from people? Do you have more people around you stepping into your personal space more than they usually do? Are you feeling the stress from all of the ads to buy the perfect gift? Are you worried that you would receive a gift that you won't like, and that you will hurt the feelings of those who gave it to you, when asked if you like it? Do you find yourself wanting to say NO to a holiday party or gathering, and no one understands why? Are you being told you are the holiday killjoy because you don't want to celebrate with others? Do you find that people are forcing you into sensory stimuli that will be overwhelming?
If you are Autistic like I am, you probably said yes to many of the questions I asked.
The holiday season is stressful for everyone. Autistics experience our own holiday stress very differently.
On this episode of Today's Autistic Moment, Becca Lory Hector and I are going to talk about some things we have done to help manage our holiday stress and hopefully help you find solutions that work for you. Contrary to what many are telling you, you don't have to say yes to everything. You can establish your own traditions and boundaries. Your way of doing the holidays is a good way, because it reflects who you are, and what you want to do. Becca and I are here to help you with making those decisions. If you are a caregiver, it is important that you listen to be sure you are respecting the needs of your Autistic loved one.
Visit the Guest Bios page of todaysautisticmoment.com for detailed information about Becca Lory Hector.
Stay tuned after this first commercial break, to join Becca Lory Hector and I as we talk about how Autistic Adults can Manage Holiday Stress.
Commercial Break I
Segment 2
Welcome back. Please join me as I welcome Becca Lory Hector back to Today's Autistic Moment.
Philip King-Lowe
Well, Becca, it is so great to have you back on Today's Autistic Moment. The interviews I've done with you in the past it just terrific. So welcome back.
Becca Lory Hector
Thank you so much for having me back. I really enjoy our conversations. And I feel like we put good information out there. So, I'm excited to be back.
Philip King-Lowe
Good. Yeah. Yes. And you do. So here we are in the holiday season. And I remember your last our last interview was after a long, tedious, stressful election season comes the holidays. So, I think it's kind of right to, to do this now. And so here we are, we're in the stretch for the holidays. And, you know, there's stress all around us of all kinds. But we want to talk about managing holiday stress, the stress, we're all under right now. And so, let's get to it. What important information do you feel Autistic Adults, and our caregivers need to understand when we, as Autistics deal with managing holiday stress?
Becca Lory Hector
Well, I think we have to remember that it's a really layered kind of stress, right? So, it's not just one thing that stressful about the holidays, it's like lots of different parts of it are super stressful, right? So, I like to think about it in different ways. So, there's sort of like the external stress, right? So, if you notice the energy out in the world changes kind of around the holidays, right? It gets a lot. I feel like rushier and people I feel like oddly, though, it's the holidays, they become a little more selfish, or self-involved, right. And so, I tend to, for me, especially because I've always lived in the States, I think about all of the shopping that happens over the holidays, and all the commercials and all of the that kind of just invasive stuff that happens during the holidays. But then there's this whole other side of the holidays, which is sort of that emotional piece of the holiday. Right? Where it has nothing to do with what's going on out in the rest of the world, but more about how you personally feel about the holidays, and maybe what your past experiences have been, what your expectations are. Expectations kill holidays like nobody's business, right? And so, you know, we all kind of take art have our own baggage surrounding the holidays, whether it's good or bad baggage, right. And so, there's that emotional piece for people I think during this time of year. Yeah, absolutely. To deal with both versions of that as we're out there in the world.
Philip King-Lowe
Oh, yes, yes. To you and my listeners, I would urge you to go back to my show I did over a year ago with Zephyr James where we talked about Preparing for the Sensory Unfriendly Holidays, which where we dealt with all the sensory stuff that comes at you. And we just remind people to please just be aware, if you have an Autistic loved one, that everything from the foods to the lights to the sounds to the parties, and all of those things can be extraordinarily stressful upon Autistic people with our sensory processing. And I don't mind reiterating that. But let's just once again, kind of you, we have to talk about the social expectations this time of year, that are so stressful for Autistic people and why that is stressful is so go ahead, and please talk about that.
Becca Lory Hector
Okay, well, I what I like to talk about that is sort of how we create a picture of what the holidays should be in our heads or what we want them to be. And then there's the version of sort of what actually happens. And 95% of the time, those two things don't match, right? We have the way that we would love it all to roll out and the way that we feel that it should be and then there are then there's the way that we actually have to experience it. Right? And so, one of the things about expectations are managing our own expectations about how we think it's gonna come out or how we want it to be. And then the other piece is managing other people's expectations of what they think it's supposed to be like, right on how we're supposed to behave or how it's supposed to go down. Right? And it's, we're honestly having the same problem, right? Everybody's having the same problem. They all want it to go down the way they think the holidays are supposed to go down. But when you bring a whole bunch of different people together, that's never how it happens. Right? Right, exactly. It doesn't go that way. So, I like to talk about managing expectations for Autistics, because I feel like that's our first line of defense for the stress of the holidays, right? Is sort of stop holding ourselves to that standard, that expectation that we have in our head of it being a certain way. And also, to stop letting other people bully us into living up to their expectations of what the holidays should be. Yeah. And so that takes a lot of reflection, takes a lot, a lot of sort of internal looking at things and what your past experience has been. And so, I want to share a little bit for me what that was, like, you know, I definitely am not a holiday person. And I'm not a holiday person for a lot of different reasons. And it was very hard for my family members, you especially as a younger person, to understand why I didn't really like the holidays. And it's the same reason now is it was then. And that is I really feel that if people really love or care about you, that they should show you that all year long, during the course of the year and to be there for you. And during those hard times all throughout the year. And not just surface one time a year and say happy holidays, here's something and because I give you this thing, you know, I love you, right? That's not how I say I love you. And it's not how I communicate love. And so that was a really big struggle for me. It was like, How can I I'm supposed to be a part of your game? And so, I struggled with that a lot. Right? And then of course, as a sensory sensitive person. Everything that the world does out there when it's doing anything is too loud for me. And so, you know, it would always be then, you know, a sensory overload on top of the social overload. Right? Yeah, I ended up really having the kind of holidays that I wanted, my expectations were never met. Right? And so, you know, for me, every time the holidays roll around, that kind of comes up. Right. Right. So, I gotta go through that. And so, I think we need to think about those pieces. And so, I always say, layer one is expectations and managing those expectations in a realistic way.
Philip King-Lowe
Yeah, yeah. And the other thing that I think is important is that we, as Autistics we create what works for us, whatever those things are, I mean, once again, referring back to Zephyr, I'll just say that last year, she said, let's say you're somebody who is just very sensitive to candles being burned, then get some of those LED candles that they don't, you know, they don't require a flame burning and the light is a little bit dimmer. Go ahead and do those things. Maybe, instead of having actual candles, maybe cut yourself out a set of paper candles, and put them put them somewhere where you're happy with that they're there. You know, and that's one of those things that you're talking about expectations, we do not have to satisfy everybody's wish this time of year, we do have an as we've been talking about all summer, we have the right and responsibility to care for ourselves during this time of year. And part of the stress is, is as you say, this, the expectations people have on us and what we have on ourselves. And then that can create a little bit of some difficulties in creating our own traditions.
Becca Lory Hector
Right. And so that's so I love that. Let's talk about that idea, that creative tradition thing, right? Because I think that's one of the things, I love most about being an adult, is that I get to do that stuff. I get to create my own traditions, I get to make my own rules, right? And if I feel like having ice cream for dinner, I can have ice cream for dinner, right? Because I'm a grown up and that's the piece I want to give to everybody out there is that it is certainly your life. Those choices truly are yours. And so, what the holidays mean to you and what those traditions are, get to be what you want them to be so don't feel like your holidays need to look like other people's. Here's an example. Right? I am I grew up Jewish, right? Never really experienced Christmas, but love Christmas. I am someone who thinks it's just I just love the traditional picturesque New England Christmas, right snow, and pine right? But I have autism. Right. So, having those things in my home, right?
is not a choice for me for a couple of reasons, right? Sensory wise, having the blinking lights or having the smells. But also, it's something I have to worry about cleaning up and putting away. And all those things. I have animals and I have to make sure that they're not going to get hurt by the things that I'm putting out and putting up right. And so, it actually becomes a real spoons stealer for me to go about decorating my own house, right? Yeah, well, I love driving around my neighborhood and looking at other people's decorations. Right? It doesn't really help me through the holidays, to put that pressure on myself to do it in my home. Right, right. Just it doesn't mean I don't like it. It doesn't mean I don't appreciate other people's; it just doesn't work for me. And so, the tradition of decorating a Christmas tree is just not a tradition for my family. We just can't do it. Right?
Philip King-Lowe
Yeah. Yeah, I mean, my husband and I follow, we're Episcopalians. So, we do follow the season of Advent, early Advent up to December 17th. And we actually put up our tree and Christmas decorations around the 17th of December. And they stay up until January 6th. So, while everybody's throwing their trees away, ours are still up in still there. But the point is, is that it is your home, and it is your life. And I just got done with an episode previously to this one about Autistic Adults are adults, not children, meaning we don't we don't have to accept people infantilizing us at this time of the year, especially this time of the year. And the thing your thing is, yeah, we are adults, we have the right to make some choices of what works for us. You know, um, you know, yeah.
After this next commercial break, Becca will talk about how you can celebrate the holidays in your own way, some ideas about communicating with your loved ones what you need during the holiday season and some alternative gift ideas that Autistics can appreciate.
Commercial Break II
Today's Autistic Moment Announcement
The third season of Today's Autistic Moment will begin on January 8th, 2023. The first episode will begin the theme that you will hear throughout the third year. The Strengths and Achievements of Autistic Adults. During that show, and throughout the year, we will be highlighting the incredible tenacity of Autistic Adults as we work through our challenges and stigmas to achieve great things in our lives and in the world around us. The very next episode on January 22nd will be the 50th episode of Today's Autistic Moment. The 50th show will feature past guests, listeners, and sponsors as we celebrate this important milestone for Today's Autistic Moment. I invite you my listeners to become part of that episode by sending me a message to tell me what listening to Today's Autistic Moment has meant for you. What are some ways that the podcast has helped you in your Autistic life? Take a brief look at what your life has been like since listening to this podcast and send me a message to tell me about it. If you are a caregiver, tell me about how the podcast has helped you to better understand your Autistic loved one. Please go to the Contact Us page at todaysautisticmoment.com and send a message ahead of the 50th show. Many of these responses may be read and shared on the 50th show. If you would prefer not to have your name mentioned, please indicate that in your message.
Thank you for listening to Today's Autistic Moment.
Segment 3
Philip King-Lowe
Let's now move into what the barriers are. And we've been talking about barriers. But let's, let's move into that. And we can carry some of what I started with earlier. What are what are these barriers that to managing holiday stress that we have? And feel free to fill in wherever you want.
Becca Lory Hector
I think some of the barriers that we kind of put up there a lot, most of them I think, are real societal obligations, right? And so, they're, we struggle with them, I think intellectually, like an understanding why we do some of the things we do. But then we also struggle with how much of our energy that takes right to do those social things. And when we think about the holidays, there's a lot of social obligation very close together, right? A lot of things happening at the same time of year, a lot of different parties, a lot of different places to go. And if you're like me, that starts to happen for you around October with Halloween, right? It sort of starts in there. And then like just picks up steam all of the social requirements. And so, what that really becomes, for Autistics is a trap, right? We can easily find ourselves in a place where we may even want to be at all of these things, or we may not want to be at all of them. We're saying yes to make other have other people happy. But no matter which way you look at it, we're draining a lot of energy from ourselves that we don't usually drain the rest of the year. Right? It's all together, we don't have that recharge space that we usually have. Right? Yeah. So, what I want people to think about in terms of alleviating some of that social stress is really being mindful about choosing the things you say yes to. Right? So really making sure that you're saying yes to the things your heart wants to say yes to, right? So that the energy is worth it, and not just giving into societal pressure to say yes to other things. Right? So, for someone who really enjoys the holidays and feels it's really a family occasion, right? Wasting spoons on say, going to a work Christmas party, right? Might not be a good choice, right? Because it leaves you depleted and not able to spend the time with family. And then vice versa, somebody who might find being with family very difficult and very draining and very exhausting, right? Maybe saying no to some of those things. And saying yes to something with friends or with coworkers is a way to lighten your load for the holidays. But remembering that you have a choice is the key in all of this remembering that it's up to you. You know what the rules are around the holidays when you become an adult.
Philip King-Lowe
Yeah, yeah. And that includes if you're somebody that just prefers to spend the holidays by yourself. If that's what works for you, by all means, then feel free to tell people my door's locked sorry. Whatever......
Becca Lory Hector
Sure, I mean, what a perfect time of year to do that. Right? Everyone else is busy with their own things. Nobody's gonna be bothering you and sending you emails, and, you know, blowing up your phone and things like that. Right? So, if you're somebody who really needs extra alone time, and that recharges you for the year coming up, so you can live your better life. Well, yes, take that staycation self-vacation, and be alone and do the things that you enjoy. Right? That can be your holiday tradition.
Philip King-Lowe
Yeah, you know, and we could also talk about one of those really big barriers. And one of these days I'm going to have a show about this topic too. But a barrier for a lot of Autistics with managing holiday stress this time of the year is the push on. All these folks that want your money. Managing holiday stress around money is stressful. It is stressful for everybody, but particularly Autistics who many of us are either unemployed or underemployed. So, let's make this make the state now. No, you do not have to go into debt just because it's Christmas. That's a misnomer that's been fed into all of us. But no, you do not have to do that.
Becca Lory Hector
That's right. Yeah. Okay, and that's another one. Here's, here's a rule that I think is fascinating that I want to just demystify for Autistics, too, just because somebody has decided to give you a gift or a card or something like that does not mean that you have to then go running out and worry about giving them a gift, right? So, like, there are some people who get really like a ton of joy out of getting little trinkets for people through the holidays, and of giving a whole bunch of people cards and all of those things, right? And it reaches all the way out to, you know, their mechanic and their tax accountant. And they're this in the people that they are the person on the bus, right? They just they want to touch everyone, right? And then there are some of us who are really careful about who we give presents to or give gifts to, and maybe that's a monetary concern, maybe it's another, you know, it's a moral concern, or an ethical, ethical concern, whatever it may be, right? But I feel like if somebody chooses to show their joy around the holidays by giving a physical gift, right? I don't think that there's an obligation, right to them to feel obligated to then give them back. Nor is there an obligation to match the price or the value of what you're given. Right. So just because someone feels like, you know, they're in a situation where they can give you know, a $500 present doesn't mean that you have to then go into debt, trying to match the value of their present.
Philip King-Lowe
Agreed. Yeah, absolutely. That's great advice. Yeah, I know. Yeah. Yeah, there is the tendency for us wanting to mirror somebody else. But the fact of the matter is, we are our own selves. And we often find some of our holiday stress is managing that by just trying to remind people that that we are our own unique people, and we can be your own unique people. Which brings us to....
Becca Lory Hector
No, I just I want people to like, I guess what I want it. I wish there was like a physical opt out button in the world at this time of the year. Right, like unsubscribe. But I just I want you guys to know that you can unsubscribe, like real deal. Yes, yes. Like you, you don't have to do anything about the holidays, you could just let the days pass like their normal days, right? I want everyone to you can participate or not participate to whatever level makes you feel comfortable, right? It's supposed to be a time that's about joy and sharing. And if at some point, you're not doing joy and sharing, you're doing obligations, then you're missing the point anyway. Right, right. So really remember there, though, it doesn't exist physically, theoretically, there is an opt out button, and you can opt out if you want to.
Philip King-Lowe
Right. Absolutely. Yeah. Now what steps should Autistic Adults and supporters take to advocate for our needs? And let's actually continue with where you were going. You know, contrary to the pressures of what's coming into your email box, no, you do not have to be subscribed to all the sales stuff coming in. You don't have you know, if anything, if you go in there, just unsubscribe from this unsubscribe from that. And I mean, and I know that a lot of us we like to play our, our games on our phones and you got these commercials coming back and kind of all over the place. Just swipe those things and restart your app if you have to. I mean, you don't have to let yourself get all of that. Energy. Because, you know, for many of us who when we're feeling overloaded, you know, and this is part of the management piece. Don't let it overload you go ahead and turn something off, X something out, it's okay to do that. Sometimes you must do that to advocate for yourself. Go ahead, Lory. So
Becca Lory Hector
Yeah, I mean, this is this, the advocacy piece is important, though, because it's a hard one at this time of year, it's a little bit more loaded than the rest of the year, people are sensitive at this time of year, if you might notice, right, everyone's whatever their holiday baggage is, they're all replaying it in their heads, everybody's a little bit more sensitive, a little bit more rushed, a little bit more, all of those things, right? Everybody's a little more on edge. So, when we advocate for ourselves, we need to kind of do it a little more softly than we might do it at some other time of year. Right? Because usually the folks we're advocating for ourselves with are family members at this time of year, right? A lot of our advocacy is around what occasions we're going to go to how we're going to show up and be at those events, whether or not we're able to eat or not eat at those events, or you know, how long we're able to be there. Right, right, right. I remember as a kid, like negotiating how long we were gonna stay at places, right? Like, really, I can put I'll give you a 45 minutes there, ma and then I'll go, and she'd be like, Oh, we have to be there for two hours. And then we kind of go back and forth, right? And I would just be watching my watch, like, come on. Are we there yet? And so, I want everyone to know that as you're negotiating through and advocating for your needs, whether it's yes, I'm going to this event. No, I'm not. Yes, I'm bringing my own food with me. No, I'm not. Yes, I can go but only for a certain amount of time. Yes, I can go but not if you make me wear that, right? Things like that. As we're negotiating that, let's not try, let's try not to add to each other's suffering, right? Let's try to make it we're uncomfortable and unhappy. The other person is, of course, there's going to be feeling the same way. But we're all walking through holiday stress. Right? So, let's not increase each other suffering, right. But make sure that we're delivering our information and making our requests with a little bit extra kindness at this time of year, because we're not the only stressed party in here. Yeah, everybody is. And so, making sure yes, that you advocate. And, yes, you're allowed to ask for things. But just remembering that the people on the other side are doing their darndest to put something together as well. Right. Right. Yeah, you know, compromise, I guess, a little bit more than you might usually do.
Philip King-Lowe
Yeah, yeah. And let's also talk about the fact that for many people, this is also their time of seasonal depression. The winter, the winter weather, the winter times, and all the other things that are going on, they can really bring out a lot of stress in people. So, this is a time to also be managing ourselves. And also, especially during this period of seasonal depression. So go ahead talk about some of that, please.
Becca Lory Hector
Yeah, so I am definitely this I am a seasonal depression person. I have finally admitted it to myself and others now, after years of just being like, no, that's not a real thing. And blah, blah, blah. But it is a real thing. It's a very real thing for me and for a lot of us. And I know we've talked about it before Philip and a lot of people struggle. Remember seasonal depression, it's a seasonal thing, right? It's seasonal affective disorder. So, you can have it at any season of the year. A lot of people feel it in the summertime when the outside is really uncomfortable. For me, it's something about this time of year, and I am probably pretty sure as I'm getting older that it's linked to all of my holiday trauma, right? A little bit in there. But it's also the this not so much sun and things like that. And for whatever reason, you know, this time of year, usually around early November, all the way till February, I've got like an extra load of depression on top of my usual depression. I've got some fancy extra depression that I got to work my way through. And I describe it as kind of a few months of feeling like you're living in a Jell-O mold. So, you've got some, like a whole extra like layer of Jell-O to work through to get to the outside world for those few months. And so that becomes extra hard when that's how you're feeling. And the world is saying here's all these extra social obligations. Here they are. Here's all the right and I'm feeling like I have half the amount of energy that I usually do and half the amount of motivation and half the amount of caring, I get very grinchy right? And all are like very cranky around that time of year. And that's very much a chemical response is very much a biological situation that's happening for me. And so, I say no to a lot of things, I've learned to say no to a lot of things. And I've learned to be kind to myself that I can no longer expect that other people will understand what that feels like, why they don't need to anymore, I need to, I understand that I know what I need to do for myself. I did a lot of work to get there. But what I encourage folks to do is understand that for many of us, the holidays can be a mental health trigger, whatever your extra Jell-O layer is, right? So, if you're, if that stuff gets ticked up for you, again, that makes you a little extra cranky, a little more sensitive, a little, you know, needing to take some extra care and really make some good solid choices, right. And that may mean saying, You know what, I could go to that event with you. Right, but then I won't be able to care for myself tomorrow. But also, you're not gonna have fun with me at the event you're wanting to make me go to because you're gonna keep telling me to have a good time the entire time. Yeah, right. And so, we can do equal kindnesses back for each other, right, when we know that all of these buttons are being pushed for all of us, that just being a little bit more accommodating, or a little softer with our asks and our deliveries, right? Because it can be happening for anybody. Right?
Philip King-Lowe
Yeah, I think it's a good idea to again, borrow from what Zephyr said last year, when she said, sometimes having the conversations with others who may or may not understand our situation, it can help I think, to, to try to say, you know, if you make me go to a situation, that's not right for me, not only am I not going to enjoy it, you are not going to enjoy it, because you're going to be worried about me how I mentally am. So, if so, so my decision to, to not go into that situation, maybe, maybe because I needed the rest number one. And number two, I really don't want you to be worried about me during that time. You know, I want you to enjoy whatever it is you enjoy. But if it's not something that I'm not enjoying, then it's not, it's not going to be able to for you to enjoy. So, to those who want to force an Autistic person into that situation, I want you to think about, if that Autistic person is not comfortable, how comfortable are you going to be if all you're doing is worrying about that Autistic person? So, if that Autistic Adult, especially if they're adult, you know, if they make the decision that they really need to be by myself by themselves, respect that decision. And please don't push for that for reasons such as that.
Becca Lory Hector
Right. And that's, you know, we think about that, and it's all this push and pull to, again, meet expectations, right? All of that forcing is about that expectation meeting, right? Like, this person, you know, is saying, No, I don't want to go to this thing, and you're forcing them to go. But that's about because in your head, you've imagined this event and they're there. Right? It's like you haven't imagined that event with them, not there. And so, they have to come. Right. And so again, that's that expectation. So, when we let go of some of those expectations, right, we tend to have a lot less controversy.
Philip King-Lowe
There's also one reminder, I do wish to give my audience, both Autistics and the caregivers, too. There are those of us who are Autistic, who have issues with "surprises" during the seat this time of year. There are some of us that, quite frankly, we don't like surprises. And I know you want to give a gift that is something they were not expecting. But there are some of us who if we don't have the opportunity to tell you what we want. Because you asked us, we can't really receive your gift with the joy that you might want us to receive it. Because some of us just can't do surprises. We just can't do that. Oh, by the way, here's this. Right. And the thing, and I know the feeling of somebody giving something to me, and I open it, and they're like, isn't that great? And part of me saying no. You know, and I mean, I have gotten my responses from family years ago about well, you should be grateful even if it's not something you want. And now that I'm an adult, I'm saying no, I don't have to do that. Okay, you know, so if, if I know it's the thing about this time of year, you want to surprise them with the perfect thing. But for the non-autistic what you think is the perfect thing for the Autistic person probably very well might not be. And, you know, a lot of us said, if you ask us, do you like this? And they don't, they are not gonna tell you? No, they're not gonna tell you. Yes. So, the best way to really avoid that, or to or to, to deescalate that, is to really give the Autistic person the opportunity, say, number one, do they want to gift or not? They do have the right to say no to that too. And number two, if it's something that they want, or they're interested in, then stick to that. And if it's something that you think we can't afford, you just say, I don't think we can afford that. And you're like, Fine, okay, you can't do that, then do something else. But the point is, is to give your Autistic Adult the opportunity to decide that. And, like I say, I've actually learned through a friend of mine that just does not, he's an Autistic friend of mine, does not like surprises. If someone's going to buy something for him, he wants somebody to ask him first. So that he can say what he wants. You know, and there are there are a lot of us, Autistics that are like that. We just don't do surprises. And what we're asking our loved ones to do is please respect that. You know, we're not the party ruiner here.
Becca Lory Hector
That what it does is it makes us the party ruiner, right? Right. But like, like, we were, like, put into that role. Right? And so, again, that's again, expectations, right? There's an expectation of the way you're supposed to respond when someone gives you a surprise gift, right? And if we don't meet that expectation, poof, right. It's like every time you look at it, it's like those expectations. Just sit there around the holidays, just like bombs waiting to go off all the time. Right? Right! And so, but while we're talking about surprises, I think we should talk a little bit about gifts. Because yeah, go ahead. I would love to just expand the horizon on gifts a little bit. So, this I think present giving is a really interesting, I guess, tradition, let's call it that an interesting tradition, right? It puts a lot of weight on physicality on material items. Right? Right. So, what I and I think, as we're sort of pushed into all of those societal pressures about presents and gift giving, there's we sort of tend to be very tunnel visioned about it, and it becomes this material objects thing. Please don't limit yourself that way. Right? You can do a lot of gift giving, that is not about material objects, you can give gifts like experiences, right, you can set up a trip to go places or go, you know, buy tickets to see a musical or, right, things like that, where it's not an object that you are giving, but you know, a memory or you know, an experience, right and other options, right? Are to give gifts like from the heart, if it's to a partner, right, maybe taking over some of their chores for a while, or, you know, doing things like that there are other ways to give right your time and energy and show your love for someone than just another thing to sit on the mantle, right. Another way to consider is volunteering your time, right? Or volunteering your time at an organization that means something to a person. As an Autistic person, if someone wants to show me, they love me, come spend some time and volunteer with me at some of the Autism organizations that I care about. Right. Absolutely. No, give some of your time back to that right to me. That's a goose bumpy present. Right? If someone did that, to me, that's true love. Right? Yeah. So, things like that donations of your time or your money to on behalf of something that someone cares about, right? Again, ways to sort of open up the picture of present giving right so that it's not necessarily about you know, finding the right object.
After this final commercial break, we will thank Becca for this excellent conversation followed by Today's Autistic Community Bulletin Board.
Commercial Break III
Advertisement
Are you Autistic and the owner and/or host for a podcast that is by and for Autistics? If so, I have a very exciting networking opportunity for you. I am cordially inviting you to attend a live virtual initial meeting to talk about the creation of the International Autistic Podcasters Association on Thursday, March 16th, 2023, at 11:00am-12:30pm Central Standard Time. During this meeting we can talk about what we might like an International Autistic Podcasters Association to look like and what we could do. The association members can share with each other what our podcasts are about, what is working well, what might need improvements and promote ourselves and each other to attract more listeners. The meeting will be recorded with a transcript and made available on Today's Autistic Moment's YouTube channel. To read more about the meeting go to todaysautisticmoment.com/apa/. Please share the news and link with any Autistic person you know who owns and/or hosts a podcast for other Autistic people. If you have any questions or concerns, send an email to todaysautisticmoment@gmail.com .
Future Shows
On December 19th, the final show for 2022 will be Communicating with Autistics. My guest will be Grace Ogden-Parker. Many Autistic Adults get unwelcomed lessons about how to "communicate appropriately" from Neurotypical people. Contrary to what many Neurotypical people believe, Autistic Adults have our own languages as to how we communicate ourselves to other people. My guest and I are going to talk about the different ways Autistic Adults communicate with others around us. Neurotypicals are welcomed and strongly encouraged to listen and pay attention so that you might learn how we speak our own Autistic languages.
As previously announced, Season 3 begins on January 8th with The Strengths and Achievements of Autistic Adults. On January 22nd, I will publish my 50th episode. In February we will celebrate Black History Month by talking to two guests who are Autistic people of color. I will again recognize Women's History Month in March, and of course April as Autism Acceptance Month.
Thank you for listening to Today's Autistic Moment.
Segment 4
Philip King-Lowe
Well, Becca every time we talk, I feel like we do unleash information and subjects that probably don't get talked about anywhere near enough and I'm just so delighted and I do plan to have Becca Lory Hector back next summer for some Summer Self-Care Series stuff. And you can all look forward to that. And um, do you want to talk about any other particular projects you might be doing right now?
Becca Lory Hector
No, I'm really just still kind of working on all my same things that I've been working on. And I'm sort of still out there in the social web sphere if you need to be in touch with me. I absolutely. I'm the only one who does my social so if you need me reach out. But yeah, I'm happy to sort of always be coming on and having these conversations because we really talk the truth about the thing, the topics that we're you sort of want to tackle and I feel like other people can be tiptoeing around those.
Philip King-Lowe
Right, absolutely. No, I don't want to tiptoe, I want the autistic adults who listen to this to feel like we're giving you something that you can use because we understand you. And that's why, you know, when I started this podcast almost two years ago now, no, no, actually almost three years now oh boy. But the thing is, is that, you know, I have an Autistic Adult, as you know, and I know what it is to be looking for information you just can't find because you can't find it from people who don't even understand you to begin with. Well, I do. We do. So that's why that's why I'm doing this, and I do believe that there are Autistics who are benefiting from this. I know there are because they tell me. So very well. Well, Becca, thank you so much for this time. And as it goes, happy holidays.
Becca Lory Hector
Absolutely. Happy holidays.
Transcribed by https://otter.ai
Today's Autistic Community Bulletin Board
All of these events with their links can be found on todaysautisticmoment.com/bulletinboard.
Understanding Autism virtual classes will be offered by The Autism Society of Minnesota. These classes are perfect for Autistic individuals, caregivers, those who want to understand the basics of Autism and support Autistic people. Classes will be held on December 19th from 2pm to 4pm. January 16th from 10am to 12 noon. February 20th from 2pm-4pm. March 20th from 2pm to 4pm. Classes are free of charge, but you must register to attend.
On Tuesday, December 13th from 7pm-9pm Zephyr James will present a virtual skillshop at The Autism Society of Minnesota entitled, Autistic Friendly Holidays and Traditions. Many families rely on holidays and traditions to create connections, feel a tie to history, and share values. But often family traditions and expectations exclude Autistics, whether because of sensory needs, disrupted routines, or confusing expectations. This session will help you explore how your Autistic family member (or you yourself) can be a powerful force towards creating ritual and tradition that meets the needs of your family. It will include strategies for managing the overwhelm that often comes around the holidays, interactive practice for brainstorming traditions that work for your family, and tips for meeting everyone's needs.
On January 10th, 2023, from 7pm to 9pm Jillian Nelson will present a virtual skillshop at The Autism Society of Minnesota entitled How to Change the World: An Introduction to Public Policy and Disability. Have you ever wondered how to change the laws, or how disability policies are decided? Join AuSM's Policy Advocate and Advocacy committee for an overview of the process to change laws, what are the nuances of disability advocacy, and how to get involved and use your own voice? This session will be a presentation, panel discussion and hands on learning opportunity. The committee will also offer a detailed overview of the coming sessions policy agenda.
The Winter 2023 virtual sessions for the Autism Direct Support Certification classes will be on Saturdays beginning on January 14th, 21st and 28th. These classes are perfect for job coaches, support staff, personal care assistants, EIDBI Tier 3 providers, educational aides, direct support staff, day training and habilitation professionals, anyone who works directly with Autistic individuals and Autistic people. These classes fill up quickly, so register as soon as possible.
Go to ausm.org for more information about these and other events at The Autism Society of Minnesota.
If you have events for Autistic Adults and our supporters and would like them announced in Today's Autistic Community Bulletin Board on the next episode on December 18th, please send them to todaysautisticmoment@gmail.com by 4:30pm on Wednesday, December 14th.
Today's Autistic Moment is sponsored in part by Looking Forward Life Coaching. Looking Forward turns stumbling blocks into stepping stones towards success. Go to lookingforwardlc.org for more information.
Today's Autistic Moment is sponsored in part by Therapy Dynamics. Go to therapydynamicsmn.com for more information.
If you want your business or organization mentioned or have questions about Today's Autistic Moment, please send an email to todaysautisticmoment@gmail.com.
Thank you for listening to Today's Autistic Moment: A Podcast for Autistic Adults by An Autistic Adult.
May you have an Autistically Amazing day.