Go to todaysautisticmoment.com for the transcript. Erin Brandel Dykhuizen who is a licensed social worker who specializes in helping Autistics to deal with Chronic Pain Management. Autistic people have very different responses to pain in large part due to our sensory processing disorders. Some Autistic Adults may be hypo-sensitive to pain in that they do not know how much pain they are actually in. Other Autistic Adults who are hypersensitive have pain that is so intense that managing day to day activities is almost impossible. There are many Autistic Adults who live with chronic pain due to conditions like fibromyalgia, arthritis, physical injuries, and of course trauma. Erin will join me to talk about how Autistic Adults can manage their pain in ways that work for them. --- Support this podcast: https://anchor.fm/2daysautistic/support
Click or tap on the downward arrow in the pink box below the logo to follow the transcript. See the image below.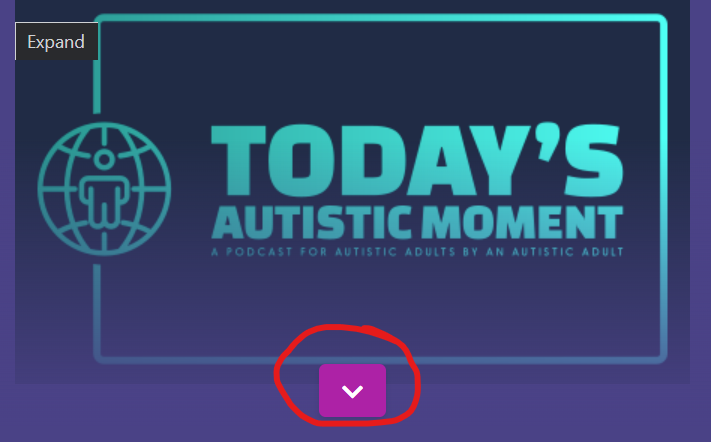 Chronic Pain Management for Autistic Adults
January 24, 2022
[You will notice that some words have a strike through font. These are to reflect the new website created in September 2022]
Welcome everyone to Today's Autistic Moment: A Podcast for Autistic Adults by An Autistic Adult. My name is Philip King-Lowe. I am the owner, producer, and host, and I am an Autistic Adult. Thank you so very much for listening.
Today's Autistic Moment is a member of the National Podcast Association.
Today's Autistic Moment is always a free to listen to podcast that gives Autistic Adults access to important information, helps us learn about our barriers to discover the strengths and tools we already have to use for the work of self-advocacy.
This first segment of Today's Autistic Moment is sponsored by The Autism Society of Minnesota: Minnesota's First Autism Resource. For over 50 years, The Autism Society of Minnesota has been honored to support Minnesota's Autism Community. Visit them online at ausm.org.
Please go to the New Podcast Episodes Page of todaysautisticmoment.com where you will find the lineup for the new shows, with the descriptions of each show from now through the end of May. When I publish new shows, you can click on the title and guest of each show to listen to the episodes. You will also find the Program Script that includes all of the hyperlinks I mention on each show and the Interview Transcripts links will be available to download. Interview Transcripts for 2022 are sponsored by Minnesota Independence College & Community. All 24 episodes of Season 1 in 2021 with their transcripts are available on the Episode Index Page. todaysautisticmoment.com.
Also, be sure to follow Today's Autistic Moment on Facebook, Twitter, Instagram, LinkedIn, and Tik Tok. Please join Today's Autistic Moment Community Group page on Facebook, where you can talk with me and other listeners.
The first live virtual event of Autistic Voices Round Table Discussions for 2022 will be on February 23rd at 2:00pm Central Standard Time. The topic will be Stop the Shock. In March 2020 the Food and Drug Administration sought to ban the use of shock devices as a way of treating Autistic people and other disabled people. In July of 2021 Federal judges in a 2-1 decision ruled that the ban interferes with the ability of doctors at the Judge Rotenberg Educational Center to practice medicine. Since that decision, a movement called by the hashtag stop the shock has been organizing to talk about this dangerous practice, and work to end its use. I am seeking six Autistic individuals to have a round table discussion about the Stop the Shock movement. If you wish to be a panelist, please go to todaysautisticmoment.com/autisticvoices/ by January 31st and click on the link to apply to be a panelist. You can also find there a link to the article in the New York Times, Court Overturns F.D.A. Ban on School's Electric Shock Devices to read up on this topic.
About eight years ago, I had all of my teeth extracted. After they were removed, I realized for the first time how much pain I had been in for years. Later, I had some say to me "I was surprised that you weren't in excruciating pain." Perhaps you have witnessed an Autistic person who has been near a hot grill or stove and put their hands really close or gotten burned and they have no expression of pain on their face. The other possibility is that an Autistic person can be in so much pain, physically and emotionally, that they cannot hardly get up in the morning, or move very far without mobility assistance devices in order to function from one day to the other. In addition to many of my own challenges as an Autistic person, I have chronic back pain due to a lumbar disk protrusion, and hip pain because of bursitis. I am a part time manual wheelchair user because walking too far is so very painful. I know of many Autistic Adults who live with very intense pain due to the amount of trauma they have experienced.
In 2019, I attended a break out session about Chronic Pain Management with my guest for today's show. Erin Brandel Dykhuizen is a licensed social worker in St. Paul, Minnesota who works with Autistic individuals so they can better manage their pain. What makes Erin unique from others is that she understands that Autistics experience pain in unique ways from neurotypical people. Erin meets Autistic individuals all the time who have gone to doctors and psychologists who have told them that Autism has nothing to do with their pain. They have been told that their pain is in their heads, and to just put it out of their minds. Erin knows and understands that pain for Autistics is real, and how our sensory processing disorders and trauma affects how we experience, communicate about, and manage pain.
After this first commercial break, I will welcome Erin and begin our conversation. Erin will explain some basics about the experience of pain to help us begin to learn how to manage it. Please stay tuned.
Commercial Break I
Philip King-Lowe
Erin Brandel Dykhuizen, thank you so very much for being on this episode of Today's Autistic Moment. It is my pleasure to welcome you on my show today.
Erin Brandel Dykhuizen
Thank you. I'm very happy to be here.
Philip King-Lowe
Thank you. Um, I'm glad you're here. You know, two years ago, I attended the State Annual Autism Conference with the Autism Society of Minnesota. And I heard you give a very informative and may I say, superb workshop about chronic pain management for Autistic people. And I felt that it was a good idea to, to have a show that talks about chronic pain management. There's a lot of things to be understood. And I think it would be helpful for many Autistics to hear what you have to say. So um, so I'll begin with my first question, as I always do, What important information do Autistic Adults and our caregivers need to know about in terms of chronic pain management for Autistic Adults?
Erin Brandel Dykhuizen
Well, there's there's a lot, I think I would, I would start with just having the knowledge, particularly for caregivers. But I mean, as as Autistic Adults, you would know this, instinctively that Autistic people process pain differently from neurotypical people. And so there's both hypo and hypersensitivity involved. So and it can be both the same person can have hyposensitivity and hypersensitivity. So that's, that's one thing to know. Another kind of broad thing to know is that chronic stress and trauma plays a huge role in pain processing. And when someone is under chronic stress, or has experienced trauma, their system is going to be more sensitive to pain, and will experience pain in a way where it it more significantly impacts their life. And then I would also say a really important thing for for caregivers to know, is to know that the the outward appearance of the Autistic person that you're caring for whether you're a parent or other sort of caregiver or a medical or mental health professional, is that you may not be able to tell from facial expressions that the Autistic person you're you're working with is in pain, or to the degree to which they're in pain.
Philip King-Lowe
Yeah. Yeah, yeah. Yeah. I can certainly attest to this. I do live with chronic back pain. Sure. And it wasn't until I attended your lecture, your your, your your workshop a few years ago that I finally understood what had happened to me. And so let's, I'm going to use it to help us get a little bit more more information in here. But um up until 2018, I was very hypo sensitive to that pain, to the point where I had no idea exactly how much pain my body was in. I might have felt some soreness in my back or hip. But I hadn't. But you know, and I just figured, well, you know, I'm getting into my 50s, you know, that sort of thing. But it wasn't until, like I said, um, November of 2018, that suddenly that pain went from hypo to hyper. And when I got to be hyper sensitive, I was in so much agony, pain, that it was next to impossible to tell somebody just how much pain I was in. You know, and, and it was my, my own therapist at the time who explained to me after I attended your workshop that he explained, well, what actually happened there was it said, he said, When it went into hypersensitivity, basically, the neurological receptors of your brain are now over producing exactly how much pain you're in. And so it's actually more intense, then you can probably explain to someone not familiar with Autism and how that works. So let's talk a little bit about that more, if you please.
Erin Brandel Dykhuizen
Sure, sure. So yeah, and first of all, I'm sorry that you've had to experience this. It's unfortunately, all too common. Yeah, so yeah, it might be helpful to kind of go through just how pain works in the brain. So just a very, very basic information, because a lot of times, I think the general view in our society is that physical injury equals pain. Right? When that is not, that is not the case, there, it's, it's more complicated than that. So you have a stimulus, and then that stimulus, it can be something physiological going wrong, it could be something else. But in any case, it sends a signal to your brain, and goes into the part of the brain, the thalamus, which is like the routing station of the brain. And the thalamus then sends that information to other parts of the brain. And very important is that next to that is the amygdala. And the amygdala is our emotional center of the brain, and also our threat detector, because some of the most basic emotions that we we can think about our fear, right? That's probably the first one we needed as human beings in order to survive. And so when the amygdala gets that information, the those signals, it determines whether it's a threat or not. And so when you have that information from your body, the sort of pain inflammation, the amygdala can either amplify that by saying like, "Oh, no, it's a threat, we're in danger." Or it can dial that back down. To say, like, "oh, no, we're safe." So, yeah,
Philip King-Lowe
So therefore, I think it's fair to say that pain as far for the Autistic, um, when it comes to our sensory processing, probably is a lot about interoception.
Erin Brandel Dykhuizen
Absolutely, yes. Yeah.
Philip King-Lowe
It's just a sense of how the body is the body, the brain is responding to a message from the body, you know, because, yeah, we're talking, you know, when we talk about Autism, we, I keep remembering it's, it's the brain often processing itself as to how it's experiencing things. So, you know, yeah, so, okay.
Erin Brandel Dykuizen
Yeah, and, and, you know, another another thing to kind of keep in mind on that, on the topic of interoception, is that a lot of times I'll see Autistic individuals coming in to see me and we'll be we'll need to kind of pull apart like, what's anxiety? What's pain? How do they play together? I mean, and not just Autistic individuals. We all like everybody has this to some degree, but some degree but especially for Autistic individuals where interoception can be a little tricky. And kind of figuring out like, Okay, what, how, how is my emotional state playing into my perception of this sensation in my body?
Philip King-Lowe
What are the barriers for Autistic Adults of all ages when it comes to pain management? And we've just named interoception. But among the things that is not always understood, both by Autistics as well as caregivers, is how much trauma plays a role in pain. And let's be honest, Autistics experience a lot of trauma, either from our sensory, our sensory processing, or, or just because of our social stigmas and the many things that impact us. Let's, let's talk a little bit about what that barrier is and how that impacts our our pain management.
Erin Brandel Dykuizen
Sure, absolutely. So. And yeah, I completely agree. There is so much there's so much trauma in the experience of Autistic individuals. And oh, yeah, it's,
Philip King-Lowe
Yeah, I can I can make a whole I'm gonna, you know, I'm actually gonna have an episode in February with Tas Kronby. And we're going to talk about trauma is specific trauma, but yeah, good.
Erin Brandel Dykuizen
So, so how it affects pain, so trauma. So I was talking about the amygdala earlier, and how important it is in pain processing. And when you've experienced trauma, the amygdala is more sensitive to stimuli. And so things that may feel safe for someone who has not experienced trauma, do not feel safe for someone who has experienced trauma. And when you don't have that feeling of safety, your pain signals are likely to be amplified.
Philip King-Lowe
Or, or is it also fair to say that for some, the trauma is so much that there's a tendency to go numb, which is almost like hypo sensitive? Do you agree with that, too?
Erin Brandel Dykuizen
Absolutely. So yeah, that's where it's important to, to talk about the role of dissociation in pain, especially chronic pain. So dissociation is this feeling of disconnectedness. From your body, from your emotions. And a lot of times people well, it's a very common trauma reaction, to dissociate from, from your body sensations, but also from emotions, and to be disconnected in that way. And so when that happens, that can actually amplify the pain, the pain as well. Because when your brain doesn't realize that your body is safe, because that connection is not really functioning, then the pain gets turned up. Like it's like, oh, I guess we need to produce more pain information and experience more pain, because the dissociation is getting in the way of that connection.
Commercial Break II
Support Today's Autistic Moment
Autistic Adults and their caregivers are benefiting immensely by Today's Autistic Moment. I recently heard from someone who is a caregiver. They told me that they are learning more about Autism and the challenges we live with from this podcast than they have from psychologists and specialists. Many Autistic individuals live in areas where they do not have access to updated material and rely on this podcast to connect and network with other well informed Autistic people and qualified professionals who work with Autistic people. When you become a patron of Today's Autistic Moment, you assist me to continue this exciting and important work of delivering high quality and essential information to Autistic Adults and their supporters. Go to todaysautisticmoment.com and click on the blue button to be taken to my Patreon page. You can support the podcast for $1.00 or more.
Also, be sure to share the episodes you listen to with others to expand the listening audience.
Thank you for listening to and supporting Today's Autistic Moment.
Philip King-Lowe
And and what do you find is one of the common you know, as you work with Autistics, when in chronic pain management, what what are some of the common things that you just that, that Autistics bring to you that that that experience of trauma that you find common? Maybe that you you found that you had to really help them address? I guess.
Erin Brandel Dykuizen
Sure, um, you know, it really, it's pretty varied, actually, I mean, there's a so some of some of what we address is sexual experiences, like where they have felt like been unable to express their needs or, and had people like, take advantage of that fact. And can have a very strong physiological reaction based on that. Other things can be like, the kind of like you were describing, actually, like ongoing pain can also be traumatic more than the little T sense of the word. Not like as in it's life threatening, but it feels like it is, like to have a pain or to have some sort of physical symptom be ignored for a long time, especially when you've like sought help for it. And to have people say, well, it's really nothing. And that to find out well, no, it's not nothing, it's actually something to it's a sort of this disruption and being seen or being attended to. And, and go ahead,
Philip King-Lowe
I have spoken with quite a few Autistics who live with fibromyalgia. And they they talk about how much that is a real source of regular pain for them. Can you talk a little bit about that, please?
Erin Brandel Dykuizen
Sure, sure. So, fibromyalgia is, like a lot of chronic conditions. A disease of imbalance of the autonomic nervous system, right. So just to kind of go through this for your, for your listeners, like in the autonomic nervous system, we have like, two basic branches of the autonomic nervous system, the sympathetic and the parasympathetic. And we tend to have so the sympathetic being kind of a started up branch, like where you're like the the fight or flight response, and the parasympathetic being the downregulating response, were the kind of rest and digest response. And so with, with things like fibromyalgia, you end up getting like these, these kind of like peaks and valleys in regulation, where you get stuck on the on switch or stuck on the off switch. And then the pain sensitivity just really is, is quite high with fibromyalgia. And it's, it's a real thing. And also very much influenced by chronic stress and by having experienced trauma. Because when you're in both of those states of like, chronic stress, and if you've experienced trauma, then your nervous system is dysregulated.
Philip King-Lowe
Yeah, and especially if it's, you know, if it's caused by I mean, there's, there's pain, unfortunately, that most, I'm sure say many have to live with whether they want to or not. I mean, for example, I know one individual who has diabetes and must use insulin and unfortunately, and that that needle is a lot of pain actually going in and out. And that has to do again with their hypersensitivity to that kind of Yeah, yeah, yeah. Yeah. Okay, so as we move into my third question, What steps should Autistic Adults and our supporters need to take to advocate for our needs? And before you answer, I have recently sort of changed my logo that I've often used. And that ending part of that logo is that I like to help Autistic Adults discover the tools and strengths we already have to do the work of self advocacy. As I have been hosting Today's Autistic Moment over this past year, and talk with many Autistic Adults as guests and others. The thing is, is those strengths and tools are already there. It's just a matter of discovering them, and putting them to use. And so let's talk a little bit about self advocacy in terms of pain management. Question I know, I know. Yeah, it's like, it's like, you know, when I think of when I think of self advocacy, boy, you know, some of that is just, um, you know, self advocacy also includes helping ourselves to do the things we need to do to manage our pain. And, but it also includes things like, explaining to others about what that pain is, and maybe some things that we really need to do to manage that pain. And so I think self advocacy here would be, you know, again, how do we take care of our pain, number one, and number two, how do we communicate about what that pain is like, to people who may not identify with being Autistic?
Erin Brandel Dykhuizen
Sure. So I'll start with the communicating what that pain is like. I you know, unfortunately, a lot of medical providers don't understand Autism. And there may be some education involved. I mean, I would hope that some would be listening to this and to be able to say like, yes. Okay, now I understand a little bit more about Autism and pain. But I think the thing too, that Autistic individuals may need to educate their medical providers about is like, "Hey, I'm Autistic. That means that when you try to look on my face for clues of how I'm feeling, you may not find what you're used to seeing in your nerve, neurotypical patients. Please don't take that as a sign that I'm not in pain, because I am in pain." Yeah. So it may involve some very, like straightforward discussions about about this. And you may also need to look around for providers who will understand that. Yeah, yeah, we'll take that seriously.
Philip King-Lowe
Yeah. Last year, when I was interviewing Dr. Theresa Regan, and we were talking about actually, we were talking about aging Autistic Adults. And we kind of remarked that it's kind of funny in a way that Autistics who have issues with communicating need to communicate with providers as to what our needs are with things like this. So yeah,
Erin Brandel Dykhuizen
Yes. I mean, it it is like, yeah, it's it's ironic that is necessary. And it's, yeah, there needs to be more education in the in the medical field about that.
Philip King-Lowe
Yeah. What are some things that some Autistic Adults can do for themselves? To help them with communicating those things to their, to their providers?
Erin Brandel Dykuizen
So one thing that that can be helpful is to take notes, to write down how your pain is on any given day. Create what whatever kind of scale you need to create for yourself. Some people like to use, like a 10 point scale. Some people like to use words to describe it. But to bring that data in and to show your provider like, "Okay, this is what it's been like." Because as I mean, I'm sure that it, it's a, it's easier to, to say like, to be able to record it for yourself in the moment, and to bring that in, rather than to try to come up with it on on the spot. So that might be one idea. You know, I, one of the things that can also be helpful and this kind of gets more into self self care for for pain is to is to really, to work on being able to identify emotional state plus pain, and to be to develop a greater awareness of that. It's not the easiest task.
Philip King-Lowe
Give some ideas as to how Autistics can do that.
Erin Brandel Dykhuizen
Sure. So working, working with a therapist can be very helpful, especially one that understands pain and Autism. Which can be challenging to find. One, one tool that that I found very helpful is the feelings wheel. I'm not sure if you're familiar with that, Yeah. So it's, you can find it if you like, just Google it. So the feelings wheel, it starts with, it has like a feelings in the center of it, and it kind of goes out. And it starts with like, maybe, like five or six different emotions in the middle. And then it kind of branches out of like, different variations on those emotions. And to be able to, to look at those and to, to work with it and to say, like, Oh, what, what might this feel like? Or what might that feel like? So developing your vocabulary of, of emotional words. So, that's, I guess that's something that that I think of more as, like what I would do clinically with someone like in in the office. But being able to describe things in the language that works for you. Some people find that doing this visually can also be helpful.
Philip King-Lowe
Yeah, yeah. Yeah, and in terms of, you know, our own management day to day and and you know, a lot of what you're talking about includes things that I have said repeatedly, is to become the expert about our own Autism and to become the best, the best person to communicate about our Autism to others. And that can be a lifetime journey, but it's still worth going on. But, you know, um, you know, part of being the expert about communicating is to be telling our stories about what that pain is like for us. I mean, you know, um, you know, I have had my own my own experiences with my own medical providers. I do happen to be a good advocate for myself. And I had one doctor that I saw that I explained to them what, how I understood my pain. And they looked at me, it's to say, How in the world do you know that? You know, fortunately, there are people who do that there are doctors who will do things like that. Sure, you know, and I said, Well, you'd be surprised. They said, You know, I do happen to know my body pretty well. I mean, I've been living here for 50 years, you know? So, um, but yeah, and so, you know, and, and, and I actually wound up having to terminate my relationship with a doctor because that doctor just would not explain. And sometimes if you have a have a doctor that doesn't understand, then sometimes you have to do that find somebody who will. And I agree that finding somebody who can do that can be a challenge in and of itself. But you really do have to do some self care. And sometimes that includes finding the right people that you can talk with or work with. And, you know, you know. Let me see. What are what are, as part of, what are some therapies that you use? Um, I know, you actually spoke about some hypnotic therapy. Yes, a few years ago. So please talk about some of that.
Erin Brandel Dykhuizen
Yeah. So So one of the things that I work with is clinical hypnosis. So hypnosis gets a really bad name. And yeah, like, yeah, it's mind control, or whatever. But that is not true. There are many medical and mental health professionals who use it as part of their practice. And really, what it is, is getting you into a state of mind as to help the person that you're helping to get into this state of trance, to be in a state where they're more relaxed and focus and open to suggestion. And it's a state that's naturally occurring, much like, like a very deep meditation or sometimes even like, a state of flow, you might think of it like there. And like I've you can so it's, it's a, it's a way to open your mind to think about things in different ways. And to be in a very deep state of relaxation. And that deep seated state of relaxation that you can get into when you're in a trance state can be very helpful for managing pain. Because when when you're relaxed and regulated and your nervous system is regulated, then that helps you to develop a feeling of safety in your body, which also reduces the experience of pain when you can feel safe. So I so when I do hypnosis with my clients, I usually make a recording so that they can then listen to that recording and do self hypnosis in between sessions, and help to be able to get themselves into this, this state of trance so they can experience that deep relaxation and focus. So that's one way in which I would use hypnosis. Another way would be in helping to experience the sensation in in, in the, in the clients bodies. So in a in a safe way, and to also to reduce that, that sense of alarm and threat that comes with the experience of pain. And to start to have more and more experiences like that over time, where the sensation becomes less troublesome and less threatening. Of course, we need to make sure that there is no actual threat to, with with whatever this sensation is like. What I make sure is that the clients already have known that like, Okay, this is chronic pain, this is not an acute injury, I'm getting the care that I need for this and now we can work on, on working with that sensation to to help it be less. Less alarming when it happens.
Commercial Break III
Future Shows
On February 7th, Tas Kronby will talk with us about Eating Disorders for Autistic Adults. According to researchers, Autistic Adults are 4.9-22.9% higher risk of developing eating disorders. There are many types of eating disorders besides anorexia and bulimia that are never openly talked about. Sensitivity to food textures, digestive issues and interoception play a big part in eating disorders for Autistic people. Finding qualified medical professionals who can work the diagnoses of Autism and eating disorders is very complicated to say the least. Don't miss our insightful conversation.
I am very sad to announce that Tas will not be available for the second show in February. I am so very grateful for their excellent interviews. My guest for that show will be announced at a later date. The topic on February 21st will be Trauma: An Unavoidable Consequence. Trauma for Autistics comes from things like abusive relationships. Rejection. Unemployment. Ableism. People who question how Autistic we are because of functioning labels. Trauma takes on many forms including but not limited to Post-Traumatic Stress Disorder. Listen to this episode to learn more about Trauma and become active in helping to reduce trauma for Autistic Adults.
March is Women's History Month. In honor of the occasion, I am preparing two very exciting shows.
On March 7th, Rosemarie Carreiro will be my guest to talk about Adult Autistic Women. There are those who still believe that women cannot be Autistic. It is myths such as this that makes it difficult for women to get an accurate evaluation and diagnosis of Autism. Rose will join me to talk about how social expectations play a huge role in how female and male Autistics are seen and treated or mistreated. Female Autistics deal with dismissal or punishment for "over-reacting."
On March 21st, Michele Neuman will join me to talk about Autistic Post-Menopausal women.
Thank you for listening to Today's Autistic Moment.
Philip King-Lowe
As you've worked with Autistics with chronic pain management, what have you found have been some of the strengths that you find that Autistics really have to work with chronic pain management?
Erin Brandel Dykhuizen
Boy is that, that differs so much from just Autistic person to person. So for some, some of the strengths are really vivid imagination. And really being able to picture and visualize the pain and in very vivid ways, so that then they can work with it imaginatively. That that's a really like, strength that I see.
Philip King-Lowe
Right, right. Right. Yeah. Yeah. Well, like I say, I gotta add, put some positive here. You know, it's reality. Yeah. Do you have any recommendations for any online resources that Autistic Adults might look into? Maybe, as far as chronic pain management
Erin Brandel Dykhuizen
You know, I would like you could look into this. It's a it's an app, it's called Curable. People have very different reactions to it. Some people love it, some people hate it. It's very such based in pain neuroscience, and cognitive behavioral therapy. If you don't really it, if you if you don't already know a lot of information about pain, it can be really helpful. If you do you might feel like you're being preached to. But it can be that that's one that might be helpful. Other just simply anything like a guided meditation, for relaxation, anything that can help you to, to work on that balance of the autonomic nervous system. I've heard people have very good success with a Calm app, or Headspace in like learning how to to meditate. Because meditation is something that can be very helpful with bringing down the alarm level in the body in the brain.
Philip King-Lowe
Yeah, very good. Um, well, thank you very much for this. This has been extremely informative. And I'm and I'm so happy that you've been here to to talk about this issue. My final question is, I often ask this for my guests. If there's some listeners of mine who are in chronic pain, what might be some things you might say to them? Kind of give them some thoughts, some things to think about? Maybe a little encouragement or something like that? And many thoughts on that?
Erin Brandel Dykhuizen
Yeah, I, I think I would say that pain is real. And it can also be greatly influenced, by the way that you think about it and respond to it. And that you have more power than you think over how you experience pain.
Philip King-Lowe
Yeah. Well, that's very good. Thank you so much. Um, okay, well, um, if I have listeners who might like to contact you and ask you questions, how can they do that?
Erin Brandel Dykhuizen
They can contact me through my website erinbdlicsw.com. There's a Contact Me form on there. That would probably be the easiest way.
Philip King-Lowe
Great. Okay, Erin. Well, thank you so much. This I think you've given us a lot to think about so thank you very much for being here.
Erin Brandel Dykhuizen
Well thank you I appreciate the opportunity and the work that you do
Philip King-Lowe
Thank you
Transcribed by https://otter.ai
Today's Autistic Community Bulletin Board
Understanding Autism virtual classes will be offered by The Autism Society of Minnesota. These classes are perfect for Autistic individuals, caregivers, those who want to understand the basics of Autism and support Autistic people. Classes will be held on February 21st from 2pm to 4pm. March 21st from 10am to 12pm. April 18th from 6pm to 8pm. May 16th from 2pm to 4pm. Classes are free of charge, but you must register to attend.
On January 25th, from 7pm to 9pm, Jillian Nelson will present a virtual skillshop at The Autism Society of Minnesota entitled Creating Autistic-Friendly Social Spaces. Society frames Autistic people as not wanting to have friends. This is far from the truth. Autistic socialization looks different and sometimes that creates challenges in building friendships and social groups. In this session we will talk about how to create different types of social spaces and engagement to have greater success connecting with Autistic and neurotypical people alike.
On February 8th, from 7pm to 9pm, Eric Ringgenberg will present a virtual skillshop at The Autism Society of Minnesota entitled Video Modeling: Why It Is Useful and How to Create One. Video modeling is an effective strategy for learning and developing many types of skills. This session will review what video modeling is, describe types of video models that can be used, and demonstrate how to create a video model using technology you may have or can get at a minimal expense.
On February 22nd, from 7pm to 9pm, Jillian Nelson will present a virtual skillshop at The Autism Society of Minnesota entitled Food and Function: Mealtime Solutions When Executive Function Isn't On The Menu. Jillian share her lived experience in navigating mealtime with significant Autistic challenges including motor skill and executive functioning deficits and the consideration of dietary needs that make meal prep and planning a daunting task. She will share shopping hacks, cooking tricks, and useful kitchen tools, and a variety of life lessons that make Autistic meal time less overwhelming and more enjoyable.
To get information about these and other events at the Autism Society of Minnesota, please go to ausm.org.
Make plans now to attend The 2022 Minnesota Autism Conference April 27-29, 2022, at the Hyatt Regency in Bloomington, Minnesota. There will be both in person and virtual events offered. Registration will open soon. Go to ausm.org for more information.
Today's Autistic Moment is sponsored in part by Looking Forward Life Coaching. Visit them at lookingforwardlc.org for more information.
Please send emails about Today's Autistic Moment to PKLowe@todaysautisticmoment.com. todaysautisticmoment@gmail.com
Thank you for listening to Today's Autistic Moment: A Podcast for Autistic Adults by An Autistic Adult.
May you have an Autistically Amazing day.