Go to todaysautisticmoment.com for the transcript
Autistics are stereotyped as not knowing how to communicate appropriately. As each Autistic is unique from another, each of us communicates differently.
Some of us communicate verbally. Some of us communicate nonverbally. Some of us are non-speaking, but we still communicate.
While Grace Ogden-Parker and I will not be speaking for every Autistic, we will be advocating for the diversity of Autistic Adults communicating with others in our own Autistic languages and styles of communicating.
Are Neurotypicals really listening?
--- Support this podcast: https://anchor.fm/2daysautistic/support
Click or tap on the downward arrow in the pink box below the logo to read the transcript. See the image below as an example.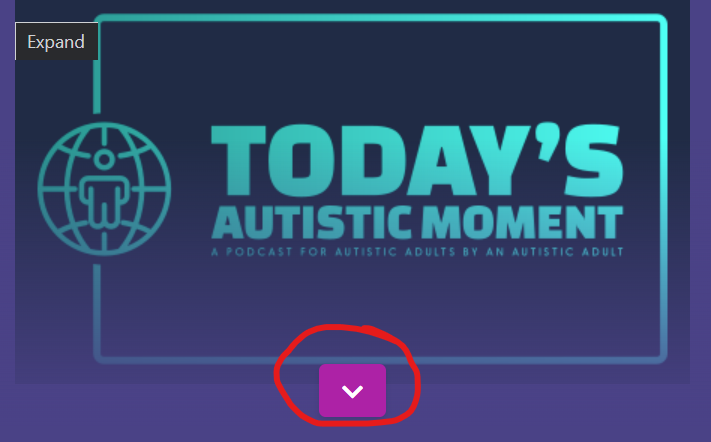 Transcript
Autistics Communicating
December 18, 2022
Segment 1
Welcome everyone to Today's Autistic Moment: A Podcast for Autistic Adults by An Autistic Adult. My name is Philip King-Lowe. I am the owner, producer, and host, and I am an Autistic Adult. Thank you so very much for listening.
Today's Autistic Moment is a member of The National Podcast Association.
Today's Autistic Moment is always a free to listen to podcast that gives Autistic Adults access to important information, helps us learn about our barriers to discover the strengths and tools we already have to use for the work of self-advocacy.
This first segment of Today's Autistic Moment is sponsored by The Autism Society of Minnesota; Minnesota's First Autism Resource. For over fifty years The Autism Society of Minnesota has been honored to support Minnesota's Autism Community. Visit them online at ausm.org.
Please visit todaysautisticmoment.com to listen to this episode and all previously published shows and transcripts. Transcripts for 2022 are sponsored by Minnesota Independence College & Community. While visiting the website be sure to check out the Guest Bios and Adult Autism Resources Links pages.
In addition, please send all emails concerning the podcast and/or any part thereof to the new email address todaysautisticmoment@gmail.com.
Please follow Today's Autistic Moment on Facebook, Twitter, LinkedIn, Instagram, and Tik Tok. Please join Today's Autistic Moment Community Group page on Facebook where you can talk with other listeners and myself, get program updates and find new friends. Please subscribe to Today's Autistic Moment's YouTube Channel to view the last three Autistic Voices Roundtable Discussions.
Well, here we are, the 24th and final episode for Season 2 of Today's Autistic Moment. 2022 has been another successful year for this podcast. Today's Autistic Moment is in the top 15% of podcasts most shared and heard. We have discussed relevant topics with exceptional guests. I want to say a big thank you to all of the guests for 2022. Dr. Scott Frasard. Erin Brandel Dykhuizen. Tas Kronby. Benjamin Christmass. Rose Carriero. Michele Newman. Eric Garcia. Ben Levin. Lyric Holmans. Yenn Purkis. Andrew Gurza. Becca Lory Hector. Zephyr James. Candice Christiansen. Pete Wharmby. Nicky Collins. Robert Allan Claus III and today's guest Grace Ogden-Parker.
I also want to say a huge thank you to the sponsors of Today's Autistic Moment in 2022. The Autism Society of Minnesota. Best Care MN. Minnesota Independence College and Community. GT Independence. Lisa Morgan Consulting. TasThoughts LLC. Looking Forward Life Coaching. Life Superior. Therapy Dynamics.
I want to say just as huge of a thank you to those who have been donating to the work of Today's Autistic Moment this year.
Lastly, I want to say a thank you to all of my regular and new listeners. Today's Autistic Moment is here for the Autistic Adults who are looking to be connected to the larger Adult Autistic Community. Today's Autistic Moment is here to assist caregivers to better understand the Autistic Adult in your life, so that you can provide them with the supports they need. Whether you are newly diagnosed as Autistic, or self-diagnosed, or you have yet to be evaluated and diagnosed, or you were diagnosed at a younger age; Today's Autistic Moment is here to support you. Whether you are employed, self-employed, unemployed, or underemployed; Today's Autistic Moment is here uphold you to believe in yourself to be successful in whatever you do. As an Autistic Adult, I see you as Autistic Adults with dignity and integrity, with gifts, skills and unique opportunities that are making the world a better place for Neurodivergent people. Today's Autistic Moment is here to affirm who you are, to encourage you to reach for your potential without seeking to be cured or tied down to the social construct of having a disorder. As Autistic Adults, we have all the tenacity we need to tell the truth that the ableism that segregates us is based on ignorance and not facts. Today's Autistic Moment is here to help you tell your stories about what being Autistic means for you. Keep listening in 2023, because there are better episodes yet to come.
Why should the last episode of 2022 be about Autistics communicating? The answer is found in a quote by Becca Lory Hector on TrulyInclusiveLeadership.com.
Our current social standard is based on the neurotypical experience. We need neurodivergent social standards to be normalized.
Autistic individuals are often classified by our pathology as being unable to communicate appropriately. I am certain that I am not the only Autistic who has been told that I am too candid or say the most inappropriate things followed by a neurotypical person giving an unwelcomed lesson about what is socially acceptable and what isn't. Based on the guests from many of my episodes, other Autistics are infantilized when we communicate as they talk over us as if we are too incompetent to say something else.
On this episode of Today's Autistic Moment, Grace Ogden-Parker and I are going to talk about how Autistics communicate using our own languages to express who we are and what we think. We will talk together about Autistic Adults who are verbal, nonverbal, and non-speaking. We are going to discuss how our unique forms of communication are an important part of our Neurodiversity. Whatever your style of communicating is, your way is the right way. The question is, are Neurotypicals listening to Autistics communicating?
Grace Ogden-Parker got a formal Autism diagnosis at the age of 37 after living about seven years as self-diagnosed. Grace is an avid Autistic/Disability advocate, proudly identifying as a member of both communities. Grace's advocacy work is to destigmatize Autism and disability, combating ableism in its many forms, and challenges herself to learn and share as much information as she can to forward the cause of social justice.
Grace joins me today along with her toddler son, who will also have some things to say of his own.
Stay tuned after this first commercial break to join Grace and I as we talk about Autistics Communicating.
Commercial Break I
Segment 2
Please join me as we welcome Grace Ogden-Parker.
Philip King-Lowe
Grace Ogden-Parker, thank you for being on this episode of Today's Autistic Moment. I've interacted with you on LinkedIn for quite a while. So, thank you for being here today.
Grace Ogden-Parker
Thank you for having me.
Philip King-Lowe
You are welcome. Well, as my last show of the year, I thought it would be a great idea to talk about how Autistics communicate. We are often told that we don't communicate with people properly. We constantly get people accusing us of communicating inappropriately or you know that they that we just don't understand how to communicate again properly. But I do believe that we have our own languages as Autistics. And today we're going to talk about communicating with Autistics to give non-Autistics and other Autistics the opportunity to talk about how we communicate with other people. I am convinced that there is an Autistic culture and an Autistic language, or languages, and they just need to be understood what our languages are. So, without further ado, what important information do you feel that Autistic Adults and our caregivers need to know about when we talk about communicating with Autistics?
Grace Ogden-Parker
Okay, well, for one thing, as is often mentioned, in the Autistic community, that we're all individuals, we're not all one exact copy of each other as the saying goes. If you've met one Autistic, you've met one Autistic. Yes. So, I absolutely can't talk for everybody. But I will try to speak to some commonalities and a few of the differences as well. So, for me, I actually think I have a slightly different communication than even other Autistics to a degree because of the way my brain works. So, I actually don't think in language as it's viewed in the world in any particular language, per se. I have thoughts that are very different from that. And it's not like the thinking in pictures. Although I do, I do see pictures in there. It's just it's a little more abstract than that. And there aren't really words to describe what it is because I don't think anybody's ever articulated it if they have it, like me, but I do find that my communication can tend to be more difficult in that sense, because I have to translate. I have to translate when I'm communicating to others, and I have to translate when others are communicating to me. So, I do have a slower processing time than some. But I don't think that that takes me out of the whole. I don't think that that takes away from the fact that I have similar cultural communication styles to other Autistics. And that's where we differ from non-Autistic is how we, how we go about communicating with others. A lot of Autistics are very direct, as opposed to the nuances that confuse us from the non-Autistics where they don't say what they mean all the time. And hardly ever really, do they say what they mean. And it's very complex, and we don't all understand it. But the truth is, is that non-Autistics don't understand Autistics either, they actually assume we're being indirect like they are. And we're being completely direct. And so that can be really a conflict in conversation. Hold on, I lost my thought again. Take your time. I'm thinking that was broke my flow there. Go ahead.
Philip King-Lowe
That's fine. Um, back in November, I wrote a blog. Because about Who Has the Communication Problem? And in this blog, I spoke about how a lot of neurotypical people have a hard time communicating than Autistic people do. Like, for example, I wrote in this is from the blog I wrote. Time and again, I have made a phone call to ask someone for a clarification on something I have read. And the person on the other end seems to beat around the bush. Here are some common comments that I have heard when asking for a clarification. "Sometimes that's the way we do things." "It's not uncommon for one person to say one thing but mean something else." "The other person you spoke to didn't know, to tell you what this really means." And a couple of others. "Why are you hanging off every word I say, not everything is so literal. There are exceptions." And what you were talking about, with relation to Autistics being direct, is, again, when we're asking a question based on something we've read. Or let's say we're trying to talk to a business or a company, we deal with something like that. We're trying to get an answer to something we do not understand. And we get two different answers from two different people about the same thing. And so, I think, when communicating with Autistics, one of the matters is when we ask a question, answer it. Don't just assume that we know what you mean when you talk indirectly. Because a lot of us don't work that way.
Grace Ogden-Parker
Right. I actually realized that that is exactly what I was about to talk about is, is a lot of Autistics. A lot about Autistics, and I can't say all of them, because I'm sure there are some who are better at this, right? Let's say better, but just more in tune with it, I guess is what I'm gonna say with inferring. So, inference is a very complex process. And when we have communication disconnect, it can often be from inferring or not inferring. So, Autistic people tend to not infer. Many of us don't infer. Right. And within those of us who don't infer there are many of us who can't infer. Right. Right. I'm not saying all of us who don't can't. But a lot of times, we don't know, we need to, if they are able to, but some of us can't at all. And, and that's where it gets even more complicated, because a lot of people that are not Autistic, expect us to infer something from what they have said, instead of directly stating it in very concrete terms, and then those of us who can't infer it, are going to take it 100% literal. And those of us who can infer but don't know we're supposed to, because it sounds like something direct, but it's not gonna take it too literally. And that's where people constantly tell us, not everything's so literal, don't take it so literal, so forth. And even with people we care about, they don't always realize that they're doing this with us, or that we aren't seeing it the way they're intending it. Because, you know, I have that with my husband, and he cares greatly for me, and he knows what I'm like, but occasionally he'll say something that I totally take literally and he didn't mean it literally and then I have to say well, yeah, I'm very literal. Yeah. And yeah, I'm fine with that. And he's not complaining at me for it. It's just one of those things where like, not everybody on either side realizes what the other ones doing. Right. Yeah. No one can read another person's mind. That's, that's impossible. But um, but I think that it's important for non-Autistic people to understand that Autistic people do tend to be much more literal, most of the time, and we rarely ever infer anything, if we're able to. And we rarely know when we're supposed to infer something or if we're inferring the right thing. And, and honestly, it's not a one-way street at all. I mean, Dr. Damian Milton created the whole double empathy theory, because people thought it was all the onus was all on Autistics to fix communication. And communication is a two-way street. Everybody should be working on it; we should be meeting halfway. And honestly, if we're not understanding non-autistic people, they're equally not understanding us. And we try harder to understand them than they tried to understand us usually. And so, I just ask that more non autistic people try to meet us halfway in the communication process, because that's, that's really important.
After this next commercial break, Grace will talk about Autistics who communicate verbally using things we can relate to, nonverbal and non-speaking Autistics. Please stay tuned.
Commercial Break II
Today's Autistic Moment Announcement
The third season of Today's Autistic Moment will begin on January 8th, 2023. The first episode will begin the theme that you will hear throughout the third year. The Strengths and Achievements of Autistic Adults. During that show, and throughout the year, we will be highlighting the incredible tenacity of Autistic Adults as we work through our challenges and stigmas to achieve great things in our lives and in the world around us. The very next episode on January 22nd will be the 50th episode of Today's Autistic Moment. The 50th show will feature past guests, listeners, and sponsors as we celebrate this important milestone for Today's Autistic Moment. I invite you my listeners to become part of that episode by sending me a message to tell me what listening to Today's Autistic Moment has meant for you. What are some ways that the podcast has helped you in your Autistic life? Take a brief look at what your life has been like since listening to this podcast and send me a message to tell me about it. If you are a caregiver, tell me about how the podcast has helped you to better understand your Autistic loved one. Please go to the Contact Us page at todaysautisticmoment.com and send a message ahead of the 50th show. Many of these responses may be read and shared on the 50th show. If you would prefer not to have your name mentioned, please indicate that in your message.
Thank you for listening to Today's Autistic Moment.
Segment 3
Philip King-Lowe
I'm kind of going to skip the question about boundaries today, because we're talking about many of them when we're talking about how to communicate, as you know, how to help people communicate with us as Autistics. There are also those of us that our method of communication can come from something that we are hyper focused on. Like there's one Autistic that I've heard of, maybe it's a program or show or something like that, but that he has watched all of the Walt Disney Animated Cartoons, you know, with a, you know, like Little Mermaid or all those. And so sometimes when they ask him a question, he will use a phrase from one of those movies as his answer. Because that's the only way he that's the way he himself thinks of processing what's asked of him to answer the question. There are some of us Autistics that we respond, we communicate by what it is that we can easily relate to. Yes. And sometimes it's not that we're beating around a bush, it's that we are communicating from something we can relate to. And so that's another factor I think we need to talk about.
Grace Ogden-Parker
I think that is important. Yes, I think that's, that's kind of a frame of reference type of understanding. So, a lot of Autistics, it doesn't have to be your special interest, although it can be. A lot of Autistics learn a lot of communication and social cues, from television shows, or music, or other pop culture, social formats, where we can learn about others and how they think and what they might do in those situations. And that's where we get our frame of references from because that's where we got our understanding of other non-Autistic people from, right. So, we may use that. And for me, I remember for a long time, because I'm fairly alexithymic, which, for anyone who's listening who doesn't know what that is, it's where we either recognize or can't understand or can't communicate our emotions, right. And there's variances in that, but I'm not gonna get into that, because that's what we're talking about. But because I'm fair, fairly alexithymic, I used to feel like the only way I could communicate my emotions or relate them, so that others would understand it was through songs, you know, like, popular music of the day would have these words, in their songs that I just realized, okay, that's exactly how I'm feeling that says, something I have not been able to put into words. And so, I completely understand that concept of using, like you said, the Disney references or whatever, I do speak in a lot of movie quotes. But that's just my sense of humor versus my relating kind of thing. I just I like to make references to TV shows and movies that way. And I do tend to repeat watch stuff. So, some things are really ingrained in my brain. Yeah, I do find that some people who are not really can't stand that And some people, they're okay with it if they understand the reference, but are super irritated, if it's not something that they are familiar with. Right. So, it can vary from situation to situation. So yes, I completely understand that perspective.
Philip King-Lowe
I know what you're talking about when you say that you saw sometimes you pull quotes from shows. I do that a lot. You know, sometimes it's our it's our way of being humorous. My, my husband and I, we watch the reruns of The Golden Girls on Hulu all the time. And sometimes one of us will ask a question and we'll answer it with some with some line from the Golden Girls that we've heard, because of how funny it is. But anyway, yeah. Let's also talk a little bit about how a lot of us when our emotions get in the way, um, that for I can speak that for myself. And I do believe there are other Autistics, who do the same. There are those of us who when we are angry, or sad, or aggravated, we cannot necessarily talk. But we often communicate through instant messaging, or we even will communicate through you know, emails. And sometimes that can even be with someone in our own household, sometimes it can be a spouse that we do that to. And it's, it's, it is difficult for a non-Autistic to understand because I am one of those people, like I say, when I'm not feeling right, when I'm feeling anxiety or sensory overload moment, I will sometimes have to text to my husband, I am feeling a sensory overload moment, please do not come in here for now, for a few minutes until I come out. And I had one person who said, I just can't imagine having to communicate with my spouse over a text. And I've said, because there are there are points in time when we can become nonverbal. So, our only means of communicating is to do it in a way like that. And then we also do have Autistics who do use AAC devices all the time, because that's the only way they can communicate. And then, you know, there's also those who are nonverbal, and nonverbal doesn't necessarily mean they can't speak. It means that they can't talk it, you know, talk from their own mouth. Can we talk a little bit about that? You think?
Grace Ogden-Parker
Absolutely, I would love to. So, I want to preface what I'm gonna say, with I am not speaking for anyone, other than what I have learned. So, I don't want anyone to feel like I'm speaking over anyone else. Because that is not my intention ever. What I have learned, what I can speak to is what I have learned from Autistics who use AAC devices as a necessity. So, I have learned that they prefer non-speaking over nonverbal because there's some distinctions there. And I don't, I don't think that I'm qualified to explain it as well, on that on the distinction, but they do, they have expressed that they prefer non-speaking over nonverbal. But I've also found out that there are some people out there, whether they be disabled in another way or also Autistic, that prefer to describe it as either an AAC user, which is the Augmented Alternative Communication devices, or a much more wordy version I've heard must rely on AAC to be understood. And that puts the onus on both sides. It shows that the disability isn't just the person who needs the AAC, but also that it's a systemic setup. It's an inaccessibility, and it's a preference towards audible oral communication versus other forms of communication. And so, it's, it's a two-way street on that as well. But I would say that it's safe to call it non-speaking. If you're not wanting to lean into the other pieces of that, that's totally fine. Within the Autistic community, I've discovered that that is very fine. Now, the interesting thing is that those who are non-speaking versus those of us who just go nonverbal temporarily, those who are always non-speaking. It is many times it is a physiological cause, as opposed to as opposed to the way it gets for some of us, we're overwhelmed. But there's is more of their body won't cooperate. I have discovered that with a couple of non-speaking Autistics that I have interacted with, or have watched them speak their speaking, which is their alternative communication, or I've interacted in observed, and that is what I have learned from those people who communicated that as the reasoning. And it's not to say that they have to have a physiological cause for them to be non-speaking. I'm sure that there are plenty of completely non-speaking or partially non-speaking, Autistics who don't have a physiological cause. But I don't know a lot about that. So, I'm not going to speak to that part, either. Yeah. What's important is the respect for all types of communication, all types. Because there is a preference in this world where the neuro-normative version of communication is absolutely from an oral version. And that applies to those of us who aren't non-speaking as well, even if we don't go nonverbal. Like myself, I prefer text or email or other written forms of communication going both ways. Because like I said, Before, I have a slower communication processing and to translate it. And I think for some people who aren't doing that, like me, they might need more time to process anyways, because they're deep thinking about the topic, or they're trying to understand what you're inferring. Or they didn't fully understand what you said. And so, it takes a minute. And that's not that's not a question of intelligence, it's not a question of intelligence for those who are non-speaking either. I've known non-speaking and speaking, people who are incredibly intelligent, who still have that slower processing. And I find it can often be a deep thinking, processing.
Philip King-Lowe
I am one of those individuals, and I suspect other Autistics are like us to where we have what is in our brain. We have it put together in our brain what it is, we might want to say, it's just that when it comes to actually communicating it verbally, sometimes getting what's in our brain to come out of our mouth can be part of the challenge. And I know that I've learned to kind of describe it a little bit as someone learning to ride a bicycle. And sometimes when we think and speak exactly what we want It's like being on the training wheels of that bicycle. And sometimes when we're having difficulty with what we're thinking versus what we feel like we can say, is as if the training wheels have come off, and we're still trying to study the bicycle. Because we're feeling kind of tossed a little bit, or, you know, waffling between what we think and what we say. And, and sometimes, we need some patience to talk what's from our brain through our mouth. Another matter that I like to bring up at this time. And after this, we're gonna get into our advocacy piece. But a lot of us do not read body language, nor do we read facial expressions. I have had people say, You must be mad at me, I'm like, How do you know that? And they'll say because it shows on your face. I said, Well, whatever showing on my face, that's not what I'm thinking in my head at all, you know, and again, we don't necessarily communicate with body language, there are those of us who don't. And there are also those of us who don't read body language. We only know what you tell us, we don't know what your body is saying. Or what you think your body is saying. So, you know, this is where the conversation about the double empathy comes in. That's, that's a really interesting one. I've had my moments when I've been in a room, and maybe it's been, someone has passed away. And to me, the people in the room just seem simply just, they're just there. And I've had some say, Don't you don't you sense the distress they are in? And I'm like, no, no, actually, I don't. I just know they're there. There's somebody has passed, or a tragedy has happened, and they're distraught. That's all I know. But it's as far as what they're showing on their body versus what; I said, No, I can't really read that not the way not the way they think I can. Or they think I should be able to, I read things very differently. So, I mean, there are those of us who we can feel what is happening so deeply, that we become overwhelmed. And we simply can't speak to something that's happening, because we're just so overwhelmed by our own emotions, of how we're receiving other people's emotions. And so sometimes when that sort of thing happens, we just can't speak. Before I before I move on, I know like for myself, in the year 2020, when COVID-19 occurred. And we were just, every single day, every single moment of news of any kind was just so awful, depressing, and everything. I had a point where I had no empathy for anything, no ability to grieve for anything or anyone because it was so overwhelming. It all just shut down. And so that's one of those things I think, is wise to mention here. And now, yeah go ahead.
Grace Ogden-Parker
I completely agree. Honestly. One of the reasons why we appear less empathetic at times to non-Autistics, is because we are, some of us, not everybody, but some of us Autistics are extremely empathetic, and we have to shield ourselves or kind of calm ourselves by not reacting. Right. Exactly. Or by not letting it in. Sometimes we have to not let it in. And it's not because we don't care. It's because we care too much. And we've reached our limit of handling it in a healthy fashion. Right. Because we feel honestly, we feel emotions too much sometimes. Not all of us but many, many of us feel too, too intensely. And so, and that can be even worse for when we're feeling other people's pain. Because we care so much. Absolutely. It can be a real difficult thing. For us, and we have learned, a lot of us have learned the mechanism to just shut that down to either keep it out from coming into us or keep us from expressing it out, because we don't think we can do it in a healthy or well received way.
Philip King-Lowe
Now let's move into my third question for which is always what steps do Autistic Adults and our supporters need to take to advocate for our needs? And this is where I'm going to my first one is going to be to simply understand to simply just hear us say, we do not all of us, you know, each of us is different. "If you've met one Autistic person, you've met one Autistic person." But the point is, is that each of us communicates very uniquely. And it will, it may and or will not be the way the neurotypical majority does. You know, and I also want to advocate by saying, there is a common misperception that we need to immediately shut down. And that is that just because someone may be non-speaking, does not mean that they are incompetent at anything. That is one of those misnomers that continues to plague the Autistic community. "So and so is not intelligent they are they cannot manage their life, because they are non-speaking." We have to say, No, that is absolutely 100% not true. Just because someone is not speaking doesn't mean they're not able to be part of the human existence. And that sort of thing. So, let's talk a little bit more about that, but also some thoughts that you have as to how we can advocate for ourselves over how we communicate.
Grace Ogden-Parker
Yeah, I want to affirm what you were saying for sure. Before I move on to any my additional thoughts that, you know, it's true, and that is a form of ableism. Where people assume that if you have one disability, you have another disability, to go with it. And yes, we can have multiple, but it's almost never the same disability that someone assumes from it. You know, we can get a fancy like infantilized a lot. Just simply because we're Autistic or because someone's a non-speaking Autistic or whatever else, reason that they that we can get infantilized a lot. And that's very common for Autistics to experience and so you're absolutely right. That is very important thing to understand is that we have agency. We have autonomy. We have deep thought. We are you know; Autistic children are not babies. Autistic Adults are not children. We are our own whole human being where we are at in life. So yes, absolutely agree. I think another thing that's important for advocacy and for ally ship is a huge form of ally ship it is instead of speaking over Autistics let us speak. I heard the best example literally like two days ago. He said, I am not his voice and his microphone. And this was about someone who was person was who was speaking was is was a helper of some sort. I'm not sure if they were a caretaker or just an assistant that helps with the communication process. But either way, it fits for ally ship, you know, I'm not no non-Autistic should be the voice of an Autistic. Right! They can be our microphone, whether that be amplifying the actual voices of adults. Autistics whether that be non-speaking or speaking, just, you know, amplifying it instead of speaking on our behalf. Or if you are a parent or a professional, who interacts with children who are Autistic. Remember, when you are advocating for us, you are not speaking for us, you are amplifying our actual thoughts and needs versus choosing your own. And I think it's one of the things I'd like to reference to on this on this very subject is that Autistics show this the best and one of the one of the best examples to have is, is Wentworth Miller, he, um, are they I'm not sure the pronoun, so I'm gonna go with he, they, at the moment came out as Autistic and told everyone that he is just starting his journey, his or their journey and understanding and that they are not the experts yet. And that they are going to point us in the direction of Autistics who know a great deal about the topic, and who they are learning from, and they encourage others to learn from. I think that is an amazing show of ally ship, from within, inside our own community. Because you can easily say, I'm Autistic. And what I say is what everybody should believe. And especially when you have a public persona, like Wentworth does, you could come out and be like, I'm going to be the spokesperson for this, I'm going to speak out for this, I'm going to be the public voice because I am so public. But when words didn't do that, they said, I don't want to speak over the other Autistics who have so much more understanding of this than I do. I'm going to learn from them, and you should do. And I think that's the best version of allyship right there.
After this final commercial break, Grace and I are going to talk about the Nothing About Us Without Us movement, the importance of listening to Autistics when we communicate, and the harm of functioning labels followed by Today's Autistic Community Bulletin Board. Please stay tuned.
Commercial Break III
Advertisement
Are you Autistic and the owner and/or host for a podcast that is by and for Autistics? If so, I have a very exciting networking opportunity for you. I am cordially inviting you to attend a live virtual initial meeting to talk about the creation of the International Autistic Podcasters Association on Thursday, March 16th, 2023, at 11:00am-12:30pm Central Standard Time. During this meeting we can talk about what we might like an International Autistic Podcasters Association to look like and what we could do. The association members can share with each other what our podcasts are about, what is working well, what might need improvements and promote ourselves and each other to attract more listeners. The meeting will be recorded with a transcript and made available on Today's Autistic Moment's YouTube channel. To read more about the meeting go to todaysautisticmoment.com/apa/. Please share the news and link with any Autistic person you know who owns and/or hosts a podcast for other Autistic people. If you have any questions or concerns, send an email to todaysautisticmoment@gmail.com .
Future Shows
Season 3 begins on January 8th with The Strengths and Achievements of Autistic Adults with my guest Ana Aragon. We will be talking about how Autistic Adults make use of our challenges to build up our tenacity so that we can achieve our own success stories. Ana and I will also talk about how Autistic Adults are building relationships to support each other, by listening to and identifying ourselves. Being Autistic is wonderful. Be sure to join Ana and I as we will be elaborating with examples of other Autistics that are changing the world.
On January 22nd, I will publish my 50th episode. Be sure to send me a message to tell me how Today's Autistic Moment has been enriching your life.
In February we will celebrate Black History Month by talking to two guests who are Autistic people of color. I will again recognize Women's History Month in March, and of course April as Autism Acceptance Month.
Thank you for listening to Today's Autistic Moment.
Segment 3
Philip King-Lowe
I'm also going to repeat what I've said on my show on many occasions, and that is, it is extremely important that each of us does become the expert about our own brand, make, and model of Autism, of what it means to be Autistic. And we're talking about communicating with Autistics, because I often say that we do need to become the expert about communicating about our own Autistic self. And that one of the reasons that it's important to understand about communication from and with Autistics, is because it is also very important that we as Autistic, tell our stories about what being Autistic means for us. And often our communication style, how we're communicating. We're telling you a story about who we are, how we are, and, and what works for us. And it's important that non-Autistics listen to us. And, by all means, if you don't understand something we're saying. You can ask just to clarify, and we will do the best we can. This is one of those places where I'm going to say, just because we're Autistic, doesn't mean you can't learn something from us. It is not necessarily all the other it is not the other way around that you have everything to teach us. Because we don't know. That's part of the condescension that comes to us from the ableist, the micro aggressions is assuming that we need a lesson from the neurotypical. Okay. One of the reasons I'm doing this particular episode at the end of this year is to also communicate with non-Autistics neurotypicals. Sometimes, quite frankly, you need to shut up and learn from us. I'm gonna be that blunt. Okay. And you'll find that you will learn some things because you're listening to the Autistics. And last before I let you speak, it is so common, that when we Autistics are spoken of it is our voices that don't get listened to, once again, because of the presumption of somehow, we're incompetent. And we're saying no, if anything, we're more competent, about communicating about Autism than people who aren't because we are the lived experience of being Autistic. And, you know, and it's important that you hear us because of what we're saying. And I'll let you continue on with that, with what you have to say.
Grace Ogden-Parker
Absolutely, that is the epitome of Nothing About Us Without Us concept. That the whole disability community promotes that, that saying, and it's especially pushed by the Autistic community as well, because our voices are being spoken over. And people are trying to make decisions about us without us think that we can't communicate for ourselves, and it and it comes down to a lot of misinformation about Autism. Because there's still lots of people out there who think that it can only be young male children. Like we age out of it, it goes away when we're adults. It's not That's not true at all. And, and there's a lot of a lot of misunderstanding about genders within that and other intersectionality's people don't understand that everyone across the board can be Autistic. I'm not saying everyone in the world can. I mean, I mean, every intersectionality can be Autistic. We are in every intersectionality out there. So, it's yeah, it's pointless. It's pointless to assume anything about us, whether it be how we would look or, or what we can accomplish, you know, there's a huge variety. And the important thing is that we need, not just a voice, which we, we do need a voice, and we need people to not talk over us. We need a place in the decision making. We need a seat at the table. And we need to be heard from that seat at the table. Because not just about Autistic topics, although that is where we should be most present. But non autistic topics as well because we're human beings like everyone else. So, every single topic affects us as well. If it applies to human beings, it applies to us as well, which means that we should be in the conversation, we should be part of the decision making. We should be represented in that way. The same way any other marginalized group should, because it applies to us, it applies to all of us. And I think that is incredibly important when it comes to advocacy. Because there are so many stereotypes, so many misconceptions, so much information misinformation out there. And some of the misinformation is because people were misinformed themselves. And then they pass that misinformation along. Some misinformation is used directly, to keep us down to marginalize us to make people think that they shouldn't listen to us. Because of what they've been told by what they think are experts, some experts are hate groups. Experts are misinformed themselves. So, experts are directly harming us on purpose, and some are doing it unknowingly but still doing it. And these are a variety of ways that they need to take a step back and stop. They just need to stop. They need to they need to listen to us. I mean, would you? Let's give an example. Would you have a completely white male? About like, in his 50s, or whatever, it doesn't matter, speak about the experience of young black youth in America today? No, you wouldn't. I'm not saying they can't, if they've actually taken information from those people to learn about it. But they're not the spokesperson, and they don't get to just make up their own ideas about it. You know what I mean? And that's the same thing for us, you don't have non-Autistic people speak from their own thought processes about us. Right. Yeah, we are the source of information. We are the source of information about ourselves. And I wouldn't even speak about someone else. Like I wouldn't actually speak about one other Autistic person and how they view the world, I would say, okay, there are there are these variations amongst that. And these are things I know from others, but I can't speak about that person over there, or that person over there. I can't speak for them. I don't know how they think I don't know what they want. I don't know what's best for them. But as a movement, as an Autistic movement as a disability movement as a neurodiversity movement, there are some facets that we are all working towards together. And that, and that is the Nothing About Us Without Us is one thing that we're really pushing for. And it's really important. And I think that before I lose my next thought, I'm gonna go ahead and throw another one in there for you. Oh, and that is the functioning labels.
Philip King-Lowe
Yes, please do.
Grace Ogden-Parker
So functioning labels are very commonly used. And they're wrong. Just great. Great, they are 100% wrong on so many different levels. But one of the main reasons is because it takes away the experience of the person who's actually Autistic. Because those of us considered high functioning, we have our supports taken away from us we have we get invalidated, we get told we're not even Autistic. And then those of us who are considered low functioning, or get our agency and our autonomy and our, in our intellects, questioned and taken away from us. And we don't get to make our own decision, we don't get to be heard. I mean, I think on all sides of that particular fight of the high and low functioning, I think we all don't get to be heard, all of us, Autistics don't get to be heard in that in that mentality. And it's not even accurate. Sometimes. Sometimes, high functioning just means high masking. Learned from our community around us, from the society around us, that it's not safe to, to show any signs of our real selves, and that we need to mimic the world around us. That can be so psychologically damaging on a number of levels. So, it's important that you don't assume that people don't have thought, no matter what they're doing. And you don't assume that people are just like everyone else, either. We are individuals. And we the spectrum is not linear. It's not linear. And so, you got to get away from the linear perspective. And that's, that's what I wanted to say about that. I'll let you have the floor for a minute.
Philip King-Lowe
That's fine. I think you've given us a that is so great. I'm glad you spoke to all of that. Well, Grace, this has been a terrific conversation. And you know, what, what's your child's name?
Grace Ogden-Parker
Alex,
Philip King-Lowe
Alex. Yeah, Alex has made some good contributions here too. And that's fine. So, we I just want to say thank you Alex. But thank you for taking this time out to talk with us. I think this is a great conversation. I think it will be very much appreciated. And so, Grace, thank you so much for this and we will be talking soon. Thank you.
Grace Ogden-Parker
Thank you. Thanks for having me. It was a pleasure.
Philip King-Lowe
You're welcome.
Transcribed by https://otter.ai
Today's Autistic Community Bulletin Board
All of these events with their links can be found on todaysautisticmoment.com/bulletinboard.
Understanding Autism virtual classes will be offered by The Autism Society of Minnesota. These classes are perfect for Autistic individuals, caregivers, those who want to understand the basics of Autism and support Autistic people. Classes will be held on January 16th from 10am to 12 noon. February 20th from 2pm-4pm. March 20th from 2pm to 4pm. Classes are free of charge, but you must register to attend.
On January 10th, 2023, from 7pm to 9pm Jillian Nelson will present a virtual skillshop at The Autism Society of Minnesota entitled How to Change the World: An Introduction to Public Policy and Disability. Have you ever wondered how to change the laws, or how disability policies are decided? Join AuSM's Policy Advocate and Advocacy committee for an overview of the process to change laws, what are the nuances of disability advocacy, and how to get involved and use your own voice. This session will be a presentation, panel discussion and hands on learning opportunity. The committee will also offer a detailed overview of the coming sessions policy agenda.
The Winter 2023 virtual sessions for the Autism Direct Support Certification classes at The Autism Society of Minnesota will be held on Saturdays beginning on January 14th, 21st and 28th. These classes are perfect for job coaches, support staff, personal care assistants, EIDBI Tier 3 providers, educational aides, direct support staff, day training and habilitation professionals, anyone who works directly with Autistic individuals and Autistic people. These classes fill up quickly, so register as soon as possible.
Go to ausm.org for more information about these and other events at The Autism Society of Minnesota.
Today's Autistic Moment is sponsored in part by Looking Forward Life Coaching. Looking Forward turns stumbling blocks into stepping stones towards success. Go to lookingforwardlc.org for more information.
Today's Autistic Moment is sponsored in part by Therapy Dynamics. Go to therapydynamicsmn.com for more information.
If you want your business or organization mentioned or have questions about Today's Autistic Moment, please send an email to todaysautisticmoment@gmail.com.
Please note that the business office for Today's Autistic Moment will be closed December 22nd through January 1st for the Holidays.
Thank you for listening to Today's Autistic Moment: A Podcast for Autistic Adults by An Autistic Adult.
May you have an Autistically Amazing Holiday season and a Happy New Year in 2023.