The Autism Society of Minnesota has been organizing an Autism Community Summit for the past 4 years and will have their 5th on September 17th. The Autism Community Summit has been a wonderful occassion during which Autistics collaborate with other Autistics. When Autistics come together to collaborate, we help each other find acceptance, community and some assistance as we work through the many challenges we deal with. During this episode, Zephyr James will share some of their ideas about how Autistics can collaborate with other Autistics not only in Minnesota, but all throughout the world.
Click on the white downward arrow in the light purple colored box at the bottom of Today's Autistic Moment's Logo beneath this description.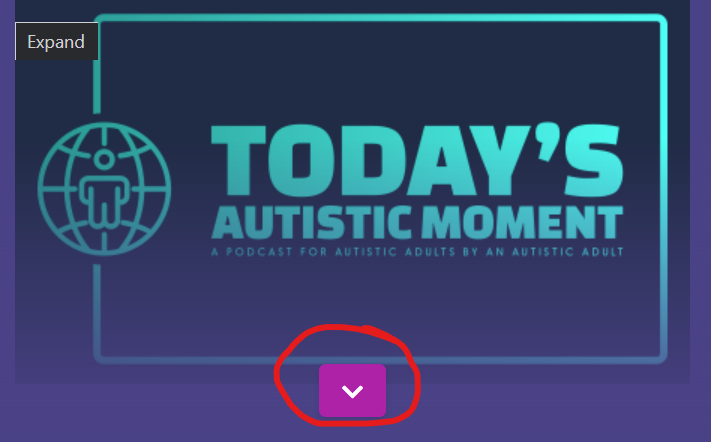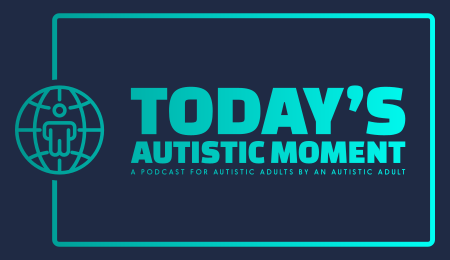 Autistics Collaborating with Autistics
September 5th, 2022
This is both the Program & Interview Transcript
Everything you need to follow this episode is in this one document.
Welcome everyone to Today's Autistic Moment: A Podcast for Autistic Adults by An Autistic Adult. My name is Philip King-Lowe. I am the owner, producer and host and I am an Autistic Adult. Thank you so much for listening.
Today's Autistic Moment is a member of the National Podcast Association.
Today's Autistic Moment is always a free to listen to podcast that gives Autistic Adults access to important information, helps us learn about our barriers to discover the tools and strengths we already have to use for the work of self-advocacy.
This first segment of Today's Autistic Moment is sponsored by The Autism Society of Minnesota: Minnesota's First Autism Resource. For over 50 years, The Autism Society of Minnesota has been honored to support Minnesota's Autism Community. Visit them online at ausm.org.
Please go to the New Podcast Episodes Page of todaysautisticmoment.com where you will find all the shows and download the Program Scripts with all of the hyperlinks I mention on each show and the Interview Transcripts including the transcripts for this episode. Interview Transcripts for 2022 are sponsored by Minnesota Independence College & Community. If you want to listen to any previously published shows, and see the program scripts and interview transcripts go to the Episode Index Page.
As of this episode the Program Scripts and Interview Transcripts are all one document. It is called the Episode Transcript.
I have a very important and exciting announcement to make. Over the next month the website for todaysautisticmoment.com will be moving to a new web provider that will be much easier to use. The website will be in a darker color mode that will be easier for many who are hyper sensitive to brighter colors. Many of the features you currently enjoy will still be there, but they will be less complicated to navigate. On the new website you will no longer have to download the transcripts. The transcripts will be with each episode in the descriptions. The new website will be up and running on September 25th. There will also be a new email address. Starting September 19th. The new email address will be todaysautisticmoment@gmail.com. Be sure to listen to the next episode on September 19th during which I will update you on this important move to make Today's Autistic Moment more accessible and less complicated.
Also, be sure to follow Today's Autistic Moment on Facebook, Twitter, Instagram, LinkedIn, and Tik Tok. Please join Today's Autistic Moment Community Group page on Facebook, where you can talk with me and other listeners. You can find the videos from the most recent Autistic Voices Roundtable Discussions Stop the Shock & The Dangers of Medical Myths by subscribing to Today's Autistic Moment's YouTube channel.
The next Autistic Voices Roundtable Discussion will be on October 19th at 2:00pm Central Standard Time entitled: Busting the Myth About Empathy. Another myth about Autistic people is that we lack empathy. Each Autistic person has our own unique way of experiencing and expressing empathy. In fact, a lot of Autistics have what we call double empathy. I am seeking Autistic individuals to join me and other panelists during this live virtual discussion as we bust the myth about Autistics having no empathy. Please send an email to PKLowe@todaysautisticmoment.com by September 16th if you want to participate.
Before and since I started Today's Autistic Moment there is nothing so rewarding and empowering as being with each other Autistic Adults to collaborate with each other. In the Fall of 2018, The Autism Society of Minnesota began hosting the event that they then called the Self-Advocacy Summit. It is a wonderful conference because there are Autistics who attend and give the presentations to help each other find community support and build friendships. Over the last two years the conference has been given a new name. It is now called the Autistic Community Summit. What happens at the Autistic Community Summit, the many Autistics talking together on LinkedIn, and here on Today's Autistic Moment is the result of Autistics collaborating with Autistics.
Zephyr James is here on this episode to share what we have been learning about how Autistics can collaborate with other Autistics. Zephyr will share their discoveries with how to offer good supports, how to listen carefully to Autistics talk about what does and does not work for us. How do we create conference and activity spaces for Autistic Adults that meet the support needs of our Neurodivergent neighbors when all of us are very different as to what our support needs are? Zephyr will talk about what efforts The Autism Society of Minnesota has made for the Autistic Community Summit to get better and better each year.
Please stay tuned after this first commercial break to join Zephyr and I for our conversation about Autistics Collaborating with Autistics.
Commercial Break 1.
Segment 2.
Welcome back everyone. And now please join me in welcoming Zephyr James to talk about Autistics Collaborating with Autistics.
Philip King-Lowe
Well, Zephyr, it is September. And we know what that means that in a few weeks, it's the Autistic Community Summit. And I have been so privileged to be able to share in this since this project started and it actually is my favorite of AuSM's conferences because it's Autistics coming together to collaborate and work together. And I think it sets a great model for how Autistics can collaborate with Autistics. So when using the Autistic Community Summit as our model, what can we tell Autistic Adults in our caregivers about what information they need to help work through Autistics collaborating with Autistics?
Zepyr James
Yeah, that's a great question. And thank you so much for your compliments of the event. It's also my favorite event of the year, not just not just because it was my idea, but also because I really love seeing my community come together. So, one of the things that I think is really important about the Autistic Community Summit, and that both Autistic Adults and caregivers can really keep in mind when they're thinking about collaboration is that it is entirely Autistic led. In the last two years, we have started incorporating a committee that includes staff and volunteers and board members, all of whom are Autistic. And they put together almost the entire summit events team helps out with the logistics and some of the practical stuff. But all of the big decisions come from that committee. And I think that's really benching how this event goes in a really positive way. And I think that that Autistic leadership is something that other people can really take from the model that we have. One thing that I have learned as I have been trying to lead that committee is that when you do have Autistic leadership, you need to be really intentional about the supports and accommodations that you provide for them, so that they can be successful in creating the space that they want to. So, if you are asking Autistics to collaborate together to put together an event or a project, make sure that you're very clear about what you're expecting of them and what you're asking of them. Make sure that you have really clear deadlines and that you offer reminders and supports, make sure that you have really clear places that you're going to communicate together. So, we have a slack that we use to communicate. And we also use a Google Drive with our project plan and all of our information and all of our materials so that all of us know exactly where we can go to get what we need. I also think that it's super important to be respectful of the Autistic communication style as you are asking Autistic leaders to step up. It's very different for me to work with my neurotypical colleagues than it is for me to work with other Autistics. And sometimes it can be a little bit uncomfortable for me, when my Autistic committee is really just straightforward with me about like, this isn't working, we need a different way to do this or this isn't good enough. We need to do better. And so, there's an element of getting over yourself when it comes to Autistic collaboration where the more you keep in mind the goal, the goal of making something that is really good for our community, the better it goes. I'd say those are my big things that I've learned.
Philip King-Lowe
Yeah, absolutely. You know, every time I go to the Summit, I am just amazed at how Autistics really show up because we're wanting that community, we're wanting that collaboration with each other. A lot of us are wanting to, to do some community building with each other. And the Autistic Community Summit is such a perfect way to do that. You know, let's talk a little bit about that. Because I think you and I, all of us have seen some tremendous stuff happening at that summit that indicates what I was just talking about.
Zephyr James
Yeah, so I'm just gonna highlight some of the things that I think make this event a little bit different. And then talk a little bit about how I see sort of our community show up in response to those things. Yeah. So, the, the first and biggest thing about the summit is that all of our speakers are Autistic. Or at the very least neurodivergent. in some fashion. We will occasionally allow, if we have sort of a pair of people speaking together, one of them is Autistic. And one of them is not, we wouldn't even allow that. But we want all of the people who are coming and showing up as leaders and people with expertise to be Autistics. And I think that that sets the tone. It says that we're the experts in our own lives, and we have things to share with each other. And we have lived this every day. And so, we have learned so very, very much. And I see that, not just in the formal sessions, but in the conversations that people have in the hallways, or in the chat when they're doing virtual versions. Because people are always offering each other suggestions and support and ideas. And there is so much energy around, oh, you have this issue. I've dealt with that, too. Here's what I did. One of the things that I'm really excited about for this year that's new, is that we are going to do a session that we're calling support swapping. So, this is a time where we are going to set aside a room and we picked a topic in advance so that people could think about it a little bit. And this year, we're going to talk about places that are Autistic friendly, what makes them Autistic friendly, and how other places can become more Autistic friendly. And instead of having one speaker who is providing information about this, we're going to ask the group to collaborate and basically create their own resource. So, we'll have a note taker, we'll have a facilitator, and then we'll let the group of Autistics say, here's what we think, here's what we want places to know, here's what we want each other to know. And AuSM will kind of do the work to organize that and put it together into a resource. But all of the information all of the wisdom is coming from the Autistic community. And everybody that I've talked to about that has been so excited about the idea of people being able to just sit down together and info dump the the brilliance that they have. So that's something that I think is absolutely what you're talking about that we give people the space, we say, Okay, you guys come together and tell us what you know about places that are Autistic friendly. And people have so much to say they have so much to give there. So, I'm really excited about that this year. One of the other things that is new this year is that we are doing something that we're calling the parallel playroom. So, we're in our fifth year. And throughout all of these years, we've kind of been trying out different things to figure out how we can make space for Autistic socialization, and then also really support Autistic socialization. So, in a more traditional conference, you might have a happy hour or a networking hour or something like that. And I have to say that my idea of hell is being asked to stand in a room with a bunch of strangers and then make small talk with them. So that was not what we wanted to do for our community building and socialization opportunities. And we've done a few different things. And some of them have gone better than others. But this year, we really want to, we really thought about what is the Autistic style? What kind of is our community's preference? And we thought about parallel play. We know that a lot of us really like parallel play. So instead of just saying, Okay, we're gonna go somewhere and socialize. This year, we're setting up a room that has a whole bunch of different activities or hobbies or anything that you might want to do. So, we're going to have board games, we're going to have crafts, we're going to have coloring pages. Um, we're gonna have a Nintendo Switch, I think. And the idea is that you can come and you can hang out and either do your hobby or do one of these hobbies. And if you want to chat while you're while you're doing your parallel play, you can, or you can just be there, you can just be around other people. And it's totally cool to be there and do your own thing. Whether that's doing your knitting or playing a board game with somebody else. But you don't have to feel any pressure to engage with other people while you're there. You can just be in the same space with them. So, I think that that priority this year on thinking about how does our community like to show up? And how can we make that easier for them is, is, is really guiding us. That's something that's really important for us this year. And I think that, that really is because of how many people have showed up in the past and said, "We love that you have this face for us. And we think you can do better we think you can keep coming up with better ways to make this space more Autistic and more Autistic friendly." And that's one of the things that I love about this event is that people don't just show up and smile and nod and say like, oh, yeah, that's great. They show up and they say, I liked this, but here are the things that I wish were different. And that makes it really easy for us to keep improving.
Philip King-Lowe
Yeah..
Commercial Break 2
Support Today's Autistic Moment
Today's Autistic Moment will have a great Fall season with relevant topics and great guests. Plans for season 3 in 2023 are underway. I need your help to keep this podcast on the air and continue to improve it. Go to todaysautisticmoment.com and click on the blue button to be taken to my Patreon Page. You can support Today's Autistic Moment for as low as $1.00 a month or more. Spinner fidgets are on sale for $4.99 plus sales tax and only $1.50 shipping and handling. Not only will you get a quality fun fidget, you will help support Today's Autistic Moment at the same time.
Thank you for supporting Today's Autistic Moment.
Segment 3
Philip King-Lowe
Well, when I get into the questions of barriers, what are the barriers for Autistic Adults when it comes to collaborating with other Autistics? I think you hit a nail on the head that so many times we enter a space that is not really designed for Autistics, because of the terrible presumptions that are made that somehow, we can't. And so, when we talk about this barrier, that among those barriers, is you know, that thinking that somehow Autistics can't collaborate because of our "deficits" I'll say. And so, what I see the Autistic Community Summit doing is being a direct, no way into that the face of that stereotype that stigma, what do you think?
Zephyr James
I absolutely agree. I have seen some of the most amazing collaboration I've seen has come from Autistics. And I don't want to act like collaboration is easy. I think no matter who you're talking about, really in a deep way, working with other people is challenging. And for Autistics, there are some unique challenges. But they're not that we're bad at talking to each other or bad at socializing. That's the least common challenge that I run into with this event. The things that I do tend to run into are things like funding. Our community is chronically unemployed and underemployed. And so, one of the priorities that we have at this event is to make sure that it is as low cost as we can make it. And that's really challenging. Just from a logistical standpoint, figuring out how we can run an event, where we don't cover for our costs with the registration. And we still want to do as many cool things as possible, is challenging. So that requires some creativity and some extra work. The sensory needs of our community can be somewhat challenging to accommodate. And I don't mean that in a way that is like, Oh, it's so hard. I am more referring to the fact that we have competing access needs. We have some people who really want to be loud and stem and yell and some people who really need quiet. We have some people who really need us to provide food while they're there, and other people who have extreme sense sensitivities, and that's very difficult for them. So, the challenge is that we need to be incredibly thoughtful, and we need to really take the time to slow down and ask ourselves, what are going to be the consequences of each of the choices that we make, and how will those impact the people who show up? So those are the types of barriers that I tend to run into is how can we really support everyone who is going to be there? How can we make sure that nobody's executive function gets in the way, and we're providing reminders to all of our attendees and making it as easy as possible to register? And to understand the different options that we have? How do we make sure that we're not overwhelming people with too much information, all of the tons of topics that people want to have in a limited amount of time and space. So those are the types of challenges that I run into when I'm trying to collaborate with other Autistics and provide things for other Autistics, but it's never, oh, people don't want to work together. People don't care about other people or don't have empathy or something like that those types of stereotypes really never come into play. Everyone is showing up as hard as they can for each other. And I'm in a really genuine way that I don't experience with neurotypicals. Where I'll be in a meeting with my committee, and I'll say, you know, we don't have enough public transit to this space, we're looking at maybe trying to provide transit options, maybe we can provide Uber vouchers. And one of my committee members says, I know that rideshare apps are notoriously bad when it comes to accessible vehicles. They will cancel randomly, or they won't actually be accessible when they say they are. And so, we need to think more about this decision and find another option. So it is that really careful attention to are we making sure we don't leave anyone out?
Philip King-Lowe
Yeah. Yeah. And neurodiversity is so diverse that the challenge is meeting and working with that diversity, especially for that something we didn't expect or plan for.
Zephyr James
Yes, yeah. There's always something we don't expect.
Philip King-Lowe
Exactly, exactly, you know. Yeah. I mean, Autistics, we may have our predictableness sometimes. But we also have our surprises as well. And, and a lot of that comes from the fact that I think, many of us we're learning, we're learning about our Autistic challenges and strengths. On a daily basis, we discover things we didn't know, were there before. You know, and what I love about the Autistic Community Summit, is that it says it's okay. If it's okay that you are, who you are, that you have, the challenges and the strengths that you have. The Autistic Community Summit. And what's awesome about this collaborating of Autistics, and Autistics is that we understand that each other is going to have some kind of challenge. And we also understand that sometimes those challenges are going to be different even for us to work with one another. But that doesn't mean that we can't come together and work at it. That's one of those things that, I think is a strength of the Autistic Community Summit what do you think?
Zephyr James
I absolutely agree. One of the things that I started doing, that I've been aiming to do for all of AuSM's events, is putting together a document that outlines what accommodations are available, but also what potential barriers still exist. Because I want to model to my community, we're not perfect, we still have challenges, there are certain things that we can't do for whatever reason. And so, I want you to have as much information as possible to make the right decision for yourself. And I hope that that creates a space where the people who show up can also say, "Oh, hey, it turns out that actually, this is really hard for me, and I need some help and support some support with it." One of the one of the things we're instituting this year is having a point person around accessibility at the event. So, it's somebody who's named somebody who's, you know, easy to find. So that if you're having an issue with accessibility, there's one person you can go to and you know exactly who to ask or if you're having any kind of issue. You know, this is where I go, and this is who I asked about it. And I think having that process in place to say, we expect that there might be issues or challenges, we expect that maybe somebody will have a meltdown or just run into a tough sensory situation or need a little bit of extra support. And I think putting that out there in advance says to people like show up your whole self. And we're gonna be here for you. And we may not have the answer right away, but we will help you troubleshoot it and figure out how to get through it. Because that really is what I want for this space, nobody is going to just show up and do great every time. We're going to be talking about hard subjects, you're going to be interacting with a lot of new people. So, one of the big, biggest things we can do is say when there are issues and when you are struggling, we are here with you.
Philip King-Lowe
Right. What steps do Autistic Adults and our supporters need to take to advocate for our needs? I'd like us to as part of answering this question. Because originally the Autistic Community Summit began as a Self-Advocacy Summit. Maybe you can kind of talk about how we've journeyed from the Self -Advocacy Summit, to what we now call the Autistic Community Summit. I think it's a great way to talk about the tools and strengths Autistics have. Go ahead.
Zephyr James
So, the name change is actually interesting, because I think it reflects a larger change both in how AuSM and how a lot of Autism organizations approach, self-advocacy and advocacy in general. When we started the event, we were using the language around self-advocacy, in part because we were not using identity first language yet. And so, when we made that shift, we changed the name of the event to the Autistic Community Summit, which was incredibly important and a really big step in listening to our community. However, I also think that it reflects the fact that self-advocacy can sometimes say you and you alone need to advocate for yourself. It's up to you and you, as an individual are responsible for fighting for what you need. And in some ways, I find that that self-advocacy language doesn't always really mesh super well, with our actual community. That our actual community is much more integrated with each other and much more interested in building places and communities and connections. Instead of just saying I'm going to go out and advocate for what I need. And so, I actually think this is not something that I that I consciously thought about when we made this name change. But now that you've asked it, I think it is actually really representative that the fact that you changed it to a Community Summit is really representative of the fact that we've changed it in some ways from an event that says, Alright, we're gonna highlight Autistic speakers and Autistic leaders to his face, where we're saying, how do we make everyone feel comfortable to show up and be involved in doing whatever advocacy and community building they need to do? And it's really moved to a more interdependent model. And I think that really is an essential part of what we're working on with this summit right now.
Philip King-Lowe
Yeah. Yeah. And, you know, I have to say that in the time that I've been participating on LinkedIn, I have been seeing some great examples of Autistics collaborating with Autistics. I mean, these are people who are sharing surveys, they're sharing experiences that happened to them. They're sharing articles that they found that speaks to things that they're experiencing. They're responding to each other supporting each other saying, hey, you know, what they said was foolish. They shouldn't have said that, or, and that sort of thing. And the Community Summit is a great place where a lot of that also happens. And, you know, Autistics are often I shouldn't say I gotta be careful. Many Autistics I don't want to over generalize, can be extremely candid. We know that and the Autistic Community Summit and when Autistics collaborate with other Autistics, we honor the candidness we honor the honesty that when a question is asked, they're going to answer you completely. And the way I feel in one of those important parts of advocacy for Autistics, is to know is to say what they think and feel and feel like they're being taken seriously. And we know that sometimes when Autistics are, are, are communicating with allistic people, nonautistic people, we don't often feel that we're being taken seriously. But when Autistics are communicating with Autistics, that self-advocacy comes in the form of us being seen as taking one another seriously. And I think, I think that has a very powerful message, hopefully a powerful message to those who still question or think they have the right to question exactly how competent Autistic people are. Feel free to comment on that.
Zephyr James
Yeah. Yeah. So, I feel like that actually gets to the heart of sort of this difference of self-advocacy versus community advocacy. There is a quote from Audrey Lorde, that says caring for myself is not self-indulgence. It is, oh, gosh, I'm gonna forget exactly what it is. It's something like it is not self -indulgence, it is necessary. And that is an act of political warfare. So basically, what it's saying is that if you are a marginalized person, taking care of yourself, and prioritizing yourself is political, in a way it is self-advocacy. And I feel like we build these community spaces where we are caring for each other, where we are not saying, "I need to go out and fight allistic people in allistic systems that aren't set up for me, and that are so exhausting." When instead we say," I'm gonna get together with my people who understand me and who made me feel comfortable and safe and seen, that is advocacy, different kinds of advocacy, it's the advocacy that makes us safe." It's the advocacy that gives us the energy and the strength to go out and do those big fights in the larger community. But having these areas where we don't have to feel like we're fighting is so essential. And it's such an important part of this interdependent community that we've been talking about. And it's also the springboard for that larger advocacy because when we get together and when we connect with each other, and feel safe and secure with each other, we're suddenly much much stronger. Because instead of one of us going out and trying to say hey, legislators, or, Hey schools, or hey, whoever you need to make this change. We have a whole bunch of people who are coming together with a wide variety of strengths. But let me tell you, when I collaborate with other Autistics, I am always amazed at the depth of strengths that I find. That there I, I will say man, I really wish I had somebody who could put together this resource for me. And somebody shows up who is an absolute expert at research, and at condensing really complicated topics. And then I say, Man, I wish I had a database and somebody rolls in who's like, I know how to code I got you. There's just such a depth of experience. So, when you bring us together, and you find somebody who can kind of organize it, I think that's where sometimes we one of my biggest barriers is finding the person who can see all of those bits, and put them together in an organized way. Because you know, executive function is not always our strongest suit. Man, are we powerful.
Philip King-Lowe
Yes, I would agree with that. You know, and, you know, what I love about what I do, on Today's Autistic Moment, is I am bringing forward so many individuals who are Autistic like yourself. And the thing is, is, I just find that when Autistics come here, and they tell stories, they share their, their, their, their challenges, their strengths, their achievements, and their thoughts about things. You know, I think it really is empowering to Autistic people to be ourselves. Because, you know, there are many of us, in other parts of the country, other parts of the world, they don't have the community connections, like we do here in Minnesota with AuSM and, and like this Autistic Community Summit. So, you know, in some cases, my podcasts for some for many is the only way they can connect to the wider Autistic community in one way or the other. And that's why I've been able to find these marvelous guests that you often remarked about. It could be could because because these are just people who think they know what they're experiencing. And it's amazing how what they say is often connecting with another Autistic person's experiences. And part of that we know that I think part of that collaboration is, is you know, we understand each other. And, quite frankly, that's where our empathy is we understand other Autistic people, because we are the ones who are experiencing the stigma, the separation, the all the things that go with it. So, I think that's part of the strength of things like that.
Zephyr James
Absolutely. And there's something so powerful in sharing a challenge, or a bad experience or a trauma that you've had and having somebody else say, not only do I see that and accept it, but I've had that happen, too. And I'm there with you. Yeah, it, it makes you feel so much more grounded. Because when you're the only one you can really start to question How real is this? How bad is this? Am I kind of making things up? And then when you hear other people who have the same experiences in the same stories, it is confirmation and reaffirmation that your instincts are right. And that's exactly powerful. Yeah.
Commercial Break 3
Advertisement
Are you Autistic and the owner and/or host for a podcast that is by and for Autistics? If so, I have a very exciting networking opportunity for you. I am cordially inviting you to attend a live virtual initial meeting to talk about the creation of the International Autistic Podcasters Association on Thursday, March 16th, 2023 at 11:00am-12:30pm Central Standard Time. During this meeting we can talk about what we might like an International Autistic Podcasters Association to look like and what we could do. The association members can share with each other what our podcasts are about, what is working well, what might need improvements and promote ourselves and each other to attract more listeners. The meeting will be recorded with a transcript and made available on Today's Autistic Moment's YouTube channel. To read more about the meeting go to todaysautisticmoment.com/apa/. Please share the news and link with any Autistic person you know who owns and/or hosts a podcast for other Autistic people. If you have any questions or concerns, send an email to PKLowe@todaysautisticmoment.com.
Future Shows
On September 19th, don't miss my conversation with Candice Christiansen about Online Dating: What Autistics Need to Know. The convenience of the internet might seem like a great way to find that perfect person to date. However, many Autistics find it difficult not to fall into certain social traps that can include but not be limited to dating someone who is abusive, and/or finding someone who does not respect our boundaries, or just rejects us. Come hear Candice's important advice to help you stay safe when you use apps for online dating.
In October, Today's Autistic Moment will recognize ADHD Awareness Month.
On October 3rd Tas Kronby will be my guest to talk about Autistics with ADHD. In the DSM-5 in 2013 Attention Deficit Hyperactivity Disorder (ADHD) was added to the family of neurological developmental disorders. Many Autistics are double neurodivergent with ADHD. During this episode Tas and I will talk about the similarities and differences between Autism and ADHD and why including people with ADHD is an important step in the movement for neurodiversity.
On October 17th, I will be joined by Pete Wharmby who is an outstanding Autistic journalist and advocate in the UK for the episode The Intersection of Autism & ADHD. Autistics and those with ADHD intersect as Neurodivergents. We have issues with executive functioning, attention to detail and social challenges. Pete will join me to talk about this intersectionality to help us with community organization and support.
Thank you for listening to Today's Autistic Moment.
Segment 3
Philip King-Lowe
Well, Zephyr, it is always a pleasure to have you as a guest on Today's Autistic Moment. And I also want to just mention that this subject was your suggestion. Because a year No, no, no, no, that last January, we were talking about something that we were going to collaborate on. And as soon as you said, oh, Autistics collaborating with Autistics? Well, that's a great idea. So that's where that came from. Some topics are just merely suggestive. But boy they work. Yeah, so um, yeah. Well, yeah. I am. So, looking forward to the Autistic Community Summit. Today's Autistic Moment is going to have a resource table at the event this year. And I'm looking forward so forward to meeting and seeing everybody and, you know, Zephyr and the Autism Society Minnesota are indeed my dearest friends. And I can assure you that when they put something like this together. It is. It is. So that's just empowering. But I'm glad I got a search for word. It is a relief. It is a release for many of us. When we're caught in the middle of life being so complicated and our relationships being, we get to release a lot of that energy. And it gives us feeds us back with good energy that we need so much to to deal with the deal would be the world that we live in. I think that's one of the most amazing strengths of this event.
Zephyr James
Thank you so much. Yeah, yeah, I love that makes me so happy to hear.
Philip King-Lowe
Yeah, know, I, you know, I said this once before a while ago, but I do remember. Oh, yeah, it was last time. We were. It was the last time we were able to be together. I think that was 2019. But again, I just remember, Jillian, I think. Yes, Julian saying it's nice to be in a place where neurotypicals are in the minority. I will always remember that. Yeah. So well, Zephyr as I say thank you always and I will look forward to seeing you and you know, it's always great to have you so thank you for coming.
Zephyr James
Thank you so much for having me.
Philip King-Lowe
You're welcome.
Today's Autistic Community Bulletin Board
All of these events announced with the links can be found at todaysautisticmoment.com/bulletinboard/.
You are invited to MICC's 5th Annual Independence 5k Run/Walk on Saturday, October 1st at Donaldson Park in Richfield, Minnesota. Check in/Registration is at 9:00am. The Race begins at 10:00am. Go to miccommunity.org.
Understanding Autism virtual classes will be offered by The Autism Society of Minnesota. These classes are perfect for Autistic individuals, caregivers, those who want to understand the basics of Autism and support Autistic people. Classes will be held on September 19th from 2pm to 4pm. October 17th from 6pm to 8pm. November 21st from 10am to 12pm. December 19th from 2pm to 4pm. Classes are free of charge, but you must register to attend.
Registration is open to attend the Fall virtual classes for The Autism Direct Support Certification at The Autism Society of Minnesota. Classes will be held on September 9th, 16th, 23rd, 30th and October 7th. Scholarships to attend are available, but you must register to attend.
Registration is now open to attend the 5th Annual Autistic Community Summit on Saturday, September 17th at the Masonic Institute for the Developing Brain at the University of Minnesota in Minneapolis.
Go to ausm.org for more information about these and other events at The Autism Society of Minnesota.
If you have events for Autistic Adults and our supporters and would like them announced in Today's Autistic Community Bulletin Board on the next episode on September 19th, please send them to PKLowe@todaysautisticmoment.com by 4:30pm on Friday, September 16th.
Today's Autistic Moment is sponsored in part by Looking Forward Life Coaching. Looking Forward turns stumbling blocks into stepping stones towards success. Go to lookingforwardlc.org for more information.
If you have a topic that you think will be a great contribution to talk about the strengths and achievements of Autistic Adults and/or want to be a guest in season 3 in 2023; want your business or organization mentioned or have questions about Today's Autistic Moment please send an email to PKLowe@todaysautisticmoment.com. After September 19th, please send all emails to todaysautisticmoment@gmail.com.
Thank you for listening to Today's Autistic Moment: A Podcast for Autistic Adults by An Autistic Adult.
May you have an Autistically Amazing day.