Go to todaysautisticmoment for the transcript. Michele Newman joins Philip to talk about her experiences as an Autistic Woman. Michele was diagnosed with Autism at the age of 54, after 35 years of psychiatric misdiagnosis and medications that were harmful. Michele will share with us about the enormous challenges of being an Autistic Post-Menopausal Woman that includes communicating with doctors about how her brain has changed and how Autism affects her response to certain medications and other treatments. Michele's story is powerful and will touch your heart. --- Support this podcast: https://anchor.fm/2daysautistic/support
Click or tap on the downward arrow in the pink box below the logo. See the image below.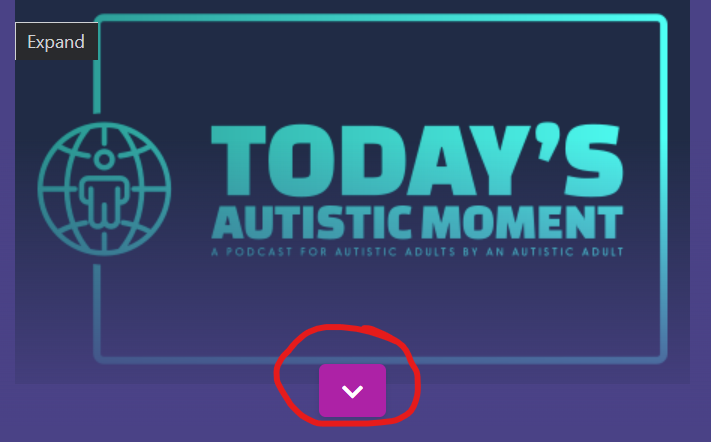 Autistic Post-Menopausal Women
March 21, 2022
[You will notice that some words have a strike through font. These are to reflect the new website created in September 2022]
Welcome everyone to Today's Autistic Moment: A Podcast for Autistic Adults by An Autistic Adult. My name is Philip King-Lowe. I am the owner, producer, and host, and I am an Autistic Adult. Thank you so very much for listening.
Today's Autistic Moment is a member of the National Podcast Association.
Today's Autistic Moment is always a free to listen to podcast that gives Autistic Adults access to important information, helps us learn about our barriers to discover the strengths and tools we already have to use for the work of self-advocacy.
This first segment of Today's Autistic Moment is sponsored by The Autism Society of Minnesota: Minnesota's First Autism Resource. For over 50 years, The Autism Society of Minnesota has been honored to support Minnesota's Autism Community. Visit them online at ausm.org.
Please go to the New Podcast Episodes Page of todaysautisticmoment.com where you will find the lineup for the new shows, with the description of each show from now through the end of May. When I publish new shows, you can click on the title and guest of each show to listen to the episodes. You will also find the Program Script that includes all of the hyperlinks I mention on each show and the Interview Transcript links will be available to download. Interview Transcripts for 2022 are sponsored by Minnesota Independence College & Community. If you wish to listen to all of the previous episodes including the 24 shows for 2021, go to the Episode Index Page. Go to todaysautisticmoment.com to scroll through all the shows.
Also, be sure to follow Today's Autistic Moment on Facebook, Twitter, Instagram, LinkedIn, and Tik Tok. Please join Today's Autistic Moment Community Group page on Facebook, where you can talk with me and other listeners.
Please visit my home page for todaysautisticmoment.com. There is a video there entitled, What is Autism, Really? This video was made by Sarah Hamel and Stephanie A. Izzi. In the video, Sarah explains what Autism from the point of view of the Neurodiversity Positive Movement. The video is a great explanation of what the work of Today's Autistic Moment is attempting to do.
Applications for the next Autistic Voices Round Table Discussion on May 25th, will be accepted beginning on April 1st through April 29th. The topic for that round table discussion will be The Truth About ABA (Applied Behavioral Analysis) Therapy. I know this is a very sensitive and controversial topic. Because Autistic Voices Round Table is for Autistic Voices only, only Autistic individuals may apply and be considered to be panelists. I cannot accept parents, caregivers, professionals that are neurotypical. Among the problems with topics like this, is that the conversations about them have often excluded the feelings and input of Autistic people. The time has come for Autistic people to use their voices to address the concerns we have, so that our concerns can become part of the public dialogue. I can only have 4-6 panelists, because the discussion is only one hour long. I am looking for a diversity of Autistic individuals from different races, genders, sexual orientations, and identities who have been clients to receive ABA therapy. Remember that round table discussions are a group of people sharing their information and experiences with each other. Round table discussions are not an occasion for a debate or for persuading anyone towards anyone's point of view. Please visit todaysautisticmoment.com/autisticvoices/ for more information. Applications will be available as of April 1st and will be accepted through April 29th.
Today, I am pleased to have Michele Newman on the show. Michele Newman was diagnosed with Autism at the age of 54, after 35 years of psychiatric misdiagnosis and medications that were harmful. Michele will share with us about the enormous challenges of being a woman in her post-menopausal years with many doctors being unaware of how the chemical changes in their brains and how Autism affects their response to certain medications and other treatments. Michele's diagnosis of Autism was a changing point in her life. However, the medical community has yet to catch up with aging Autistic Adults, including post-menopausal women.
I want to prepare my listeners by saying that some of what Michele shares in her conversation with me, may be triggering. Michele has lived through the 1970's, 80's and 90's when the information about many health conditions, including Autism was a lot more limited than it is now. While a lot of progress has been made, there is still a lot of misinformation about Autism, Autistic people and Autistic Post-Menopausal Women that has not caught up to the times we are living in now. While hardly any news stories or podcasts are focused on what happens with Autistic Post-Menopausal Women, Today's Autistic Moment wants to break the silence and ignorance to help us all do some hard robust advocacy that brings the neurodiversity of women into the forefront of the Autism conversation.
After this first commercial break, Michele will be introduced and tell us of her remarkable journey. Please stay tuned.
Commercial Break I
Philip King-Lowe
Michele Newman, it is my pleasure to welcome you to this episode of Today's Autistic Moment. Thank you so much for being here.
Michele Newman
I really appreciate being able to connect and have this opportunity. Because I'd been advocating for adults with little response for five years, and then they kind of gave up and, you know, I just see that it's only kids or until age 30 that really any attention is paid. And those of us who are older that have survived it, have a story to tell.
Philip King-Lowe
Absolutely. Yeah, you're welcome. I couldn't agree more with you. Um, as we've been talking, before we began the interview, I had that conversation with Dr. Theresa Regan a year ago about Aging Autistic Adults: What We Needed Yesterday. And, you know, she fully acknowledged that when it comes to Autistic Adults over the age of 50, as a general ballpark number, that there's so little information that we have available for that. But when we talk especially about women, post-menopausal women there are there's so much I'm sure that we could discuss that, that I'm going to take the risk and say nobody is really talking about. And that's one of the reasons I wanted to have this conversation with you. So let us begin with my first question. What important information do Autistic Adults and our caregivers need to know about when we talk about Autistic Post-Menopausal Women?
Michele Newman
Okay, and number one is, women are not diagnosed as frequently as men are, because it was always thought of as a male disorder until recently, and then because our body, when we go through menopause, our chemistry changes. And because medical professionals don't even understand Autism, really don't know the nuances or the differences between a guy with Autism versus a woman with Autism. And so there's this kind of barrier. And I fought hard for the last 10-15 years to get medical professionals to take me seriously. Um, you know, I'm not your normal patient. You can just throw out the window, all the diagnosis and all that, you know, testing for non-autistic people, because, and don't consider me that everything's normal.
Philip King-Lowe
Yeah, that brings up a lot of points. You know, um in the episode that I released in late February, um Benjamin Christmas, we were talking about Trauma:An Unavoidable Consequence. And you're highlighting a little bit of that when we say that the world is just not made for Autistic people. It's made for a neurotypical group of people. And when it comes to women, who are past the point of menopause, you know, we're talking about a whole group of Autistics, that that where there's ageism, as well as the the ignorance of Autistic women there. So I'm sure we could talk talk a lot about that. But let us let us indeed Talk a little bit more in depth about that if you wish.
Michele Newman
Okay, number one, in our becoming post-menopausal a woman's body chemistry changes. It's different for every woman like Autism, you know, one person with Autism is one person with Autism. And so throughout my 35 years before I went through menopause, I was given all these psychiatric diagnoses. And I mean, I didn't even have a diagnosis of ADHD, for generalized anxiety disorder. But I had so many others that they were feeding me neuroleptic ad, anti psychotic and psychotropic drugs. And because only at age 58, that I find I learned my GI problems were related to a metabolic malabsorption disorder. And so my body, especially my liver, does not process medications or oral medications, like most people. And so, I mean, I found out that in 2014, I had a serious vitamin d3 deficiency, where my level was at 19, when first tested, and the normal low end is 30. And so I was on 10,000 international units for a day for three years to get it just to a low normal level. And, and, you know, I had deficiencies of B 12. But after that, I found out that my body does not process or activate foods that have B 6 in it. Which has a lot to do with how your brain functions. Okay, well, in 2016, the doctor I had then had done a urine test, and it came back positive for Cairoli disorder, or Pyro Luria, which a lot of schizophrenic and people with Autism tend to have. And I mean, the B 6 goes straight out through our urine. And so I've been on C, and B s6 activated B 6 sets 2016. And, I mean, that was right when I was having my assessment for Autism. And I just, I couldn't think or process I knew what I wanted to say, but I couldn't get the words out. And it was right after that assessment that I found out I had this disorder. I mean, I was having all these little brain farts in, I was intelligent, but I couldn't think intelligently and that's just some of them. But getting back to all the psych meds that I was fed high dosages of before, I mean, pre-menopausal for 35 years. All of a sudden, when I go through menopause, I start developing hypersensitivities to many drugs that I was on in my 20s and 30s. And I had like one allergy and one hypersensitivity prior to menopause. Now I have 45. Every year, like last year, it was antibiotics. And so antibiotics that was working like augmented used a lot, but in 2016 or 17 I became hypersensitive to that. And if I know Cipro my body has a response. And, and so I don't have normal allergies. But I've developed all these hypersensitivities to prescription meds and also they've been building for like cigarette smoke and a second sinus surgery in 2011. And I'd been around cigarette smoke my entire life, but now I could go into a severe asthma attack. And, and so it's, it's just learning how our body reacts it and as a woman, even post-menopausal my body is constantly changing. Right? I was exposed to something in a previous apartment, and it was triggering a bunch of stuff and whatever it was, it's followed me to a new apartment that I moved to and I are having severe medical issues right now with but it's it's regarding dust and normal particulates in the air that never bothered me. Yep. And so trying to get medical professionals to understand, even when I do the research, a lot of research that's been done on kids, but you don't grow out of it, you know, if this is a problem you have to consider with us like, possibly battling, you know, sleep disorder.
Philip King-Lowe
Yeah, yeah. Let me ask you when, when you were diagnosed? Um, and would you repeat? How old were you when you were diagnosed with Autism?
Michele Newman
I self diagnosed at age 52. But I was professionally diagnosed at age 60. When I was trying to be when I was applying for employment assistance through the state voc rehab rehabilitation division.
Philip King-Lowe
Yeah. Let me ask you, when you received that diagnosis, what was that like for you?
Michele Newman
It was two days of intense intelligent and mental health testing, because at age 60, they couldn't assess me using the adult ada. Because I mean, my mom had already passed away, I had only one sibling. You know, my father died when I was in high school. And so the only family member was my younger sister who lived 1000 miles away in California. And so, and by then I didn't have any close friends left with all my moving around. So there was nobody to interview. So they gave me intelligence testing, they gave me a battery of psych test days, that first day I was there from 8am until 4pm. And I came away with such a migraine or cluster headache. And then the next day I went back, it was only four hours. But that was mostly the interview aspect of it. And so he did diagnose me with ASD, and generalized anxiety disorder, but also comorbidities of schizophrenia and major depressive, and all those others that I had when I was in my 20s.
Philip King-Lowe
Yeah, yeah, yeah, no. Yeah. Well, um, one one reason I asked that question, because many of us are adults when we're diagnosed, um, it's fair to say that, that diagnosis rewrites our life history.
Michele Newman
Well, I mean, that was the biggest aha moment in my life, because all of a sudden, once I started reading about Autism, actually, I told my psychiatrist because I was on a psych unit at the University Hospital. And they said that they mentioned about being a savant. And I told my psychiatrist said, Well, that, you know, that's ridiculous. You don't have a savant, you have to be Autistic, and you're not Autistic. That just shows how ignorant, you know, a lot of so I started reading on it. I was living in temporary housing, and only access was with the bus line. And so I'd spend my days in the public library or at Barnes and Noble. And I read about all this stuff, and savant, only about 20% have Autism, and so on. But if I said, I could look back on my life, and even pictures and stuff, and once I understood Autism, I had issues before I was in kindergarten.
Commerical Break II
Philip King-Lowe
Well, we're already talking about many, many barriers. But I have test question because that's part of my show. I'm for Autistic Post-Menopausal Women. And we're just saying so many of them, we have medical professionals who are not trained. And also some of the misperceptions about women and being diagnosed with Autism. And we have I mean, so many things ageism being one of the another major one, I mean, my conversation with Dr. Teresa Regan year ago was Aging Autistic Adults: What We Needed Yesterday, the things that I hear you talking about that you needed, and I'm willing to bet many Autistic Post-Menopausal Women and things you need you needed them yesterday. Well before today. But getting those things getting those resources getting those services. It's just so complicated as to say the very least, I mean, how do you how do you make a plan for your life? You know, when the resources that you need just aren't there?
Michele Newman
Well, right. I mean, I, I was already on SSDI. When I even self diagnosed, it was a lethal overdose, that miraculously I recovered from, in 2005. At right, you know, one day after my 51st birthday, and that's. I became a test subject in the psych hospital that I spent 21 days in, but they never say anything like that. But, you know, just, I understand enough about medicine at myself, that I kind of know, and I've done a lot of research, because I've done some writing. And I kind of know where to look. But another problem is not just medical catching up. I mean, I've lived with autoimmune dysfunction, my entire life. And my gut is the biggest place. But another place that I'm having problems with, is my communications, even though right, I write a lot, and I speak, you know, pretty intelligently. I can speak circles around myself, I go to a doctor's appointment, I have a list of three things to cover. And if the doctor says, one asked me one question, then it throws me on another tangent. And by the end of the appointment, I'm lucky to have covered one of those issues, because even a word are popping into my head. And it'll send me 180, in a different direction, which is, I've noticed it more and more, as I've gotten older.
Philip King-Lowe
Yeah. Boy, I hear you. You know, um, you know, even when I go to my doctors, I have to do my own share of educating my my doctors to and contrary to what how things are, you know, it's really not incumbent upon us to inform our doctors about our Autism and that sort of thing. Because really, that's their jobs, to have learned and understood about it. But, you know, the medical, the medical field, as in medical professionals, as in doctors and that sort of thing are so far behind, on, even in my case, I'll say, I have gone to neurologists, these are people who are supposed to be experts on the brain, how the brain in the body react. They don't, there's no guarantee that even they understand how Autism affects your neurological communication with your body. It's just incredible, isn't it?
Michele Newman
Yeah, well, and I had that same problem. I mean, in like, 20s and 30s. I mean, I was see seeing a neurologist on a regular basis starting around 1990. And I had a lot of the symptoms for neuropathy, but I'm not diabetic. And so, you know, at least once a year, he was doing a nerve conduction study or an EMG on my hands, and once on my feet. And it was coming back borderline neuropathy or not, it was it was normal. And so finally, I saw a new neurologist in 2011. And she said, Well, you know, treatments not going to be that much different, but maybe you have what's called small fiber neuropathy. And so she sent me to another neurologist to do a skin biopsy and send it in and sure enough, it came back as small fiber neuropathy. You know, Gabapentin or Neurontin is one treatment and then Lyrica but I'm sensitive to Lyrica and and now I'm sensitive to GABA patent. It wasn't just doing anything for me, but I just went through a week of inpatient epilepsy monitoring at local hospital because in August, I started having these zapping seizures earlier in my 30s they were called complex partial seizures. Now, I guess they're just petty small seizures. But um, and I was diagnosed with epileptiform seizures, but then I was at Boston, Beth Israel in 1986, for three weeks and continuous monitoring, and I even had a seizure, and you know, when they were doing an EEG, but in 82, I had when I had epilepsy, I was I had eight ECT, treatments, shock treatments. And I'm like, I guess my body are correlated. Because you have a seizure, grand mal seizure during a treatment, and my body just thought, okay, that is a good way to get rid of stress. And I was always under a lot of stress. Yeah. So, I started having these grand mal seizures whenever, you know, I got overly stressed. And so I got accepted in into a research project at National Institute of Health which was with mental health. So mental health, and it was for at that time, I was diagnosed with Multiple Personality Disorder, or DID, which is now I see as masking. Autism masking. And, and I came out there, in fact, I was one of the first people that they did some brain mapping on back in 1986. But they said, you know, your seizures are not epileptiform. And it was me, after I got out back, then I realized it was the the shock treatment that triggered my body into, hey, this is a good way to get rid of stress. And so with the development of these return of these seizures, because of the exposure to the airborne stuff in my apartment, but then when Dr. Regan presented her four part series recently on dysregulation, one thing she mentioned, as as a way of coping, you're trying to normalize your body, because I'm a control freak. And, you know, I have to have control of my environment. And that's not realistic when you're living in public housing. But, you know, my stability is based on being able to control my physical being. And last six months, there's been no control of me by my doctors. So but the zapping, is related to dysregulation.
Philip King-Lowe
In some cases that was probably probably contributing to the dysregulation. But yeah, those those treatments are, are not something, we, I promote by any means. I want to give one piece of information here that that for you, but also other Autistic individuals. Um, my own personal psychiatrist is actually pretty is absolutely excellent with understanding Autism, as well as how Autism works with medications and that sort of thing. And he shared with me that, um, that Autism can cause some medications to work paradoxically. Now, this is coming from an experience of my own. A few years back, I had carpal tunnel surgery on my on my right wrist. And the surgeon put me on a narcotic painkiller to help with the pain. And my anxiety went crazy. Absolutely crazy. And so I thought it was just maybe the medicine was interacting with my anti anxiety medicines and something was just off. When I went to see my psychiatrist, he said to me, he said to me, oh, no, that's not what happened at all. Your Autism caused that medication to work paradoxically to how it is supposed to work. And, you know, he said you weren't high and you weren't, you weren't. You know, he said your Autism impacted how the medicine work with your body, not the other way around. And I just find that so interesting. So that's why it's really important to really important to have a as clear of an understanding as one personally can about how medications and Autism work together. My final question Of course, is about self- advocacy. What steps should Autistic Adults and our supporters take to advocate for our needs? And there is so much work to be done in the area of self- advocacy for Autistic Adults, above the age of 18, and beyond, the self-advocacy that needs to be done between the ages of say 18 and 49 is is tremendous. But let's be perfectly upfront in saying we need robust advocacy, when it comes to Autistic Post-Menopausal Women, as well, and I'm going to throw it in for Autistic Adults, all of us over the age of 50. There is just so much work to be done. And, you know, part of my, my own personal emotion about this subject is just that, um, you know, I being in my fifth, my own 50s, I have to say, as I look to whatever future I've got, and the things that um the advocacy that has not been done on behalf of many of us over the age of 50 that that future has me very, very, very concerned about what what kind of future I will have. And so, to say that we need robust advocacy, we really do need some very robust and strategic and effective advocacy for post-menopausal women. To help answer this question, can you share with us? What are some ways that you have advocated for yourself that you have found particularly helpful, um, or that have made things a little easier for you in any way, shape or form? Go ahead.
Michele Newman
Well, my problem is, even when I was young, my life, I knew I was different, and that the only purpose of my life was to help or serve others. So I did a lot of volunteering, and even saw when I learned I had Autism or self diagnosed with Autism, the State of Colorado and just passed legislation for 10 year strategic plan to improve support for all families and individuals with Autism in the state of Colorado. I was advocating as an adult for adults on that ad hoc committee to the Disability Council for five years. And, you know, my emphasis was adults and I got accepted for three poster sessions at the Association for University Centers on Disabilities in Washington, DC, three poster sessions in into two separate years. And I could talk till I was blue in the face, and everybody who's given me polite nods or acknowledgement, but it went in one ear and out the other and the focus still was on children early diagnosis. And the state finally, I mean, it was a 10 year strategic plan, which ended in in 2019. And the best they got was an Employment First program that, you know, that would help adults with IDD to age 27. But after 27 there's nothing. Except last year, I did an annual was an annual interviewee or participant with the Colorado State. I mean, Colorado School of Medicine, where medical students in their second year and psych rotation. They would on one day they would interview parents or individuals with Autism. And I did that for five years. And you know, it's like, well, are you suicidal? Because I'm talking about it, you know, there's no hope for me. And it's, I can, I can advocate for other adults on the spectrum and be firm, but when it resorts to me, I get all emotional and, and, and, and I'm all over the place and, like, even now, advocating with public housing, I mean, that's another thing when we get older, if we've been dependent. You know, the elder abuse laws only go for people that are in constant, you know, home care, or in a nursing home or something like that. It doesn't. There's no consideration for adults who are disabled when someone like, like a public housing authority is abusive and has is that and that's one thing I've tried to do is go to the state legislature or federal legislature that they got to change these elder abuse laws. It's not only happening to me who has a disability, but I saw it happening to all seniors, yes, low income seniors. And and it's just sad that we work and, and especially the baby boomers, we've given so much to our communities and stuff. And now we're like throw aways.
Philip King-Lowe
Yeah. But you know, even though you may find it hard to advocate for yourself, at least, directly, your advocacy that you do behind the scenes, does have the possibility of impacting the people in your, in your, in your age group. So there's some hings that have been said, actually, by Dr. Regan, and actually Tas Kronby said, as we were talking about eating disorders, some of what you can do, as part of your personal advocacy is you can, if you're going to a doctor, you can prepare on a list of things you want to address. And you can bring that to with your doctor and give that to your doctor. So he will, he will take a look at them. You know, you can also have sometimes an aide there to assist you with with helping you, you know, either someone from the doctor's office or, or if you're able to access those services can help communicate on your behalf. Because while we want doctors to be more knowledgeable and better trained about working with Autistic individuals, there is no substitute, really, for doctors to hear it directly from us about how it's actually impacting us personally. So as you know, I've been a strong advocate for telling our stories. And it's important that as you work through the issues, that affect post-menopausal women, that you tell your stories ,tell you tell your doctors, the people you work around, that this is how this is affecting me. And I know that's really difficult because you get a fair amount of people just questioning you as to whether you really understand what's going on with yourself. And the thing is, is that you've been living in your body a lot longer than they have. So every every now and then you just need to make make to make the point that, hey, you know, I've been living in my body a lot longer than you've been treating it. So please give me some benefit that I know what's going on with my own body here. You know, and so, you know, it's ironic really, that Autistics have this problem with communicating, and yet when it comes to receiving the care we need, especially over the age of 50, and so on, we actually have to do our own communicating with with a fair amount of people who don't even don't even listen or pay attention.
Michele Newman
Yeah. And, and that's, that's it like my new primary care doctor I've had for a little over a year now. I joined in 2019, a local PACE program, which is a program of all inclusive care for the elderly. If you're 50 or over, usually and disabled, you can usually get into those programs. But for me, because I have Medicare and Medicaid, I get in. I have absolutely no co pays. But what's great about the organization is truly integrative care, where they have a transportation department that schedules all of my transportation to and from medical appointments, handles and processes all prescription makes scheduled all my appointments with the clinic and with specialists. There's a lot of frustrations with that, but not any more than what I had when I had United Healthcare. But they actually do all the processing, annual renewal of my Medicaid benefits, and I'm on a long-term waiver for elderly people. And so I mean, I get all this stuff. Whereas when you're on Medicare, you have a 2000 limit on these Medicare rewards program, whereas I asked for it and then they review it at the medical with the medical team. And like, I'm getting a home water distiller, countertop distiller because I have CPAP. And I also do sinus rinses. And that all uses distilled water. And there's been a shortage a few times, and the price has gone up because of the shortages. And so it's those things and I mean trying to advocate for myself, and then doctors do something they don't, I don't improve, then I get a certified letter, saying that you're too complex, and you need to find someone else because I just I can't treat you anymore. I've gotten three letters. Oh, boy. So one of them, when I was a patient at University Hospital, I sent an email to the patient care representative. I sent it on a Sunday. And by Monday night, and it was saying same thing I talked to her verbally, but put it in writing. I mean, I had Denver Police Officers knocking on my apartment door with a copy of this email in hand, but they never read the second page, they thought I was going to set off a bomb. Oh, I'm overweight, and I have to get I get around only with a walker. Um, you know, the rationality and stuff. But I've also found that doctors have big egos. Yes. It's hard to find one, that when you tell them you know more about your body and medicine because you know, a lot of people on the spectrum have intense special interests. And for for 30 years, my special interest has been my health and physiology and biomedical concerns more focus to me, but I've always had an interest in microbiology or biology since junior high. Yeah, yeah. So, you know, I just incorporating it to do all this research and get this information. But half the time they they don't listen, they don't have time to even read a three page research paper.
Commerical Break
Autism Acceptance Month & Future Shows
Today's Autistic Moment is proud and honored to celebrate Autism Acceptance Month in April. Please visit todaysautisticmoment.com/blog/ to read my most recent post Autistics: Claim Autism Acceptance Month. If you are wondering why we are changing from Autism Awareness to Autism Acceptance, please go to the Episode Index Page and todaysautisticmoment.com listen to the episode Autistic Adults and Autism Acceptance in April 2021.
Autism Acceptance Month will begin with my very special guest Eric Garcia, author of We're Not Broken: Changing the Autism Conversation. This show will air on Autism Acceptance Day on Saturday, April 2nd, 2022. Eric's book We're Not Broken begins with a great chapter about the history of understanding Autism, the setbacks and progress of public policy and theories about Autism that includes Eric's story of accepting his own Autism.
On April 18th, I will be sharing a very special show with my guest Ben Levin entitled Autism is Not A Curse. Ben Levin is the author of the book In The Hole. This novel is a story depicting a child's experience with homelessness. Ben has been in love with stories ever since he was a little boy. Ben is also proud to be Autistic and wants to use his status as an author to be an example of how Autism is not a setback, but a gift. "Autism is Not A Curse" is one of Ben's favorite sayings. Ben will share with us his personal story of accepting his Autism and how his writing is an important piece of self-acceptance.
Today's Autistic Moment is a proud Autism Acceptance Partner in 2022 with The Autism Society of Minnesota.
Thank you for listening to Today's Autistic Moment.
Philip King-Lowe
Well, Michele, I think this has been a very informative conversation. And we aren't solving all the problems today. But I think that it's so important for us as Autistic individuals to talk about these things with each other connect with other Autistics and also to kind of share these stories across the podcast world because this is how people learn exactly what are what all these challenges we live with. Um, so I really thank you for this. And we are definitely going to continue our advocacy on behalf of post-menopausal women. If you have not, I'm talking to my audience here. If you have not visited Dr. Regan's website that and Dr. Regan does a tremendous amount of work on behalf of Autistics over the age of 50 in their geriatric years as they say. I really do invite you to go to my Adult Autism Resources Links Page. And go I'm sorry. There's a link there for Autism in Adults by Dr. Reagan, it will take you to her page. And then Dr. Regan has a phenomenal podcast that really is worth listening to. Because she is so articulate and eloquent with how she communicates that information. So I really encourage my listeners to go to my Adult Autism Resources Links Page. And once again, look for Autism in Adults. Sorry, Autism in Adults. Dr. Theresa Regan. Michele, thank you so much for being here. And I do hope that this has been helpful for and to you. And I just want to say I applaud your work on your own behalf on on your own behalf for your own advocacy. And and thank you so much for sharing your story here today.
Michele Newman
Well, thank you again for inviting me and I'm back on the advocacy trail more so for myself now, in hopes that it will benefit the masses, because I've gone through hell and back. I just don't want to see someone else have the struggles that I have.
Philip King-Lowe
Yeah, I totally agree. Yeah, it's um, yeah, that's why it's so important to pass these stories on. Okay, Michele, thank you so much.
Michele Newman
Again, thank you, and hopefully we'll talk to you soon.
Transcribed by https://otter.ai
Today's Autistic Community Bulletin Board
You can now find the links for all events announced in
Today's Autistic Community Bulletin Board by going to todaysautisticmoment.com/bulletinboard/
The Ordinary Marathon Foundation invites Autistics from the ages 15 to 24 to participate in Actually Autistic Athletes. The program will include one set of shoes, shorts, socks, shirt, one pair of running shoes, a running ban, and one-on-one coaching from a Certified Athletic Coach for up to six months. Go to todaysautisticmoment.com/bulletinboard/ and click on Actually Autistic Athletes for more information and to apply anytime, but especially now through Mid-April.
Driving with Autism is a supportive webinar that offers Autistic Adults the opportunity to learn about driving with the uniqueness of Autistic people in mind. Go to autismdriving.com to learn about the program and sign up for the Autism Preparatory Virtual Driving Training Classes. The link will also be available on todaysautisticmoment.com/bulletinboard/.
Understanding Autism virtual classes will be offered by The Autism Society of Minnesota. These classes are perfect for Autistic individuals, caregivers, those who want to understand the basics of Autism and support Autistic people. Classes will be held on April 18th from 6pm to 8pm. May 16th from 2pm to 4pm. Classes are free of charge, but you must register to attend.
On Tuesday, April 12th from 7-9pm, Kendall Mager will present a virtual skillshop at the Autism Society of Minnesota, entitled: Online Dating: From Profile to Potential Relationship. Many unspoken rules come with dating and even more with online dating. Learn about some social rules as well as how to set up an online dating profile, discuss some popular online dating apps, how to prepare for a date, and how to clarify and communicate what you want from online dating.
On May 10th from 7-9pm Alyssa Perau will present a virtual skillshop at the Autism Society of Minnesota entitled Communicating Consent and Boundaries. Knowing how to communicate boundaries and consent can be a struggle at times. Learn what healthy consent and boundaries look like and how to tell if consent is happening to ensure boundaries are respected. Answer and ask questions, read through scenarios, and gain new skills to help you communicate in a healthy way.
To get information about these and other events at the Autism Society of Minnesota, please go to ausm.org. You can also go to todaysautisticmoment.com/bulletinboard/ and click on The Autism Society of Minnesota to register for their events.
Registration is now open to attend The 2022 Minnesota Autism Conference April 27th-29th, 2022, at the Hyatt Regency in Bloomington, Minnesota. There will be both in person and virtual events offered. Go to ausm.org for more information and to register.
Today's Autistic Moment is sponsored in part by Looking Forward Life Coaching. Looking Forward turns stumbling blocks into stepping stones towards success. Go to lookingforwardlc.org for more information.
Lastly, while all of the spots for ads during the podcast itself are full, you can join Looking Forward Life Coaching and have your business or organization mentioned at the end of each podcast show.
If you would like to have your business or organization mentioned, have questions or comments about Today's Autistic Moment, please send an email to PKLowe@todaysautisticmoment.com. todaysautisticmoment@gmail.com
Thank you for listening to Today's Autistic Moment: A Podcast for Autistic Adults by An Autistic Adult.
May you have an Autistically Amazing day.