Go to todaysautisticmoment.com for the transcript. Substance abuse addiction is a dire problem for Autistics. Autistics can be nine times more likely to become addicted to alcohol, prescription and recreational drugs than non-autistic people. David Gray-Hammond joins me to share his moving story about how addiction has affected his life as an Autistic Adult. --- Support this podcast: https://anchor.fm/2daysautistic/support
Click or tap on the downward arrow in the pink box below the logo. See the image below.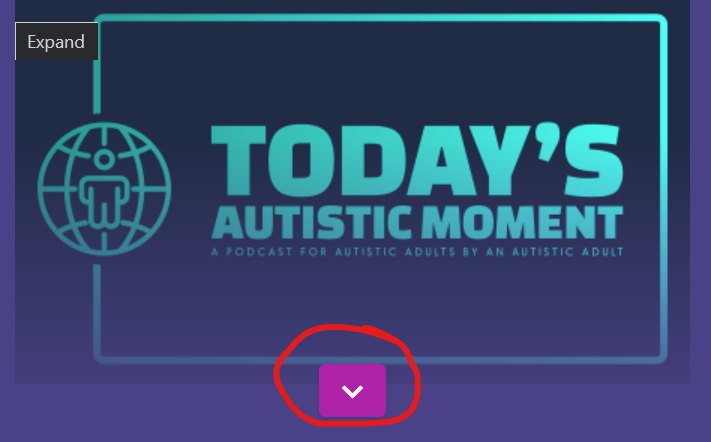 Autistic Adults: Substance Abuse Addiction
November 22, 2021
[You will notice that some words have a strike through font. These are to reflect the new website created in September 2022]
Welcome everyone to Today's Autistic Moment: A Podcast for Autistic Adults by An Autistic Adult. My name is Philip King-Lowe, the owner, producer, and host; and I am an Autistic Adult. Thank you so very much for listening.
Today's Autistic Moment is a member of the National Podcast Association.
Today's Autistic Moment is always a free to listen to podcast that gives Autistic Adults access to important information, learns about our barriers, and helps us discover the tools and strengths we need for self-advocacy.
This first segment of Today's Autistic Moment is sponsored by The Autism Society of Minnesota: Minnesota's First Autism Resource. The Autism Society of Minnesota has been serving Minnesota's Autism Community for the past 50 Years. Visit them online at ausm.org.
Please go to todaysautisticmoment.com to the New Podcast Episodes page and/or the Episode Index page to get updates, download shows, program scripts and interview transcripts. Interview Transcripts are sponsored by GT Independence.
Also, please follow Today's Autistic Moment on Facebook, Twitter, Instagram, and LinkedIn. Be sure to become a member of Today's Autistic Moment Community Group page on Facebook, where you can meet me, other listeners, exchange conversations and find program updates, news about subscriptions and bonuses, upcoming shows and take advantage of special offers.
Please help spread the word about Today's Autistic Moment with other Autistic Adults, Caregivers, Professionals, families with Autistic youth, and others who support Autistic people. Do you know of other Autistic Adults or caregivers, who are worried about preparing for the sensory unfriendly holidays? Then tell them to listen to my last episode with Zephyr James. Perhaps you know of an Autistic Adult is having issues with seeking justice in employment. Tell them to listen to Autistic Adults: Justice in Employment with my guest Samuel J. Levine. Today's Autistic Moment is available on nine different apps. So please encourage others to listen to the show. Help me grow my listener audience.
During this first year on Today's Autistic Moment, my guests and I have been trying to help decrease the social stigma that Autistic Adults experience. We also want to help bring an end to a lot of the mythical nonsense and negative stereotyping of Autistic people. On this episode, I want to address the myth that Autistic people do not and cannot experience addictions. There have not been very many studies conducted about Autistics and substance abuse addiction, however, the few that have suggested that Autistics are nine times more likely to become addicted to alcohol, prescription, and recreational drugs than neurotypical people. Among the contributors of addictions for Autistic Adults of any age are troubled mental health due to social stigmas, masking, burnout, poverty, abandonment, unemployment, isolation, neglect, and misinformation. Locating qualified therapists to provide medical, physical, and occupational therapy can be as difficult as losing a contact lens. The lack of understanding and acceptance that each Autistic Adult is unique and has sensory processing disorders that can be painful and not only disturbing, can cause Autistics to reach for substances that can soothe them. In addition, psychiatrists have often prescribed the wrong medications for Autistics to assist with depression and ADHD for example, that have led to addictions and additional mental health disorders. Substance abuse addiction is a very dire issue for Autistic Adults that needs to be addressed.
I am so delighted that David Gray-Hammond is joining me for these two very important episodes of Today's Autistic Moment. David is an Autistic Adult who has been personally impacted by substance abuse addiction and recovery. David is a survivor of enormous challenges. David has committed himself to the work of informing and assisting Autistic individuals through his work with Neuroclastic and Emergent Divergence: Autism, Addiction, Mental Health. You will be inspired by David's personal story that he articulates so well with understanding and compassion for other Autistic Adults who experience addiction.
After this first commercial break, I will begin my conversation with David Gray-Hammond. Stay tuned.
Commercial Break I
Philip King-Lowe
David Gray-Hammond, thank you for being on Today's Autistic Moment. I welcome you, thank you so much for being here.
David Gray-Hammond
Thank you so much for having me.
Philip King-Lowe
You're welcome. Um, the issue of substance abuse addiction for Autistic Adults. It sounds like it probably ought to be obvious. But we know that when it comes to Autism, and Autistics obvious to the neurotypical world, it just is not necessarily the case. And we want to talk about substance abuse addiction. Because, correct me if I'm wrong, it seems to be a bigger issue than than many realize. So um, I'm very grateful to have you here. And I'm know that I am going to appreciate what information you give and as will my audience. So I begin, what important information about for Autistic Adults and our caregivers do you have to share regarding substance abuse addiction for Autistic Adults?
David Gray-Hammond
I guess the best information I can give is just the fact that it's a real issue. It's an issue that exists for Autistic people. You know, there's this, there's this misguided thought that Autistic people aren't really so prone to addiction because perhaps we bend the rules a bit too much. And we wouldn't do something so chaotic as to engage in drug use or, or, you know, problem drinking. But the truth is, is that when you look around the Autistic community, you can already see there are a lot of people who, for whatever reason, self medicate, with things such as cannabis, but some of us move on to harder substances. Some of us get pulled into situations where we use harder substances to fit in. In my situation, I had grown up masking my Autism my entire life, because I was undiagnosed as a teenager. And when I started hearing voices, as well as being Autistic, which is actually another issue that is more common in the Autistic community than you would realize. I just did what what I'd done with being Autistic, rather than show people that I was different, I hid it from people. But keeping that inside caused a great deal of pressure. And it was because of that I turned to self medicating with substances and that that substance use over a number of years spiraled into a full blown addiction to what people would consider hard drugs in inverted commas and ultimately, nearly killed me. So the most important piece of information I can give is, please don't think that your Autistic child or your Autistic friend or your Autistic spouse isn't at risk of addiction because the truth is that addiction knows no boundaries.
Philip King-Lowe
Correct. Yeah. Um in my introduction of the show, and from I have a part of my show where I talk about future shows. I mentioned that some Autistic Adults before they're diagnosed or even after, there's a tendency to reach out for alcohol and drugs, including prescription drugs or recreational drugs, to help with anxiety or the depression and some of that is not is not helpful to them. Can you talk a little bit about what that might be like for you?
David Gray-Hammond
So for me, it started with with cannabis and alcohol. You know, I started smoking cannabis because I was I was in a really dark place with my mental health and the friends I had. They all like to go out drinking and smoking cannabis and it. It just seemed like the thing to do to fit in and then once I started doing it to fit in, I realized that actually this is making my mental health easier to cope with. But the problem was was my mental health wasn't getting better because I had support needs that weren't being met. So as the years went by, my drug use escalated and it stopped being just cannabis and drinking a bit. And suddenly I was drinking every day and I was popping prescription drugs like you know, Valium, and Lorazepam and Oxycodone and I was going out and sourcing recreational drugs like ketamine, and you know it. It escalated over a number of years. And I mean, one thing I do want to say is that I am aware that there are some people who safely use cannabis as a medicine and I support them. In that, you know, one of my controversial opinions is that I actually don't believe that substances should be prohibited, I believe that we should adopt a harm reduction model rather than a criminal law, you know, rather than criminalizing substance use. But what we do need to recognize is that especially for Autistic people who often have their needs unmet. Prescription drugs and recreational drugs can represent a real risk of escalation into addiction. When you know those support needs are being left unmet. You know, when the drug use is unchecked, is there's a real risk of danger.
Philip King-Lowe
I believe that in some of my email communications, you mentioned that opioid was an issue for you.
David Gray-Hammond
Yes, so opioids were an issue for me, I never used street heroin. But I was very much addicted to morphine and oxyodine on which oxycodine is sometimes known by the street name as hillbilly heroin. At least that's what is known as in the UK, I don't know if it's the same in the US. And they're both very powerful opioid narcotics that you typically used in end of life care, on prescription for people who are dying of very painful diseases, and I managed to talk doctors into prescribing them to me. And I, I had a very serious problem with them, you know, I would start my day off by taking a handful of oxycodine and washing it down with a bottle of or, you know, liquid morphine, you know, and it was, it was an incredibly overwhelming experience because if I could not get my hands on those substances, I would do whatever I could, to to meet that addiction.
Philip King-Lowe
Yeah. One matter that I would like to bring forward on, I have a dear friend of mine, who is Autistic. And he has shared with me that he has experienced several relapses due to the isolation because of COVID-19. That seems to have hit Autistics very hard, and has made addictions that much more complicated to control. What do you think of that?
David Gray-Hammond
Um, I mean, I can 100% relate. You know, during the COVID-19 pandemic, I had some of the worst times I've had since entering recovery. I mean, I'm happy to say I kept my sobriety through out COVID. But it took a lot of it took a lot of support, you know, I was in a privileged position I had a lot of, you know, friends and family to support me. And even though I was isolated from them, they were checking in on me regularly. Now for a lot of Autistic people then we they may not be so privileged as to be surrounded by friends and family who are going to ring them and make sure they're okay. When you couple that with addiction, it's a recipe for disaster at a times. You know, and I can 100% relate to how the isolation of the COVID-19 pandemic might drive someone back into the clutches of addiction. And I have, in fact, written on this topic during the pandemic about, I believe it was something like the Autistic addicts are not okay right now. Oh, yeah. And yeah, it's, it's suddenly, it was a real issue. And you know it. I mean, it was an issue for addicts everywhere. But for Autistic addicts, especially who I, you know, I think for whatever reason may face a greater degree of isolation and loneliness than nonautistic addicts. It was, it was a nightmare of a time
Philip King-Lowe
Yeah, I can certainly see why that would be.
Commercial Break II
Philip King-Lowe
Let's move into my second question. What are the barriers for Autistic Adults of all ages, when we speak of substance abuse addiction? And some of those barriers we have already brought up. But feel free to tell me if I'm correct or not correct here. But I would think that one of the barriers that that actually feeds, probably feeds those addictions would be our sensory processing, and how that can be so very difficult for us that we reach for that something that can we we hope will soothe some of those. So please comment on that, some of that, if you will.
David Gray-Hammond
I mean, for sure, one of the things that I one of the reasons I was so attracted to what people might refer to as downers you know, opioids, and valium, you know, drugs that slow everything down is because they reduce the sensory overload. You know, I, I'm a very, I'm very hypersensitive with a lot of my senses. And when I was using substances that that depressed my central nervous system, it made the sensory experience easier to cope with. Now, this was obviously vital in surviving when I was doing my undergraduate study at university, and part of the social expectation was to attend noisy parties and nightclubs. Which I think many of us as Autistic people, you know, we can appreciate why an Autistic person might not want to be in that environment, or if they have to be why they might not want to be sober in that environment.
Philip King-Lowe
Yeah, absolutely. Yeah. I myself, I had, I grew up with two parents who had, who were alcoholics. and due to that experience, I made a promise, I made a promise to myself, I made a commitment that I will not drink, because I will not put anybody else through what my parents put me through. So that's one of those things that I have kept very solidly attentive to. But um, the thing is, is that we all know that when, as we said, a person is feeling isolated. An Autistic Adult is feeling like the world is caving in on them, there's no way for them to go out. They are feeling the pressure of that sensory overload, or if they're hypo-sensitive, they feel like they need that stimulation that they're just not getting from other sources. And I would, you know, it goes without saying, I think that makes some of the things that Autistic Adults might feel from those addictions are so easy to just reach for and and go for.
David Gray-Hammond
Yeah, I mean, I think this is something that people don't realize is that drugs and alcohol so endemic in our society, is that they're available literally everywhere. Especially alcohol. It's ridiculous how easily available alcohol is. Considering the harm that it can cause. But for whatever reason, it is very, very available. And you know, there's there's not really limits on how much you can purchase, you know, there's, you know, it's, you know, earlier I was talking about how, you know, I don't believe in the criminalizing drugs, they need a harm reduction model. Well, alcohol goes in the other direction, you know, it's not criminalized, but there's really very little in the way of harm reduction until you've already developed a problem. And when you when you consider that environment, it's easy to see how an Autistic person can suddenly find themselves in a world of alcohol and drug abuse. Because as we've discussed, you know, we can be very isolated and lonely, you know, our sensory experiences are different, many of us have support needs that simply are not met, because you know, access to diagnosis is difficult. Post diagnostic support is not in placed, you know. And when you when you couple that with the easy availability of drugs and alcohol, it creates an environment where many, many people can can turn to drugs and alcohol, with very little support around how to use those drugs and alcohol in a sensible, safe, you know, as safe as you can be manner. And I know, that's why, you know, some of the work that I have done in my home city has been around educating people on how they can safely use alcohol and drugs or as safely as possible. Because, you know, I think one of the things we have to accept in this society is that, whether it's illegal or not, people are going to use these substances. And we need to make sure that we're doing everything we can to protect them.
Philip King-Lowe
One of our challenges can be about how drawn we can be to, to something, we can hyper-focus on something. You know, almost become really attached to something. And so I, again, I, and then, of course, there's the routine, if the routine is to constantly go to that source for something to help calm our sensory experiences or deal with that isolation that we feel so isolated. And so you know, distanced from other people, that that can be one of our greatest barriers to, to the addiction because of how, as you say, how available it is, and how easy it is to reach for it. And if someone's made it their routine to reach for these things, that's the barrier, that can be the barrier to getting out of it.
David Gray-Hammond
Yeah, and especially looking at the hyperfocus that we can have. I know for me personally, it got to a point where I was, I would, I had this routine of every night, I would gather up the various different drugs I was in possession of and I would measure out specific doses of different ones. And I would take them together. And then I would keep a journal of you know how long it took to kick in how it affected me as it kicked in. And it became like a scientific experiment that I performed on myself. On a very much substance use became more than an addiction to me, it became a fixation, I guess a special interest, it was a special interest. And also in a strange way, it was like a really dark version of stimming because it was like a stim for the whole body. And it became this repetitive routine that I could focus on. When everything else in my life was out of control. That was the one thing I could hold on to and that's one thing that made entering recovery so difficult.
Philip King-Lowe
Yeah, yeah. Well, um, the next episode we're going to do together, we're going to talk about recovery, because I feel like we're talking about the substance abuse addiction, this time, we really need to talk about recovery and on so that's coming up. That's coming up in the next episode. The third question is my favorite because I do believe that so many of us such as Autistic Adults, we already have those tools and strengths we need for self advocacy. It's just a matter of finding them and making use of them. So what steps should Autistic Adults and our supporters take to advocate for our needs? And, you know, this is one of those things where we could spend all day talking about advocacy, but let's just give give our audience and those who are experiencing these addictions, some kind of hope that they can, in fact, do some self advocacy here.
David Gray-Hammond
And so especially when it comes to Autistic addiction advocacy, there is not a huge number of people talking about substance use and addiction in the Autistic community, but it's worth searching around. You know, look, look for those little blogs that that no one's talked about yet. Because I know, you know, my blog, you know, now gets a few 1000 hits a month, but there was a point when no one had heard of it. But, you know, look for those Autistic voices that are talking about their experience of substance use and addiction. Learn from those voices. See what their needs were, how they met their needs. You know, what, what steps did they take? What steps can I take? What steps can you take. You know, be guided by the voices of experience. And then once you once you've learned from those voices of experience, it's about preparing yourself to face the world with that experience, and say, actually, this is what we as Autistic people need. And that can mean standing on your own and doing that, or perhaps finding other self advocates such as I have, who will stand along side you and help you be part of that conversation. And, you know, the important thing to remember is, is that you don't have to do this all on your own. There is a rich and diverse community of Autistics on the internet. You know, the internet is really where a lot of our strength lies as Autistics. I always remember the analogy of the choir, you know, so a choir can sing these impossibly long notes. Because, you know, one member of the choir can drop outs take a breath was the rest of the choir continues to sing. And it's the same with self advocacy. When we all speak together, we don't have to keep going until we've run out of breath, and then force ourselves to go further, we can work together so that if one of us needs to take a step back from advocating, there are still others there singing the note.
Philip King-Lowe
Yes, I love that analogy. That's a great analogy. Um, tell us a little more about your blog. That sounds like a wonderful thing. And I will make plans to include that in my Adult Autistic Community Links page. But tell us a little bit more about that blog that you do.
David Gray-Hammond
So it just started out as a little WordPress blog. And it's, it's now under the address emergent-divergence.com. You can find it through my Facebook page Emergent Divergence. You can also find it through Twitter, Instagram. I also share it on my LinkedIn. And every now and then I talk about it on my Tik Talk. But if you go to emergent-divergence.com, what it what it mostly is, is, it's a collection of writing. It's not all by me, there's a few guest pieces. There's a few co authored pieces on it, we discuss Autism, addiction, mental health, and where all those things intersect. We I in particular, enjoy recently talking about Autistic trauma. Well, I don't enjoy talking about it, but I feel it's an important topic to talk about, and I enjoy writing. So at the moment, I'm writing an article series with an advocate called Tanya Adkin, who it's called creating Autistic suffering. And through that article series we're exploring you know why Autistic people might experience poor outcomes in their life. It started out as a small blog. And you know, it now averages anywhere from 1 to 2000 hits a month. Last month, because we were doing a lot of work with the Boycott Spectrum 10k campaign. it actually got 15,000 hits, which is the most that it's ever had. And, yeah, but I just want I'm really proud of is the fact that, you know, every article on there is honest, it's raw, and it tells a story it it says something about the Autistic experience, and I hope it says something about the Autistic experience that some people might not have necessarily heard before.
Philip King-Lowe
Yeah, I think that is so very important. One of the points that I make on my podcast all the time, is how important it is that part of our self advocacy be telling our stories about what being Autistic means for us. That's part of how we learn from other Autistics. And that's how, you know, we hope that people who aren't Autistic will listen to those stories and really begin to get a sense of that. These things are real, these things are really happening. And this is why we need the neurodiversity movement that we're that we're in. And so that's just a wonderful, wonderful contribution to the Autistic community. Because through that blog, you're doing exactly what I talk about. You're telling stories.
David Gray-Hammond
Thank you, that's, that's, you know, that's I, I started writing because I wanted to be the person I needed 10 years ago. 10 years ago, I was undiagnosed Autistic. I was suffering with, you know, crippling addiction issues and mental health issues. And I felt very alone and I wanted to, I went I looking back, I realized now that having someone with my experience now, come to me, whether it be through their blog, or literally come to me, could have made all the difference. So I, I hope that you know, the work I do, gives someone who is in the position I was in 10 years ago, something to hold on to give them some hope.
Philip King-Lowe
Yeah. I think that's a great, a great thing to be doing. You know, we know, we know that among the barriers that we have, and even some of the some of the difficulties with strengths with self advocacy can be of, of not being diagnosed. We know that that's part of the bigger problem for many Autistics, many of us are undiagnosed. And so therefore, we don't really have an explanation for why we do some of the things we do. And, yes, reaching for those substances. And becoming addiction addicted To them, is just one of those things that it can also be almost be unavoidable. Especially if it's, when you're feeling isolated from people, and dating people, or creating relationships so difficult. We can create this relationship with a substance that feels like it's on our side, rather than working against us.
David Gray-Hammond
Absolutely, absolutely.
Commercial Break III
Future Shows
David Gray-Hammond will return on December 3rd for Autistic Adults: Substance Abuse Recovery.
Join me and Tas Kronby on December 20th for the final episode of 2021, Autistic Adults: Internet Safety. There is no doubt about it, the internet is a lot of fun. Social media, chat rooms, texting, dating, and gaming can make social connections easier. However, the internet is full of predators who know more about us than we know about them. Tas will join me to give us some helpful advice about watching out for risky emails, chat or text contacts, sales schemes, and social media posting.
The 2nd Season of Today's Autistic Moment will begin on January 10th, 2022. Dr. Scott Frasard will join me to talk about the Medical and Social Models of Autism. Tas Kronby will join me to talk about Eating Disorders and Trauma. In March 2022 I will have two important episodes in honor of Women's History Month. One episode will be about Adult Autistic Women. The other will be about Autism in Post-Menopausal Women. In April I will be joined by Eric Garcia who is the author of We'er Not Broken: Changing the Autism Conversation to kick off Autism Acceptance Month.
If you have a topic suggestion for 2022 and/or wish to be a guest to talk about an issue that is important to you, please send an email to PKLowe@todaysautisticmoment.com
Thank you for listening to Today's Autistic Moment.
Philip King-Lowe
This is a really great conversation. I'm glad we're having it. What are some things that you might say to, to some Autistic Adults who may be having issues with addiction? What are some things you might say to them that you think could be helpful to them?
David Gray-Hammond
I mean, the thing that I really, I really want to get across because something I needed to hear when I was in the midst of addiction is that, you know, you're, I know that you're, you're suffering right now. But things can and they will be okay, nothing is permanent. You just have to find that drive to turn your life around. You know, so me. For me, the thing that, that I had this moment because I woke up in hospital one day, with tubes down my throat, and I'd clearly nearly died of an overdose and something in me just when, actually I want to live. And I walked out of the hospital the next day. I went to the substance misuse service that was supporting me and I said, Please get me into a detox ward. I want to, I want to stop taking drugs. And they did that. And on April the 7th, 2016. I was sober for the first time in many years. And I know it feels like you're completely alone when you're in that situation. And like no one else has the same story as you. But if there's one thing I've learned is that we all have one thing that that ties us all together as addicts and that is trauma. I have not met an addict that is not a victim of trauma. And I, I would hope that through that knowledge that we all share that common experience. We can come together and support each other.
Philip King-Lowe
Yeah, yeah. And the support with the trauma piece that is such an important thing. We often underestimate how much trauma plays a part in our life. In fact, coming in 2022, I'm going to be doing an episode about trauma because because of where often we often have so much trauma, that was that we we don't, we don't completely process and post traumatic stress disorder is a big issue among Autistics.
David Gray-Hammond
It is a huge issue among Autistics.
Philip King-Lowe
Yeah. Yeah. Yeah, my therapist, the therapist I work with actually has been known to say that, um, for an Autistic individual post traumatic stress disorder is, is pretty much it's going to happen. Because of how much trauma we undertake. So that sort of thing. Well David, this has been a great conversation. I cannot tell you how, how much this has meant to me to hear this. And I am certain that among my Autistic listeners, and even those who aren't, that we've given them a bit of a picture about what addiction for Autistics can be can be. And as I say, the good news is next, next week, on next episode, we're going to talk about substance abuse recovery. And I wanted to I wanted to do it this way, because I feel like we need to give them a little bit more hope that recovery is possible, it can be done, and we want to, you know, help them by their resources and really commit to that recovery. I just feel that it's so important. But, David, thank you so much for being on today. And I look forward to talking with you next week.
David Gray-Hammond
Thank you very much for having me.
Transcribed by https://otter.ai
Today's Autistic Community Bulletin Board
There will be one class Understanding Autism and Best Strategic Practices offered from the Autism Society of Minnesota. The virtual class will be held on Monday, December 13th from 6-8pm. The class is free of charge to attend
On December 14th, The Autism Society of Minnesota will host Jason Schellack, the Executive Director of the Autism Advocacy & Law Center, LLC the virtual skillshop Guardianship: Do We Need It? Eighteen years of age is considered adulthood. Many Autistic Adults over the age of 18 will continue to need assistance with transition services, making medical decisions and applying for government benefits. Learn about the guardianship process in Minnesota.
Register now for the winter Autism Direct Support Certification classes. Classes will be on Saturday mornings from 9am to 3pm January 15, 22 and 29, 2022. Scholarships are available.
The Autism Society of Minnesota is now accepting applications to present a breakout session for the 2022 Minnesota Autism Conference April 27th-29th, 2022 at the Hyatt Regency in Bloomington, Minnesota. The deadline date for applications has been extended to November 29th.
Finally, the Autism Society of Minnesota and the Multicultural Autism Action Network (MAAN) and Spero Academy are partnering with Hennepin Health Care to offer a sensory-friendly COVID-19 vaccine Clinic on Saturday, December 18th from 10 am to 4 pm at Spero Academy in Minneapolis. Vaccines will be available for children 5 years old and up, and boosters available for those who were vaccinated at least six months ago.
For more information about these and any other events by the Autism Society of Minnesota go to ausm.org.
If you have any questions for me, please send an email to PKLowe@todaysautisticmoment.com. todaysautisticmoment@gmail.com
Thank you for listening to Today's Autistic Moment: A Podcast for Autistic Adults by An Autistic Adult.