Go to todaysautisticmoment.com for the transcript. The biggest holidays of the year are only weeks away. Everyone must be so excited for the holiday season to arrive right? Actually, many Autistics dread the arrival of the end of the year holidays. The combination of lights, food smells, crowded homes or halls with many people at one time, extra socialization can be a sensory nightmare for many Autistic Adults. Zephyr James returns to Today's Autistic Moment to talk about these sensory unfriendly holidays, with some helpful tips of how Autistic Adults can prepare for them. Zephyr will also talk about what are some helpful ways to manage our sensory needs during the holiday season.
--- Support this podcast: https://anchor.fm/2daysautistic/support
Click or tap on the downward arrow in the pink box below the logo. See the image below.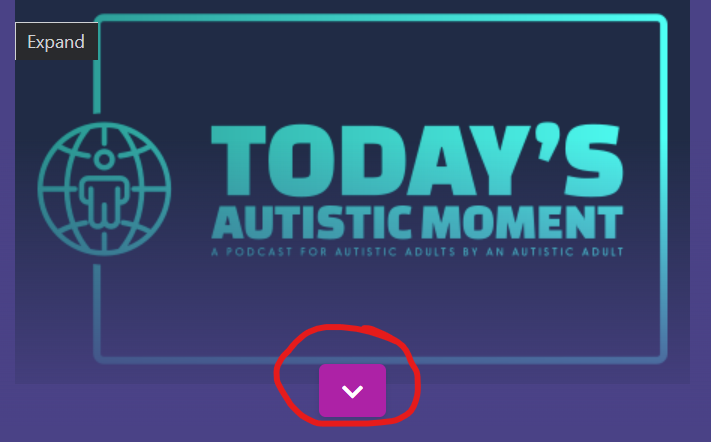 Autistic Adults: Preparing for the Sensory Unfriendly Holidays
November 8, 2021
[You will notice that some words have a strike through font. These are to reflect the new website created in September 2022]
Welcome everyone to Today's Autistic Moment: A Podcast for Autistic Adults by An Autistic Adult. My name is Philip King-Lowe, the owner, producer, and host; and I am an Autistic Adult. Thank you so very much for listening.
Today's Autistic Moment is a member of the National Podcast Association.
Today's Autistic Moment is always a free to listen to podcast that gives Autistic Adults access to important information, learns about our barriers, and helps us discover the tools and strengths we need for self-advocacy.
This first segment of Today's Autistic Moment is sponsored by The Autism Society of Minnesota: Minnesota's First Autism Resource. The Autism Society of Minnesota has been serving Minnesota's Autism Community for the past 50 Years. Visit them online at ausm.org.
Please go to todaysautisticmoment.com to the New Podcast Episodes page and/or the Episode Index page to get updates, download shows, program scripts and interview to read the transcripts. Interview Transcripts are sponsored by GT Independence.
Also, please follow Today's Autistic Moment on Facebook, Twitter, Instagram, and LinkedIn. Be sure to become a member of Today's Autistic Moment Community Group page on Facebook, where you can meet me, other listeners, exchange conversations and find program updates, news about subscriptions and bonuses, upcoming shows and take advantage of special offers.
The first Autistic Voices Round Table Discussion held on October 20th was a huge success. All of the panelists were outstanding. There were 25 to 30 people who attended. I am happy to announce that I have planned four Autistic Voices Round Table Discussions for 2022. Go to todaysautisticmoment.com/autisticvoices/ to look at the topics planned for 2022, and the dates to apply to be a panelist.
Please visit todaysautisticmoment.com/adult-autistic/ to the Adult Autism Resources Links page to read a Wikipedia article that states the truth that vaccines do not cause Autism. The vaccine controversy that now surrounds the COVID-19 vaccines is being used to further state the false claim that the measles vaccine causes Autism. In 1998 Dr. Andrew Wakefield wrote an article in The Lancet claiming that Autism was caused by the MMR vaccine. Since that time there have been numerous studies with papers written to prove that it is false. The Lancet retracted the article in 2010, which led to Dr. Wakefield being taken off the UK medical register. His theory about the vaccine causing Autism was later described as "the most dangerous medical hoax of the last 100 years." Furthermore, the claim that the vaccine causes Autism comes with a very damaging message, that people would rather have their children suffer from a life-threatening disease, than be Autistic. Using this false claim to suggest that the COVID-19 vaccines could cause other problems is nonsense. So please, enough with the false conspiracy theories about vaccines. Go read the article on todaysautisticmoment.com/adult-autistic/ and stop making excuses. Go get vaccinated to stop COVID-19 from spreading.
November 18th is Give to the Max Day for Minnesota Non-Profits. Every dollar raised and donated through GiveMN.org between November 1st to the 18th will be doubled. Today's Autistic Moment is sponsored by three outstanding Minnesota non-profit organizations that will be greatly helped through Give to the Max Day. Go to GiveMN.org and donate to The Autism Society of Minnesota, Looking Forward LC and the Minnesota Independence College and Community. The donations you make will give these organizations the necessary funding to deliver their essential services to Minnesota's Autism Community and other disabled people. One more time, go to GiveMN.org anytime up to November 18th and make your donation to The Autism Society of Minnesota, Looking Forward LC and the Minnesota Independence College and Community. When you donate, mention that you are a listener of Today's Autistic Moment. Thank you so much.
As November has arrived, so the preparations for the holiday seasons have also begun. The Christmas musak is playing in the stores, and on certain radio stations. All of the cheesy Christmas specials are being played on the Hallmark Channel until December 25th. Plans for who will be at the holiday dinners are well underway. Plans for lighting Advent, Christmas and Hannukah candles are being made. Meanwhile, many Autistic people are preparing themselves for the inevitability of sensory and social nightmares the holidays bring to us. There are some Autistic Adults that cannot smell, eat, or digest many of the traditional holiday foods without getting physically ill because of their sensory processing disorders. Yet, many are expected to go into the homes and places where the aromas of those foods is in their noses and stomachs as soon as they walk through the doors. The normal routines of how their homes are decorated, and the heightened anxieties and expectations are not just stressful for some Autistics. They can be toxic to our social batteries and sensory limitations. While many are planning to buy the perfect surprise gift for their Autistic loved one, what some do not understand or appreciate is that some Autistics don't do well with surprises. Surprises can be downright uncomfortable for some Autistics. What can be more frustrating, is when the caregiver of an Autistic minimizes or dismisses through gaslighting what is contributing to the sensory overloads during the holidays.
Autistics need to plan to take care of their needs during the sensory unfriendly holidays. On this episode of Today's Autistic Moment, Zephyr James from the Autism Society of Minnesota will join me to give some very helpful advice to Autistic people and their caregivers alike some ways to prepare for the holidays. The tips Zephyr will offer can help make the holidays more enjoyable for the Autistic people and their neurotypical loved ones at your holiday celebrations.
After this first commercial break, I will begin my conversation with Zephyr James. Stay tuned.
Commercial Break I
Philip King-Lowe
Zephyr, thank you so much for coming back on this is your third visit to Today's Autistic Moment this year. And I'm very, very happy for you to come back for a third. On my first year, my first year is is lining up here. So yeah, so this is exciting. And the holidays are coming up. And you know, people are really some people are really excited, and some Autistics are terrified. We go through that every year. But there's a lot of people who don't realize that who don't know that. But that's what we experience. Because our sensory processing needs are so diverse. What's joyful, joyful, for some is awaiting the next nightmare for for us. It can be can be for us. Okay, so I just think it's a good idea to sort of give some Autistic Adults and caregivers some thoughts about that, and maybe some ways to prepare for the inevitable, as we say. So let's do it. Let's say what important information do Autistic Adults and our caregivers need to know about as we prepare for the sensory unfriendly holidays?
Zephyr James
Yeah, I mean, so that's a, that's a pretty big question. I think there's a lot of stuff that happens over the holidays. And it can be really different depending on who you are, and your family traditions and the expectations of the people around you. So everything that I say, is going to be applicable to some folks. And not all folks, which I'm pretty sure is a disclaimer that I make every time I'm on here, because I, you know, I just I just want to be aware of that. So the first thing I'd say is that, for our caregivers, and the people who love us and surround us, it's just really important to know that the holidays, for almost every Autistic person that I know, are pretty challenging. Even for those of us who like the holidays, it's still a huge disruption from our normal routines. It's a lot of new sensory inputs, because we're usually encountering out of the ordinary food, different people, different environments. And so even if we like some of those traditions, there's still a lot of stuff that's happening that can be overwhelming for us. So for the people around us, it's really important to know that we might need some extra support, we might need extra planning in advance, we may not be able to do as much as other folks can do. You know, if the family tradition is to hang out for a full day on say Christmas, your Autistic family member might not have eight or 10 hours of time in them, they might need something a little bit shorter. So my biggest advice for both Autistics and caregivers, is to prep in advance. To think about what do you like and dislike about the holidays? What things are really challenging for you? Are there ways that you can minimize the challenging parts? Or get rid of them altogether? Are there ways that you can make those challenging parts easier for yourself? And what is your escape plan, because even with all of the preparation in the world, you may still end up having a really rough day and need to dip out of Thanksgiving dinner early. And it's good to know in advance how you're going to do that instead of having to figure it out, when you're melting down and when you're really overwhelmed. So I'm just to give like a quick example because that's all kind of general and I tend to find it more helpful to think in specifics. I have a history of an eating disorder. So for me, one of the really big challenges around the holidays is food, especially Thanksgiving, which is a very food centric holiday, I still play with my family it is, you know, we we get together around two o'clock in the afternoon and start eating and don't stop until about 10 o'clock at night. And that's just a lot for me. So I go into that holiday, knowing that food is going to be difficult for me, I give myself certain boundaries, you know, I choose to show up later to that holiday than I might have in the past, because I know it's easier for me, if I don't have to be there for quite as long. And if I don't have to encounter quite as much food, I give myself permission to say no to any food types that I don't like. And I am lucky in that I have a family that is accepting of that. If I say I don't like turkey, I'm not going to eat turkey on Thanksgiving, nobody badger's me about it. And I'm very lucky on that front. So if you're not someone who has that type of family, you may have to come up with some scripts in advance, to be able to say to your family members, no, I'm not going to eat that, I don't care for it. And to set that boundary and stay firm on it. And knowing that even with those sort of pieces in place to help keep myself feeling more, keep myself feeling more comfortable, I may still have a really rough day, I talk to my husband in advance and know that if I need to leave early, we have a way that I can communicate that to him. And we can just make our excuses and head out. And he'll be the one who will do that for me, which is really helpful to have that person in my corner who's who's helping me set some of those boundaries. So that's kind of how it looks in my life that might look very different in somebody else's life. But I think it's helpful to see a concrete example.
Philip King-Lowe
Yeah, I think one of the important things that we need to mention here is to is to be sure that we've designated safe spaces for us. And if and, you know, sometimes it might not, it might, it might not be a bad idea that if you're going to somebody else's house, to maybe say in advance, they may need a safe space, they can go to a place where there's not going to be a lot of people around, please to kind of withdraw to kind of, you know, recenter, if we will, and just to ask, please, you know, what, what's the place that I can go?
Zephyr James
That's a fantastic idea. Yeah.
Philip King-Lowe
Yeah. Because, you know, it's not just foods, it's like, when, when. Well, when the relatives are coming in, and the crowd is getting larger, and you're feeling smaller. It's just like, Oh, you know, just feeling really scared or really anxious about that. And let's also talk about the fact that during the holiday seasons, anxiety is on the rise for everybody. And if it's on the rise for everybody, and there are Autistics who have anxiety disorders, it's going to be really on the rise for us. And so the need to have a space to withdraw from and say, Look, don't, you know, and be very firm about setting a boundary there, that, you know, I'm going into the space when I go in there, don't come after me, don't don't, you know, assume you know, I'm not being antisocial. But I do need to just not be social for a little while, because this is way too much for me, too, for me to take, you know. And then the other thing that is so challenging I think during the holiday seasons is the expectations upon people. We know that expectations really rise for the for those holiday seasons, and sometimes just helping Autistics feel like they don't if they can't meet all of those expectations, then that's just who they are. That they will just need some different expectations Not, not more, not less than. Well, let's talk about some of that, please.
Zephyr James
Yeah, I think you've hit on something really interesting here because, you know, sort of the the framing of the topic as we came in with sensory unfriendly holidays. And I think there's another piece to why the holidays can be really challenging. And that is the social aspect of it. Because the holidays are this huge social explosion. All of the challenges of socialization kind of at a 10. People, you don't necessarily see that often. A lot of people. Long stretches of socialization. Socialization in ways that is like not familiar or normal, like I don't sit around with my family just talking for a number of hours on a regular basis. So I don't have any familiarity or comfort with that. So there's all of these things that are going into that social aspect of it, that can, I think, lead to some burnout. So yeah, in addition to all of the sensory stuff that you have going on, so being aware that there's that sort of combo pack of challenges can be really helpful. And I think, in my experience, the most helpful thing is to over communicate. So like you said, identifying a safe space in advance. And also just letting people know, like, Hey, I might have to take a break. I'm not mad at you, nothing is wrong. But you know, I run out of energy. So I just need to go take a break, and, you know, gather some energy back up, and then I'll be back. And it'll, it'll mean that I get to see more of you. I think it can be really helpful to frame your needs in terms of, I want to participate. you know, I'm asking for these accommodations, because I want to be here, and I want to see you, and I want to be a part of our holidays. And when I have these accommodations, that means I can. It's very easy for family members to hear you say I want to take a break and to them, that means you don't want to be around or you're not having a good time. There's a lot of assumptions built into holidays, a lot of like you said a lot of expectations, a lot of this is how we show affection and love for each other's by being together on this holiday. And so being really explicit that it's it's not about that it's not about any sort of judgment of the other people there. It's about you taking care of yourself so that you can participate. I think that's a huge part of it. Yeah. And as I think about that, many holidays come with a lot of traditions baked into them. And many people have a lot of feelings about traditions, both positive and negative. But if you have a family that has a lot of traditions that aren't accessible to you, it can be helpful to think in advance about whether there's new traditions you could build together. Or a slightly different variation on that tradition that you can build together. Let's say you have really strong sensory sensitivities to scent, and you have a family that lights Advent candles, and you are bothered by that smell. You might let your family know like I would love to participate in this tradition together, could we use LED candles instead? It's a little different, but maybe we can do it that way. Or maybe we can do an arts and crafts together and make paper candles that we put out if you have kids in the family or something like that. So there's absolutely ways to build traditions that work for you. I think as Autistics one of our strengths is ritual and routine, and finding meaning and doing something the same each time. So we're very well suited to building new traditions. And if you offer something up as I want to make something with my family, and with the people that I love, I want to make this tradition together with you. That is a really nice invitation. It can feel very welcoming to your family if there's some tension there.
Commercial Break II
For more than 50 years, the Autism Society of Minnesota has been listening to and supporting the local autism community. We provide support throughout the lifespan, including residential camps, free support groups, mental health counseling, classes and trainings, the annual state autism conference, the Autistic Community Summit, an information and resources hotline, political advocacy, and more! Donations to AuSM forward our mission of providing programs and services that enhance the lives of those in Minnesota's autistic community.
We want you to engage with AuSM this November.
Directly impact the lives of individuals with autism by donating to AuSM during Give to the Max Day, our statewide days of giving! Thanks to our match fund, donations made to AuSM through November 18 on GiveMN.org will be doubled up to $23,405!
You also can support AuSM's mission and help provide essential programming and services to the Minnesota autism community by participating in our Bid to the Max online auction and our Topsy Turvy for AuSM social media challenge through November 18. In our auction, you'll find one-of-a-kind items, themed baskets, and great experiences – and you can bid from the comfort of your home.
The Topsy Turvy Challenge has our community changing up things in their everyday lives, snapping photos, and sharing and tagging friends to participate on social media. We challenge you to get creative while supporting AuSM!
Learn more about AuSM and these fun ways to engage with us in November on our website, www.ausm.org. AuSM is a proud sponsor of Today's Autistic Moment podcast.
Philip King-Lowe
Let's move into what are the barriers for Autistic Adults of all ages during during the holiday seasons? And I think that one of those barriers is, I think one of those barriers that can be really challenging for us is to communicate what our needs are to the people who need to know that we have them. Because because you and I both know that communicating Autistic needs to people who don't understand Autistic needs, it's, it's it's not, it's not simple, it's never simple. Or at least I don't think it is. I you know, um, you know, and you know, part I think part of that is just I think part of the barrier is feeling like we have to we have to help people understand what our needs are. And the barrier there is that making sure that we take care of our needs rather than putting the responsibility on someone else to do it. You know, we really do have to do take care of ourselves and our in our and our create our own boundaries here and that's part of the barrier but creating boundaries can be really challenging for many of us Autistic Adults, because we're, we may may or may not know where those boundaries are. So I don't know you can take off from that.
Zephyr James
Yeah, I have a lot of thoughts about that. I think there's a couple of pieces as to why articulating your needs is so challenging. I think one of them is many of us don't necessarily know what our needs are. And I don't say that in like a condescending like, we don't know ourselves. But I say it because we don't have a lot of roadmaps for the kinds of needs that we have, we don't have a lot of examples of what it might look like. We're often told to ignore our needs by society around us. So it takes a lot of work to actually stop and reflect on why something might feel uncomfortable or difficult to you. Identify what it is that's causing that problem for you, and then figure out what could help. So that's actually quite a lot of steps. And some of those are things that we might struggle with, because of our Autistic neurology, you know, if I think about the fact that interoception was one of the senses, and many of us have dysregulated, sensory systems, we may not know, if you're feeling hungry, or over full or tired, or something like that. So you may not be able to recognize that that's playing a role in why you're really overwhelmed during the holidays. So I think the first step is to really set aside time to reflect on how holidays have gone historically, and what has felt good and bad to you. And if you have somebody that you trust that you think has a good understanding of who you are as an Autistic person, it can be very helpful to talk it out with them and bounce some ideas off of them. I'm very lucky to have a husband who is really supportive and understanding and pretty well informed about Autism. And so there are times where we might be talking about something and he'll notice that I have distress or discomfort about something before I do. And he'll be able to identify, I think that might be hard for you, because it's really tough on your executive function. And I won't even have known that. It can be really helpful to have somebody to reflect those things back to you. Once you've figured it out for yourself, then you have the added difficulty of communicating it to someone else. So this is a multi step process. And that's executive function right there is keeping all of those steps in order and making sure you're doing them. So of course, it's challenging, right? I like to keep them in their little boxes, I like to say I'm just going to start by reflecting. I'm just going to start by figuring it out for me. And once that's done, and I feel good about that, then I think about, Okay, how do I talk to somebody else about this? Who do I need to talk to you about it, what do I need to get from them? So keeping them as nice, really discreet pieces can help make it less overwhelming and less intimidating. I usually like to go in with a script or with some talking points, if I am going to be sharing with another person about what my needs and boundaries are. I find it helpful to keep myself focused and on task and to be ableto write out how I want to explain something so that I'm not trying in the moment to come up with words. Because that can be really tough. You might write it as a letter. There's nothing wrong with writing an email to to a family member, if you're going to be going to their house for a holiday and saying really excited about this holiday. I just want to let you know that here are some of the challenges that I've faced. And it would be really helpful to me if you could provide a safe space, or you know, allow me to take some breaks during the day or whatever it is that you might need. I also wanted to note that, while I totally agree with you that we are responsible for meeting our own needs, I think we also need to remember that it's okay to ask for help. You know, we're doing a lot of work by figuring out what those needs are and articulating what could be a solution to that. And many of us feel very uncomfortable asking for things asking for accommodations, asking for what feels like special treatment but is actually just equitable treatment that lets us participate in our way. So you might have to practice asking for help a little bit. You might have to do just a little bit one year, because I might feel very scary and very intimidating and then maybe ask for a little bit more the next year. It's okay to be intimidated by that, but remember that you deserve accommodation. That is something that you should be able to have. I find it most effective if I can come in, explain why something would be helpful to me, and then offer a solution. But you don't always have a solution, you might just come in and say, Hey, I just want you to know, it's really hard for me to be around this many people. I just want to give you a heads up that if I start getting really stressed out, that might be what's going on. And maybe the other person will have suggestions for you. It really it depends on who you're talking to how often we're going to be. But I do encourage folks to practice asking for help and practice setting those boundaries. Because those are two really difficult skills and ones that as Autistics we are often told not to use,
Philip King-Lowe
Yes. Yeah. The other thing that I want to name is a barrier. And this is really a message to our caregivers. And, and this is we need we need, we need to say this. This is one of my moments where I'm gonna say, children and Autistic Adults alike. Um, this is, you know, there is often the pressure someone giving some pressure, well, you have to go to this because this is what we do every year. Or, you know, almost like forcing us pushing us into something that we know, is not not suitable for us. It's not going to work for us. Please, please don't do that. That's actually a recipe for disaster, or isn't a recipe for help. Okay, if if, if your Autistic relative, friend whatever, just can't tolerate certain foods, no, putting them in front of them and saying, you have to eat them. No, that's just not going to work, it's not going to happen. Okay. And it's only going to make the holiday season that much more difficult for the Autistic person, and quite frankly, that people around that person. Okay, that, you know, quite frankly, Autistic people, often we develop our own traditions because of what our Autistic sensory needs are. So, you know, it's not just a simple matter of, you know, just don't just do it and live with it, and you'll be fine. So I think we need to, we need to clarify that. I was just talking about not forcing let's stick people into situations that are not cool for them. Let's please give some caregivers and others a little bit more more information. I think about that one, because it can be a real barrier for a lot of Autistic people. Yeah. Go ahead.
Zephyr James
Yeah, I think that's a huge, a hugely important point. And, you know, I understand I want to offer some empathy to the caregivers and support folks who feel like they are, who have the impulse to do that. Because I want to say that I understand why you might have that impulse, You want to include your family member. You want to build positive memories with the people around you for these holidays, there's something that's important to you about this holiday tradition. And those are all real and valid feelings. But you're not going to get those needs met by forcing your Autistic loved one into the situation. So if what you really want is to spend time with the people you care about, to have a positive time with them, to make good memories. The way that you do that is by creating an environment that's comfortable for everyone so that people want to show up and so that they want to be there with you. And if you think about the holidays from that perspective, I think what most of us want out of the holidays is those connections, is those moments with the people that we love. The best way to get that is to listen to the Autistic person in your life, about what's going to work for them. And what will not work for them. Because let's be perfectly honest, if you strong arm somebody into showing up to Christmas dinner and they're miserable the whole time, you're gonna be miserable too.
Philip King-Lowe
Right. Yeah, I agree with that. It can be just as challenging for Autistic people to communicate these things to our caregivers, I think, and our caregivers to sometimes understand us. You know, um, during my episode with Lyric Holmans about gaslighting, they kind of implied that they feel that the theory of mind actually belongs as much to the non autistic as it does to be Autistic, because we're two different people trying to communicate, trying to understand what each other needs. And that's not always as clear as we'd like it to be.
Zephyr James
Yeah, so there's actually a name for that it's called the dual empathy problem. Which basically is, is this idea that, if you put two neurotypical people together, they do reasonably well at communicating with each other. And if you put two Autistic people together, they do reasonably well at communicating with each other. But if you put an Autistic person with a neurotypical, they don't do reasonably well at communicating with each other. And what that indicates is that it's not the fault of one or the other of those participants. It is a mismatch in how we understand each other. And often that mismatch is attributed to the Autistic person as a deficit. But that's not what it is. It's on both sides.
Philip King-Lowe
Yeah. And Yenn Purkis actually spoke about that about how oftentimes, you know, they know and you and I know that when sometimes when we're, we're with other Autistic people. We feel like the language barriers are gone. We now can talk to each other without the language barrier there. And, you know, Yenn, you know, goes to these close groups regularly, where, where they have interactions with other Autistic people, because that just makes their life a little easier, that sort of thing.
Zephyr James
There's research to back it up. That there is more miscommunication in that Autistic to neurotypical interaction than there is in other in either of the other parents. So we communicate effectively with each other. We're perfectly good at that,
Philip King-Lowe
Last question, of course, is always what steps do Autistic Adults and our caregivers need to take to advocate for our needs? And here's one of those things that I'm going to say, Autistic Adults, this may be that one time of the year where you're advocating for yourself probably more than any other time of the year. And quite frankly, if that's what you have to do, is what you have to do. And, you know, your self advocacy can be, you know, explaining, or even writing out what your needs are. I mean, that's a great way to number one, you know, maybe come up with a, I don't want to say these are 10 things I'm going to need during the holiday season, and let your let your caregiver know that. I mean, that's okay. It is part of our self advocacy of just saying what our needs are, and to kind of work on how can those sensory needs be met. Because, you know, part of the barrier that we just finished talking about, though, is that our sensory needs can be very complex, they can either be very many of them, or not so many of them depending on you know, and then there's always the hypo sensitive versus the hyper sensitive. And you know, they can they can, they can, they can there can just be as many hypo is there as hyper, they can all be kind of interacting with each other. So talk about that, if you will,
Zephyr James
Yeah, for sure. Um, so I think we have touched a lot on ways that you can advocate for yourself to other people. But one of the things that I want to remind Autistic Adults is that part of your advocacy is taking good care of yourself. Absolutely. As you are doing all of this very hard work of advocating for yourself and setting boundaries and asking for support. Give yourself days off. One of the biggest things around holidays for me was saying that I was going to do less. My family likes to do a lot on the holidays. You know the date, we do Christmas Eve stuff. We do Christmas Day stuff. We do things the day after Christmas. We do things throughout the whole week afterwards. But there's family in town, there's constant stuff happening. And when I realized that I could say no, I'm going to do two days with with my family. And that's it. It was a game changer, because I suddenly had days where I could pause and recuperate. I could focus on my sensory needs, and getting them meet the way that I needed to. And I could get a break from that constant feeling that I needed to advocate for myself. So you're gonna burn out, if you don't give yourself those days off, if you don't give yourself downtime. If you don't think about what will make the holiday feel good for you. What, what feels like, a nice holiday time to you? Can you give that to yourself,? I do that by saying Christmas Eve I spend with my husband. We don't see anybody else. We hang out in our pajamas and watch Christmas episodes of TV shows and drink mulled wine. It's very low key, there's no pressure whatsoever. And that is what feels really nice to me and my sensory needs. So don't forget that part of advocating for yourself is advocating for what you want, and what you like, and giving yourself space to get that need met.
Philip King-Lowe
Yeah, you know, I, the holidays are times when we share a lot, a lot of things about ourselves with people. And so you know, I've been diagnosed now 10 years. And so it's given me a lot of time to reflect on things as, as what's happened in my, in my own own life history. And so here's a little bit of something for everybody. My dad's family was a family of 11 brothers and sisters. And my mom's family was actually a big family as well. So for holidays, like Thanksgiving and Christmas, we spend some of our time at home, then we would go to my grandmother's house for dinner or, or exchanging gifts. And then we would move from there and go up to my, my, my uncle, my father's brother's place and hang around with all these other relatives up there. So you know, and then later on in life, when when my dad wasn't really around anymore, my mom, and I used to sit there and say, My God, it feels so nice just to be at home and away from everybody. And what I now realize is that, the reason that I used to get so exhausted, so physically so personally exhausted. And I remember when those things were going on, I kept looking for some space to be away from everybody, because it felt like it was too much. I now realize that that had a lot to do with the fact that I'm Autistic. I didn't know that at the time. But you know, I'm, you know. Part of advocating for yourself is, you know, basically, even if you have to go back through your memories, and you remember certain things and why, why you have this response to it, or didn't respond. You know, um, it's a good way to kind of educate and reeducate yourself about what's been happening with your Autism. Um, you know, I guess what I'm saying is that, um, as I always say that being the expert about your Autism is so very important this time of the year, because you're the one that really has to ultimately take care of your sensory needs, even if it is, as you just said, telling somebody, no, we really don't have people over or have or have these large, large social events on these dates. And, you know, nowadays because of COVID-19, that's not quite the pressurized thing that it once was, but still, you know, yeah, it's it's one of those things that we have to we have to know, our own Autism and we have to know to speak up about our own Autism and to plan around our own Autistic needs. I remember you saying earlier this year about the one we're talking about COVID-19 it is always the right time to prioritize your Autistic needs. And that includes the holiday season.
Zephyr James
Absolutely. I stand by it.
Commercial Break. III
Future Shows
The next two episodes will be about a very important topic. Substance Abuse Addiction and Recovery. Substance Abuse Addiction is a very serious problem for many Autistic Adults. Social isolation, sensory processing disorders, abusive relationships, post-traumatic stress disorders, anxiety disorders and physical pain; coupled with alcohol, prescription and recreational drugs being so easily available makes Autistic Adults very vulnerable to substance abuse addiction. David Gray-Hammond from Emergent-Divergence will be my guest on November 22nd to talk about Autistic Adults: Substance Abuse Addiction. David will return on December 6th for Autistic Adults: Substance Abuse Recovery. David will share with us his powerful personal story of how addiction affected his life before his Autism diagnosis, due to masking and burn out. You will be equally inspired by David's story and advice about substance abuse recovery. These are two very important episodes for Autistic Adults and their caregivers in light of the COVID-19 pandemic and the holiday seasons. Don't miss these shows.
The final show for 2021 will be on December 20th. Autistic Adults: Internet Safety. My guest is Tas Kronby. There is no doubt about it, the internet is a lot of fun. Social media, chat rooms, texting, dating, and gaming can make social connections easier. However, the internet is full of predators who know more about us than we know about them. Tas will join me to give us some helpful advice about watching out for risky emails, chat or text contacts, sales schemes, and social media posting.
The 2nd Season of Today's Autistic Moment will begin on January 10th, 2022. Dr. Scott Frasard to talk about the Medical and Social Models of Autism. Tas Kronby will join me to talk about Eating Disorders and Trauma. In April I will be joined by Eric Garcia who is the author of We'er Not Broken: Changing the Autism Conversation to kick off Autism Acceptance Month.
Thank you for listening to Today's Autistic Moment.
Philip King-Lowe
I think one of the things might be for some of us to take some time to maybe in some of those quiet spaces, those safe spaces may be to learn to identify what our sensory needs might be. And maybe to use that as sort of our aid to inform people about what our needs are. And you know, there are definitely ways to do that sort of thing.
Zephyr James
Yeah. And I would, I would remind folks, you brought up hypo and hyper sensitive earlier, especially in the holidays, it's easy to notice all of the extra input that's coming in. And notice when your hypersensitive senses are overwhelmed, but keep in mind that you're probably not on your normal schedule during the holidays. And so you might be missing some of the sensory inputs that you're used to. You may also need to think about what you can add back in. And I think that gets lost a lot. I think it's easy to forget about that piece of sensory regulation, especially, especially when we're talking about a time this as sort of busy and overwhelming as the holidays. But for example, I know that I need very strong propriate receptive and vestibular input, I do aerial hammock a lot, I do probably 10 to 15 hours of it a week. And during the holidays, I can't get that. And so it's good for me to remember, I'm missing this really strong regulating input input for myself. How else can I get that? Is there something else that I can do during these holiday times to help regulate myself?
Philip King-Lowe
Yeah, yeah. And maybe even build up some sensory traditions for yourself. You know, there's nothing wrong with finding your own your own holiday traditions that help that's for you. Yeah, I mean, you know, I think you have to do those things. You know, now that I'm in my 50s, and I live with my own husband, I mean, our holidays are pretty much staying in and just being together and communicating with relatives by phone for us. That's seems to work for us. Because, you know, we've just had that routine ever since we've been together. And it seems to work. So yeah, but that sort of thing.
Zephyr James
Yeah. We've we've talked around this, but I think sort of the final piece I would I would add here is that there's no wrong way to do the holidays. A lot of us have assumptions about what a holiday should look like. Throw it out the window. What feels good to you. It's what right,
Philip King-Lowe
Zephyr, you've been so helpful to me this first year for Today's Autistic Moment. You and the Autism Society of Minnesota. I've said before, you're all my best Autistic friends. I feel like that a anyway. And so I'm just so grateful for all that you do. And there's more to come come in 2022. Of course. Maybe before we wrap up, would you like to share with our listeners, some exciting things that might be happening in 2022 att the Autism Society of Minnesota?
Zephyr James
Yeah, well, first of all, thank you so much for for those kind words about us. We have loved seeing this first year of the podcast, it's been absolutely great. And we love being a part of it. In terms of 2022 with AuSM. COVID is still is still a player right now. So we don't have as many solid plans as we maybe would in a typical year. But we are incredibly excited about our conference in 2022. Because as of right now, we are planning to be back in person in April for the first time in, I think three years, which is incredibly exciting for us. We are going to be hosting Steps for Autism in person again in May this year, we moved it to May last year and we're really excited about that new sort of timeframe and location. And doing that for a second year. You can look forward to AuSM Summer Camps again in 2022. We had sort of a scaled down version last this last year in 2021. We're hoping we can ramp it back up and get more folks into those summer camps again this year. And as always, we are planning workshops, we are planning classes. There's always stuff in the hopper. So definitely keep an eye on the AuSM website because we are constantly adding new things
Philip King-Lowe
Yeah, that's great. Okay, so for thank you so much for being here today.
Zephyr James
Thank you. This was great.
Transcribed by https://otter.ai
Today's Autistic Community Bulletin Board
Autism and Best Strategic Practices classes are being offered from the Autism Society of Minnesota. Virtual classes will be held on Monday, November 15th from 2-4pm and on Monday, December 13th from 6-8pm. Classes are free of charge to attend
On December 14th, The Autism Society of Minnesota will host Jason Schellack, the Executive Director of the Autism Advocacy & Law Center, LLC the virtual skillshop Guardianship: Do We Need It? Eighteen years of age is considered adulthood. Many Autistic Adults over the age of 18 will continue to need assistance with transition services, making medical decisions and applying for government benefits. Learn about the guardianship process in Minnesota.
Register now for the winter Autism Direct Support Certification classes. Classes will be on Saturday morning from 9am to 3pm January 15, 22 and 29, 2022. Scholarships are available.
The Autism Society of Minnesota is now accepting applications to present a breakout session for the 2022 Minnesota Autism Conference April 27th-29th, 2022 at the Hyatt Regency in Bloomington, Minnesota. Applications are due by November 19th.
For more information about these and any other events by the Autism Society of Minnesota go to ausm.org.
If you have any questions for me, please send an email to PKLowe@todaysautisticmoment.com. todaysautisticmoment@gmail.com
Thank you for listening to Today's Autistic Moment: A Podcast for Autistic Adults by An Autistic Adult.