Go to todaysautisticmoment.com for the transcript. Discovering that we are Autistic and of a diverse sexual orientation or gender identity, can be a coming out process. As we begin October as National Coming Out Month for LGBTQIA+ people, it is only fair that we talk about coming out as Autistic too. My very special guest Yenn Perkis joins me to talk about their life experience of coming out as Autistic, Asexual, Queer and Nonbinary. Enjoy the show. --- Support this podcast: https://anchor.fm/2daysautistic/support
Click or tap on the downward arrow in the pink box below the logo. See the image below.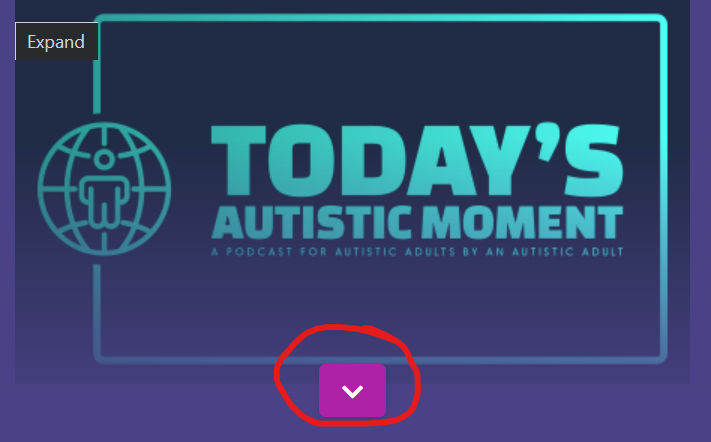 Autistic Adults: Coming Out as Autistic, Queer and Nonbinary
October 4, 2021
[You will notice that some words have a strike through font. These are to reflect the new website created in September 2022]
Welcome everyone to Today's Autistic Moment: A Podcast for Autistic Adults by An Autistic Adult. My name is Philip King-Lowe, the owner, producer, and host; and I am an Autistic Adult. Thank you so very much for listening.
Today's Autistic Moment is a member of the National Podcast Association.
Today's Autistic Moment is always a free to listen to podcast that gives Autistic Adults access to important information, learns about our barriers, and helps us discover the tools and strengths we need for self-advocacy.
This first segment of Today's Autistic Moment is sponsored by The Autism Society of Minnesota: Minnesota's First Autism Resource. The Autism Society of Minnesota has been serving Minnesota's Autism Community for the past 50 Years. Visit them online at ausm.org.
Please go to todaysautisticmoment.com to the New Podcast Episodes page and/or the Episode Index page to get updates, download shows, program scripts and interview transcripts. Interview Transcripts are sponsored by GT Independence.
Also, please follow Today's Autistic Moment on Facebook, Twitter, Instagram, and LinkedIn. Be sure to become a member of Today's Autistic Moment Community Group page on Facebook, where you can meet me, other listeners, exchange conversations and find program updates, news about subscriptions and bonuses, upcoming shows and take advantage of special offers.
Please help support Today's Autistic Moment by visiting todaysautisticmoment.com/subscribe/. I offer subscriptions for as little as $1.00 a month to $25.00 a month with lots of bonuses such as new episodes and the Monthly Moments Newsletter sent directly to you by email, a free stylus and ballpoint pen, and items from the store at discount prices.
Make plans now to attend the very first Autistic Voices Round Table Discussions on October 20th at 2:00pm Central Standard Time. Seven Autistic individuals will talk with each other about Person First and Identity First Language. There is no cost to attend, but I would appreciate if you would get your free ticket at todaysautisticmoment.com/autisticvoices/. The event will be streamlined on Today's Autistic Moment's Community Group page on Facebook.
My listeners will notice that I have a new sponsor with new messages. Leah Bauman-Smith from Mad Hatter Wellness who was featured in my last two episodes about dating, relationships, sexuality, and consent has prepared a dating safety ad. I hope you will appreciate the message.
I came out as a gay man two times in my life. I first came out in October 2000. I came out again in 2008. I spent seven years after I was diagnosed as Autistic in 2011, learning what being Autistic would mean for me. When I discovered the Autism Society of Minnesota in late 2017, and started attending classes, conferences, and meetings; I began to see the similarities of coming out as gay and Autistic. I also noticed the differences. Coming out as gay and Autistic for me involved a long period of struggling with self-acceptance. I had a lot of inner conflicts with knowing that I am different from others in terms of what kinds of relationships I would have, and what those relationships might cost me in terms of social acceptance and rejection. Being gay and Autistic are controversial and counter cultural. My journey of accepting myself as gay and Autistic has brought me many losses, but a greater sense of pride. I have also learned to accept my limitations and find new strengths, skills, and accomplishments. Today's Autistic Moment is one of my accomplishments.
I am very excited to have Yenn Purkis as my guest to share some of their story of coming out as Autistic, Asexual, Queer and Nonbinary. Yenn is from Australia and is an outstanding self-advocate and author.
Here are some examples of a few of Yenn's writings.
Autistic people do not need to be 'cured" of our autism. The world needs to be cured of ableism, bullying, ignorance and hatred.
Autistic people are strong, we are passionate, and we see the world in a unique and different way.
Autistic people should never have to squash ourselves down in order to be accepted by allistic society. We have the right to be unashamedly ourselves-it's our world too after all!
After this first commercial break I will begin my conversation with Yenn Purkis. Stay tuned.
Commercial Break I
Philip King-Lowe
Yenn, I am so excited to have you on Today's Autistic Moment. I have been following your writings on LinkedIn, and even Facebook, and I just gotta say, Wow! The things that you have written have definitely been inspiring to me personally. And I know that those that I've been able to share those writings with, um, really appreciate them also, um, you know, you are inspiring by what you write. And, you know, it's clear to me that your advocacy for yourself and for Autistics, is just just, so again, so inspiring, so very meaningful. That's how I feel about it. Um, you're welcome. You're welcome. most welcome. So, um, October is National Coming Out month. Actually, October 11, is when we celebrate coming out as LGBTQIA+ plus people. And I really thought it would be a great idea to talk about the similarities between coming out as Autistic as well as of a diverse sexual orientation and or gender identity. And you, you identify on in many of those ways. So I'm, I'm going to give you a chance to, you know, talk about that today. So um, so Yenn, what important information do Autistic Adults and our caregivers need to know about in terms of coming out as Autistic and have a diverse sexual orientations and/or gender identity.
Yenn Purkis
I think the first thing is to ditch assumptions and stereotypes. There are so many assumptions in this space, that are really unhelpful. You know, assuming all Autistic people are cisgender, and asexual, that's the stereotype. And yes, some Autistic people are cisgender, and asexual, but not all of us. And that whole idea of disability and sexuality, and you shouldn't be, you know, people, people with disability in general, are sexless and those things are very unhealthy. Be aware of what I consider the neurodiversity approach around particularly Autism. So instead of thinking someone's broken, you know, they need fixing the difficulty or burden, they have bad behavior and all of those things. To understand that idea of different, not less, and the idea of culture and Autism. And what I mean by that, is that Autistic people can be seen as having a different culture to neurotypical people. So if you imagine that Autistic people are speaking French, and neurotypicals people are speaking German. Now, it's not that the people speaking German than your typical folks think that the Autistic people don't speak German well. They don't understand that there is another language and so instead of being broken, Autistic people aren't broken. We're just speaking a different language and their understanding and that whole idea of Autistic culture is something that I find really important and underpins all our understanding around Autism because Autism is around communication, primarily. It's not that we communicate wrong. It's just we're speaking a different language that the people the neurotypical folks who speak the neurotypical language, don't actually understand. That it's not that we are speaking their language badly. It's respecting our own language, if that makes any sense whatsoever, and I don't think I explained that as well as I could have but that is
Philip King-Lowe
I think you have done brilliantly. So so keep going, as you're feeling as you feel you can. You know, I'm, I've come out as a gay person. And then 10 years ago, I was diagnosed as an Autistic. And as I was going through my 10 years of working on self acceptance, and you know, really wrestling with how society can be towards Autistic people, and I couldn't help but notice that the similarities of coming up coming out. I think it is a coming out process of being Autistic. And also, you know, from even the experience of coming out as I was gay, but I'm gay is so extremely similar. We have, we have cultures that do not necessarily respect, receive, well, welcome us in both scenarios. And we also have a lot of controversy around who we are or who we're supposed to be, according to some. And while there's just so many things that we could touch on. But you, um, you also are nonbinary. And so I would love for you to kind of talk about what coming out as Autistic and nonbinary, what has that been like for you, that process?
Yenn Purkis
Thank you. It's really interesting. My coming out as Autistic, because I was diagnosed in 1994, which was about as early as you could get the diagnosis in Australia. But I didn't accept it. It took me seven years to accept that diagnosis. I think mostly because I didn't like the idea. I saw it as a diagnosis of nerd. I saw it as you know, justifying what the bullies had said about me at school. And as such, what I really did not want that to be part of me. And I felt very threatened by the whole idea of Autism. So if I saw a documentary about Autism, I would be really uncomfortable. And I didn't like it. If I met an Autistic person, I'd been really defensive. So my coming out was very gradual. And really, even after I came out, it took me a few more years to embrace it. And that was really when I wrote my first book. And at that point, I'm like, Oh, actually, yes, Autism, this is me. I'm going to be talking about this, you know, you'd write a book about Autism, you sort of get thrust into the limelight, whether you want to or not. And, yes, I had to do talks and things like that. So that was quite interesting. And it took me another sort of few years after that, to really be a proponent of Autistic pride. Which I set out now. But it's that was very gradual journey. Whereas my journey around gender diversity was quite different. So coming out. So I, I always knew that my gender was not the expected. I always knew I was sort of myself as sort of a third option for gender. So I wasn't male or female or something else. But there was no language around that the the nonbinary label didn't exist, until quite recently. And in about 2017, 2018, I started talking to some trans and Autistic friends about gender and about my own identity. And in 2018, I think it was in August, I published on Facebook, yes, I came out on Facebook, that's, that's the way I do things. I came out on Facebook and said, Look, I understand that I'm non binary gender, and this is who I am. And it was a liberation. I felt like dancing down the street, it was very different to my coming out as Autistic which is quite gradual, and quite fraught, and difficult, is coming out as nonbinary was just awesome. And it's changed my life. And I absolutely love it. And I love my gender identity. And I'm extremely proud. I'm extremely proud as an Autistic person as well, but that took a little bit longer.
Philip King-Lowe
Yeah, yeah. And then you also identify as queer as well. Yeah.
Yenn Purkis
Yeah, well, I'm asexual or I'm gray sexual, actually. So a little bit sexual. And in terms of romantic attraction, a words I am a lesbian because I'm attracted to androgynous folks. So that doesn't have to be women that can be women, men or non binary people, but I'm attracted to people who are, you know, similar to me, I suppose.
Philip King-Lowe
Yeah. Yeah. Yeah. When I think of coming out as Autistic as well as being part of the LGBTQIA+ communities, there is also the similarities of stereotyping, even though the stereotypes are different. But they are they are stereotypes, and they have their similarities. And I think this is a great moment to maybe walk into the second question I ask every show. What are the barriers for Autistic Adults of all ages? In this particular subject, and one of those is is the stereotypes and how we not overcome, we overcome them for ourselves. I see those things as barriers. So go ahead.
Yenn Purkis
Yeah, absolutely. And I've actually got in my notes here stereotypes, because I think that's a huge area. And the worst thing is when we take on the stereotypes, and we actually internalize those, and that's a real issue. Big one is transphobia. You know, there are so many bigots in the world. In my space, I come across them all the time. Usually, if I post something on gender, there's a good chance someone will give me a hard time about it. And a lot of that is ideological, a lot of that is religious, and it's really not okay. And I think for kids, it is dangerous. If you come out to your parents, and your parents reject that, and your parents reject you, that is putting you at significant risk of harm. So it's really important if you are a parent, or if you're a family member, and somebody close to you comes out, even if you do have that bigotry, just put it on hold. Don't be, don't be driven by that bigotry. I think that lack of understanding around gender diversity and Autism and those ideas of especially for children and teens that they can't know the agenda, because they're Autistic. I think that's so untrue. And I think the thing about that, is that actually, Autistic people are more likely to know their own identity than anyone else, because we're always having to justify it, and having to question it, and having to think about who we are. So I think if anyone knows their gender identity, well, it's Autistic people. And I think as well, the attitudes of other people can really hold us back, that can be the worst barrier, worse than anything. I mean, I think being Autistic, there are disabling elements, you know, my sensory stuff is very difficult. I think, you know, there are elements being Autistic that make life hard. But generally, the things that hold us back tend to be from externally, they tend to be from other people.
Philip King-Lowe
I would have to agree with that.
Commercial Break II
Philip King-Lowe
I normally don't share the messages I get via my Facebook. But I am going to talk about one that was absolutely horrible. And it's, I am sad to say this, but I'm going to I'm going to say exactly what was written, written. There was this message that was written. And I apologize to those listeners who will hear this and it will trigger you. And that's not my intention, because it triggered me. But the comment was, "Do you think if you had not gotten the vaccine, you might not be a burden on the rest of us?" That was the question. Absolutely awful. And things like that. I mean, well, um absolutely awful. And one of those stereotypes, when whether we're Autistic, or we have another sexual orientation, gender identity, we will get those horrible messages unfortunately, it's, it's going to come. And I think, you know, it's unfortunate and very sad that people actually think like that person who wrote what they wrote me. Yeah,
Yenn Purkis
That's awful people. And the problem with those people is, they're so confident. They're so full of themselves. They've got so much, you know, that they're able to say those kinds of things with absolutely no sense of remorse or, or anything like that. Yeah, it's awful. I've had a number of transphobic people, I had somebody that was actually used to be a friend. They say these extremely insulting things to me, I'm not going to use your pronouns, I'm not going to use your name, and then some really hurtful stuff about my cat that passed away. And I just think, what is it that these people that they, they actually think that's okay?
Philip King-Lowe
Yeah. Um, and quite frankly, I don't care whether you think it's on religious grounds or no religious grounds, or whatever. No, those things are not okay. It is not okay to harass somebody because they're different. Whatever that difference may be. And, you know, if you want to, if we want to be bluntly honest, and I'm going to be, hate is a much more detrimental thing to society than someone who is Autistic, or LGBTQIA+. You know, um, but unfortunately, we have those who think that that's not a problem. Especially when that when there's a lot of misinformation. And let's just say that one of the barriers for coming out as Autistic, and or a diverse sexual orientation or gender identity is, um, is what I was just talking about. That those things are part of this, unfortunately. The things the way that people will respond, and how people may or may not adjust to this new news or this news that you have. Let's talk a little bit more about that for our listeners, because we know, there are people who are hearing their share of awful things. So if we can talk a little bit more about that, let's do that for the sake of those who are on the receiving end of those things.
Yenn Purkis
The thing is you never prepared for it like you never, you never see it and think oh, yeah, it's a troll doesn't matter. Like, I'm very strong on trolls, and I will just block them and not, not sort of focus on it. But it still really upsets me. And it's very personal. And it is a personal attack. It's actually attacking you. And it's not okay, but I find no, I'm very strong on this. And I'm very, I am a very confident person. And I'm not, you know, I can stand up to bullies, I can actually take a bully on and sides not okay, what the side. Never could do that in the past. But even I really struggle with this stuff. And it is dangerous. People have died because of trolling. You know, it is not ever okay. And I don't understand. So when I'm online, I'm sitting here now in front of my laptop. And when I get on Facebook, I'm not thinking this is going out to 20,000 people. I don't think that I don't imagine 20,000 people in their homes with their laptops, looking at my posts. So I suspect the trolls are similar. But the problem is, I'm saying positive, nice things. Whereas trolls is saying horrible things. And they're sitting there with their computer, and not having any empathy with the people they're attacking. And I think that's a huge issue is that they don't actually feel like this is going out for these people. And being mean to them. It's just like, oh, let's say something clever and snotty. But actually, it's quite dangerous. And the other one that gets me and I get this all the time is microaggressions, which is overt hostility, but they still grind you down. I had somebody say to me once I had a book launch for a book that I wrote for Autistic teens about getting a job. So it was all very neurodiversity and strength focused. And this person said to me, oh, you know, you shouldn't say you're Autistic and you could pass for normal people.
Philip King-Lowe
Oh, boy.
Yenn Purkis
That would count as a microaggression. Those things can actually grinds you down.
Philip King-Lowe
Yeah, yeah, that fits into what our friend Lyric Holmans and I talked about we had an episode in August about gaslighting. Yeah. Which is micro aggression. And that that is just just terrible. Um, yeah. Well, as we bridge into my final question, I love helping Autistic Adults find their, their their tools and strengths for self advocacy. What steps should Autistic Adults and our supporters take to advocate for our needs? And one of the things that I find you doing in your writings. I have, I have seen it. I have read it. And I want to say I have found great inspiration for this. One of those things that we have to do for ourselves is learn to see being Autistic. and being different, is a good thing. It's an excellent thing. Yes. It's absolutely something wonderful. So let's let's, let's give them that that tool, shall we about that?
Yenn Purkis
Absolutely. Fostering a sense of pride in who you are both as an Autistic person and as any other, you know, diversity type group you belong to. I'm a very proud Autistic person. A very proud ADHD person. A very proud schizophrenic person. Very proud, queer person. Very proud, non binary person. That did not happen overnight. That did not happen instantly. But it is a great place to be. So focus on your strengths. Be yourself. You know, With so much encouraged to mask, there's so much encouragement for Autistic people to camouflage and fit in and be like the rest of the world in order to survive. I want a world where we don't need to do that. I don't do that. I did it for years, I did it so much, I lost any sense of who I actually was. But now, what you see is what you get. There is no camouflaging going on with me, there is no masking. And that is so much better. I had a friend tell me, an Autistic friend tell me, the reason you have all the energy you do Yenn, is that you don't spend any energy masking. So you can actually use all your energy to do your advocacy work and do your paid job and all of those things. So being yourself is being yourself is a political, a political act. For Autistic people, it is actually an act of defiance to be who we are. So yes, while she go do it. Engage with your Autistic neurodivergent peers, that's really important. We tend to get along a lot better with each other than we do with the neurotypical folks simply because we're speaking the same language. It's a lot easier. We don't have to put in effort. Engage with gender divergent peer group as well, if you're a non binary or trans person or an intersex person, engage with ups because it's lovely. I go along every month. And we're doing it on zoom now, because we're locked down, but I go along every month to a trans meet up for Cambra, where I live. And it's the loveliest thing and it's really nice to be around other transgender people and use your talents and skills, you know, we often have prodigious skills and talents. The other thing is assertiveness, now that's really tricky. It's taken me many, many, many years to be assertive. I'm still not that good at it, but I'm working on it. But assertiveness boundary setting and being able to say no, I really useful qualities and just reflect on how awesome you are really just reflect on those positives. Every day I write something I'm grateful for. It's a CBT therapy skill. But I find that really helpful. So maybe every day write down how awesome you are, and what you've done. That is awesome. Because, you know, there's it's very easy to be ground down by all the negativity and by all the things we're apparently unable to do. A bit of conflict that and reflect on what we can do, and how amazing we are and all the great things we do, then that's, that's brilliant. And it can require that can require a change in mindset, because we tend to be very negative, we tend to get told what we can't do. The reason I'm an advocate, the reason I'm such a passionate advocate is that about 10 years ago, I met this young man who was Autistic. And I told him that I was Autistic, I'd written at that time one book and worked in the public service. And he looked at me and he said, That's not true, you're lying, those things aren't possible. And so when he said that, I realized I had a mission. I was on a mission because I had to change those attitudes and make sure that Autistic people didn't listen to all the negativity about what they couldn't do. But they actually listened to all the positive things about how great they are. So that was that's what inspired my work in the past 10 years.
Philip King-Lowe
Yeah, that's the sort of thing that has inspired me to begin this podcast. You know, Autistic Adults are often left out of the Autistic conversations is one of the things we found, and again, there's that negativity that comes around and then to me, the lack of information that is not out there. The lack of you know, the fact that we need more
Autistic voices speaking, we need them to speak we need them to we need to learn to not be afraid to speak our language. To start being who we are and finding some sense of personal pride, some personal ambition, about just being a wonderful Autistic person. And that is one of my many goals for this podcast. To supply them to supply other Autistic Adults with with those those things. And my listeners hear me say this all the time, and I think this is a perfect place to say it again. Coming out as Autistic, involves you being the expert about your I call it brand make and model of Autism. And being the expert about talking about your Autism. And my last piece that I always say it is so important that we tell our stories, about what being Autistic, and what being LGBTQIA+ means for us. That people hear those stories. People hear what it's like for us. And that we find the so that we find not only other Autistics becoming good self advocates, but that we help others. Even neurotypical people understand that we have a story to tell, and we would like them to listen. So, yeah, no. And to me, a lot of the struggles that we do, we do deal with, as well as the journeys we make from when we're diagnosed, to the point where we accept, to the point where we start to talk about who we are; that those things are part of our story to tell. You know. Even our, our moments where our sensory processing may not be cooperative at that particular, that's still part of the story being told. Stories are often told not just by what we tell, but what we do, or by what we don't do. Um, you know, even in many of our sensory processing, sorry to say, limitations, whatever those may be. There's something powerfully good in us somewhere, and we need, I think we need to embrace that I really do. You know, I have come to believe that there is an Autistic culture, that we do need to embrace that culture, among other Autistics, and others who are divergent in some way. Let's talk a little bit more about that Autistic culture and how we can become really strong advocates. And please feel free to add to anything I've already said,
Yenn Purkis
Yeah, I always reflect on when I go to a big Autism conference. So in Australia, every year, we have a couple of big conferences. And usually I'm asked to speak or I put in an abstract and go along. And there's a group of other Autistic people who go along to these conferences. And they usually have like a quiet room. And so if you go the quiet room at lunchtime, it will be filled full of Autistic people. And we'll always have big conversation about whenever. And it's always the best thing. And I always think, if a neurotypical person walked into this room. They will be the minority. They will be the person who had poor social skills. They will be the person with poor communication, because we're the majority in that space. And I think that that really stuck when I reflected on that was when I started thinking about the concept of Autistic culture, and how that made a lot of sense, and that we're not actually broken at all. Because in that space, we have great social skills, you know, we have great education. We understand each other We don't need and also if I meet people, because I'm Autistic and ADHD as well. If I'm making other people Autistic and ADHD, we get along really well most of the time, but not always. I mean, it's the whole thing where people say, in Autistic culture, I was so much better than than neurotypicals were so nice. Well, not all Autistic people are nice. Some of us were not pretty nice, but there are Autistic people out there. It's not that being Autistic is a recipe for being a perfect human being because it isn't. But in terms of communication, being amongst other Autistic is very clearly the same, the same language. And I think we need to explain that more in the world. Because there's about Autistic people have dreadful social skills, and we can't do this and can't do that. And that's, that's the, that's the understanding around Autism and it's actually wrong. And the thing about empathy, you know, Autistics lack empathy. Well, that came from a researcher who's come up with a bunch of unhelpful theories about Autism, including that one. If anything, Autistic people tend not always but tend to have more empathy than the rest of the world. And the whole thing about empathy in Autism is that neurotypical people lack empathy for Autistic people. Because they don't understand the way we exist in the world. And so we can struggle with empathy when your typical people for similar reasons. But generally, Autistic people are very, very caring, and actually have more empathy. And sometimes I know I have this you have that hyper empathy where you can pick up on someone's feelings just by being in the same physical space as them. And that's awful. I've been in the psych ward many, many times because of my schizophrenia. And that's not a nice place when you have hyper empathy because you're picking up on everyone else's misery. But what I mean to say and been a bit vague about saying is, you know, those stereotypes are so unhelpful to us within our culture. And we need to remember that and we need to explain that to the wider world, that those stereotypes are actually wrong. I think the popular culture has a lot to answer for with this. There are now a number of dramas and movies and things like that with our Autistic central characters, which I'm not sure how I feel about because often, the ones I've watched have been very stereotypical, and not really advancing the cause very much to my mind. And when panel shows and things like that have an Autistic person, they often don't have an advocate. So there's, I mean, I'm an advocate, and I've done a bunch of media. But I know that those programs, the employment one and the dating one and stuff. They don't generally have an advocate, they normally have, you know, just some Autistic person. And I think that's quite interesting. And some of the awards, they don't give the awards to the advocates. So I do think that's quite interesting. I think advocates need more airplay, I think we need more people listening to us. And I'm not quite sure how you sort of force that or if you can, but I think it is really important to listen to those voices of people whose work it is to actually advocate for inclusion, you know, including yourself and myself and Lyric and all sorts of people doing good work in this space.
Commercial Break III
Future Shows
Coming on October 18th, George Williams will join me to talk about Autistic Adults: Managing Relationships with Other Autistics. George is the father of a 24 yr. old Autistic son. George and his wife work as consultants for home health care agencies. They also provide CEU training for agencies to meet state compliance regulations. George will be my guest to talk about the challenges Autistic Adults can have with our own neurodiversity and that of other neurodivergents.
On November 1st, Zephyr James returns to Today's Autistic Moment to talk about Autistic Adults: Preparing for the Sensory Unfriendly Holidays. The biggest holidays of the year are getting closer. The same holidays that can be so enjoyable for neurotypical people, can be full of sensory nightmares for Autistics. Zephyr and I will talk about how to prepare to take care of our sensory needs.
I am particularly excited to have David Grey-Hammond join me for two episodes. David will be my guest for Autistic Adults: Substance Abuse Addiction on November 22nd. David will return for Autistic Adults: Substance Abuse Recovery on December 6th. David is an Autistic Adult with his own personal experiences with substance addition and recovery.
Plans for shows in 2022 are already underway. Topics will be from authors of great books about Autistic people. Eating disorders. Trauma. Autistic Post-Menopausal Women. Masking and Burnout. If you have a topic idea for the second season of Today's Autistic Moment in 2022, or you would be interested in being a guest to talk about a particular topic, send an email to PKLowe@todaysautisticmoment.com.
Thank you for listening to Today's Autistic Moment.
Philip King-Lowe
Actually, what you were just saying was very similar. I did an episode during July about Autistic Adults: Media Portrayal or Betrayal with Nicola Whiting. And we talked a lot about that about how the media might might try to portray us, but sometimes what they wind up doing is betraying us. Unfortunately. I concur with what you said there. And I do think that, you know, part of part of the coming out process for us, does involve, how we accept ourselves. How we learned that, you know, Autism, Acceptance is really a wonderful thing. And that, you know, acceptance on our part, and helping others to accept us, you know, it frees us. It gives us a sense of freedom from a lot of those, those those closets we sometimes put our ourselves in. You know, um, you know, there are many Autistic individuals who have closeted themselves, because of the stereotypes, the social, the social pressures, or rejections and that sort of thing. And where we're say here on this, it's okay to come out, it's okay to come out of those shadows, and embrace yourself. And to think that your Autism is actually something pretty wonderful. It's okay. In fact, you need to. It's a good idea to come out and say that. Just as, it's great to come out and say, you're lesbian, gay, bisexual, transgender, non binary. pansexual, wherever you fit, it's okay that you fit there. And we want to help people, Autistic people, and others, in those diverse spaces, feel like they can be themselves, they can be a great self. And hopefully, we can learn to begin to help society. Get rid of the stereotypes and stigmas that are so often part of who we are. Yeah. Yenn I want to thank you so much for this. I think this is a wonderful conversation that we have enjoyed today. Wow! You know, again, this just goes so much with the advocacy that I've read, you do from, like I say, LinkedIn and Facebook. It is really, really wonderful. And so thank you so much for coming on and doing this.
Yenn Purkis
Thank you for having me.
Philip King-Lowe
You're most welcome. You're most welcome.
Transcribed by https://otter.ai
Today's Autistic Community Bulletin Board
Virtual Classes for Understanding Autism and Best Strategic Practices will be offered by the Autism Society of Minnesota on October 18th at 6pm, November 15th at 2pm and December 13th at 6pm. Learn the common characteristics of individuals with Autism Spectrum Disorder and sensory processing disorders. Obtain valuable insight on evidence-based practices for supporting individuals across settings. Classes are free of charge. Go to ausm.org to register.
Registration is now open to attend the Autism Direct Support Certification Program, January 15th, 22nd, and 29th, 2022. The certification program is perfect for Autistic individuals, parents, PCA's and other professionals. I attended the program a few years back and it has helped me understand myself better, and other Autistic people, that has helped me begin this podcast. I cannot recommend it enough. Register at ausm.org.
On Tuesday, October 19th from 6 to 7pm there will be a virtual skillshop class by Cookable Kitchen. Cookable Kitchen is a new organization to empower people of all abilities to cook. Join them for a step-by-step online class where they will make dinner together and socialize. The skillshop is free but, limited to 20 registrants. Go to ausm.org for more information.
The Autism Society of Minnesota invites you for the 4th Annual AuSM Puzzle Connections in person at the TCF Rotunda at the Mall of
America, or virtually on November 6th from 9am to 12pm.
The Autism Society of Minnesota invites you to fill out a survey about their support groups. Go to ausm.org to take the survey.
Be sure to go to ausm.org to download the AuSM Education Catalog 2021 and 2022 for these and other upcoming Skillshops.
If you have questions about Today's Autistic Moment, please send an email to PKLowe@todaysautisticmoment.com. todaysautisticmoment@gmail.com
Thank you for listening to Today's Autistic Moment: A Podcast for Autistic Adults by An Autistic Adult.