Go to todaysautisticmoment.com for the transcript. There is no doubt about it, the internet is a lot of fun. Social media, chat rooms, texting, dating, and gaming can make social connections easier. However, the internet is full of predators who know more about us than we know about them. Tas Kronby will join me to give us some helpful advice about watching out for risky emails, chat or text contacts, sales schemes, and social media posting. As this is episode 24 and the final show of 2021, please be sure to hear my tribute to everyone who helped out at the end of the show. --- Support this podcast: https://anchor.fm/2daysautistic/support
Click or tap on the downward arrow in the pink box below the logo. See the image below.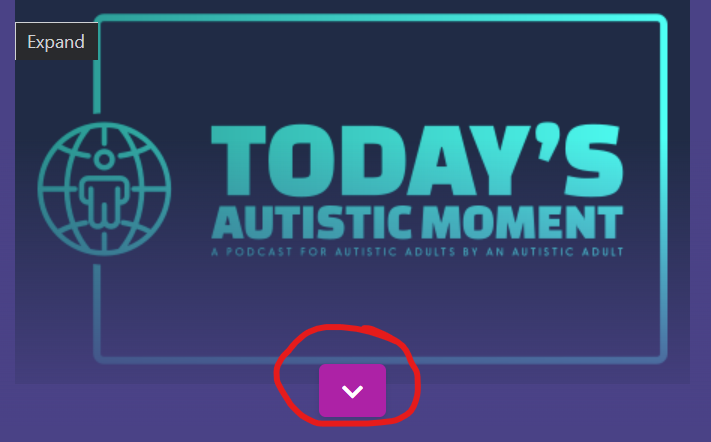 Autistic Adults: Internet Safety
December 20, 2021
[You will notice that some words have a strike through font. These are to reflect the new website created in September 2022]
Welcome everyone to Today's Autistic Moment: A Podcast for Autistic Adults by An Autistic Adult. My name is Philip King-Lowe, the owner, producer, and host; and I am an Autistic Adult. Thank you so very much for listening.
Today's Autistic Moment is a member of the National Podcast Association.
Today's Autistic Moment is always a free to listen to podcast that gives Autistic Adults access to important information, helps us learn about our barriers to discover the strengths and tools we already have to use for the work of self-advocacy.
Over the last twelve months that I have been hosting Today's Autistic Moment, I have come to believe that Autistic Adults already have the strengths and tools we need to do the work of self-advocacy. It is just a matter of discovering them. That is why I have changed the wording of my slogan. It is my hope that Today's Autistic Moment is helping you find the incredible strengths and tools that Autistic Adults have within us, because of how wonderfully unique we are. Autistics have more potential than we are often recognized for. So, keep listening and supporting the work of this podcast so that we can continue to discover and use those strengths and tools to advocate for ourselves.
This first segment of Today's Autistic Moment is sponsored by The Autism Society of Minnesota: Minnesota's First Autism Resource. The Autism Society of Minnesota has been serving Minnesota's Autism Community for the past 50 Years. Visit them online at ausm.org.
Please go to todaysautisticmoment.com to the New Podcast Episodes page and/or the Episode Index page to get updates, download shows, program scripts and interview for the transcripts. Interview Transcripts are sponsored by GT Independence.
Also, please follow Today's Autistic Moment on Facebook, Twitter, Instagram, and LinkedIn. Be sure to become a member of Today's Autistic Moment Community Group page on Facebook, where you can meet me, other listeners, exchange conversations and find program updates, news about subscriptions and bonuses, upcoming shows and take advantage of special offers. I am very pleased to announce that you can find updates about Today's Autistic Moment on Tik Tok. There is only one video there, but there are more to come. So please follow Today's Autistic Moment on Tik Tok.
Well, here we are. The 24th and final episode of the first season of Today's Autistic Moment in 2021. What a great first year we have had. In addition to producing 24 podcast installments, this show has been heard in 31 different countries, including the United States. I have been able to establish a network with other Autistic Adults and supportive individuals through my social media connections. The guests I have interviewed are in the United States, the UK and Australia. The guests are some incredibly talented courageous Autistic Adults and supportive individuals who are changing the false stigma that Autistic people do not know how to do things to make changes in the world. There is an established website that includes an Adult Autism Resources Links page. Because of you, our listeners and terrific sponsors, Autistic Adults have heard podcasts about topics that have been very helpful to so many people. All I can say is a huge thank you to everyone who has helped make this first year a successful one.
On this episode, Tas Kronby is joining me to talk about Internet Safety.
I have to say that as I have crossed into my 50's, I am amazed at how the world has changed. 35 to 40 years ago if I had told the people I was living with at the time that we would one day have access to our bank accounts 24/7, personal contacts, make travel plans, have an electronic encyclopedia, get a college education all by the use of one common system; my parents and others would have asked me what planet I was planning to live on. When I was 10 to 20 years old, the only sources for news were newspapers and magazines that you needed subscriptions for, or you went to the local library to read, and the local network news stations on the radio or television. The only way to write a letter to someone was through the postal mail and it could take days maybe weeks before it would get to where it was going. The internet has changed all of that and made life so much more convenient. Some Autistics like myself find that the internet makes social connections easier in that you have more control over who you socialize with and who you don't. At the same time, the internet is full of hidden traps for Autistics. The internet has enabled predators to learn more about us than we can ever learn about them. Web logos and names can be easily copied and pasted to make them look legitimate. Internet personal relations firms and social media have the ability to give advertisers the opportunity to find out where you have gone online and what you did or said once you were there. Autistic Adults can use the internet safely. We just need some tips to do that.
Tas Kronby are Autistic members of the disability community with developmental, mental health, and physical disabilities. You could say that they are a trifecta or triad of disabilities. They are a DID system, person of color, nonbinary, and proud member of the LGBTQ+ community. With this unique combination of diversity, they advocate for inclusion. Equal access to education, healthcare, and innate human rights motivate them to move past challenges in the effort to make the world accessible, inclusive, and fair for the next generation.
Stay tuned after the first commercial break and I will begin my conversation with Tas Kronby. As this is the final show for 2021, and following this show, I will be on my holiday break until January 3rd, there will be no Autistic Community Bulletin Board. Instead, I want to dedicate the last few moments to my listeners, guests, exceptional sponsors, and the many people who have helped make this first season of Today's Autistic Moment possible. Please stay tuned.
Commercial Beak I
Philip King-Lowe
Tas Kronby, thank you so much for being on this episode of Today's Autistic Moment, it is truly a pleasure to have you. Um, and here we are, it's the holiday week. And we're all many are excited or sort of concerned about the holidays coming up. And we know that this is a really high time for the internet use. Um, I mean, many have been Christmas shopping over the internet, they've been preparing for whatever's coming. But, you know, even whether with holidays, or no holidays, I wanted to have my last show in 2021 be about internet safety. And so, I want to begin with my first question, What important information do Autistic Adults and our caregivers need to know about in terms of Internet safety?
Tas Kronby
So thank you so much for having us today. We're excited to talk about this. And you know, it's really an important topic. And I think one of the biggest pieces about Internet safety that people that are Autistic and people that interact with people on the spectrum, need to remember is that guidance and caution are the top two things that really go hand in hand with keeping yourself safe online.
Philip King-Lowe
Yeah, so give us some tips about that. Give us some some thoughts you have about how, how it is best to do that.
Tas Kronby
So definitely with guidance, you know, for people that are Autistic, like ourselves, it can be challenging to understand boundaries. What is safe online, what isn't. Understanding people's intentions, which is really incredibly difficult to do over a keyboard and screen. And so that's really where the guidance comes in. It's growing up, if you have a child on the spectrum, you have to teach them how to use the internet safely. And then as an adult, it really becomes a piece of self advocating. So learning the places not to go online, learning the red flags, if you are interacting with a person online, and keeping notes of ways to keep yourself safe, so you don't get into potentially emotionally and physically damaging situations.
Philip King-Lowe
Yeah. Let's give some examples of some of those. For those who may or may or may not have experienced them. Let's talk about some of those traps on the internet. Especially for Autistic Adults.
Tas Kronby
Definitely, I would say a big one is trolls. Trolls, is it's very difficult for even neurotypical people to deal with that. For example, if you're on social media, and you get a message from someone and it's just mean, maybe it is insulting you because you're open about being Autistic, or it seems something berating about something you've posted. That's really a way of them bating you into a conversation. And that is something that can be very emotionally taxing. And it really goes into cyber bullying very quickly, and you can be harassed. And really, the biggest thing with trolls is they want you to react. And once you get into that reaction, it kind of down spirals from there. Another thing that's a big one with internet safety, is links. So not clicking random pop up links that come on your browser, or if someone that you don't know, sends you an email, or send you a direct message with a link, not clicking those, that is something that can lead your personal data to be compromised, because that that's a way that people phish for information. And at the same time, it can compromise your device. And nothing is worse than dealing with a computer virus at midnight, because you clicked a link in an email that told you you can win a million dollars, like it's really something that is dangerous to do. As far as going into those dark holes online. You know, a lot of times you might be on, for example, let's say you're chatting with friends in the Discord. And someone says, oh, Google all these words together and make sure you like click the link. It's so funny. That's another thing that seems harmless. But really, if you can't confirm the positive intentions of the people you're interacting with online, which you really can't all the time, unless you know them, it can be a bad situation.
Philip King-Lowe
Yeah, one tip that I would give is that if, if you receive an email, because I get these all the time, an email that looks like it's from Amazon, or, um, or even an account that you actually have, and they give you a link to something, before you answer or even click on the link, tap on the email address it came from. And if it's one of those really long email addresses that goes on and on with numbers, and whatever, whatever, just just throw in spam. Because that's all it is. The fact remains that anybody can can you know, copy the the logo for Amazon, or Walmart, or Target or any place, put it in an email and send it to you. And it looks legitimate. But the fact is, is that if you don't check the email address in there, you could be again, clicking on an email, clicking on a link that is that is phishing you or seeking your personal information. You know, those are, those are particularly trapping, and that sort of thing. The other thing, let's let's talk about one of those really challenging pieces that, especially during this time of the year is sale scams. Those are really, really popular. And, you know, I realize this will not apply to every Autistic person. But a lot of us tend to be very impulsive with some of these things. We just do it without thinking because it looks like it's something that's right up our alley. So let's talk just briefly about some of that, if we can.
Tas Kronby
Yeah, I can definitely relate to that. Sometimes Amazon can be your worst enemy, especially during sales. But a lot of times, especially during the holidays, you're going to get a lot of like you said sales scams, and those can be fake things and they just want your your personal information. It can be things that require you to input a credit card and you have to pay for something. The biggest thing that's an automatic red flag if it looks too good to be true it is. If there is an email that says hey, you won this prize, you entered this rally, please send us your name, phone number and address we can send you your prize. That is something that is not legitimate because chances are if you haven't entered any types of raffles, they're not going to email you. And secondly, it's good to note that anything that you buy online, they already have the information they need because you've been making purchases. So if you receive an email asking for your personal details, that is automatically a red flag. Because they don't need your personal details if you're already buying things from them. So if you make purchases off eBay, or a lot of times, you can get spam with like fake eBay sales and things like that. And it really is about knowing where you buy things, and making sure that you're not trusting a random email just because it looks like a good deal. And not. Okay, oh, another thing to, to have kind of like, be careful with your for with is, when you're making purchases off of things like Venmo or PayPal, they will usually not email you anything that has sensitive information because you access all of that in your account. So if you've made a purchase, and the next email that you get, is asking for details off of your paypal or Venmo, then that means you need to take steps to secure your information, because you might have made a bad purchase with something that's not a legitimate company.
Commercial Break II
Do you own a business or work for a non-profit organization that supports Autistic Adults? Would you like your business or organization to have more visibility to the Adult Autistic Community? Consider being a sponsor of Today's Autistic Moment in 2022. Advertising spots are open for 30-35 second and/or 60-65 second ads. You can also chose to have your business and/or organization mentioned as sponsors at the end of each show. Rates are very reasonable. Please send an email to PKLowe@todaysautisticmoment.com todaysautisticmoment@gmail.com to receive a free no obligation PowerPoint presentation about how you can sponsor ads on Today's Autistic Moment.
Businesses and organizations that sponsor ads on this podcast must be working with and for the Neurodiversity movement without seeking to "treat" or "cure" Autistic people. Companies that support Today's Autistic Moment do not support the myth that vaccines cause Autism or the use of functioning labels. Ads with medication trial studies to "treat" Autism are not acceptable. Companies and organizations must be inclusive of Autistic Adults regardless of age, race, language, sexual orientation, gender, gender identity/expression including binary and nonbinary genders, religion or no religion at all, immigration status, marital status, and other disabilities. Please see the dos
and don'ts page on todaysautisticmoment.com for more information.
Thank you for listening to and supporting Today's Autistic Moment.
Philip King-Lowe
What are the barriers for Autistic Adults of all ages when it comes to the internet? And we've been naming many, many of them, but let's also name a few more. Um, you know, um, getting an online chat from somebody you don't know. Also, there is the other problem for some Autistic Adults who may be unsuspecting, but there are sexual predators who are looking to groom somebody. There are Autistic, there are people who know read enough about Autistic Adults that they know how to trap them with some of their favorite, you know, things. So let's, let's give a little information about that sort of thing, please.
Tas Kronby
Definitely, you know, that is very true. Having the ability to go online can be a bad thing, or a positive thing, depending on how well prepared you are. People that are on the spectrum are targeted by predators 100%. One of the things that can happen is if you are in, like if you're in the gaming world, and you hang out in Discord, or maybe game on PC, and you hang out and Steam or Xbox Live, or PPS5, if you're on console, and you play with a million different people around the world. And sometimes just someone, knowing or finding out through these means of communication that you're Autistic automatically puts a target on your head. And people that are looking to groom, like you're mentioning. sexual predators, people that are looking to catfish. So that means pretending they're someone they're not in order to get something from you, which a lot of times that looks like money. They will ask you for money, like Hey, I can't pay my rent this month, can you help me? And a lot of Autistic people, they might not know that's a red flag. Sometimes you just want to help people. Growing up, that's as a child, constant help or someone's like, oh, wait, help me with this. And you just don't ask questions. But being online, you really have to and one of the rules that we go by when we're online is never assume positive intentions until it is proved.
Philip King-Lowe
Yeah. The scam that is still alive. It's it's it's probably at this point in time, well over 15 years old. We laugh about it now, but sort of, but it's there's there are there are some people who will who will really warm up. So we say to a person on say, a dating app or something like that. They will really warm up to somebody and lo and just when you think that you've trusted the right person. They'll ask you to help them get out of Nigeria because they're helping to build a road there. You know, and, you know, they'll ask for money. And if you said you mean money through Western Union or some sort of thing. They say they've got these checks for you to cash their checks. People who have given them money, they've gone to cash the checks, or they get this envelopes with pieces of blank paper in them, or even checks that are no good or whatever. So you really have to be very, very careful about that. I work with an independent living skills worker who's from Nigeria, and I just happened to joke with him and say, did they ever complete that road? And he said, "Not only have they not completed it, they never started building it in the first place." So it's one of those things that that, you know, they they really do. You know, they put themselves on, on dating apps on, you know, maybe you have maybe I don't know if there is, but any chat apps where you might be around other Autistics, that sort of thing. They really do target these things to try to get up, get people to really, you know, to take basically advantage of our vulnerability, because most likely they know how susceptible we are to someone being almost too kind. Yeah.
Tas Kronby
Exactly. I think that's a really good point of people being kind. Sometimes being Autistic, it can feel very isolating, depending on how, like, what kind of like what environment you're in. And sometimes it can be hard to have a lot of negative experiences socially, and then you meet this one person, and they're just seemed so nice and accepting. They want to know everything about you. They want to talk to you all the time. But that's really the first red flag because a lot of times, especially like on things like dating apps, people don't have positive intentions on there. And it can very much quickly spiral from a enjoying conversation and feeling like you've made a friend into them taking advantage of you.
Philip King-Lowe
Yes, yeah, I totally, I totally agree with that. Yeah. Um, yeah, um, I think one of those things that we could name is that, you know, we, we already said, if it, if it sounds too good to be true, it probably is. Someone who is, and its so sad to say that someone who has that understanding and accommodating, um, it's really wise to do either some, you know, further talking with this person, and, and, you know, finding out just how real they are. And if they're not that real, you'll believe me, you'll see it eventually. You know, one of the things that I've learned to do with online connections, is listen for some sense of consistency. If they're being consistent, and the message seems to be similar, it's a fairly good indication that that person is genuine. But you want to follow that for at least I'm gonna say, for some of us, at least, maybe a month or two, maybe about that time. And even still, you want to be extremely careful. But, you know, follow it for a little while. And if, if the individual seems to talk differently every time you talk to them, as probably a good indication, that that, that person is probably not on your side. They're probably in the process of leading somebody on. You know, one, one day in the in the future, I plan to have an entire show about dating apps, because it's a it's a huge trap for many Autistics, unfortunately. Um, but, you know, part of these barriers, as we say is, you know, many of them do their own reading, and they do learn exactly how to engage with us in a way that will that we seem that will we feel like we can trust them almost too much. Definitely, definitely too much.
Tas Kronby
Exactly. I think a good thing. It's good to have a list. So and what we mean by a list, is things that are red flags when you're talking with someone. So like you're mentioning, taking a few months to like, see how their story adds up. And another thing you can do is when they're talking to you have they already after a few days knowing you ask you for your phone number. Have they already asked you for your address? Have they asked for photos inappropriate or otherwise? That's everyone's personal decision, but what are they asking you for? And how quickly do they want that information. Because that can be a major red flag that there's something not right with that person. Because really, everyone should be equally as cautious as you are. So personal information like that really should not be interchanged. When you've been talking to someone for three weeks, it really takes time to build trust on both sides. So if one side is asking for it, it's a red flag.
Philip King-Lowe
Right, right. Yeah. Um, you know, and from here, we can definitely slip into what are the steps that Autistic Adults and our supporters need to take to advocate for our needs? How to self advocate, advocate. And you've named one of those great ways is maybe to make a list of some of the things that you can say, you know, that are things you should be thinking of. Things like, um, you know, maybe using tide and boundaries. And sometimes, you know, if you're in a conversation with somebody you just met, open up that list and that list for yourself, and kinda kind of think to yourself, is this person being consistent? Is this person asking for information too soon? You know, what kinds of information are they asking for? And, and basically, spend some time really looking very closely at all of that before making certain decisions.
Tas Kronby
Exactly, it's really important. Another thing that is that you can do is, when you have gone through that list, and you've seen if there's any red flags, talk to someone you trust. Talk to someone that you trust that you have known for a long time that knows you, whether it's family or friends that you might have and ask their opinion. like, hey, what does this look like? How, how does this come across? Because sometimes, red flags might not be picked up as easily for someone that's Autistic and sometimes neurotypical people can say, whoa, whoa, that's bad. Like, whoa, that is not safe. And that can be something that helps. Another thing to, to emphasize a lot in society, they put a lot of focus on manners, being polite. And personally, as an Autistic person, that has been something that is always challenging to know, when should I be polite? And when should I set a boundary? And so one of the things online, that is our favorite thing, love the block button. A very strong advocate for the block button. Because if you are feeling uncomfortable at any point in time, you do not owe someone online, anything. Exactly. Yeah. It's, it's not you're not going to offend them blocking them, it's your safety. And when someone is online, you literally don't owe them anything whatsoever. And it's okay to block people.
Philip King-Lowe
Yes. And, you know, on this one, let's talk a little bit about that on social media. Because I see this going on on Facebook all the time. So and So unfriended me. And, you know, some and the thing is, it is okay to do that. Sometimes you have to do that to protect yourself. I have actually had to do that with contacts that I may have trusted for a significant period of time even sometimes over a year. And lo and behold, I discovered that that person is not trusting. A person may have been gaslighting me or misleading me, you have to do those things to protect yourself. We Autistic people, many of us, we come with our own social warning buttons to some degree. And I think that we'll talk here's a barrier in a self advocacy matter. Um, because of our sensory and/or our social challenges. Um, we're almost told not to trust our senses about whether we feel bothered or threatened or or harm. Someone is harming us. I want to turn that right around and say you should listen to those. Absolutely you should. And this is actually an Autistic strength, not a weakness that we sometimes know somebody is being is mistreating us or are not doing well. So it is absolutely okay. And actually your prerogative in terms of protecting yourself. To feel free to unfriend somebody, block somebody say no. And sometimes I know what it's like you blocked somebody one place, they found you another keep blocking them, blocking them, blocking them, reporting them, whatever. But you know, it is an Autistic strength, not a weakness, to know when someone doesn't have your best interests at heart. And so use that use that, use that button, use that unfriend mechanism on Facebook, or Twitter, or LinkedIn or anywhere else
Tas Kronby
Couldn't agree more. It is follow your gut. If you feel uncomfortable about something, chances are, there's a reason to feel uncomfortable. And one of the things too, as if you are having that happen, where you block someone on social media, you block someone on your email, and they are consistently creating new accounts in order to contact you. That is something to document over time and keep screenshots of those things. Because that is where that line between having a negative interaction with someone goes into the harassment and cyberbullying territory. And so for your interaction later on, it's always good to keep screenshots of information if you are being harassed by someone online.
Philip King-Lowe
Yeah, absolutely. Yeah, I would agree with that. Um, we talked earlier about trolling, trolling is just, it's bad. It's actually gotten worse. I interviewed Yenn Perkis, who gets it all the time. Lyric Holmans gets it all the time. I've gotten a few on my, on my Facebook page for Today's Autistic Moment. And here's another here's one of those things that actually, Tas here mentioned. But, um, every now and then there's, there's a post that comes along to me, that, quite frankly, is so absolutely nasty, that it doesn't even deserve a reply. It will you know, to to to actually answer that reply. Whatever it was, is actually to give that someone or something a little more power over you than you need to give it quite frankly. I had somebody who left a really nasty comments on my Today's Autistic Moment Page, and I saw it I said that it is not even worth worth the response reply nothing. Just just take out the comments. Block the person, because it's just not worth it. The more you challenge, something like that, the worse that actually gets. So yeah,
Tas Kronby
Exactly. Yeah. And also to remembering, like, like you have experienced it, people will leave comments to intentionally try to aggravate you intentionally try to hurt your feelings, intentionally try to elicit some sort of negative comment back. So like for us, the one thing that we always do is we stop and breathe. So if we see a comment that has clearly is meant as a way to upset us, we count to five. Before we do anything, we remove our hands from our phone, and we count to five so that we have time to process if it's something that should just be automatically deleted, or if it needs some sort of reply clarification for the other audience. But usually it it ends the same way as you were saying with yours. Just delete, block and move on.
Philip King-Lowe
Yeah, I want to kind of give a special point here, because there are politically active groups right now that are specifically targeting the COVID-19 vaccines. They are really making an effort and quite frankly, there is an organized group outside of the USA that has made it their business to target that particular topic. So they are they are you know if you're seeing something about about the vaccines, you know about the vaccines not being healthy or good or dangerous. It most likely is coming from a troll activist group that just wants to frighten people about the vaccines. There is there are trolls out there that are still trying to troll about Autism being caused by vaccines. I've had a couple of those pop up. And no, they are not true, no, it is true, but they are going to come up, they are going to say things and write things. And so you need to be very careful, because there are people who are organizing specifically to gain some kind of political advantage here. And let's, let's, let's also mention here that, unfortunately, the political climates that we are in, have made a lot of trolling, an acceptable past time. And, you know, again, it's so easy for many Autistics to be too trusting and just, or just totally react to that sort of thing. Um, you know, and we talked about some self advocacy ideas, we talked about, you know, making a list, and, you know, putting those things together. Um, one of those very important pieces of self advocacy on the internet is to also know your own weaknesses, be aware of what your own weaknesses are. And basically, just be aware that there are people who are ready to take advantage of that at any time. Unfortunately, a lot of the internet people, they, they, they know, our strengths, our strengths and weaknesses, sometimes, sadly, better than we do. But you know, yeah, and the other thing that I want to say is, and this has been a great concern for many years, since the Internet has become so available, useful, easy to easy to navigate, and everything. Um, and this is especially become a concern about Facebook. Um, a lot of these websites and programs are designed to collect information about you. So that they will know, these are the things that you stood ,you thought, and therefore they will make attempts to lure you in with either the opposite point of view? Or they will, you know, you know, through the many through the years, since the internet has been made available, their were words, still are PR companies that have put it in there. You know, who make it their business to collect these pieces of information. And one of the largest concerns about Facebook? Is Facebook basically does all that work for them for at no cost to anybody. So, you know, let's finish and say some things about things like that. Go ahead.
Tas Kronby
Yeah, that's actually really good thing to bring up. Yeah, the algorithms in everything that you use online, it saves your preferences, it saves things that you look at a lot. For example, we're always looking at Anime, so we could be reading a random article on Google. And then it's gonna pop up all of these ads for different types of like apps to download and things to buy. And in algorithms for preferences, they're not always a bad thing. But where it becomes problematic, as an Autistic person is having the boundaries, and self awareness to not just get sucked into everything you see. It can be exciting to see these different types of links or recommendations of go here, go here. But it's also important to keep your information safe. One of the things with the algorithms that track information you can in I don't know on Facebook, I honestly can admit, never had a Facebook never want to have a Facebook. Um, but on things like with Google, and you can turn off the third party tracking. And there are ways to do that on different platforms to where they're not selling your information to companies. But then again, it's also about just being cautious about what you put out there online. And just remembering that once it's online, it's on there forever. It never goes away. You could have posted it 15 years ago. It's remembered by the internet, so just always being careful how much of yourself you put on the internet.
Commerical Break III
Future Shows
On January 10th, the premier of Season 2 will be The Medical and Social Models of Autism with my guest Dr. Scott Frasard. In the medical model, Autism is a neurological developmental disorder. In order to receive disability benefits, support services and social supports, Autistics are known by a medical pathology. A pathology that makes us second class citizens. In the social model we have the movement for Neurodiversity. Autistics and other individuals with conditions like ADHD are capturing our diversity as Neurodivergents to work towards a society of equality and equity. Dr. Scott Frasard will talk with me about why the medical and social models are important, and how the Neurodiversity movement is helping Autistics reach for our full potential in life.
On January 17th I will be joined by Erin Brandel Dykhuizen who is a licensed social worker who specializes in helping Autistics to deal with Chronic Pain Management. Autistic people have very different responses to pain in large part due to our sensory processing disorders. Some Autistic Adults may be hypo-sensitive to pain in that they do not know how much pain they are actually in. Other Autistic Adults who are hypersensitive have pain that is so intense that managing day to day activities is almost impossible. There are many Autistic Adults who live with chronic pain due to conditions like fibromyalgia, arthritis, physical injuries, and of course trauma. Erin will join me to talk about how Autistic Adults can manage their pain in ways that work for them.
Tas Kronby will be returning to Today's Autistic Moment in February to talk about two important topics Eating Disorders and Trauma. For more information about what Tas Kronby does go to tasthoughts.com.
Visit todaysautisticmoment.com for program updates, future shows and check out the Adult Autism Resources Links page.
Thank you for listening to Today's Autistic Moment.
Philip King-Lowe
Actually one of the little things that I tend to do once in a while that's not a half bad idea is to open up a search engine. Google, whichever one you choose, type your own name into the into the search and see if you can find the various places where your name appears that will tell you something about how how much information about you is out there.
Tas Kronby
Oh, 100%. Always Google yourself. And on the line with the safety Google the people you meet online as well. Because that will pull up a lot of things. Even if you only have a username for this person, there are different places where people will discuss harassment and negative interactions they've had with users. So sometimes you can actually not only find out if you're keeping your own information safe, you can find out if the people you're talking to have a negative presence on the Internet.
Philip King-Lowe
Yeah, yeah, absolutely. Yeah. Well, as we wrap this up, I want to highlight that an article that we found that that we've been using to help prepare us for this, I'm going to make it available on my on my Adult Autism Resources Links Page. It is by Wiz Case. And it is a helpful Online Safety Guide for People with Autism Spectrum Disorders. And once again, I will put that into the links on my Autistic Adult, I'm sorry, Adult Autism Resources Links page. So any of my listeners can find it, click on it and read about it and get some really helpful information in there. Tas this has been a really great conversation. And before I wrap this up, I want to say that Tas is coming back in February, to do two shows with me. One will be about eating disorders, and the other one will be about trauma. And I know that I've got some listeners out there who have experiences with eating disorders. And we want to let you know you're not alone on those things. And we want to give you some helpful thoughts about those things. So Tas, thank you so much for coming on today.
Tas Kronby
It was great. Thank you so much for having me.
Philip King-Lowe
You're welcome.
Transcribed by https://otter.ai
A Tribute to the Conclusion of Today's Autistic Moment Season One
In August of 2020, the year when COVID-19 had turned the world upside down on its head, I was attending a virtual meeting with my counselor at the Minnesota Vocational Rehabilitation Services. We discussed how I would use my passion for Autistic Adults in a way that could make a difference and be an ideal small business opportunity. At one point, Ed mentioned the word podcast. The word stayed with me and would not let me go. I had a lot of input from various people who encouraged me to go for it. I had some great people who helped me put my thoughts together and create a podcast for Autistic Adults. In January of this year 2021, Today's Autistic Moment was launched. I am so very glad that it happened. I am so happy that even with a slow start, the podcast has come through its first year and will definitely have a second. The podcast will just keep getting better and better.
I would like to say a huge thank you to all of my guests for my first year. Zephyr James. Sue Swenson. Dr. Theresa Regan. Robyn DeCourcy. Eric Ringgenburg. Ellie Wilson. Sara Swann. Dan (DJ) Carmichael. Samuel J. Levine. Heidi, Luke and Benjamine. Enzi Tanner. Andrew Komarow. Nicola Whiting. Lyric Holmans. Leah Bauman-Smith. Yenn Purkis. George Williams. David Gray-Hammond. Tas Kronby.
I want to say a huge thank you my generous and amazing sponsors. The Autism Society of Minnesota. Best Care MN. Minnesota Independence College and Community. Looking Forward LC. GT Independence. Mad Hatter Wellness.
I also wish to say thank you to Dr. Scott Frasard, Rosemarie Carreiro, Robert Carlson, Dr. Ian Hale, Lucem Clark and Louise Stone for being the panelists on my first and certainly not my last Autistic Voices Round Table Discussion.
Special thanks goes to Liz, Ed, Josh, and Justina at the Minnesota Vocational Rehabilitation Services who helped me get started.
I want to express an additional thank you to Eric Ringgenberg who in addition to being a great guest earlier this year, is also my supervisor at The Autism Society of Minnesota. Eric meets with me once a month to check in to see how things are going and gives me lots of encouragement and ideas. Thank you so much Eric.
I want to say a big thank you to Ryan, my former ARHMS worker who gave me a lot of input to help me create Today's Autistic Moment.
I want to say a special thank you to Alicia Waters and the folks at the Minnesota Humanities Center for the Lab Grant that helped with advertising including the website.
I want to say a special thank you to the National Podcast Association that has helped me promote the podcast through their social media networks, and their many members who have reached out to me over the first year.
Lastly, I want to say thank you to all of my listeners and supporters in the Adult Autistic Community and those who support and advocate with us. You are truly an inspiration to me. Without you, there would be no podcast.
Finally, I want to say thank you to my amazing husband Jason who has loved and supported me over these past twelve years and continues to do so.
I wish all of you a joyful holiday season and a very Happy New Year in 2022.
The business office for Today's Autistic Moment will be closed for the holidays beginning Wednesday, December 22nd, through Sunday, January 2nd. You can still send emails to mailto:PKLowe@todaysautisticmoment.com, todaysautisticmoment@gmail.com but they will be answered on or after January 3rd.
Thank you for listening to Today's Autistic Moment: A Podcast for Autistic Adults by An Autistic Adult.
I hope you have an Autistically Amazing day.