Go to todaysautisticmoment.com for the transcript
Ben Levin is the author of the book In The Hole. Ben's novel is a story depicting a child's experience with homelessness. Ben has been in love with stories ever since he was a little boy. Ben is also proud to be Autistic and wants to use his status as an author to be an example of how Autism is not a setback, but a gift. "Autism is Not A Curse" is one of Ben's favorite sayings. Ben will share with us his personal story of accepting his Autism and how his writing is an important piece of self-acceptance.
--- Support this podcast: https://anchor.fm/2daysautistic/support
Click or tap on the downward arrow in the pink box below the logo. See the image below.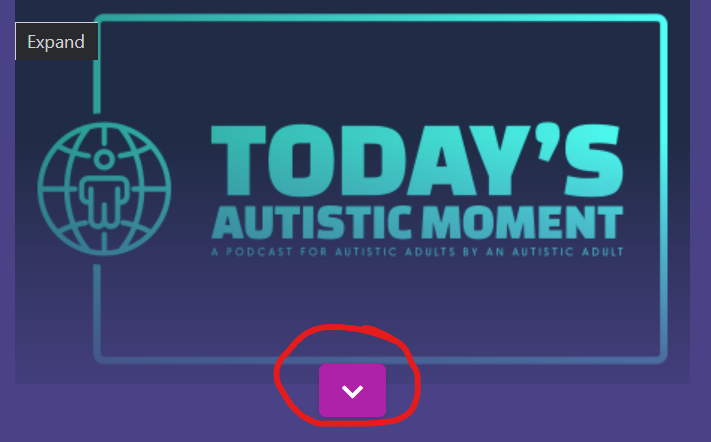 Autism is Not a Curse
April 18, 2022
[You will notice that some words have a strike through font. These are to reflect the new website created in September 2022]
Welcome everyone to Today's Autistic Moment: A Podcast for Autistic Adults by An Autistic Adult. My name is Philip King-Lowe. I am the owner, producer, and host, and I am an Autistic Adult. Thank you so very much for listening.
Today's Autistic Moment is a member of the National Podcast Association.
Today's Autistic Moment is always a free to listen to podcast that gives Autistic Adults access to important information, helps us learn about our barriers to discover the strengths and tools we already have to use for the work of self-advocacy.
This first segment of Today's Autistic Moment is sponsored by The Autism Society of Minnesota: Minnesota's First Autism Resource. For over 50 years, The Autism Society of Minnesota has been honored to support Minnesota's Autism Community. Visit them online at ausm.org.
Please go to the New Podcast Episodes Page of todaysautisticmoment.com where you will find all the shows and download the Program Scripts with all of the hyperlinks I mention on each show and the Interview Transcripts. Interview Transcripts for 2022 are sponsored by Minnesota Independence College & Community. If you want to listen to any previously published shows, go to the Episode Index Page.
Also, be sure to follow Today's Autistic Moment on Facebook, Twitter, Instagram, LinkedIn, and Tik Tok. Please join Today's Autistic Moment Community Group page on Facebook, where you can talk with me and other listeners.
Applications are now being accepted through April 29th to be a panelist on the next live virtual Autistic Voices Round Table Discussion that will take place on Wednesday, May 25th at 2:00pm Central Standard Time. The topic is The Truth About ABA (Applied Behavioral Analysis) Therapy. I am seeking four to six Autistic individuals from diverse races, cultures, sexual orientations, gender identities/expressions who have received ABA Therapy in part or as a whole to be panelists. Autistic individuals who have not received ABA therapy including parents and caregivers, and therapists who use and/or recommend or oppose ABA therapy are not eligible. Round table discussions are an opportunity to have a calm, civil and upfront conversation about the chosen topic. Round table discussions are not an appropriate venue for arguments in order to persuade people to change their opinions about the topic. I am more than aware of how triggering the topic of ABA therapy can be for many Autistic people. All applicants that are selected will need to participate in a 30 minute live virtual conversation with me to ask your questions and see if this is the right panel discussion for you to participate in. Go to todaysautisticmoment.com/autisticvoices/ to read up about this round table discussion and apply. Once again, all applications must be completed and sent to me by April 29th. If you have any questions for me regarding this round table discussion, please send an email to PKLowe@todaysautisticmoment.com.
Hosting Today's Autistic Moment has allowed me to connect with so many talented Autistic individuals. The podcast has featured incredible guests from many walks of life. My guest for this show Ben Levin is an exemplary Autistic individual with a love of story writing and sharing his abilities.
As we continue celebrating Autism Acceptance Month, Ben Levin is here to tell us about his personal journey of discovering the gifts he has because of Autism Acceptance. Ben will highlight his experience of being in a program that worked to make his Autism invisible so that he could fit in with what society understands normal to look like. Once Ben accepted his Autism as something normal and good, his whole outlook on life changed. Ben's life and example with Autism has helped him to create his favorite saying that is the title of this installment, Autism is Not a Curse.
After this first commercial break, you will hear Ben's amazing story towards Autism Acceptance. Please stay tuned.
Commercial Break I
Philip King-Lowe
Ben Levin is my privilege to welcome you on this episode of Today's Autistic Moment, especially as we are celebrating April as Autism Acceptance Month. So welcome, Ben.
Ben Levin
Thank you. So happy to be here.
Philip King-Lowe
Thank you. Um, you have a phrase that you say, and I really liked it. Um, Autism Is Not a Curse. Those are great words, while we are celebrating Autism
Acceptance Month. So my first question is what important information do you think Autistic Adults and our caregivers need to know about Autism Acceptance?
Ben Levin
If you don't love your kid's Autism, if you love your kid, but wish they were different than you don't completely love your kid. You have to completely love all of your kid.
Philip King-Lowe
Right. Yeah.
Ben Levin
It's your job to make sure that you put into your kids brain that they are okay. Just the way they are, whether Autistic or Allistic.
Philip King-Lowe
Yeah, and especially as we get into adulthood, it's very important that we have that assurance because as we get to, into adulthood, we are of course, working towards our sense of independence, independence. And that's why we need that support. As you think of your life as an Autistic person, what areas in your life would you have liked to have had acceptance more than just awareness?
Ben Levin
I was diagnosed with Autism when I was four. But my parents were worried about me living with what was seen as a disorder and they didn't want it holding me back. So they had me do this program, where adults took turns being in a room with me and trying to inspire me to want to connect with them. I needed to do the program because I was very, very, I had a really hard time talking with people and playing with other kids. And I would became social without the program, but it had a harmful message that they were curing Autism. When I was 11, I started thinking I had been cured or recovered. And that made and that confused me. I wondered if the fact that I had Autism at all made me less than human inferior, that in eighth grade. After I switched, schools, I realized that most people don't think you can recover. And after that, I started keeping it a secret, because I didn't want to seem like a crazy liar. Or at very least, that's what I told myself but deep down. I wanted to rip being Autistic from my, excuse me for my identity. It felt redeeming that people didn't know until I real until a few years later, when I realized just how undeveloped a lot of my friendships had been. Because I was keeping such a huge secret that was stifling me. But this was about a year and a half ago at the start of 11th grade. A little over a year ago, February 2021. I, with the help of a close relative, I was able to finally accept that wall. I know that wall, sunrise, the program did help me get more social skills it should not have. It did not remove my Autism and I never recovered, but I never should have wanted to recover. Autism is not a sickness or a curse. Like I say, Autism is something I should be proud of and own. And it's lifelong. And I'm proud that it is. Two months after this, I stopped keeping it a secret and shared my Autism on an Instagram post.
Philip King-Lowe
And when you shared it there, what happened?
Ben Levin
It was literally the best thing ever. I immediately started that night. The night I shared it, April 3rd, 2021. I, I went to this place to an pond near my house, which has a place of comfort for me. And after I posted it. I was so happy and I I got all these supportive messages, friends and people telling me they were proud of me. It was so meaningful. And I and I felt I said multiple times that night. I'm free. And I wish to answer your original question. I wish there had been acceptance that you can be Autistic and still have a full and complete life when I was younger, because maybe my parents and the program wouldn't have wanted Autism removed from me.
Philip King-Lowe
That's a superb answer. I love your story. And thank you so much for sharing that I think it's important for people to hear that story, especially since Autistics we're still looked upon, as they say, is a disorder. In recent weeks, I've been seeing that it's too bad that people can't see Autism as a neurological social difference, as opposed to seeing it as a disorder, which I think is really part of the problem. Really.
Commercial Break II
Today's Autistic Moment at the Minnesota Autism Conference 2022
Today's Autistic Moment will have an exhibit table at the 27th Annual Minnesota Autism Conference April 27th through the 29th. Stop by to meet me and get a free ticket to be entered in a drawing to be one of two winners to receive a free coffee mug with Today's Autistic Moment's logo on them. There will be free stylus/ballpoint pens. Today's Autistic Spinner Fidgets will be on sale in the Autism Society of Minnesota's book shop.
If you are not going to the conference and/or want to get your fidget earlier, please go to the home page todaysautisticmoment.com and purchase your spinner fidget. They have a nice weight to them, and are purple in color to help with sight sensitivity. They will give you hours of stimming pleasure. These fidgets are the perfect gift for any Autistic individual. Hurry to get yours before they are sold out. 50% of all sales during April will be given to The Autism Society of Minnesota.
I would love to have your help to support the work of Today's Autistic Moment. When you visit any of the pages on todaysautisticmoment.com please click on the blue button to be taken to my Patreon Page. You can become a patron for $1.00 or more.
Thank you for listening to and supporting Today's Autistic Moment
Philip King-Lowe
You are an author. You wrote a book. Um, tell us a little bit about your book. And what does Autism Acceptance mean to you as an author?
Ben Levin
My book is about homelessness. About a young boy who goes through it with his family. And what this mean, what I feel like Autism enables my writing. It helps me concentrate and helps me come up with all these storylines. I've created hundreds of them and kept track of high majority of them. And take your time. My brother says everyone on the spectrum has a superpower mine is my writing. Yeah. And I feel like my writing exemplifies how Autistic people can do just as much as people who aren't on the spectrum. And I also think that the fact that I wrote a book about a really sensitive boy who goes through homelessness and some of his hardships, especially from someone who has who who's never struggled with poverty, but who cared enough to do the research. The fact I cared, I think shows that and the fact that I have the empathy to see, which shows that Autistic people do have empathy, which is something too many people don't believe.
Philip King-Lowe
Thank you for saying that. Because as I've said, in a couple of my other podcasts, coming up this October, I'm going to have an Autistic Voices Round Table Discussion, which is where I invite Autistics to actually talk about issues that are important to them. And that that roundtable discussion is going to be called Busting the Myth About Empathy. So anyway, so there we go. Um, as you think of Autism Acceptance, um, what are some of the other barriers that you think Autistics have with regards to Autism Acceptance, you've already named quite a few. But let's name some others, because there are so many we can talk about. I mean, there's misperceptions about Autistic people. You know, some of which suggests that we don't know how to do things to better our life and to and to increase our sense of belonging in the world or and various other things. What are some barriers that you think we should mention here, Ben?
Ben Levin
That's a very good question.
Philip King-Lowe
Take your time.
Ben Levine
Well, I think one thing that's important in the workplace is I think they should know, we're Autistic, but at the same time, they shouldn't make assumptions of our capabilities because of it, they should ask,
Philip King-Lowe
Right. Yeah. Yeah, um, one year ago, I did a podcast about Justice in Employment, and what and my guest was Samuel J. Levine, who is a brilliant, um, he's the Director of the Jewish Law Center, and a professor of law at Touro College. And he writes a lot about supporting Autistic individuals with regards to employment, that part of the problem is, is that they look at the our "deficits" rather than looking at the talents and skills we bring to a workplace. They're, you know, they see our social differences, as they say, but once we know that, you and I know that when we're really that when we really know, the job that we're going to do, and we can really get ourselves focused in on that work, we can actually perform that that role, extraordinarily well. Because we we've taken so much time to use those, those hyper fixate hyper fixations to do that particular kind of work. Don't you think that's true?
Ben Levin
I do.
Philip King-Lowe
Yeah. I think one of the barriers for Autistic Adults to find Autism Acceptance is to be seen as adults, and not as Autistic children that just never grew up properly. What do you think about that particular barrier?
Ben Levin
I think that's incredibly important to bring up. A lot of people, because because of our because sometimes our interests take time to be outgrown, take more time. And sometimes we develop at a different level. We people make assumptions that we aren't in our ages, and that has to change. We are our ages and we think like people our ages and even though it takes us time. We should to mature we are still people our age,
Philip King-Lowe
Right. Yeah. And just because we don't, we don't just because we think and do things differently than people who are in our own age level, that doesn't necessarily mean that we haven't matured. There's way too many that that makes certain assumptions about us. But, you know, as they say, we don't get, we don't get seen as actual adults. You know, one of these days, I'm going to have a podcast about that particular topic by itself about how even Autistic Adults get treated as infants, okay, that's a better way to say that. Yeah. Okay, um, pardon me? What steps should Autistic Adults in our supporters take to advocate for Autism Acceptance? What do you think we should do?
Ben Levin
Well, one thing which people who work with us can need to do is make it clear they believe in us. And one thing that's really important for us to do is speak out. And we need to share our stories and show our capabilities. That is the most important thing we can do. Because we, because people speak for us too much which to see which increases our disability in lack of a better way to put it. And, and we, and we need the chance to speak for ourselves. And Absolutely. One of my favorite mottos is "Nothing about us without us."
Philip King-Lowe
Yep. Yep, I agree with that. Yeah. Um, you've told us about your book, um, and your experience of writing it. Um Do you think that your book has helped to gain gain a greater sense of Autism Acceptance for yourself?
Ben Levin
I'm not sure I'd say that about In the Hole. But maybe some of my other writing projects like Okay, have you read the book? The Reason I Jump?
Philip King-Lowe
I'm afraid not not yet.
Ben Levin
It's about this boy from Japan who's on the spectrum. He wrote it when he was 13, Naoki Higashida. He answers a lot of questions about Autism from his own perspective. And I love the book, I ended up making a picture book adaptation of it, where he took some really powerful quotes from it. And reading the book was really special to me, because because I spent a long time thinking Autism was a part of my past, not something I still had. I still struggle with him. I've struggled for a long time with imposter syndrome since claiming my Autism and being able to relate to Mr. Higashida in the book has helped with that.
Philip King-Lowe
Yeah, yeah. That that's, that's a great answer. I appreciate that answer. So much. Very good. Um, you know, I find that what I write and even when I'm, you know, working on this podcast here, I do find it to be helpful and me. It sort of empowers me to to to both help the Autistic community but also it helps energize me to continue to keep working on a greater Autism Acceptance for myself, too. So, you know, when Autism Acceptance is almost like, we put a series of investments into ourselves as Autistic people, which includes, you know, being a part of the neurodiversity movement, that is to help accept all individuals, including those with ADHD as part of the neurodiverse family. Um, but you know, When I find that when we talk about our Autistic interest, challenges, strengths, that it can really aid us, or aid me anyway, sorry to generalize too much, um, to better accept myself and it empowers me to kind of keep on going. Even when I have a social circumstance, that seems kind of really complicated and sometimes can be quite hurtful, do you have a response to that.
Ben Levin
A response to what exactly?
Philip King-Lowe
I'm sorry. Um, let me try this. Um, you know, let me try again. You know, when you as you learn more about what being Autistic means for you, whether it's a circumstance, that's good or circumstance that you wish it were better? Um, I find that whatever I go through with that, it helps me towards a greater acceptance of my own Autism.
Ben Levine
Yes, I think it's something that happens with us over time. I think. There's anything, when, during the weekend when I struggled to, when I struggled with accepting my Autism, one thing that was asked to me is, do I see Autism as a brain or a disability? I prefer different ability. And here's the truth. I see it as both a brain and I refuse to call it a disability, but I do see it as a different ability. Right. Yeah. And, and they think it's something that Autism is a spectrum, it has lots of different meanings. Right. And what's true for and one thing, which I've seen a lot is people saying, "If you've met one person with Autism, you've met one person with Autism." Which means we aren't all the same. There are a lot of things we have, most of us have in common. But yeah, it's not that simple. I think it's something that takes time to figure out for all of us.
Philip King-Lowe
Yeah, that's why that's why we kind of continue to say, don't look at Autism as a linear spectrum, which is how the functioning high functioning and low functioning come in. But rather look at the Autism Autistic spectrum as a sphere. And somehow everybody fits into that sphere somewhere. You know, wherever you happen to be. Yeah. Um, when we want to describe when we describe the Autism Spectrum, as linear, it really is why some people get looked at and say you don't look Autistic enough. And others are presumed completely incompetent because of, you know, various things that they're not able to do. And that's why we continue to say that the Autistic Spectrum, it's a sphere, with a whole bunch of different individuals fitting into that sphere together.
Ben Levine
Like to snap instead of clap and I snapped at those words.
Philip King-Lowe
Oh, thank you. Thank you. I appreciate that.
Commercial Break III
Future Shows
On May 9th, Lyric Holmans the Neurodivergent Rebel returns to Today's Autistic Moment for the episode Autistic Masking and Burnout. One of the reasons many Autistics find it difficult to celebrate Autism Acceptance is because of having to mask our Autism because of a society that has not accepted us. What is masking? How does burnout happen? Listen to this exceptional conversation between Lyric and myself and get the answers with some tips about what you can do to live a healthier life.
On May 23rd, Eric Garcia will return to Today's Autistic Moment to talk about a very important topic. Overcoming Internalized Ableism. Just as trauma is an unavoidable consequence because of a society that is made for and by neurotypical people, so is internalized ableism. We continually get the messages that being disabled is wrong and we internalize those micro aggressive messages. Eric and I will talk about how Autistics can work towards overcoming internalized ableism. Don't miss these shows.
June is LGBTQIA + Pride month. On June 19th we will celebrate Autistic Pride. Yenn Purkis the Autistic Advocate and Author from Australia will join me for an insightful episode The Intersection of LGBTQIA+ Pride and Autistic Pride on June 6th.
Today's Autistic Moment is a proud Autism Acceptance Month Partner in 2022 with The Autism Society of Minnesota.
Thank you for listening to Today's Autistic Moment.
Philip King-Lowe
Well, Ben, this has been a great conversation. And wow, I think you've given us a lot to think about and add to our, our celebration of Autism Acceptance Month. And, and so I want to thank you for being here today.
Ben Levin
Thank you for having me again.
Philip King-Lowe
Yeah. And let's, um, let's give, um, I want to give to my listeners, benlevinauthor.com. That's benlevinauthor.com. And I will be putting that link into my Adult Autism Resources Links page so that people can look for you and your book and to learn more about you. So it's my pleasure to do that for you. Um, so once more. Thank you so much, Ben.
Ben Levin
Thanks for having me.
Transcribed by https://otter.ai
My Personal Story
I was born on February 5th, 1969 and raised in West Wareham, Massachusetts, a small town near Cape Cod. I lived through many, many years of heavy challenges throughout my years in school and college. I had about 25 years of working during which I lost about 30 different jobs, and lost just as many close relationships because of the many personal challenges that I had no answer as to why it was happening.
On February 24, 2011 I was diagnosed with Autism at the age of 42. The moment I was diagnosed my entire life's history was rewritten as I then understood why I have the many challenges that I have. Between 2011 to late 2017 I felt a loneliness as I continued to struggle with friendships and social difficulties, because I had not connected with other Autistics yet. I felt so isolated and alone. While I learned a lot about my Autism, I also felt like I was the only Autistic person I knew. I even considered myself to be a social invalid. In 2018 I discovered the Autism Society of Minnesota. I attended their support groups and my first Minnesota Autism Conference and found my local Autism community. My life was changed forever and for the better. In September 2018 I earned a Certification for Direct Care Support for People with ASD from the Autism Society of Minnesota. After earning the certificate, I gave some presentations at some AuSM events about the Importance of Self-Care, Grief and the Aging Autistic Community.
Following the virtual conference in 2020, I was so inspired by what I heard that I accepted myself as a double rainbow person, as an Autistic Gay man. Accepting myself as Autistic and Gay was the best thing, I ever did for myself. I am much happier now than I have ever been.
Two years before I was diagnosed, I met Jason who is and has been my husband for 13 years. We were legally married in 2013. Before and since my diagnosis, Jason has been my best friend and supporter.
Among my reasons for starting Today's Autistic Moment is because I want to do my part to help other Autistics discover the wider Autistic Community, so they may not feel the loneliness and isolation that I experienced, nor have no access the helpful information and resources that they need.
Today's Autistic Community Bulletin Board
All of the events announced on Today's Autistic Community Bulletin Board can be found at todaysautisticmoment.com/bulletinboard/.
Understanding Autism virtual classes will be offered by The Autism Society of Minnesota. These classes are perfect for Autistic individuals, caregivers, those who want to understand the basics of Autism and support Autistic people. Classes will be held on May 16th from 2pm to 4pm. Classes are free of charge, but you must register to attend.
On May 10th from 7-9pm Alyssa Perau will present a virtual skillshop at the Autism Society of Minnesota entitled Communicating Consent and Boundaries. Knowing how to communicate boundaries and consent can be a struggle at times. Learn what healthy consent and boundaries look like and how to tell if consent is happening to ensure boundaries are respected. Answer and ask questions, read through scenarios, and gain new skills to help you communicate in a healthy way.
On May 24th from 7-9pm Noah Simpson will present a virtual skillshop at the Autism Society of Minnesota entitled Medical Cannabis and Autism Spectrum Disorder. Gain information and strategies involving medical cannabis. Minnesota's medical cannabis program, and how cannabis can be effective treatment for a variety of conditions, including Autism.
The Autism Certification Direct Support virtual classes summer session at The Autism Society of Minnesota will begin on June 6th through June 10th. These classes are perfect for job coaches, support staff, personal care attendants, EIDBI Tier 3 providers, Educational Aides, Support Personnel, Group Home Staff, Day Training and Habilitation Professionals, anyone who works directly with Autistic individuals and Autistic Adults.
The Autism Society of Minnesota invites you to join them for Steps for Autism in Minnesota 2022, on Sunday, May 22nd beginning at 9am to 12pm at the Como Lakeside Pavilion located at 1360 Lexington Pkwy in St. Paul, Minnesota.
Go to ausm.org for more information about these and other events at The Autism Society of Minnesota.
Today's Autistic Moment is sponsored in part by Looking Forward Life Coaching. Looking Forward turns stumbling blocks into stepping stones towards success. Go to lookingforwardlc.org for more information.
If you would like to have your business or organization mentioned, have questions or comments about Today's Autistic Moment, please send an email to PKLowe@todaysautisticmoment.com.
Thank you for listening to Today's Autistic Moment: A Podcast for Autistic Adults by An Autistic Adult.
May you have an Autistically Amazing day.