Autistic Adults are pioneers on their own journeys. Lisa Morgan is a pioneer as part of a family with a history of suicide because of Autistic needs that were not being met. Lisa is an example of someone who met their tragedies and used them to build herself up and founded her own company to support Autistics in moments of crisis. Lisa's story will move and inspire you in whatever situation you find yourself in, to work with and through it as an Autistic Adult to create and live your own life as you are. Don't miss this special show.
--- Support this podcast: https://anchor.fm/2daysautistic/support
To read or print the transcript from a document please tap or click on A Journey from Suicide to Autism Crisis Support.
To read the transcript from this website scroll down below the logo on this page to begin reading it. Look for the downward arrow in the pink box. See the following example.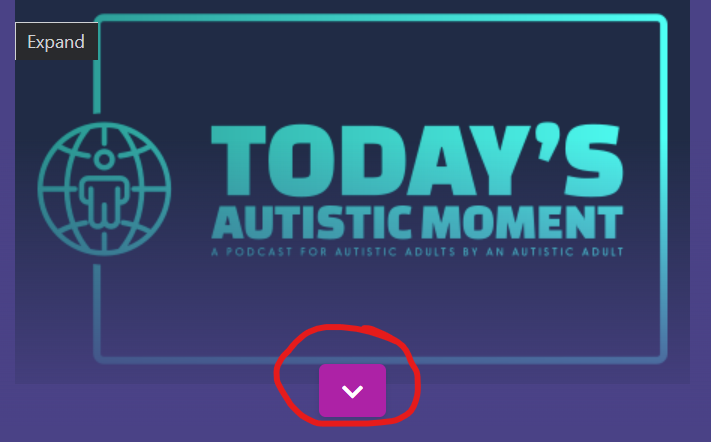 Segment 1
Transcript
A Journey from Suicide to Autism Crisis Support
February 19th, 2023
Welcome everyone to Today's Autistic Moment: A Podcast for Autistic Adults by an Autistic Adult. My name is Philip King-Lowe. I am the owner, producer, and host; and I am an Autistic Adult. Thank you so much for listening.
Today's Autistic Moment is a member of The National Podcast Association.
Today's Autistic Moment is a free podcast that gives Autistic Adults access to important information, helps us learn about our barriers to discover the strengths and tools we already have to use for the work of self-advocacy.
This first segment of Today's Autistic Moment is sponsored by The Autism Society of Minnesota: Minnesota's First Autism Resource. For over 50 years The Autism Society of Minnesota has been honored to support Minnesota's Autism Community. Visit them online at ausm.org.
Welcome to this episode: A Journey from Suicide to Autism Crisis Support. My guest for this show is Lisa Morgan.
Please visit todaysautisticmoment.com where you can listen to the podcast, get transcripts, program updates, and read the guest bios. Please visit the Future Shows Page with the titles, guests, and descriptions of all the shows coming up through the end of June. The transcripts are sponsored by Minnesota Independence College & Community. The transcript can be read and followed from the website, or you can click on the link provided to be taken to a written document to print and read it there.
Last Summer, I came across the website autismcrisissupport.com. While reading through the website, I found Lisa Morgan's story of how she founded the Autism Crisis Support company. Lisa comes from a family of members that committed suicide because of Autistic needs that were not being met. At one point, Lisa herself made a suicide attempt and survived. I was so moved by Lisa's story that I knew I just had to have her come on Today's Autistic Moment to share it with you.
Suicidal ideation is a very common problem for many Autistics, especially after a diagnosis of Autism. There are just as many individuals who do not have a diagnosis who attempt suicide because of the social isolation they experience without knowing why they do the things they do. The majority of suicides among Autistics is due to their social, personal, and economic needs that are not met. Among the other reasons is because of the Autistics who are trying to tell neurotypicals what they need, but are refused assistance, or they are silenced because of a false presumption of incompetence.
Among my reasons for inviting Lisa Morgan to be my guest, is because I want other Autistics to hear her story and realize that they have great potential in their own lives. I want Autistics to know that they can turn their challenges and disappointments into opportunities to live their own lives on their own terms and make an impact that will benefit themselves and the Autistic Adult community.
Please stay tuned after this commercial break to listen to Lisa Morgan's story.
Commercial Break I
Segment 2
Philip King-Lowe
Lisa Morgan, it is such a pleasure to have you on Today's Autistic Moment. Welcome.
Lisa Morgan
Thank you. It's really great to be here today. And I'm really glad that you invited me.
Philip King-Lowe
Yeah. Well, um, I, more or less stumbled upon your website, Autism Crisis Support. And over these last few months, you shared some of your story with me. And I have to say it, it is. It's a remarkable story. So, I wanted to invite you want to tell this story. And since we're talking about the strengths and achievements of Autistic Adults, you know, I think it's important to hear a story like yours, so that it can inspire those who may be going through a time of crisis to reconsider their options, but also to maybe give them an array of hope that they can hang on and work through things. So as part of my question, what important information do Autistic Adults and our caregivers need to know about? Um, tell us a little bit of your story of what, what brought you to the time of suicide? And what it's been like to come to this point where you are, where you're doing this incredible work of Autism Crisis Support?
Lisa Morgan
Sure. Well, I was my career at the time was I was a teacher, and I've been a teacher for about 20 years or so. And it suddenly changed completely. One night, June 24, 2015, when I found my husband had died by suicide. The night we found him, was traumatic for me, on many levels. His sudden death, the realization that I was now a single parent, the horror of the way we found him. But also, the way the first responders and victim advocates who were really trying to support me that night, how they left me feeling completely unsupported and alone, although they were really trying to support me. So that was really a big part of why I started to advocate for crisis supports for Autistic people. In the months that followed that night, I repeatedly experienced that same angst and anxiety when interacting with people who were supporting me or interacting with people that I needed to settle my husband's estate. The challenges were really based in communication, expectations, and misunderstandings of who I was, as an Autistic person. I had been diagnosed five years prior, in 2010. So, I was still kind of getting used to being Autistic. And the idea that I was an Autistic person, as well. But time after time, after time, I was left bewildered and hurt and really kind of highly anxious, because I'd have a conversation where I was misunderstood to the point where people were frustrated and angry with me. And I was just trying so hard to understand them. It could have been a conversation with the coroner, real estate agent, contractors fixing my home. People from insurance companies, bill collectors, my lawyer, I mean, it the list goes on and on and on.
Philip King-Lowe
Yeah, yeah. Um I take it that part of the reason for the drive to suicide was most likely just because of Autistic needs that just aren't being met. You know, we have this need for communication, but we're not getting it. We need the supports but getting it is so complex. And so that can really drive us to a sense of, you know, "my values are being undermined." You know, and I was at a workshop for why a lot of Autistics consider suicide. And some of the answers they gave is that, you know, people have these values that they can hang on to family, friends, you know, positions or whatever. And a lot of Autistics really don't have a lot of those the way neurotypicals do, and that can be a very, that can be a reason why some move in that direction.
Lisa Morgan
Yes, I mean, the thwarted belonging is definitely part of why Autistic people, there's a high rate of suicide for Autistic people. And the highest rate of suicide for Autistic people are people who can live independently have you know, the capacity to have higher education have the ability to hold down a job. Those people understand the disconnect between what they can do and what they're able to do in today's society. So, yes, that thwart of belonging that masking that we have to do to fit in to get the job and to have the relationship is actually very negative. It has a negative impact on our mental health. So yeah, that's definitely part of the problem.
Philip King-Lowe
What changed for you? What? What was it about your experience that said, I want to I want to use my experiences, and I want to become someone who, who assists other Autistics who are in crisis like this? What was it about that, that that led you to this point where you are?
Lisa Morgan
Well, it was actually New Year's Eve 2015. That the year that, you know, I lost my husband, I also lost my nephew to suicide that year, and had, you know, of course, suicidal issues myself. I read, I was really having difficult contemplating starting a whole new year, it just felt really, really hard. And I wanted to bring meaning to everything I had experienced in that year. So that night, I sent an email to a publisher I knew of and asked if she'd be interested in the book about Autistic and non-Autistic person living through the aftermath of the suicide of a loved one. She said yes. And I started advocating with my first book. I just felt like, if I could bring some kind of meaning, some kind of point to everything that I went through that year that it may help me, and it did. It ended up helping me to write the book. And then I continued moving forward from there and advocating.
Philip King-Lowe
What barriers are there for Autistic Adults in terms of moving from suicide to some kind of peace in one's life? I mean, what are some of those barriers that you would call to mind?
Lisa Morgan
Well, definitely. Communication is a huge barrier. And I think everybody understands that are the resulting misunderstandings and trying to just work through everything with people who do not understand what you're going through. And that can be interacting socially to trying to get to support to relationships, self-care, emotional regulation, all different parts of trying to move forward to a place of health and healing. But the other barrier is to like a life changing event, like, you know, contemplating suicide or living with suicidal ideation, or trying to work through the aftermath of the suicide of a loved one is the change. Autistic people are comfortable with schedules, routines, predictable life, when something happens that completely up ends everything in your life, and you're in that crisis. An Autistic person can really be challenged with what to do next. And I spent a lot of time just regulating and thinking about exactly what steps do I need to take next, just so I could act. Otherwise, I felt paralyzed by just all the overwhelming change and things I needed to do, to try to get to like a place of normalcy again. And the effect that that had on me, is something that no one really kind of understands. The so the unexpected can be sprung on you daily, it could be a phone call, it could be someone you're working with, it could be, you know, a misunderstanding. I always felt, you know, you're working through it in a state of high anxiety, constant problem solving, constantly feeling like you're behind and failing. What I finally did was really trying to use the strengths I had as an Autistic person to move forward through that time in my life. And I use that in my crisis supports resources. And helping Autistic people individually, is I compartmentalize each problem area. And I problem solve that way, the way my mind works. So, I took care of myself the best I could, even if it meant crawling under a blanket for a while and shutting the world out completely. And then as I get stronger and started feeling like I had a better handle on things, you know, I got into the advocating because I wanted to make sure other Autistic people didn't, you know, go through the same thing I do without any kind of support.
Please stay tuned after this next commercial break to listen to more of Lisa Morgan's story.
Commercial Break II
Logo Lapel Pin
Buy yourself or an Autistic person you know a beautiful lapel pin with the logo of Today's Autistic Moment on them. The lapel pin is stunning with the dark blue background, the podcast globe, and clear lettering. It is the perfect way to start a conversation about the work Today's Autistic Moment is doing for Autistic Adults. The lapel pin is $10.50 and includes sales tax, shipping, and handling. There are only 48 of them, and they are going fast. To buy your lapel pin go to todaysautisticmoment.com/lapelpin.
Thank you for supporting Today's Autistic Moment.
Segment 3
Philip King-Lowe
You know, there's one barrier that is mentioned in your ad that plays on Today's Autistic Moment. And that, you know, what it is to be harmed by well-meaning professionals. I've had several of my guests talk about some of those. Tas Kronby last year when they were talking about their experiences with eating disorders, mentioned going to a doctor, and that doctor just questions, you know, you're so high functioning, you can't possibly be Autistic. You know, some of those things that can really bring some real trauma when you're trying to address needs that you have. Let's talk about some of that, too. Because, you know, we know you and I know that, from our own experiences, there are moments when you're working with professionals who really do mean well, but they're just not connecting with you because they just don't understand what Autism is or looks like or understands. You know that Autism is not a base. It's not a linear subject.
Lisa Morgan
Yes, yes, the unintentional harm is definitely a problem. And it can come from many different places. And I have myself been in situations where I'm advocating for Autistic people. And the people that I'm advocating to, I may be working with them. I may be, you know, doing a workshop, but they don't understand that I'm Autistic myself. And so, they may do things, even though I've just said how to support an Autistic person. You know, they may do things that cause me unintentional harm, and they have no idea. I'm not sure exactly what the disconnect is, although I do think it's part of culture. So, what is respectful and validating for them, is not respectful or validating for me. So, I end up being unintentionally harmed, and it really is unintentional. So, it's kind of weird to say that, you know, you can be unintentionally harmed by somebody respecting you. But you can if it's the wrong culture, and people don't understand that Autism even has a culture or what that culture is.
Philip King-Lowe
Yeah. Yeah. And I mean, part of that part of what's being normal, is that the conversations we have about Autism and Autistic people needs to be normalized, you know, that that, you know, we are, we may be different people, but we're still people, we're just people with different brains. And a lot of that is just we're continuing to work on just normalizing those conversations.
Lisa Morgan
Yes, and, and also kind of changing some of the expectations. So, for example, if I'm giving a workshop, and I advocate for myself beforehand, and I say that, you know, I really don't, you know, let's have the last changes be, you know, three or four days before, because change is difficult for me. And then I'll have a last-minute change. And you have to there's one thing you have to go with the flow, that's for sure. But they, like the people I'm working with, don't experience change in the same way I do. And there's no kind of space for me to experience that change. So that turns into unintentional harm.
Philip King-Lowe
What are some steps that Autistic Adults in our supporters need to take to advocate or our needs and the needs of the Autistic community as a whole? Advocating, of course means doing exactly what you're doing, telling our stories about what being Autistic is like for us, what our experiences are like. But, you know, there are some really great tips that I'm sure you can give about, you know, ways that Autistics can support themselves when they're in moments of crisis. So, give us some of those examples if you will.
Lisa Morgan
Well, the way I do it, is, a lot of times I do it in writing. And I mean, I think that it can be done through, you know, official writing, like you write a paper, or you write an article, but also just writing emails, because I speak, I write better than I speak. And in the moment, where I might be experiencing something that I have to advocate for myself, or the trouble is the anxiety goes high, the word retrieval is just a bear, I can't find the words I want. And my processing speed slows down. So, in a moment, when you need to advocate when an Autistic person might need to advocate for themselves, they may not have the know the ability or the bandwidth at that time. So, what I do is, I send an email, or I ask for a meeting at another time, and I talk to those people in a way that is definitely not accusing because I really believe even though I've told people maybe over and over again, that they still need to hear it in a way that they can, you know, take it in and think about it and contemplate it. And really try to explain what I need in a way that is not only just in that moment, but how they can take it and use it for any Autistic people that they work for or collaborate with. But I actually, you know, I guess my, my main successes have been in writing it later when perhaps it's all over with. Unfortunately, you know, in the moment, it doesn't help. And you can try in a moment, but I've had experiences where I have tried in the moment and just doesn't seem to work for me because of my processing speed, my anxiety, word retrieval, and a bunch of other different things that I struggle with.
Philip King-Lowe
Yeah. Um, have you had experiences where you've written these things down? And then when you go to someone to talk to you taking that with you? Have you used that to try to help you talk things through? And has that been helpful?
Lisa Morgan
Absolutely. Yes. And a lot of times, if you're talking to people who are professionals that are trying to support Autistic people, you know, you can they sort of feel like, Oh, my goodness, I didn't mean to do that, and that needs to be addressed. Where Yes, we understand is unintentional. I've actually come up with I actually, in my advocacy work, that I have been on this journey, I've come across some people who just will not take in my advocating, whether it's writing or in person. And those people unfortunately, I, well, I just don't wear I don't work as much with them. And I think that's part of I think that's just part of the whole experience. And, but I do keep trying, and I think that's part of it, too, is just keep, keep trying keep saying this, the same things in different ways that people might be able to hear it.
Philip King-Lowe
Yeah, I would agree with that. And this point, also goes back to a point I've made on this podcast many times, it is really important that each Autistic person becomes the expert about their own brand make and model of Autism. And they also need to become the expert about communicating with others about our Autism. You know, we do we do often wish that people would read understand learn, as we say. I mean, we all kind of wish for that, but there is no substitute really, for people actually hearing it directly from us.
Lisa Morgan
Yes, absolutely true. We do have, you know, we do have that weight with some people as far as lived experience. And hearing it from us directly, I have had feedback where, you know, it kind of opens their eyes, and they realize what I'm saying, and it makes sense to them. And unfortunately, I mean, fortunately, or unfortunately, it works if they hear it from Autistic people directly.
Philip King-Lowe
Yeah, yeah. And that's why I tend to advocate, you know, keep talking, even though it appears to you that it's falling on ears that just are not listening. You know, keep telling the story, and even maybe finding some other ways to tell stories. Because, you know, I've had my moments where I've been talking to somebody about something that's, that's about me about my, my Autism. And when I explained certain things to them, sometimes I'll get a response, you know, you know, I've read a lot of articles about Autism, but I never really understood it until I heard what you had to say. You know, we can be superb teachers in our own in our own way. It's just that, you know, part of the, because of the barriers we have, you know, we tend to second guess ourselves, but when we do know our own Autism, and we do become the expert about knowing it and speaking it. We do find our strengths, and we do exercise those muscles that, you know, sometimes we don't really exercise, or we don't get to exercise as well. And as a result, we can really bring about some remarkable changes in what's going on.
Lisa Morgan
Yes, and, and I have definitely found, in my experience, that stories do work. Stories seem to be the catalyst with the, you know, those people that don't quite buy into what you're saying, you know, research says, or this article says, or just, you know, maybe you know, just knowledge about Autism in general. But when you tell that story, that's where you get the people's attention. And that's where I think light bulbs go off and connections are made, and people really start understanding. So, I have found that even though I'm a private person, by nature, I have had to put myself out there and tell stories about my life that I normally may not, but it does get people to relate, I think as well and really listen and make those connections of wow, this one might be real. This might be really what this person is experiencing. This might be like, what I really support them.
Philip King-Lowe
Right. Yeah. Yes, um one of those things that can be extremely helpful with advocacy. I experienced this a lot through my podcast, my podcasting. And that is when we interact with other Autistics, and we see that what we're doing is really being helpful to other Autistics. We develop our tenacity to better understand ourselves, and how to be authentically Autistic, kind of like to call it. And I would imagine that you've been finding that out for yourself through your Autism crisis support.
Lisa Morgan
Yes, I mean, it's always nice to work with Autistic people where you can be comfortably, Autistically authentic, I have found in some of the circles that I advocate in, that being authentically Autistic, actually kind of hinders that process still, which is really unfortunate. If I do have a trouble with word retrieval, or if I do need to stim a bit, or if I do need to take a moment with some people that I am advocating to, that seems to kind of reduce the competence they see in me, unfortunately. But I do think it's integrity, we need to keep being authentically Autistic. So, they can see that we have these things that we do. And we are still competent, does not take away from our competence. If we need to take a moment. If we need to read something off of paper, if we need to stim a little bit, or trap trouble retrieving a word, you know, they do need to see that.
After this final commercial break, you will hear the conclusion of Lisa Morgan's story followed by Today's Autistic Community Bulletin Board. Please stay tuned.
Commercial Break III
Advertisement
Are you Autistic and the owner and/or host for a podcast that is by and for Autistics? If so, I have a very exciting networking opportunity for you. I am cordially inviting you to attend a live virtual initial meeting to talk about the creation of the International Autistic Podcasters Association on Thursday, March 16th, 2023, at 11:00am-12:30pm Central Standard Time. During this meeting we can talk about what we might like an International Autistic Podcasters Association to look like and what we could do. The association members can share with each other what our podcasts are about, what is working well, what might need improvements and promote ourselves and each other to attract more listeners. The meeting will be recorded with a transcript and made available on Today's Autistic Moment's YouTube channel. To read more about the meeting go to todaysautisticmoment.com/apa/. Please share the news and link with any Autistic person you know who owns and/or hosts a podcast for other Autistic people. If you have any questions or concerns, send an email to todaysautisticmoment@gmail.com .
Segment 4
Philip King-Lowe
Well, Lisa, I want to thank you so much for this conversation today. I have to say that since I've learned who you are, and I've watched and listen to, you know, your ad and well as well as you know, read your website, and followed your work. I just can't, I can't really put into words that seeing that I just have this amazing feeling. Like you know, there are a lot of a lot of Autistics who are in crisis. And finding those supports, when we're in crisis is so very difficult because of well-meaning professionals that may harm us by what they say or do. But I feel like when I look at your website, and I hear your story, I feel like there is somebody out there that is one of us and understands what crisis is, for Autistics. And I just get this feeling like, you know, wow, you know, I'm looking at a crisis support website, someone who does life coaching, who, who understands, because you are one of us, you know, and that, that's one of those things that that really did move me. I will say, when I read about your website, and the work you do, it's one thing to get those things from the experience, as I said, professionals, but it's another thing to get it from somebody who is, like us. And so, I just, I just think that that work is just so marvelous.
Lisa Morgan
Thank you so much for saying that, because it's really it is challenging to be in this space and advocating at the same time. And I do understand what it is like to be in a crisis, I do understand what it's like to live with PTSD, and you know, suicidal ideation. And you know, the struggles that that brings when you're then unintentionally harmed with the people that you reach out to. I must say, in my travels, I have found people who do truly support Autistic people. And I was part of, you know, helping them to understand Autistic people, which is a win /win. And so it is, there's hope it can be done. You can help people to understand, you know, yourself as an Autistic person or other Autistic people. And then they become allies. And then you're truly supported in ways you know, where you can be authentically Autistic. And that's a win/win, and that can happen. But there are so many people Autistic people out there who the one thing they tell me when I work with them is wow, you understand me. And that is so important.
Philip King-Lowe
Yes. Yeah. Yeah, and that's why I do this podcast too. I mean, it's one thing to be hearing these things from, from a podcaster, but I am Autistic. So, when I hear those stories of what Autistic people are experiencing, I understand because I experience them for myself. And it really is so important that we do our advocacy for ourselves, but also the wider Autistic community by saying yes, we're validating your experiences. So, for my listening audience, come September, which is Suicide Prevention Month, I plan to have Lisa come back to talk about the issue of suicide among Autistics and maybe what we can do to help reduce the, those dangers and that sort of thing. So, we will be hearing from Lisa again this upcoming September.
Lisa Morgan
And I'm really looking forward to coming back.
Philip King-Lowe
Yeah, we're looking for I'm looking forward to having you back as well. Okay. Lisa, thank you so much for being here, and we look forward to hearing from you again.
Lisa Morgan
Thank you.
Transcribed by https://otter.ai
Today's Autistic Community Bulletin Board
All of these events with their links can be found on todaysautisticmoment.com/bulletinboard
Join The Autism Society of Minnesota for their Adult Coffee Club. The Adult Coffee Club is a place where Autistic and Neurodiverse adults can connect with each other, foster friendships, and build community while enjoying a favorite beverage and/or snack. You are welcome to bring items that make you feel comfortable, can stay as long as they like, stim and parallel play. Participants are asked to purchase something from our venues. The next Coffee Clubs will be on Tuesday nights from 5pm to 7pm at Dogwood Coffee in St. Paul on February 21st, March 7th, March 21st, April 4th, April 18th, May 2nd, and May 16th. Coffee Clubs will also be available at the Milkweed Café in Minneapolis on Monday March 13th, April 10th, and May 8th from 5 to 7 pm. Please RSVP at ausm.org.
Understanding Autism virtual classes will be offered by The Autism Society of Minnesota. These classes are perfect for Autistic individuals, caregivers, those who want to understand the basics of Autism and support Autistic people. Classes will be held on March 20th from 2pm to 4pm. April 17th from 6-8pm. May 15th from 10am to 12 noon. Classes are free of charge, but you must register to attend.
The Spring 2023 virtual sessions for the Autism Direct Support Certification classes at The Autism Society of Minnesota will be held on Mondays from 6-9pm beginning on March 6th, 13th, 20th, 27th and April 3rd. These classes are perfect for job coaches, support staff, personal care assistants, EIDBI Tier 3 providers, educational aides, direct support staff, day training and habilitation professionals, anyone who works directly with Autistic individuals and Autistic people. These classes fill up quickly, so register as soon as possible.
Online registration is now available to attend the 28th Annual Minnesota Autism Conference that will be held at the Marriott Minneapolis Airport Hotel, April 26-28th. You can register for the full conference that includes the Foundational Workshop and the virtual content together, or the Foundational Workshops only or the Virtual Content Only. Go to ausm.org and click on the menu option Events to register.
Go to ausm.org for more information about these and other events at The Autism Society of Minnesota.
Matthew the #ActuallyAutistic Coach has room in his Finding Your Autistic Self Group Coaching Groups. In the groups, participants learn about unmasking strategies, coping tools, burnout & post-burnout support and much more. Go to autisticcoach.com and click on Autism Groups for more information.
Today's Autistic Moment is sponsored in part by Looking Forward Life Coaching. Looking Forward turns stumbling blocks into stepping stones towards success. Go to lookingforwardlc.org for more information.
There is room available on the episodes of Today's Autistic Moment for your company or organization that works with Autistic Adults to sponsor ads on the podcast.
If you would like to sponsor an ad or have questions about Today's Autistic Moment, please send an email to todaysautisticmoment@gmail.com.
Thank you for listening to Today's Autistic Moment: A Podcast for Autistic Adults by An Autistic Adult.
May you have an Autistically Amazing day